Even without listening, US lives in Limbaugh's media world – The Tri-City News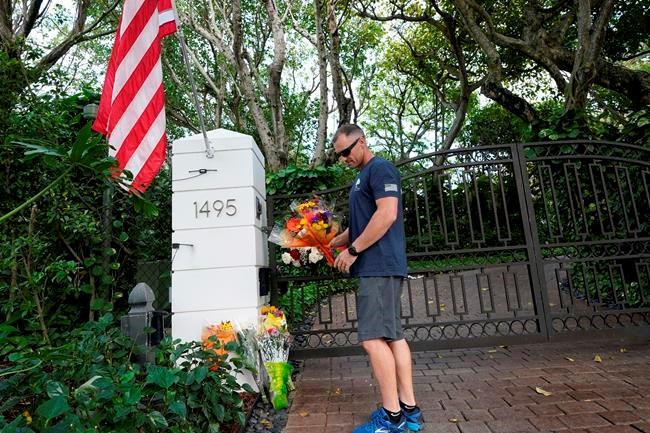 NEW YORK — You didn't have to like or even listen to Rush Limbaugh to be affected by what he did.
Conservative talk radio wasn't a genre before him. Without Limbaugh, it's hard to imagine a Fox News Channel, or a President Donald Trump, or a media landscape defined by shouters of all stripes that both reflect and influence a state of political gridlock.
To his fans, Limbaugh's death Wednesday of lung cancer at the age of 70 was an occasion for deep mourning. For his foes, it was good riddance. Somewhere, Rush could surely appreciate it.
He left a legacy.
"He was the most important individual media figure of the last four decades," said Ian Reifowitz, professor of historical studies at the State University of New York and author of "The Tribalization of Politics: How Rush Limbaugh's Race-Baiting Rhetoric on the Obama Presidency Paved the Way for Trump."
That assessment was freely offered even though Reifowitz, as the title of his book suggests, isn't a fan. He blames Limbaugh for setting a blueprint for white identity politics and the dividing of the nation into uneasy tribes.
Limbaugh's death led Trump to call in to Fox News Channel for his first television interview since leaving office — and he did it twice.
Former Vice-President Mike Pence told Fox he was inspired by Limbaugh to become a talk radio host himself, which launched his political career. Ex-White House Press Secretary Kayleigh McEnany reminisced about riding as a child in her father's pick-up truck as Limbaugh's show played on the radio.
"I am the definition of a 'Rush baby,' and it's not just me," McEnany said on Twitter. "There are tens of thousands of us all across the conservative movement."
Radio hosts talked politics before Limbaugh, men like Jerry Williams in Boston and Barry Farber in New York.
But the idea of conservative talk radio didn't take hold until Limbaugh, after bouncing through DJ jobs in Pittsburgh, Kansas City and Sacramento, went national from a perch at New York's WABC in 1988, said Michael Harrison, publisher of Talkers magazine.
Limbaugh was a sensation among people who liked to tweak liberals, outraging with political incorrectness. Before Limbaugh, only 30 or 40 stations did "talk radio," and many weren't political, Harrison said. Now there are thousands.
To the end, Limbaugh led the field. He reached an estimated 15.5 million people each week and lost in the ratings for three months only once in some three decades, to advice host Laura Schlessinger, Harrison said. Bumper stickers proclaimed, "Rush is Right."
"There is no talk radio as we know it without Rush Limbaugh. It just doesn't exist," said Sean Hannity, who has 15 million radio listeners beyond his Fox News Channel show. "And I'd even make the argument in many ways: there's no Fox News or even some of these other opinionated cable networks."
Rupert Murdoch and Roger Ailes launched Fox News in 1996. MSNBC started the same year.
Politics seemed second to entertainment in Limbaugh's early years.
"I'm trying to attract the largest audience I can and hold it for as long as I can so that I can charge advertisers confiscatory advertising rates," Limbaugh told Steve Kroft of "60 Minutes" in 1991. "This is a business."
But he soon became more than a business leader. Republicans credited Limbaugh for helping them win the House majority in 1994.
"It wasn't just that he transformed the media landscape, but he transformed the Republican Party," said Nicole Hemmer, author of "Messengers of the Right: Conservative Media and the Transformation of American Politics." "He became a power player and someone who could move voters."
Conservative radio host Mark Levin called Limbaugh "a tremendous patriot." Once a universally accepted compliment, the term "patriot" has become more complicated through its use by some of the rioters at the U.S. Capitol on Jan. 6.
"He refused to accept the attacks that came against this country from within," Levin said on Fox News. "He refused to accept the ideological changes in this country. He defended the traditions of this country. And he spoke for tens of millions of us."
To SUNY's Reifowitz, Limbaugh led the way in getting people "scared about the browning of the country."
Some of Limbaugh's language was downright ugly. He invented the term "feminazi," called Chelsea Clinton a "dog" when she was 12 years old and had to apologize for calling a young woman a "slut" for arguing that birth control be covered by health insurance. He mocked the death of AIDS victims and played the parody song "Barack the Magic Negro" when Barack Obama was elected president.
The headline on HuffPost's obituary on Wednesday said Limbaugh "saturated America's airwaves with cruel bigotries, lies and conspiracy theories." The Root called him a "spouter of racist, hate-filled garbage."
On Foxnews.com, Limbaugh's obituary's headline was "Greatest of All Time."
Limbaugh didn't embrace Trump right away, but soon fell in line. Trump's appeal mystified many in politics at first, but "if you had been listening to Rush Limbaugh for 20 years, he sounded very familiar," Hemmer said.
As Limbaugh's political strength became evident, many Republican politicians felt they couldn't cross him, or run the risk of alienating his millions of listeners, Hemmer said.
"Many of these listeners didn't care if Rush Limbaugh crossed the line (of propriety)," she said. "They cared more about loyalty to him than any kind of underlying set of principles."
The economic lessons taught by Limbaugh are clear each night on Fox, CNN and MSNBC, routinely the three most-watched cable networks. They're not really news networks in prime time; they present political talk.
"It's hard," Hemmer said, "to overstate his importance."
Harrison, who interviewed Limbaugh several times over the years, said the talk show host "began to take himself more seriously" in his later years.
Limbaugh even appeared to measure words more carefully. After receiving social media blowback in December for suggesting that the nation was "trending toward secession," he later made clear he wasn't advocating that.
To the end, however, he remained loyal to Trump, who awarded Limbaugh a Presidential Medal of Freedom at the State of the Union address last year.
Limbaugh supported Trump's false claims that the election was stolen and, on Jan. 7, compared rioters at the Capitol to people who sparked the Revolutionary War.
____
This story corrects the spelling of Laura Schlessinger.
David Bauder, The Associated Press
Foreign journalists in China see 'rapid decline in media freedom'- survey – Financial Post
Article content
BEIJING — China used coronavirus prevention measures, intimidation and visa curbs to limit foreign reporting in 2020, ushering in a "rapid decline in media freedom," the Foreign Correspondents' Club of China (FCCC) said on Monday.
For the third year in a row, no journalists told the group that working conditions had improved, the FCCC said in an annual report based on 150 responses to a survey of correspondents and interviews with bureau chiefs.
"All arms of state power – including surveillance systems introduced to curb coronavirus – were used to harass and intimidate journalists, their Chinese colleagues, and those whom the foreign press sought to interview," it said.
Authorities cited public health concerns to deny reporters access to sensitive areas and threatened them with enforced quarantine, it added. Visa restrictions were also used to put pressure on reporting.
At least 13 correspondents were given press credentials valid for 6 months or less, the FCCC said. Foreign reporters based in China typically receive one-year visas and must renew them annually.
Journalists were also used as "pawns" in China's diplomatic disputes, it added.
China expelled more than a dozen foreign journalists at U.S. media organizations in 2020, amid a series of tit-for-tat actions between the countries. Washington also slashed the number of journalists permitted to work in the United States at four major Chinese state-owned media outlets.
Article content
In September, Australia helped two of its foreign correspondents leave China after they were questioned by the country's state security ministry.
Journalists reporting from far western Xinjiang, where China has been accused of large-scale human rights abuses, encountered especially intense harassment, the report said.
Last year Chinese authorities detained Cheng Lei, an Australian citizen working for Chinese state media, and later Haze Fan, a Chinese national working for Bloomberg News, both on suspicion of endangering national security.
Both remain in detention.
Some Reuters journalists are members of the FCCC. (Reporting by Gabriel Crossley; Editing by Clarence Fernandez and William Mallard)
Central Okanagan media companies launch Local Advertising Initiative – Kelowna News – Castanet.net
Photo: Castanet Staff
With many businesses struggling through the pandemic, "support local" is a phrase heard more often than ever recently.
But you often see those businesses, big and small, buying advertising directly from Facebook and Google. It's important to be mindful of where businesses are investing and how those decisions impact our local economy.
Castanet has joined forces with other local media companies in the Central Okanagan to present the Local Advertising Initiative. Many members of the initiative provide you with local news and entertainment, enriching the community and employing your neighbours.
"Locally bought advertising allows you to create a local presence through trusted local brands online, on-air and in print," said Chris Kearney, Castanet senior vice president and Kelowna general manager.
"You won't ever see Facebook and Google support charities and nonprofits like the Central Okanagan Food Bank or BC SPCA, but local media companies do."
There is a wide variety of highly effective options to support local media organizations, including digital, radio, print, outdoor and event advertising.
Localizing your ads also allows you to make a personal connection with your ideal consumer, many of whom log onto their favourite websites, tune into the same radio stations, or view their favourite newscast every day.
That trust is powerful to customers.
To learn more about the Local Advertising Initiative, or to get involved, click here.
Mother of rotational worker says family harassed because of false social media posts – TheChronicleHerald.ca
GLACE BAY – Venice Vance hasn't had a good night's sleep since Wednesday.
That was the day her son Nick Kelly returned to their Glace Bay home at 2:30 a.m. where he started his 14-day isolation, separated from the rest of the family in the basement.
A pipe fitter, 19-year-old Kelly and two other rotational workers from Cape Breton arrived early morning on Feb. 24 after driving home from Alberta where they were working.
By Thursday, the three young men were being targeted on social media with posts and rants about them breaking provincial public health protocols after one of them had their first required COVID-19 test results come back positive. Kelly's test result came back negative.
"I hate that there was fiction put out there instead of facts. People just assume. The kids were targeted because of lies instead of the truth. They aren't doing what everybody is saying," said Vance during a phone interview from her Glace Bay home.
"And that poor boy that has COVID … he has a (respiratory condition). That boy is home. He hasn't left his home and no one is concerned about how he's doing."
RUMOUR MILL CHURNS
Along with the social media posts, rants in group threads and chat rooms resulted in threatening private messages to the three rotational workers. Vance also got those messages and is diligently trying to fight misinformation about her son online.
"(It feels horrible) because you have to explain yourself and put out information the public shouldn't even know," she said.
Posts were being shared saying Kelly was the one with the virus. Vance posted his test results from Nova Scotia Health to prove it was negative.
Screengrabs of Kelly's location through multimedia messaging app, Snapchat, were posted and shared as proof he wasn't obeying isolation orders. These screengrabs show Kelly's Snapchat image on the road; in one screengrab his character, or avatar, is seen in a car.
Alleged sightings of the men at public places were popping up. Vance said a woman alleged she saw Kelly and his stepfather at a restaurant.
When Vance questioned her in the social media thread it became apparent the woman saw Vance's husband and his friend at the restaurant a week before Kelly was in Nova Scotia.
People also claimed the men were at a party in Glace Bay on Saturday – three days before the men arrived in Cape Breton.
At some point the rumour about the young men being at the party, which happened on Feb. 20, the Saturday before they returned to Cape Breton, turned into Kelly throwing the party.
"There was no party. Nick got in at 2:30 in the morning. Who throws a party at 2:30," Vance said during the phone interview.
"The party they are saying they saw the boys at was on Saturday. They weren't even home on Saturday. People can check this out. Call the Nova Scotia border and see when they did their check-in."
Rumours swirled around the men having girlfriends at Glace Bay High School. Vance said her son's girlfriend is in second year of college and she hasn't seen him because, like the other two workers, he's been in self-isolation.
"There's one guy who posted that these three boys planned this," Vance said. "That they came home here to spread COVID. Like, it was unreal what was being posted and what was being said."
Kelly's family has also been affected even though they are doing more than what public health directives require.
Vance said a business called to inquire when her husband, who hasn't travelled, had returned to Canada indicating they heard the family had COVID-19.
She also saw posts saying the Nova Scotia Liquor Corp. store in Glace Bay was closed because she had been in there. Having not been in there for a week, Vance called the store who told her they hadn't closed.
Even Vance's daughter who doesn't live with them has been affected.
"My daughter goes to Glace Bay High. She lives with her father," said Vance. "She has people not going near her, shunning her and her step-sister. They were nowhere near their brother."
DIFFERENT REQUIREMENTS
One of the 10 cases of COVID-19 announced on Friday was located in the eastern zone. Another case in the zone was announced on Saturday.
After cases are detected, public health officials do contact tracing and alerts are issued indicating locations of possible exposure to the virus.
There have been no new possible exposure locations announced for anywhere in Cape Breton and on the two pages of listings online, none are located in the eastern zone, which includes the geographic region of Cape Breton Island as well as Antigonish and Guysborough counties on the mainland.
During Friday's COVID-19 update, the province's medical officer of health Dr. Robert Strang said domestic workers have different requirements during isolation directives when they return from working out-of-province and people need to remember this.
Instead of isolating alone or having to isolate with the other residents of the home, rotational workers can isolate with family members who are allowed to leave the home at will.
Isolating rotational workers can also drive family members to work or school and get take-out, as well as pick up contactless retail orders.
"People need to understand what the requirements are for different groups," Strang said during Friday's briefing with reporters.
RELATED: