Everything known about the 2020 'iPhone SE' – AppleInsider
The launch of the so-called 2020 "iPhone SE," largely expected to be an updated iPhone 8-style device, is imminent. Here's what's been discovered about the subject of rumors for the last three years.

The 'iPhone SE' is expected to have a design basically the same as the iPhone 8.
While rumors about a low-cost iPhone refresh have been circulating for years, it now appears that Apple will debut the device in early 2020. Here's everything that's been discovered about the upcoming 4.7-inch iPhone.
The 'iPhone SE 2' at a glance
According to the latest rumors and leaks, here are some key points about the "iPhone SE."
The same footprint as the 4.7-inch iPhone 8 footprint
Latest-generation A13 chip and 3GB of RAM
64, 128 and 256GB storage variants
Retain a Home button with Touch ID
Retail as low as $399
Larger 5.5-inch "iPhone SE Plus" model at some point
'iPhone SE 2' design
Despite the now possibly confirmed "iPhone SE" moniker, the device is more likely to be a spiritual successor to the iPhone 8 instead of the popular 4-inch form factor.
At this point, that 4.7-inch footprint is so likely that case makers are already going all-in on the size. In late March, cases for an affordable iPhone 8-style device began arriving at Best Buy.
There may also be a larger version of the "iPhone SE" available, according to leaked code strings within iOS 14. That device would be akin to the iPhone 8 Plus, just with the same updated internals.
We're not currently expecting any major design overhauls like an edge-to-edge display, OLED panel or a TrueDepth Face ID sensor suite. Like last year's stable of iPads, the device will continue to rely on older tech like Touch ID and will sport aging, bezeled designs. But its price point and internal upgrades, which we'll get to below, may make it a popular choice for many consumers.
'iPhone SE 2' specifications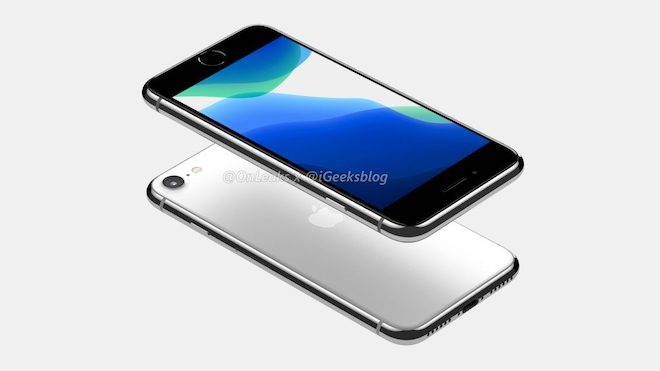 A concept render of what the 2020 "iPhone SE" will look like. Courtesy of OnLeaks and iGeeksblog.
Apple is definitely going to give the "iPhone SE" an overhaul in terms of its internal specifications. But users should expect incremental updates, not major ones.
Back in January 2018, well-connected analyst Ming-Chi Kuo suggested that the "iPhone SE 2" would sport an A13 processor — the same as the CPU in the iPhone 11 — and 3GB of RAM.
More minor updates could include a new Liquid Crystal Polymer antenna design, which would give the refreshed device better cellular reception and performance.
Leaked code in iOS 14 also suggests that the "iPhone SE" will retain a Touch ID fingerprint sensor, though it may support the so-called CarKey feature for locking, unlocking and starting compatible vehicles.
The latest information indicates that the 2020 "iPhone SE" will be available in 64GB, 128GB and 256GB storage configurations and will launch in white, black and PRODUCT(RED) variants.
All of this is to say that the new "iPhone SE" will an entry-level device that will lower the barrier of entry for Apple's latest advancements in silicon, making it an attractive choice for users who have been holding out on upgrading from older iPhones for reasons of price or familiarity.
iPhone SE availability
Rumors about the updated device's launch date have shifted drastically over the years. In summer 2017, reports suggested that a second-generation iPhone SE could debut in early 2018, for example. Now, it appears that the 2020 "iPhone SE" will launch sometime in April 2020.
While a credible tipster indicated that Apple would announce the device on Friday, April 3, another leaker said that the launch is slated for April 15.
More confusing are case maker leaks, with at least one manufacturer potentially tipping an April 5 release date.
At this point, we're comfortable saying that the "iPhone SE" will launch in the very near future. But an exact day is still up in the air.
As far as price, that's less clear. But a report from February 2020 suggests that it could start at $399, presumably for the base 64GB tier. That's about on-par with previous iterations of the iPhone SE, and cheaper than Apple's current lowest-cost iPhone, the $449 iPhone 8.
'iPhone SE 2' name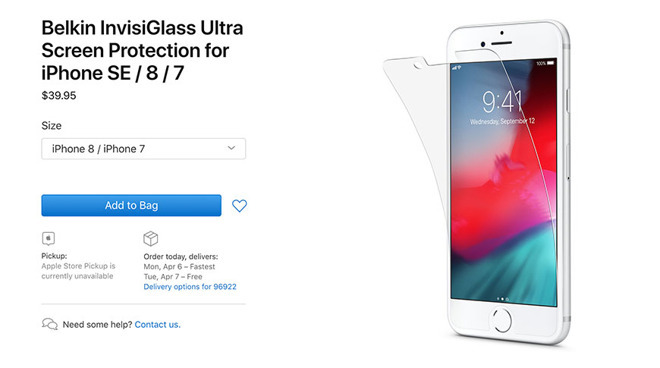 An iPhone 8-compatible screen protector was updated to reflect 'iPhone SE' compatibility on Apple's site.
The upcoming 4.7-inch device has been given several monikers by leakers, analysts and others in the Apple blogosphere. That includes "iPhone SE 2" and "iPhone 9."
At this point, it appears that the device will simply be dubbed the "iPhone SE," according to an apparent leak from an accessory on Apple's official online storefront.
The aforementioned tipster also suggested that Apple would differentiate the new model from past iPhone SE devices by referring to it specifically as an "iPhone SE 2020."
It isn't clear if the larger model — if it exists — will be dubbed the "iPhone SE Plus."
While an "iPhone 9" and "iPhone 9 Plus" moniker may make more sense to some consumers, the device is likely aimed at filling the gap that the original iPhone SE left. From that perspective, the "iPhone SE" name, in which the SE stands for "special edition," would be in-line with Apple's past low-cost iPhone strategy.
Samsung's Galaxy Note 20 might release on August 21 – MobileSyrup
We've known for several weeks now that Samsung is expected to reveal its next phablet smartphone during a livestreamed Unpacked event on August 5th. Now, we're starting to see leaks related to the smartphone's specific release date.
According to South Korean publication ET News, the Note 20 is expected to release in South Korea on Friday, August 21st.
Given the smartphone typically also releases in North America and globally at the same time as South Korea, it's likely Canadians will also be able to get their hands on the phone on this date.
During the August 5th Unpacked event, Samsung is also rumoured to have plans to reveal the Galaxy Fold 2, and Tab S7.
Rumours surrounding the Note 20 indicate the smartphone is set to feature vertically-aligned rear camera array that looks strikingly similar to the S20 Ultra's back shooters. A render of the handset in a unique-looking 'Mystic Bronze' colour recently leaked as well.
Regarding specs, the Note 20 is expected to feature a Qualcomm Snapdragon 865+ processor — a processor that hasn't been released yet — an S Pen with additional features, new camera functionality that includes 100x zoom, and a QHD+ 120Hz screen. The display can also run at 120Hz when it's set to QHD+, unlike the Samsung Galaxy S20 series.
There are also rumours circulating that Samsung plans to release the smartphone in two sizes, including a standard 6.42 inch Note 20 and a larger 6.97-inch Note 20 Ultra.
With the Note 20's official reveal only a few weeks away now, it's likely we won't have to wait long to see if these rumours are accurate.
Source: ET News Via: Android Authority
Video game giant Ubisoft shakes up executive ranks as it deals with harassment claims – CBC.ca
A Paris-based game software developer with offices in several Canadian cities is making changes in response to complaints against several executives, including a vice-president based in Toronto.
Ubisoft says Maxime Beland, its Toronto-based vice-president of editorial, has resigned and another unidentified employee in Toronto has been fired.
Tommy Francois, a Paris-based vice-president of editorial and creative services, has been placed on disciplinary leave.
The two vice-presidents were part of a creative team that set the tone and direction of Ubisoft's various games, which include the Assassin's Creed franchise.
Ubisoft chief executive Yves Guillemot said in a public letter posted online that he has decided to "revise the composition" of its editorial department and transform its human resource processes.
'Inappropriate behaviour'
In addition, Ubisoft has set up a confidential reporting platform online, "enabling employees as well as external individuals to report harassment, discrimination and other inappropriate behaviours," says the letter addressed to the company's employees.
"The situations that some of you have experienced or witnessed are absolutely not acceptable," Guillemot said in the letter.
"No one should ever feel harassed or disrespected at work, and the types of inappropriate behaviour we have recently learned about cannot and will not be tolerated."
Guillemot said Ubisoft was to begin holding online sessions on Monday, moderated by external facilitators, in order to collect suggestions for improvement.
How to enable and use Gmail's Smart Reply and Smart Compose tools – The Verge
Leading up to Gmail's 15th birthday last year, Google added a lot of productivity and machine learning tools to its email service. (It may also have been trying to make up for the disappearance of its Inbox email app, but that's an argument for another day.) Additions included a way for Gmail to write email subject lines for you and schedule an email to send at a later time.
It can be a little confusing to navigate some of Gmail's features. In this tutorial, we're going to focus on Gmail's auto-completion tools Smart Reply and Smart Compose, which are designed to save time.
Letting a machine help write emails and subject lines for you can feel a bit unusual, but if you're open to at least trying it out for yourself, here are the ways to automate your Gmail responses.
Enabling Smart Reply and Smart Compose
To allow Gmail to generate responses and email text, you first have to opt in from your Settings menu. If you are a regular Gmail user (instead of G Suite enterprise edition), here's what to do:
On desktop
Click on the gear icon on the upper right side and find the Settings page.
Scroll down to the separate Smart Reply and Smart Compose options and choose "On" for either or both to enable the automated suggestions.
You can also choose to allow Gmail's machine learning to personalize the suggestions based on the way you write your emails by choosing "Smart Compose personalization." For example, if you greet your colleagues with "Hi, team" versus "Hello, everyone," it will automatically drop in whatever you use most often.
If you use G Suite, you may notice that the option to toggle on Smart Compose is not available. Your G Suite admin must enable this for the organization, so contact the person in charge if you'd like to test this out at work.
On the Android or iOS app
Tap the hamburger icon on the upper-left side to open the side drawer. Scroll down to Settings.
Select the Gmail account you want to address
Tap the checkbox on Smart Reply and / or Smart Compose to toggle the mode on
Once the settings are turned on, your Gmail is set up to suggest replies and help auto-finish sentences based on your writing style.
What it looks like
Basically, you just start typing, and Gmail will begin suggesting words that might fit the sentence you're writing.
Be aware that it won't always come on for every email you write. Because Gmail needs context, you'll likely find Smart Compose chiming in when you're responding to an email or if you're starting emails with some generic statements like "Nice to meet you" or "Hope you're well." If Gmail has a suggestion, an opaque set of text will appear next to what you're typing.
On the desktop version of Gmail, you can press Tab to accept the suggestion. On the mobile app, if a suggested word or phrase appears, swipe right to add it to the email.
Smart Compose can also suggest email subjects. Leave the subject line blank, and start writing your email. Once you go back to fill out the subject line, Gmail will offer a suggestion that you can accept by pressing Tab on the desktop app or swipe right on mobile.
Smart Reply for canned responses
Smart Reply works a little faster than Smart Compose. Instead of suggesting words or short phrases for you, Gmail will offer three responses that might suit the email you've received. For example, if you've gotten an email reminding you of an appointment, Smart Reply may suggest responses like "Confirmed," "Thanks," or "I can't make it."
Tapping these responses will not send the email right away. You can add more text to the suggested answer before choosing to send it.
If you are in an email conversation with several people, be aware that responding with a Smart Reply will CC everyone on that email. You'll have to manually remove the people you don't want in that response, so it's best to only choose Smart Reply for emails you mean to send to everyone in the thread.
Should you actually use it?
Choosing to let a machine write your emails may feel impersonal, but it's not designed to write the whole email for you. Smart Compose and Smart Reply work best when you use them to add filler sentences or quickly respond to yes or no emails. Plus, Gmail has gotten a lot better at suggesting responses that will make sense 90 percent of the time. (In my experience, the responses tend to veer toward affirmative answers, so they may not work best if you're less prone to agreeing to everything.)
Besides, if you give this a go and find that you'd rather type your own answers, just go back to Settings and toggle those features off.
Update July 6th, 2020, 5:10PM ET: This article was originally published on April 5th, 2019; the introduction and the directions for using Smart Replay and Smart Compose have been updated