Everything known about the 2020 'iPhone SE' – AppleInsider
The launch of the so-called 2020 "iPhone SE," largely expected to be an updated iPhone 8-style device, is imminent. Here's what's been discovered about the subject of rumors for the last three years.

The 'iPhone SE' is expected to have a design basically the same as the iPhone 8.
While rumors about a low-cost iPhone refresh have been circulating for years, it now appears that Apple will debut the device in early 2020. Here's everything that's been discovered about the upcoming 4.7-inch iPhone.
The 'iPhone SE 2' at a glance
According to the latest rumors and leaks, here are some key points about the "iPhone SE."
The same footprint as the 4.7-inch iPhone 8 footprint
Latest-generation A13 chip and 3GB of RAM
64, 128 and 256GB storage variants
Retain a Home button with Touch ID
Retail as low as $399
Larger 5.5-inch "iPhone SE Plus" model at some point
'iPhone SE 2' design
Despite the now possibly confirmed "iPhone SE" moniker, the device is more likely to be a spiritual successor to the iPhone 8 instead of the popular 4-inch form factor.
At this point, that 4.7-inch footprint is so likely that case makers are already going all-in on the size. In late March, cases for an affordable iPhone 8-style device began arriving at Best Buy.
There may also be a larger version of the "iPhone SE" available, according to leaked code strings within iOS 14. That device would be akin to the iPhone 8 Plus, just with the same updated internals.
We're not currently expecting any major design overhauls like an edge-to-edge display, OLED panel or a TrueDepth Face ID sensor suite. Like last year's stable of iPads, the device will continue to rely on older tech like Touch ID and will sport aging, bezeled designs. But its price point and internal upgrades, which we'll get to below, may make it a popular choice for many consumers.
'iPhone SE 2' specifications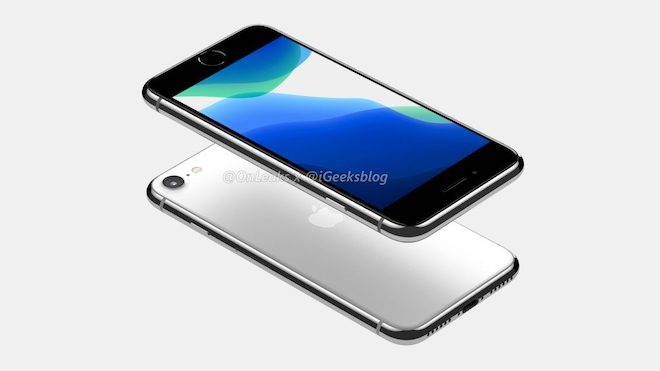 A concept render of what the 2020 "iPhone SE" will look like. Courtesy of OnLeaks and iGeeksblog.
Apple is definitely going to give the "iPhone SE" an overhaul in terms of its internal specifications. But users should expect incremental updates, not major ones.
Back in January 2018, well-connected analyst Ming-Chi Kuo suggested that the "iPhone SE 2" would sport an A13 processor — the same as the CPU in the iPhone 11 — and 3GB of RAM.
More minor updates could include a new Liquid Crystal Polymer antenna design, which would give the refreshed device better cellular reception and performance.
Leaked code in iOS 14 also suggests that the "iPhone SE" will retain a Touch ID fingerprint sensor, though it may support the so-called CarKey feature for locking, unlocking and starting compatible vehicles.
The latest information indicates that the 2020 "iPhone SE" will be available in 64GB, 128GB and 256GB storage configurations and will launch in white, black and PRODUCT(RED) variants.
All of this is to say that the new "iPhone SE" will an entry-level device that will lower the barrier of entry for Apple's latest advancements in silicon, making it an attractive choice for users who have been holding out on upgrading from older iPhones for reasons of price or familiarity.
iPhone SE availability
Rumors about the updated device's launch date have shifted drastically over the years. In summer 2017, reports suggested that a second-generation iPhone SE could debut in early 2018, for example. Now, it appears that the 2020 "iPhone SE" will launch sometime in April 2020.
While a credible tipster indicated that Apple would announce the device on Friday, April 3, another leaker said that the launch is slated for April 15.
More confusing are case maker leaks, with at least one manufacturer potentially tipping an April 5 release date.
At this point, we're comfortable saying that the "iPhone SE" will launch in the very near future. But an exact day is still up in the air.
As far as price, that's less clear. But a report from February 2020 suggests that it could start at $399, presumably for the base 64GB tier. That's about on-par with previous iterations of the iPhone SE, and cheaper than Apple's current lowest-cost iPhone, the $449 iPhone 8.
'iPhone SE 2' name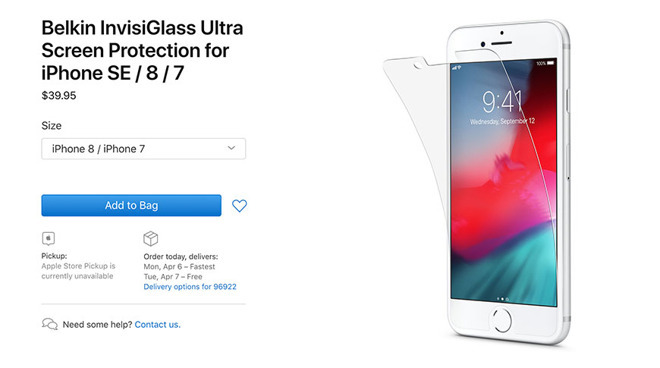 An iPhone 8-compatible screen protector was updated to reflect 'iPhone SE' compatibility on Apple's site.
The upcoming 4.7-inch device has been given several monikers by leakers, analysts and others in the Apple blogosphere. That includes "iPhone SE 2" and "iPhone 9."
At this point, it appears that the device will simply be dubbed the "iPhone SE," according to an apparent leak from an accessory on Apple's official online storefront.
The aforementioned tipster also suggested that Apple would differentiate the new model from past iPhone SE devices by referring to it specifically as an "iPhone SE 2020."
It isn't clear if the larger model — if it exists — will be dubbed the "iPhone SE Plus."
While an "iPhone 9" and "iPhone 9 Plus" moniker may make more sense to some consumers, the device is likely aimed at filling the gap that the original iPhone SE left. From that perspective, the "iPhone SE" name, in which the SE stands for "special edition," would be in-line with Apple's past low-cost iPhone strategy.
Uninstall these shady media editing Android apps right away to stop your data from being misused – Digital Information World


Even though the world is moving towards the digital platforms in all aspects but the growth of digitalization also brings the risk of data breach and violations. There's nothing scares more than your personal information being used without your consent and it's not the first time Android app developers abused the permission granted by users.
Recent discovery by VPNpro reveals a new spyware app with over 100 million downloads on Google Play Store and the developer of this spyware app has some other shady apps with more than 50 million installs in the Play store.
According to the report by VPNpro, the developer of these apps masked the origins and technical abuses behind so many apps on Play Store.
Google has a history of pulling out the networks of apps that abuse the user permissions once installed. However, evaluating the right permission types for a developer or app is still a tricky job. And this is where some app creators try to play their dirty games by taking advantage of Android data permissions.
Even though Google always encourages developers to follow its guidelines but the abuse of user permissions should never be taken for granted as it puts millions of users at risk.
The developer blamed of spyware is Hangzhou-based QuVideoInc with its very popular app named VivaVideo. This free video editing app has more than 100 million installs on Play Store.
According to the reports by VPNpro, QuVideo has its three apps available on the Play Store and also on the Apple's App Store but the violations of permission on iOS devices can't happen so easily.
To operate, Viva Video asks a variety of permissions which include the ability of the app to write/read to external drives and user's specific GPS location. This permission of GPS enables the app to send the location data of users up to 14,000 times in a day even if the app is not being used.
According to VPNpro, these types of apps have Trojans hidden inside the apps which can steal bank information of users without them even knowing it at all.
The report by VPNpro mapped out more than six apps by the same developer that needs to be used with caution and after analyzing these apps have more than 157 million installs on Google Play Store and the numbers of these apps are huge.
The following are the six apps by the same developer:
Tempo – Music Video Editor with Effects
SlidePlus – Photo Slideshow Maker
VivaCut – Pro Video Editor APP
VidStatus – Status Videos & Status Downloader
VivaVideo PRO Video Editor HD
VivaVideo
Until Google takes strict action against permission abuse, the users should stop using such apps to secure themselves from being a victim of such abuse but it is completely up to the users to decide if they want these malicious apps installed on their phones or not.
---
---
The only way to be secure from being a victim is by paying attention to the permissions you're allowing to these apps and if any permission seems out of ordinary the best solution is to uninstall the app from your phone.
Read next: Google Play Store Removed Over 1K Creeperware Apps Back In 2019, And Now Some Are Making A Comeback
New PS4 games must also run on PlayStation 5 from July, Sony tells devs – Eurogamer.net
Sony has told PlayStation 4 game developers that any new titles submitted for certification must also be compatible with PlayStation 5, beginning 13th July.
This means all PS4 games received by Sony for testing after the middle of that month are technically forwards compatible – playable on Sony's next-gen console – though it is up to each game's developer to ensure this is the case.
Developer documentation – released on PlayStation's internal Partner website and seen by Eurogamer – details an option developers must check to state their game has been tested for compatibility with PS5 hardware. This option was added at the end of April in a new version of Sony's PS4 software developer kit.
Sony has told developers it will contact them individually with details on how to test PS5 compatibility, in the order of their various projects' release.
Further documentation sheds light on what "compatibility" means. A game will be deemed compatible with PlayStation 5 only if its submission code runs without issues on Sony's next-gen machine, and provides the same features on PS5 as it does on PS4.
So, for example, a developer couldn't flag their game as PS5 compatible but not provide support for a certain mode on next-gen hardware.
These developer notes also detail Sony's rules for patches to existing games and remasters of previously-released titles.
If a game was originally submitted to Sony before 13th July 2020, any new patch or remaster after that date would not require PS5 compatibility, but it would be "strongly recommended".
If a game was originally submitted to Sony after 13th July 2020, any future patch or remaster to that game would need to keep PS5 compatibility. Once a game is PS5 compatible, it must stay so.
It's worth emphasising that all of this applies to games submitted to Sony after 13th July, which is not the same as anything released after that date. Submissions are generally made well in advance of release to ensure Sony's certification team can approve the game in time.
For example, Sony's own Ghost of Tshushima is released on 17th July but will have entered certification prior to the 13th July cut-off. It will not specifically need to be PlayStation 5 forwards-compatible. However, as one of PlayStation 4's remaining flagship titles, it is certain to be supported on PlayStation 5 (and indeed, Eurogamer has separately heard this will be the case, alongside fellow upcoming exclusive The Last of Us 2).
But it's worth noting that while approved software has the technical capability to work across generations, Sony is yet to go into detail on how it will handle this in reality.
Many third-party publishers have already confirmed they will support Microsoft's Smart Delivery method for cross-gen ownership on Xbox, designed to serve the best version of a game for the platform you are playing on. Ubisoft will use this to provide cross-gen ownership of Assassin's Creed Valhalla, as will CD Projekt Red with Cyberpunk 2077. (EA, meanwhile, has decided some of its games will have a limited-time "upgrade" window.)
As for previously-released games, Microsoft stated its intention a year ago to have Xbox One's entire (non-Kinect) back catalogue working at the Series X launch, as well as all games from its existing Xbox 360 and original Xbox backwards compatibility program. And, as Microsoft revealed to Digital Foundry in March, it will provide this with improvements – such as the addition of HDR – automatically applied.
PlayStation is also working to ensure PS4 games run on PS5, though it previously said it would pass "issues which need adjustment" to developers to handle.
"We're expecting backward compatible titles will run at a boosted frequency on PS5 so that they can benefit from higher or more stable frame rates and potentially higher resolutions. We're currently evaluating games on a title-by-title basis to spot any issues that need adjustment from the original software developers," PlayStation wrote back in March. "In his presentation, Mark Cerny provided a snapshot into the Top 100 most-played PS4 titles, demonstrating how well our backward compatibility efforts are going. We have already tested hundreds of titles and are preparing to test thousands more as we move toward launch. We will provide updates on backward compatibility, along with much more PS5 news, in the months ahead. Stay tuned!"
For everything else we know so far about Sony's next console, we have a list of confirmed PS5 games and PS5 specs, plus what to expect from the DualSense controller.
Ford resurrects Mustang Mach 1, a throwback to the golden age of muscle cars – CNBC
Ford is resurrecting a well-known model of the Mustang called Mach 1, a performance version of the pony car that first debuted in the late 1960s. The company released this teaser image of the vehicle May 29, 2020.
Ford
Ford Motor is resurrecting a well-known model of the Mustang called Mach 1, a performance version of the pony car that first debuted during the golden age of muscle cars in the late 1960s.
The company confirmed the return of the vehicle for the 2021 model-year with a naturally aspirated 5.0-liter V8 engine Friday, saying it will "be true" to the car's performance heritage. Ford declined to release specific details regarding performance, availability and expected pricing.
Performance models such as the Mach 1 aren't best sellers but are considered important as "halo" or "hype" vehicles for automakers to attract attention to entire brands and vehicle lineups.
The 2021 Mustang Mach 1 is expected to offer better performance than the current Mustang GT at 460 horsepower but be more attainable that Mustang Shelby GT models, which are high-performance and track-focused cars that start at more than $60,000.
Ford is resurrecting a well-known model of the Mustang called Mach 1. The company released this teaser image of the vehicle May 29, 2020.
Ford
"Mach 1 has a special place in Mustang history, and it's time for this special edition to claim the top spot in our 5.0-liter V8 performance lineup and reward our most hardcore Mustang enthusiasts who demand that next level of power, precision and collectability," Dave Pericak, director of Ford Icons, said in a release.
More than 300,000 Mustang Mach 1 cars have been produced since its debut in 1969, according to Ford. The car was first discontinued after nine years. The model returned for the 2003 and 2004 Mustang models.
Ford also is using the "Mach" name for the Mustang Mach-E, an all-electric crossover that's expected to go on sale later this year.