Explainer: Climate change: what are the economic stakes?
COP26 climate talks in Glasgow starting next Sunday may be the world's best last chance to cap global warming at the 1.5-2 degrees Celsius upper limit set out in the 2015 Paris Agreement.
The stakes for the planet are huge – among them the impact on economic livelihoods the world over and the future stability of the global financial system.
Here are 10 climate change-related questions that economic policy-makers are trying to answer:
1) HOW MUCH DOES CLIMATE CHANGE COST? From floods and fires to conflict and migration: economic models struggle with the many possible knock-on effects from global warming. The ballpark IMF estimate is that unchecked warming would shave 7% off world output by 2100. The Network for Greening the Financial System (NFGS) group of world central banks puts it even higher – 13%. In a Reuters poll of economists, the median figure for the output loss in that scenario was 18%.
2) WHERE IS THE IMPACT GOING TO BE FELT HARDEST? – Clearly, the developing world. Much of the world's poor live in the tropical or low-lying regions already suffering climate change fall-out like droughts or rising sea levels. Moreover their countries rarely have the resources to mitigate such damage. The NFGS report projects overall output losses of above 15% for much of Asia and Africa, rising to 20% in the Sahel countries.
3) WHAT DOES THAT MEAN FOR INDIVIDUAL LIVELIHOODS? Climate change will drive up to 132 million more people into extreme poverty by 2030, a World Bank paper last year concluded. Factors included lost farming income; lower outdoor labour productivity; rising food prices; increased disease; and economic losses from extreme weather.
4) HOW MUCH WILL IT COST TO FIX IT? Advocates of early action say the sooner you start the better. The widely used NiGEM macroeconomic forecast model even suggests an early start would offer small net gains for output thanks to the big investments needed in green infrastructure. The same model warns of output losses of up to 3% in last-minute transition scenarios.
5) WHO LOSES OUT IN A "NET ZERO" CARBON WORLD? Primarily, anyone with fossil fuel exposure. A report by think tank Carbon Tracker in September estimated that over $1 trillion of business-as-usual investment by the oil and gas sector would no longer be viable in a genuinely low-carbon world. Moreover the IMF has called for the end of all fossil fuel subsidies – which it calculates at $5 trillion annually if defined to include undercharging for supply, environmental and health costs.
6) WHAT SHOULD CARBON REALLY COST? Tax or permit schemes that try to price in the damage done by emissions create incentives to go green. But so far only a fifth of global carbon emissions are covered by such programmes, pricing carbon on average at a mere $3 a tonne. That's well below the $75/tonne the IMF says is needed to cap global warming at well below 2°C. The Reuters poll of economists recommended $100/tonne.
7) WOULDN'T THAT LEAD TO INFLATION? – Anything which factors in the polluting cost of fossil fuels is likely to lead to price rises in some sectors – aviation for example. That could in turn lead to what central banks define as inflation – broad-based and durable price rises across the whole economy. Yet history shows this hasn't necessarily been the case: carbon taxes introduced in Canada and Europe pushed overall prices lower because they cut into household income and hence consumer demand, a recent study showed. It is also true that doing nothing could lead to inflation: a European Central Bank paper last year warned of food and commodity price rises from extreme weather events and the land shortages being caused by desertification and rising sea levels.
8) ARE GREEN ADVANCES REALLY DECOUPLING EMISSIONS FROM ECONOMIC GROWTH? Genuinely sustainable growth implies that economic activity can grow as needed without adding yet more emissions. This is the holy grail of "absolute decoupling". But so far, any decoupling has either been largely relative – in the sense of merely achieving higher rates of economic growth than gains in emissions – or achieved by shifting dirty production from one national territory to another. And that is why, for now, global emissions are still rising.
9) WHO BEARS THE BRUNT OF TRANSITION? The idea of "Just Transition" has been espoused by bodies such as the European Union to acknowledge that the transition to net zero should happen in a fair way – for example by ensuring low-income groups are not made worse-off. At a global scale, the rich countries which since their industrial revolutions have generated the bulk of emissions have promised to help developing countries transition via $100 billion of annual transfers – a promise so far not fulfilled.
10) COULD THIS SPARK A FINANCIAL CRISIS? The global financial system needs to be insulated against both the physical risks of climate change itself and the upheavals likely to happen during a transition to net zero. Central banks and national treasuries are calling on banks and other financial players to come clean about the exposure of their books to such risks. The ECB and other regulators have made it clear there is a long way to go on this.
(Editing by Giles Elgood)
Nobody seems to know what's going on with the economy – CNN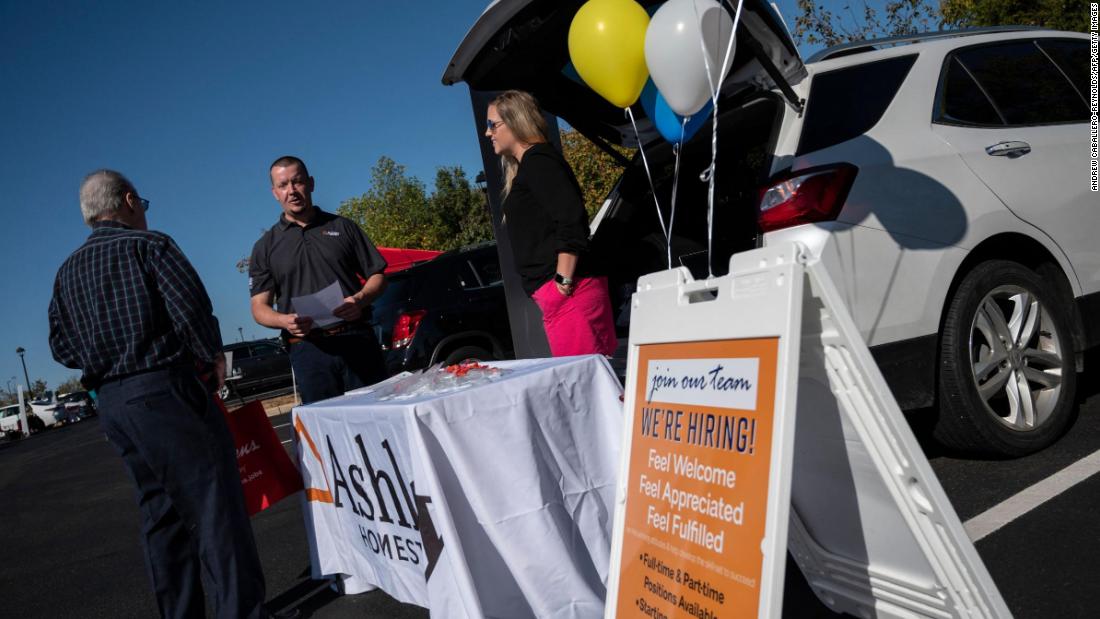 The economy is on the road to recovery from the coronavirus pandemic, reeling from inflation or a source of disappointment on jobs creation, depending on who you're talking to.
It's probably all three, and what happens from month to month seems to be something of a surprise. That element of unpredictability might be the most normal possible thing given the shock of the pandemic — the extraordinary government intervention to save the economy is unlike anything anybody alive today has ever seen.
It's hard to decide how important any single thing is.
Omicron Variant May Be Good For Economy – Forbes
The omicron variant of Covid-19 has sparked great fear. With time, we may find the fear to have been justified, but we may find the opposite: that this is good news for the economy.
It's still early days for our knowledge of omicron. Waiting to learn more seems to make sense, but consider this: Business decisions are being made every day. Any person who waits for perfect certainty—about the economy, technology or Covid-19—will never make a single decision. In many areas decisions have to be made this week. So it's worthwhile to consider how omicron may be good for the economy.
Omicron seems to be displacing the delta variant in South Africa. Ted Wenseleers showed that delta's share of total Covid-19 cases in South Africa has plummeted while omicron has surged. Because the early indications show that omicron was highly transmissible, it could well displace the delta variant around the world.
So far omicron has triggered a surge in infections in South Africa, but not a comparable increase in deaths. There's good reason for the virus to mutate to be less dangerous. Bugs that kill their hosts don't replicate as much as bugs that allow their hosts to remain alive. Many viruses in the past have evolved to be milder. We cannot take this idea too far, however.
The omicron virus may have mutated so that it has greater ability to infect those who already had been exposed to earlier variants. That's no surprise to South African scientists, who have observed a very high past infection rate in their population. The virus could not get ahead by finding people never exposed to any version of Covid-19, so it found a way to infect the previously ill, this theory goes.
BioNTech CEO Ugur Sahin said recently that current vaccines probably help protect against severe illness from the omicron variant, and that new vaccines are under development that would be more targeted against omicron. Given the speed with which our vaccines were developed, we may have new versions being tested in the lab right now. The question will be how long we have to wait for regulatory approval.
From an economic forecasting viewpoint, business leaders should consider the upside potential of omicron. Although it is way too early to be sure, we may find that the disease becomes dominated by a less dangerous mutation. Illness would continue if this happens, but with fewer deaths and hospitalizations. People would come to feel more comfortable dining out, traveling and seeking routine non-Covid healthcare tests and procedures. The rosy view is far from certain, but current evidence is not more pessimistic.
Companies that that are especially sensitive to the Covid pandemic should try to delay big decisions. We'll have better information in the coming weeks. But decisions that cannot be delayed should probably consider the possibility of a stronger economy rather than greater Covid problems.
Can the global economy battle through another COVID-19 setback? – Aljazeera.com
Video Duration 26 minutes 00 seconds 26:00
From:
Counting the Cost
A new coronavirus variant has forced governments to impose travel bans just as economies were starting to recover.
Last week, after scientists in South Africa identified a new coronavirus variant, borders were suddenly closed off to passenger travel from Southern African countries, oil prices fell more than 10 percent, and stock markets took a hit.
Markets and economies are expected to face weeks of uncertainty as investors closely watch for updates on Omicron. What comes next largely depends on what scientists discover and how quickly they do so.
Also, green hydrogen has been hailed as the energy of the future; can it help decarbonise economies?