Explore Ontario art at the COVID-safe Apsley Autumn Studio Tour – kawarthaNOW.com
With art galleries closed for much of the COVID-19 pandemic, artists have been unable to show their work for months and art lovers have been equally deprived of indulging their passion.
So it's great news that the Apsley Autumn Studio Tour is going ahead for 2020 — but with the proper pandemic precautions in place, including requiring physical distancing and face coverings.
This is the 27th year of the renowned annual tour, which takes place from 10 a.m. to 5 p.m. on Saturday, September 19th and Sunday, September 20th.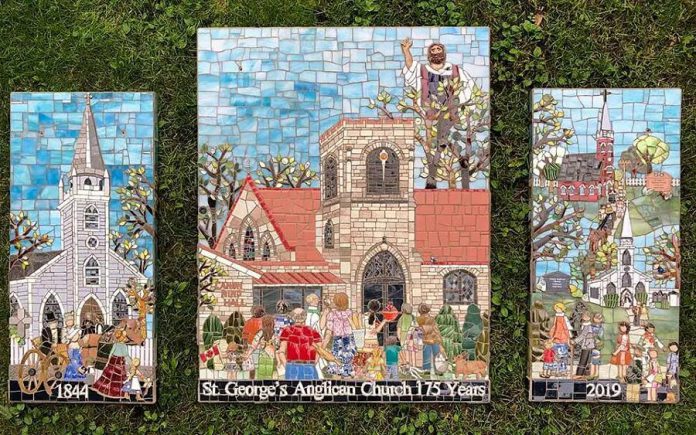 The free self-guided tour features 27 artists in 13 studios across North Kawartha Township in Peterborough County, with an additional studio located in nearby Wollaston Township in Hastings County.
Every year, new artists apply for Apsley Autumn Studio Tour and are admitted through a juried process. Many live in the area, while others are guest artists.
This year's participants again cover the gamut of the visual arts, including painting, jewellery, glass art, mosaics, woodworking, sculpture, fabric and fibre art, pottery, photography, and metalwork. As well as seeing their work, the tour provides you with the opportunity to meet welcoming artists in person.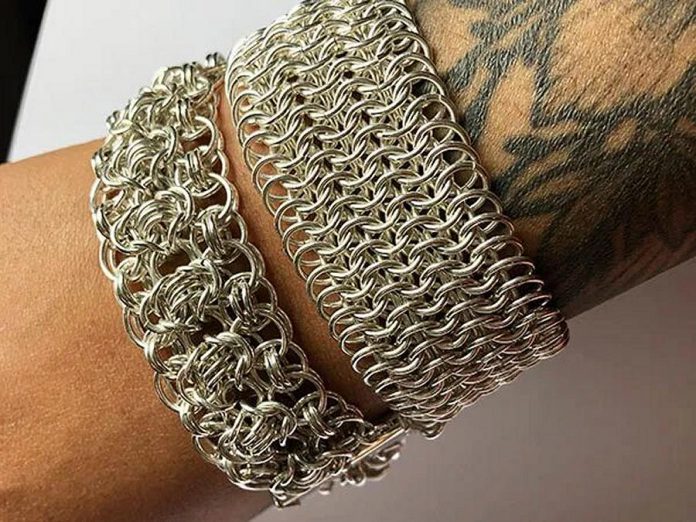 All you need to participate is a vehicle and the tour map (see below). You can make a day trip (there are local eateries in the area where you can stop for refreshments) or make a weekend of it by staying at local accommodations such as the Burleigh Falls Inn or Viamede Resort.
For your convenience, here's a summary in alphabetical order of the artists and artisans participating in the 2020 Apsley Autumn Studio Tour, including their disciplines and the studios where you can find them (watch for the black-and-white studio tour signs that mark each studio location, which are listed on the map below).
Brendan Cane (Photography, Studio B)
Brendan has many hobbies, but has the most to show for — and is most passionate about — the art of landscape photography.
Read more about Brendan Cane.
Rachel Charlebois (Metal Sculpture, Studio R)
Rachel returns to the Apsley Studio Tour, where she loves to meet new people and see familiar faces as she shares her love of metalwork with visitors.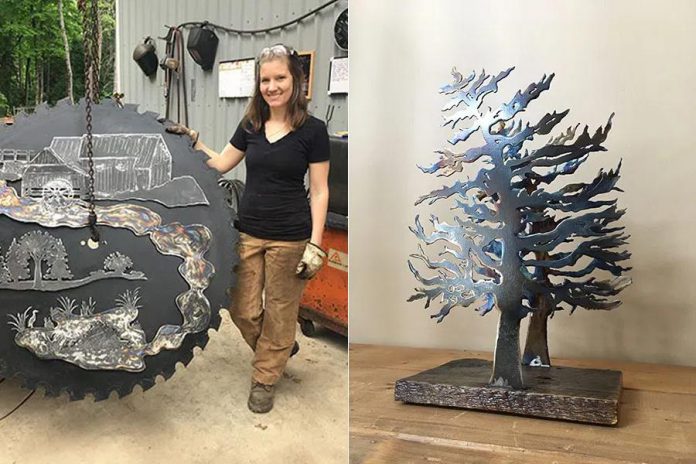 Read more about Rachel Charlebois.
Megan Cole (Sculpture, Studio A)
An emerging artist, Megan has participated in various group shows in Peterborough, and has had several pieces auctioned off by the Art Gallery of Peterborough, as well as having a painting in their inaugural triennial exhibition.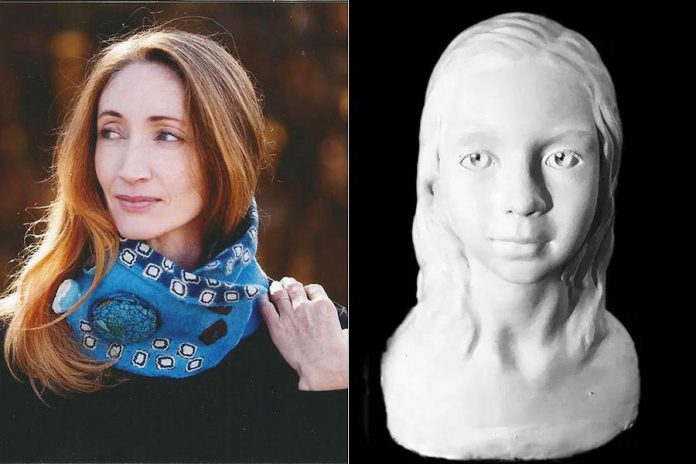 Read more about Megan Cole.
Rachel Conlin (Artisan Wool & Soap, Studio O)
Rachel has introduced her artisan soaps to compliment the unique wools she's been recognized for. She began experimenting with herbs from the garden and wild plants from her farm and woodland, blending them into the wholesome soaps. Rachel says creating artisan soaps along with novel wools is not only a manifestation of nature and colour, but also celebrates the charm of farm life.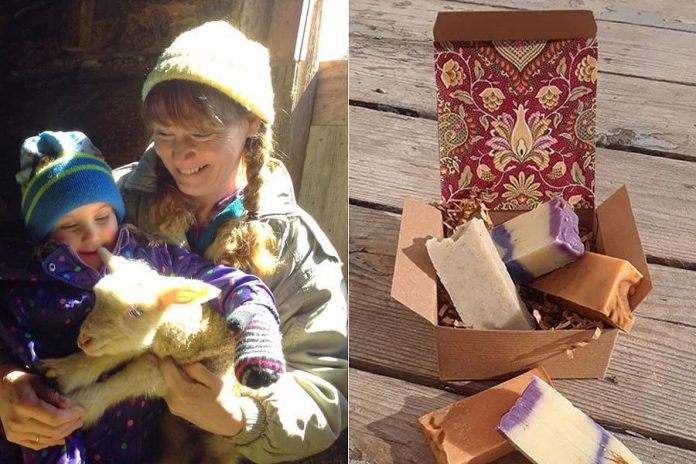 Read more about Rachel Conlin.
Brad Copping (Glass Art, Studio F)
Working from his home on the edge of the Canadian Shield, Brad maintains a successful practice as both a sculptor and a functional glass blower, often traversing the line between.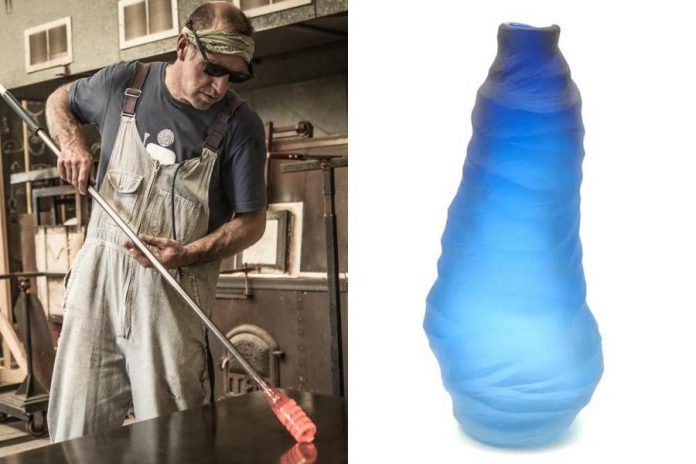 Read more about Brad Copping.
Jacques Deslauriers (Woodworking, Studio L)
Jacques is a self-taught woodworker who uses only wood from dead or fallen trees. Gnarls, insect holes, and spalted wood are his materials of choice. He is always ready for a creative challenge of any size.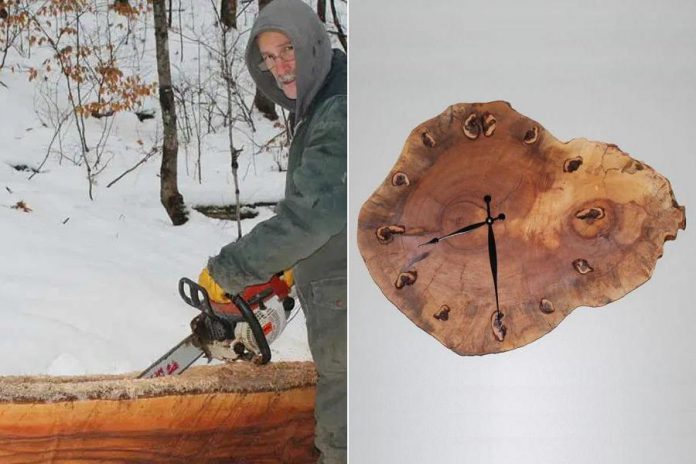 Read more about Jacques Deslauriers.
David Grieve (Painting, Studio G)
First introduced to oil painting as a child, David has been painting ever since and has developed a unique distinctive style. He uses a multi-layered technique, applying thick swaths of oil paint to create images inspired by the Ontario landscape.
Read more about David Grieve.
Anja Hertle (Mosaics, Studio J)
Anja works with broken china, pottery, porcelain figurines, and tile to give these elements a second life in her whimsical mosaic art pieces. She also incorporates forks, beads, buttons, bottle caps, and typewriter keys.
Read more about Anja Hertle.
Susan Higgins (Glass Art, Studio M)
Expressive colour and evocative themes of nature are Susan's hallmarks. She layers crushed and sheet glasses, sometimes with metal inclusions, and then kiln fires them. Susan strives to create engaging imagery in plates, bowls, and freestanding glass art.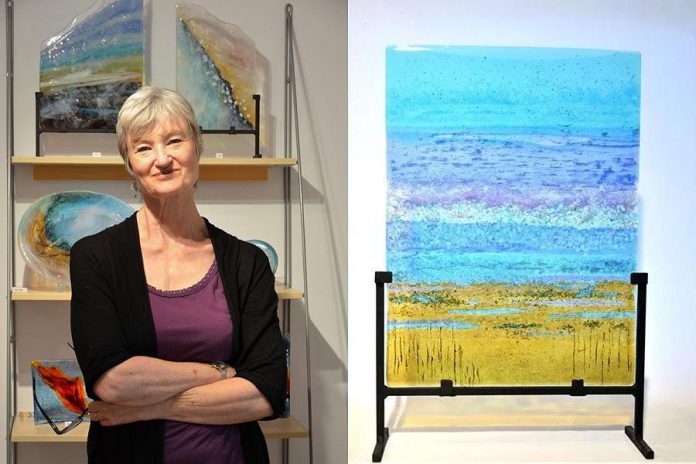 Read more about Susan Higgins.
Dolores Hopps (Fabric Art, Studio H)
Dolores' work includes quilts, using imported fabrics from England and Japan, as well as wall hangings, runners, and smaller items. Many of her pieces have wool felting incorporated into the quilting, as well as beads, silk, and quite a number of other interesting embellishments.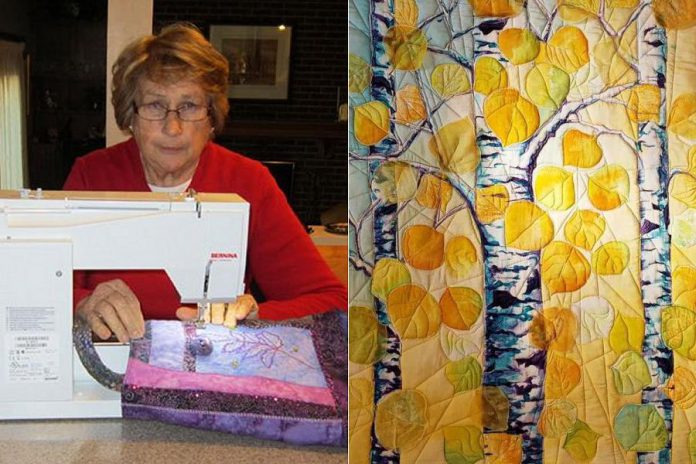 Read more about Dolores Hopps.
Melanie Edson Horner (Pottery, Studio J)
A member of Kawartha Potters Guild and Spirit of the Hills Art Association, Melanie enjoys creating personalised pottery, particularly clocks. She enjoys making one-off pieces and is currently experimenting with raku and smoke fire techniques.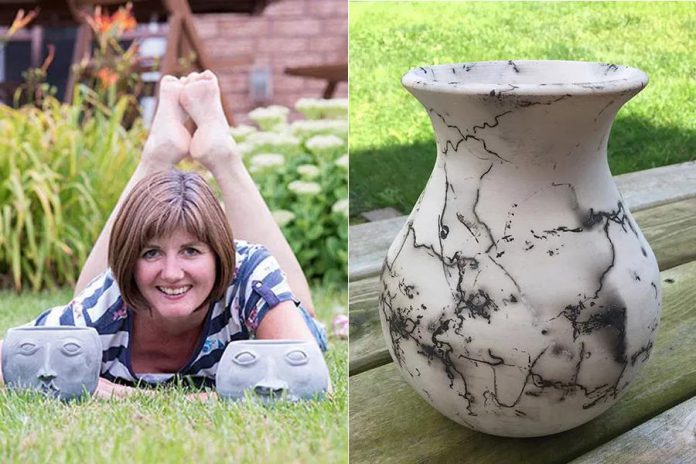 Read more about Melanie Edson Horner.
Vivienne Jones (Jewellery, Studio F)
Vivienne is a contemporary artist based in Toronto whose work is very much influenced by natural forms. She creates highly distinctive jewellery using both traditional and non-traditional materials.
Read more about Vivienne Jones.
Carolyn Jongeward (Painting and Woven Tapestry, Studio A)
Carolyn's artwork includes hand-woven tapestry, acrylic painting, block printing, fabric painting, and painting on birch bark. As a tapestry artist, Carolyn has exhibited in Canada, United States, and England. Her paintings reflect her understanding of textile structures, her eye for colour, and her ongoing interest in geometry and pattern in art and nature.
Read more about Carolyn Jongeward.
Lisa Mace (Painting, Studio C)
Living in rural Apsley, Lisa paints the world around her. Jack pines, full maples, wild flowers, and rural homes, Lisa paints what is found outside her front door.
Read more about Lisa Mace.
Molly Moldovan (Visual Arts, Studio M)
The starting point for all of Molly's work is the pristine landscape that surrounds her: the lake, forest, and uninterrupted skyscape are the foundation of every piece she paints. A visual artist whose primary focus is abstraction, she works primarily in acrylic and mixed media.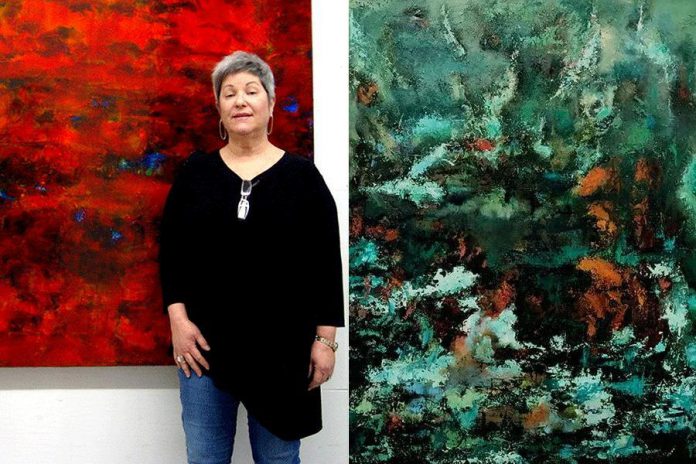 Read more about Molly Moldovan.
Britt Olauson (Woodworking, Studio C)
Britt designs functional furniture and other objects in wood, and her designs are often playful or interactive.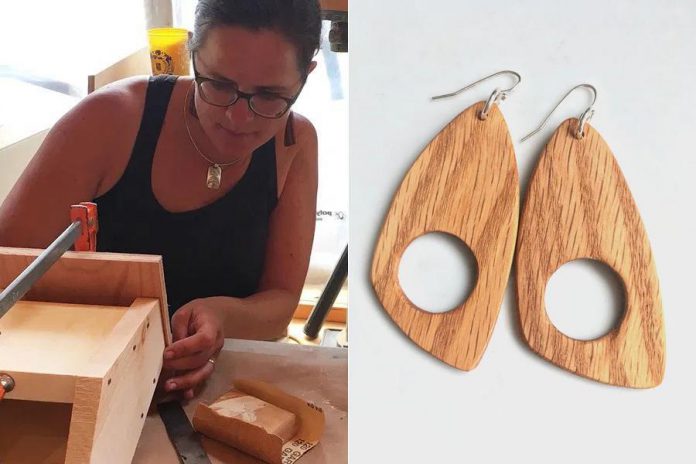 Read more about Britt Olauson.
Tom Parsons (Woodworking, Studio B)
Tom's work exemplifies both rustic and contemporary styles, and is greatly influenced by the natural forms of wood.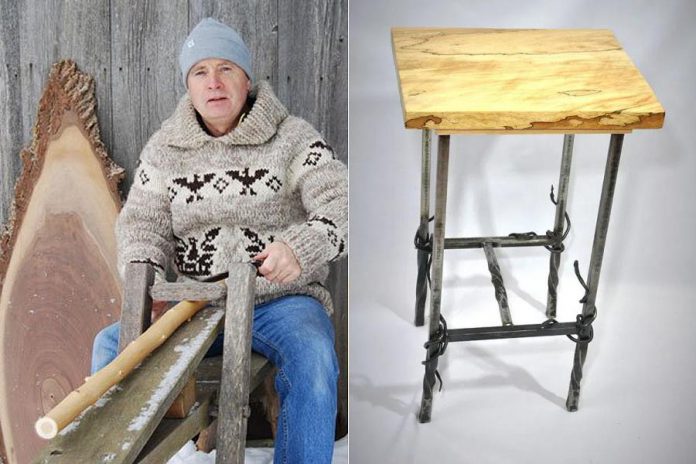 Read more about Tom Parsons.
Cathy Pennaertz (Pottery, Studio K)
Applying multiple patterns in a range of colours on clay, Cathy creates one-of-a-kind functional pieces of art or a whimsical collectible. New animal-themed mugs, piggy banks, and horse figurines add to the collection among a continuation of animated forms of snowmen, gnomes, Santas, and assorted critters.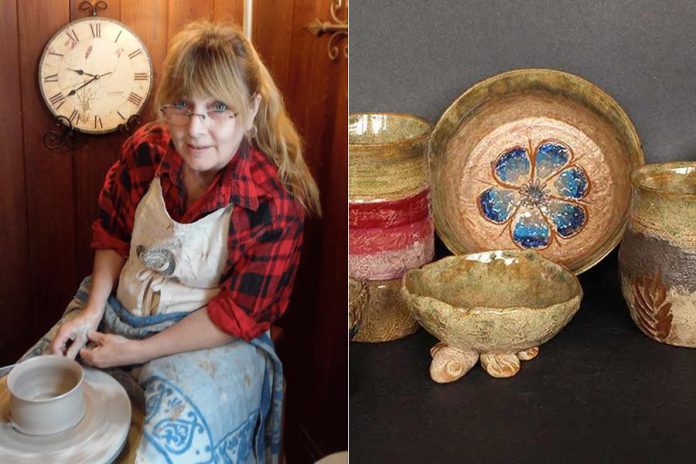 Read more about Cathy Pennaertz.
Susan Rankin (Glass Art, Studio F)
In her 30-year career as a glass artist, Susan has drawn inspiration from the landscape in which she lives. An avid gardener, she continues to explore the idea of garden through her vessel and sculptural works and is well known for her vibrant floral vessels.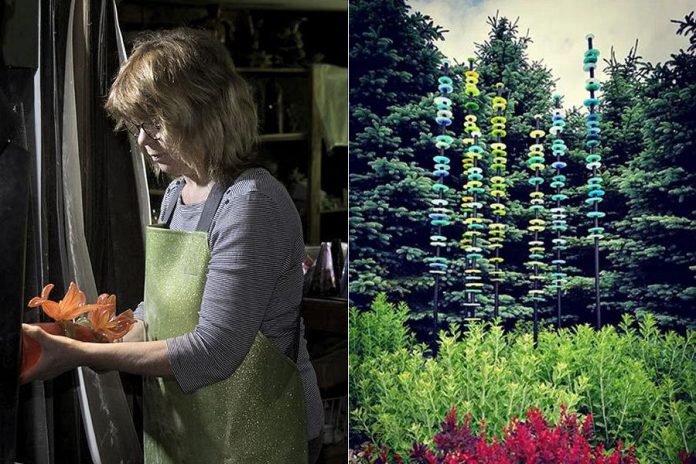 Read more about Susan Rankin.
Kathy Robichaud (Stained glass, Studio H)
Kathy has been a stained glass artist for over 25 years, using traditional techniques to produce stained glass art. Concentrating on the copper foil method, Kathy looks to nature for inspiration.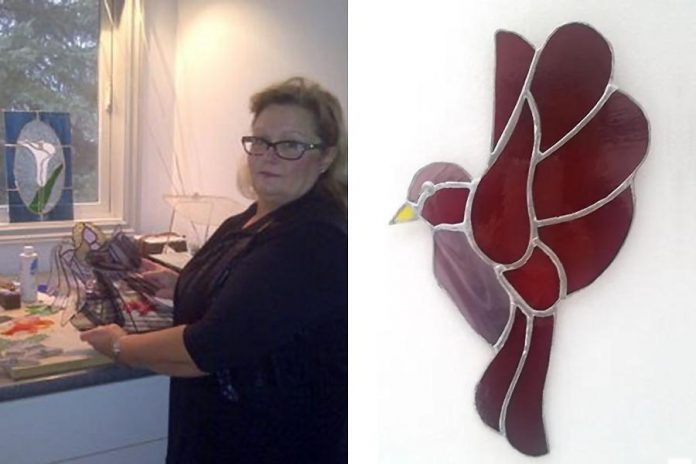 Read more about Kathy Robichaud.
Arne Roosman (Painting, Studio S)
Arne revisits his sketch book and paints his canvas with his travels to Sweden, Italy, and Estonia, and life's inspirations in tow.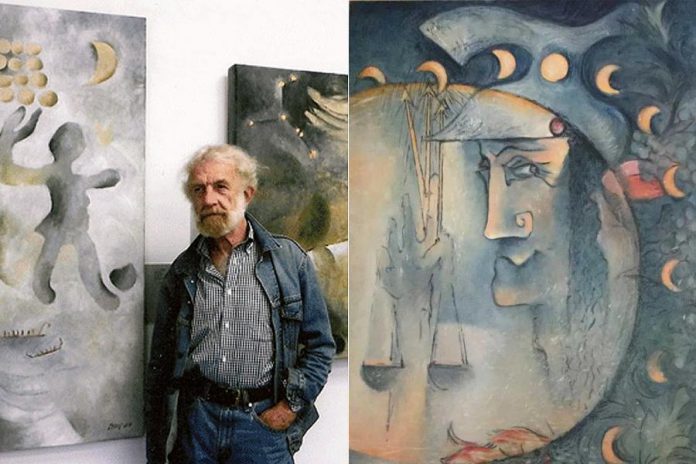 Read more about Arne Roosman.
Catharine Scott (Jewellery, Studio H)
Catharine is a self-taught artisan who is inspired by the natural beauty of coloured gem stones, the ability to form and create meaningful pieces of art through wire working, and her own creative style of stringing that can be worn at any time of the day with any style of fashion.
Read more about Catharine Scott.
Clare Scott-Taggart (Metal Sculpture, Studio F)
Clare owns Rusty Girl metalwork studio in Toronto, where she designs and makes railings, furniture, arbours, limited-run production pieces for the garden, and sculpture.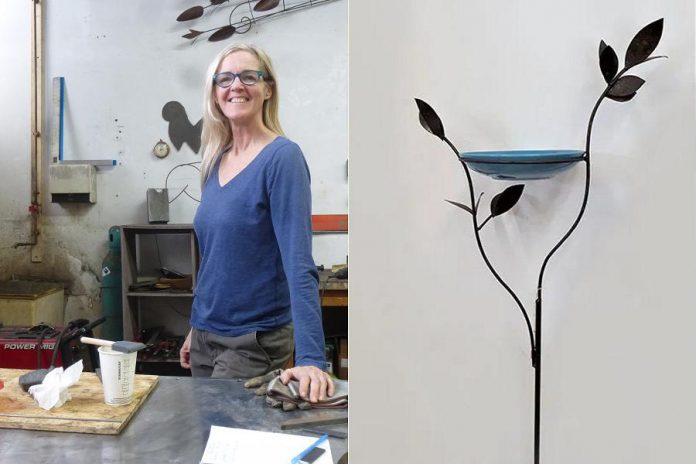 Read more about Clare Scott-Taggart.
David Smith (Painting, Studio F)
David is inspired to create new works in watercolour, acrylic, and oil by the surrounding landscape. Painting full time following a career in advertising, graphic design, and colour retouching, he applies this knowledge and skill into his paintings.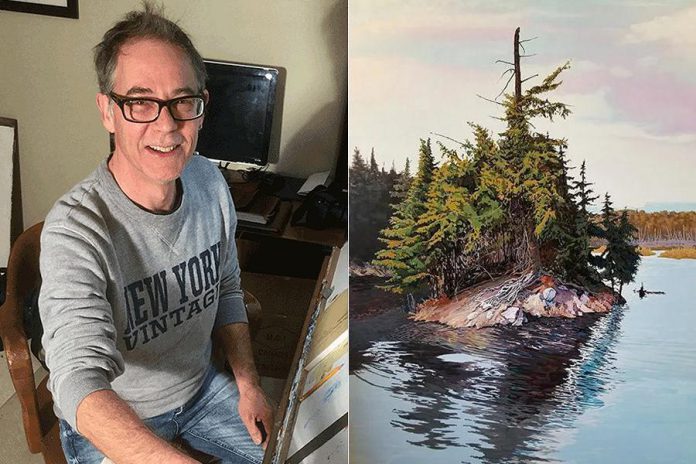 Read more about David Smith.
Judy Sparkes (Pottery, Studio H)
Obsessed with the relationship between great food and handmade pottery, Judy believes eating from handmade pots elevates the dining experience. Her work is carefully hand crafted to be enjoyed as everyday art.
Read more about Judy Sparkes.
Frances Timbers (Jewellery, Studio A)
From the delicate to the dramatic, Frances' jewellery designs are timeless treasures, which will serve as wearable art for years to come.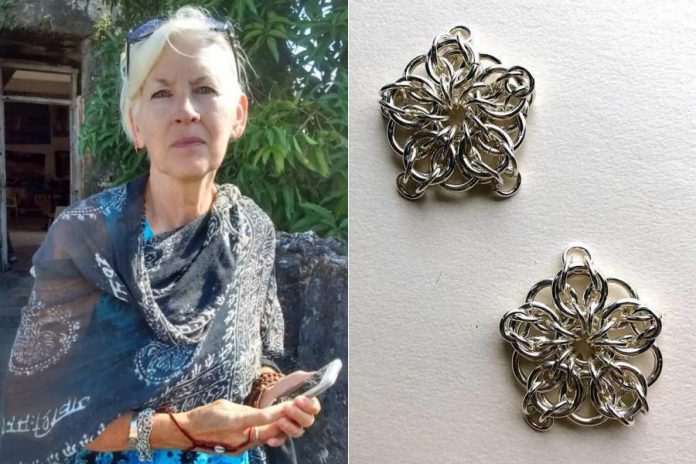 Read more about Frances Timbers.
Kimberly Tucker (Fibre Art, Studio A)
Kim is inspired by nature's resilience and her work is a celebration of an imagination let loose.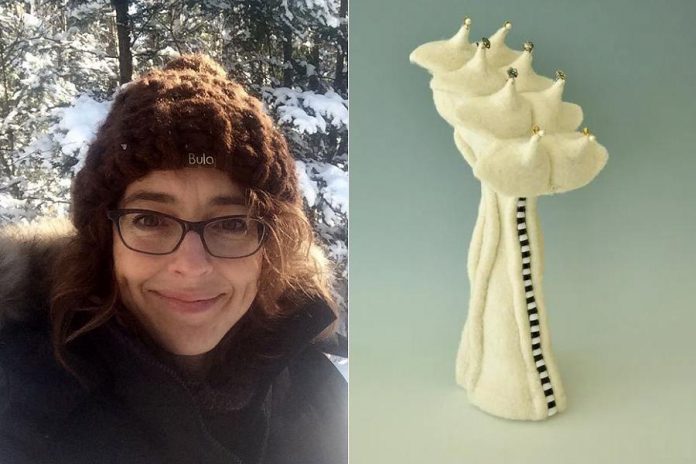 Read more about Kimberly Tucker.
2020 Apsley Autumn Studio Tour Map
You can download a download a printable brochure that includes the map.
First launched in 1994, the Apsley Studio Tour not only creates public awareness of the arts by promoting and supporting artists in the community, but it supports young artists as well. The tour sponsors the Arts Award at Apsley Central Public School (last year's recipient was Mason Harris).
For more information on the 2020 Apsley Autumn Studio Tour, visit apsleystudiotour.com. You can also follow the Apsley Autumn Studio Tour on Facebook and Instagram.
This story was created in partnership with the Apsley Autumn Studio Tour.
Art and grieving: Painter Barbara Pratt honours mother Mary Pratt's life in new exhibit – CBC.ca
There was no cake waiting for Barbara Pratt on her 56th birthday, something that until that point had been a tradition shared between her and her mother each year to mark the annual celebration of life.
The warmth and love was missing for the first time.
Renowned artist Mary Pratt — her mother — died at 83 in August 2018. Mary made a career of painting hyper-realistic everyday scenes — including of baking — that resonated across the country and sent her to the top of the Canadian art world.
Today, Barbara Pratt's newest gallery, starting Saturday at the Emma Butler Gallery in St. John's, pays homage to her late mother.
"I had an idea back in 2018 to paint a painting of the cake pans, that's in this exhibition, and I wasn't really thinking about it in a really significant kind of way," Pratt told CBC Radio's On The Go.
"But after my mother died, in that same year, the image became more poignant for me and I started thinking about other possibilities for images. When my birthday came I realized there wouldn't be any birthday cake from my mom that year, for the first time ever, really, and that hit me pretty hard and fuelled my creativity."
Pratt picked up painting from her parents. She also picked up baking from her mother, something she says is taken seriously in her family — particularly with birthdays.
"It struck me that baking, and baking birthday cakes in particular, is essentially an act of love that you do for somebody else," said Pratt.
"I don't take baking birthday cakes lightly. I'm not going to bake a birthday cake for just anybody."
'It's just part of what we do'
Pratt said the idea to paint cakes was obvious to her after going through some old family slides, many of which featured cake.
She said everyone in the family was happy in those captured moments, but added cake itself plays a role in societal norms.
"Cake in general has a larger picture in our culture. We have cake with many of our rituals and celebrations. Retirement, graduations, weddings, obviously, and even at funerals you bring baked goods," Pratt said.
"It's just part of what we do, and that's the way my mom approached art. It's the way I approach it as well. It's about representing what you know."
Pratt's new works feature actual cakes designed by Maria Clarke of Petite Sweet in St. John's and some of her own.
Eighteen of her paintings will be hung on the walls of the gallery from Sept. 19 to Oct. 10, and the memory of her mother and the paying of her tribute goes one step further.
Many of the paintings were used using Mary Pratt's brushes, and even some of her own canvases that she never had the opportunity to use, said Barbara Pratt.
"I feel lucky, in that I have sort have been with her during the whole duration of creating work for this show," she said.
"There were days were days when it was very emotional for me, but uplifting at the same time.… I don't know that it helped, but I did feel honoured by the ability to use her brushes, and her paint, and well an awful lot more of her supplies as well."
Read more from CBC Newfoundland and Labrador
Art exhibit captures memories of a changing landscape through COVID-19 pandemic – NiagaraFallsReview.ca
We began lockdown toward the end of winter; still cold, we stayed inside. As spring opened up to possibilities, many of us took to the outdoors, walking our only contact with the broader community, awkward though those encounters might be, hailing neighbours at a careful distance.
Alliston, Ont., artist Gary Evans has been creating throughout the pandemic; some of his paintings are now being shown in an exhibition titled "Daylight" at the Paul Petro gallery in Toronto.
He, too, experienced the strangeness of the world and the way he was moving in it, differently. "Avoiding the few people out there and really relishing the freshness of the air and changing conditions of the spring, the walks and sights of the town and surrounding landscape became the subject of paintings," he says. "I found myself trying to express the different textures of the landscape, capture a mood and witness change on a daily basis."
A fence. A tree changing shape and the changing light.
"Intersections of architecture and nature always seem to catch my eye, and the painting 'Alley' is based on the view of a neighbour's fence that runs beside a parking lot and an arena building. The small maples that peek over the fence mark the space or distance between the viewer and architecture."
"Often I will start to paint an actual image, then slowly add marks and imaginative or abstract patterns and colours to complete the image in a more expressive and personal manner. I'm trying to create a dialogue between our inner world of feeling and subjective reality and the generic landscape we inhabit together."
And now, we enter fall. The days shorter, the air crisper, the shadows longer. We'll observe more carefully, wanting to etch moments in our mind. Some we'll want to remember clearly, some framed, perhaps, with simply a sense of colours and lines and feelings. Memories to sustain us through a long winter indoors.
You can see the entire exhibition at the Paul Petro Contemporary Art gallery at paulpetro.com.
10-year-old Anishinaabe photographer makes art show debut at skatepark exhibition – CBC.ca
Ella Greyeyes came across photography by accident, when she filled in for a photographer who was supposed to take her dad's headshot, but cancelled at the last minute.
The 10-year-old was instantly hooked. She started snapping more pictures: some of her mom, others of nature scenes. Her parents posted them on Instagram and Ella soon drew the attention of local artist Annie Beach, who suggested Ella get involved with Lavender Menace, a mentorship opportunity that will culminate in an art show at The Plaza skatepark at The Forks.
"I'm feeling really excited and just happy that I'm going to have my photos at The Forks," Ella told CBC's Weekend Morning Show host Nadia Kidwai on Sunday. "When people see my photos, I hope they feel joy in them."
For Ella, photography was a new way to see the world around her.
"When I see something, I just like to frame it," she said. "And I love to take pictures of nature. It just feels so good and relaxing."
The show organized by Graffiti Art Programming gets its name from a term rooted in the American lesbian women's movement for inclusion within feminism, said Chanelle Lajoie, a Métis artist who mentored Ella ahead of Sunday night's opening reception. Lajoie said Lavender Menace was a chance to create space for Indigenous people and learn from each other.
"Working with Ella provided for me that intergenerational knowledge-sharing, because it was very much reciprocated on both ends," Lajoie said.
"Ella really enjoying taking photography of nature … seemed [to] really fit well with the project of providing natural elements to a predominantly concrete space, and so it was a really perfect fit."
Ella — who is Anishinaabe from Peguis First Nation and lives in Winnipeg — said she learned so much about photography from Lajoie, from how to use the different settings on her camera to how to make a person comfortable in front of her lens.
"You have to be happy when you take them," she said. "You have to take them with some joy, because then it will make the person, the model, feel really good and smile and not be grumpy in every photo."
Lajoie said the show at The Forks is meant to start a conversation about representation of Indigenous, LGBT and two-spirit people in a space so deeply rooted in Indigenous histories.
"That conversation will include us. It'll bring up some uncomfortable realities. [But] our representation is also going to encourage inclusion and build community further," she said.
"So I hope anyone who is at the show, whether it's tonight or in the future, if they're having difficulty seeking out their queer selves or their Indigenous selves, that they see this and see themselves in us."
The Lavender Menace group art exhibition launches Sunday at 5 p.m. The event will run until 7 p.m., though the art will stay until next year.