Exploring 'chemical space' with Anatole von Lilienfeld | Faculty of Arts & Science
It is not hard to be drawn in by the beauty and unprecedented detail of the photographs being captured by NASA's James Webb Space Telescope. Not only are the images nice to look at, but they also have the potential to enhance our understanding of the origins of the universe and reveal previously unseen aspects of the cosmos. When we can see our surroundings, we can better understand where we are going — or want to go — and how to best get there.
Anatole von Lilienfeld also navigates space, but rather than exploring the depths of the universe, his work is here on Earth in "chemical space."
And instead of hunting for unknown stars, galaxies and other celestial objects, his focus is on the untapped potential of undiscovered chemical combinations. To do this work, he is not equipped with a powerful telescope — his tool of choice is artificial intelligence (AI).
Von Lilienfeld is the inaugural Clark Chair in Advanced Materials at the Vector Institute and the University of Toronto, and a pivotal member of U of T's Acceleration Consortium (AC). Appointed jointly to the Department of Chemistry in the Faculty of Arts & Science and the Department of Materials Science & Engineering in the Faculty of Applied Science & Engineering, he is one of the world's brightest visionaries on the use of computers to understand the vastness of chemical space.
Von Lilienfeld, who was recently named a Canada CIFAR AI Chair, was a speaker at the AC's first annual Accelerate conference last month at U of T.
This four-day program centred around the power of self-driving labs (SDLs), an emerging technology that combines AI, automation, and advanced computing to accelerate materials and molecular discovery. The Accelerate conference brought together over 200 people and featured talks and panels with more than 60 experts from academia, industry, and government who are shaping the emerging field of accelerated science.
Erin Warner, communications specialist at the Acceleration Consortium, recently spoke with von Lilienfeld about the conference and the digitization of chemistry.
How big is 'chemical' space?
We are surrounded by materials and molecules. Consider the chemical compounds that make up our clothing, the pavement we walk on, and the batteries in our electric cars. Now think about the new possible combinations that are out there waiting to be discovered, such as catalysts for effective atmospheric CO2 capture and utilization, low-carbon cement, lightweight biodegradable composites, membranes for water filtration, and potent molecules for treatment of cancer and bacterial-resistant disease.
In a practical sense, chemical space is infinite and searching it is no small feat. A lower estimate says it contains 1060 compounds — more than the number of atoms in our solar system.
Why do we need to accelerate the search for new materials?
Many of the most widely used materials no longer serve us. Most of the world's plastic waste generated to date has not yet been recycled. But the materials that will power the future will hopefully be sustainable, circular and inexpensive.
Conventional chemistry is slow, a series of often tedious trial and error that limits our ability to explore beyond a small subset of possibilities. However, AI can accelerate the process by predicting which combinations might result in a material with the set of desired characteristics we are looking for (e.g., conductive, biodegradable, etc.).
This is but one step in self-driving laboratories, an emerging technology that combines AI, automation, and advanced computing to reduce the time and cost of discovering and developing materials by up to 90 per cent.
How can human chemists and AI work together effectively?
AI is a tool that humans can use to accelerate and improve their own research. It can be thought of as the fourth pillar of science. The pillars, which build on each other, include experimentation, theory, computer simulation and AI.
Experimentation is the foundation. We experiment with the aim of improving the physical world for humans. Then comes theory to give your experiments shape and direction. But theory has its limitations. Without computer simulation, the amount of computation needed to support scientific research would take far longer than a lifetime. But even computers have constraints.
With difficult equations come the need for high-performance computing, which can be quite costly. This is where AI comes in. AI is a less costly alternative. It can help scientists predict both an experimental and computational outcome. And the more theory we build into the AI model, the better the prediction. AI can also be used to power a robotic lab, allowing the lab the ability to run 24/7. Human chemists will not be replaced; instead, they can hand off tedious hours of trial and error to focus more on designing the objectives and other higher-level analysis.
Are there any limitations to AI, like the ones you described in the other pillars of science?
Yes, it is important to note that AI is not a silver bullet, and that there is a cost associated with it that can be measured in data acquisition. You cannot use AI without data. And data acquisition requires experimenting and recording the outcome in a way that can be processed by computers. Like a human, the AI then learns by reviewing the data and making an extrapolation or prediction.
Data acquisition is costly, both financially and in terms of its carbon footprint. To address this, the goal is to improve the AI. If you can encode our understanding of physics into the AI, it becomes more efficient and requires less data to learn but provides the same predictive qualities. If less data is needed for training, then the AI model becomes smaller.
Rather than just using AI as a tool, the chemist can also interrogate it to see how well its data captures theory, perhaps leading to the discovery of a new relative law for chemistry. While this interactive relationship is not as common, it may be on the horizon and could improve our theoretical understanding of the world.
How can we make AI for discovery more accessible?
The first way is open-source research. In the emerging field of accelerated science, there are many proponents of open-source access. Not only are journals providing access to research papers, but also in many cases to the data, which is a major component for making the field more accessible. There are also repositories for models and code like GitHub. Providing access could lead to scientific advancements that ultimately benefit all of humanity.
A second way to expand AI for discovery is to include more students. We need to teach basic computer science and coding skills as part of a chemistry or materials science education. Schools around the world are beginning to update their curricula to this effect, but we still need to see more incorporate this essential training. The future of the sciences is digital.
How do initiatives like Acceleration Consortium, and a conference like Accelerate, help advance the field?
We are at the dawn of truly digitizing the chemical sciences. Coordinated, joint efforts, such as the Acceleration Consortium, will play a crucial role in synchronizing efforts not only at the technical but also at the societal level, thereby enabling the worldwide implementation of an 'updated' version of chemical engineering with unprecedented advantages for humanity at large. The consortium also serves to connect academia and industry, two worlds that could benefit from a closer relationship. Visionaries in the commercial sector can dream up opportunities, and the consortium will be there to help make the science work. The groundbreaking nature of AI is that it can be applied to any sector. AI is on a trajectory to have an even greater impact than the advent of computers.
Accelerate, the consortium's first annual conference, was a great rallying event for the community and was a reminder that remarkable things can come from a gathering of bright minds. While Zoom has done a lot for us during the pandemic, it cannot easily replicate the excitement and enthusiasm often cultivated at an in-person conference and which are needed to direct research and encourage a group to pursue a complex goal.
What area of 'chemical space' fascinates you the most?
Catalysts, which enable a certain chemical reaction to occur but remain unchanged in the process. A century ago, Haber and Bosch developed a catalytic process that would allow the transformation of nitrogen — the dominant substance in the air we breathe — into ammonia. Ammonia is a crucial starting material for chemical industries, but also for fertilizers. It made the mass production of fertilizers possible and saved millions of people from starvation. Major fractions of humanity would not exist right now if it were not for this catalyst.
From a physics point of view, what defines and controls catalyst activity and components are fascinating questions. They might also be critical for helping us address some of our most pressing challenges. If we were to find a catalyst that could use sunlight to turn nitrogen rapidly and efficientlyinto ammonia, we might be able to solve our energy problem by using ammonia for fuel. You can think of the reactions that catalysts enable as ways of traveling through chemical space and to connect different states of matter.
How Do Stars Get Kicked Out of Globular Clusters? – Universe Today
Globular clusters are densely-packed collections of stars bound together gravitationally in roughly-shaped spheres. They contain hundreds of thousands of stars. Some might contain millions of stars.
Sometimes globular clusters (GCs) kick stars out of their gravitational group. How does that work?
There are a few things that can cause GCs to eject stars. Gravitational scattering, supernovae, tidal disruption events, and physical collisions could all be responsible. Whatever's behind it, the gradual ejection of stars from GCs is an established phenomenon.
The evidence for stellar ejection from GCs is in the tidal tails that stream out from them.
A new study based on data from the ESA's Gaia mission aims to understand how GCs eject stars. Its title is "Stellar Escape from Globular Clusters I: Escape Mechanisms and Properties at Ejection." It's been submitted to the Astrophysical Journal, and the lead author is Newlin Weatherford, an astronomy Ph.D. student at Northwestern University in Illinois.
"Recent exquisite kinematic data from the Gaia space telescope has revealed numerous stellar streams in the Milky Way (MW) and traced the origin of many to specific MWGCs, highlighting the need for further examination of stellar escape from these clusters," the authors write. This study is the first of a series, and the authors examine all the escape mechanisms and how each one contributes to GC star loss.
GCs are some of the oldest stellar associations in the Milky Way. Individual GC stars are also older and have lower metallicity than the Milky Way's general population. Nearly all galaxies host GCs, and in spiral galaxies like ours, the GCs are mostly found in the halo. The Milky way hosts more than 150 of them. Astronomers used to think that stars in a GC form from the same molecular cloud, but now they know that that's not true. GCs contain stars of different ages and metallicities.
GCs are different from their cousins, the open clusters (OCs). OCs are most often found in the disks of spiral galaxies, have more heavy elements, and are less dense and also smaller than GCs. OCs have only a few thousand stars, and there are more than 1100 of them in the Milky Way.
GCs are unique, and astronomers consider them tracers of galactic evolution. Thanks largely to the ESA's Gaia spacecraft, we know more about GCs. Gaia helped reveal the presence of numerous stellar streams coming from the Milky Way's globular clusters. As the authors explain in their paper, "These drawn-out associations of stars on similar orbits are likely debris from disrupted dwarf galaxies and their GCs, shorn off by Galactic tides during accretion by the MW (Milky Way.)"
Gaia did more than spot these streams. It was able to connect some streams to specific GCs. "Gaia's exquisite kinematic data has firmly tied the origins of ~10 especially thin streams to specific MWGCs," the authors write. The Palomar 5 GC and its streams are well-known examples. The streams are excellent tracers of the Milky Way's evolution. (Palomar 5 gained even more notoriety in astronomy recently when a 2021 paper found more than 100 black holes in its center.)
Observations of these types of tails, both from stars ejected from GCs, and from interacting and merging galaxies, are an extremely active area of research. There are many astounding images of these interactions. But as the authors point out, "… the theoretical study of stellar escape from GCs has a longer history." Astronomers have come up with different mechanisms for these escapes, and this paper starts with a review of each one.
The authors divide escape mechanisms into two categories: Evaporation and Ejection. Evaporation is gradual, while ejection is more abrupt. The following are brief descriptions of each of the ejection methods, beginning with the Evaporation category.
Two-Body Relaxation: the motions of each body induce granular perturbations that create exchanges in energy and momentum in the bodies. Over time, stars can be ejected from GCs.
Cluster mass loss: stars lose mass over time, and that can affect the gravitational binding that holds stars in the cluster.
Sharply time-dependent tides: MWGCs orbit the Milky Way in eccentric and inclined orbits. The galactic tide will be stronger at some points in the orbit. The changing gravity can allow stars to exit the GCs.
The second broad category is Ejection. These are events typically involving single stars that are ejected rapidly and dramatically.
Strong Encounters: a close passage between two or more bodies that provides a strong enough kick to eject a star.
(Near)-Contact Recoil: encounters so close that tides, internal stellar processes, and/or relativistic effects are relevant. This includes collisions and gravitational waves.
Stellar Evolution Recoil: This includes the powerful forces unleashed when a star goes supernova, for example, or when a black hole or neutron star is formed.
Since there was no way to go and observe a statistically significant number of GC ejections, the team of researchers took what data was available and performed simulations. They used what's called the CMC Cluster Catalog.
The study is concerned with the two types of GCs: non-core collapsed and core-collapsed. They're different from each other and are a fundamental property of GCs, so the team simulated both types.
Core collapse in GCs occurs when the more massive stars in a GC encounter less massive stars. This creates a dynamic process that, over time, drives some stars out of the center of the GC towards the outside. This creates a net loss of kinetic energy in the core, so the remaining stars in the GCs core take up less space, creating a collapsed core.
An important astronomical principle plays a role in the team's results. Two-body relaxation is a fundamental aspect of stellar associations that has far-reaching effects. It's a complicated topic, but it basically describes the ways that stars in stellar associations, such as GCs, interact gravitationally and share kinetic energy with each other. It shows that star-to-star interactions drive GCs to evolve during the lifetime of the galaxy they're attached to.
Not surprisingly, the researchers found that two-body relaxation plays a powerful role. That conclusion lines up with the established theory. "Consistent with longstanding theory and numerical modelling, we find that two-body relaxation in the cluster core dominates the overall escape rate," they write.
They also found that "… central strong encounters involving binaries contribute especially high-speed
ejections, as do supernovae and gravitational wave-driven mergers." This also lines up with other research.
But one of their results is new. It concerns three-body binary formation (3BBF.) 3BBF is when three bodies collide to form a new binary object. "We have also shown for the first time that three-body binary formation plays a significant role in the escape dynamics of non-core-collapsed GCs typical of those in the MW. BHs are an essential catalyst for this process," they write. "3BBF dominates the rate of present-day high-speed ejections over any other mechanism," they explain, as long as significant numbers of BHs remain in the GCs core. 3BBFs also produce a significant number of hypervelocity stars.
In their conclusion, the authors explain that "… this study provides a broad sense of the escape mechanisms and demographics of escapers from GCs," while also noting that the results are "not immediately comparable to Gaia observations." That's why this work is the first in a series of papers. In their follow-up paper, they intend to integrate the trajectories of escaped stars and construct their velocity distributions to reproduce tidal tails. After that work, they hope that they'll have a clearer understanding of how stars escaping from GC contribute to galactic evolution.
In a third paper, they intend to "… identify likely past members ('extratidal candidates') of specific MWGCs and directly compare the mock ejecta from our cluster models to the Gaia data." This will get closer to some of the core questions surrounding GCs and the Milky Way's evolution: how do stellar streams form? How many BHs are there in GCs? What role do supernovae play?
"Ultimately, we hope to better understand stellar stream formation and, in an ideal case, leverage the new
observables from Gaia to better constrain uncertain properties about MWGCs, such as BH content, SNe kicks, and the initial mass function, which affect ejection velocities and the cluster evaporation rate."
This study is an interesting look at how a number of natural phenomena all contribute to galactic evolution. The evolution of individual stars, how individual stars interact gravitationally and how they form binary objects, the tidal interactions between globular clusters and their host galaxies, two-body relaxation, and even three-body binary formation. Throw in supernovae and hypervelocity stars.
Each one of these topics can form the basis of an entire career in astrophysics. It's easy to see why follow-up studies are needed. Once they're completed, we'll have a much better picture of how galaxies, specifically our own Milky Way, evolve.
More:
How to see Mars at its brightest at opposition this week
Stargazers in the northern hemisphere are in for a treat this week as Mars has reached its closest point to Earth, giving the best view of the red planet until the 2030s. Mars made its closest approach to Earth on the night of November 30 to December 1, but the best views are yet to come as the planet reaches a point called opposition on the night of December 7 to December 8. Opposition is when Mars is directly opposite the sun as seen from Earth, which means this is when Mars will be at its brightest.
The reason that the closest approach and opposition are a few days apart is because of the elliptical nature of the planets' orbits. Neither Earth nor Mars orbits in a perfect circle around the sun, so there are times when they are a little closer or a little further away. These small differences account for the few days' delay between closest approach and opposition. The elliptical nature of Mars's orbit is also why there will be such a great view of the planet this week. Mars won't come back this close to Earth until 2033.
This diagram from the U.K.'s Royal Astronomy Society shows how to locate Mars in the night sky on the evening of December 8. Mars should be one of the brightest objects in the skies, so if you're lucky to have clear weather overhead at night then you should easily be able to spot the planet with binoculars or a telescope. At this time, Mars will be around 50 million miles away.
December 8 is also a great time to look for Mars as you may be able to spot the moon moving in front of the planet, called an occultation, depending on where in the northern hemisphere you are located. For exact times to look out for this event by U.S. region, head over to Sky and Telescope for more information.
According to Sky at Night magazine, you should be able to observe Mars using almost any telescope, but adding a Barlow lens to your setup will give you a better view and enhance the darker and lighter patches on the planet. You may be able to see features on Mars like its polar ice caps, its patches of light and dark which are called albedo features, and perhaps even certain large geological features like basins and plains.
Some of the most dramatic views of Mars will be on the night of December 8, but if that doesn't work out for you then you should also look to the skies in the week before and after this date as you should still be able to get a good view then.
Mars at opposition will meet up with the full moon next week (Dec. 7). Here's how to see it
Every once in a while, something will appear in the sky that will attract the attention of even those who normally don't bother looking up.
It's likely to be that way in the evening hours of Wednesday (Dec. 7) when the full moon will appear in very close proximity to the now-brilliant planet Mars. In fact, the moon will turn full at 11:08 p.m. EST (0408 GMT on Dec. 8) followed by Mars arriving at opposition to the sun just 87 minutes later. This will result in an almost perfect alignment in space of the sun, Earth, moon and Mars.
People, who are unaware or have no advance notice, will almost certainly wonder, as they cast a casual glance toward our nearest neighbor in space on this first Wednesday in December, just what is that "bright orange-yellow light"? Sometimes, such occasions bring with them a sudden rash of phone calls to radio and television stations, local planetariums, weather offices and police precincts. Not a few of these calls excitedly inquire about "the mysterious UFO" that's closely hovering in the vicinity of our natural satellite!
If you don't live in any of the locations listed below that will provide a good chance to see the event in person, you're in luck: The Virtual Telescope Project will be hosting a livestream of Mars at opposition (opens in new tab) beginning at 11:00 p.m. EST on Dec. 7 (0400 GMT on Dec. 8).
Related: December full moon 2022: The Cold Moon occults Mars
Joe Rao is a veteran meteorologist and eclipse chaser who also serves as an instructor and guest lecturer at New York's Hayden Planetarium.
 Where to see the moon eclipse Mars
As a bonus, those who are located north and west of a line running roughly from Piedras Negras, Mexico to Louisville, Kentucky to Seabrook, New Hampshire will see the moon occult Mars. Refer to the US map. Those positioned south and east of this line, however, will see the moon miss the planet entirely, barely passing just above it (called an appulse).
But for an observer fortuitously positioned exactly on, or immediately adjacent to that line — it's actually a narrow path about 21 miles (34 km) wide — the lower limb of the moon will appear to literally graze Mars as it passes by.
For those fortuitously situated along the northern edge of the path, the planet's dazzling topaz disk may appear to disappear completely, then reappear intermittently in lunar valleys. In contrast, along the southern edge of the path, Mars' northern edge will only briefly touch the limb of the moon.
Among towns and cities located within the path are Morgantown, WV; Scranton, PA; Hudson, NY; Northampton, MA; Lowell, MA and Seabrook, NH. Refer to the Mars occultation graze path maps.
Unlike a star which is a pinpoint of light and would disappear and reappear in an instant, Mars appears as a small disk in telescopes; owing to its relatively large angular size (17.2 arc seconds in diameter), the occultation will occur at a rather "leisurely" pace. So the disappearance of Mars behind the moon's bright limb for most places, will take anywhere from about 40 seconds to almost a minute (or even longer where the moon's limb approaches it at a slant).
From Austin, for instance, the moon's slow eastward drift will take more than two minutes to completely cover, and later uncover the planet's disk — and even longer for those to the south and closer in to the northern limit of the graze path, where the moon's limb will approach at even more of a slant.
The planet's reappearance will also be gradual. The actual term is called an occultation (Latin for "hiding"). One might even refer to this upcoming event as an eclipse of the planet Mars. Moving to the east against the background stars at its own apparent diameter each hour, the moon will appear to approach Mars from the west (right) and ultimately pass in front of it, and then shortly thereafter, uncover it, and leaving it behind as the moon continues to move to the east.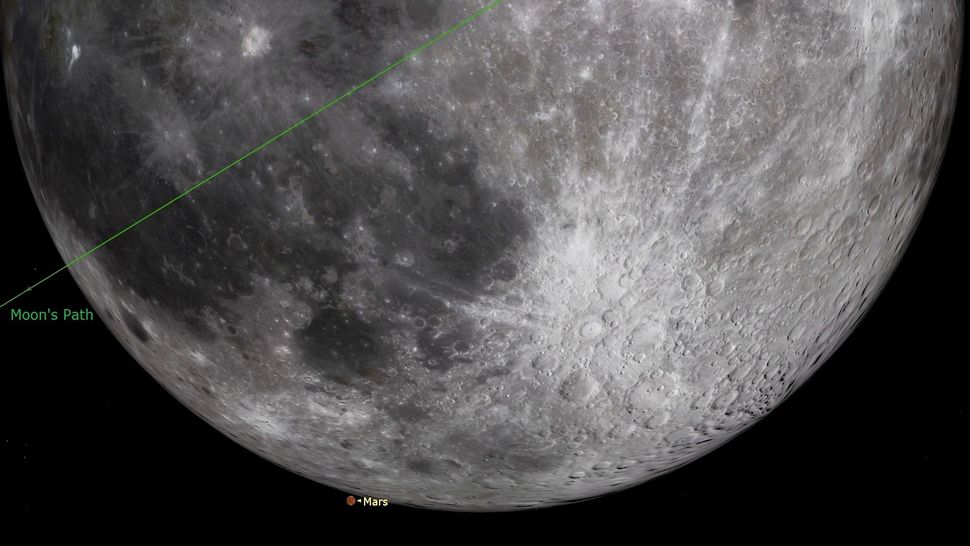 Plainly visible with just your eyes
An opportunity to see the moon occult a bright planet at night does not happen too often; for Mars for a specific location on Earth it happens (on average) once about every 14 years. So, if you are fortunate to live in the occultation zone and the weather gods cooperate, this upcoming event is one that really should not be missed.
Since Mars will be at opposition when it has its lunar rendezvous, it will be shining at its very brightest for this current apparition. Normally, even a bright star can be quite difficult to see when in such close proximity to the dazzling brilliance of a full moon. Yet, because Mars is as bright as it is (magnitude -1.9; nearly twice as bright as Sirius, the brightest star), this spectacular vanishing act can be watched with just your unaided eye or binoculars, although the very best views will certainly be afforded with a telescope.
Table 1 provides the specific details for 27 selected cities in the United States and Canada. For times with an asterisk (*), the calendar date is Dec. 8.
Swipe to scroll horizontally
Table 1: Local viewing circumstances for the occultation of mars, Dec. 7-8, 2022

| Location | Time zone | Mars disappears | Mars reappears |
| --- | --- | --- | --- |
| Juneau | AKST | 6:19 p.m. | 6:55 p.m. |
| Los Angeles | PST | 6:30 p.m. | 7:30 p.m. |
| San Francisco | PST | 6:34 p.m. | 7:35 p.m. |
| Seattle | PST | 6:51 p.m. | 7:50 p.m. |
| Vancouver | PST | 6:55 p.m. | 7:52 p.m. |
| Tucson | MST | 7:32 p.m. | 8:27 p.m. |
| Las Vegas | MST | 7:34 p.m. | 8:35 p.m. |
| Salt Lake City | MST | 7:41 p.m. | 8:46 p.m. |
| Denver | MST | 7:44 p.m. | 8:48 p.m. |
| Helena | MST | 7:51 p.m. | 8:56 p.m. |
| Edmonton | MST | 8:04 p.m. | 9:06 p.m. |
| Yellowknife | MST | 8:23 p.m. | 9:16 p.m. |
| Whitehorse | MST | 8:25 p.m. | 8:57 p.m. |
| Tulsa | CST | 8:54 p.m. | 9:41 p.m. |
| Kansas City | CST | 8:56 p.m. | 9:52 p.m. |
| Austin | CST | 8:57 p.m. | 9:12 p.m. |
| Saskatoon | CST | 9:03 p.m. | 10:10 p.m. |
| Winnipeg | CST | 9:05 p.m. | 10:16 p.m. |
| Chicago | CST | 9:10 p.m. | 10:04 a.m. |
| Memphis | CST | 9:14 p.m. | 9:29 p.m. |
| Churchill | CST | 9:22 p.m. | 10:31 p.m. |
| Louisville | EST | 10:21 p.m. | 10:47 p.m. |
| Toronto | EST | 10:29 p.m. | 11:17 p.m. |
| Montreal | EST | 10:40 p.m. | 11:29 p.m. |
| Quebec City | EST | 10:45 p.m. | 11:36 p.m. |
| Halifax | AST | 12:15 a.m.* | 12:33 a.m.* |
| Gander | NST | 12:47 a.m.* | 1:37 a.m.* |
The above table gives civil times of Mars' disappearance and reappearance from behind the moon. Both the disappearance and reappearance of the planet, can last anywhere from 40 seconds to over two minutes, depending on whether Mars passes centrally behind the moon (and is covered for an hour or more) or near its lower edge at a slant (and is covered for less than a half hour). Disappearance and reappearance times are for Mars' center.
Table was adapted from data provided by the International Occultation Timing Association (IOTA) (opens in new tab).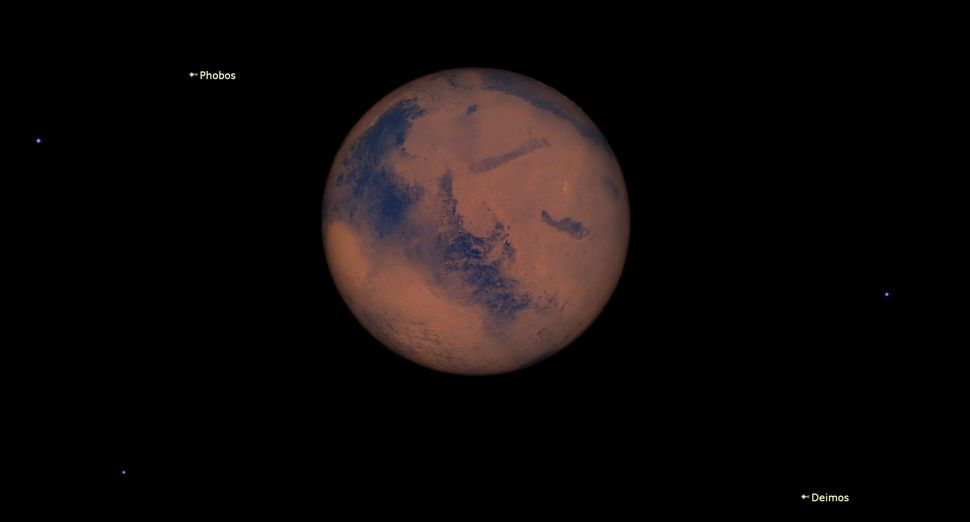 Don't miss this near miss!
For the rest of North America, this will be an exceedingly close approach of the moon to Mars (called an appulse). The moon, moving around the Earth in an easterly direction at roughly its own diameter each hour will seem to creep slowly toward and ultimately pass just above the ochre planet. Even though the heavily populated Southeast and Eastern United States will miss out on an occultation, Mars will almost command people to look at it, as it slowly appears to glide below the moon.
For places like Huntsville, Knoxville, Philadelphia and New York, Mars will come to within just 1 arc minute of the moon's limb; they'll almost seem to touch each other. To the naked eye, Mars will look like an amber jewel on the bottom edge of the moon. From Boston the gap between Mars and the moon's limb is even smaller: just 0.6 arc minute, roughly equal to the apparent width of two Mars diameters!
After closest approach, the moon will move slowly away from Mars through the balance of the overnight hours of Dec. 7 and Dec. 8.
Table 2 provides the specific details for 15 selected cities in the continental U.S., Puerto Rico and Bermuda.  For times with an asterisk (*), the calendar date is Dec. 8.
Swipe to scroll horizontally
Table 2: Local viewing circumstances for the appulse of the moon and mars, Dec. 7 and Dec. 8, 2022

| Location | Time zone | Closest approach | Separation |
| --- | --- | --- | --- |
| New Orleans | EST | 9:11 p.m. | 3 arc min. |
| Huntsville | EST | 9:23 p.m. | 1 arc min. |
| Miami | EST | 10:16 p.m. | 11 arc min. |
| Jacksonville | EST | 10:23 p.m. | 7 arc min. |
| Atlanta | EST | 10:26 p.m. | 3 arc min. |
| Columbia | EST | 10:31 p.m. | 4 arc min. |
| Knoxville | EST | 10:31 p.m. | 1 arc min. |
| Charlotte | EST | 10:36 p.m. | 3 arc min. |
| Norfolk | EST | 10:46 p.m. | 4 arc min. |
| Washington | EST | 10:46 p.m. | 2 arc min. |
| Philadelphia | EST | 10:51 p.m. | 1 arc min. |
| New York | EST | 10:56 p.m. | 1 arc min. |
| Boston | EST | 11:01 p.m. | 0.6 arc min. |
| San Juan | AST | 11:51 p.m. | 23 arc min. |
| Hamilton | AST | 12:06 a.m.* | 11 arc min. |
The above table gives civil times (all a.m.) of Mars's closest approach to the edge of the moon's lower limb. Separation between Mars and the moon's lower edge is given in terms of minutes of arc (the apparent width of the moon on Dec. 7 is 30 arc minutes).
Example: From Jacksonville, closest approach is 10:23 p.m. EST, the separation is listed at 7 arc minutes or fractionally roughly 1/4 of the moon's width will separate Mars from the moon's lower edge.
Europe too! And after 2022, your next opportunity
Europeans will also be able to partake in this occultation, although for them this event will occur during the predawn morning hours of Thursday (Dec. 8) with the moon descending the west-northwest sky. For Lisbon, Mars will disappear behind the moon at 4:28 a.m. local time and will reappear at 5:02 a.m. For Dublin it's 4:55 a.m. and 5:56 a.m. London: 5:00 a.m. and 5:59 a.m. Berlin: 6:01 a.m. and 6:56 a.m. Paris: 6:04 a.m. and 7:02 a.m., and Madrid 6:21 a.m. and 7:07 a.m.
The next favorable occultation of Mars for North America will take place on January 14, 2025. at around 4h UT. The moon will be a waning gibbous about 6 hours past full. Mars comes to opposition just two days later.
Joe Rao serves as an instructor and guest lecturer at New York's Hayden Planetarium (opens in new tab). He writes about astronomy for Natural History magazine (opens in new tab), the Farmers' Almanac (opens in new tab) and other publications. Follow us on Twitter @Spacedotcom (opens in new tab) and on Facebook (opens in new tab).