Exposing the Secrets of the World's Greatest Art Forger
Ask 100 people what they think an art forger does and 99 will tell you, "They copy paintings." In reality, nothing could be further from the truth. And if you think about it, the reason why is obvious. No serious art forger could copy a painting simply because the original already exists. All you'd have to do to prove the copy is fake is point to the original in the museum and say, "There's the real one." To really make a forgery, you have to make something new that never existed and give it a reason for being born.
Han van Meegeren, the famous Dutch forger of the 1930s and '40s, was a mediocre painter, but he was a master ager, having invented the use of phenol and formaldehyde—Bakelite plastic—to make his paint dry and crack from the inside out to simulate age. Van Meegeren's technique fooled the experts. He could bring his painting to a museum and say, "I got this from a wealthy Italian family who wishes not to be named," without any further explanation. That was not possible in my time, and this points out an important secret of modern forgery. For me, the documented history of the painting—the provenance—was more important than the work itself.
For a forger, drawing and painting and aging is just the beginning and most obvious part of the process. To really be a forger, you must have a voracious appetite for information and a sharp eye for detail. As you learn and read and watch, you are always on the lookout for a weak point, an opening, a mistake, any bit of uncertainty that allows your work a chance to exist. You are looking for plausibility. If you think about it, the key to being a great forger is not being a great painter but rather a convincing storyteller.
When I was working with [art dealer] Carl Marcus, I traded a piece of art glass for a couple of Rembrandt etchings, Angel Departing from the Family of Tobias and Portrait of Jan Cornelius Sylvius. At the time, I didn't know much about the subject, but it seemed incredible that I could so easily own an actual Rembrandt. I was thrilled by the idea and brought the etchings to LACMA, to an expert named Ebria Feinblatt, so that I could learn more about them. She looked at the etchings very carefully through her magnifying glass and told me that Angel Departing was a valuable print made during the lifetime of Rembrandt, then gently broke it to me that Jan Cornelius Sylvius was actually a forgery, though a masterful one. I was, of course, disappointed about the forgery, though the etchings had started the wheels turning.
Experts say that Rembrandt did three hundred etchings, but maybe only ten preparatory drawings remain. To me this suggested that the drawings may not have been considered important works of art in their own right and may have been discarded. I myself was less interested in the etchings; I wanted to make a preparatory drawing, which seemed rarer, more physical, and more intriguing.
In the early 1900s, an expert from the British Museum named Arthur Hind created a detailed catalog of every etching by Rembrandt, full of minutiae and little footnotes about how the etching was made, who had owned it, and what the experts thought about it. As I pored over the listings, I searched for any piece of information that I could use as provenance—any excuse to make my drawing real. Finally, I noticed a little footnote on an etching named Naked Woman Seated on a Mound, and one of its details stood out.
In his book, Hind says that there was no preparatory drawing for Naked Woman. However, he quotes an expert, who quotes another expert who thought that a preparatory drawing for Naked Woman had been made and that an Englishman, John Malcolm, had owned the drawing in the 1800s. Hind did not agree, but he wasn't 100 percent sure. Instead of saying that the drawing definitely didn't exist, he just said, "I see no evidence to convict myself of error." It seems like an insignificant quibble between experts, but that little touch of uncertainty was all that I needed. Now, I had a beautiful provenance that was just waiting for me to make a drawing.
First, I found a book of Rembrandt etchings that showed each work in its exact details and dimensions. Then I made a photocopy of the image. I covered the photocopy with graphite using the side of a pencil and put this graphite-covered photocopy face up on a light table. Then I placed a sheet of paper on top. Pressing on the back with a stylus, I traced over the photocopy, getting the graphite lines to transfer onto the underside of my paper like a carbon copy. When I turned it over, I had the mirror image of the photocopied etching with the exact same orientation that a preparatory drawing would have had. I went over those lines with black chalk, as Rembrandt would have done, practicing the whole process many times on ordinary paper, until I felt confident.
When I was ready, I did my final version on the antique paper I had gotten from a three-hundred-year-old book with perfect paper. It was yellow with age and even had a watermark, a bunch of grapes that could be traced to northern Europe in the 1600s.
For centuries, people who collected art have stamped it with their names or identifying marks the way that you might write your name in a paperback book you've bought. With art, marks and stamps could be used as a physical provenance tracking where a work had been and who had owned it through its lifetime. Hind's experts claimed that the drawing had belonged to John Malcolm. I needed to create some trace or mark of his ownership, and to do it I turned to Frits Lugt. Lugt was an obsessive cataloger of collector's marks whose work Les Marques de Collections de Dessins et d'Estampes was the absolute reference for establishing the provenance of old master drawings and prints.
In this book… I was able to find Malcolm's stamp, which depicted an I for "Ioannes" (Latin for "John") and an M for "Malcolm," with a tower in between the letters.
From my other reading, I had learned about Nicolaes Flinck, an art dealer who had collected many Rembrandt prints and etchings and who was the son of Rembrandt's favorite student. I thought my drawing should bear his stamp, too, which as I had seen in Lugt was a cursive letter F that Nicolaes placed on the lower-right front side of the art.
I asked a printer I had been using to make certificates to help make my stamps. He had a small letterpress that he typically used to print betting slips that bookies handed out to gamblers, and he loved doing anything that was out of the ordinary. I now had a preparatory drawing that experts had said might have existed. It was executed faithfully, and with its history marked by physical stamps, it now had a provenance. My drawing had become a plausible precursor to Naked Woman Seated on a Mound. I had contemplated selling my Rembrandt drawing, but instead I kept it in my safe, as a souvenir of this fascinating case.
I stamped my Jan Cornelius Sylvius forgery with Flinck and Malcolm marks and sold it along with Angel Departing from the Family of Tobias to the Center Art Gallery in Hawaii, for $16,500. It was far too little, less than many Chagall or Dalí or Miró prints would have cost. When I pointed this out to the gallery, a light went off for them. Pretty soon, everyone wanted a Rembrandt etching. Even the artist's drawings that had always been avidly collected were now being called the "new oils" because they had become so incredibly valuable.
Today, many of the forgeries like the ones I did would probably be impossible to pull off. Science would blow most of them out of the water. With radio carbon dating and spectroscopic analysis, they can tell which exact mine your pigments or your ink came from. With DNA and dendrochronology, you can tell whether the wood in your paint panel came from Italy or Poland or Japan. It's what they use for finding a fake Stradivarius, and it doesn't leave much room for romance.
Then, forgery was fun, like a challenging puzzle or a riddle to solve. I loved figuring out intriguing ways to make an artwork plausible. I loved doing everything perfect—leaving little hints that only the most knowledgeable experts would appreciate. It's strange to say, but half the fun was imagining the oohs and aahs I would get and the little nods of appreciation I might receive. Without that, art forgery would have been just another job.
Excerpted from Con/Artist: The Life and Crimes of the World's Greatest Art Forger by Tony Tetro and Giampiero Ambrosi. Copyright © 2022. Available from Hachette Books, an imprint of Hachette Book Group, Inc.
Art Basel Miami Beach Sales Heat Up Despite Current Crypto Winter – BNN Bloomberg
(Bloomberg) — What a difference a year makes.
Just 12 months ago, with the price of Bitcoin hovering around $57,000, it seemed that Art Basel Miami Beach was in fact a crypto celebration with an art fair on the side. At the time, the NFT craze was in full swing, and the medium's many proponents were bent on establishing it as on a par with such traditional art forms as painting and sculpture. In tandem with the City of Miami's all-out push to become a crypto capital, Art Basel Miami Beach had become a ripe venue for digital art patrons and crypto companies to stake their claim as forerunners of a new establishment.
Now Bitcoin is trading around $17,000, and the excesses of 2021—think crypto- sponsored yacht parties, NFT stunts, Web3 conferences and metaverse ragers—are mostly things of the past. Holdouts include the blockchain company Tezos, which is an Art Basel Miami Beach partner again and has sponsored a series of talks at this fair. But on the whole, art is front and center once again this week in Miami.
It's a turn of events that many in the art market are greeting with something bordering on relief.
"It's the post-FTX world," says New York dealer David Lewis in his booth on the fair's opening day, referring to the collapse of the crypto exchange founded by Sam Bankman-Fried. "The art world has always been really wary of the crypto world," a wariness, he says, that appears to have been justified. "I think there's a lot of comfort in the fact that a lot of the ways of doing things that have been going on for years or decades—or if you think of painting, centuries—are back in the lead."
As Art Basel Miami Beach (ABMB) opens its doors to a VIP crowd celebrating the Florida edition's 20-year anniversary on Tuesday, Nov. 29 (VIP days Tuesday and Wednesday, with public days following through Saturday), it certainly feels as if analogue is ascendant. Many of the fair's 282 galleries seem to have brought textile works and heavily layered paintings to the fair—"definitely things with texture, things that appear handcrafted," says adviser Suzanne Modica, noting that she has yet to see the entirety of the fair. "I think the quality is quite good," she says. "People have brought works to sell."
Healthy Sales
In the first three or so opening hours, sales seem to be happening at a steady clip.
This is partly the result of a healthy amount of pre-selling, a phenomenon in which a gallery sends a PDF to clients containing artworks it intends to bring to the fair. Those clients might then put a work on reserve (or even better for the dealer, buy it outright), and consummate the transaction after viewing the work in the first few hours of the fair.
"We pre-sold a lot, so the first hour or two is people seeing the pieces," says Malik Al-Mahrouky, a sales director at Kurimanzutto, a gallery with locations in New York and Mexico City. Its pre-sales included, he says, a painting by Gabriel Orozco priced around $500,000 and two paintings by Roberto Gil de Montes, which sold for roughly $85,000 and $35,000. While English was far and away the dominant language heard in the fair's aisles, Al-Mahrouky says he is surprised by the number of serious foreign collectors. "There are lots of Europeans this time around," he says. "Last year there weren't nearly as many."
One collector with works on reserve is Pete Scantland, the Columbus, Ohio-based chief executive officer of Orange Barrel Media, who says that while he "wanted to show up at the fair and be surprised," he couldn't help himself and "did peek at a few of the PDFs."
Even before the fair began, Scantland purchased a work by Igshaan Adams, an artist known for lavish tapestries on view in Casey Kaplan Gallery's booth. For the most part, Scantland says, he spent the first few hours of the fair just looking around. "Leslie Martinez, who's showing at And Now gallery's booth—I'd seen images of her work, but to see them in real life? That's what it's about," he says.
Looking Ahead
The art fair comes on the heels of New York's November auction season, where a few record-setting weeks nevertheless showed signs of slackening demand. The spotty bidding on view was attributed by some to jitters over the prospect of global recession.
Multiple dealers wonder if such fears will trickle down (or flow sideways?) into the rest of the market. "I think every dealer in the world asks themselves that question," says the dealer and former Goldman Sachs partner Robert Mnuchin. "Has it, is it or will it? And I think the answer is none of us know at the moment." His major takeaway from the November auctions, he continues, is that "the strongest part of the market was the outstanding works. Anything that was outstanding, almost irrespective of the price—not totally, but that was the predominant desire."
Given the size of the fair and breadth of its offerings, it would be a stretch to say that most of the work at the fair is outstanding. But at the end of the first day, multiple galleries reported major sales. Mnuchin says he sold a large work by El Anatsui for $1.75 million. Gladstone Gallery reports selling an Alex Katz painting for $1.2 million. And Jack Shainman Gallery says it sold a 1997 painting by Kerry James Marshall for $2.8 million.
Indeed, as Miami enjoys yet another week filled with parties, art fairs, product launches and yes, a few crypto-related events, it seems that rich people are still spending money, with not so much going to digital art.
"It's lovely to not have this kind of crypto frenzy," says Kibum Kim, standing in the booth of his buzzy gallery Commonwealth and Council. "It's just more calm, and there are more conversations about art. No one is sticking a phone into our faces trying to show us their digital wallet."
So does he—or did he—have any crypto-rich clients? "Of course not," Kim says. "We're a serious gallery."
©2022 Bloomberg L.P.
Natalia Goncharova Earned Her Place In Art History – Forbes
Natalia Sergeevna Goncharova's cubist-futurist painting La Gare (train Station) fetched €963,000 (more than $1 million), surpassing the €500,000 to €800,000 estimate at auction this year.
At the turn of the 20th century, two wildly talented and rebellious students, Goncharova and Mikhail Fyodorovich Larionov, met at the prestigious Moscow Institute of Painting, Sculpture and Architecture. They quickly became partners, sharing both a studio and a living space, and the art world was never the same. As founding members of the Jack of Diamonds, Moscow's first radical independent exhibiting group, the lovers and collaborators struck a mighty fist through the firmly settled foundation of Russian art. Always stirring controversy while creating revolutionary works, the couple settled in Paris where they spent the rest of their lives.
Goncharova, a Russian avant-garde artist, painter, costume designer, writer, illustrator, and set designer, was also a founder — along with fellow Russian artists Wassily Kandinsky, Alexej von Jawlensky, and Marianne von Werefkin, and German artists Franz Marc, August Macke, and Gabriele Münter —of another radical art movement known as Der Blaue Reiter. Born July 3, 1881, in Nagaevo, Tula Governorate, part of the Russian Empire, she died Oct. 17, 1962, in Paris.
A pioneering avant-garde Russian painter, Larionov was also a founding member of an even more radical, but short-lived, group called Donkey's Tail, which included Goncharova, as well as Kazimir Malevich, Marc Chagall, and Aleksandr Shevchenko. They were influenced by the Cubo-Futurism movement, and the group's lone exhibition was held in Moscow in 1912.
Larionov, who was influenced by the Georgian artist Niko Pirosmani, painted in the style of Impressionism starting in 1902, and after visiting Paris four years later, he shifted to Post-Impressionism and then to a Neo-primitive style, partly derived from Russian sign painting. In 1908 he staged the Golden Fleece exhibition in Moscow, which included paintings by Matisse, Derain, Braque, Gauguin, and Van Gogh.
Together, Goncharova and Larionov developed a groundbreaking style of abstract art known as Rayonism, after hearing a series of lectures about Futurism by Filippo Tommaso Marinetti, an Italian poet, editor, art theorist, and founder of the Futurist movement.
Goncharova's father, Sergey Mikhaylovich Goncharov, was an architect and also graduated from the same Moscow Institute where she and Larionov fell in love.
In 1915, Larionov left Russia to work with ballet owner Sergei Diaghilev in Paris on the the Ballets Russes, gaining French citizenship and never returning to his homeland. He was born June 3, 1881, in Tiraspol, Kherson Governorate, part of the Russian Empire, and died May 10, 1964, in the Paris suburb Fontenay-aux-Roses.
Fifty-five years after his death, the Tretyakov Gallery in Moscow hosted the first major Larionov retrospective in Russia, divided into a Russian section featuring mostly paintings, and a French section, including paintings as well as a large collection of his graphic works, many on public display for the first time. The French portion also displays his works from the Ballets Russes, along with works of other artists from his private collection.
Larionov's delightful "A Stroll in a Provincial Town" (circa 1909) is feverishly inspired by his first visit to Paris in 1906. The vibrant and bold colors depict a flamboyant and carefree lifestyle that is undoubtedly refreshing to a Russian native. The diversity of his work is stark in the Tretyakov Gallery exhibition which features this painting.
Meanwhile, in London, watercolors by Goncharova, including three of her costume designs estimated to fetch between £600 ($771) and £800 ($1,029), are going on the block at Dawson's Art, Antiques and Jewelry sale on Jan. 19.
Her work is part of Russian art and objects dealer Christopher Martin-Zakheim's extensive collection from his former shop Iconastas in Piccadilly Arcade. Martin-Zakheim was diagnosed with a brain tumor and consigned the remaining stock of his beloved store when it closed last year. He died on Dec. 25, 2018.
The regal Iconastas opened in 1974, specializing in Russian Art from the beginning of Christianity to the end of Communism. It's where well-heeled international collectors would find everything from Orthodox Icons and crosses created from the 16th century until the 1900s, to Soviet porcelain figures from the 1920's, or precious pieces by Faberge.
More than half a century after their deaths, Goncharova and Larionov continue to intrigue and shock the art world, sometimes in curious ways.
"Still Life with Teapot and Oranges" was, for more than 50 years, believed to have been painted by Larionov, but Aleksandra Babenko, an Associate Specialist in Russian Art at Christie's, discovered that it had been painted by Goncharova. It sold at Christie's in November 2017 for £2.4 million ($3.1 million).
'The minute I saw the painting in the flesh, it took my breath away," said Babenko. 'The vividness and boldness of its colors, the accentuated ultramarine outlines, and the audaciously angled composition — all exemplified the youthful fervor and rebellious mood within Moscow's artistic community in the early 20th century."
Healing, art, and student-fee anger: Looking back at the top 10 most-read Nexus stories of 2022 – Nexus Newspaper
Camosun students pass through the college extremely quickly, so it's important to commemorate our place in time at Camosun. At Nexus, we do this through a year-end recap of our top 10 most-read stories of the year over at nexusnewspaper.com. This is my first—and most likely last—year at Nexus, so this year is of special interest to me. Over my time here as a writer, and as part of the Nexus Publishing Society board of directors, I've come to understand the importance of student newspapers. They show what matters to Camosun's students. Our paper also gives students a great opportunity to become more immersed in their city, both as readers and writers. Speaking from personal experience, I've never felt more connected to our community.
This year, the most popular stories focus on the arts. Interestingly, art is used as a means of healing throughout many of these stories, which shows both where Camosun students' interests were this year and also where students were at, and where they were trying to get to. Hopefully our stories helped.
10: "Sooke-based artist explores trauma in new exhibit" (July 4, 2022, written by Daniel Ellerton)
Coming in at number 10 this year is a preview of artist Maurina Joaquin's exhibit at theDock, Natural Transformations. In Joaquin's exhibit, she expresses her difficulties with healing from a brain injury through artistic expression.
"The silhouette heads [used in pieces in the exhibit] represent the individual struggle to not just belong, but to come back to this society," Joaquin said in the piece. "In the state of chaos, in the height of recovery, sometimes you don't think you're ever going to get anywhere."
Joaquin has worked within the community of those recovering from injuries similar to hers through the Victoria Brain Injury Society. Her artwork in this exhibit was an extension of her outreach work in a sense since it further connects people over her experience. Through her pieces, Joaquin exemplifies how artwork can be used as a medium for personal healing, and by exhibiting her work it helps others who are also struggling. To get this in-depth look into the concept of her work, Nexus writer Daniel Ellerton spoke with Joaquin for this revealing story.
"We are all dealing with a similar thing—what does work look like for us? Who's going to hire us?" said Joaquin. "That's where I thought about what I could do to help them figure out what they needed to figure out—through art—because many do not see art as a medium of healing."
9: "Camosun Indigenous Education student gifts college library with art" (May 30, 2022, written by Lane Chevrier)
Our ninth most-read story of the year also revolved around art. For this one, Nexus staff writer Lane Chevrier talked to Camosun student Alisha Parks, who had recently given the college a gift of artwork. Parks had gifted the Lansdowne library with her piece Gifts of the Heartberry, which we also ran on the cover of the issue this story appeared in. Parks told Chevrier she was encouraged to engage with community in her Indigenous Education classes; as an Indigenous student with disabilities, Parks also wanted to share her experience.
"As a person who has dealt with a lot of oppression, it was very important for me to try and bring this to people because of the impact it had on me, so I also felt that I wanted to try and do this project in a way that spoke in the language that I'm most fluent in, which has always been art," Parks told Chevrier.
Similar to Joaquin's use of art, Parks' message in her gift is that of understanding. Parks hopes to help individuals with disabilities; in the story, she explained that many Indigenous languages don't have words for disabilities. The difference in linguistics affects the speaker's perception of disability. Parks believes that through this difference people with disabilities can be empowered.
"It changes your perspective. Instead of seeing disability as a deficiency within the individual, it shifts it to saying, actually, it's the way in which we structure our social networks, and how we structure the systems that we utilize that create that, and it doesn't need to," she said. "We can do that differently."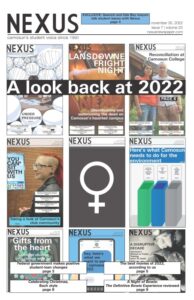 8: Belfry play Kindred gets real about adulting (June 1, 2022, written by Nicolas Ihmels)
The subject of managing personal hardships through artistic expression continues here in our eighth most-read story of 2022. Staff writer Nicolas Ihmels' coverage of director Lauren Taylor's rendition of Kindred: A Fairy Tale for Adults sheds light on this. The play exhibits several different kinds of difficulties related to becoming more mature.
"[The play is] about how they negotiate their very busy lives and try to find themselves in the face of separation, and sort of go through the hardships of co-parenting and separation and what that means, and also coming out the other side of that, so working through all those difficult and complicated situations in order to move on with one's life," Taylor told Ihmels.
Broadly speaking, everyone has dealt with issues relating to growing up at some point in some way. Audience members connect and reflect on their lives as attendants of Joaquin's exhibit and viewers of Parks' painting and, here, Taylor's play.
"I hope that people will come away having had a good time out," said Taylor. "But I hope that they get a bit of hope, the idea of atonement, and joy, and relief, and also just maybe a nice time with each other at the theatre after this tricky two years that we've had. It would be nice to feel like we're a community coming back together again."
7: "Camosun students from Kenya raise $2,500 for Doctors Without Borders" (January 12, 2022, written by Lane Chevrier)
Breaking from the focus on arts in the list so far, our seventh most-read piece of the year is this news/human-interest story written by Lane Chevrier. Thanks to Camosun's work with the World University Service of Canada, nine refugees were brought to Victoria from Kenya in an employment-linked sponsorship program called HIRES. Students in Judith Hunt's English Language Development class were inspired to give back to society, so they organized a fundraiser for Doctors Without Borders (DWB), and raised $2,500.
"They were super eager and enthusiastic about being able to raise money for somebody in need, and so with all their enthusiasm, I said, well, if you want to, we can do a fundraiser," Hunt told Chevrier in the story. "I've never done one before with a class, but it just seemed like the motivation was so strong it seemed like a good thing to do."
Mohamed Abdinasir, one of the nine students, said that the class chose DWB because of the help the organization has provided to Kenya. And by putting together public-service initiatives like this, these students are putting into action the goals set out by the artists in the other pieces we've already discussed here.
"We've been here in Canada for just three months, and we already did a donation, and we felt good, and the future looks bright," Abdinasir says. "You can do so many things together. Everyone is very proud of that fundraising. We really feel proud of Camosun, and we feel like Canada is our home now, and we'll thrive here."
6: The Wiggles return to entertain kids, with a new face (October 19, 2022, written by Nicolas Ihmels)
It's impressive that this piece about children's group The Wiggles' return to touring hit number six here, as it was published mere weeks before this list was assembled. Although less conceptual than some of the other artists we've talked about so far, The Wiggles share the aspiration to help people. Very young people, that is. For this piece, Nexus' Ihmels got to speak to newest Wiggle Tsehay Hawkins.
"I guess The Wiggles' message has always stayed the same," she told Ihmels. "They have just always wanted to inspire children and eat healthily, you know, 'Fruit salad, yummy yummy'? I think The Wiggles have stuck to what they believe in and they haven't changed. They've obviously changed over time to fit different audiences, like including me, like diverse representation on screen, but I think The Wiggles have always been about entertaining children and helping them learn and grow. I think that's why they stayed around for so long," says Hawkins.
By coming back to Canada for the first time since 2019, The Wiggles were able to entertain audiences of kids and their parents who've missed the opportunity to go out to enjoy a concert together. This is an opportunity that's just as important to its performers now that shows are happening again. Although only a few Camosun students may have read this article with the intent of attending, it provides a beacon of excitement for Camosun's future performers.
"I think being part of The Wiggles, I get to do everything: I get to sing, I get to dance, I get to act. But, I've also got the best audience of beautiful children who are learning," said Hawkins. "A lot of the time, when we do our shows, it's their first-ever live concert. It's really exciting that I get to be a part of The Wiggles and get to be a part of a lot of children's introduction to music and live music and performing arts."
5: "Hedda Gabler complex, unexpected, effective" (June 3, 2022, written by Celina Lessard)
Yet another arts-related piece landed at number five in our list. Director Brian Richmond's Hedda Gabler at the Roxy Theatre—here reviewed by Nexus' Celina Lessard—relates closely to the other arts stories on this list. It's a story of suffering women re-finding joy in life.
"Hedda Gabler takes the ordinarily uneventful and spins it into something more complex. Conversations between the characters often have double meanings, and the motives of each character are not necessarily revealed in obvious statements," said Lessard in her review. "The play relies on reading between the lines and the inference of the audience. This style of dialogue can be tricky, as many audiences are unused to such personal deliberation mid-show, but Hedda Gabler manages to convey so much more with what isn't said rather than what is."
The theme of healing was woven into the performance's production, and the audience was placed close to the actors, investing the viewer further into the plot. It forced them to connect and personally reflect on the inspiring aspects of re-inventing one's life.
"There's a certain intimacy as the audience acts as the fly on the wall to the unfolding events," wrote Lessard. "Both the look and feel of the set illustrate the privacy (or the lack of it) in different scenes between characters, which adds to the metaphor-esque nature of the production."
4: The Belfry starts season extremely strong with Intimate Apparel (October 3, 2022, written by Jordyn Haukaas)
Theatre seems to be the most popular form of art on this list, and here it is as the focus of our fourth most-read story of the year, a review of Intimate Apparel. This is another piece that was published late in the year, making its placement so high up on the list quite impressive. Maybe it's the Pulitzer prize-winning playwright involved, or maybe it was that our writer Jordyn Haukaas nailed it with her review.
"Set in 1905, the play follows the unique journey of Esther, an illiterate Black seamstress played by Jenny Brizard," wrote Haukaas. "Working day and night, she sews beautiful lingerie for New York's high-society women. Esther's anxiety is palpable after her 35th birthday as she has no romantic prospects, leaving her feeling uncertain for the future in a male-dominated society."
Even though the story told in this play is not set in modern day, the audience can intimately relate to it here in 2022.
"Intimate Apparel is worth every penny and is not be missed," wrote Haukaas. "Head down to the Belfry to be transported back in time, where everything may seem a little foreign but the desire to be loved is relatable through the years."
3: "Students react to Camosun College changing fee deadlines" (July 6, 2022, written by Lane Chevrier)
Students were angry when Camosun changed its fee deadlines earlier this year, so we're not surprised to see this story was so well-read. Historically, tuition was due after the first week or so of classes; this year, that changed to August 16, weeks before classes start. And students will only get a full refund if they drop a class before it begins.
The college said the change was made to create a more fair playing field for students who've ended up on a waitlist. Instead, it's really just costing Camosun students more in fees, second-year Refrigeration & Air Conditioning Mechanic Foundation apprentice Aaron Hunter said in the article.
"I'm definitely against it," said Hunter. "I think that it's just another way to kind of end up spending more money on our education, and we've already spent too much."
Not all of the changes were bad, though. The new policy allows students to withdraw without any consequence to their transcript until the last day of instructional class. So, even though the student's bank account is going to take a hit, their transcripts won't, as Camosun registrar Scott Harris pointed out in the story.
"Everything that we've been doing is with a student lens, and with students at the centre, even though it may not feel like that at first glance," he said. "These are significant changes for Camosun, but the ultimate goals are really around students and their ability to get what they need."
After pressure from the Camosun College Student Society, the college altered their new policy slightly: if students are able to pay at least 50 percent of their course fee by the deadline, they won't be auto-removed from the course. This prompted two more opinion pieces in our pages, both saying these changes weren't enough.
2: "Camosun alumnus takes on Veterans Affairs Canada in courts" (September 7, 2022, written by Zoe Mathers)
This story, written by Nexus student editor Zoe Mathers, covered a remarkable Camosun alum standing up for his education. Kyle Bienvenu, a retired navy reservist, attended Camosun's University Transfer program from 2005 to 2007, and was the Camosun College Student Society's external executive while he was at the college. In August, Bienvenu appeared in federal court after being denied the Education and Training Benefit following his 12 years of service due to the way the military calculated at-work hours.
"Really, what affected me most was that the Ministry of Veterans Affairs could diminish my service, and talking with other veterans and other reservists, the same things bothered me about this, which was that reservists are somehow not serving when they're not part of the military all of a sudden when they're not getting paid," said Bienvenu in the story.
There's no update yet on the proceedings of his case, but his story is already quite the inspirational one. College students are constantly complaining about "the man" or their institution, but Bienvenu is proving that you can fight for yourself.
"It's not even something people think they can do, so it's good to have that connection with the veterans to know that… it is possible to do this and take on the Ministry when something is unfair," said Bienvenu.
1: "Ride the Cyclone deals with tragedy, comedy, roller-coasters" (August 2, 2022, written by Nicolas Ihmels)
And the winner is… Nicolas Ihmels' preview piece about Blue Bridge Theatre's Ride the Cyclone. Directed by Jacob Richmond, the play focuses on a group of teens' less-than-fun day at an amusement park. It's a comedy which delves into bigger issues like coming to grips with loss.
"The play fellows six teenagers who have a tragic accident on a roller-coaster," said Richmond in the story. "They find a fortune-telling machine… and this machine gives one of them the chance to come back to life."
If you've critically analyzed any of the Final Destination movies, you know that there definitely can be a level of deeper meaning in these plots. As with the majority of the arts-related pieces we've seen on this list, the experience of the artist, director, or performer is what holds the greatest impact. Now that live theatre performances have come back, those involved can express themselves through art once again.
"Directing is fun… and the best part is helping an actor find their voice in the world," said Richmond. "Just working with them on honing in that voice and experiencing the joy of being surprised by that actor."
What do all these stories tell us about the values and interests of Camosun students? To me, it says that Camosun students need some encouragement to keep moving forward. During this past year, that encouragement has been in the form of the hand of a community held out to students.
My favourite story of the year isn't included in this list, but not because Camosun students don't care about it. I found a sense of community through working at Nexus, at Camosun. So, my favourite story of the year is this one, as it commemorates my time here with Nexus.
This is my last feature story for the paper. I started writing for Nexus in March of this year as a volunteer contributing writer. Now, this story finishes my time here as the features writer for the paper, and I'm so grateful for every minute I got to spend working here.