Facebook is building an operating system so it can ditch Android – TechCrunch
Facebook doesn't want its hardware like Oculus or its augmented reality glasses to be at the mercy of Google because they rely on its Android operating system. That's why Facebook has tasked Mark Lucovsky, a co-author of Microsoft's Windows NT, with building the social network an operating system from scratch, according to The Information's Alex Heath. To be clear, Facebook's smartphone apps will remain available on Android.
"We really want to make sure the next generation has space for us," says Facebook's VP of Hardware, Andrew 'Boz' Bosworth. "We don't think we can trust the marketplace or competitors to ensure that's the case. And so we're gonna do it ourselves."
Eye OS
By moving to its own OS, Facebook could have more freedom to bake social interaction — and hopefully privacy — deeper into its devices. It could also prevent a disagreement between Google and Facebook from derailing the roadmaps of its gadgets. Facebook tells TechCrunch the focus of this work is on what's needed for AR glasses. It's exploring all the options right now, including potentially partnering with other companies or building a custom OS specifically for augmented reality.
One added bonus of moving to a Facebook-owned operating system? It could make it tougher to force Facebook to spin out some of its acquisitions, especially if Facebook goes with Instagram branding for its future augmented reality glasses.
Facebook has always been sore about not owning an operating system and having to depend on the courtesy of some of its biggest rivals. Those include Apple, whose CEO Tim Cook has repeatedly thrown jabs at Facebook and its chief Mark Zuckerberg over privacy and data collection. In a previous hedge against the power of the mobile operating systems, Facebook worked on a secret project codenamed Oxygen circa 2013 that would help it distribute Android apps from outside the Google Play store if necessary, Vox's Kurt Wagner reported.
That said, its last attempt to wrestle more control of mobile away from the OS giants in 2013 went down in flames. The Facebook phone, built with HTC hardware, ran a forked version of Android and the Facebook Home user interface. But drowning the experience in friends' photos and Messenger chat bubbles proved wildly unpopular, and both the HTC First and Facebook Home were shelved.
Investing in tomorrow tech
Now Facebook is hoping to learn from past mistakes as it ramps up its hardware efforts with a new office for the AR/VR team in Burlingame, 15 miles north of the company's headquarters. The 770,000-square-foot space is designed to house roughly 4,000 employees. Facebook tells TechCrunch the team will move there in the second half of 2020 to make use of its labs, prototype space and testing areas. The AR/VR team will still have members at other offices across California, Washington, New York and abroad.
TechCrunch asked for more info about the space, and Facebook revealed that it's planning to open a public-facing, experiential space — possibly the first Facebook-branded permanent location that anyone can visit. There, people will be able to come play with its augmented reality and virtual reality products. Those could range from the Oculus Quest headsets and Facebook Portal smart displays it currently sells to potential future products like the camera glasses it's reportedly building with Ray Ban-maker Luxottica and eventually its full-fledged AR eyewear.
Facebook says it's considering building true retail space into the Burlingame office to let people try and then buy its hardware products. This would be a significant first step toward self-branded Facebook retail spaces in the vein of Apple and Microsoft's stores.
Interested in potentially controlling more of the hardware stack, Facebook held acquisition talks with $4.5 billion market cap semiconductor company Cirrus Logic, which makes audio chips for Apple and more, The Information reports. That deal never happened, and it's unclear how far the talks went given tech giants constantly keep their M&A teams open to discussions. But it shows how serious Facebook is taking hardware, even if Portal and Oculus sales have been slow to date. Facebook declined to comment on the matter.
That could start to change next year, though, as flagship virtual reality experiences hit the market. I got a press preview of the upcoming Medal of Honor first-person shooter that will launch on the Oculus Quest in 2020. An hour of playing the World War II game flew by, and it was one of the first VR games that felt like you could enjoy it week after week rather than being just a tech demo. Medal of Honor could prove to be the killer app that convinces gamers they have to get a Quest.
Social hardware
Facebook has also been working on hardware experiences for the enterprise. Facebook Workplace video calls can now run on Portal, with its smart camera auto-zooming to keep everyone in the board room in frame or focused on the action. The Information reports Facebook is also prototyping a VR videoconferencing system that Boz has been testing with his team. Facebook tells TechCrunch that Boz hosted two internal events where he videoconferenced through VR to about 100 of his team leaders using virtual Q&A software Facebook is prototyping internally. It's hoping to learn what would be necessary to consistently hold meetings in VR.
The hardware initiatives, meanwhile, feed back into Facebook's core ad business. It's now using some data about what people do on their Oculus or Portal to target them with ads. From playing certain games to accessing kid-focused experiences to virtually teleporting to vacation destinations, there's plenty of lucrative data for Facebook to potentially mine.
Facebook tells TechCrunch that Portal currently takes data — like if you log in, make calls or use certain features — to inform ad targeting. For example, it could show you ads related to video calling if you do that a lot. With Oculus, if you connect your Facebook account, then data about apps you use or events you join could be used to tune its algorithms or target ads.
Facebook even wants to know what's on our mind before we act on it. The Information reports that Facebook's brain-computer interface hardware for controlling interfaces by employing sensors to recognize a word a user is thinking has been shrunk down. It's gone from the size of a refrigerator to something hand-held, but is still far from ready for integration into a phone. Facebook tells TechCrunch it's making progress, improving the word error rate significantly up the state-of-the-art research and expanding the dictionary of words that can be recognized. Facebook can now decode brain activity in real time, and it's working on an intermediary system for identifying single words as it pushes toward 100 words-per-minute brain typing.
Selling Oculus headsets, Portal screens and mind-readers might never generate the billions in profits Facebook earns from its efficient ads business, but they could ensure the social network isn't locked out of the next waves of computing. Whether those are fully immersive like virtual reality, convenient complements to our phones like smart displays or minimally invasive sensors, Facebook wants them to be social. If it can bring your friends along to your new gadgets, Facebook will find some way to squeeze out revenue while keeping these devices from making us more isolated and less human.
MacBook Pro's M1 Max GPU is Over 3x Faster Than M1 in First Metal Benchmark – MacRumors
Multiple benchmarks have already given us a general estimate of the CPU performance of the M1 Max chip, but we've had little insight into GPU performance. The ‌M1‌ Max is equipped with up to 32 graphics cores, marking a vast improvement over the 8-core GPU of the ‌M1‌, which was Apple's first chip.

The first Metal benchmark for the ‌M1‌ Max surfaced this afternoon, with the chip earning a score of 68870. Comparatively, the ‌M1‌ chip in the 13-inch MacBook Pro has a Metal score of 20581, and the Radeon Pro 5600M, which was the highest-end GPU option for the prior Intel-based 16-inch model, has a Metal score of 42510.
Compared to the fastest chip available in Apple's previous-generation 16-inch MacBook Pro, the ‌M1‌ Max is 62 percent faster, and it's 3x faster than the ‌M1‌ chip in the 13-inch MacBook Pro, based on the Metal score we have so far.
It's not clear if this ‌M1‌ Max chip is the 24-core variant or the 32-core variant. This is also just one result, so we should be able to get a better picture of the graphics performance when additional benchmarks are available.
According to Apple, the 32-core GPU in the ‌M1‌ Max is up to 4x faster than the ‌M1‌. Apple has said that the chip delivers performance "comparable to a high-end GPU in a compact pro PC laptop" while consuming up to 40 percent less power.
Since we last shared CPU benchmarks for the ‌M1‌ Max/Pro chip, several additional results have surfaced. Comparing multiple benchmarks, the ‌M1‌ Max/Pro earns an average single-core score 1742 and an average multi-core score of 12135.
The chip has the highest single-core score of any Mac to date, and it is only beaten in multi-core performance by the 16, 18, 24, and 28-core Intel Xeon chips used in the higher-end iMac Pro and Mac Pro models.
U.S. safety board says driver, passenger seats occupied during fatal Tesla crash
National Transportation Safety Board(NTSB) said on Thursday that both the driver and passenger seats were occupied during an April 17 fatal crash of a Tesla Model S in Spring, Texas.
Local police previously said witness statements indicated there was nobody in the driver's seat of the Model S when it crashed into a tree. The NTSB said a review of vehicle data show "both the driver and the passenger seats were occupied, and that the seat belts were buckled when the (event data recorder) recorded the crash."
(Reporting by David Shepardson)
Samsung Galaxy Z Flip3 starts receiving October 2021 Android security patch globally – GSMArena.com news – GSMArena.com
Last month, Samsung released the October 2021 Android security patch for the Galaxy Z Flip3 in South Korea, which was rolled out for the unlocked units in the US earlier this month, and is now finally seeding to the Galaxy Z Flip3 globally.
The October 2021 patch for the international Galaxy Z Flip3 comes with firmware having version F711BXXU2AUJ7. The patch fixes more than 60 security and privacy-related issues and the changelog also talks about improved stability of the device.
Additionally, the new build brings Portrait mode support for pets, allowing you take portrait photos of cats and dogs with the Galaxy Z Flip3's front and rear cameras.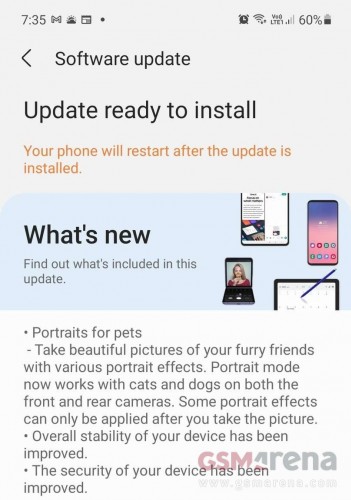 The update should reach all the global units in a few weeks, but you can also try downloading it manually by heading to your Galaxy Z Flip3's Settings > Software update menu.