Facebook is making its own operating system to free itself from Google's shackles – TechRadar India
Facebook wants its own mobile operating system so hardware like its Oculus VR headsets isn't tied down by the limitations of Android.
As reported by The Information, Facebook wants its own platform to avoid other companies throwing its plans off course, whether it's built in-house or in partnership with another developer.
"We really want to make sure the next generation has space for us," said Andrew Bosworth, Facebook's vice president of hardware, Andrew 'Boz' Bosworth. "We don't think we can trust the marketplace or competitors to ensure that's the case. And so we're gonna do it ourselves."
The company told TechCrunch that it's particularly interested in developing augmented reality glasses, and is exploring all options to make it a possibility on its own terms.
If at first you don't succeed…
This isn't the first time Facebook has considered creating its own operating system. Back in 2013, one of the company's senior developers revealed that it had considered developing an OS for Facebook Home – a project that replaced your phone's usual home screen with something based around social features.
Facebook considered building an OS from scratch or creating an Android fork before settling on an interface layer that sat on top of Android and simply changed its regular interface. The app received negative reviews, and was abandoned within months of its release.
"The OS path was the least fleshed-out of the paths," director of mobile engineering Cory Ondrejka said.
"Mark [Zuckerberg] talked on launch day that he wanted to build something for everyone. It's hard to get to the type of scale that's necessary for us [when building an OS]. We wanted Home in front of hundreds of millions of people – even a successful OS would only give that experience to a few of them."
However, now that Facebook has extended its reach beyond phones to other hardware, it makes sense for it to revisit the idea.
Facebook has no plans to end development of its iOS and Android apps, but it'll be interesting to see where this new project leads and whether its new direction proves more successful than Facebook Home.
Here's when your Google Pixel will get Android 12L – XDA Developers
At the Android Dev Summit yesterday, Google officially unveiled the first developer preview of Android 12L, a feature drop for Android 12 designed specifically for foldables, tablets, and large-screen devices.
While Android 12L primarily targets foldables, tablets, and Chrome OS devices, it will also make its way to phones. Google says for now it's keeping the focus on foldables and Chrome OS devices, but it'll be opening up beta enrollments for the Pixel lineup in December, starting with the first Android 12L beta release.
Here's which Pixel phones will be getting the Android 12L beta in December:
Pixel 6 Pro
Pixel 5a 5G
Pixel 5
Pixel 4a (5G)
Pixel 4a
Pixel 4
Besides the Google Pixel lineup, Google has confirmed that the new software will also be made available to devices like the Galaxy Z Fold 3 and Lenovo Tab P12 Pro. The first beta of Android 12L will arrive in December, followed by the second release in January and the third and final beta in February. The public release is slated for Q1 2022, likely around March.
As Mishaal Rahman points out, although the current developer preview build is API level 31, the Android 12L platform will use API level 32 once the APIs are finalized. However, it seems developers aren't required to target the new API level when publishing apps on Google Play.
It seems the current Sv2/Android 12L build is still API level 31. Google says that the 12L platform will use API level 32 when the APIs are finalized. Developers are not required to target API level 32 to meet Google Play requirements.

— Mishaal Rahman (@MishaalRahman) October 27, 2021
Android 12L is currently available as a developer preview, and you can try it out by booting an Android 12L system image in the Android Emulator. The new version brings along several UI refinements and features to provide an improved software experience on foldables and tablets. The new features include a two-column layout for the notification shade and lockscreen, Activity Embedding, improved multitasking experience, and so on.
---
Featured image: Pixel 6 Pro
Redmi Watch 2 unveiled with 1.6" AMOLED display, cheap Redmi Buds 3 Youth Edition follow – GSMArena.com news – GSMArena.com
Today's Redmi event introduced the new Note 11 series phones, along with the sequel to the Redmi Watch from last year as well as a Youth Edition of the Redmi Buds 3.
Redmi Watch 2
Xiaomi was able to slim down the bezels of the watch and to fit a larger screen – the Redmi Watch 2 boasts a 1.6" screen (up from 1.4"). Another upgrade is the switch to AMOLED (the old one had an IPS LCD). The screen became taller and its resolution is now 320 x 360 px.

The new Redmi Watch 2 has a 1.6″ AMOLED display (the original had a 1.4″ IPS LCD)
Efficiency also improved, so now the watch can last 12 days on a single charge, the original model had to be put in power saving mode to go that long (according to the official numbers). As before, charging is done with a magnetic connector.
The watch is powered by the Apollo 3.5 chipset and supports 117 different sports modes, including swim tracking. The watch body is rated for 5 ATM (50m) of water resistance. Additionally, it comes with the usual sleep tracking and heart rate monitoring, now a blood-oxygen (SpO2) sensor.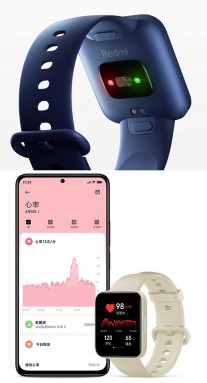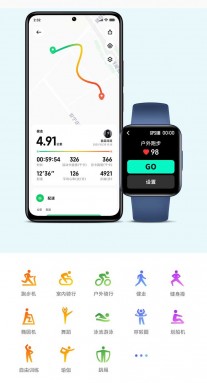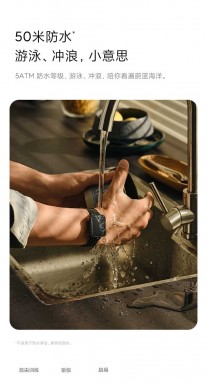 Redmi Watch 2: Heart rate and SpO2 monitoring • GPS tracking • 5 ATM water resistance
For outdoor activities the Redmi Watch 2 supports four global positioning systems – GPS, GLONASS, Galileo and BeiDou. Another connectivity feature is NFC.
Despite the larger display and improved battery, the watch itself is lighter – it is down four grams to 31g. Buyers can choose between 3 colors for the watch body and 6 colors for the TPU strap.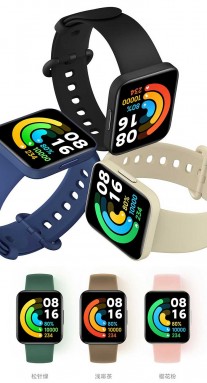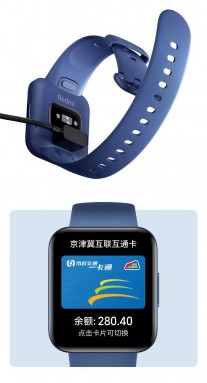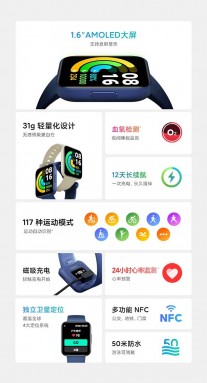 Three colors for the watch body, 6 strap options • 12 day battery life and NFC • Redmi Watch 2 overview
The Redmi Watch 2 is on pre-order now and will start shipping on November 11. Its regular price is CNY 400 ($63/€54/₹4,700), but early birds can snatch it up at a promotional price of CNY 350.
Redmi Buds 3 Youth Edition
These cost just CNY 100 ($16/€14/₹1,200), basically half of what the Buds 3 Pro cost (or as global users may know them, the Air Dots 3 Pro). These feature a "cats ear" design, which is intended to make the buds sit more comfortably and more securely in your ears.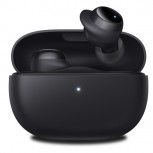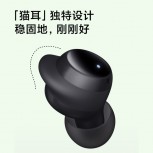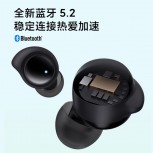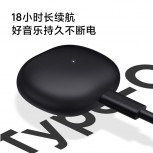 Redmi Buds 3 Youth Edition with "cat ears" design, Bluetooth 5.2 and USB-C charging
The Redmi Buds 3 Youth Edition promise 18 hours of battery life, not quite as impressive as the 28 hours advertised by the Pro model. They still charge over USB-C and come with Bluetooth 5.2 connectivity, though no ANC. The buds have basic IP54 water resistance to protect them against rain and sweat.
Photography expert Austin Mann pushes new MacBook Pro to its limits with incredible results – 9to5Mac
Image by Mann made from 100 stacked TIFF files on MacBook Pro
Following up on his amazing test of the iPhone 13 Pro camera in Tanzania last month, photography expert Austin Mann has shared his review of the MacBook Pro with M1 Max chip. Spoiler, Mann concludes the new MacBook Pros "will substantially affect absolutely everyone," not just pros. Read on for a closer look at what Mann accomplished with the new notebook and the performance he saw.
After Tanzania for his incredible iPhone 13 Pro shoot, Mann spent time in Flagstaff, Arizona "testing the new MacBook Pro M1 Max w/ 64 GB RAM and 8TB SSD!" Off the top, he said, "This thing is nuts and I love it."
Answering a question many will be asking, Mann believes these notebooks aren't just for pros:
"Is the upgrade just for pros or is it for everyone, too?"

My resounding answer is: the upgrade in the M1 MacBook Pros will substantially affect absolutely everyone… the battery life is not just slightly better, it's on a radically different planet. This machine stays cool and handles whatever you can throw at it, whether that's making a family photo album in Photos or rendering an animation in After Effects.
After covering his thoughts on the return of all the I/O, sharing he is glad to see the Touch Bar removed and more, he got into testing the performance of the new MacBook Pro.
While speed is always attractive, I've been most curious about the efficiency and power management so I ran a few non-scientific tests… one of them went as follows:

I charged the 16″ MacBook Pro M1 Max to 100% and then disconnected from power.

First, I ran an image stack in Starry Landscape Stacker on 100 TIFF files (150MB each)… it took 4m24s to render and battery life was still at 100% (the fan remained inaudible.)

Stacking 100 TIFF files (150MB each) took 4m24s.

Second, I ran a Cinebench test, which finished in just a few minutes and still the battery was 100%.

Third, I went back the 100 TIFF image files and opened them into StarStax and processed a "Gap Filling" blend of all 100 TIFF files. This intensive process took another 2m36s and still the battery was at 100%.
To get the battery to go down even 1% here's what he did next:
So I opened 8 images into Adobe Camera Raw and used Photomerge to create a giant panorama… this happened quickly and guess what, the battery life still showed 100%.

At this point I kind of ran out of options so I went back to Cinebench to run the test again on loop… about 2.5 minutes into that test, the battery life FINALLY dropped down to 99%.
Overall, Mann was highly impressed with the speed and efficiency:
In summary, the most impressive performance from new MacBook Pro M1 Max wasn't just speed (it was about twice as fast) but it was insanely efficient in how it managed both its power and heat which matters as much or more than pure speed.
Mann also detailed his experience with the new Liquid Retina XDR display:
Rendering this detail was previously not possible on the MacBook Pro and it's going to be really nice to have this display power with me in the field as it's helpful to know what detail is there and how far I can push an image.
As for changes, Mann had two wishes:
1) I wish the SD Card slot was similar to the slot in the Sony A1 which takes BOTH SD and CF Express. This would be really handy for me today and I think more practical and useful for most creative pros in the near future.

2) Really wish there was a matte/non-glare screen option. Years ago, this was an option on Apple's laptops and with the recent Pro Display XDR "nano-etch" anti-glare option, I was crossing my fingers we might see something similar on the M1 MacBook Pro.
Be sure to check out the full review from Mann on his website here.
Check out 9to5Mac on YouTube for more Apple news:
[embedded content]