Facebook revenue grows 22%, but its pandemic user bounce fades – CNN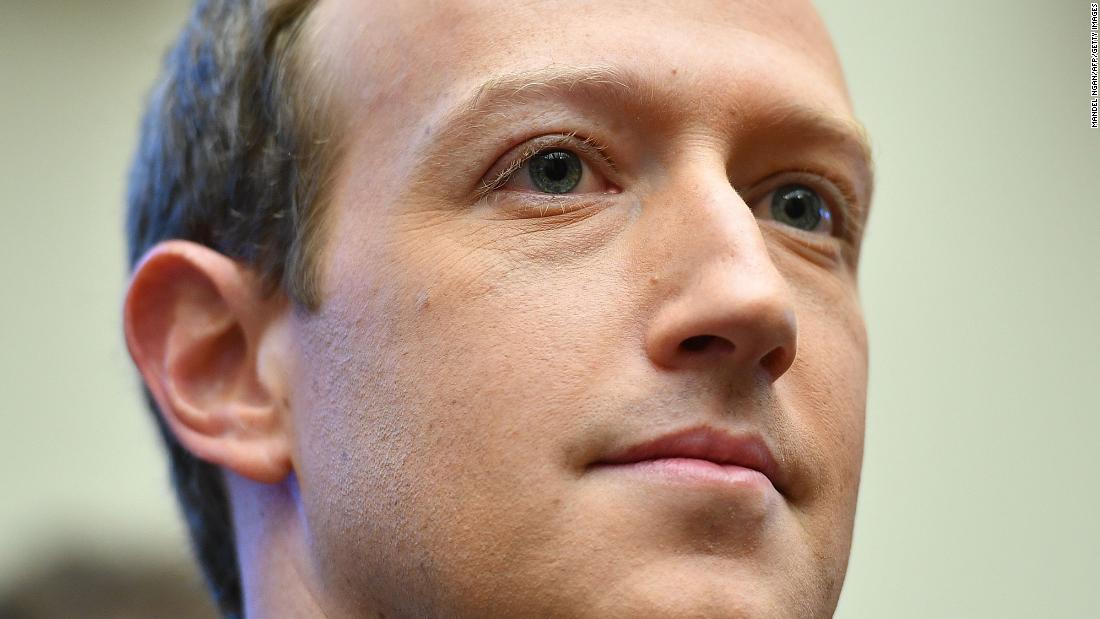 Facebook on Thursday said that its daily and monthly active users in the US and Canada, a core market, declined slightly in the third quarter compared to the previous three months, and it expects this trend to continue. Facebook does not break down user numbers by region, so the full extent of the damage is unclear.
Globally, the earnings release paints a rosier picture both in terms of financial performance and user growth.
Facebook's revenue jumped 22% to $21.47 billion compared to last year, which beat analysts' expectations. Net income increased 29% to $7.85 billion year-over-year.
The company had 2.74 billion monthly active users during the quarter ending in September, an increase of 12% from the prior year. When combining all of Facebook's various apps, including Instagram, Messenger and WhatsApp, the company reported 3.21 billion users, an increase of 14%.
Last quarter, Facebook said its daily and monthly active user numbers "reflect increased engagement as people around the world sheltered in place and used our products to connect with the people and organizations they care about." However, the company previously cautioned that as stay at home orders begin to ease, it expected engagement to be flat or to slightly drop in the future.
Shares of Facebook initially jumped following its latest earnings report, then fell about 3% before climbing slightly into positive territory in after-hours trading.
Looking ahead to 2021, the company said it continues to face "a significant amount of uncertainty."
"We believe the pandemic has contributed to an acceleration in the shift of commerce from offline to online, and we experienced increasing demand for advertising as a result of this acceleration. Considering that online commerce is our largest ad vertical, a change in this trend could serve as a headwind to our 2021 ad revenue growth," the company said in its earnings report.
Facebook also cited other challenges, including iPhone software changes that it expects will hurt its advertising business, as well as the "evolving regulatory landscape."
Facebook's quarterly report comes a day after Zuckerberg
appeared
before Senators on the Commerce Committee alongside Twitter CEO Jack Dorsey and Google CEO Sundar Pichai. Though the hearing was meant to focus on a crucial law, known as Section 230, which protects the companies' ability to moderate content as they see fit, Senators also confronted the executives on other topics, including antitrust, misinformation about voting and election interference.
"We had a strong quarter as people and businesses continue to rely on our services to stay connected and create economic opportunity during these tough times," Facebook CEO Mark Zuckerberg said in a statement.
The quarter included a
major advertising boycott
of Facebook that included numerous household brands, such as Hershey's, Starbucks and Patagonia. A civil rights coalition that includes the Anti-Defamation League and the NAACP launched the #StopHateforProfit campaign, calling on major companies to stop advertising on Facebook for the month of July due to the platform's "repeated failure to meaningfully address the vast proliferation of hate on its platforms." "We deeply respect any brand's decision and remain focused on the important work of removing hate speech and providing critical voting information. Our conversations with marketers and civil rights organizations are about how, together, we can be a force for good," Carolyn Everson, VP of Facebook's global business group, said at the time, in response to the boycott.
"Facebook has rebounded nicely from both the early-pandemic advertiser pullout, when marketers pulled ads across all media to redo messaging or conserve funds, and from the July ad boycott," said eMarketer principal analyst Debra Aho Williamson. "Despite its challenges with election turmoil and content moderation, it remains a go-to for advertisers seeking to engage a broad base of consumers."
Heading into the US election next week, Facebook faces continued scrutiny for how it handles misinformation and
foreign interference
.
AIB agrees to life and pensions joint-venture with Canada Life
Allied Irish Banks on Wednesday said it would form a joint venture with Canada life as it seeks to plug gaps in its life, savings and wealth products.
The joint venture will be equally owned by Canada Life, a subsidiary of Great-West Lifeco Inc.
"The move to create this joint venture is aligned with AIB's stated ambition to complete its customerproduct suite and diversify income," AIB said in a statement.
"Through this strategic initiative AIB intends to offer customers a range of life protection, pensions, savings and investment options enhanced by integrated digital solutions withcontinued access to our qualified financial advisors."
The Irish lender highlighted Canada Life's "deep experience" of the Irish bancassurance market through Irish Life Assurance, which is also a subsidiary of Great-West Lifeco.
AIB currently operates under a tied agency distribution agreement with Irish Life, and will enter into a new distribution agreement with the new joint venture company.
Chief Executive Colin Hunt highlighted the need to plug gaps in AIB's life, savings and wealth products when he set out the bank's medium-term targets last December.
AIB expects its equity investment in the joint venture will be around 90 million euros ($107.51 million), equating to around 10bps of CET1.($1 = 0.8372 euros)
(Reporting by Graham Fahy;Editing by Elaine Hardcastle)
Interac: Canada's Latest Payment Solution Phenomenon
Few can argue that digital payment methods aren't central to modern-day society. In recent times, increasing numbers of payment solutions have come to the forefront, offering consumers more choice regarding their transaction preferences. Canada, in particular, has embraced a wide-ranging selection of secure, forward-thinking options. Of those available throughout the country, Interac has piqued the interests of local consumers the most. So, let's look at why this payment solution is an especially popular option throughout Canada.
Usable Across Various Markets
It speaks volumes about Interac's versatility in that it's usable across a variety of different industries. Since being founded in 1984, the Canadian interbank network has become integral to numerous markets, including local air travel. Air Canada, which has been operating since 1937, has expanded their accepted payment methods, and now passengers can pay for their flights using Interac. According to the airline's official website, the Interac Online service lets consumers pay for their tickets via the internet directly from their bank account.
Not only that, but Interac is also available at Walmart. In November 2020, the two organizations partnered together to expand in-store and online payment options. Walmart has adapted well to the digital trend, with American Banker reporting that they've opened Interac Flash sale points throughout their stores.
Aside from the above, Interac has also taken the digital world by storm. Following its rapid rise to prominence, the solution has also altered the online casino industry, with platforms like Genesis Casino now accepting the transaction type. The provider, which features Interac Canadian casino options, uses the popular payment method to enhance transaction speeds of deposits and withdrawals, as well as security. Players can use Interac Online and Interac e-Transfer to make deposits or withdrawals from their desktops or mobiles as the platform is fully optimized.
A Reflection of Modern-Day Society
In recent times, Interac recorded a 55 percent increase in transactions between April and August 2020 compared to the same period the previous year, as per BNN Bloomberg. These figures somewhat reflect the current state of e-Commerce and modern consumerism. Following the rise of Interac and other payment methods, it's now less troublesome for consumers to complete in-store and online purchases.
There's an ever-growing perception that land-based businesses need to adapt within the digital era and accept forward-thinking payment methods. According to Cision, Interac is of utmost importance to the Canadian economy, and a year-on-year increase in Interac Debit payments of 333 percent reflects that. Not only that, but Interac e-Transfer payments are growing at 52 percent each year. This Interac-oriented trend appears unlikely to fade over the coming years, with the network being selected as the country's provider for a new real-time payment system, as per Lexology.
Consumer Habits are Changing
There can be no doubt that consumerism has changed drastically over the past decade. The popularity of Interac suggests that a cashless future may be on the horizon, with increasing numbers of shoppers enjoying the security of online payment methods. While it's currently unclear if that will happen, Interac appears to be prevalent for the long run.
Your Education and Certificates Need to Align the Job Requirements
After your professional experience, your education/certifications (verified skills) will be the next section on your resume the reader will use to judge whether you go into the "to be interviewed" pile.
Many job seekers apply to job postings knowing they don't have the education/certification requirements. They believe their "experience" will compensate. With so many highly qualified job seekers now on the job market this is rarely the case. If your education/certifications align with the job requirements, the education section of your resume will play a critical part in setting you apart from all the "spray and pray" job seekers.
Suppose a job posting for a Director of Finance lists as a qualification "Canadian Accounting Designation (CPA)." You have a university degree and 15 years of experience managing a mid-size company's finances, but no CPA—don't bother applying. Job postings generate an influx of applicants. Undoubtedly there'll be many applicants who possess a CPA applying. There's also the employer's ATS to consider, which likely has been programmed to scan for "CPA."
Education background information you should provide:
Degree/certification obtained
School's name
Location of school
Period of attendance
Relevant coursework
Honors, academic recognition, extracurricular activities, or organizations participation worth mentioning
When it comes to presenting your educational background keep your ego in check. You may have impressive education background; however, it may not be impressive for the job you're vying for. Prioritize relevancy over perceived prestige.
Here's my suggestion how to present your education/certificates (there's no hard formatting rule):
BS Biomedical Science
University of Calgary, Calgary, AB — 09/1992 – 06/1996
Courses:
Principles of Human Genetics
Organismal Biology
Principles and Mechanisms of Pharmacology
Advanced Bioinformatics
PMP® Certification
Ryerson University Continuing Education, Toronto, ON — 10/2001 – 04/2003
Courses:
Planning and Scheduling
Leadership in Project Management
Project Cost and Procurement Management
Project Risk and Quality Management
As I've pointed out in previous columns— there's no universal hiring methodology. No two hiring managers assess candidates the same way. Depending on the job requirements respective employers search for different things when it comes to a candidate's education. Read the qualifications in the job posting carefully. Then present your education/credentials accordingly. Don't hesitate to add/remove courses to better tie in your education towards the job. It's for this reason I suggest you list courses, not just your degree/certification. Listing of courses is rarely done, doing so will give your resume a competitive advantage.
You'll have noticed my examples indicated start and end dates. Many "career experts" advise against this. The thinking being dates, even just the graduation year, will give employer's a sense of your age, which if your over 45 can hinder and prolong your job search. This advice is supposed to be a workaround to ageism. However, these same "career experts" unanimously agree employment dates (month/year) need to be indicated. To me, this is a mixed message.
I believe in complete transparency from both sides of the hiring process. Full transparency ensures the likelihood of there being a solid fit for both parties. At some point, whether when the employer checks your digital footprint or interviews you, your interviewer will have a good indication of your age. Besides, not mentioning dates, which I call "obvious" information, is a red flag.
If your age is a deal-breaker with an employer, they aren't the employer for you. The job search advice I give most often: Seek employers who'll most likely accept you, where you'll feel you belong—look for your tribe.
Some professions, such as finance or healthcare, require specific certifications or degrees. In such cases, show you have the necessary "must-have" (a deal-breaker if you don't) credentials by placing your education at the top of the page just below your contact information before your professional experience.
One last note: Often overlooked is education in progress. If relevant, this should be included in your resume. In this case, list pertinent courses and the month/year you intend to graduate.
Using suggestions in this and previous columns you are now able to create a resume that "WOWs." Next week, I'm going to begin discussing cover letters. Yes, many hiring managers, like myself, do read cover letters, which have one purpose—to give the reader a reason to read your resume.
______________________________________________________________
Nick Kossovan, a well-seasoned veteran of the corporate landscape, offers advice on searching for a job. You can send him your questions at artoffindingwork@gmail.com.