Fake Asteroid? NASA Expert IDs Mystery Object As Old Rocket – Snopes.com
CAPE CANAVERAL, Fla. (AP) — The jig may be up for an "asteroid" that's expected to get nabbed by Earth's gravity and become a mini moon next month.
Instead of a cosmic rock, the newly discovered object appears to be an old rocket from a failed moon-landing mission 54 years ago that's finally making its way back home, according to NASA's leading asteroid expert. Observations should help nail its identity.
"I'm pretty jazzed about this," Paul Chodas told The Associated Press. "It's been a hobby of mine to find one of these and draw such a link, and I've been doing it for decades now."
Chodas speculates that asteroid 2020 SO, as it is formally known, is actually the Centaur upper rocket stage that successfully propelled NASA's Surveyor 2 lander to the moon in 1966 before it was discarded. The lander ended up crashing into the moon after one of its thrusters failed to ignite on the way there. The rocket, meanwhile, swept past the moon and into orbit around the sun as intended junk, never to be seen again — until perhaps now.
A telescope in Hawaii last month discovered the mystery object heading our way while doing a search intended to protect our planet from doomsday rocks. The object promptly was added to the International Astronomical Union's Minor Planet Center's tally of asteroids and comets found in our solar system, just 5,000 shy of the 1 million mark.
The object is estimated to be roughly 26 feet (8 meters) based on its brightness. That's in the ballpark of the old Centaur, which would be less than 32 feet (10 meters) long including its engine nozzle and 10 feet (3 meters) in diameter.
What caught Chodas' attention is that its near-circular orbit around the sun is quite similar to Earth's — unusual for an asteroid.
"Flag number one," said Chodas, who is director of the Center for Near-Earth Object Studies at NASA's Jet Propulsion Laboratory in Southern California.
The object is also in the same plane as Earth, not tilted above or below, another red flag. Asteroids usually zip by at odd angles. Lastly, it's approaching Earth at 1,500 mph (2,400 kph), slow by asteroid standards.
As the object gets closer, astronomers should be able to better chart its orbit and determine how much it's pushed around by the radiation and thermal effects of sunlight. If it's an old Centaur — essentially a light empty can — it will move differently than a heavy space rock less susceptible to outside forces.
That's how astronomers normally differentiate between asteroids and space junk like abandoned rocket parts, since both appear merely as moving dots in the sky. There likely are dozens of fake asteroids out there, but their motions are too imprecise or jumbled to confirm their artificial identity, said Chodas.
Sometimes it's the other way around.
A mystery object in 1991, for example, was determined by Chodas and others to be a regular asteroid rather than debris, even though its orbit around the sun resembled Earth's.
Even more exciting, Chodas in 2002 found what he believes was the leftover Saturn V third stage from 1969′s Apollo 12, the second moon landing by NASA astronauts. He acknowledges the evidence was circumstantial, given the object's chaotic one-year orbit around Earth. It never was designated as an asteroid, and left Earth's orbit in 2003.
The latest object's route is direct and much more stable, bolstering his theory.
"I could be wrong on this. I don't want to appear overly confident," Chodas said. "But it's the first time, in my view, that all the pieces fit together with an actual known launch."
And he's happy to note that it's a mission that he followed in 1966, as a teenager in Canada.
Asteroid hunter Carrie Nugent of Olin College of Engineering in Needham, Massachusetts, said Chodas' conclusion is "a good one" based on solid evidence. She's the author of the 2017 book "Asteroid Hunters."
"Some more data would be useful so we can know for sure," she said in an email. "Asteroid hunters from around the world will continue to watch this object to get that data. I'm excited to see how this develops!"
The Harvard-Smithsonian Center for Astrophysics' Jonathan McDowell noted there have been "many, many embarrassing incidents of objects in deep orbit … getting provisional asteroid designations for a few days before it was realized they were artificial."
It's seldom clear-cut.
Last year, a British amateur astronomer, Nick Howes, announced that an asteroid in solar orbit was likely the abandoned lunar module from NASA's Apollo 10, a rehearsal for the Apollo 11 moon landing. While this object is likely artificial, Chodas and others are skeptical of the connection.
Skepticism is good, Howes wrote in an email. "It hopefully will lead to more observations when it's next in our neck of the woods" in the late 2030s.
Chodas' latest target of interest was passed by Earth in their respective laps around the sun in 1984 and 2002. But it was too dim to see from 5 million miles (8 million kilometers) away, he said.
He predicts the object will spend about four months circling Earth once it's captured in mid-November, before shooting back out into its own orbit around the sun next March.
Chodas doubts the object will slam into Earth — "at least not this time around."
___
The Associated Press Health and Science Department receives support from the Howard Hughes Medical Institute's Department of Science Education. The AP is solely responsible for all content.
NASA astronaut Kate Rubins votes from ISS: 'If we can do it from space…' – CNET


This story is part of Elections 2020, CNET's coverage of the run-up to voting in November.
However you go about casting your vote, you have to admire this NASA astronaut who managed to cast her vote from space. Kate Rubins, who's currently on duty aboard the International Space Station, posted a photo of herself in front of a padded booth marked "ISS Voting Booth," with the text "From the International Space Station: I voted today."
NASA notes this isn't Rubins' first time voting from space. She did so in 2016, when she was also on the ISS.
"I think it's really important for everybody to vote," Rubins said in a video uploaded by NASA. "And if we can do it from space, then I believe folks can do it from the ground, too." Rubins' six-month ISS mission began Oct. 14, which was also her 42nd birthday.
Most astronauts choose to vote as Texas residents because they move to Houston for training, NASA said, though, that those who wish to vote as residents of their home state can make special arrangements.
Ballots from the county where the astronaut is registered are tested on a space station training computer, then the real ballot is generated and uplinked to the ISS with crew-member-specific credentials to keep it secure. The completed ballot is electronically delivered back to Earth to be officially recorded.
"Voting in space has been possible since 1997 when a bill passed to legally allow voting from space in Texas," NASA said in a statement. "Since then, several NASA astronauts have exercised this civic duty from orbit. As NASA works toward sending astronauts to the Moon in 2024 and eventually on to Mars, the agency plans to continue to ensure astronauts who want to vote in space are able to, no matter where in the solar system they may be."
NASA had expected the US astronauts on the SpaceX Crew-1 mission to the ISS to join Rubins in voting from space, but their mission has been delayed until early- to mid-November, so they can now vote from Earth.
– AI and photonics to decipher the "twinkling" of the stars… – AlKhaleej Today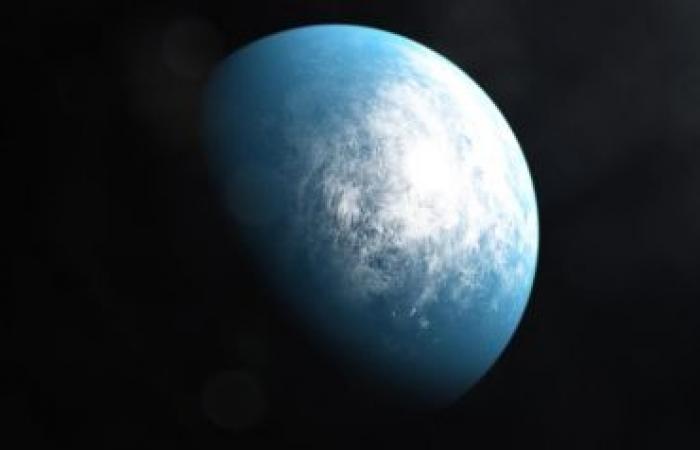 23 October 2020
The invention of Australian scientists paves the way for a "renaissance in exoplanet observation".
Australian scientists have developed a new type of sensor to measure and correct the distortion of starlight caused by viewing the Earth's atmosphere. This should make it easier to examine the possibility of life on distant planets.
With the help of artificial intelligence and machine learning, optical scientists at the University of Sydney have developed a sensor that can neutralize the "twinkle" of a star caused by thermal fluctuations in the Earth's atmosphere. This will facilitate the discovery and study of planets in distant solar systems with optical telescopes on Earth.
"The main method of identifying planets orbiting distant stars is to measure regular breaks in starlight caused by planets blocking parts of their sun," said lead author Dr. Barnaby Norris.
"It's very difficult from the ground, so we had to develop a new way of looking at the stars. We also wanted to find a way to observe these planets directly from Earth, "he said.
The team's invention is now being used in one of the largest optical telescopes in the world, the 8.2-meter Subaru telescope in Hawaii operated by the National Astronomical Observatory of Japan.
"It is really difficult to separate the 'sparkle' of a star from the light ingress that planets cause when observed from Earth," said Dr. Norris. "Most observations of exoplanets come from orbiting telescopes like NASA's Kepler. With our invention we hope to initiate a renaissance of exoplanet observation from the ground. "
Novel methods
With the help of the new "photonic wavefront sensor", astronomers can image exoplanets directly around distant stars from Earth.
Thousands of planets beyond our solar system have been discovered in the past two decades, but only a small handful have been imaged directly from Earth. This severely limits scientific research into these exoplanets.
Creating an image of the planet provides far more information than indirect detection methods such as measuring starlight incursions. Earth-like planets could appear billions of times weaker than their host star. Observing the planet apart from its star is like looking at a 10 cent coin in Sydney as seen from Melbourne.
To solve this problem, the Faculty of Physics' scientific team developed a "photonic wavefront sensor" that can measure the exact distortion caused by the atmosphere in new ways and correct it thousands of times by the telescope's adaptive optics systems one second.
"This new sensor combines advanced photonic devices with deep learning and neural network techniques to create an unprecedented type of wavefront sensor for large telescopes," said Dr. Norris.
"In contrast to conventional wavefront sensors, it can be placed in the same place in the optical instrument where the image is generated. This means that it is sensitive to distortion that is invisible to other wavefront sensors currently used in large observatories, "he said.
Professor Olivier Guyon of the Subaru Telescope and the University of Arizona is one of the world's leading experts in adaptive optics. He said: "This is undoubtedly a very innovative approach that is very different from any existing method. It could potentially address several major limitations in current technology.
"We are currently working with the University of Sydney team to test this concept on Subaru in collaboration with SCExAO, one of the most advanced adaptive optics systems in the world."
Application beyond astronomy
Scientists achieved this remarkable result by building on a novel method to measure (and correct) the wavefront of light that passes through atmospheric turbulence directly in the focal plane of an imaging instrument. This is done using an advanced light converter known as a photonic lantern, which is linked to a neural network inference process.
"This is a radically different approach to existing methods and solves some major limitations in current approaches," said co-author Jin (Fiona) Wei, a PhD student at the Sydney Astrophotonic Instrumentation Laboratory.
The director of the Sydney Astrophotonic Instrumentation Laboratory at the School of Physics at the University of Sydney, Associate Professor Sergio Leon-Saval, said, "While we came to this problem to solve a problem in astronomy, the technique proposed is extremely relevant for a wide range of fields.
"It could be used in optical communications, remote sensing, in vivo imaging, and any other area where accurate wavefronts are received or sent through a turbulent or cloudy medium such as water, blood, or air."
More information…
These were the details of the news – AI and photonics to decipher the "twinkling" of the stars… for this day. We hope that we have succeeded by giving you the full details and information. To follow all our news, you can subscribe to the alerts system or to one of our different systems to provide you with all that is new.
It is also worth noting that the original news has been published and is available at de24.news and the editorial team at AlKhaleej Today has confirmed it and it has been modified, and it may have been completely transferred or quoted from it and you can read and follow this news from its main source.
US astronaut votes early from space station – Space.com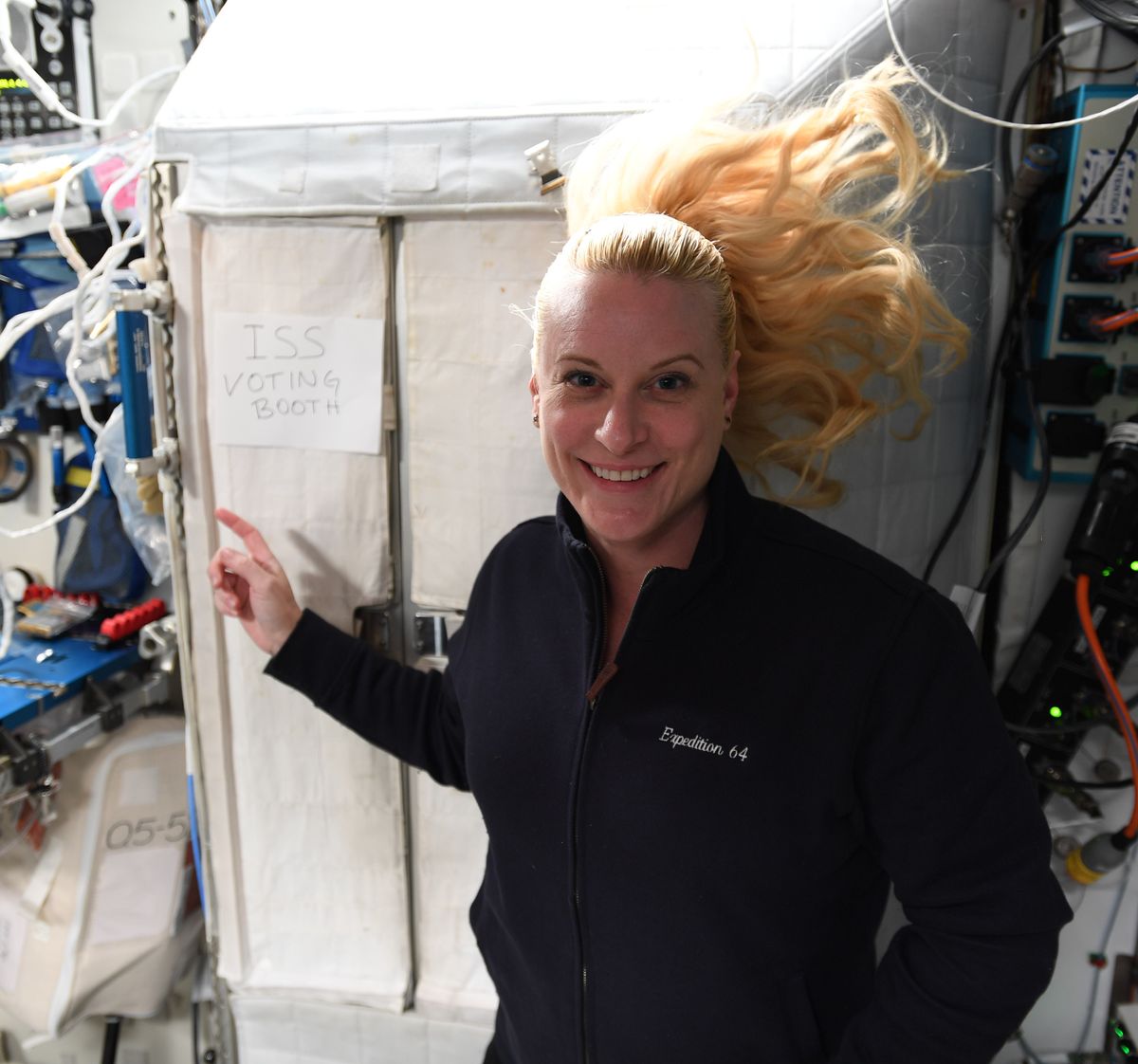 From the International Space Station: I voted today— Kate Rubins pic.twitter.com/DRdjwSzXwyOctober 22, 2020
NASA astronaut Kate Rubins shared her voting selfie from orbit after stating before her launch earlier this month that she would cast her ballot from the International Space Station.
Since 1997, as a concession to the fact that most NASA astronauts live near the agency's Johnson Space Center in Houston, Texas has had an extreme absentee ballot procedure in place for anyone who finds themselves off Earth on Election Day. It's requested like any other absentee ballot, but with the address "low Earth orbit"; NASA delivers the digital ballot first to the astronaut, then to the state's election authorities.
"From the International Space Station: I voted today," Rubins wrote in a tweet posted on Thursday (Oct. 22).
Related: International Space Station at 20: A photo tour
Rubins arrived in orbit for her second spaceflight on Oct. 14 and will remain on the space station for about six and a half months. She is the only American in space and will remain so on Election Day (Nov. 3).
The three NASA astronauts scheduled to fly on the Crew-1 mission of the SpaceX Crew Dragon capsule had planned to vote from space as well, but delays to their planned Oct. 31 launch mean that they (and a Japanese crewmate) will remain on Earth until mid-November..
In addition to absentee ballots, Texas also permits early voting; the period runs from Oct. 13 to Oct. 30 this year.
You can check your state's voting options and make a plan for casting your ballot at vote.org.
Email Meghan Bartels at mbartels@space.com or follow her on Twitter @meghanbartels. Follow us on Twitter @Spacedotcom and on Facebook.