Fake asteroid? NASA expert IDs mystery object as old rocket – Terrace Standard
The jig may be up for an "asteroid" that's expected to get nabbed by Earth's gravity and become a mini moon next month.
Instead of a cosmic rock, the newly discovered object appears to be an old rocket from a failed moon-landing mission 54 years ago that's finally making its way back home, according to NASA's leading asteroid expert. Observations should help nail its identity.
"I'm pretty jazzed about this," Paul Chodas told The Associated Press. "It's been a hobby of mine to find one of these and draw such a link, and I've been doing it for decades now."
Chodas speculates that asteroid 2020 SO, as it is formally known, is actually the Centaur upper rocket stage that successfully propelled NASA's Surveyor 2 lander to the moon in 1966 before it was discarded. The lander ended up crashing into the moon after one of its thrusters failed to ignite on the way there. The rocket, meanwhile, swept past the moon and into orbit around the sun as intended junk, never to be seen again — until perhaps now.
A telescope in Hawaii last month discovered the mystery object heading our way while doing a search intended to protect our planet from doomsday rocks. The object promptly was added to the International Astronomical Union's Minor Planet Center's tally of asteroids and comets found in our solar system, just 5,000 shy of the 1 million mark.
The object is estimated to be roughly 26 feet (8 metres) based on its brightness. That's in the ballpark of the old Centaur, which would be less than 32 feet (10 metres) long including its engine nozzle and 10 feet (3 metres) in diameter.
What caught Chodas' attention is that its near-circular orbit around the sun is quite similar to Earth's — unusual for an asteroid.
"Flag number one," said Chodas, who is director of the Center for Near-Earth Object Studies at NASA's Jet Propulsion Laboratory in Southern California.
The object is also in the same plane as Earth, not tilted above or below, another red flag. Asteroids usually zip by at odd angles. Lastly, it's approaching Earth at 1,500 mph (2,400 kph), slow by asteroid standards.
As the object gets closer, astronomers should be able to better chart its orbit and determine how much it's pushed around by the radiation and thermal effects of sunlight. If it's an old Centaur — essentially a light empty can — it will move differently than a heavy space rock less susceptible to outside forces.
That's how astronomers normally differentiate between asteroids and space junk like abandoned rocket parts, since both appear merely as moving dots in the sky. There likely are dozens of fake asteroids out there, but their motions are too imprecise or jumbled to confirm their artificial identity, said Chodas.
Sometimes it's the other way around.
A mystery object in 1991, for example, was determined by Chodas and others to be a regular asteroid rather than debris, even though its orbit around the sun resembled Earth's.
Even more exciting, Chodas in 2002 found what he believes was the leftover Saturn V third stage from 1969's Apollo 12, the second moon landing by NASA astronauts. He acknowledges the evidence was circumstantial, given the object's chaotic one-year orbit around Earth. It never was designated as an asteroid, and left Earth's orbit in 2003.
The latest object's route is direct and much more stable, bolstering his theory.
"I could be wrong on this. I don't want to appear overly confident," Chodas said. "But it's the first time, in my view, that all the pieces fit together with an actual known launch."
And he's happy to note that it's a mission that he followed in 1966, as a teenager in Canada.
Asteroid hunter Carrie Nugent of Olin College of Engineering in Needham, Massachusetts, said Chodas' conclusion is "a good one" based on solid evidence. She's the author of the 2017 book "Asteroid Hunters."
"Some more data would be useful so we can know for sure," she said in an email. "Asteroid hunters from around the world will continue to watch this object to get that data. I'm excited to see how this develops!"
The Harvard-Smithsonian Center for Astrophysics' Jonathan McDowell noted there have been "many, many embarrassing incidents of objects in deep orbit … getting provisional asteroid designations for a few days before it was realized they were artificial."
It's seldom clear-cut.
Last year, a British amateur astronomer, Nick Howes, announced that an asteroid in solar orbit was likely the abandoned lunar module from NASA's Apollo 10, a rehearsal for the Apollo 11 moon landing. While this object is likely artificial, Chodas and others are skeptical of the connection.
Skepticism is good, Howes wrote in an email. "It hopefully will lead to more observations when it's next in our neck of the woods" in the late 2030s.
Chodas' latest target of interest was passed by Earth in their respective laps around the sun in 1984 and 2002. But it was too dim to see from 5 million miles (8 million kilometres) away, he said.
He predicts the object will spend about four months circling Earth once it's captured in mid-November, before shooting back out into its own orbit around the sun next March.
Chodas doubts the object will slam into Earth — "at least not this time around."
___
The Associated Press Health and Science Department receives support from the Howard Hughes Medical Institute's Department of Science Education. The AP is solely responsible for all content.
Marcia Dunn, The Associated Press
---
Like us on Facebook and follow us on Twitter.
Want to support local journalism during the pandemic? Make a donation here.
NASA says there is definitely water on the moon – Al Jazeera English
NASA scientists announce the first unambiguous detection of water molecules on the lunar surface – a breakthrough that could help facilitate an eventual crewed mission to Mars.
The moon lacks the bodies of liquid water that are a hallmark of Earth, but NASA scientists said on Monday that lunar water is more widespread than previously known, with water molecules trapped within mineral grains on the surface and more water perhaps hidden in ice patches residing in permanent shadows.
While research 11 years ago indicated water was relatively widespread in small amounts on the moon, a team of scientists is now reporting the first unambiguous detection of water molecules on the lunar surface. At the same time, another team is reporting that the moon possesses roughly 40,000sq km (15,400sq miles) of permanent shadows that potentially could harbour hidden pockets of water in the form of ice.
Water is a precious resource and a relatively plentiful lunar presence could prove important to future astronaut and robotic missions seeking to extract and utilise water for purposes such as providing a drinking supply or a fuel ingredient.
A team led by Casey Honniball of NASA's Goddard Space Flight Center in Maryland detected molecular water on the lunar surface, trapped within natural glasses or between debris grains. Previous observations have suffered from ambiguity between water and its molecular cousin hydroxyl, but the new detection used a method that yielded unambiguous findings.
The only way for this water to survive on the sunlit lunar surfaces where it was observed was to be embedded within mineral grains, protecting it from the frigid and foreboding environment. The researchers used data from the Stratospheric Observatory for Infrared Astronomy (SOFIA), a Boeing 747SP aircraft modified to carry a telescope and serve as an airborne observatory.
"A lot of people think that the detection I've made is water ice, which is not true. It's just the water molecules – because they're so spread out they don't interact with each other to form water ice or even liquid water," Honniball said.
The second study, also published in the journal Nature Astronomy, focused upon so-called cold traps on the moon, regions of its surface that exist in a state of perpetual darkness where temperatures are below -163C (-260F). That is cold enough that frozen water can remain stable for billions of years.
Using data from NASA's Lunar Reconnaissance Orbiter spacecraft, researchers led by planetary scientist Paul Hayne of the University of Colorado, Boulder detected what may be tens of billions of small shadows, many no bigger than a small coin. Most are located in the polar regions.
"Our research shows that a multitude of previously unknown regions of the moon could harbour water ice," Hayne said. "Our results suggest that water could be much more widespread in the moon's polar regions than previously thought, making it easier to access, extract and analyse."
NASA is planning a return of astronauts to the moon, a mission envisioned as paving the way for a later journey carrying a crew to Mars. Accessible sources where water can be harvested on the moon would beneficial to those endeavours.
"Water is not just constrained to the polar region. It's more spread out than we thought it was," Honniball said.
Another mystery that remains unsolved is the source of the lunar water.
"The origin of water on the moon is one of the big-picture questions we are trying to answer through this and other research," Hayne said. "Currently, the major contenders are comets, asteroids or small interplanetary dust particles, the solar wind, and the moon itself through outgassing from volcanic eruptions."
Earth is a wet world, with vast salty oceans, large freshwater lakes and ice caps that serve as water reservoirs.
"As our closest planetary companion, understanding the origins of water on the moon can also shed light on the origins of Earth's water – still an open question in planetary science," Hayne added.
Guelph reports 17 new coronavirus cases from weekend, active cases at 42 – Global News
Guelph reported 17 new cases of the novel coronavirus on Monday, bringing the city's total to 406.
Monday's data encompasses the entire weekend as active cases rose by 11 to 42, including two people being treated in the hospital.
The city has now seen 353 people recover from the disease, which is six more than Friday's count. Guelph's death toll of 11 has remained unchanged since June.
In one week, Guelph has added 34 cases of COVID-19 and 19 cases have been resolved.
As of Sunday, Guelph's COVID-19 assessment centre has conducted just under 47,000 tests during the pandemic. Over 94 per cent of tests have come back negative, but 2,162 are still pending.
Wellington County added five cases from the weekend, for a total of 120. Five cases are currently active, 113 have been resolved and two people have died.

4:45


How to prepare your child for a COVID-19 nasal swab



Guelph and Wellington County school boards are reporting 10 cases in five schools.
[ Sign up for our Health IQ newsletter for the latest coronavirus updates ]
There are currently no active COVID-19 outbreaks in any of Guelph's or Wellington County's schools and long-term care facilities.
Ontario reported 851 new cases on Monday and six more deaths. That brings the provincial total to 71,224 cases and 3,099 deaths.
Ontario has 295 people hospitalized due to COVID-19, which up by 17 from Sunday. Meanwhile, 60,839 Ontarians have recovered, which is up by 679 from Sunday.
— With files from Global News' Gabby Rodrigues
© 2020 Global News, a division of Corus Entertainment Inc.
These Tiny, Little-Winged Dinosaurs Were Probably Worse at Flying Than Chickens – ScienceAlert
The discovery of two small dinosaurs with bat-like wings a few years ago was a palaeontologist's dream. Just how flight evolved in birds is something we're still trying to nail down, and looking at this early evolution of bat-like wings in dinosaurs could give us a clue.
But a team of researchers has now pointed out that just because you have wings, it doesn't necessarily mean you're actually any good at flying.
Yi qi and Ambopteryx longibrachium are two species of theropod dinosaurs that lived around 160 million years ago, both of which had unusually elongated fingers, and a skin membrane stretching between them, similar to a bat's wing.
This is an entirely different kind of wing to the one theropod dinosaurs evolved to fly with – the dinosaurs that eventually became birds. And, unlike them, after only a few million years, Yi and Ambopteryx became extinct, which is the first hint that these unusual wings could not match those birds-to-be.
However, weird wings on extinct critters mean it's likely multiple types of wings (and therefore flight) evolved over the years, and that Yi and Ambopteryx's attempts were not the winning strategy.
But before you can write off Yi and Ambopteryx as complete evolutionary flight failures, you have to know how good (or bad, as the case may be) the two species were at flight.
In 2015, when Yi was found, that team of researchers suggested that the size of its wings and other flight characteristics could mean it was a gliding creature – however it's unlike any other glider we know of, and its centre of mass might have made even gliding difficult. We just weren't sure.
A new study, by researchers in the US and China, has now looked into the flight potential of Yi and Ambopteryx in a lot more detail, and come to the conclusion that they really weren't good at getting their little feet off the trees they lived in.
"Using laser-stimulated fluorescence imaging, we re-evaluate their anatomy and perform aerodynamic calculations covering flight potential, other wing-based behaviours, and gliding capabilities," the team writes.
"We find that Yi and Ambopteryx were likely arboreal, highly unlikely to have any form of powered flight, and had significant deficiencies in flapping-based locomotion and limited gliding abilities."
The team's analysis of the fossils (Yi pictured below) was able to pick up tiny details in soft-tissue that you can't see with normal light.
Fossil of Yi qi. Look how fluffy it is! (kmkmks/Flickr/CC BY SA 2.0)
Then the team modelled how the dinosaurs might have flown, adjusting for things such as weight, wingspan, and muscle placement (all stuff we can't tell just from the fossils).
The results were… underwhelming.
"They really can't do powered flight," says first author, biologist Thomas Dececchi from Mount Marty University.
"You have to give them extremely generous assumptions in how they can flap their wings. You basically have to model them as the biggest bat, make them the lightest weight, make them flap as fast as a really fast bird, and give them muscles higher than they were likely to have had to cross that threshold. They could glide, but even their gliding wasn't great."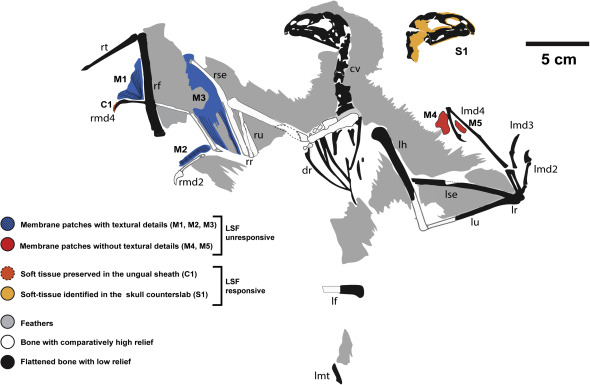 Soft-tissue map of Yi qi. (Dececchi et al., iScience, 2020)
So, according to Dececchi and his team's model, we're looking at flying capabilities considerably worse than a chicken, perhaps worse than the flightless New Zealand parrot, the kakapo, which is also mostly limited to gliding from trees, but can at least flap to control descent.
But although it's a bit sad for the Yi and Ambopteryx, it's good news for us – the findings give even more evidence that dinosaurs evolved flight (or at least tried to) multiple times.
As the team points out, considering all the types of bats, gliders, flying squirrels, and other gliding or flying mammals, maybe it shouldn't be a surprise.
"We propose that this clade was an independent colonisation of the aerial realm for non-avialan theropods. If true, this would represent at least two, but more likely three or more attempts at flight (both powered and gliding) by small pennaraptoran theropods during the Mesozoic," the team writes in their paper.
"Given the large number of independent occurrences of gliding flight within crown mammals, this should perhaps be unsurprising, but it does create a more complex picture of the aerial ecosystem."
Seems like some things don't change much, even in a hundred million years.
The research has been published in iScience.