Farmers in Western Canada brace for worst in Canadian Pacific labour dispute – National Post
'We're facing a pretty serious animal health crisis': For ranchers, producers and industries in much of the southern prairies, Canadian Pacific is their only railway option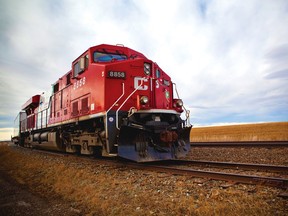 Article content
The effects of a nationwide railway dispute are already hitting western Canada hard.
Article content
Even before Canadian Pacific announced it would lock out nearly 3,000 Teamsters Canada Rail Conference (TCRC) engineers, conductors and yard workers at midnight Saturday, American feed shippers began halting shipments north, fearing a work stoppage would strand their cargo once the network stopped operating.
"With the drought we had last year we already had a critical feed shortage, so right now they're relying on somewhere between eight and 10 trains per week bringing up corn and dried distillers' grain from the states to feed the more than million head of cattle in Western Canada," said Foothills MP and Shadow Agriculture Minister John Barlow, whose riding south of Calgary includes some of Canada's oldest and most established cattle ranches.
Article content
"And if we don't have that, we're facing a pretty serious animal health crisis."
For ranchers, producers and industries in much of the southern prairies, Canadian Pacific is their only railway option.
CN, Canada's largest railway in both revenue and network, built their transcontinental line along a more northerly route, with the bulk of branch lines and secondary routes servicing areas south of Saskatoon and Edmonton largely abandoned over the decades.
A strike vote held earlier in March saw 96 per cent of TCRC members voting in favour of a strike, reflecting the frustrating impasse taking root at the bargaining table.
The stalemate continued until Wednesday evening when Canadian Pacific issued a 72-hour lockout notice.
Article content
"For the sake of our employees, our customers, the supply chain we serve and the Canadian economy that is trying to recover from multiple disruptions, we simply cannot prolong for weeks or months the uncertainty associated with a potential labour disruption," Canadian Pacific President and CEO Keith Creel said in a company statement.
"The world has never needed Canada's resources and an efficient transportation system to deliver them more than it does today. Delaying resolution would only make things worse. We take this action with a view to bringing this uncertainty to an end."
Teamsters Canada Rail Conference spokesperson Stéphane Lacroix said negotiations resumed Thursday, but concurred with observations from Canadian Pacific that the two sides remained far apart.
Article content
Yesterday's announcement of a lock-out is upsetting, and our members are not very pleased with that

Stéphane Lacroix, Teamsters spokesperson
"We're really, really disappointed," he said of the impending lock-out.
"Yesterday's announcement of a lock-out is upsetting, and our members are not very pleased with that."
The overwhelming strike vote notwithstanding, Lacroix said work stoppages are the last thing their members want.
"They wanted to keep negotiating, they wanted to fix the issues and reach an agreement," he said.
While wages, pensions and benefits remain at the centre of the impasse, Lacroix said the union also wanted the railway to address concerns over rest and work rules.
"Yard employees at Canadian Pacific are only allowed ten hours rest," he said.
"In some locations it isn't sufficient time to go home, to rest and return for their next tour of duty."
Article content
A statement released Thursday by the Canadian Federation of Independent Business (CFIB) said the dispute could not come at a worse time for their members.
"As many businesses rely heavily on rail services to send and receive their goods from Canadian and international suppliers, the work stoppage will further disrupt their operations and create more uncertainty at a time that is already challenging for many businesses," the statement read.
"Only 35% of businesses have returned to normal sales, while debt levels and share of businesses considering bankruptcy remain high."
In light of the ongoing worldwide supply chain crisis — and Ottawa's invocation of the Emergencies Act last month to ostensibly clear trade-crippling freedom convoy blockades at land border crossings — many are predicting the Trudeau Liberals are preparing to table back-to-work legislation or declare the railroads an essential service.
Article content
Spokespersons for both the Transport and Labour ministers declined to answer direct questions about legislating trains back onto the rails, directing the National Post instead to a statement from Labour Minister Seamus O'Regan.
In the statement, O'Regan said he respected the collective bargaining process, adding that both he and Transport Minister Omar Alghabra would monitor the impact of any work stoppages — strongly suggesting the federal government was not intending to step in before any deadline expired.
In a tweet later Thursday, O'Regan said, "Update: CP Rail and TCRC remain at the table with the support of federal mediators. I've been in regular contact with them and continue to monitor the situation closely. It's not lost on us that this news is already starting to have real impacts."
Article content
Barlow said the dispute ending in either a strike or lockout shouldn't have come as a surprise to anybody.
"We've been in contact with Minister O'Regan asking them to make sure that they have a contingency plan in place that will prevent a strike," he said.
"That's up to them whether that's binding arbitration or back-to-work legislation."
All this, Barlow said, as ranchers scramble to feed their herds and farmers wait to ship grain harvested two seasons ago.
"All of these things take time, and that's something we do not have right now," he said.
• Email: bpassifiume@postmedia.com | Twitter:
World shares sink after inflation driven retreat on Wall St – Business News – Castanet.net
Photo: The Canadian Press
Trader Patrick King works the floor at the New York Stock Exchange, Thursday, May 12, 2022, in New York.
Shares declined in Europe and Asia on Thursday after a broad retreat on Wall Street triggered by worries over the impact of persistent high inflation on corporate profits and consumer spending.
U.S. futures were lower, while oil prices advanced.
Germany's DAX lost 2% to 13,731.64 and the CAC 40 in Paris declined 1.9% to 6,234.78. Britain's FTSE 100 shed 1.7% to 3,537.99. The future for the S&P 500 was 1% lower while the future for the Dow Jones Industrial Average sank 0.9%.
The Dow industrials sank more than 1,100 points, or 3.6% on Wednesday, and the S&P 500 had its biggest drop in nearly two years, shedding 4%. That was its steepest decline since June 2020. The tech-heavy Nasdaq fell 4.7%.
The benchmark index is now down more than 18% from the record high it reached at the beginning of the year. That's just shy of the 20% decline that's considered a bear market.
"The sentiment in the market is highly negative as traders and investors are largely concerned about an economic downturn and soaring inflation," Naeem Aslam of Avatrade said in a commentary.
The Federal Reserve is trying to temper the impact from the highest inflation in four decades by raising interest rates. Many other central banks are on a similar track. But the Bank of Japan has stuck to its low interest rate policy and the gap between those benchmark rates of the world's largest and third-largest economies has pushed the dollar's value up against the Japanese yen.
Japan reported a trade deficit for April as its imports ballooned 28%. The shift reflects surging energy costs amid the war in Ukraine and a weakening of the yen against the U.S. dollar.
Japan's exports grew to 8.076 trillion yen ($63 billion) last month, up 12.5% from the previous year, according to Ministry of Finance data released Thursday. Imports totaled 8.915 trillion yen ($70 billion) in April, up from 6.953 trillion yen in April 2021, and the highest since comparable numbers began to be taken in 1979.
The Nikkei 225 in Tokyo lost 1.9% to 26,402.84 and the Hang Seng in Hong Kong dropped 2.5% to 20,120.60. In South Korea, the Kospi shed 1.3% to 2,592.34, while Australia's S&P/ASX 200 gave up 1.7% to 7,064.50.
The Shanghai Composite index reversed earlier losses, gaining 0.4% to 3.096.96.
On Wednesday, retailer Target lost a quarter of its value after reporting earnings that fell far short of analysts' forecasts. Inflation, especially for shipping costs, dragged its operating margin for the first quarter to 5.3%. It had been expecting 8% or higher.
The company warned that its costs for freight this year would be $1 billion higher than it estimated just three months ago.
The report comes a day after Walmart said its profit took a hit from higher costs. The nation's largest retailer fell 6.8%, adding to its losses from Tuesday.
Target and Walmart each provided anecdotal evidence that inflation is weighing on consumers, saying they held back on purchasing big-ticket items and changed from national brands to less expensive store brands.
The weak reports stoked concerns that stubbornly rising inflation is putting a tighter squeeze on a wide range of businesses and could cut deeper into their profits.
Other big retailers also have racked up hefty losses.
The data are not entirely consistent. On Tuesday, the market cheered an encouraging report from the Commerce Department that showed retail sales rose in April, driven by higher sales of cars, electronics, and more spending at restaurants.
Investors worry the Fed could trigger a recession if it raises interest rates too high or too quickly. Worries persist about global growth as Russia's invasion of Ukraine puts even more pressure on prices for oil and food while lockdowns in China to stem COVID-19 cases worsens supply chain problems.
In other trading, benchmark U.S. crude oil rose 56 cents to $110.15 per barrel in electronic trading on the New York Mercantile Exchange. It dropped $2.81 to $109.59 on Wednesday.
Brent crude, the basis for pricing for international trading, climbed $1.19 to $110.30 per barrel.
The dollar fell to 128.14 Japanese yen from 128.20 yen late Wednesday. The euro strengthened to $1.0481 from $1.0464.
Gold prices holding at session highs as U.S. existing home sales fall 2.4% in April – Kitco NEWS
Editor's Note: With so much market volatility, stay on top of daily news! Get caught up in minutes with our speedy summary of today's must-read news and expert opinions. Sign up here!
(Kitco News) – The gold market continues to trade near session highs, supported by more disappointing economic data. Rising interest rates continue to cool down the U.S. housing market as fewer consumers purchased home last month, according to the latest data from the National Association of Realtors (NAR).
Existing home sales fell to a seasonally adjusted and annualized rate of 5.61 million units last month, down 2.4% compared to March's annualized rate of 5.75 million homes, the NAR said on Thursday. Market consensus projections called for existing home sales to fall only slightly to 5.65 million.
For the year, home sales are down 5.9%, the report said.
The gold market has seen some renewed technical buying momentum, which has been supported by weaker-than-expected economic data. June gold futures last traded at $1,842.40 an ounce, up nearly 1.5% on the day.
The U.S. housing sector has faced some challenging headwinds as the Federal Reserve looks to aggressively raise interest rates, which in turn is pushing mortgage rates higher.
"Higher home prices and sharply higher mortgage rates have reduced buyer activity," said Lawrence Yun, NAR's chief economist. "It looks like more declines are imminent in the upcoming months, and we'll likely return to the pre-pandemic home sales activity after the remarkable surge over the past two years."
Yun noted that the falling sales space is helping to boost the supply of existing homes. The report said that the inventory of homes for sale totaled 1,030,000 in April, representing a 2.2-month supply.
Although sales are down, Yun said that home prices still remain elevated.
"The market is quite unusual as sales are coming down, but listed homes are still selling swiftly, and home prices are much higher than a year ago," he said.
The report said the median existing-home price for all housing types in April was $391,200, up 14.8% from April 2021.
Ford recalling 350,000 SUVs due to unexplained engine fires, including some sold in Canada – CBC News
Ford is asking the owners of 350,000 SUVs from the 2021 model year to take them to dealers for repairs because the engines can catch fire.
Ford says in U.S. government documents posted Thursday that it doesn't know what's causing fires in some Ford Expedition and Lincoln Navigator SUVs from the 2021 model year.
2863 of the vehicles were sold in Canada: 2,354 Expeditions, and 509 Navigators.
Owners are being advised to park them outside if possible because engine fires have been reported even when the vehicles were not in use.
Ford has reports of 16 fires under the hood, 12 of which started when the engine was off. One person was burned.
Trying to notify customers
So far it hasn't developed a repair for the fires, which appear to start at the back of the engine compartment on the passenger side.
Ford says it's treating the recall urgently and will use apps and mail to notify customers as soon as it develops a list of vehicle owners and addresses.
"We are working around the clock to determine the root cause of this issue and subsequent remedy so that customers can continue to enjoy using their vehicles," Jeffrey Marentic, general manager of Ford passenger vehicles, said in a statement.
Ford began investigating fire reports on March 24. It says the fires appear to be limited to SUVs built from Dec. 1, 2020 to April 30, 2021. The company says it has no fire reports from vehicles built before or after those dates.