Fed pulls back economic aid in face of rising uncertainties – pentictonherald.ca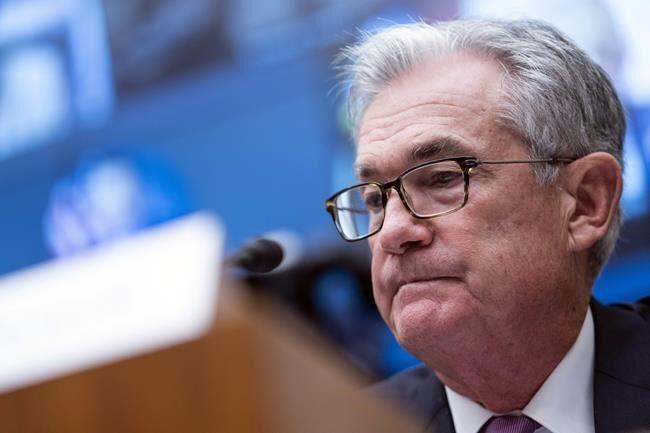 WASHINGTON (AP) — If you find the current economy a bit confusing, don't worry: So does the nation's top economic official, Federal Reserve Chair Jerome Powell.
At a highly anticipated news conference Wednesday, Powell said the Fed was sticking by its bedrock economic forecast: COVID-19 will eventually fade, which, in turn, will enable supply chain bottlenecks to unsnarl. More people will return to the workforce, the economy will strengthen and inflation pressures will ease.
And yet the nation's leading economic figure acknowledged that it isn't at all clear when or even whether things will play out the way he and other Fed officials hope. And so far, they haven't. The Fed won't likely gain a clear view of inflation and the job market, Powell suggested, until COVID-19 and its economic consequences — reduced travel, diminished spending, supply and labor shortages — further ease.
"We hope to achieve significantly greater clarity about where this economy's going and what the characteristics of the post pandemic economy are over the first half of next year," he said.
It's a view Powell has maintained even as inflation has jumped to a three-decade high, imposing a burden on households that are paying more for food, rent, heating oil and other necessities. In his remarks Wednesday after the Fed ended its latest policy meeting, Powell acknowledged the hardships that higher prices have inflicted on many families.
"People who are living paycheck to paycheck or seeing higher grocery costs, higher gasoline costs … we understand completely what they're going through," he said.
In the meantime, the Fed said, it will begin to try to counter those inflation pressures by reducing its $120 billion in monthly bond purchases by $15 billion a month, starting this month. Those purchases, launched last summer, have been intended to hold down long-term interest rates to spur borrowing and spending. With the economy recovering, they aren't needed, Powell suggested.
The Fed could alter the pace of its tapering, it said in a statement. It might, for example, accelerate the reductions, if inflation worsened. But if it sticks with that pace, the bond buys would end by June. That would allow the Fed to possibly raise its benchmark short-term rate, which affects a broad range of consumer and business loans and is now pegged at zero, as soon as that month.
Some economists and investors expect the Fed to do just that. Raising rates in June would be much earlier than was expected as recently as this summer, when Fed policymakers forecast that they wouldn't do so until late 2023.
At his news conference, though, Powell downplayed the likelihood of a rate hike anytime soon. He said unemployment is still too high, with 5 million fewer people working than before the pandemic. That observation suggested that Powell will want to keep rates low until unemployment drops as close as possible to its pre-pandemic level of 3.5%.
Yet in another sign of the economy's numerous uncertainties, he also acknowledged that hiring hasn't been as strong lately as he had hoped. With schools back in session last month, and a $300-a-week federal jobless benefit having expired, Powell and most economists expected that many more people would start taking jobs in September. Instead, hiring that month fizzled.
"I think there's room for a whole lot of humility here," the Fed chair said. "We're learning now, we have to be humble about what we know about this economy."
"It's difficult enough to just forecast the economy in normal times," he continued. "When you're talking about global supply chains in turmoil, it's a whole different thing. And you're talking about a pandemic that's holding people out of the labor force for reasons that we … don't have a lot of experience with. So it's very, very difficult to forecast and not easy to set policy."
Powell said the Fed wouldn't hesitate to rates rates if inflation accelerated, or if consumers and businesses began to expect higher prices, which can become a self-fulfilling trend. If companies, for example, expect higher costs, they will raise their own prices in response.
"For now, (the risk) appears to be skewed toward higher inflation," he said. "We need to be in a position to act in case in case it becomes necessary to do so or appropriate to do so."
Still, Eric Winograd, an economist at asset manager Alliance Bernstein, said Powell's comments seemed to suggest that he sees problematic inflation as "hypothetical rather than a realized event."
"The Fed clearly does not think that inflation is likely to stay at or near current levels, nor does it think that the labor market is back to full employment," Winograd added. "Until they become convinced either that inflation is durably too high, that inflation expectations have become unanchored or that the economy is at full employment, they do not intend to raise interest rates."
Powell did say that high prices could last into late next summer. But he stuck by the Fed's view that they'll likely decline after that. He also said that the large wage increases many Americans have received in recent months aren't fueling inflation further. Wages and salaries soared in the July-September period from a year earlier by the most in at least 20 years.
The central bank is shifting from a prolonged effort to boost the economy and encourage hiring to one that is also focused on addressing inflation. The Fed now faces the delicate task of winding down its ultra-low-rate policies, which it hopes will slow inflation, without doing it so rapidly as to weaken the job market or even cause another recession.
The economy has recovered from the pandemic recession, although growth and hiring stumbled in the July-September quarter, partly because a surge in delta cases discouraged many people from traveling, shopping and eating out. Many economists say they're hopeful that with vaccinations increasing and the delta wave fading, job growth rebounded in October from September's weak pace. The October jobs report will be released Friday.
The Fed's meeting occurred as Powell's future as Fed chair remains uncertain. President Joe Biden has yet to announce whether he will re-nominate Powell for another four-year term. Powell's current term expires in early February, but previous presidents have usually announced such decisions in the late summer or early fall.
What the Omicron variant means for the world economy – The Economist
A LITTLE MORE than a year after the first success of a covid-19 vaccine in a clinical trial, a sense of dread has struck much of the world. The Omicron variant of the coronavirus, first publicly identified on November 24th, may be able to circumvent the defences built up by vaccination or infection with covid-19. The World Health Organisation declared that Omicron poses a "very high" global risk. The boss of Moderna, a vaccine-maker, warned that existing jabs may struggle against the heavily mutated new variant. Faced with the ghastly prospect of yet more lockdowns, closed borders and nervous consumers, investors have reacted by selling shares in airlines and hotel chains. The price of oil has slumped by roughly $10 a barrel, the kind of drop often associated with a looming recession.
As we explain this week it is too early to say whether the 35 mutations on Omicron's spike protein help make it more infectious or lethal than the dominant Delta strain. As scientists analyse the data in the coming weeks, the epidemiological picture will become clearer. But the threat of a wave of illness spreading from one country to the next is once again hanging over the world economy, amplifying three existing dangers.
The first is that tighter restrictions in the rich world will damage growth. On the news of the variant, countries scrambled to block travellers from southern Africa, where it was first identified. Israel and Japan have closed their borders entirely. Britain has imposed new quarantine requirements. The pandemic abruptly ended a freewheeling era of global travel. Restrictions were being eased this year, but the past week has shown that gates are slammed shut much faster than they are opened.
The spread of Omicron is also likely to intensify limits on free movement at home. Europe was curbing many domestic activities even before the variant arrived, in order to fight surging infections of Delta. Italy is keeping most of the unvaccinated out of indoor restaurants, Portugal requires even those who are vaccinated to have a negative test to enter a bar and Austria is in full lockdown. The long-awaited recovery of the rich world's huge service industries, from hospitality to conferences, has just been postponed.
A lopsided economy fuels the second danger, that the variant could raise already-high inflation. This risk looms largest in America, where President Joe Biden's excessive fiscal stimulus has overheated the economy and consumer prices rose by 6.2% in October compared with the previous year, a three-decade high. But inflation is also uncomfortably high elsewhere, at 5.3% globally, according to Bloomberg data.
You might think Omicron would lower inflation, by depressing economic activity. In fact it could do the opposite. Prices are rising in part because consumers are bingeing on goods, bunging up the world's supply chains for everything from Christmas lights to trainers. The cost of shipping a container from the factories of Asia to America remains extraordinarily high. For overall inflation to recede, consumers need to shift spending back towards services like tourism and eating out. Omicron may delay this. The variant could also trigger more lockdowns in key manufacturing nodes such as Vietnam and Malaysia, aggravating supply glitches. And cautious workers may put off their return to the labour force, pushing up wages.
That may be one reason why Jerome Powell, the chairman of the Federal Reserve, indicated on November 30th that he favours monetary tightening. That stance is right, but brings its own dangers. The spillover effects could hurt emerging economies, which tend to suffer capital outflows and falling exchange rates when the Fed tightens.
Emerging economies have greater reserves and depend less on foreign-currency debt than they did during the Fed's botched attempt to unwind stimulus during the taper-tantrum of 2013. Yet they must also cope with Omicron at home. Brazil, Mexico and Russia have already raised interest rates, which helps stave off inflation but may reduce growth just as another wave of infections looms. Turkey has done the opposite, cutting rates, and faces a collapsing currency as a result. More emerging economies could confront an unenviable choice.
The final danger is the least well appreciated: a slowdown in China, the world's second-biggest economy. Not long ago it was a shining example of economic resilience against the pandemic. But today it is grappling with a debt crisis in its vast property industry, ideological campaigns against private businesses, and an unsustainable "zero-covid" policy that keeps the country isolated and submits it to draconian local lockdowns whenever cases emerge. Even as the government considers stimulating the economy, growth has dropped to about 5%. Barring the brief shock when the pandemic began, that is the lowest for about 30 years.
If Omicron turns out to be more transmissible than the earlier Delta variant, it will make China's strategy more difficult. Since this strain travels more easily, China will have to come down even harder on each outbreak in order to eradicate it, hurting growth and disrupting supply chains. Omicron may also make China's exit from its zero-covid policy even trickier, because the wave of infections that will inevitably result from letting the virus rip could be larger, straining the economy and the health-care system. That is especially true given China's low levels of infection-induced immunity and questions over how well its vaccines work.
Vexing variants and worrying weeks
It is not all gloom. The world will not see a re-run of the spring of 2020, with jaw-dropping drops in GDP. People, firms and governments have adapted to the virus, meaning that the link between GDP and restrictions on movement and behaviour is one-third of what it was, says Goldman Sachs. Some vaccine-makers expect fresh data to show that today's jabs will still prevent the most severe cases of the disease. And, if they must, firms and governments will be able to roll out new vaccines and drugs some months into 2022. Even so Omicron—or, in the future, Pi, Rho or Sigma—threatens to lower growth and raise inflation. The world has just received a rude reminder that the virus's path to becoming an endemic disease will not be smooth. ■
This article appeared in the Leaders section of the print edition under the headline "Danger ahead"
Turkey's Erdogan replaces finance minister amid economic turmoil – Aljazeera.com
Nureddin Nebati takes on the role of finance minister after Lutfi Elvan resigns.
Turkish President Recep Tayyip Erdogan has replaced the country's finance minister after weeks of economic turmoil in which inflation soared as the lira plummeted to record lows.
The currency has lost more than 40 percent of its value against the US dollar this year, making it the worst-performing of all emerging market currencies.
According to a presidential decree issued near midnight on Wednesday, Erdogan accepted the resignation of Lutfi Elvan and appointed his deputy, Nureddin Nebati, as the new finance minister.
Nebati, 57, has a bachelor's degree in public administration and a master's degree in social sciences from Istanbul University. He also holds a doctoral degree in political science and public administration from Turkey's Kocaeli University.
His predecessor had only been in the role since November 2020, when he was appointed after the resignation of Erdogan's son-in-law, Berat Albayrak.
Elvan's year-long tenure was marked by numerous crises.
Earlier on Wednesday, the Turkish Central Bank intervened in markets to prop up the nosediving lira, which has lost nearly 30 percent in value against the dollar in just a month.
Under pressure from Erdogan, Turkey's officially independent central bank lowered its key interest rate in November for the third time in less than two months. It did so despite inflation approaching 20 percent – four times the government's target.
Erdogan believes that high interest rates cause high inflation – the exact opposite of conventional economic thinking – and has insisted he would keep rates low.
Turkey's currency hit yet another record low of more than 14 to the dollar before recouping some losses on Wednesday after a central bank move to sell reserves. One dollar bought 13.22 lira as of Wednesday afternoon.
The recovery, however, was short-lived after Erdogan appeared again to defend his "new economic model" against the "malice of interest".
Since 2019, Erdogan has sacked three central bank governors who opposed his desire for lower interest rates. The president, who has blamed the lira's troubles on foreigners sabotaging Turkey's economy and on their supporters in the country, believes lower rates will fight inflation, boost economic growth, power exports and create jobs.
On Tuesday, figures showed Turkey's economy had grown by 7.4 percent in the third quarter, compared with a year earlier, but some analysts believe the surge could be short-lived due to the high inflation and currency meltdown.
Meanwhile, public discontent appears to be on the rise.
Last week, demonstrators protested economic policies in the largest city of Istanbul and the capital, Ankara, while the main opposition Republican People's Party plans a rally for early elections on Saturday in the southern city of Mersin.
Dollar recovers in face of Omicron; commodity currencies slide
The U.S. dollar recovered from a loss on Wednesday after reports the Omicron coronavirus variant is spreading and oil prices turned down, hurting commodity currencies.
The dollar index against major currencies was up 01% in the afternoon in New York after having fallen 0.3% in the morning. The greenback gained against the dollars of Canada, Australia and New Zealand and against the euro and British pound.
"What you are seeing is a classic risk-off move in FX markets and that means the dollar outperforms against the commodity currencies," said Erik Bregar, an independent foreign exchange analyst.
The dollar lost to the Japanese yen currency, which is often seen as a safer haven, giving up 0.3% to 112.805.
The shifts underscored the hour-to-hour fragility of foreign exchange rates as traders weigh what the Omicron variant might do to plans that Federal Reserve Chair Jerome Powell signaled on Tuesday to move more quickly to raise U.S. interest rates.
The variant is becoming dominant in South Africa and has appeared in the United States.
"We've gotten these conflicting claims about the new variant, and Powell's comments really threw the markets for a loop," said Marc Chandler, chief market strategist at Bannockburn Global Forex.
"People are still pretty nervous," Chandler said.
The dollar's rebound started as a report from the Institute for Supply Management came out showing that U.S. manufacturing activity picked up in November amid strong demand for goods, keeping inflation high as factories continued to struggle with pandemic-related shortages of raw materials.
An earlier report on U.S. private payrolls suggested that Friday will bring a "solid jobs report" when the government posts more comprehensive payroll numbers, Chandler said.
"Friday's U.S. jobs data is the next big thing," he said.
The greenback is up nearly 7% this year. November was its strongest month since June.
The euro lost 0.2% on the day to $1.1314 at 3:21 pm ET (1507 GMT).
The British pound, often considered a risk-on currency, fell back 0.2% against the dollar after having been up 0.4%. The pound is struggling to recover after reaching its lowest level in nearly a year earlier this week on fears over vaccine effectiveness against the Omicron variant.
The Australian dollar lost 0.4% to $0.7103 and the New Zealand dollar lost 0.3% to $0.6805. [AUD/]
Prior to the tailspin caused by Omicron's advent, the main driver of exchange rates had been expectations of the different speeds at which central banks will raise interest rates.
In cryptocurrencies, bitcoin was up less than 1% at $57,220 at 3:17 pm ET (2017 GMT).
(Reporting by David Henry in New York; Additional reporting by Joice Alves and Elizabeth Howcroft in London; Editing by Jonathan Oatis and Andrea Ricci)