Federal COVID Alert app wasn't working for some users for much of November – CBC.ca
The developers of Canada's COVID Alert app fixed a glitch last week that left some users without exposure notifications for much of November.
An update to the app released on Nov. 23 said it would fix a "bug causing gaps in exposure checks for some users." Without the patch, some Canadians running the app would not have been notified if they came in close contact with someone diagnosed with COVID-19.
It's unclear how many people missed exposure notifications due to the glitch. But it does raise the prospect that certain users weren't advised to self-isolate or seek a COVID-19 test in a timely manner, potentially delaying diagnosis.
"For two weeks, the app basically didn't work" for those users, said Urs Hengartner, an associate professor of computer science at the University of Waterloo.
He and others on social media said their devices had not performed any exposure checks from Nov. 9 to 23. The process — when a smartphone receives codes from a central server and verifies whether the user was potentially exposed to someone with COVID-19 — is supposed to take place several times a day.
WATCH | How the COVID Alert app works
[embedded content]
The problem appears to have first been reported by commenters in the Google Play Store as early as Nov. 12. That's 11 days before it was fixed.
"I noticed today that COVID Alert has done no exposure checks for the last two weeks," a user wrote in Apple's App Store on Nov. 20. "What good is this?"
Users are urged to check their app store (the Google Play Store for people with Android devices and Apple's App Store for those with iPhones) to ensure their app is now up to date. Users who haven't installed the latest update — version 1.1.2 — could still be missing exposure checks.
COVID Alert is designed to take note when two users spend at least 15 minutes less than two metres apart. If a user later tests positive for COVID-19, they can use the app to anonymously notify contacts of potential exposure.
"Fixed bug causing gaps in exposure checks for some users." Not the kind of bug you want to see in an exposure notification app. If you use COVID Alert and don't have automatic updates, you should update right away. My phone hadn't checked for exposures for two weeks.

—@uhengart
COVID Alert has been downloaded more than 5.5 million times and is touted by federal officials as a tool to help slow the spread of the virus. The app is active in the Northwest Territories and all provinces except Alberta and B.C.
During the two-week period in November when some users reported the malfunction, 1,182 people used the app to report a positive test in Ontario alone, according to provincial data.
COVID-19 infection rates continued to rise across much of the country during that time. Ontario, for example, announced lockdown measures in its two most populous regions, and P.E.I. and Newfoundland and Labrador both announced on Nov. 23 they would withdraw from the Atlantic bubble due to increasing case counts elsewhere in the region.
Bianca Healy, a spokesperson for the Treasury Board of Canada Secretariat, which houses the app's development team, confirmed in an email Thursday evening that "on some devices, if the app was not opened by the user for an extended period of time, COVID Alert would stop checking in the background for the random codes that would trigger a notification that a user may have been exposed to COVID-19. This bug has now been fixed."
Healy said the app's built-in privacy features prevent federal officials from knowing how many users may have been affected.
"We encourage Canadians to update COVID Alert as soon as possible," she wrote. "They can also open the app to ensure that COVID Alert is checking for potential exposures."
Hengartner, the computer science professor, said it is "a little concerning that it took two weeks to fix this bug." He said both he and his wife experienced the same issue.
He called it "a fatal bug for this kind of system," as it defeats the purpose of the app entirely.
It's unknown what caused the glitch, but Hengartner said he suspects it was an error in a previous COVID Alert update.
Users weren't immediately warned
Smartphone users can choose to automatically receive app updates or download them manually. Apple's App Store lists 14 updates for COVID Alert since its initial release in July.
The Canadian Digital Service, the federal agency responsible for developing the app, tweeted a message on Nov. 26 asking users to make sure they have the latest COVID Alert update. "This will ensure your app is doing what it's supposed to do, and you're not missing any checks or notifications," the message read.
Important reminder: go into your app store, and check that your <a href="https://twitter.com/hashtag/COVIDAlert?src=hash&amp;ref_src=twsrc%5Etfw">#COVIDAlert</a> app has the latest update.<br><br>This will ensure your app is doing what it's supposed to do, and you're not missing any checks or notifications. <a href="https://t.co/nrMSItWvcj">pic.twitter.com/nrMSItWvcj</a>

&mdash;@CDS_GC
The tweet did not mention that the scenario it described was real and posed a potential risk to some users. It's unclear what other steps the federal agency took to alert users of the importance of the latest update.
Hengartner stressed the problem should not discourage Canadians from installing COVID Alert.
However, Kelly Bronson, a Canada Research Chair in science and society, said the episode does highlight how the app could provide users with a "false sense of security." She pointed to "automation bias," a human tendency to rely on automated decision-making, which can reduce personal vigilance.
Bronson, who serves on the Global Pandemic App Watch program at the University of Ottawa, which tracks the uptake of similar tools around the world, warned the apps "are not a panacea."
"I think it's really important that people know the limitations of these technologies," she said.
Tencent-backed Hike, once India's answer to WhatsApp, has given up on messaging – Yahoo Canada Shine On
The Guardian
Hottest front-room seats: the best theatre and dance to watch onlineFrom live-streams of new plays to classics from the archive, here are some of the top shows online now or coming soon – this page is updated regularlyJerusalem, Beckett and Bridget Christie: stage shows to book in 2021
Galaxy S21 teardown gives us our first look inside Samsung's 2021 flagship – XDA Developers
While it has just been a few days since Samsung unveiled the all-new Galaxy S21 series, teardowns of the devices have already started popping up online. The first teardown comes from YouTuber PBKreviews, and it gives us a good look at what's inside the Galaxy S21.
As you can see in the attached images, the Samsung Galaxy S21 doesn't appear to be a whole lot different from the Galaxy S20 on the inside. Both the devices have a similar construction, with a motherboard at the top next to the camera modules, followed by the battery hidden underneath a wireless charging pad, and a speaker assembly at the bottom that hides a daughterboard. But while the overall construction may not be drastically different, Samsung has made some key changes in the latest model.
Unlike the Galaxy S20, the Galaxy S21 features two mmWave 5G antennas on either side of the device. The top speaker assembly on the Galaxy S21 is also slightly different, and it's packed with foam balls to make the speaker sound louder. Another striking difference between the two devices is the placement of the vibration motor. On the Galaxy S20, the vibration motor is placed under the speaker assemble towards the bottom of the device. While on the Galaxy S21, the vibration motor is placed in the top right corner of the device. Additionally, the ribbon cable for the display on the Galaxy S21 can be removed, unlike the one on the Galaxy S20. This is may help make third-party repairs a whole lot easier.
[embedded content]
Along with the changes mentioned above, Samsung has also made some other minor changes within the Galaxy S21 to accommodate the new hardware and provide better thermal performance. You can watch the Galaxy S21 teardown video attached above for a closer look at what's inside the new device.
What is UWB and why should Galaxy S21+/S21 Ultra owners care?
Ever since announcing its latest premium smartphone line, Samsung was eager to highlight UWB support as one of the key selling points of both the Galaxy S21+ and the Galaxy S21 Ultra. But what does that actually mean? That's what we're here to find out.
Ultra-wideband (UWB) is a type of radio technology that Samsung believes will be the next big thing in mobile communications. To that end, it started equipping its Android flagships with support for this kind of wireless tech. While the UWB push technically started last year with the Galaxy Note 20 Ultra, it wasn't until the Galaxy S21 series that Samsung started delivering universally practical applications of this radio standard.
What does UWB have over NFC and Bluetooth?
The UWB specification has been designed for short-range communications with high bandwidth requirements. As an added bonus, it's extremely energy-efficient. It's hence not inaccurate to think of UWB as an NFC on steroids, especially given how its security features and range are also superior to the near-field communications standard. In fact, UWB is as resilient to relay attacks and signal jamming, in general, as Wi-Fi is.
Naturally, the extra oomph comes at the expense of energy requirements, but take any comparisons targeting power consumption levels of wireless networking with a grain of salt, including the one below. Because that all depends on use cases and the exact psychosis stage at which a developer is while implementing any given solution.
| | | | |
| --- | --- | --- | --- |
| | Bluetooth LE | UWB | NFC |
| Range | 25-100m | 70-250m | lol |
| Data speeds | Up to 2Mbps | Up to 27 Mbps | Up to 424 Kbps |
| Location accuracy | ∼10 cm | Up to ∼10cm | Yes, duh |
| Typical signal latency | >3s | <1ms | >1s |
| Chip cost in 2021 | ∼$2 | Up to $5 | $0.25 |
| Peak consumption | >15mA | >180mA | >15mA |
Though that doesn't mean Samsung is done with NFC R&D, UWB definitely has a higher ceiling and is looking much more promising in the medium- to long-term. As for right now, an extremely powerful version of Nearby Share is perhaps the number one advantage of owning a UWB-ready smartphone.
The ability to quickly locate your electronic belongings is another notable implementation of the ultra-wideband protocol. Branded as SmartThings Find, this functionality just started rolling out to wearables and Android Auto vehicles this month. By the time the Galaxy S21 Ultra and Galaxy S21+ are available for purchase, there should be dozens of Galaxy smartwatches and IoT appliances compatible with Samsung's solution. Oh, and have we mentioned that SmartThings Find includes a futuristic augmented-reality component? It's like you're the Terminator and your car is John Connor.
Speaking of Android Auto, how about being able to unlock your car after finding it, using just your smartphone? Samsung developed this convenient feature in cooperation with the Car Connectivity Consortium (CCC), so everyone from Ford and Audi to BMW and Genesis will soon be offering it to their customers.
Our today's look at the state of UWB adoption might have been focused on the Galaxy S21+ and the Galaxy S21 Ultra, but Samsung already committed to firmly embracing the standard moving forward. Meaning that many more Galaxy devices with UWB support are to be expected in the near future.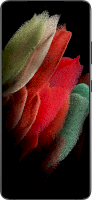 Model: SM-G998B
Dimensions: Bar: 165.1 x 75.6 x 8.9 mm
Display: 6.8 inch / 172.72 mm Dynamic AMOLED 2X
CPU: Exynos 2100
Camera: 12MP
Source: – SamMobile