Federal parties stick-handle climate change, energy and economy in Alberta – CBC.ca
Lewis Lix still thinks about the sunrises he watched while working on oil rigs in western Canada.
"You could be covered in blood, sweat and diesel fuel, but you could take five minutes at 4:45 a.m. to watch the sun come up. When people ask what I miss about the job, I say 'the skies.'"
Lix, a 34-year-old father who now lives in Edmonton, spent almost 10 years working in the oil and gas industry. He went through a few boom-and-bust cycles, a lot of time away from his family, and eventually a realization that he couldn't continue the work forever.
"I could just see the writing on the wall," he told CBC's The House in an interview airing Saturday.
"I didn't want to work in an industry that was so volatile and surrounded by so much political controversy. I just wanted a future in something … that my kids might be proud of me for doing."
CBC News: The House6:02Moving on from oil and gas
Lewis Lix, a former oil and gas worker, talks about his journey to a new career and his continued concerns for the future. 6:02
Lix is now enrolled in the Alternative Energy Technology program at the Northern Alberta Institute of Technology.
It's not always an easy path. He says there's a narrative in Alberta that, "if you're not doing everything you possibly can for oil and gas, you're anti-Albertan or anti-western Canadian."
Energy central to Alberta's economy, politics
The energy sector is still the backbone of Alberta's economy, even as the industry faces waves of corporate consolidation, the ripple economic effects of the COVID-19 pandemic, and national and international pressure to reduce greenhouse gas emissions.
In the 2019 federal election, the Conservative Party of Canada took 33 of the 34 seats in the province. The party's platform this year promises to keep a price on carbon, invest in carbon capture and storage, and introduce a renewable natural gas mandate.
"The Conservatives are the only party that's actually proud of Canada's energy industry as the key driver of the country's economy," said Katy Merrifield of Wellington Advocacy, a national public affairs firm. Merrifield has previously worked for Alberta Premier Jason Kenney and former B.C. Liberal premier Christy Clark.
"The petroleum industry provides over half a million high-paying jobs for Canadians, generates about $10-million in government revenue through taxes and royalties every year, and about $100-billion in GDP annually. So, frankly, electorally, it's no wonder they sweep the province every federal election."
Most political analysts agree that this year's federal election won't be decided in Alberta. But the federal parties are still crafting their messages to Alberta voters carefully.
The NDP proposes an emissions reduction target of 50 per cent below 2005 levels by 2030 and wants to end all subsidies to the oil and gas industry. The Liberals have echoed the call to end those subsidies and have pledged $2-billion to help workers in oil-producing provinces transition to a greener economy.
"The Liberals are trying to have an honest faith conversation regarding the fact that many of the oil and gas jobs that people in this province have worked hard at and grown accustomed to, that many of those jobs might not be coming back," says Zain Velji, a political strategist who has worked on federal Liberal campaigns in the province.
Velji acknowledges that message won't translate into Alberta votes for the Liberals. But he says the party's message is, "We will not leave you behind," which could help bridge conversations around western alienation.
A handful of ridings at play in Alberta
While Alberta's Blue Wall is expected to remain mostly intact in this election, there are a few places where chips might emerge — such as in Edmonton Griesbach, where NDP newcomer Blake Desjarlais is facing off against Conservative incumbent Kerry Diotte.
The riding is held provincially by NDP MLA Janis Irwin, who has thrown her support behind Desjarlais, a Métis activist who grew up on the Fishing Lake Métis Settlement.
But the provincial and federal branches of the NDP aren't always in alignment, a most noticeable point when it comes to the expansion of the Trans Mountain pipeline. Alberta NDP Leader Rachel Notley fought vociferously for the project while she was premier, and clashed with Jagmeet Singh over whether it should go ahead.
Desjarlais says the Liberals' decision to purchase the pipeline can't be easily reversed.
"I'm against the TMX pipeline and its expansion, but I understand we've already invested in it," he said.
"We might have to look at a future where the TMX pipeline is operational, but that means we have to make more aggressive steps in other sectors, like agriculture for example, to reduce greenhouse gas emissions and hit our targets."
Taking a break from his studies, Lewis Lix says he believes his future is bright in Alberta — and while the province's economic prosperity might rely on oil and gas for some time yet, he thinks a transition will eventually occur.
"We have an opportunity to jump on board now instead of just arguing with one another and having no change happen or having change be so, so slow."
Canadian dollar falls as Canadian data shows economic momentum easing
The Canadian dollar weakened against its U.S. counterpart on Thursday as the greenback notched broad-based gains and investors weighed domestic data showing some weakening in activity.
The loonie was trading 0.3% lower at 1.2675 to the greenback, or 78.90 U.S. cents, after moving in a range of 1.2616 to 1.2698.
Canadian wholesale trade fell by 2.1% in July from June, the biggest decline since April last year, and housing starts were down 3.9% in August compared with the previous month.
"Momentum (in housing starts) has been moderating after unprecedented strength earlier in the year," Shelly Kaushik, an economist at BMO Capital Markets, said in a note.
Foreign investors are growing more worried that Canada's federal election on Monday could result in a deadlock that hampers Ottawa's response to the COVID-19 pandemic and further slows the economic recovery from the crisis.
The U.S. dollar climbed to a near 3-week high against a basket of currencies after data showing U.S. retail sales unexpectedly increased in August.
The data could ease some concerns about a sharp slowdown in the U.S. economy, ahead of a Federal Reserve policy meeting next week.
U.S. crude prices were unchanged at $72.61 a barrel as the threat to U.S. Gulf production from Hurricane Nicholas receded. Oil is one of Canada's major exports.
Canadian government bond yields were higher across the curve. The 10-year touched its highest since Aug. 12 at 1.272% before pulling back to 1.231%, up 1.2 basis points on the day.
(Reporting by Fergal Smith; Editing by Bernadette Baum)
New Zealand's Economy Was Humming Prior to Delta Lockdown – BNN
(Bloomberg) — New Zealand's economy was expanding at a rapid pace before a nationwide lockdown interrupted its momentum, latest data show.
Gross domestic product climbed 2.8% in the second quarter after jumping 1.4% in the first, Statistics New Zealand said Thursday in Wellington. Economists forecast a 1.1% gain. From a year earlier, when the country was in its initial pandemic lockdown, the economy expanded 17.4% against expectations of 16.1% growth.
Today's report will do nothing to dissuade the central bank from raising interest rates at its next meeting on Oct. 6 as it frets about mounting inflation pressures. While a contraction is expected in the current quarter after an outbreak of the delta strain of coronavirus prompted a three-week national lockdown, last year's experience shows that demand quickly bounces back when restrictions are lifted.
The New Zealand dollar rose on the data. It bought 71.29 U.S. cents at 10:47 a.m. in Wellington, up from 71.2 cents beforehand.
©2021 Bloomberg L.P.
Global economy projected to show fastest growth in 50 years – UN News
In its new report released on Wednesday, the agency said that the rebound was highly uneven along regional, sectoral and income lines, however.
During 2022, UNCTAD expects global growth to slow to 3.6 per cent, leaving world income levels trailing some 3.7 per cent below the pre-pandemic trend line.
The report also warns that growth deceleration could be bigger than expected, if policymakers lose their nerve or answer what it regards as misguided calls for a return to deregulation and austerity.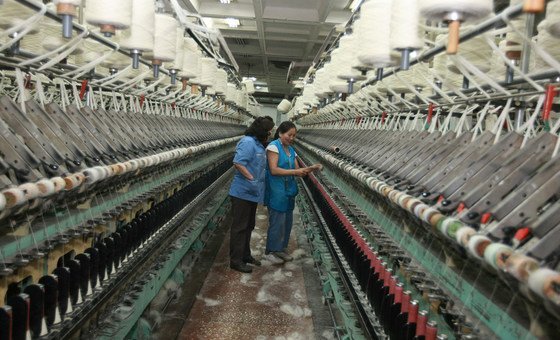 Differences in growth
The report says that, while the response saw an end to public spending constraints in many developed countries, international rules and practices have locked developing countries into pre-pandemic responses, and a semi-permanent state of economic stress.
Many countries in the South have been hit much harder than during the global financial crisis. With a heavy debt burden, they also have less room for maneuvering their way out through public spending.
Lack of monetary autonomy and access to vaccines are also holding many developing economies back, widening the gulf with advanced economies and threatening to usher in another "lost decade".
"These widening gaps, both domestic and international, are a reminder that underlying conditions, if left in place, will make resilience and growth luxuries enjoyed by fewer and fewer privileged people," said Rebeca Grynspan, the secretary-general of UNCTAD.
"Without bolder policies that reflect reinvigorated multilateralism, the post-pandemic recovery will lack equity, and fail to meet the challenges of our time."
Lessons of the pandemic
UNCTAD includes several proposals in the report that are drawn from the lessons of the pandemic.
They include concerted debt relief and even cancellation in some cases, a reassessment of fiscal policy, greater policy coordination and strong support for developing countries in vaccine deployment.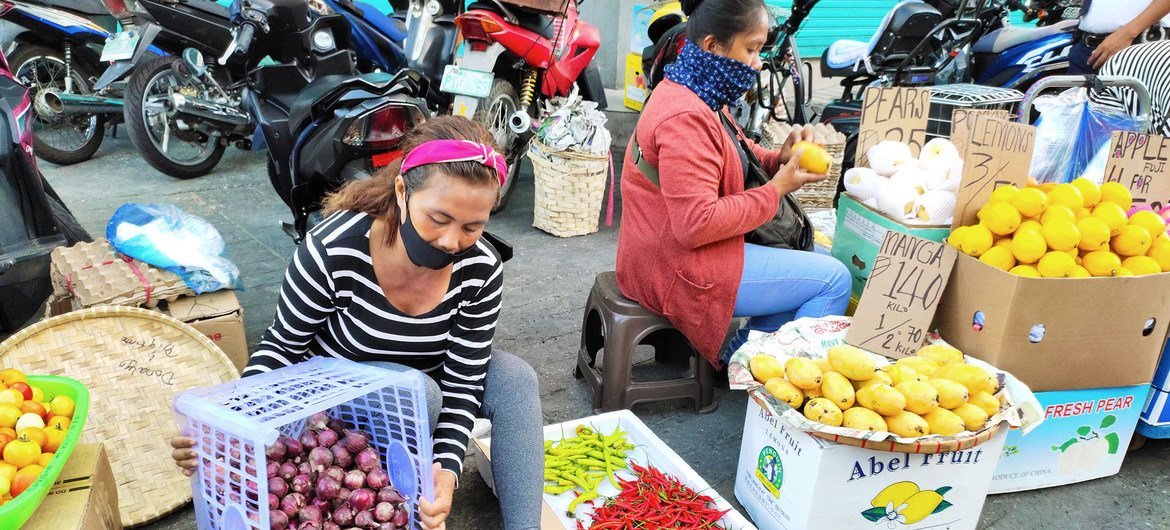 ILO/Minette Rimando.
Women sell fruit and vegetables on a sidewalk in the Philippines, where workers in the informal economy are in danger of having their livelihoods destroyed by the impacts of COVID-19.
Even without significant setbacks, global output will only resume its 2016-19 trend by 2030. But even before COVID-19, the income growth trend was unsatisfactory, says UNCTAD. Average annual global growth in the decade after the global financial crisis was the slowest since 1945.
Despite a decade of massive monetary injections from leading central banks, since the 2008-9 crash, inflation targets have been missed. Even with the current strong recovery in advanced economies, there is no sign of a sustained rise in prices.
After decades of a declining wage share, real wages in advanced countries need to rise well above productivity for a long time before a better balance between wages and profits is achieved again, according to the trade and development body's analysis.
Food prices and global trade
Despite current trends on inflation, UNCTAD believes the rise in food prices could pose a serious threat to vulnerable populations in the South, already financially weakened by the health crisis.
Globally, international trade in goods and services has recovered, after a drop of 5.6 per cent in 2020. The downturn proved less severe than had been anticipated, as trade flows in the latter part of 2020 rebounded almost as strongly as they had fallen earlier.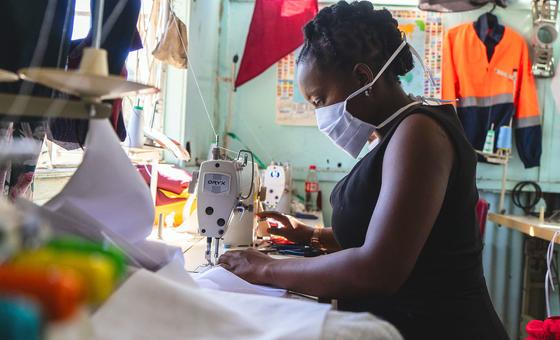 The report's modelling projections point to real growth of global trade in goods and services of 9.5 per cent in 2021. Still, the consequences of the crisis will continue to weigh on the trade performance in the years ahead.
For director of UNCTAD's globalization and development strategies division, Richard Kozul-Wright, "the pandemic has created an opportunity to rethink the core principles of international economic governance, a chance that was missed after the global financial crisis."
"In less than a year, wide-ranging US policy initiatives in the United States have begun to effect concrete change in the case of infrastructure spending and expanded social protection, financed through more progressive taxation. The next logical step is to take this approach to the multilateral level."
The report highlights a "possibility of a renewal of multilateralism", pointing to the United States support of a new special drawing rights (SDR) allocation, global minimum corporate taxation, and a waiver of vaccine-related intellectual property rights.
UNCTAD warns, though, that these proposals "will need much stronger backing from other advanced economies and the inclusion of developing country voices if the world is to tackle the excesses of hyperglobalization and the deepening environmental crisis in a timely manner."
For the UN agency, the biggest risk for the global economy is that "a rebound in the North will divert attention from long-needed reforms without which developing countries will remain in a weak and vulnerable position."