Federal Reserve to begin slowing its pace of asset purchases this month – Yahoo Canada Finance
The Federal Reserve on Wednesday said it would start slowing its pace of asset purchases, the first step in paring back its COVID-era easy money policies.
"In light of the substantial further progress the economy has made toward the committee's goals since last December, the Committee decided to begin reducing the monthly pace of its net asset purchases," the policy-setting Federal Open Market Committee said in its updated policy statement Wednesday.
Since the depths of the pandemic, the central bank has been directly buying U.S. Treasuries and agency mortgage-backed securities to signal its support of the economic recovery. As of now, the Fed is pacing its purchases at a clip of about $120 billion per month.
But the Fed said Wednesday it will gradually slow the pace of those purchases by about $15 billion per month, as part of a plan to bring its so-called quantitative easing program to a full stop by the middle of next year. The taper will begin "later this month" and will continue at that $15 billion pace through December, although the FOMC clarified it could change the pace of taper as needed.
"The Committee judges that similar reductions in the pace of net asset purchases will likely be appropriate each month, but it is prepared to adjust the pace of purchases if warranted by changes in the economic outlook," the FOMC statement reads.
The FOMC still maintained short-term interest rates at near zero. The decision on rates and taper was unanimous.
The Fed statement continued to double down on its view that high inflation readings will prove to be "transitory," noting that "supply and demand imbalances related to the pandemic and the reopening of the economy have contributed to sizable price increases in some sectors."
Anticipation for a Fed taper has ramped up discussion over the policy-setting Federal Open Market Committee's next steps: raising interest rates.
Fed officials have made it clear that the timing of taper has no direct implications for the timing of raising short-term borrowing costs from the current setting of near zero.
But markets appear to be getting ahead of the Fed. As Powell and other Fed officials all but signaled that taper was coming, bets on interest rates reflected expectations for a more hawkish cycle of Fed rate hikes through 2022.
Headed into Wednesday afternoon's announcement, Fed funds futures contracts priced in a strong chance that the central bank will have hiked rates at least three times by the end of 2022. Those expectations ratcheted up in the four weeks leading up to the Fed's taper announcement.
The central bank's next policy-setting announcement is scheduled to take place Dec. 14 and 15.
Still, Fed officials have emphasized the need to close the jobs shortfall of 5 million workers (compared to pre-pandemic levels), policymakers have insisted that near-zero interest rates should still support employment as it tapers.
"I do think it's time to taper, and I don't think it's time to raise rates," said Federal Reserve Chairman Jerome Powell on Oct. 22.
In his press conference, Powell could field questions about whether or not the Fed's tapering plans are connected to future interest rate hikes. But Powell will also likely face questions regarding the central bank's ongoing trading scandal, as well as Powell's own updates on whether or not he's in consideration for another term as Fed chairman.
The FOMC statement will be followed by Powell's press conference at 2:30 p.m. ET.
Brian Cheung is a reporter covering the Fed, economics, and banking for Yahoo Finance. You can follow him on Twitter @bcheungz.
Follow Yahoo Finance on Twitter, Facebook, Instagram, Flipboard, LinkedIn, YouTube, and reddit
Canada to Tap Maple Syrup Reserves to Combat Supply Crisis – TMZ
If your short stack has been feeling a little dry lately due to a lack of (affordable) syrup — that's all about to change … because Canada is tapping its stockpile of sweet nectar.
Quebec Maple Syrup Producers — a quasi-government-sanction agency accounting for over 70% of the world's maple syrup production — just announced they're going to start draining upwards of 50 million pounds of syrup from barrels they have in their strategic reserve.
Yes, strategic reserve … just like the ones we're about to tap to help lower gas prices here in the States. Apparently, Canada has a sea of this condiment at the ready for emergencies.
Welp, that emergency is here … as the global economy deals with a supply crisis — due, in part, to the pandemic among other factors — QMSP says it's time to dip into what they have on hand to make sure countries around the world, especially its #1 customer in the U.S., can keep on drizzling their waffles and pancakes with ease and within reasonable price ranges.
Word is … this harvest season made for a bad batch of syrup, meaning not nearly enough was produced due to a warmer/shorter spring season … the ideal conditions for which are needed to see a solid yield. Add in the fact more people are cooking from home right now — and you have a lopsided supply/demand equation … hence them going to the reserves.
This will be the most syrup they've tapped since 2008. A rep for the org says, "The reserve is there to make sure that we are always able to sell and offer this product."
In anticipation for next year … a reported 7 million additional syrup taps have been OK'd.
Canadians to get biggest drop in gasoline prices since 2009 over COVID variant fears – Yahoo Canada Finance
Canadians should experience the fastest drop in gasoline prices in nearly 13 years on Sunday as fears about a virulent new COVID-19 variant are expected to provide a break of 11 cents per litre at the pumps.
Dan McTeague, president of Canadians for Affordable Energy, said the national average price could drop to about $1.32 per litre but begin to rise again midweek.
"(Sunday) represents the single largest decrease at the pumps we've seen going back to 2009," he said in an interview.
Global crude oil prices plunged Friday over fears about a new COVID-19 variant called Omicron that prompted Canada to ban entry for foreign nationals who travelled through southern Africa.
The January crude oil contract fell 13.1 per cent or US$10.24 on Friday and currently stands at US$68.15 per barrel.
The decrease came as U.S. stock markets closed early Friday because of the Thanksgiving holiday.
"Sunday and Monday are going to be the best days for Canadians to fill up, including British Columbia," McTeague said
Even residents of flood-ravaged B.C. will save on the province's high gasoline prices despite facing rationing because severe flooding has shut both the Trans Mountain pipeline and the province's lone refinery.
Drivers of non-essential vehicles can only purchase up to 30 litres per visit to a gas station in the Lower Mainland, Sunshine Coast, Sea to Sky area, Gulf Islands and Vancouver Island.
East Coast residents won't reap the immediate benefits of Sunday's price drop because its regulated regional system averages price movements. That provides price predictability but blunts price discounts.
Despite the upcoming decrease, national gasoline prices have surged nearly 43 per cent in the past year as the reopening of the global economy from pandemic lockdowns prompted a recovery in crude prices.
McTeague suggested Canadians shouldn't get too comfortable with the energy savings. He said prices are expectd to increase as OPEC and its allies, who are meeting on Monday, will likely refuse to increase production any further. Energy traders realize that Friday's decrease was overdone and "flies in the face of fundamentals," he added.
"My sense is that the decreases that we saw were a little exaggerated and overbought, and for that reason I think we might see a little bit more balance come back to the markets and fundamentals by Wednesday," McTeague said.
"Unless there's further unsettling news of greater and further lockdowns, I would expect that oil prices are probably going to recover US$3 to US$4 a barrel by Monday or Tuesday, which means by Wednesday or Thursday we could be looking at increases in the order of four or five cents a litre."
McTeague said some gasoline savings will continue for a couple of weeks, but he foresees crude climbing back to about US$90 a barrel, which would translate into prices in Canada exceeding $1.50 per litre.
Impending carbon tax increases will further boost prices.
A tax of 2.5 cents per litre, including HST, will take effect on April 1, 2022. It will be followed in December by the clear fuel standard that will add another 18.1 cents per litre including HST, said McTeague.
Adding to the inflation pressure is the Canadian dollar which is less valuable than when it was at par the last time crude prices were around US$80. That reduces the purchasing power for all kinds of products, including energy and food.
The Canadian Automobile Association said that as of early Saturday morning, Manitoba had the lowest average pump price of $1.35/L, followed closely by Alberta at $1.377, while Newfoundland and Labrador was the highest at $1.583 with British Columbia at $1.558.
This report by The Canadian Press was first published Nov. 27, 2021.
Ross Marowits, The Canadian Press
Facing shortages, Canada taps its strategic reserves of maple syrup – CNN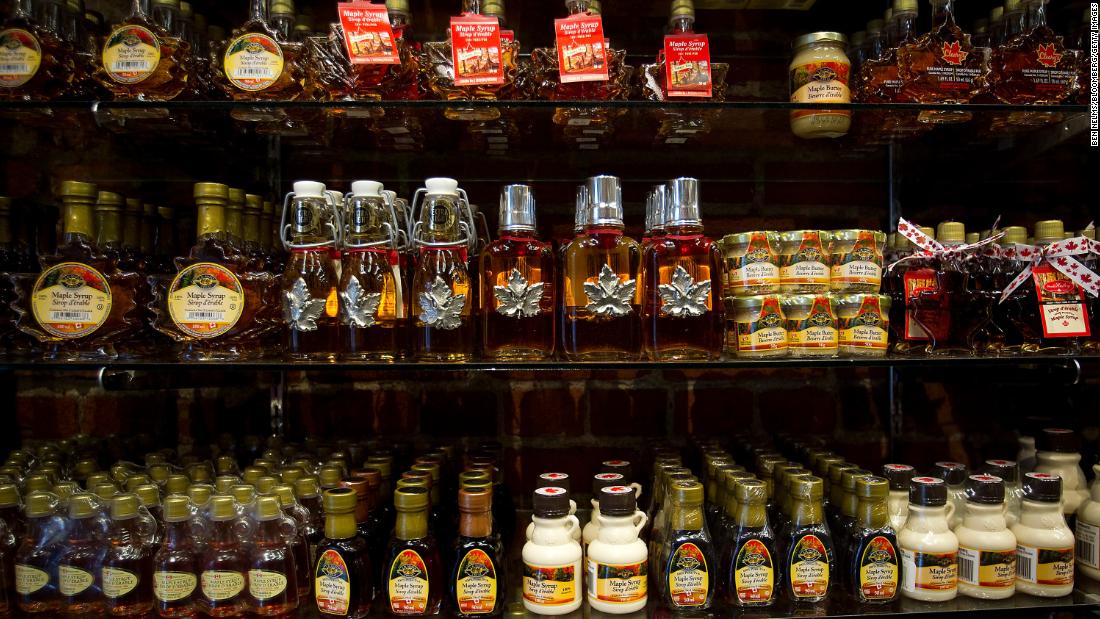 New York, NY (CNN)Amid shortages, Canada is tapping into its strategic reserves. This time, for maple syrup.
The Quebec Maple Syrup Producers, a leading trade group, said it is releasing roughly 50 million pounds from its strategic maple syrup reserves, almost half of the stockpile,
Bloomberg first reported
.
The government-supported organization, which is often called the OPEC of maple syrup, uses its reserves to control syrup prices and supply. As of 2020, Quebec produced 73% of all maple syrup in the world, and its biggest customer by far is the United States, which accounts for around 60% of Canada's export volume.
The strategic reserve was created to keep maple syrup in stock during bad harvest seasons or when demand spikes. That is the case right now following a hot and short spring that led to a lower yield. Historically, 2021 was
an average year
for maple production in Quebec, with a harvest estimated at 133 million pounds, but sales rose 21% compared to last year, straining the available supply.
QMSP did not immediately respond to requests for comment from CNN Business. "The pandemic helped in our case because we're seeing people cook more at home and use more local products," the group's spokesperson Helene Normandin said in an interview with Bloomberg. "It's not just in Quebec the demand is increasing."
The reserve has made headlines in the past. Between 2011 and 2012, 3,000 tons of maple syrup, valued at nearly $20 million Canadian dollars, were secretly siphoned from the reserve in a notorious theft known as
the Great Canadian Maple Syrup Heist
.