Feds' fall economic statement shortchanges climate – Corporate Knights Magazine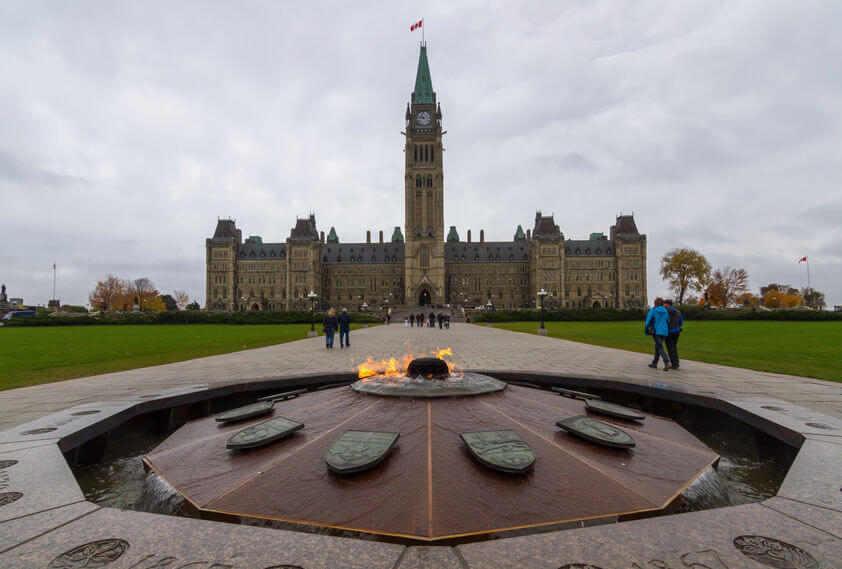 Canadians are going to have to wait until the next Liberal budget to get a full sense of the government's commitment to a green recovery, though Ottawa has unveiled some key parts of the plan this fall.
Finance Minister Chrystia Freeland made a down payment on clean-energy stimulus in her fall economic statement on November 30, but the $6.64-billion package of new measures over 10 years was far smaller than some clean-energy advocates had called for.
Corporate Knights calculates that the funding announced for a climate-focused recovery plan represents only 20% of the federal investment needed to meet the government's own commitment to reduce greenhouse gas emissions.
In the government's first major financial update since the COVID-19 pandemic shut down the economy last March, Freeland maintained a focus on support programs for individuals and businesses.
She promised a future budget with a more robust stimulus plan worth up to $100 billion over three years. It's uncertain how much of that will be allocated to climate-change mitigation, given competition from other post-pandemic priorities such as a national daycare program to boost women's participation in the workforce.
The federal green recovery plan, to date, falls well short of the commitments made by more ambitious national governments, including that promised by U.S. President-elect Joe Biden, who has pledged a US$2-trillion green recovery plan, subject to Congressional approval.
Numerous groups have urged the Liberal government to match the efforts of countries in Europe and East Asia that have announced major green stimulus plans, even as some of those nations remain in the grip of the pandemic.
As part of a green recovery plan endorsed by 50 business leaders, Corporate Knights proposed a 10-year, $108-billion program that would be front loaded to ensure that Canada can re-start the economy on a greener footing that it argues will be essential to tapping into global growth markets.
In a series of virtual roundtables hosted by Corporate Knights and the Embassy of Germany in Canada this fall, speakers pointed to opportunities in areas such as deep retrofits for buildings, the emerging hydrogen economy, and potential markets for non-combustible products from the oil sands that would trap carbon rather than emitting it into the atmosphere.
Corporate Knights publisher Toby Heaps described the Liberal plan as "meek," saying, "I think the government's response to the pandemic shows us what an emergency response looks like, and one cannot help but notice how different that looks from their response to the climate emergency."
In a report this fall, another group, the Task Force for a Resilient Recovery, urged the federal government to adopt a five-year, $55.4-billion plan that would allocate $27.4 billion to deep retrofits of buildings.
As of the fall update, the Liberal government has allocated $12.6 billion over 10 years to climate-related action, including $6 billion already allocated to the Canada Infrastructure Bank. That figure will climb when Freeland unleashes her stimulus budget, likely next spring. The budget, she said in her speech, "will advance our progress on climate action and promote a clean economy."
In the mini-budget released November 30, the minister allocated $6.64 billion in three key areas, though some of that money will be spent over 10 years: $2.6 billion over seven years for home retrofits; $150 million to install electric-vehicle charging stations; and $3.9 billion to plant two billion trees, preserve wetlands and boost sustainable agriculture.
The building-retrofit plan consists of $5,000 grants, which the government hopes will be used to improve the energy efficiency – and lower carbon emissions – of 700,000 homes. Freeland said the government will also fashion a plan for low-interest loans to support more expensive, deeper retrofits.
The grants alone will be insufficient to provide enough incentive for homeowners and landlords to make the deep retrofits needed to dramatically reduce greenhouse gas emissions from buildings, which account for 17% of the country's total, said Ralph Torrie, co-author of a Corporate Knights white paper called Building Back Better with a Green Renovation Wave.
"At a time when the urgent need is to stimulate the business and logistical innovations for implementing mass, deep retrofits, we get instead $5,000 grants for households to go it alone," Torrie said. "This will create lost opportunities by triggering halfway measures and upgrades that fall short of what is required for an effective emergency response to climate change."
The fall economic statement is only part of the government's plan, with other measures either recently announced or due to be released by the end of December.
Environment Minister Jonathan Wilkinson will soon be releasing an updated climate plan, while Natural Resources Minister Seamus O'Regan will release federal strategies on hydrogen and small modular reactors.
On the hydrogen market, the federal government lags several competitors who have already announced major strategies to be suppliers of "green" hydrogen, an emissions-free source that is derived from renewable power. Australia is fast-tracking a $36-billion hydrogen plan, while Germany and France are moving full steam ahead with plans to develop industrial uses for the clean-burning fuel.
Corporate Knights has proposed that Ottawa spend $1 billion on research and development efforts over the next five years and another $8 billion over the decade to deploy hydrogen technology across the Canadian economy.
Corporate Knights also recommended that the feds provide $1.4 billion in funding over five years to help the industry commercialize lightweight carbon-fibre production as part of a "bitumen beyond combustion" strategy, but the November 30 statement lacked any sign of a plan for shifting Canadian oil and gas economics.
How does Fall Economic Statement stack up against Corporate Knights' Building Back Better Green Recovery Plan?

| | Federal Contribution 2021-2030 | | |
| --- | --- | --- | --- |
| | CK BBB | FES BBB | % shortfall |
| Building Back Better Homes | 14656 | 2600 | 82 |
| Building Back Better Workplaces | 6000 | 2000 | 67 |
| Greening the Grid | 6700 | 2500 | 63 |
| Building Back Better EV Uptake | 11949 | 1650 | 86 |
| Building Back Better Active Mobility | 2000 | – | – |
| Building Forest Natural Capital | 16000 | 3791 | 76 |
| Building Agriculture Natural Capital | 6000 | 98 | 98 |
| Natural Resources and EV Innovation | 40500 | – | – |
| Building Back Better Industry | 4800 | – | – |
| Sum for all programs (2021-30) | 108605 | 12639 | TBD |

Sources: Fall Economic Statement 2020

Building Back Better with a Bold Green Recovery Synthesis Report
Earlier this fall, the Build Back Better Together roundtable heard compelling evidence that economic recovery strategies that aim to return to business as usual will reignite the growth in greenhouse gas emissions, as happened after the 2008/09 recession.
If governments want to ensure that they can fund the green recovery to avert the worst impacts of the climate crisis, they'll have to collaborate with private-sector financial institutions, another roundtable session heard.
While there is growing focus on the importance of harnessing capital markets to address climate change, government action remains critical, said Sean Kidney, CEO of the London-based Climate Bonds Initiative, an international non-governmental organization working to mobilize debt markets for climate solutions.
"It is not possible for private markets to do this. That is a total fallacy," Kidney said. "This is not something that is going to be solved by the private market. This is something that is going to be solved by close collaboration between public and private markets."
In her fall statement, Freeland announced support for a Sustainable Finance Action Council, which will begin work in the new year with the goal of "developing a well-functioning sustainable finance market in Canada." Pension funds and other investors have been urging corporations in Canada to provide greater clarity around climate-change-related risks and opportunities, and experts are urging governments to show leadership.
However, Canada still lags some of its peers in terms of financial commitment to a green recovery that will fund the transition to a net-zero economy.
The government estimated that its $100-billion stimulus package would be equivalent to 3 to 4% per cent of gross domestic product, but it is unclear how that figure was calculated. Spread over three years, the spending would represent more like 2% of GDP, and only a portion of that will go to green projects.
Many of Canada's trading peers, including Germany, France and the EU, have already earmarked 30% or more of post-pandemic stimulus for climate action.
In partnering with Corporate Knights on the Building Back Better Together virtual roundtable series this fall, German Ambassador Sabine Sparwasser said her government is committed to a strategy that focuses stimulus spending on building back better.
"We're not going to get out of the current crisis just by giving people social benefits," Sparwasser said during one session. "We need to invest in new technology in order to address the other crisis that is out there and is even bigger: climate change."
Shawn McCarthy writes on sustainable finance and climate for Corporate Knights. He is also senior counsel for Sussex Strategy Group.
With the support of the Embassy of the Federal Republic of Germany in Canada.
Canada selects HSBC, TD Securities as advisors for inaugural green bond issue
The Government of Canada has selected HSBC and TD Securities as structuring advisors for its first ever issue of green bonds, expected in the current fiscal year that began in April, HSBC said in a statement on Monday.
HSBC and TD Securities were hired to advise on the design of Canada's green bond framework, assist in the development of the on-going program and support a successful inaugural issuance, the statement added.
(Reporting by Fergal Smith; Editing by Chizu Nomiyama)
Canadian first quarter industry capacity use rises to 81.7%
Canadian industries ran at 81.7% of capacity in the first quarter of 2021, up from a upwardly revised 79.7% in the fourth quarter of 2020, Statistic Canada said on Friday.
The increase in the first quarter was driven by gains in construction and in mining, quarrying, and oil and gas extraction.
Following are the rates in percent:
Q1 2021 Q4 2020 (rev) Q4 2020 (prev)
Cap. utilization 81.7 79.7 79.2
Manufacturing 76.5 76.7 76.2
NOTE: Economists surveyed by Reuters had forecast a first quarter rate of 80.6% capacity utilization.
(Reporting by Steve Scherer, editing by Dale Smith (steve.scherer@tr.com))
UK, Canada agreed to redouble efforts for trade deal
British Prime Minister Boris Johnson and Canadian Prime Minister Justin Trudeau agreed on Friday to redouble their efforts to secure a trade agreement as soon as possible to unlock such a deal's "huge opportunities".
"The leaders agreed a comprehensive Free Trade Agreement between the UK and Canada would unlock huge opportunities for both of our countries. They agreed to redouble their efforts to secure an FTA (free trade agreement) as soon as possible," Downing Street spokesperson said in a statement.
"They discussed a number of foreign policy issues including China and Iran."
(Reporting by Guy Faulconbridge, writing by Elizabeth Piper)