First ever images of Antarctica's 'Doomsday glacier' show melting from below
Scientists studying one of the most crucial glaciers that's been deteriorating by climate change got a new look at what's going on underneath the surface.
In two studies published in the science journal "Nature," scientists from the UK-US International Thwaites Glacier Collaboration said they were able to measure the bottom of the Thwaites Glacier and insert cameras and probes through a borehole to study the object from underwater.
The images showed researchers that while the glacier overall is melting slower than models projected, the warmer water underneath the ice is creating cracks and crevasses where the ice is melting much faster than the rest of the glacier.
The glacier, nicknamed the "Doomsday glacier" which is roughly the size of Florida, has been sensitive to climate change over the last 30 years and accounts for about 4% of global sea level rise, according to scientists. If the glacier collapses it could add 25 inches to the global sea level rise in the coming centuries, according to researchers.
Britney Schmidt, who's an Associate Professor at Cornell University and lead author of one of the studies told ABC News that the initial data that was collected changes scientists' understanding baseline conditions of what is happening with the glacier.
"Now we know that this collapse has happened under less melting than we thought and it means it can be easier to collapse," she said.
Scientists undertook observations of the grounding line, where the ice first meets the ocean, beneath the Thwaites Eastern Ice Shelf to understand how the ice and ocean interact.
Peter Davis, an oceanographer with the British Antarctic Survey who was the lead author on one of the studies, took ocean measurements through a 600-meter deep borehole around two kilometers from the grounding line, created by a hot water drill in late 2019. These measurements were compared with melt rate observations taken at five other sites underneath the ice shelf.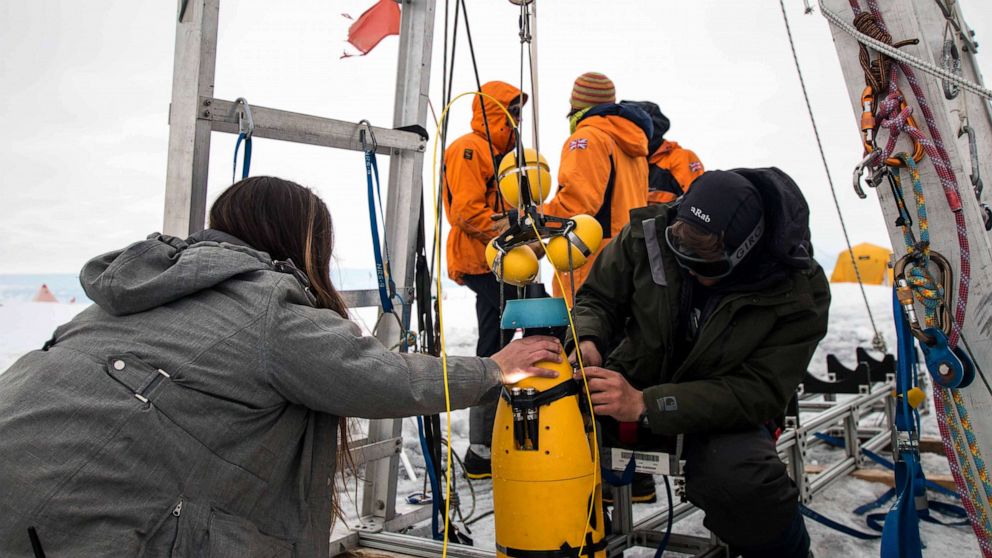 Over nine months, the ocean near the grounding line became warmer and saltier but the melt rate at the ice base averaged two to five meters per year, which were less than previously modeled, researchers said.
Davis said in a statement that the results were surprising but still not good news for the state of the glacier.
"If an ice shelf and a glacier are in balance, the ice coming off the continent will match the amount of ice being lost through melting and iceberg calving. What we have found is that despite small amounts of melting there is still rapid glacier retreat, so it seems that it doesn't take a lot to push the glacier out of balance," he said in a statement.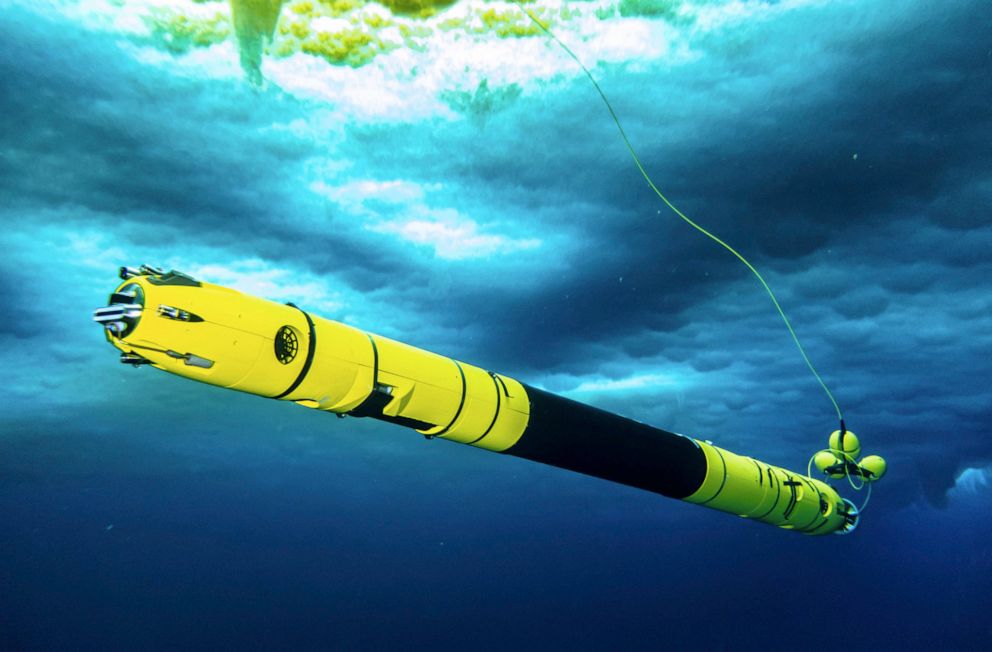 Schmidt's team of researchers used a robot called Icefin to go underwater and into the glacier through a 600-meter deep borehole created in 2019 by a research drill. The robot was able to get photos, video and other data from both the ocean floor and the underside of the glacier as it moved, according to the researchers.
"We never had this data before so we had our best guess," Schmidt said. "We now have the measurements we need to fine-tune our models."
Schmidt said researchers will continue to take data from the glacier and get a better sense of how bad the climate change damage will be.
"We need those details to inspire our response as people for the change we've signed up for," she said.
Large asteroid to zoom between Earth and Moon – Al Jazeera English
On Saturday, the 2023DZ2 will come within a third of the distance from the Earth to the Moon.
A large asteroid will safely zoom between Earth and the Moon on Saturday, a once-in-a-decade event that will be used as a training exercise for planetary defence efforts, according to the European Space Agency.
The asteroid, named 2023 DZ2, is estimated to be 40 to 70 metres (130 to 230 feet) wide, roughly the size of the Parthenon, and big enough to wipe out a large city if it hit our planet.
At 19:49 GMT on Saturday, it will come within a third of the distance from the Earth to the Moon, said Richard Moissl, the head of the ESA's planetary defence office.
Though that is "very close", there is nothing to worry about, he told AFP news agency.
Small asteroids fly past every day, but one of this size coming so close to Earth only happens about once every 10 years, he added.
The asteroid will pass 175,000km (109,000 miles) from Earth at a speed of 28,000 kilometres per hour (17,400 miles per hour). The Moon is roughly 385,000km (239,228 miles) away.
An observatory in La Palma, one of Spain's Canary Islands, first spotted the asteroid on February 27.
Last week, the United Nations-endorsed International Asteroid Warning Network decided it would take advantage of the close look, carrying out a "rapid characterisation" of 2023 DZ2, Moissl said. That means astronomers around the world will analyse the asteroid with a range of instruments such as spectrometers and radars.
The goal is to find out just how much we can learn about such an asteroid in only a week, Moissl said. It will also serve as training for how the network "would react to a threat" possibly heading our way in the future, he added.
The asteroid will again swing past Earth in 2026, but poses no threat of impact for at least the next 100 years – which is how far out its trajectory has been calculated.
Bothwell woman gets experience of a lifetime witnessing natural wonder – BlackburnNews.com
Bothwell woman gets experience of a lifetime witnessing natural wonder
Northern Lights outside Newbury. (Photo via Joanna from Bothwell) March 23, 2023.
March 25, 2023 5:40am
A Bothwell woman is thanking her lucky stars for checking off an important item off her bucket list.
Joanna, who didn't want her last name used, told CK News Today that seeing the Northern Lights or Aurora Borealis so far south Thursday night at around 11 p.m. just outside of Newbury was a bucket list moment achieved.
"It's actually been on my bucket list for a very long time. Last month I was even looking at flights out to Manitoba hoping that we might get lucky and catch them out there, but I ended up seeing them close to home instead," said Joanna.
Joanna said she was completely taken by surprise to see such a rare southwestern Ontario sighting of the Northern Lights on her way home.
"Captivating, it was just the beauty of it. We stopped on the side of the road and our mouths dropped just taking it all in. It was captivating and breathtaking, the fact that we may never get this chance to see this, especially on our side of Ontario," she said.
Joanna said the sighting was phenomenal, amazing, and filled her heart with joy.
"Made a trip out to Banff, Lake Louise in 2021 and found a lot of inner peace. So, since then, I've been chasing and checking things off on my bucket list and that being one of them was fantastic," Joanna added.
She added seeing the Northern Lights up close also gave her a deeper appreciation for how beautiful our planet is.
There were several sightings of the Northern Lights reported dancing across southern Ontario skies on Thursday night.
The National Oceanic and Atmospheric Administration (NOAA) said the Aurora Borealis (Northern Lights) can be seen further south when space weather activity increases and more frequent and larger storms and sub-storms occur.
Northern Lights are the result of accelerated electrons following Earth's magnetic field to the poles and colliding with oxygen and nitrogen atoms and molecules in the upper atmosphere, according to NOAA.
"In these collisions, the electrons transfer their energy to the atmosphere thus exciting the atoms and molecules to higher energy states. When they relax back down to lower energy states, they release their energy in the form of light. This is similar to how a neon light works," said NOAA.
NOAA reported a major magnetic storm Thursday night and said during major geomagnetic storms the aurora ovals expand away from the poles so much that aurora can be seen over most of the United States.
The aurora typically forms 80 to 500 kilometres above Earth's surface.
Bison bone found in Prince Albert, Sask., area points to human life there more than 8,000 years ago
Community-oriented historian David Rondeau found a bison shoulder blade that is more than 8,000 years old at a cut bank near the North Saskatchewan river in Prince Albert, Sask.
"It's in itself quite surprising. It's about a thousand years older than what was previously thought for habitation in our area," Rondeau, also a consultation co-coordinator for Crutwell Metis Local 66, said.
"The dark lines in the hill, or paleosols, are indicative of human life. They are organic remains from habitation. There is a lot of evidence indicating that this was a large-scale bison processing area."
The site had been on Rondeau's radar for years, as he would often discover debitage — material produced during the production of stone tools and weapons — at the surface level.
Artifacts like an ovoid knife found at the site indicate people used to process animals there, removing the hides or flesh, Rondeau said.
Rondeau showed CBC many lithic and bone materials from the site, illustrating the evolution of habitations there. There was debitage material about 2,500 years old found just below the surface, and much older animal remains much further below the ground.
"This site is already telling the history, but there's no record of it in any history book, and I'm honoured to put this on the map to make it real for the people and children who live here."
Rondeau suspects the hill could have been a bison jump. He said holding the bone of a bison makes it real for him and the nearby community of Sturgeon Lake First Nation, connecting them with the history.
Near the North Saskatchewan River in Prince Albert, community-oriented historian David Rondeau has found an ancient bison bone among other artifacts. University of Saskatchewan retired professor David Meyer had the bison bone carbon dated and he agrees, this site is very special.
Oldest intact human site in Prince Albert area
David Meyer, professor emeritus of archaeology and anthropology at University of Saskatchewan, inspected the site along with Rondeau last year.
Meyer said the thick layer of old black soil had bits of bison bones sticking out of it and sharp quartz flakes, indicating human presence. He said a piece of the bison shoulder blade was removed and sent for radiocarbon dating at a University of Ottawa laboratory.
"It came back as some 8,200 years old. I knew it was old and was thinking in the 6,000 years range, but this is remarkably old," he said.
"It's the oldest intact human occupation area that has been found in the Prince Albert area."
Meyer said equally old material had also been found along the South Saskatchewan river at St. Louis bridge, 35 kilometres south of Prince Albert, in the past.
Up to 11,000 years ago, the whole central Saskatchewan area was covered with glacial ice. Meyer said it would have become hospitable for human habitation around 10,500 years ago.
He said around 8,000 years ago, a cultural group called Nipawin complex, from the Great Plains, lived in these regions.
"Certainly, these people seemed to have been the first really widespread, well-established societies, and hunter and gatherers of course," he said.
"They were hunting the older species of bison and buffalo with spear throwing or atlatls [a spear or dart throwing device], as bows and arrows were not yet invented."
Some atlatl dart points dating 8,500 to 11,000 years have been found close to the Montana border and around southern Saskatchewan. Similar atlatl points have been found at Besnard Lake and Buffalo Narrows in northern Saskatchewan.
"The Prince Albert find will provide important information about that region."
Rondeau said a geoarcheologist from the University of Calgary is expected to assess the site in the spring. Among other things, she is expected to take samples of soil, ancient pollen and phytoliths, which will illustrate what the landscape was like at that time.
"This is pretty early," Meyer said of the work being done at the site. "It is quite significant but more needs to be found."