Five questions for Joe Biden on the economy – BBC News


.css-94m6rd-HeadingWrapperborder-bottom:solid 1px #BABABA;padding-bottom:1.5rem;.css-94m6rd-HeadingWrapper > *:not([hidden]):not(style) ~ *:not([hidden]):not(style)margin-top:1rem;.css-vk3nhx-ComponentWrappermargin:1.5rem 0;
.css-1759m9z-StyledFigurefont-family:ReithSans,Helvetica,Arial,freesans,sans-serif;font-weight:400;font-size:0.875rem;line-height:1.125rem;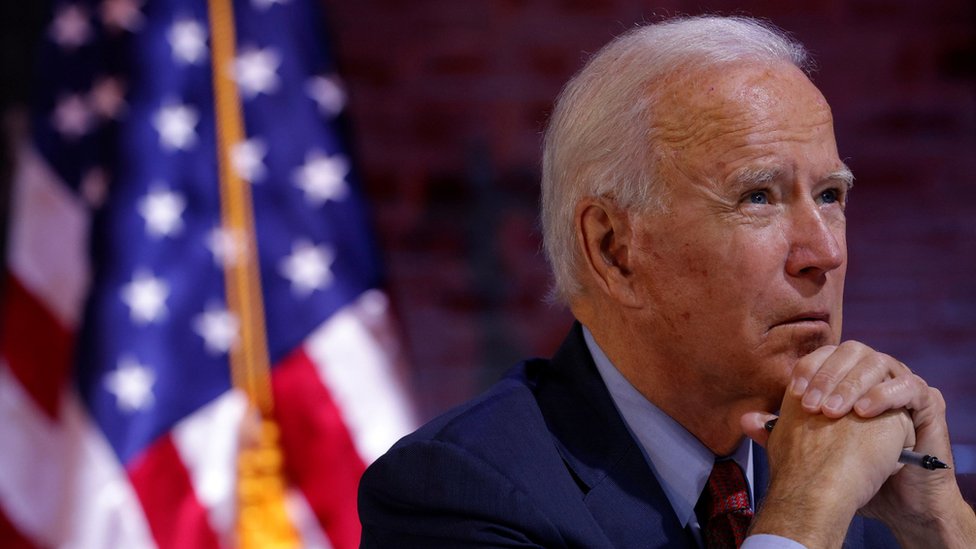 .css-uf6wea-RichTextComponentWrappermargin:1rem 0;max-width:36.25rem;
.css-83cqas-RichTextContainercolor:#3F3F42;.css-83cqas-RichTextContainer > *:not([hidden]):not(style) ~ *:not([hidden]):not(style)margin-top:1rem;
.css-14iz86j-BoldTextfont-weight:bold;Joe Biden will become America's 46th president after defeating incumbent Donald Trump in a bitterly divisive election conducted with the country still reeling from the coronavirus pandemic.
His plans for the next four years are likely to confront the challenge of a divided government, however, as Republicans claimed key victories in Congress. It's a situation that many analysts say leaves the most ambitious parts of his agenda dead on arrival.
Here are five questions facing him when it comes to the US economy.
.css-mysbf6-ComponentWrapper-CrossheadComponentWrappermargin:1.5rem 0;max-width:50rem;padding-top:1rem;max-width:36.25rem;
.css-1jlqpzd-StyledHeadingfont-family:ReithSerif,Helvetica,Arial,freesans,sans-serif;font-weight:500;font-size:1.5rem;line-height:1.75rem;color:#3F3F42;@media (min-width:37.5rem).css-1jlqpzd-StyledHeadingfont-size:2rem;line-height:2.25rem;.css-1jlqpzd-StyledHeading:focusoutline-style:none;.css-1jlqpzd-StyledHeading:focus-visibleoutline-style:auto;
1. How will he save the US economy?
For months, economists have pleaded with Washington to fund more coronavirus relief. But talks have been at an impasse, as Republicans reject the size of the spending plans put forward by Democrats, despite some pressure from Mr Trump for his party to compromise.
Republicans have indicated they will strike a deal before Mr Biden enters office, claiming a final win for Mr Trump.
But if that deal falls short of Democratic hopes, as is likely, or the recovery starts to falter, how much more will Mr Biden, who is known for being relatively moderate, seek?
On the campaign, Mr Biden backed plans to forgive student loans, increase Social Security cheques for pensioners, and provide money for small businesses. He also offered more ambitious proposals, like investing $2tn in areas such as clean energy, infrastructure and public transit.
But Republicans are likely to be even more steadfast in their resistance to spending proposals from a Democratic White House, promising a tough fight.
2. How will he address inequality?
As income inequality in the US increases to its highest in more than 50 years, liberals have pressed for higher taxes on the rich, a proposal that polls suggest is widely supported among the public.
During the campaign, Mr Biden called for reversing parts of the 2017 tax cuts signed by Donald Trump, promising to raise the rate on corporations from 21% to 28%, among other changes.
Outside groups estimated his plan could raise more than $3tn over the next decade – money that could be welcome as the pandemic swells America's national debt.
But while Mr Biden's proposals were not as far-reaching as some of the other plans backed by members of his party, any effort to raise rates will face a fierce fight from Republicans and business groups, who say higher taxes will hurt the economy.
With the economy in a precarious state, will Mr Biden even bother pushing the issue?
3. Can he convince America to take action on climate change?
.css-18mjolk-ComponentWrappermargin:1.5rem 0;max-width:50rem;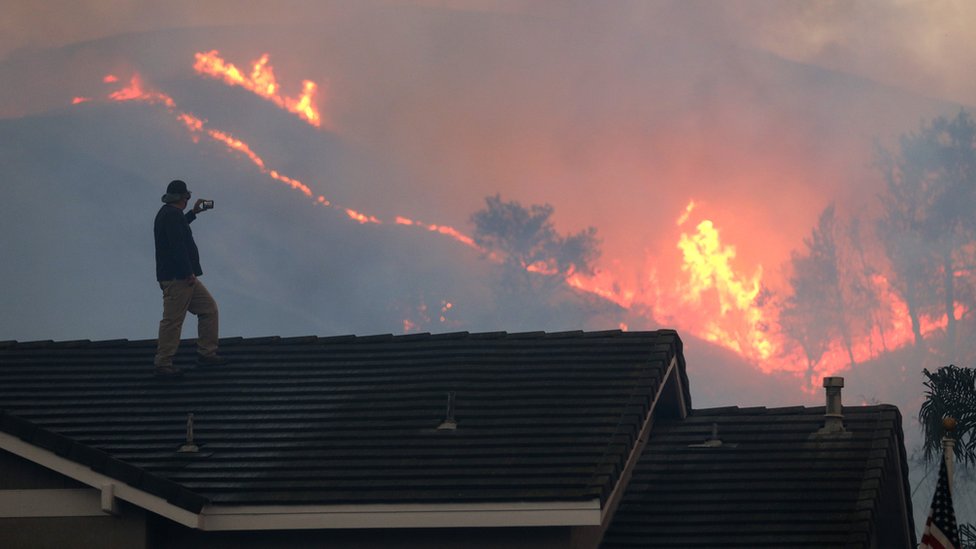 Climate change activists were disappointed when Mr Biden unveiled his first plan to fight climate change.
But this spring he returned with a sweeping proposal, crafted with help from some of his former critics, that has been described as the most ambitious ever put forward by an American presidential candidate.
It included investing $400bn in renewable energy research, tightening car pollution regulations, cracking down on corporate polluters, building 500,000 electric vehicle charging stations and eliminating carbon pollution from power plants by 2035.
Republicans warn the plan will "bury" the US economy. But enacting even a limited version, or focusing on regulation he can enact as president, would mark a stark turn from the Trump years, when the White House opened public lands to oil drilling, slashed regulations and walked away from global efforts, like the Paris Climate Accord.
So which proposals will Mr Biden prioritise?
4. Will he end Donald Trump's trade wars?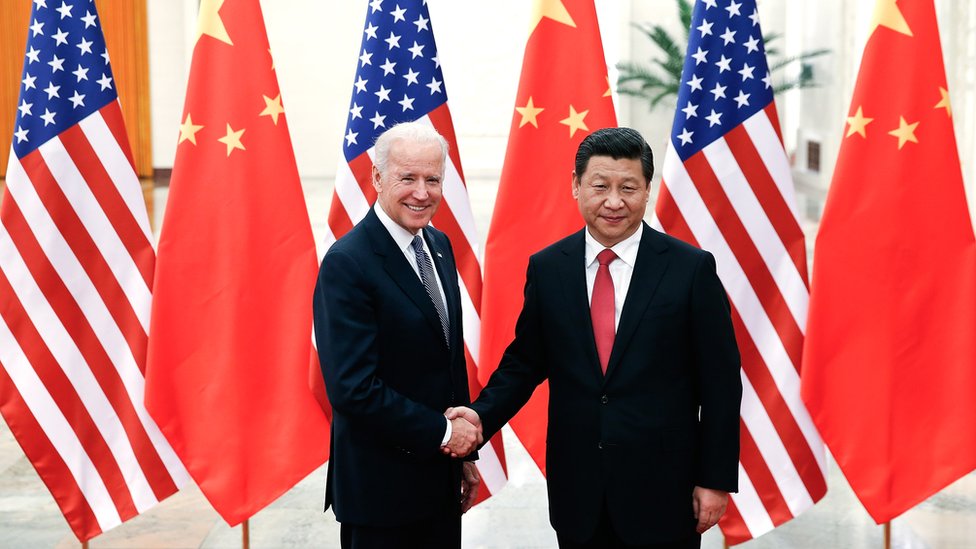 Donald Trump's aggressive trade posture – attacking allies, criticising international organisations, and applying new border taxes on imports from countries around the world – was perhaps his most distinctive economic policy.
There's little doubt Mr Biden will seek a reset, re-asserting America's role as an ally and leader on the world stage, but how much will the substance differ?
When it comes to China, he has pledged "aggressive" action and few expect him to remove the tariffs Trump imposed on Chinese goods during his trade war anytime soon. As my colleague Karishma Vaswani wrote before the election, .css-yidnqd-InlineLink:linkcolor:#3F3F42;.css-yidnqd-InlineLink:visitedcolor:#696969;.css-yidnqd-InlineLink:link,.css-yidnqd-InlineLink:visitedfont-weight:bolder;border-bottom:1px solid #BABABA;-webkit-text-decoration:none;text-decoration:none;.css-yidnqd-InlineLink:link:hover,.css-yidnqd-InlineLink:visited:hover,.css-yidnqd-InlineLink:link:focus,.css-yidnqd-InlineLink:visited:focusborder-bottom-color:currentcolor;border-bottom-width:2px;color:#B80000;@supports (text-underline-offset:0.25em).css-yidnqd-InlineLink:link,.css-yidnqd-InlineLink:visitedborder-bottom:none;-webkit-text-decoration:underline #BABABA;text-decoration:underline #BABABA;-webkit-text-decoration-thickness:1px;text-decoration-thickness:1px;-webkit-text-decoration-skip-ink:none;text-decoration-skip-ink:none;text-underline-offset:0.25em;.css-yidnqd-InlineLink:link:hover,.css-yidnqd-InlineLink:visited:hover,.css-yidnqd-InlineLink:link:focus,.css-yidnqd-InlineLink:visited:focus-webkit-text-decoration-color:currentcolor;text-decoration-color:currentcolor;-webkit-text-decoration-thickness:2px;text-decoration-thickness:2px;color:#B80000;China expects no favours, regardless of the winner.
The former vice president has also endorsed the idea of tariffs in other circumstances, outlining plans to charge a fee to countries that do not meet climate and environmental obligations. And like Trump, he's promised to revive American manufacturing, with stronger "Buy American" requirements for government spending that could bring the US in conflict with international trade rules.
International organisations and long-time allies alienated by Trump, like Canada and Europe, can probably expect fewer attacks. But some tensions are likely to linger. And in the case of the UK specifically, agreeing a trade deal may become more difficult – not less – as Mr Biden has made clear such a pact is not a high priority and may depend on what Brexit means for the Irish border.
5. Will he break up Big Tech?
The practices of America's tech giants are under major scrutiny around the world – and at home, where politicians on the left and right have called for tougher rules in areas such as competition and consumer privacy.
Mr Biden has backed the break-up of companies as a "last resort" and criticised Facebook and others for not doing enough to police disinformation and other malign content on their platforms. He has said he supports revoking the US law that protects tech firms from liability for content posted on their platforms.
But he and his vice president Kamala Harris, who have received widespread support in Silicon Valley, have been unusually quiet on this subject. They did not, for example, showcase such positions on the campaign website.
Some of the changes under discussion require Congress to act. But the White House wields significant power on its own to conduct competition probes, enforce privacy and other regulations and can decide whether to fight international actions, like efforts in the UK and elsewhere to collect more tax from tech companies.
So, with his powers in other areas limited by the Republican presence in Congress but pressure remaining to deliver to Democrats' liberal base, will Mr Biden champion tech regulation or will the issue take a back seat?
.css-144ki52-SectionWrappermargin:1.5rem 0;padding-top:1.5rem;
Remarks by President Trump on the Economy – Whitehouse.gov
James S. Brady Press Briefing Room
12:31 P.M. EST
THE PRESIDENT: Well, thank you very much. And I just want to congratulate everybody. The stock market, Dow Jones Industrial Average just hit 30,000, which is the highest in history. We've never broken 30,000. And that's despite everything that's taken place with the pandemic. I'm very thrilled with what's happened on the vaccine front. That's been absolutely incredible. It's — nothing like that has ever happened medically. And I think people are acknowledging that, and it's having a big effect.
But the stock market has just broken 30,000. Never been broken, that number. That's a sacred number: 30,000. Nobody thought they'd ever see it. That's the ninth time since the beginning of 2020, and it's the 48th time that we've broken records in — during the Trump administration. And I just want to congratulate all the people within the administration that worked so hard. And most importantly, I want to congratulate the people of our country, because there are no people like you.
Thank you very much, everybody. Thank you.
END
12:32 P.M. EST
China's Li Sees Economy Returning to 'Proper' Range Next Year – Yahoo Canada Finance
The Canadian Press
NEW YORK — Best Buy Co. reported fiscal third-quarter results that blew through analysts' expectations as the nation's largest consumer electronics retailer enjoyed surging demand for items like home theatre and appliances that help people learn, cook, work and connect in their homes during the pandemic.
The Richfield, Minnesota-based retailer, said that third-quarter profits rose 33% while sales were up 21%. Sales at stores opened at least a year rose 23%, while online sales in the U.S. surged 174%.
Still, shares fell 5% in Tuesday morning trading as Best Buy warned that sales could slow down during the current quarter as the number of virus cases surge.
"As we start the fourth quarter, the demand for the products and services we sell remains at elevated levels, but similar to last quarter, it continues to be difficult for us to predict how sustainable these trends will be," Matthew Bilunas, Best Buy's chief financial officer, told analysts during the call. "In fact, we are seeing COVID cases surge throughout the U.S. and Canada at a time of significant holiday volume through our stores, online and supply chain. "
Bilunas also noted other factors such as potential government stimulus, the risk of continued high employment and the availability of inventory like computers to match customer demand.
Best Buy joins big box stores like Walmart, Target, Home Depot and Lowe's in reporting strong fiscal results. Unlike mall-based stores and other businesses that sell non-essentials, big box retailers were allowed to stay open during the lockdown in the spring and have all seen their dominance increase as consumers focus on necessities and home-related activities.
Before the pandemic, Best Buy had expanded its services to such options as at-home consulting and same-day delivery. It also sped up its online shipping. But the pandemic has forced Best Buy to adjust its operations and launch new shopping experiences that provide more convenience and safety for customers.
Early fall, Best Buy began using 250 of its stores as fast-shipping hubs for online orders. It's now adding 90 more locations during the holiday period. It says its goal is to have all 340 stores ship more than 70% of its ship-from-store units during the holiday quarter. It's also testing new store formats as it transforms locations to fulfilment hubs.
For example, in four Minneapolis locations, Best Buy reduced its square footage for shopping to 15,000 square feet from an average of 27,000. The product assortment on the sales floor will still include the primary categories these locations featured before the remodel, but instead the focus will be on the most popular items, the retailer said. The remodels will result in increased space for staging product for in-store pickup and to help ship-from-store transactions, as well as provide the ability to stage inventory for items that may not be on the sales floor.
Best Buy reported fiscal third-quarter profit of $391 million, or $1.48 per share, compared with $293 million, or $1.10 per share, in the year-ago period. Earnings, adjusted for restructuring costs and amortization costs, were $2.06 per share.
The results exceeded Wall Street expectations. The average estimate of 11 analysts surveyed by Zacks Investment Research was for earnings of $1.76 per share.
The consumer electronics retailer posted revenue of $11.85 billion in the period, also beating Street forecasts. Eight analysts surveyed by Zacks expected $11.02 billion.
Shares fell $6.69 to $1150 in late morning trading. Shares have increased 39% since the beginning of the year, while the S&P 500 index has increased 11%. The stock has increased 69% in the last 12 months.
____
Elements of this story was generated by Automated Insights (http://automatedinsights.com/ap) using data from Zacks Investment Research. Access a Zacks stock report on BBY at https://www.zacks.com/ap/BBY
Anne D'Innocenzio, The Associated Press
German economy grew by 8.5% in third quarter, but recession fears grow – The Guardian
BERLIN (Reuters) – Germany's gross domestic product grew by a record 8.5% in the third quarter as Europe's largest economy partly recovered from an unprecedented plunge caused by the first wave of the COVID-19 pandemic in spring, the statistics office said on Tuesday.
The stronger-than expected rebound was mainly driven by higher household spending and soaring exports, the office said.
"This enabled the German economy to make up for a large part of the massive decline in gross domestic product caused by the coronavirus pandemic in the second quarter of 2020," it added.
The reading marked an upward revision to an earlier flash estimate of 8.2% growth, and followed a 9.8% plunge in the second quarter.
The outlook is clouded by a second wave of coronavirus infections and a partial lockdown to slow the spread of the disease. Restaurants, bars, hotels and entertainment venues have been closed since Nov. 2, but shops and schools remain open.
Chancellor Angela Merkel and regional state premiers are planning to extend the "lockdown-light" on Wednesday until Dec. 20, according to a draft prepared for their meeting.
A contraction in the service sector is expected to weigh heavily on gross domestic product in the fourth quarter, while lockdown measures in other countries are likely to hit export-oriented manufacturers as well.
DIW economist Claus Michelsen said a decline in economic output was therefore on the cards, with initial estimates indicating a GDP drop of around 1% in the final quarter.
"Germany and many important trading partners are likely to slide back into recession," Michelsen said.
(Reporting by Michael Nienaber and Rene Wagner; Editing by Riham Alkousaa and EKevin Liffey)