For All the Climate Politics Talk, Oil Is Back – Bloomberg
The old geopolitics of energy (fossil fuels, that is) is back with a vengeance.
In recent days, U.S. President Joe Biden has been pushing Saudi Arabia, Russia and the United Arab Emirates to boost oil production in an effort to lower American gasoline prices and with them inflation. It's a reminder that despite all the talk of combating climate change, the global economy still runs, largely, on oil, natural gas and coal.
The "refusal of Russia or the OPEC nations to pump more oil" is the reason why Americans pay more at the pump, Biden told reporters at the United Nations COP26 summit in Glasgow, where, ironically, he asked fossil-fuel producers to boost output.
The U.S. isn't alone: India, the world's third-largest oil consumer, has been vocal in asking for more production. So has Japan, which is ranked fourth, gulping down nearly as much crude as France, Italy and the U.K. combined.
Key Reading:
With prices hovering close to a seven-year high of $85 a barrel, Saudi Arabia can flex its diplomatic muscle. If countries want more oil, Riyadh has its own demands: above all, the political rehabilitation in Washington of Crown Prince Mohammed bin Salman.
Far from losing power amid the fight against global warming, Saudi Arabia is emerging from the pandemic with all guns blazing. If OPEC+ agrees to raise production today as expected, the kingdom's output will hit 10 million barrels a day in December, back above its pre-Covid level.
That means that Riyadh is again flush with petrodollars — and renewed political clout. — Javier Blas
Click here to see our Bloomberg Politics website and share this newsletter with others too. They can sign up here. You can also sign up to get the latest from Glasgow in your inbox every day until Nov. 12.
Global Headlines
Agenda push | U.S. House Speaker Nancy Pelosi told fellow Democrats to prepare to vote on an updated version of the roughly $1.75 trillion tax and spending bill even though a few issues haven't been resolved and some Senate members don't support it, sources say. Several Democrats expressed skepticism that a vote could be accomplished this week.
Another go | The U.S. and Iran will resume talks Nov. 29 on reviving the 2015 agreement that limits Tehran's nuclear program, after a five-month delay that fueled doubts the two sides can bridge their differences. The meetings, in which the U.S. and Iran don't speak face-to-face but through European and Russian intermediaries, will be held in Vienna.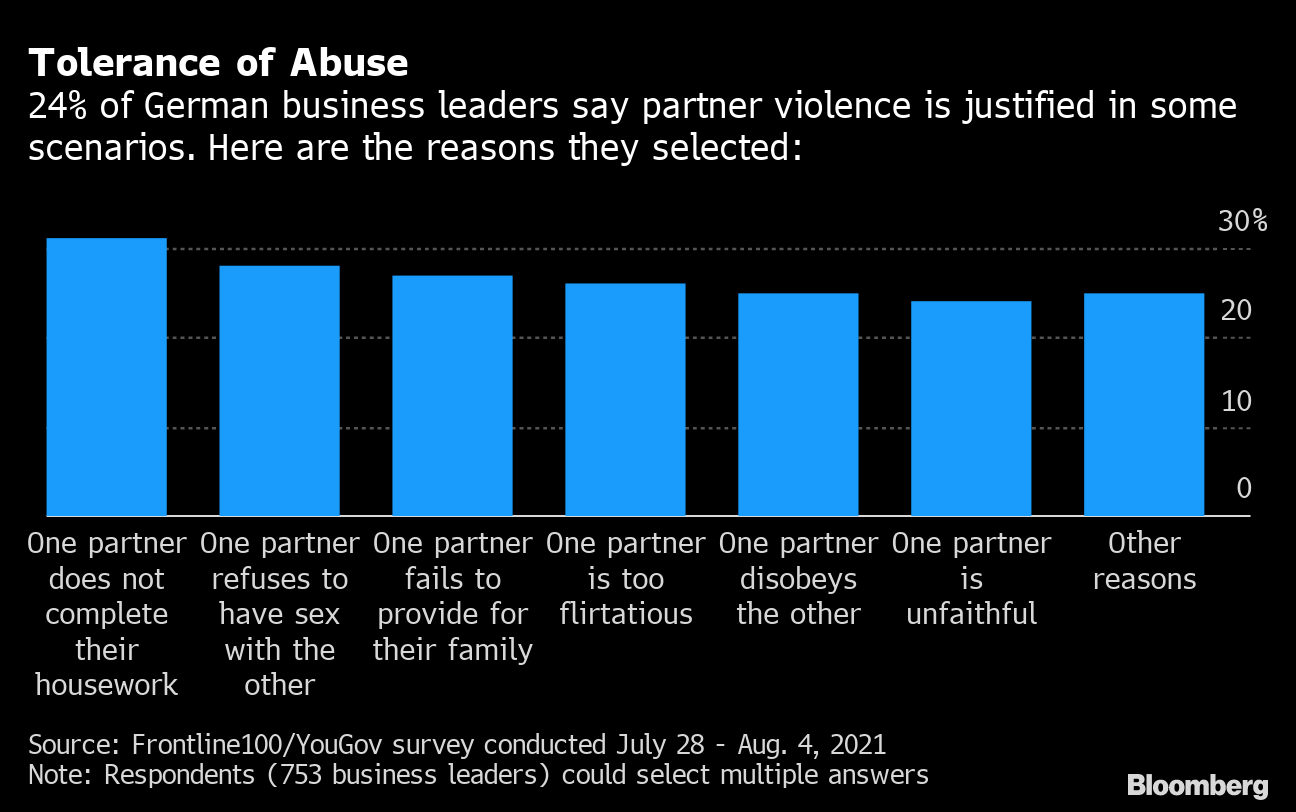 A quarter of German business leaders selected at least one reason that justifies physical violence against a partner in a survey that underscored how the country often lags in acknowledging inequities faced by vulnerable groups such as women and minorities.
Shutting off | Authorities are ring-fencing Beijing against Covid-19 outbreaks now permeating more than half of China's provinces, seeking to protect the capital as it gears up to host political leaders next week and the Winter Olympics in less than 100 days. The state-owned rail operator suspended ticket sales for trains departing from 123 stations in 23 locations that reported virus cases.
Best of Bloomberg Opinion
Bloomberg TV and Radio air Balance of Power with David Westin weekdays from 12 to 1pm ET, with a second hour on Bloomberg Radio from 1 to 2pm ET. You can watch and listen on Bloomberg channels and online here or check out prior episodes and guest clips here. Today the U.K. ambassador to the U.S., Dame Karen Pierce, joins us to discuss prospects for a trade deal and issues including COP26 and China.
Fall from grace | Few leaders have seen their fortunes turn as dramatically as Ethiopia's Abiy Ahmed. A Nobel Peace prize winner in 2019, the prime minister is now accused of human rights abuses and has asked residents to secure the capital against a potential assault by rebel forces. Marc Champion, Simon Marks and Fasika Tadesse set out the reasons for his sudden reversal.
Probe blow | The International Criminal Court's plans to intensify its investigation into the Venezuelan government for alleged crimes against humanity is a fresh blow to President Nicolas Maduro's attempts to win legitimacy on the international stage. You can read more here about what the ICC is looking into.
What to Watch
And finally … World Food Programme chief David Beasley posted a summary of a plan on Twitter today to show Elon Musk, the world's richest man, how donating part of his wealth could alleviate global hunger. Beasley promised a "detailed" $6.6 billion plan within days on averting "crisis for 42 million people on famine's edge in 43 countries." Musk offered to sell Tesla stock if the WFP showed "exactly" how the money would solve hunger.

— With assistance by Rosalind Mathieson, and Gordon Bell
The inflation debate could preview the next big shifts in Canadian politics – CBC.ca
The most interesting battle of the 44th Parliament's early days has been the recurring back-and-forth between Finance Minister Chrystia Freeland and Conservative finance critic Pierre Poilievre.
This running debate between two of the most prominent figures in Canadian politics maps out some of the fault lines that might define the present and near-future of the national debate.
Once one of Stephen Harper's most enthusiastically combative lieutenants, Poilievre has spent the past two years cultivating an online following — even playing footsie with some of the Internet's conspiracy theorists.
This past spring, six months before the fall election, Erin O'Toole decided he didn't want Poilievre to be the Conservative Party's spokesperson on fiscal matters and shuffled him to another job. O'Toole's team insisted it wasn't a demotion — though it's not hard to imagine that Poilievre might have been a bit too edgy for the non-threatening and moderate campaign O'Toole ran this fall.
But Poilievre was returned to the position of "shadow finance minister" after O'Toole and the Conservatives stumbled to a disappointing election result in September. Poilievre now seems like something of a spiritual leader for the Conservative side.
Before the election, Poilievre enthusiastically attacked federal spending and the Bank of Canada's purchase of government bonds. He now points to this fall's inflation figures as vindication of his arguments. On Twitter, he has adopted the oh-so-clever hashtag of #Justinflation to underline his claim that the prime minister is to blame for recent price increases.
'Just inflation' catches on
Poilievre also has taken to using the phrase "just inflation" during question period — barely skirting the rule against using another MP's proper name — and four other Conservative MPs joined him in doing so in the House on Tuesday.
Inflation has dominated questions from the Conservative side through the first week of the 44th Parliament. So Freeland was prepared when she and Poilievre faced each other directly last Thursday.
After Poilievre needled Freeland for acknowledging that inflation is a "crisis" and challenged her to admit that it's a "homegrown problem," Freeland stood and listed off numbers that suggest Canada's level of inflation is in line with the rest of the G20.
At her next opportunity, Freeland referred Poilievre to the words of a National Post columnist ("The Conservatives may not want to listen to me about inflation, but I suspect they read the National Post") who wrote that inflation is a "global phenomenon" and also described Poilievre as "charging out of his corner, arms wind-milling."
Poilievre tried again and Freeland challenged him to tell Canadians that he thinks a pandemic is a time for "austerity."
In her own way, Freeland is a good match for Poilievre — and each might define something about their respective sides.
An erudite former journalist, Freeland is one of the key figures of the Trudeau era. She was the Liberal leader's first star recruit nearly a decade ago, then the woman he chose to put front and centre against Donald Trump, and the deputy prime minister he needed after the bruising campaign of 2019. Now she is the first woman to be put in charge of federal fiscal policy.
Poilievre, who casts himself as a populist fighter, is also a keen student of rhetorical combat. He once said that his approach is based on an understanding of the minutiae of legislation and a mastery of "simple facts."
Prime Minister Justin Trudeau's Liberals — content to drown the proceedings in values statements — have not always shown much interest in trying to win question period. In her own news conferences, Freeland has tended to prefer long and careful explanations.
Freeland pushes back
For those reasons, Freeland's recent efforts stand out.
After former Bank of Canada governor Stephen Poloz told CTV on Sunday that inflation in Canada was not caused by federal spending, Freeland waved his words in front of the Conservative benches — and reminded the Official Opposition that Stephen Harper appointed Poloz to preside over the bank.
On Tuesday, she corrected Conservative MP Gerard Deltell on the rate of inflation in Germany and challenged Poilievre to specifically identify which pandemic support program he would have cut.
But as more voices have jumped into the inflation fray, Poilievre has pivoted slightly to focus on the rising cost of housing.
On Monday, Poilievre raised the case of a 27-year-old constituent who couldn't afford to buy a house and wanted to know why prices had increased so much over the last year. In response, Freeland pointed to the money families would save thanks to the federal government's push for expanded child care.
Vulnerabilities on both sides
Poilievre came back to note that his constituent wouldn't be able to start a family until he could afford to buy a house.
There are unanswered questions for both sides here.
Freeland might not be directly responsible for the cost of groceries or the price of a detached home in Southern Ontario, but if neither issue resolves itself, the Liberal Party will have to worry about dealing with a frustrated electorate.
On housing, the Liberal election platform at least included a plan — one that was rated higher than the Conservative offer. But that might not be enough on its own to solve the problem.
Poilievre's hawkish stance on government spending, meanwhile, is undermined by the fact that his party just ran on a platform that promised nearly identical levels of spending. And the one major cut the Conservatives were willing to campaign on — walking away from billions in promised spending on child care — might be impossible to pursue if Ontario joins the federal child care plan.
Regardless, the cost of living and public spending will be some of the most valuable terrain in Canadian politics for the next while.
A fall economic statement is expected this month, with a budget due in the spring. So Poilievre and Freeland are likely to see a lot of each other in the coming weeks and months.
Beyond that, you can use your own imagination.
If O'Toole were to lose his tenuous grip on the Conservative leadership, attention would quickly focus on Poilievre — either as a potential candidate or as a potentially influential figure in deciding who leads the party next.
Whenever Trudeau decides to step aside, Freeland will be foremost in the pool of possible successors.
But we don't need to get ahead of ourselves. There is already much to confront over the next year. And much might depend on how well Freeland and Poilievre make their respective arguments.
Austria's Kurz quits party and parliament, stunning national politics – Reuters
VIENNA, Dec 2 (Reuters) – Austrian conservative leader Sebastian Kurz, who resigned as chancellor in October after he was placed under investigation on suspicion of corruption, said on Thursday he was quitting politics in a surprise move that leaves a power vacuum in his party.
Kurz has been the dominant figure of his People's Party and Austrian political life since 2017, when he became party leader and then chancellor, winning a parliamentary election and forming a coalition with the far-right Freedom Party. He told a news conference he was leaving politics altogether.
Register now for FREE unlimited access to reuters.com
Register
Reporting by Francois Murphy; editing by John Stonestreet
Our Standards: The Thomson Reuters Trust Principles.
The Message From Glasgow: Climate Politics Is Local – Forbes
The COP26 Glasgow summit was probably disappointing with little to show by way of policy progress. The conference president, Alok Sharma, noted: "We can say with credibility that we have kept 1.5 (degrees Celsius) within reach, but its pulse is weak." If this is the state of climate politics, it is depressing. Post Paris, aggressive decarbonization was supposed to be up and running. And the best we can say after the Glasgow summit is that it is alive!
Glasgow did move the policy needle a bit. Countries agreed on new rules for carbon trading, tackling methane emission, curbing deforestation, and phasing down coal (although ironically, coal consumption is up this year). In addition, developed countries promised to provide $100 billion annual climate aid between 2021 and 2025.
Did Glasgow influence U.S. climate policy? It neither accelerated nor derailed Biden's climate agenda. The reason is that climate politics is increasingly local. This is not to say that global climate conferences are a waste of time and resources. They shine the spotlight on climate issues and increase their salience. These conferences also motivate politicians (who probably do not want to look bad among their peers) to make climate pledges. For some, a weak pledge is superior to no pledge. For others, weak pledges demobilize the climate movement by creating an illusion of policy progress.
What Did Biden Hope to Achieve at Glasgow?
Biden's stated objective was to reclaim U.S. leadership on global climate policy. Of course, it is not clear what the U.S. gains by exercising this leadership? Vanity? A nostalgia for post-cold war Pax Americana?
And it is certainly not clear why U.S. leadership would further the global climate agenda. Does the U.S. have the financial or coercive power to motivate other countries? Is the U.S. the shining light that guides the world on climate issues?
The brutal truth is that the world has moved on without U.S. climate leadership. China leads in renewable technologies and the European Union in policy innovation. America's economic and coercive power is declining, as demonstrated in the huge budgetary deficits and the chaotic withdrawal from Afghanistan.
And its moral power – give us a break! Domestically, the U.S. has made modest progress in climate policy. Unfortunately for Democrats, blaming Trump for climate problems no longer works. Biden's own party held up the bipartisan infrastructure bill in the House of Representatives, which provides substantial funding for climate projects.
Biden's second objective probably was to reassure his domestic base about his commitment to climate issues. Chinese leader Xi Jinping did not attend the Glasgow meeting with little domestic backlash. Imagine the domestic backlash if Biden stayed home!
So, Biden attended along with a sizeable U.S. delegation. He said the right things and in the right tone. But is this sufficient to satisfy the U.S. climate movement which wants to see Biden deliver on the climate promises made during the campaign? The reality is that intra-party differences, the fight between the progressives and the moderates, is derailing progress on climate policy. The failure to persuade Democrats to implement his climate agenda undermines Biden's international and domestic credibility as a climate champion.
Intra-Party Squabbles and the Virginia Election Shock
Historically, U.S. presidents have exercised the bully pulpit power to mobilize legislators behind their policy agendas. But this requires the President to enjoy high levels of public support. And citizens probably support the President, who they perceive to be following the right policies and is able to deliver on them.
After a strong start, Biden has lost public support. As per RealClear politics, his net approval (approval-disapproval) has fallen by almost 30% points: from positive 20.3% 0n January 28 to negative 10.7% on November 27.
Democrats' loss in Virginia and a near loss in New Jersey gubernatorial races have further undermined Biden's image as a leader who can get things done. Sen. Mark Warner (D-VA) noted: "The voters of Virginia and the voters of America gave us the presidency, the Senate and the House. They expected us to produce." Indeed, within a few days of the Virginia election shock, the House passed the stalled bipartisan infrastructure bill. Arguably, Biden's climate credentials in Glasgow and at home would have been stronger, had the House passed this bill earlier. But Biden's own party denied him this opportunity.
Biden has another signature issue, the Build Back Better (BBB) bill, which has been passed in the House and is being considered in the Senate. This provides an additional $555 billion for climate projects. Does Biden have the political muscle to persuade Democrats to pass it? The problem is that Senators Manchin (D-WV) and Sinema (D-AZ) want cutbacks which the House Progressives might not agree to. This will be the second litmus test of Biden's leadership and legislative skills.
Enter Inflation and Gas Prices
Over the summer, many suggested that inflation is temporary. Very few do so now. While scholars debate what caused it, inflation will weaken Biden's Presidency. Americans have become accustomed to a low inflation economy with stable prices. Inflation is already affecting real household incomes as people pay more for electricity and for gas. For example, the average U.S. gasoline prices have increased by 50% since last year: from $2.27 per gallon to $3.40 per gallon.
How has Biden responded? With panic and confusion. He has asked OPEC countries to increase oil production and has authorized releases from the Strategic Petroleum Reserve. The deeper problem is that the climate movement implicitly promised a painless transition to a decarbonized economy. Yet, there will be pain, be it in terms of losing fossil fuel jobs or higher energy prices. Biden clearly did not prepare Americans for this inconvenient truth. The insistence on reducing fossil fuel production at home while asking for increased production abroad invites accusations of policy inconsistency from Republicans, blue-collar labor unions, and fossil fuel communities.
Overall, the U.S. climate policy is in a bit of turbulence. Inflation, COVID, the Afghanistan fiasco, rising urban crime, and supply chain shortages are contributing to Biden's unpopularity. Infighting among Democrats conveys the image of a "do nothing" party, to use Truman's famous words. Democrats have about 11 months until the midterms, when Republicans will probably win back the House. This means that the window to make legislative progress on climate policy is slowly closing. Does Biden have the political muscle to compel Democrats to focus on their agreements and not play up the disagreements on climate policy? This probably is the key issue to watch for until the November 2022 midterm elections.