Former downtown store owner starts unique art enterprise – OrilliaMatters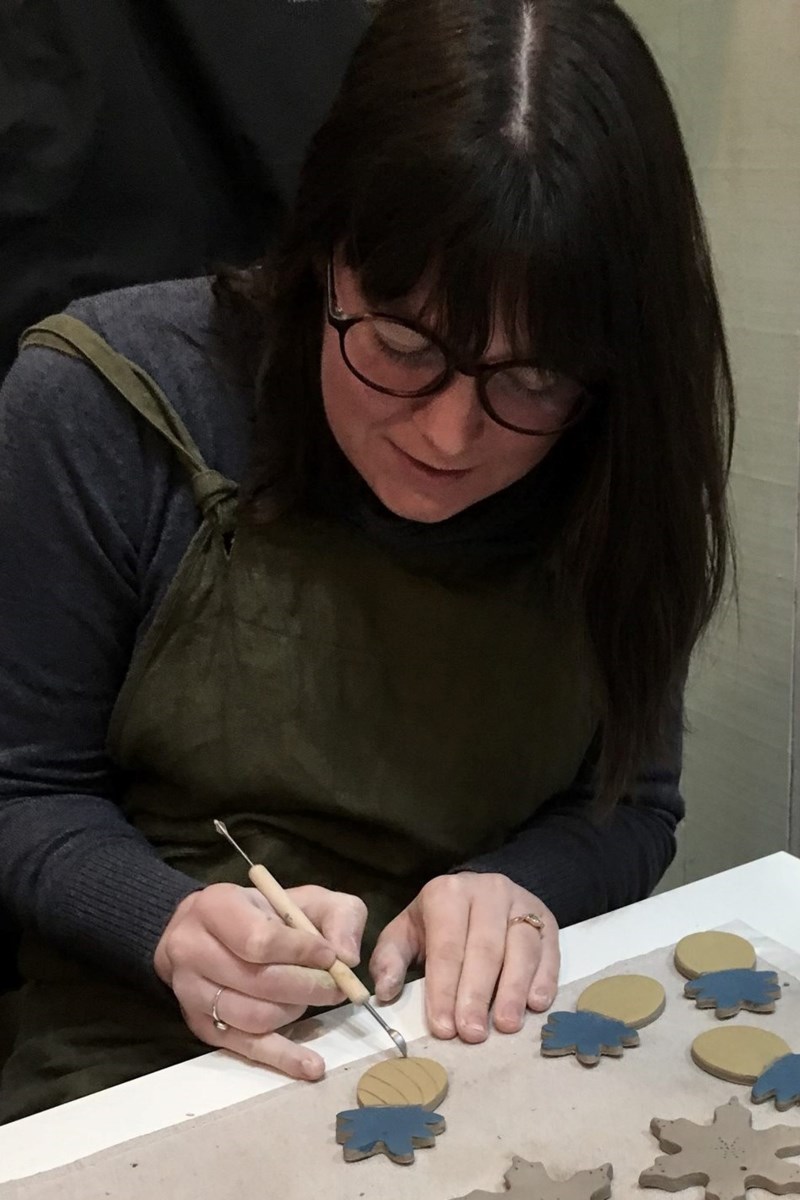 Good day and welcome to the Red Zone! Of course, the big news this week is that our smaller businesses, stores, and galleries are allowed to reopen, at limited capacities, with COVID-19 protocols in place.
It appears most of our makers with spaces are taking advantage of being able to open up, although some are still getting organized and haven't unlocked the doors as yet.
Makers Market and Hibernation Arts are open, Creative Nomad Studios is getting its elevator installed, and the library is still doing curbside pick up for this week. Check out your favourite gallery's social media to see what's going on.
As the pandemic rages and drags on and on, are your thoughts turning to the before-times? Do you find yourself saying, "I wonder what happened to so-and-so?" I found myself saying that, and so decided to do some sleuthing and find out!
Whatever happened to Olivia Neal, former owner of Harold + Ferne: The Local Goods Co.?
Well, firstly, she and her husband had a little baby girl, Norah!
Secondly, she closed the store to spend more time with her daughter and see where she wanted to go next.
Thirdly, she started Olivia Ellen Arts, her own line of art. Having her own art, available to purchase online, means she can work at her own pace and with the (limited) amount of time she has available, during nap times and evenings.
Olivia is excited to donate 20% of her sales to support women, disabled people, and others who are disadvantaged. Recently, she was able to donate $80 from her Christmas sales to support Black Women in Motion. These donations are an important aspect of her work and one she is very passionate about.
Olivia is mainly working in textiles, doing embroidery work, felting, quilting, and weaving. She also does mending! Her work is exquisite, painstaking, and beautiful.
Olivia takes commissions and you can check out her work online here. You can also follow her on Instagram @oliviaellen.arts, to see what she is working on, day to day.
Otter Art Club is starting a four-week watercolour workshop for youth, this Sunday. Join Travis and Naomi for watercolours, art, and inspiration in this special series. For more information and to register, click here. Otter Art Club also has an online shop with art supplies available to purchase. Check it out here.
There are only three more limited edition prints of Travis Shilling's work, We Are Always Together, available. Purchase and support the work of Otter Art Club. You can purchase this print here.
The Leacock Medal for Humour Gala Weekend is cancelled for the second year in a row, but, never fear, judging and prize giving will still happen. There are 77 books submitted, and a long list of 10 nominees will be unveiled on April 19. Excited to see who makes the cut!
Creative Nomad Studios has a series of workshops planned for early March and beyond, including block printing, making plant-based freezer meals, photographing artwork, and lots more. I will dive into these in greater detail next week, but you can check them out now and register here.
The Orillia Public Library has some virtual workshops available, including a travel workshop and an author's reading by Peter Jennings, coming up in March. Check the website for more information.
Speaking of workshops, there are so many online workshops, tours, lectures, and more, available every day, from all around the world! There are far too many to delve into here, but check your Facebook events and you can see what I am talking about. The pandemic is difficult in so many ways, but there are definitely more virtual opportunities than ever before, and I urge you to check some of them out. Most are free, to boot!
If you have arts news, send it to annaproctor111@gmail.com by Tuesday at noon to be included.
Stay in, stay safe, and stay warm!
Saskatoon-area painter, sculptor selected to make official Disney artwork — from Moana to Mulan – CBC.ca
A Saskatchewan artist is joining the elite ranks of those who bring the magic of Disney to life.
Denyse Klette is the first Canadian to be signed by Collectors Editions as an officially published creator of Disney Fine Art.
"It's magical," Klette said. "My mom and dad had Sunday nights as a special evening where … they'd make us hamburgers and french fries and we'd watch The Wonderful World of Disney. So I absolutely grew up on this."
Collectors Editions is not a Disney corporation, but it's the only independent company in the world with rights to produce and publish Disney Fine Art.
"They have a small group of artists from around the world that they've selected, and we get to design and create Disney art," Klette said. "The originals are sold in different Disney galleries and also they have reproductions done."
The painter and sculptor, who lives on an acreage just outside of Saskatoon, has a style that combines her mediums. Klette paints an image, then sculpts around the edges to give it a 3D aspect.
Klette said she is allowed to base pieces on almost any of Disney's animated works. She first produces a full-colour concept drawing on her iPad, then uploads it to the Collectors Editions team. The team sends it to the Walt Disney Company, which then reviews it and makes any corrections on proportions or colours. Disney then sends it back to Collectors Editions, which gives her the go-ahead.
So far Klette has created artwork inspired by the movies Beauty and the Beast, Moana, Tangled, Frozen, The Lion King, Lilo & Stitch and Mulan, as well as the characters Mickey and Minnie Mouse.
Klette's work is mainly on display at the Disney art gallery, located at the Epcot Centre in Florida, but she's allowed to sell in Canada through her website. Her originals or reproductions can also be found at galleries authorized by Collectors Editions.
"It's so much fun. I get to walk into my studio and paint Mickey Mouse," Klette said. "I still do like my non-Disney, but to do Disney art, it's such a magical and close-to-the-heart experience."
Klette said she has an extensive library of Disney books that she collected over the course of almost 40 years.
"It really is a dream come true," she said.
Noka Aldoroty, the director of Disney Fine Art at Collectors Editions, said in a statement that Walt Disney's ability to inspire others to create was his greatest talent.
"It amazes me that even to this day, his legacy is still inspiring artists to invent new ways of reimagining and interpreting Disney stories through their own creative lens," Aldoroty said.
"We saw in Denyse a truly unique point of view artistically, and we could not be more excited to share her talents with Disney fans and art collectors around the world."
Klette's work can be found in hotels, resorts, private collections, home decor products, bags, puzzles and more. She also signed a book deal in 2016 with Macmillan Publishers for a whimsical series of adult colouring books distributed worldwide.
She is currently working on pieces inspired by Cruella de Vil from 101 Dalmations and Ursula from The Little Mermaid.
The Morning Edition – Sask5:15Sask. woman first Canadian to be chosen as fine artist for Disney's Collectors Editions
From The Lion King to Moana, Disney animation has inspired decades of memorable characters. Now, a Saskatoon artist is joining the elite ranks of those who bring the magic of Disney to life. Denyse Klette is the first Canadian to be signed by Collectors Editions, as an officially published artist of Disney Fine Art. Denyse joins host Stefani Langenegger to talk about her unique artistic style and being signed to Disney. 5:15
Crypto art is gaining traction and one of its biggest stars is an artist from Thunder Bay – The Globe and Mail
Last year at this time, Michah Dowbak had never heard of crypto art. Last week, his latest drop grossed more than US$4.3-million – the bulk of that in the space of five minutes. This has cemented the Thunder Bay-born and raised artist – who goes by the name Mad Dog Jones – as a crypto-art sensation, with the most successful primary drop to date on the Nifty Gateway platform.
"How do you describe making $4-million in five minutes?" Dowbak said a few days afterward. "My hands were numb, for one. I couldn't feel my fingertips. My whole body was shaking."
Crypto art is digital art with an attached unique identifier, in the form of a non-fungible token (NFT), on the blockchain. NFTs can't be replicated and only the holder of the NFT can own that piece of crypto art.
The work is offered in "drops" – online sales that generally happen in two ways. Buyers can purchase an open edition (think of it as a numbered print, in traditional art terms). Each edition is sold at a set price, but purchasers have only five minutes to buy. The other part of a drop is the auction of a 1/1 edition, a single unique work. Bids for those are taken for 23 hours.
The sales are held on platforms such as SuperRare and Nifty Gateway, which is the site Dowbak uses. Nifty Gateway, which launched its platform last March, is owned by Gemini – the company founded and controlled by Cameron and Tyler Winklevoss, the twins perhaps best known for their Facebook history.
The crypto-art market has grown steadily, building to a buzz now audible in the mainstream, in large part because of the artist known as Beeple (real name Mike Winkelmann). Beeple's opus is currently for sale at Christie's – the first time the storied auction house is selling a purely digital work. Bids are being taken over two weeks.
Separately, on Wednesday, a work of Beeple's sold on the secondary market through Nifty Gateway for US$6.6-million.
Beeple made US$660,000 from that. Unlike traditional sales of art, artists in the digital space earn a percentage of secondary sales; 10 per cent is standard. This is a major departure from the fine art world, where an artist is paid only for the original sale.
The platform also takes a cut – on both primary sales and secondary sales.
Buyers often come from the crypto space, says Tommy Kimmelman, head of artist relations at Nifty Gateway. "It's largely technical-minded people who inherently understand how this stuff works. But we are starting to expand into other demographics." He says the platform did about US$8.5-million in sales in January and, in a staggering jump, more than US$50-million in February.
Owners might display the art through their online profile – their website, social-media accounts, etc. It can also be cast to a screen, such as a TV or a tablet to show in a physical setting.
A common question, as people try to wrap their heads around this, is: Couldn't somebody just screengrab the art and display it without actually owning it?
"Well, sure," Dowbak says. "Somebody could also take a picture of the Mona Lisa. But they don't own the Mona Lisa."
Dowbak, 35, grew up around art; his father, Damon, is a glass artist and the family business involves stained glass windows. Michah and his brother Josh were sometimes used as models. "There's a Last Supper window where I'm one of the disciples and my brother is Jesus," says Dowbak during a phone interview, while out walking his dog Diablo in the rural community of Kaministiquia, outside of Thunder Bay, where he lives.
You can detect a stylistic influence from those early stained glass windows on Dowbak's crypto art: the bright colours, the line work. The subject matter, however, is another thing. His work, as described by Nifty Gateway, is "a cyberpunk rendition of metropolitan lifestyle rooted in nature." A black cat lounges in a laundromat as laundry spins in one of the machines and breaking news scrolls by on the television above. Or a taxi is stuck in a storm, its doors flung open as its hazard lights flash, along with lightning in a purple sky.
Music was his first career. A classically trained violinist, high-school turntablist and keyboardist, Dowbak played with Coleman Hell, who had a breakout hit 2 Heads, in 2015. Dowbak was also making art for bands – such as posters and album covers.
He started his Mad Dog Jones Instagram page in 2017. The account gained traction and Dowbak's design career took off. He did work for Diesel, the Snowpiercer TV series, the Conor McGregor Reebok campaign, Maroon 5′s Super Bowl halftime show. With the art career momentum, Dowbak stepped away from music.
He heard about crypto art last summer and was immediately intrigued. He did his first drop on Nifty Gateway in November: 100 pieces that he sold for one dollar each.
He did more drops and charged more. There was some income from secondary sales, too. One piece that originally sold for US$3,500 was purchased by a secondary collector for US$18,000. It was steady and encouraging.
In a deal he put together by his manager Jonathan Simkin – who runs 604 Records, Coleman Hell's label – Dowbak collaborated with musician Deadmau5 for his next drop. (Digital art can also have a soundtrack.)
That drop grossed more than US$404,000. "Just total flabbergasted pandemonium of the mind," is how Dowbak felt. "It was really a turning point."
Still, it wasn't clear how much of that success was due to the involvement of star musician Deadmau5.
Another drop was planned for February 18. They called it Crash + Burn.
"There were a lot of eyes on this drop, in that world, to really get a sense of where the value is," notes Simkin. "Did we gross [that amount] with Deadmau5 because of his name, because of Michah's fan base, or a little of both?"
There were two open collections: Why would I care I'm just a cat? priced at US$2,500 each and Déjà Vu, priced at US$5,000 each. The first sold 909 works; the second, 328. The 1/1 auction for Boardwalk sold for US$388,888. The total was more than US$4.3-million. Of that, US$3.9-million was raised in those first five minutes.
"You have to understand how insane it is," says Simkin, who was watching from Vancouver. "I'm sitting there on Thursday when the timer starts: and I'm refreshing my screen … in disbelief, watching Michah becoming a multimillionaire in five minutes."
Another part of Crash + Burn involved those pieces Dowbak sold for one dollar each, way back in November when he was a crypto-art rookie. He released seven new 1/1 artworks. But they couldn't be purchased with money. The only way to get those pieces was to collect five of those US$1 works from his first drop and trade them for one of the new ones. Once the old works are sent to Dowbak, he destroys them ("burn" is the crypto term).
That pushed up the secondary-market price of those works that originally sold for US$1 – benefiting Dowbak, sure, as the strategy drove up his prices, but mostly rewarding the people who had invested in him.
"Holy crud," he said at one point as we spoke late Wednesday night. One of those original US$1 pieces had just sold for more than US$47,000 and another for US$49,000, as a buyer attempted to collect five to trade them in for one of Crash + Burn's new pieces.
Dowbak plans to pay off his parents' mortgage, contribute to care for his nephew, who has autism; and give to charity. And continue to make art.
"What's crazy, too – I don't want to sound cocky, but the year is not done. There's still more that we can do here," he says. "And that's what's breaking my brain about this."
Sign up for The Globe's arts and lifestyle newsletters for more news, columns and advice in your inbox.
'He stood out': The art, life and struggle of Hamilton artist and outcast Philip Stone – Toronto Star
He was born on Feb. 29, an unusual day for an unusual man.
Philip Stone would grow to become both a gifted visual artist and a flamboyant outcast — known as much for his ability to stand out as for his coveted art.
Stone saw magic in the world. He delighted in birds and butterflies, flaming flowers and swirling clouds. He explored femininity on the pages of drawings, as if femaleness was a side of him that needed to emerge. He found fantasy even in the surreal ways the mixture of colours change their hues. It all came out through paints on his palette, or the inks of the ballpoint pens he used.
"His passion was expression," a friend recalls. "A sheet of paper, on a canvas, on his person."
Living in an industrial city of starched collars and blue uniforms, Stone wore feathered caps and French berets, dramatic capes over patterned shirts with peacock blue pants held up by rhinestone studded belts. He was 6'2," and made taller still by his metallic platform shoes. One pair had goldfish in the heels.
Some knew him as a dramatic, excitable and proud gay man, to others he was timid, quiet and shy. But they all say Stone was like a shooting star; a twinkle in the starry night, delightful in the moment but all too brief.
Stone would be dead at age 24, dying hours after he was beaten by two men in a community that had long made him feel as though he didn't belong.
Yet even now, if you ask around, it's not uncommon for someone to remember and ask about whatever happened to Philip Stone.
Hamilton was booming in the 1950s. Manufacturing giants Stelco and Dofasco were pumping out steel and ambitiously growing, while neighbouring operations produced everything from Studebaker cars to Lifesavers. With such growing business, Hamilton was called the "lunch-bucket city," a place for industry, not art.
"So what? There are quite a few cities in Canada that wish they had what we have," former mayor Victor Copps once wrote. "A good industrial base means jobs."
Stone was born in 1952, the first child of Wesley Stone and June Little, a local couple who lived on Hamilton Mountain, a rapidly expanding suburban area atop the escarpment. Four more children — Steve, Marguerite, Marie and James — would follow. Wesley Stone worked for a bread company, while June stayed at home to raise the children.
Their house, situated on Mohawk Road East, was surrounded by expansive fields, giving the Stone children a vast space to play. It was there Philip Stone developed his fascination with nature. While his siblings were off jumping in the nearby creek and getting dirty, Stone would amble back and watch butterflies flutter about, the flowers dance in the wind and the bees gather nectar. He'd quietly consider what he saw and reproduce it all in a sketchbook with wildflowers he collected tucked inside. He did the same thing on family trips to conservation areas and the Canadian National Exhibition.
In the bedroom he shared with his brothers, Stone took up a corner to draw and paint. A crawl space was converted to a spaceship with boxes, tinfoil and paint. He would later paint spaceships and galactic scenes on another wall. Art and the act of creating seemed natural for him with a mother who painted water colours and did pottery. He was gentle and quiet, also like her. His voice was soft and effeminate.
As the boys turned to men, Steve Stone thought his brother Philip could not be more different from him. Steve was outgoing, athletic with a strong rapport. Philip was a loner, shy and docile. The difference was confusing for two so naive to the world.
"I felt my brother was a bit strange," Stone says of his thinking at the time. "My friends would describe him as a fairy."
While putting words to his sexual identity took time, Philip Stone was gay. His parents, sisters and younger brother accepted that but Steve did not understand him and he was not kind. In a heteronormative world with narrow social norms, he "didn't know how to interact" with Philip. The two "disconnected," he says. They went separate ways "like a fork in the road."
Philip's road took him to Hamilton's downtown core, where there was more diversity and vibrancy than on the Mountain. He commuted daily to Central Secondary School, where he took up an intensive arts program and was thought to be "unassuming … but leagues ahead of (other students) because he already had a defined style."
Primarily using bright ecoline inks, tempera paint and watercolours, he would craft surrealistic nature scenes and figures on thick stock paper. The scenes were often crammed with recognizable elements, such as birds, flowers, plants and insects, or abstract shapes with emerging humanistic touches. Often a female figure would be incorporated as a figure hiding or emerging from the rich matrix. It was as if he was portraying a female's reflection on life, or exploring the perceptions of a female person.
As his art emerged and was noticed, Stone signed his work "North Troll." He never explained the alias, but siblings and friends thought it was a result of a negative self-perception or a wish for discretion.
Still, Stone believed art was his future. There were "not a lot of avenues for an artist to make a living," friend David Byers remembers, but there was no doubt being an artist was who he was.
Stone didn't pursue any post-secondary training and instead found himself visiting coffee shops, studio spaces, galleries and even hair salons where creative types were known to hang out. He loved science fiction movies, listened to Led Zeppelin and was a dramatic storyteller. He devoured fashion magazines and went extreme with his personal style. The shirt and pants were colourful, the accessories were glittery and he was known to carry a black portfolio or decorated hat box. Paint was not limited to paper or canvas. He painted his shoes and his belts, designed rings and he stylized hats, once designing one as a gift for entertainer Liberace when he made an appearance at a bookstore.
"Phil was always flamboyant in his dress," friend Lynne Powell recalls. "He stood out. … We were still a pretty redneck kind of town."
Hamilton didn't have much of a gay community scene. You could be "out" in artistic circles, a union hall was known to host gay dances and there were areas for cruising. There were a few discreet gay bars, but attendance could be dangerous. Hamilton was known for gang activity, where two dominant gangs staked turf over much of the city and were noted by law enforcement as "a constant problem."
Police also were a concern. LGBTQ people largely saw officers as a threat, not allies. Stone and friends noted police seemed to hang out near the gay bars and thought they might accost them.
Among officers was Stone's brother, Steve. He joined the Hamilton police force in 1972 and it was common for him to see Philip out downtown while he was on patrol. Steve tried to avoid him. The force was unfriendly to gay people, he says now, and he felt vulnerable to be seen as an ally to his outwardly gay and flamboyant sibling in front of ignorant colleagues or the gang members he was tasked with policing.
"Hamilton had a tough and rough side," he says. "There was no tolerance for people who were different. It's like there was an unspoken standard and if you were outside that standard, there could be trouble for you."
Stone did not specify if that trouble came from police. In Toronto, it is well documented police often haunted gay venues where they harassed and intimidated members of the gay community. LGBTQ people were charged with various offences, even though same-sex sexual activity was decriminalized in 1969. Police activity culminated in the 1981 bathhouse raids that kicked off demonstrations in a fight for rights and a place to safely belong.
The conclusion for many was that "anyone who was gay might as well not (have) lived here."
James Stone says Philip "didn't care what anyone thought of his sexual identity and style. He didn't like Hamilton."
Philip Stone made regular visits to New York, Montreal and Toronto, living briefly in all of them. In Toronto, he hung out in the hippy bars of Yorkville and worked at a bathhouse mere blocks from the busy gay beer halls along Yonge Street.
All the while Stone continued to make his art and he began to sell some of it. Word spread quickly of his talent, including to prominent and powerful Hamilton families such as the Fortinos and the Brockers who all bought prints. A key friendship was with Bill Powell, an artist and entrepreneur who was, as The Hamilton Spectator reported, "a big-talking booster who was convinced that a city known for steel and gridiron also had a heart of artistic gold." Powell would later co-found the Festival of Friends, a summer event for the arts. It continues to this day.
In the early 1970s, Powell and his wife Lynne ran a coffee house and art gallery on Augusta Street. They wanted a place for artists who, Lynne Powell says, had "a hunger (among artists) for a place to belong."
The couple took Stone under their wing, framed his prints, displayed his work, hosted his first exhibition and got the word out. Prominent philanthropist and patron of the arts Irving Zucker caught on, bought many prints and championed Stone's talent.
Powell came to see his creative process, as Stone was almost constantly drawing, painting and creating. She describes his method as intricate, "the most incredible process to watch. … It was almost like birth."
Loading…
Loading…Loading…Loading…Loading…Loading…
"By placing a human face centrally, Phil Stone then proceeds to introduce his almost baroque cornucopia of the fertile, almost hothouse environment, where everything is teeming with life, energy and growth," a 1974 article in The Hamilton Spectator read. "His mannequinlike faces that emerge and recede from painting to painting may indeed present some new, escape world that has a life of its own."
Another review said his art "may just be considered brilliant, without qualification."
His prints eventually sold for up to $500. That would equate over $3,000 today.
Spending so much time together, Powell says Stone "had a way about him where everything was bigger than life. He went to Montreal, saw the Notre-Dame (Basilica) and talked of weeping at its beauty. He looked at things with wonder and amazement, almost childlike."
The Powells also saw his drug addiction. Stone frequently used drugs — "you name it, he took it," one friend said. On agreement with him, the Powells withheld his payments and divvied it out in rations to keep him from indulgence and excess. His drug use worked into his art. Later creations were increasingly described as fantastical, surrealistic and hallucinogenic, but they still sold like everything else.
Stone seemed more certain of himself. He surrounded himself with artists, including artist Allan Oddly, figure skater and painter Toller Cranston and Byers, a musician and founding member of the bands Simply Saucer and The Shangs. Stone also dropped the name "North Troll" and began signing his work with his real name.
Even with the support he had from figures like Powell and Zucker, Philip Stone and friends in the arts felt opportunities were limited in Hamilton.
Discouraged, Stone briefly abandoned his work and took up working nights at a post office. But the call to create remained and he quit to return to his art. By September 1976, the drawing he was working on was intended as a wedding gift for his brother Steve even though they were still estranged.
"All he ever wanted was to exist for his art," his father said.
His sexual identity and flashy fashion continued to make him a target for gangs and homophobic people. Someone called him "the strangest bird in town." It was not uncommon for him to be denied service in stores or restaurants for how he looked and to be called derogatory names walking down the street. He was robbed and beaten up. Stone's own brother Steve says it must have "been like torture."
Stone told his sisters he was deeply depressed. He felt like an outcast.
"I can't live anymore because society won't accept me," he told his mother.
It was late at night on a weekend in September when Stone and a friend were walking downtown and encountered two men outside a bar who taunted them and threatened a beating. A chase ensued, and while the friend was able to escape into a nearby hotel, the men caught up with Stone and he found himself at the brunt end of a violent altercation, unable to fight back. The Hamilton Spectator reported that in the scuffle Stone had been pushed into a moving car that didn't stop to offer help.
Badly hurt, Stone walked the few blocks to the emergency room of a Catholic hospital. It was a fruitless effort. He said he was denied care and surmised it was because of who he was, while a nurse reported the department was busy and he was impatient.
"It was not a priority case," a hospital spokesperson said at the time.
Stone's parents visited him the next day and insisted he see a doctor. He said he'd wait it out. Calling police to report the incident did not seem like an option, even if his brother was an officer.
That was the last time anyone saw him alive.
Stone was found dead in his bed by friends late the next day, Sept. 20. The exact cause of death was not clear. It could have been an accidental overdose of pain medication, as the newspaper reported. It could have been suicide after his distress of the situation and years of harassment. But given the violent beating he sustained, Stone's parents and siblings quietly believed he died as a result of his injuries. His death warranted investigation, but it was not to be.
James Stone remembers police visiting his parents in their Hamilton Mountain home and encouraging them to accept Philip's death as a suicide. An investigation or autopsy would only prolong their grief and pain, they said. The Stones did not push but quietly kept their own conclusion their son died because of the attack and being who he was.
"He just wanted to be himself but society wouldn't let him," Bill Powell told the Hamilton Spectator in tears. "They hassled him, they beat him. And he never did anything to anybody."
Four decades after Philip Stone was killed, Steve Stone remembers his brother with wonderment and regret. The circumstances around Philip's death and their disconnected relationship weigh on him.
"That time was not the most compassionate," he says.
Stone would spend over 40 years as a police officer, and work his way through different rotations, including a long stretch with the vice and drug unit. He was once named officer of the year. One project he headed was 1997's Project Rosebud, tasked with putting a stop to cruising by gay men in an area of Royal Botanical Gardens.
"It was not something I wanted to do," Stone says now.
He understood LGBTQ people had few places to go in the city. There were few bars, no community space, minimal social groups and no internet dating. But, police received complaints and he could not turn down the assignment. The project was executed relatively as planned and, out of Stone's control, a list of those arrested ran in the local newspaper, outing them. Hamilton's gay community was in uproar and an already tense relationship between the community and the police was increasingly aggravated.
"I'm not proud of (the assignment) now," Stone says.
Time has a way of allowing people to reconsider. There are things we do in ignorance that are corrected with experience, education and sometimes consequence. Stone looks differently on his brother Philip now. Philip's life and work is one of Steve's biggest sources of pride. Framed prints of Philip's work dominate the walls of Steve's home.
"He was a walking, talking piece of art," Stone says, believing their relationship would be different today. "He didn't fit into our world then."
With files from Mark McNeil and The Hamilton Spectator