Former James Bond actor Sean Connery dies aged 90 – British media – National Post
Article content continued
But Connery's influence helped shape the character in the books as well as the films. He never attempted to disguise his Scottish accent, leading Fleming to give Bond Scottish heritage in the books that were released after Connery's debut.
Born Thomas Connery on Aug. 25, 1930, he was the elder of two sons of a long-distance truck driver and a mother who worked as a cleaner. He dropped out of school at age 13 and worked in a variety of menial jobs. At 16, two years after World War Two ended, Connery was drafted into the Royal Navy, and served three years.
""I grew up with no notion of a career, much less acting," he once said. ""I certainly never have plotted it out. It was all happenstance, really."
Connery played small parts with theater repertory companies before graduating to films and television.
It was his part in a 1959 Disney leprechaun movie, "Darby O'Gill and the Little People," that helped land the role of Bond. Broccoli, a producer of the Bond films, asked his wife to watch Connery in the Disney movie while he was searching for the right leading actor.
Dana Broccoli said her husband told her he was not sure Connery had sex appeal.
"I saw that face and the way he moved and talked and I said: 'Cubby, he's fabulous!'" she said. "He was just perfect, he had star material right there."
Connery married actress Diane Cilento in 1962. Before divorcing 11 years later, they had a son, Jason, who became an actor. He married French artist Micheline Roquebrune, whom he met playing golf, in 1975. (Reporting by Andrew MacAskill in London and Will Dunham and Sonya Hepinstall in Washington Editing by Bill Trott, Andrew Heavens and Frances Kerry)
Daughter of former Ghana president warns of social media scam around his funeral – CNN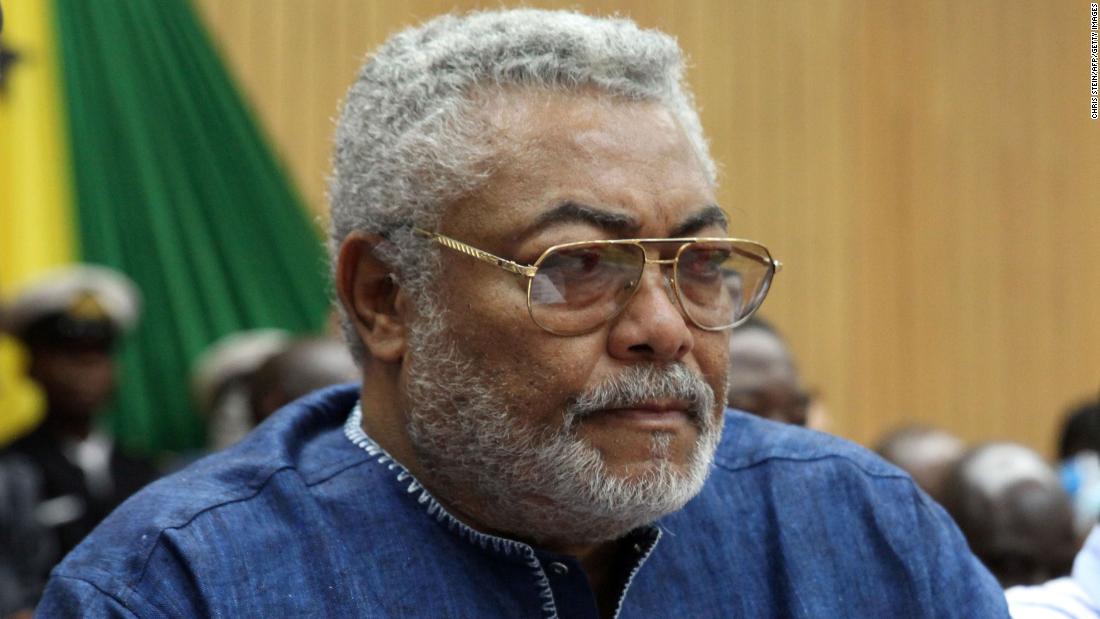 In a statement posted on Facebook, Zanetor Rawlings said the culprits are purporting to be her or a representative and urging individuals to make donations to funeral arrangements.
"The modus operandi of these criminals is to first engage the attention of unsuspecting people who genuinely wish to express their condolence to the MP, then they proceed to solicit for donations for the funeral arrangements," Rawlings, who represents the Klottey Korle constituency in Ghana's parliament, said on Friday.
Her office asked the public to be on the lookout and report anyone to the police who engages with them on social media claiming to be her.
One example that she posted shows an impersonator sending bank account information to a victim and asking them to "please try and donate if you can," claiming the funds are for "arrangements for the funeral."
She warned the culprits that "impersonation is a crime" and that "anyone caught will be prosecuted." According to Ghana's 1960 Criminal Code, a person who defrauds another using false pretenses "shall be guilty of a second degree felony."
Her handle on her official Instagram, Facebook and Twitter accounts is @zanetorofficial. Funeral arrangements for her father have not yet been finalized.
On Tuesday, Rawlings posted a photo on Facebook showing her dancing with her late father. "You're sorely missed, daddy," read the caption.
Jerry Rawlings, who seized control of Ghana twice in military coups before becoming the country's democratically elected president,
died earlier this month
at the age of 73.
Rawlings remained a power broker in Ghanaian politics while serving in various international diplomatic posts, including as the African Union's representative in Somalia.
New #HolidayPG social media campaign set to reward you for shopping local – CKPGToday.ca
Between Friday, November 27 and December 17, Chamber of Commerce elves will be out at local businesses, looking for local shoppers.
If your caught shopping local, you'll receive a local gift card on the spot. For additional opportunities to be entered for weekly prizes, take a picture of yourself purchasing from a local business during the contest period, tag the Chamber and use the hashtag #HolidayPG.
Participants will be entered into a weekly draw for a $100 gift card to a local business.
"This is a great way for us to help smaller local businesses who may not have the budget for a big marketing campaign to have something," says CEO, of the PG Chamber of Commerce Todd Corrigall.
All social media entries are eligible for the weekly draw, held every Friday afternoon from November 27th to December 17th, with the final draw on the 18th being a mega prize couples event for New Years Eve.
In addition, every Chamber member business that supports this marketing campaign will be entered into a final draw for an identical New Years Eve package
For more information about the #HolidayPG campaign visit the Prince George Chamber of Commerce on social media or its website at www.pgchamber.bc.ca.
National Virtual Press Conference on Canadian Teacher Mental Health
OTTAWA, ON, Nov. 26, 2020 /CNW/ – The Canadian Teachers' Federation (CTF/FCE) is holding a virtual press conference on Thursday, November 26 at 1:00 pm EST to release the findings of a national pandemic survey on the increasing issue of teacher mental health and well-being.
The CTF/FCE mental health check-in survey was conducted in English and French from October 16-25, 2020. Distributed through provincial and territorial Member Organizations, the survey received close to 14,000 responses. Teachers currently teaching completed the survey. This survey followed the CTF/FCE's pandemic research study completed in June 2020, which received over 15,000 responses over a two-week period.
Notable findings
46% of teachers are very stressed, struggling to cope, and increasingly feeling unhappy.
Upholding basic levels of daily physical health has become increasingly difficult for teachers.
There is a need for multiple layers of support – at the school, from the board, and from the Ministry, to listen to, recognize, and respond to the very real issues teachers, education workers, and their students are facing in this time of pandemic with meaningful changes to mitigate the effects of increased work-load and worries about the health and safety of their students, colleagues, and themselves.
The survey included 10 closed-ended questions on mental health and well-being, and included baseline questions on teachers' current mental state and stress levels, Likert scales on emotional and physical well-being, and comparative longitudinal questions.
To join the press conference:
Journalists are invited to contact Lynne Parisien before 11:00 am on November 26 to register. Upon confirmation of interest, journalists will receive login and password information to attend the event via Zoom, the complete survey report and province and territorial notable findings.
The Canadian Teachers' Federation
Founded in 1920, the Canadian Teachers' Federation is the national voice for the teaching profession.  As the national alliance of provincial and territorial teacher organizations, the CTF/FCE represents 18 Member Organizations and over 300,000 elementary and secondary school teachers across Canada.
SOURCE Canadian Teachers' Federation
Related Links
Source: – Canada NewsWire