Former Sault resident and butcher's daughter leads vegan push in 2023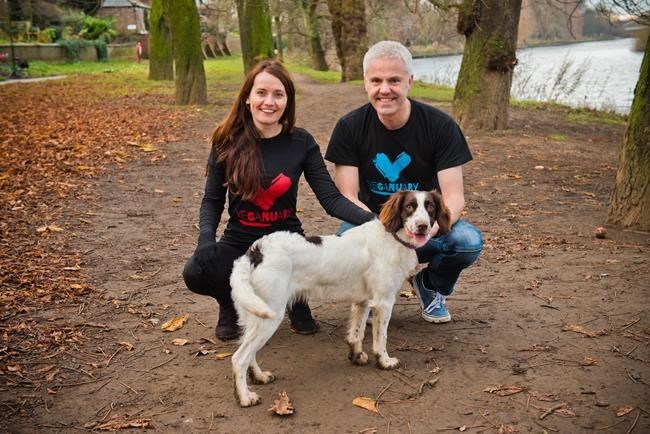 Growing up in Sault Ste. Marie with a father working as a butcher, Toni Vernelli loved eating meat. But it wasn't long before she noticed that the food she was eating was coming from the farm animals she loved. When Vernelli was 18, she made the switch to veganism.
More than 30 years of animal activism later, Vernelli is now the head of communications for Veganuary, a 31-day pledge that challenges participants to go vegan for the month of January.
The challenge gives people a chance to "dip their toes" in the lifestyle, Vernelli said.
Vegans abstain from consuming any animal products. That means eating no meat, dairy or eggs and for some, extends to not wearing leather or fur or using products tested on animals.
People love a challenge, she said, pointing to Dry January, a month dedicated to giving up alcohol, or Stoptober, when people quit smoking for October.
Previously, promoting a plant-based diet was awareness-based, promoting cold-turkey vegetarianism or veganism.
"That's not the way humans operate," Vernelli said.
The challenge started in 2014 in the U.K. and when Veganuary co-founders Jane Land and Matthew Glover decide to create the pledge to go vegan.
Veganuary is now a worldwide movement with participants around the world. Canada is in the top 20 countries by number of participants, ranking 18th.
A 2018 Statista survey estimated that 0.85 per cent of Canadians were vegan and another 2.3 per cent were vegetarian.
In general, there are three main motivations for signing up for Veganuary, said Vernelli: animal protection, health benefits and environmental concerns.
Even Canadian companies have begun to recognize the monthly challenge.
Four years ago while on a business trip to the U.K., Rob Felix took notice of the Veganuary campaign in a number of British shops such as Tesco.
"From that trip and seeing it in retail, we brought it back and had our first Veganuary event about three years ago," said the senior vice-president of merchandising at London Drugs.
While initially focusing on food, Felix said London Drugs has tripled the number of vegan products it sells from cleaning products to toothpaste and baby food, in January and year-round.
"Throughout the year, vegan alternatives are becoming more and more important," he said.
Plant-based meat substitutes were forecast to reach around US$148.9 million by this year in Canada, up more than $40 million from 2019.
Earlier this year, the federal government invested $1.4 million in plant-based protein company Big Mountain Foods Ltd.
"Plant-based foods are growing in popularity as Canadians are increasingly looking for options to incorporate greater variety into their diets," said Minister of Agriculture and Agri-Food Marie-Claude Bibeau in a news release at the time.
When Vercelli first became vegan 32 years ago, she said that it would be a struggle to find vegan-friendly alternatives. For example, non-dairy milk was once only available at an Asian grocery store or in specialty coffee shops. But now, she said it is difficult to find a cafe that does not offer a number of plant-based milk alternatives.
"Thirty years ago they thought you were mad, like 'What do you eat? How can you possibly survive?'"
She said veganism is now much more of an aspirational goal, where people often speak about the ways they have cut down on meat and dairy.
"Most people don't like the idea of eating animals … but changing a habit of a lifetime is hard," said Vernelli.
Upon signing up, Veganuary pledges will also gain access to a private Facebook group for support from other participants and will receive daily emailed recipes and nutritional tips.
If participating, Alyssa Fontaine, the founder of Plant Based Dieticians, recommends being mindful of not missing out on proteins and to get it from sources such as soy milk, tofu, beans and chickpeas.
While many vegans are required to substitute the B12 vitamin, a vitamin predominantly found in red meat, Fontaine said that for a month switch, additional supplements outside of a multivitamin and omega-3 are not necessary.
To brave the cold winter weather, Fontaine said that stews and stir fry are easy meals that can be packed with protein.
While it appears as though there are more vegan substitutes than ever before, she said that not all plant-based meat and dairy substitutes are made equal and it is better to stick to natural, whole foods to get the most health benefits from the lifestyle.
For Vernelli, making the switch to a more plant-focused lifestyle starts with making manageable substitutions.
"Then you can start experimenting with wacky things like quinoa and things you might never have had before."
This report by The Canadian Press was first published Jan. 1, 2022.
The Canadian Press
Fed Chair Powell: There will be more rate increases to get to our 2 percent inflation goal – CNBC Television
[unable to retrieve full-text content]
Ship-To-Ship Loadings Of Urals Hit Record High As Russian Oil Heads To Asia
Loadings of Russia's flagship Urals crude using ship-to-ship (STS) transfers in the Mediterranean surged eight times in January from December to a record in the first full month in which the EU banned seaborne imports of Russian oil.
STS loadings, used by traders to move the crude from smaller tankers onto larger ones to make the journey to Asia profitable, have soared since the EU ban came into effect on December 5, according to data from Refinitiv Eikon cited by Reuters on Tuesday.
The key STS loading points in the Mediterranean are near Kalamata in Greek waters and near the Spanish port of Ceuta in the Strait of Gibraltar.
STS loadings in the Mediterranean hit an all-time high of 1.7 million tons in January, an eightfold surge compared to December, per Refinitiv Eikon data and Reuters calculations.
Since Urals is no longer being imported into the EU, cargoes are being diverted to Asia, mostly to India, China, and Singapore.
While the Urals crude is now finding a home outside Europe, the low price of Russia's flagship grade is reducing Russian revenues from oil, due to the steep discount at which Urals trades relative to Brent Crude.
Russia's budget revenues from oil and gas plunged in January by 46% compared to the same month last year. Russian budget revenues from energy sales – including taxes and customs revenues – plummeted last month to the lowest level since August 2020.
In January 2023, the price of Urals grade averaged 42% lower than in the same month of 2022, as its discount to Brent Crude grew wider following the EU embargo and the G7 price cap, which came into effect on December 5. The average price of Urals in January, at $49.48 per barrel, was 1.7 times lower than in January 2022, when it averaged $85.64 per barrel, Russia's Finance Ministry said last week.
Russia is considering taxing its oil firms based on the price of Brent – instead of Urals – to limit the fallout on the Russian budget revenues due to the widening discount of Urals to Brent, Russian daily Kommersant reported last week, quoting sources.
By Tsvetana Paraskova for Oilprice.com
WestJet pilots' union says arbitration may be needed to avert a strike – CBC.ca
[unable to retrieve full-text content]
WestJet pilots' union says arbitration may be needed to avert a strike CBC.caView Full Coverage on Google News




Source link