Fortnite for iOS and macOS Will No Longer Be Cross-Platform When New Season Launches – MacRumors
Epic Games tomorrow plans to launch a new season of Fortnite, which is where new content, skins, map updates, and objectives are introduced for players to keep the gameplay fresh and dynamic. This week's season is Marvel themed.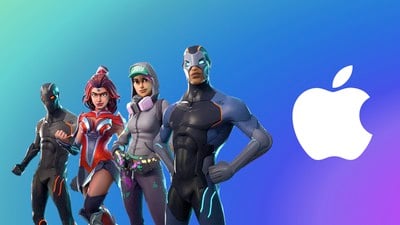 This morning, Epic Games confirmed that it has no plans to give in and remove the direct payment option from the Fortnite app on iOS devices, which means the app continues to be in violation of the App Store rules and cannot be updated. Fortnite for iPhone, iPad, and Mac will not get the new season.
In addition, when the new season is released, Fortnite for iOS and macOS players will no longer be able to play the game alongside Fortnite players on PCs, Android devices, and consoles, as there will be two separate versions of the game. The updated version with the Chapter 2 Season 4 content available to Fortnite players on other platforms, and the non-updated version of Fortnite on Apple's platforms.
Epic Games confirmed to The Verge that cross-platform play will not be possible, and ‌iPhone‌, ‌iPad‌, and Mac Fortnite players will only be able to play with one another. That means Fortnite users who have friends on other platforms will not be able to play with those friends.
Epic was hoping to get a temporary restraining order from a judge that would have forced Apple to allow Fortnite to remain in the ‌App Store‌ and be updated while the court case plays out, but the judge ruled against Epic Games because the current situation is of its own making.
The judge who made the decision told Epic that all it needs to do is "take it back to the status quo and no one suffers any harm," but Epic is apparently refusing to do so. During the hearing for the restraining order, Epic's lawyers said that the company wouldn't "go back into an anticompetitive contract." Epic has updated its FAQ with a similar statement:
Apple is asking that Epic revert Fortnite to exclusively use Apple payments. Their proposal is an invitation for Epic to collude with Apple to maintain their monopoly over in-app payments on iOS, suppressing free market competition and inflating prices. As a matter of principle, we won't participate in this scheme.
Apple on August 28 plans to terminate the Epic Games developer accounts, and it's not entirely clear what will happen when that occurs. Fortnite could stop working entirely, or it could continue to run in its current incarnation on devices that have already downloaded it.
It's not clear why Fortnite couldn't be updated on macOS because it's not distributed through the Mac App Store, but it seems that Epic Games is going to withhold updates on all Apple platforms.
Though Fortnite is in danger and will not be updated on Apple devices, Apple has been blocked from terminating the developer accounts for Epic International, which handles the Unreal Engine. Apple had originally planned to terminate the Epic Games developer account and all linked accounts, but Epic was able to get a temporary restraining order to prevent that from happening.
A hearing for a preliminary injunction is scheduled for September 28, and that's the next opportunity for either Epic or Apple to get a new decision that will shift the current orders. Unless Epic Games decides to comply with the ‌App Store‌ rules, Fortnite will be unable to be updated for at least the next month, if it continues to work at all after the Epic Games developer account is terminated.
Microsoft's Xbox Series X 1TB expandable storage priced at $219.99 – The Verge
Microsoft's first 1TB expandable storage drive for the Xbox Series X / S will be priced at $219.99. Best Buy has started taking preorders for the accessory, revealing a final price that had leaked recently. These expandable storage cards slot into the rear of both the Xbox Series X / S to match the internal SSD speed and provide 1TB of extra storage.
Microsoft's expandable storage solution is proprietary, and only Seagate has been announced as a manufacturer so far. Microsoft tells me more suppliers and additional sizes will be available in the future, but the $219.99 price will still surprise many potential next-gen Xbox owners.
The Xbox Series X ships with 1TB of SSD storage, and the Xbox Series S just 512GB of storage. Microsoft's pricing means the $299 Xbox Series S jumps to nearly $520 if you want to add the additional storage and bring it up to 1.5TB overall. That may make the larger Series X more appealing to those who need the storage, particularly as games will start to require it once they're enhanced for the Xbox Series X / S. Games for the Xbox Series S can be 30 percent smaller than the Series X, which will certainly help with storage options.
An alternative to this expandable storage is simply using any USB drive to store games when you don't need to play them. If they're not enhanced for Xbox Series X / S then you'll even be able to run them direct from USB storage, or you can simply copy them and use drives as cheaper cold storage.
It's difficult to judge the price of these expandable storage cards, simply because there aren't enough comparable PCIe 4.0 NVMe SSDs out there. Sony has chosen to allow players to slot their own drives into the PS5, but these drives will need to meet the speed requirements of the internal SSD. Those speed requirements mean that PS5 owners will need the very best PCIe 4.0 NVMe drives that are starting to make their way into PCs. Samsung announced its 980 Pro earlier this week, which looks like it might be an ideal candidate for the PS5 due to its fast read and write speeds. Samsung's 1TB option for the 980 Pro is priced at $229.99, but Sony has not yet revealed which drives will be compatible with the PS5.
The benefits of Sony's more open approach is that pricing on compatible PCIe 4.0 NVMe SSDs will inevitably drop over time due to competition and lower manufacturing costs. Assuming Sony certifies most high-end drives, there should be a lot of options. Microsoft will need more manufacturers producing its expandable Xbox Series X / S storage cards for competition to take place and prices to be lowered over time. It's going to be a waiting game to see exactly how Sony and Microsoft handle expandable storage options in the coming months, but it's clear from Microsoft's pricing that it's not going to be cheap for early adopters.
Xbox Joins TikTok, And Their First Video Is A Good One – GameSpot
Xbox has become the latest big brand to join the viral app TikTok. The Xbox TikTok account posted its first video today, and it's a treat.
The video features a narrator talking to themself and wondering aloud what they should post as their first video on TikTok. As the narration unfolds, the video cuts to the camera roll that shows a number of silly Xbox memes making fun of the Series S and Series X console designs. It's a very self-aware joke, and it works. You can check it out below.
In other news about the next-generation Xbox consoles, here at GameSpot we now have the Xbox Series X in our hands and we'll bring you lots of reporting on the console soon.
We have preview coverage lined up such as impressions, technical breakdowns, and discussions of the overall gaming experience, but that'll be coming in the near future.
For more on Microsoft's next-gen consoles, be sure to read our comparison of the Xbox Series X and Xbox Series S, and if you want to get a closer look at how the two systems stack against other console, check out our size comparison with the official Xbox Series mockups.
Microsoft also made a big splash this week by acquiring Bethesda and all the game studios under the prominent publisher. And if you're still looking to get one yourself, consult our Xbox Series X pre-order guide for help. You can also catch up w
Xbox Series X and S's 1TB storage cards could cost as much as $260 – Video Games Chronicle
The first retail listings for Xbox" href="https://www.videogameschronicle.com/platforms/xbox/">Xbox Series X and S's SSD storage expansions have priced a 1TB card at around $260 USD (£203), when converted from AUD.
The cards, which are manufactured by storage giant Seagate, have appeared for pre-order at multiple Australian retailers including EB Games, JB Hi-Fi and Mighty Ape, with prices ranging from $360 – $388 AUD.
The price points represent almost half the cost of an Xbox Series X in Australia ($750 AUD) and 70% the price of an Xbox Series X | S" href="https://www.videogameschronicle.com/platforms/xbox/scarlett/">Xbox Series S ($500 AUD).
The expansion cards are yet to be priced by any US or European retailers, despite Xbox Series X and S pre-orders opening earlier this week.
However, the spread of retailers and similar pricing suggests that the prices listed in Australia could be indicative of where the cards will eventually land elsewhere. It should be noted that the AU prices include tax.
Australian pricing for Xbox accessories is usually closely in line with other territories, and the suggested $260 expansion card price is also not significantly different from the current cost of similar 1TB NVMe SSD drives for PC" href="https://www.videogameschronicle.com/platforms/pc/">PC.
The Xbox Series X ($500 USD / £450) includes 1TB of internal storage, but the smaller Series S ($300 / £250) only ships with 512GB.
Xbox's 1TB expansion cards slot into the back of the console and allow users to store next-gen games. Standard HDDs can be used for backwards compatible titles.
According to Xbox Game Studios (Microsoft)" href="https://www.videogameschronicle.com/companies/microsoft/">Microsoft, game install sizes will be approximately 30% smaller on Xbox Series S than on Series X.
Xbox director of program management Jason Ronald told IGN that because of the smaller resolution texture packages required for games on Series S, which will run software natively at 1440p as opposed to at 4K on Series X, install sizes will be significantly reduced.
"With a performance target of 1440p at 60 fps, our expectation is that developers will not ship their highest level mipmaps to Xbox Series S, which will reduce the size of the games," he said.
"Ultimately the controls in the developer's hands. We've had this technology for a while that allows developers to intelligently choose which assets to install on which device they're playing on. So the flexibility is in the developers' hands to make sure the right assets are there."
.cls-1fill:url(#linear-gradient).cls-2fill:#fff