Four factors behind the Canucks' rocky start to the NHL season – Sportsnet.ca
The Vancouver Canucks and Toronto Maple Leafs square off for the second time this season, Saturday night on Hockey Night in Canada. Round 1 was a bloodbath that saw the Maple Leafs expose the Canucks' biggest weakness — one that, until corrected, will prevent the Canucks from having any kind of meaningful success this season.
The 7-3 drubbing at the hands of the Maple Leafs on Thursday was the eighth time the Canucks have allowed five or more goals in a game this season. The only team with a worse goals-against average are the Ottawa Senators, who have the worst record in the NHL. And while the Canucks have given their fans glimpses of hope, a four-game win streak, and flashes of strong play from their top players, this team has really only shown one thing consistently this season: An inability to defend, particularly off the rush.
In the loss to the Maple Leafs on Thursday, the Canucks allowed 17 scoring chances off the rush, more than any team has allowed in a game this season. Four of those rush chances resulted in goals, which is more than two teams, Dallas and New Jersey, have allowed all season.
The Canucks' inability to slow teams down is their biggest performance-based issue right now.
Going back to the start of the 2017-18 season, no team has allowed more goals off the rush in its first 14 games than the 19 Vancouver has allowed this season.
Only the 2018-19 Detroit Red Wings allowed more rush chances against (116) this deep into a season than the Canucks have this season (115). That Red Wings team went on to finish 28th place.
The Canucks currently rank last in the NHL in the amount of rush scoring chances they allow per game, 8.2, and goals allowed off the rush, 1.36.
So, let's look at four key areas to identify the root of the problem. Goaltending, personnel, coaching and execution.
Goaltending
Let's get this out of the way: it's not goaltending that is costing the Canucks defensively. When isolating goaltending performance (actual goals against average vs. expected goals against average) from team defence (expected goals against average), the Canucks sit 21st in the league. Their expected goals against, a direct reflection of team defence, is last in the NHL at 3.54 goals-against per game.
Captain Bo Horvat hit the nail on the head after Thursday's loss to Toronto saying, "It's not our goaltender's fault. We're giving up too many grade-A opportunities." J.T. Miller echoed his captain's sentiments stating, "We hung our goalies out to dry. I think we can be way better."
Personnel
The Canucks lost some key defensive contributors in the off-season in Jacob Markstrom and Chris Tanev. Markstrom covered up some of the defensive warts that are proving so costly this season.
In 2019-20, the Canucks ranked 29th in rush chances against per game with 6.8, and 24th in rush goals against with 0.77. Not quite as bad as this season, but still not the type of numbers you typically see from a team that went on to win multiple playoff rounds. Like Markstrom, the Canucks' best defensive defenceman last season, Tanev, also left via free agency. Vancouver wasn't a great defensive team with Tanev and they are proving to be a worse one without him.
Coaching
I think Travis Green is a good coach and I think he understands what he has in his group. Part of the reason the Canucks allowed so many rush chances and goals against last season was due to how they looked to create offence.
Vancouver did an excellent job cycling the puck and turning offensive zone possessions into goals. At even-strength, no team scored more goals off the cycle than Vancouver. In order to maximize the strengths of the team and create so many goals by working the puck in the offensive zone, the Canucks often had three or four skaters playing below the hash marks in the offensive zone. If a puck was turned over or a battle was lost, the opposing team would often have a chance to move up ice quickly and create off the rush.
In the end, Vancouver scored more by cycling than they allowed off the rush so this strategy seemed sound enough. This season, the Canucks are still giving up the rush chances we would expect, but the issue has been compounded by a concerning degree of disconnect between the forwards and defencemen.
Execution
The game against the Maple Leafs was a microcosm of the defensive issues that have plagued Vancouver for much of the season and it started early. Here are just a couple of examples.
Less than three minutes into the game a failed pinch at the blue line leaves J.T. Miller to defend Auston Matthews. Guess who won that battle?
In the second period, Adam Gaudette gets beat on a stretch pass up the middle of the ice. Odd-man rush, goal.
There were plenty more examples like this, but for brevity's sake we'll move on.
The Canucks are going to give up more rush chances than most teams. Partially because of how they play and partially because they are not a fast team. They can not compound the issue by lacking in execution and details.
Perhaps some of this is fatigue related, both mental and physical. After all, Vancouver started its season playing 13 games in 21 days including four sets of back-to-backs. Opportunities for the Canucks to fine-tune their game with practice time have been few and far between. However, these defensive issues were real with this team last season. The Canucks just did a better job of hiding them thanks to the Vezina-calibre play of Markstrom and of course, bubble Thatcher Demko.
Goaltending has been fine this season. With the departure of key players, this year's Canucks simply aren't as good as last year's Canucks. That was a team that performed in the playoffs beyond what it would likely be capable of over a long stretch of time — say, a regular season.
Despite what some fans in Vancouver might want to hear right now, I'm not hanging much of the blame for the Canucks' current plight on Travis Green. The blue line isn't good enough and it shows most nights. I do believe this Canucks team is likely better than it's shown so far, but not better than the unrealistic expectations some set for the group at the start of the season.
One thing is for sure, until this team finds a way to limit the inordinate number of dangerous rush chances it's allowing, it will lose far more often than it wins. Trying to limit the Leafs to less than the 17 they had on Thursday is a good starting point.
What made Rheal Cormier one of Canada's greatest baseball players – Sportsnet.ca
TORONTO – Early in the 2000 season, Rheal Cormier and the Boston Red Sox were visiting Jason Dickson and the Anaheim Angels, as they were known then, bringing the New Brunswick pitchers together for the first time.
"The bullpens are stacked (at Angel Stadium), one on top of the other, and that's where we struck up a conversation through the fence," recalls Dickson. "I'll never forget meeting him that first time. I'm the one that probably should have went up to him and introduced myself. I was too nervous to, but he didn't hesitate to come up and congratulate me on being in the big leagues, ask how my family was doing, ask if I talk to people at home, get into a discussion around New Brunswick and senior baseball and fishing and hunting and all those things that make you a Maritimer. It was just like talking to one of the guys at home."
Their shared roots made them a rarity in the majors, not only as Canadians, but as two of the three New Brunswick natives at the time enjoying success at the sport's highest level, along with slugger Matt Stairs of Fredericton.
Cormier, from Cap-Pele, was five years older than Dickson, from Chatham, so the two didn't cross paths on their way up to the majors. By the time they did meet, Cormier was establishing himself as one of the steadier left-handed relievers in the majors after Tommy John surgery ended his days as a starter, while Dickson was trying to return after a year lost to shoulder surgery.
"You'd hear the stories about Rheal, just like blue-collar work ethic, chopping wood, doing his thing — very grounded with who he was. Just unassuming, kind and generous," says Dickson, who is now Baseball Canada's president. "The last time I saw him was at Senior Nationals in Miramichi — I was there for Baseball Canada, and Rheal kind of snuck in late to the game. He wanted to see some people, but no big entry, no big whatever. I gave him a hug, asked him how he was doing, and that was so him, so unassuming. The guys he played with often talked about how hard he worked, didn't take anything for granted, and I think that sums him up."
Those are some of the lasting memories of Cormier, who passed away Monday after fighting pancreatic cancer. He was 53.
Our deepest condolences to the family of Rheal Cormier who passed away today after a courageous battle with cancer. Rheal played MLB for nearly 16 years; pitching for the Phillies from 2001-2006. Rheal was a supporter of The Foundation and will be deeply missed. pic.twitter.com/agdKhCl4QG

— Darren Daulton Foundation (@TheDDFoundation) March 8, 2021
Quietly, Cormier enjoyed one of the greatest careers by a Canadian in MLB history, with his 683 games second only to Paul Quantrill's 841 among Canuck hurlers. In 2012, he was inducted to the Canadian Baseball Hall of Fame.
Cormier posted a 4.03 ERA over 1,221.2 innings while producing 12.8 WAR as calculated by FanGraphs, logging a career-best 186 frames during his first full season in the majors with the 1992 St. Louis Cardinals, who chose him in the sixth round of the 1988 draft.
Trades to Boston in 1995 and then Montreal in 1996 allowed him to log 159.2 innings over 33 games for the 1996 Expos team that went 88-74 and finished second in the National League East. But his elbow blew the next year, Tommy John surgery followed and in 1999 he rejoined the Red Sox, where he transitioned to the bullpen and posted a 3.69 ERA in 63.1 innings.
During the '99 playoffs, he logged 7.2 innings over six appearances without allowing a run.
After the 2000 season, Cormier joined the Philadelphia Phillies, with whom he logged a 3.62 ERA over 363 games until a 2006 deadline deal sent him to the Cincinnati Reds, where his performance dipped. In May 2007, the Reds released him after just six appearances, though he joined Atlanta on a minor-league deal afterwards, and finished his professional career with five games for triple-A Richmond.
And though his MLB days were done, Cormier did pitch for Canada at the 2008 Beijing Olympics, a full-circle achievement after being on the 1988 team at the Seoul Games when baseball was a demonstration sport. Cormier also represented Canada at the 1987 Pan Am Games and Intercontinental Cup, and 2006 World Baseball Classic.
"Rheal probably doesn't get as much credit as he should," says Dickson. "I always go to the different websites and pull up Rheal's stats to show people, and they're shocked to see how long he played and how well he did it. That's just him, just kind of flying under the radar."
Cormier is survived by his wife, Lucienne, and two children, Justin and Morgan.
Gushue Falls to 2-1: Smith Makes Shot of the Tournament – VOCM
It was a classic matchup at the Tim Hortons Brier last night between defending champ Brad Gushue and former champ Kevin Koe.
They were tied in the eighth end but Koe eventually put it away 9-7 to remain undefeated.
Gushue, whose next match comes tonight against Saskatchewan, falls to 2-1.
Greg Smith, representing NL, dropped to 0-4 after an 11-4 loss to Nova Scotia.
Down 7-1 and nothing to lose, Smith made the shot of the tournament in what TSN is calling the "Rock Around the Clock." Smith plays tonight against winless PEI.
"Who cares, we're down 7-1."@gregsmithnl of Newfoundland and Labrador with an around the horn for the ages at #Brier2021!

🔥🥌⬇️ pic.twitter.com/iS2jGpNT5o

— TSN Curling (@TSNCurling) March 8, 2021
James unbeaten as captain as Team LeBron beat Team Durant at NBA All-Star Game – TSN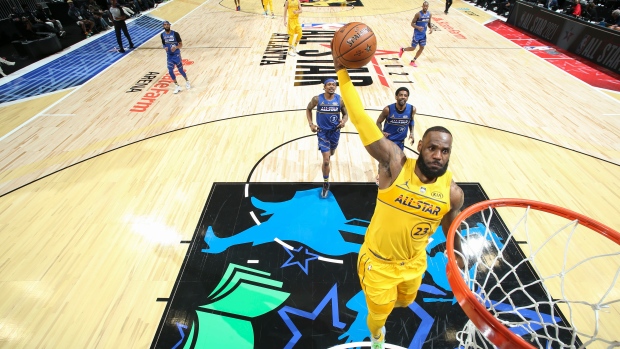 ATLANTA — In the midst of a pandemic, this was assured of being an NBA All-Star Game like no other.
The stands were mostly empty. The crowd noise was largely piped in. There were no A-list celebrities sitting courtside. Two players had to sit out after getting haircuts.
But in the end, it had a familiar feel.
Team LeBron won again.
Knocking down shots from all over the court, LeBron James' powerhouse squad closed the first half with a dominating run to set up a 170-150 romp over Team Durant in the league's 70th midseason showcase Sunday night.
The top vote-getters in each conference have picked the teams the last four years, a duty that James has earned every season.
He's now 4-0, having defeated Stephen Curry's squad in 2018 and teams selected by Milwaukee's two-time reigning MVP Giannis Antetokounmpo the previous two years.
This time, James drafted his two former adversaries and blew away Kevin Durant's team.
"I think he's got a future as a GM," said Damian Lillard, another of James' inspired selections. "He always gets it right."
Antetokounmpo was the game's MVP after shooting 16 of 16 for 35 points, even making all three of his attempts beyond the 3-point stripe. It was the most baskets without a miss in All-Star Game history.
"I'm just having fun," the Greek star said. "Sometimes when you're having fun and not thinking about the outcome, you just let your instincts take over."
Curry chipped in with 28 points, while Lillard had 32.
James spent most of the night admiring his drafting skill from the bench. He played less than 13 minutes, scored just four points, and didn't return to the court in the second half.
Instead, he munched a snack on the bench.
"I know he was managing his minutes tonight," Curry said. "We had a great time, representing him as captain. It was a memorable night for sure."
It sure was for Curry, who won the 3-point competition beforehand, then went 8 of 16 from beyond the arc in the game.
Lillard matched him, also making 8 of 16 from 3-point range.
This All-Star Game sure was different than the previous 69.
Determined to pull off an exhibition that is huge for TV revenue and the league's worldwide brand, the NBA staged the game in a mostly empty downtown arena, a made-for-TV extravaganza that was symbolic of the coronavirus era.
Despite extensive safety protocols in place, two players didn't even make it to tipoff. Philadelphia stars Joel Embiid and Ben Simmons were ruled out because they got haircuts from a barber who tested positive for COVID-19.
The only good thing for Durant: He didn't have to participate in this shellacking, sitting out the game with an ailing hamstring.
Bradley Beal led Team Durant with 26 points.
On a night highlighting Historically Black Colleges and Universities, Team LeBron swept the first three quarters and cruised to the final target score, earning a total of $750,000 for its charity, the Thurgood Marshall College Fund.
The game got out of hand late in the second quarter.
With scant defence being played, Team LeBron took turns dunking off alley-oop passes. Chris Paul delivered back-to-back lobs that Lillard and Curry slammed through. Then, it was Paul on the receiving end of a payback pass from Curry.
After showing it could handle shots up close, Team LeBron headed outside in the final seconds of the half.
Lillard pulled up for a 3-pointer from the half-court line. Not to be outdone, Curry knocked down one from virtually the same spot.
"It was a lot of fun," Lillard said. "Me and Steph shoot a lot of 3s. We shoot deep 3s. It was 3, 3, 3, 3, 3."
Amid the joyful moments, the atmosphere at State Farm Arena was downright eerie compared to a normal All-Star Game.
Instead of a packed house, with A-list celebrities crammed into prime courtside seats, this game was attended by a smattering of hand-picked guests. They had plenty of room to spread out in a 17,000-seat venue that was essentially transformed into a giant television studio, with socially distanced spectators kept far from the court.
Towering video screens were set up behind the benches. Vegas-style lights flashed around the arena. Recorded crowd noise blared over the sound system. The entertainment was provided by the host Atlanta Hawks, who didn't have any players in the game but were represented by their cheerleaders, drum line and DJ.
To address fears that one of its biggest events would become a super-spreader for a virus that has killed more than a half-million Americans, the NBA pared down its usual weekend-long ritual of extravagant parties, gridlocked streets and people watching
This All-Star Game was a one-night-only event, with a pair of skill competitions held shortly before the game and the Dunk Contest squeezed into the halftime break. The players flew in Saturday afternoon and were largely confined to a nearby hotel except for their time on the court.
"This is when everyone in basketball all over the world comes to one city," James said before the game. "We're able to sit back and go, 'Wow, this is the game we have built.' It's a beautiful weekend for all walks of life, on the floor and off the floor.
"But I'm sitting here in my hotel room, isolated. My family's not here. I'm by myself. It's just different, to say the least, compared to previous years."
OTHER WINNERS
All-Star Weekend was crammed into a few hours.
During the pregame, Indiana forward Domantas Sabonis defeated Orlando centre Nikola Vucevic in the Skills Challenge, redeeming last year's finals loss to Bam Adebayo. That was followed by Curry knocking off Utah's Mike Conley to capture the 3-Point Contest for the second time. The Warriors star added to the long-range title he won in 2015.
At halftime, Portland's Anfernee Simons defeated New York Knicks rookie Obi Toppin in the Slam Dunk Contest, nearly kissing the rim with his winning throw-down. Cassius Stanley of the Indiana Pacers was eliminated in the opening round.
TIP-INS
Team Durant: Zion Williamson of New Orleans started the game in place of Embiid. The Pelicans forward had 10 points. … Durant's team heaved up 72 3-pointers, but made only 27 (37.5%).
Team LeBron: Paul had 16 assists, passing Magic Johnson's record for most career All-Star assists with 128. … Lillard ended the game with another long 3-pointer. Curry was waiving to the spectators before it even went in. … James' team shot 63.6% from the field, including 31 of 61 from 3-point range.
UP NEXT
The 71st All-Star Game will be held Feb. 20, 2022, at Rocket Mortgage FieldHouse in Cleveland. The 2023 game is set for Salt Lake City, followed by Indianapolis in 2024.
___
Follow Paul Newberry on Twitter at https://twitter.com/pnewberry1963 His work can be found at https://apnews.com/search/paulnewberry
___
More AP NBA: https://apnews.com/NBA and https://twitter.com/AP_Sports