From autism to public health, a year of backtracks in Ontario politics – National Post
TORONTO — Doug Ford's government has backtracked on about a dozen policies and promises this year — an unprecedented amount symptomatic of an on-the-fly style of governing that marked his early days in power, critics and observers say.
From a wildly unpopular Ontario autism program to cuts to municipal public health and childcare funding to a promise to upload Toronto's subway, the year has seen many significant plans yanked back, often after outcry reached a fever pitch.
"I think the bottom line is their cut-first-and-think-later approach to governing simply isn't working," said Green party Leader Mike Schreiner. "They're essentially admitting it's not working either, given how many things they've backtracked on."
Early this year, the backtracks began when the government scrapped an element of a then-proposed law that could have opened up the province's protected Greenbelt to development. The Tories had faced criticism over it, but nowhere near the level that was still to come over a new autism program announced the following month.
Then-social services minister Lisa MacLeod announced that the government would clear 23,000 children from the waiting list by giving everyone up to either $20,000 or $5,000, depending on age and family income — far short of the amounts needed for intensive therapy. Condemnation was swift and furious, with parents staging sustained protests over a program they said would ensure children couldn't access the amount of treatment they need.
After initially standing firm, by the next month the plan had essentially been scrapped, and in June so was the minister, demoted in a cabinet shuffle.
That shuffle, which saw many top ministers moved around and many new faces promoted into cabinet, marked a reset of sorts, said Jamie Ellerton, principal at Conaptus public relations and a former Tory staffer.
"I think if you look at the combative defiance that defined the early tenure of this government it was clear it wasn't resonating with the province," he said. "There was a lot of on-the-fly, learn-as-you're-going processes in this government and I think they kind of changed out of necessity."
The day after the cabinet shuffle also saw the departure of the premier's controversial chief of staff, Dean French. The new chief of staff, Jamie Wallace, has been credited for ushering in a more constructive and professional environment.
"They just kind of came out guns blazing in those early days," Ellerton said. "They didn't do the homework to kind of line up and listen to where people were at. One of the things they've gotten a lot better at doing in recent months is listening."
That sentiment is echoed by the premier's office.
"After moving at an unprecedented pace in our first year, we have demonstrated that we are a government that listens," spokeswoman Ivana Yelich said in a statement.
The government also initially stood firm on municipal funding cuts to public health and child care, but after weeks of backlash from mayors including through news conferences, petitions, and a public campaign, the province reversed course — partially.
It cancelled the in-year, retroactive cuts that were the focal point of mayors' anger, and later announced that most of the rest would go ahead, just on a longer timeline.
Interim Liberal Leader John Fraser said that was one example in which the Tories "softened the edges."
"Some of the reversals, I describe it as they've taken three steps backward and one step forward," he said.
Cuts to legal aid funding caused a huge uproar eariler this year, and recently the new attorney general announced that while this year's $133 million — or 30 per cent — cut would go ahead, further cuts of $31 million planned for the next two years would be cancelled.
Teachers were upset by the government announcing plans to increase high school class sizes from an average of 22 to 28 and require students to take four e-learning courses to graduate. The new education minister has since partially walked that back to a class size increase to 25 and two e-learning courses.
"They've taken things from bad to much, much worse and now they're walking it back a tiny bit, but it's still gone from bad to worse," said NDP Leader Andrea Horwath.
Genevieve Tellier, a political science professor at the University of Ottawa, said next year may see more reversals.
"My guess is that people will still fight because those who have been opposing the government kind of won," she said. "So others will try the same tactic, I believe, because there are potential gains to be made…Will the government do it again? That's where I'm not too sure."
Other notable backtracks include deciding not to upload Toronto's subway system, as promised during the election, un-cancelling plans for a French-language university, and swiftly revoking two lucrative foreign appointments after reports emerged they had personal ties to Ford's then-chief of staff, Dean French.
In a more unusual scenario for this government, a backtrack just this month caused outrage, rather than the other way around.
Municipal politicians and transit advocates in Hamilton were incensed after learning the government was backing away from a promise to support a light-rail transit line there, citing rising cost estimates. The critics showed up to a scheduled press conference by Caroline Mulroney, which was soon cancelled, with staff blaming security concerns.
This report by The Canadian Press was first published Dec. 27, 2019.
Mitch McConnell is the apex predator of U.S. politics – The Washington Post
"I like the evil ones better," McConnell replied, with a thin smile.
No joke. At 78, after a half-century in politics, Addison Mitchell McConnell Jr. now stands at the precipice of what most Republicans only a generation or two ago would have said was impossible: conservative domination of the Supreme Court.
For McConnell, this is a personal triumph worthy of the history books. But history may record it differently. It seems probable that McConnell's epitaph will note instead that no one since the Southern segregationists of the 1940s and 1950s did more to cripple the proper functioning of all three branches of government, not to mention faith in the very idea of one America.
Historian Rick Perlstein has long described this chapter in the American story as "Nixonland," a jagged terrain of White racial fear and populist resentment of the federal authority that began in the mid-1960s. But while GOP presidents from Richard Nixon to Donald Trump have tilled that soil when it suited their purposes, McConnell has been, over the years, its most constant gardener, mixing arcane, cynically hypocritical legislative procedure and judicial appointments to turn emotion into lasting policy.
He has jammed hundreds of conservative judges onto the federal bench, making it younger, Whiter and more male — and far more partisan — in the process. In concert with the Federalist Society, McConnell is transforming the federal judiciary from sometimes-defenders of the poor, immigrants and people of color into the Praetorian Guard of corporations, the wealthy, and those whose cultural and racial privileges make them, at best, oblivious to their collective responsibility to all Americans. At the same time, McConnell is standing in the schoolhouse door of dozens if not hundreds of pieces of needed legislation, rendering the "world's greatest deliberative body" an empty pantomime of itself.
And if he succeeds in forcing another pliable justice onto the Supreme Court, he may prove responsible for undercutting whatever legitimacy a possibly disputed presidential election might have if, as many suspect, it must be settled by that court. One reason to move fast and give the court a 6-3 conservative majority? To take the relatively independent (and therefore unreliable) Chief Justice John G. Roberts Jr. out of the equation.
McConnell has been around so long people think they know him. But they don't, and that is by design. When you are the apex predator of U.S. politics, you don't really care what anyone thinks. In Kentucky, where I worked for six years as McConnell was beginning his rise, he is not so much loved as endured. People talk about him like the rainy Ohio River Valley weather: It's a pain, but it waters the crops. He retains an iron grip on state politics, has been elected statewide six times and is likely to win a seventh term in November. Democrats are pouring millions into defeating him. It's not a great bet.
McConnell, reduced to his essence, is a state party chairman on steroids. His eye for detail, and his feral sense of approaching threats, is total. In the summer of 1968, working for a U.S. Senate candidate that year, he traveled the state from Pikeville to Paducah with another young Republican, Jon Yarmuth, now the Democratic member of the U.S. House representing Louisville. After work, as they hunkered down at yet another rural motel, Yarmuth would suggest that they go out for a drink. Mitch would have none of it. "What he wanted to do was sit in the room," Yarmuth recalled, "and read every report and statistic about the county."
His granular focus on local matters derives in part from the fact that McConnell isn't Kentucky-bred. He was born in North Alabama and spent his childhood there and in Georgia before moving to Louisville as a teen. He and his family lived in the city's South End, where newcomers from the Deep South settled in a city whose moneyed ruling class saw itself as tweed-clad country cousins of the Eastern elite. McConnell absorbed the middle-class resentments of his neighborhood.
From boyhood on, he pursued every title he could find: high school student council president; college student president, law school bar association president, state president of the Ripon Society and so on, up the ziggurat of perches and entitlements, all the way to Senate majority leader.
These days he pitches himself to historians as the heir to the godfather of distributed power, James Madison. McConnell has a point, in one sense. The contrapuntal effect of the federal courts is valuable, even indispensable; a piece of Newtonian balance that the founders knew was important. But McConnell is not interested in balance: He is interested only in total dominance, and in a bulwark against change, whatever the cost to the country.
Why Supreme Court politics in 2020 look way different from 2016 or 2018 – CNN
We don't know what the ultimate effect of any Supreme Court battle will be on the 2020 election. Still, we can look at the playing board. It suggests the 2020 electoral calculus has fundamental differences with the electoral math of 2016 and 2018 when it comes to Supreme Court nominations.
Yesterday, I
noted that more
of former Vice President Joe Biden's supporters have said the Supreme Court was important to their vote than Trump supporters. That's very different from 2016, when Trump backers said the court was more important to their vote than Hillary Clinton backers.
The contrasts go deeper than that, however.
Trump, though, has centered pretty much his entire presidency around appealing to his base. He's done so, oftentimes, at the expense of bringing in more moderate voters to his cause. It's paid off for Trump.
In other words, Trump already has the base behind him in a way he didn't at many times in 2016. Any more gains he could make with them would be very limited.
There are distinctions between the 2018 and 2020 Supreme Court nomination showdown as well.
The Kavanaugh hearing, if anything, rallied the Republican base in red states.
The 2018 House elections tell a similar story. Unlike in the Senate, where a limited number of seats is up every cycle, every House seat was up for election in 2018.
House Republicans were not helped by the Kavanaugh hearings.
The 2020 presidential race will be fought on, if anything, more favorable terrain than the 2018 House elections. Democrats don't need to worry about winning a majority of congressional districts. They only need to win a majority of electoral votes.
The other two best pickup opportunities are in states where Trump is likely either up by a point or two (Iowa) or down by a point or two (North Carolina). In neither state is the Democratic Senate nominee running too far ahead of Biden.
The bottom line is that, while any estimates of what the upcoming Supreme Court fight means for the election are just guesses, 2016 and 2018 are not good road maps to understanding the dynamic in 2020. The situations are quite different.
The wildly unpredictable politics of the SCOTUS opening – CNN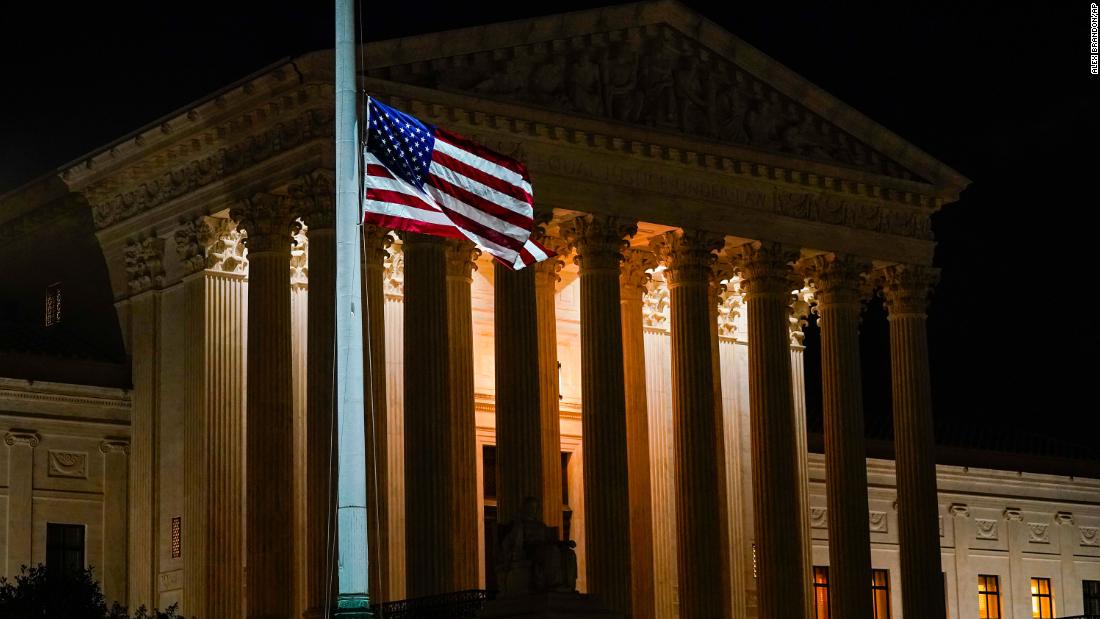 What we know a fight over a court seat will do is rally the Republican base behind Trump. The GOP's hardcore conservatives have generally stuck with Trump almost solely because of the number of federal judges he has appointed and the Senate has confirmed. Many may have wandered a bit amid Trump's demonstrably poor response to the Covid-19 pandemic, but a court fight may be just what the President and his campaign need to bring those lingerers back into the fold.