From School Boards to the Senate, All Politics Is Virus Politics in 2020 – The New York Times
The coronavirus pandemic upended Pamela Walsh's life. It shut down her office, leaving her working at home from a folding table. It forced her to turn her dining room into a Zoom classroom for her 7-year-old son. And the virus propelled a still more unlikely change: It led Ms. Walsh to run for public office.
"It wasn't even on my radar screen," said Ms. Walsh, 47, a political adviser in Concord, N.H., who has long worked for Democrats but never before considered seeking elective office herself. Months of supervising elementary school lessons from home, with little idea of when her son would return to school, convinced Ms. Walsh that she should vie for a seat on her local school board.
"I decided I needed a voice like mine on the board," Ms. Walsh said in a phone interview, which she muted periodically as her son called out for her and at one point thumped a bat on a chair. "Everyone is struggling right now a bit and needs to be represented by how these policies impact real families."
By some measure, all politics is virus politics in 2020, and the federal government's handling of Covid-19 has become an explosive issue in the presidential race, which has been further complicated by President Trump's own hospitalization for the virus.
Yet around the nation, there are local and state races in which the pandemic has also taken an outsize role. In some cases, the virus has been the reason for running; in others, handling of the pandemic has become the defining issue, eclipsing ordinary matters of taxes and services.
The virus — and the government's response to it — has inspired parents, hair salon owners and others to run for the first time, turned sleepy races into competitive matches and injected a level of unpredictability and rancor into normally tranquil down-ballot contests.
"This is an issue that no one expected to be one of the pillars of this election, but it has clearly become one," said Robert Griffin, research director for the Democracy Fund Voter Study Group, which is partnering with academics at the University of California, Los Angeles, to poll about 6,000 Americans each week leading up to the election.
Mr. Trump's own bout with Covid-19 only intensified some of the debates over the issue in lower races. "If you, Mr. President, have the best health system in the world and bodyguards and the whole thing, and you still get it, what does that say for us at the local level who are trying to figure out what to do with our children?" asked José Luis Bedolla, 50, who said he was motivated to run for the school board in Berkeley, Calif., because of the pandemic.
Candidates' own cases of the virus have created all sorts of uncertainty for political races, yanking campaigns off the trail and into quarantine during crucial weeks and confounding political strategists, who have little precedent to lean on as they try to figure out how voters will respond.
In North Carolina, a race that could help decide control of the United States Senate was thrust further into limbo this month when Senator Thom Tillis, a Republican, tested positive for the coronavirus after attending a White House ceremony. At the same time, his opponent, Cal Cunningham, is contending with a texting scandal.
In Missouri, where average new daily cases have risen sixfold since mid-June, the governor's race is being defined in no small part by the pandemic. Gov. Mike Parson, the incumbent Republican who is leading in the polls, had resisted requiring people to wear masks and at times campaigned without one. Then last month, he came down with the virus himself.
As Mr. Parson was sidelined, his Democratic opponent, Nicole Galloway, wished him well while also soliciting donations in an effort to remind voters of their dueling positions on the virus. An online ad showed her wearing a blue mask, side-by-side with a barefaced Mr. Parson.
"Governor Parson has failed this test, and it's apparent," Ms. Galloway said in an interview. An accountant by training and the current state auditor, she has made public health a key issue in Zoom appearances, uses elbow-bumps on the campaign trail, and has said she will issue a mask requirement if elected.
Elsewhere, conservatives have made their opposition to mandates on masks and business closings the center of blossoming campaigns.
In Washington State, a small-town police chief has made Gov. Jay Inslee's handling of the pandemic a top issue in a long-shot bid to become the state's first Republican governor since the 1980s. The chief, Loren Culp, has criticized Mr. Inslee, a Democrat, as a "job killer" and is drawing a contrast by holding rallies where masks are not required.
In Texas, a salon owner who was jailed this spring for defying shutdown orders quickly became an anti-lockdown hero for the political right. The owner, Shelley Luther, spoke at rallies, gave Senator Ted Cruz a haircut and donned a T-shirt emblazoned with the popular Texas rallying cry "Come and Take It" — except in place of a cannon, there was a blow dryer.
Updated
Oct. 13, 2020, 8:54 p.m. ET
Now, Ms. Luther, a former high school teacher who has never held public office, is running as a Republican for a seat in the Texas State Senate.
She has put Gov. Greg Abbott's handling of the pandemic and his virus-related restrictions at the forefront of her campaign. The outrage over her jailing was so intense that Mr. Abbott, a fellow Republican, softened his own shutdown orders and removed confinement as a punishment.
Running in a largely rural Republican district northwest of Dallas, Ms. Luther has called Mr. Abbott "our tyrant governor" at campaign events. One of her ads showed the black-and-white security footage of the moment she was handcuffed as she looks into the camera and says, "I fought back, and they backed down."
"It's about time that we the people take this back into our hands and let the government know that they work for us and they should not be telling us what to do like this," Ms. Luther said last month on the talk show "America, Can We Talk?"
And then there was this wrinkle: Her main opponent, a Republican lawmaker, State Representative Drew Springer, was sidelined for days during the race; he had to quarantine after his wife tested positive for the virus. Ms. Luther won 164 more votes than Mr. Springer during a recent special election, and the two are now in a runoff set for December, to represent Prosper, Texas, a Dallas suburb that is one of the fastest growing areas in the state.
Restrictions to control the spread of the virus — or the lack of such restrictions — have become motivating factors in races of all sizes.
Adrian Perkins, the mayor of Shreveport, La., had no plans — and no money — to run for United States Senate at the start of this year. But he grew increasingly frustrated as the coronavirus swept through his city, sickening thousands and leaving many others unemployed. He tried ordering everyone to wear masks but got sued for that.
So Mr. Perkins, a 34-year-old Army veteran and Harvard Law School graduate, began a last-minute, long-shot bid to go to Washington, where he felt he could have more sway. He announced his candidacy in July, two days before the registration deadline.
"No sane person launches a Senate campaign on purpose with just 110 days," said Mr. Perkins, a Democrat who is running to unseat Bill Cassidy, the senior Republican senator from Louisiana. (Mr. Cassidy, a medical doctor, tested positive and recovered from the coronavirus this summer.)
Mr. Perkins's campaign says he has raised $1 million in just a few months, but his odds are long. His opponent, who already had more than $6 million on hand by the time Mr. Perkins entered the race, has a solid lead in a mostly red state.
But the long shot is worth it to Mr. Perkins, who grew up in Shreveport and described the federal government's missteps in response to the pandemic as the reason for his campaign.
"Without the coronavirus, I wouldn't be running," he said, adding, "It's people's lives that were on the line."
Alberta's Vote Will Test American-Style Far-Right Politics – The New York Times
An election in Alberta will be a test of a premier who has said that she models her politics after those of prominent right-wing U.S. politicians.
The News
Voters in Alberta, the epicenter of conservative politics in Canada, will select a new provincial government on Monday.
Albertans will vote for local representatives in the provincial legislature and the party that wins the most seats will form the government, with its leader becoming premier.
The election pits the United Conservative Party, led by the current premier, Danielle Smith, against a leftist party, the New Democratic Party, led by Rachel Notley, a lawyer.
Before the pandemic, the governing United Conservative Party appeared to have a firm hold on power. But last year, large and angry demonstrations against pandemic restrictions and against vaccine mandates helped spark a trucker convoy in the province that eventually spread, paralyzing Ottawa, Canada's capital, and blocking vital cross-border crossings.
A small group of social conservatives within the United Conservatives ousted their leader, Jason Kenney, ending his premiership, after the government refused to lift pandemic measures.
The party replaced him with Ms. Smith, a far-right former radio talk show host and newspaper columnist prone to incendiary comments; she compared people who were vaccinated against Covid-19 to supporters of Hitler.
The Background
Ms. Smith likes to extol right-wing U.S. politicians, for example, calling Gov. Ron DeSantis of Florida, a Republican running for president, her hero.
She also has floated ideas that most Canadians would never support, like charging fees for public health care.
Ms. Smith now finds herself, analysts say, far to the right of many conservative loyalists, turning what should been a near-certain victory for her party into a close race that has provided an opening for their opponents, the New Democratic Party, a leftist party.
"This would not be a close race if anyone other than Danielle Smith was leading the U.C.P.," said Janet Brown, who runs a polling firm based in Calgary, Alberta's largest city.
Ms. Notley is seeking to steer the labor-backed New Democrats to a second upset victory in the province in recent years.
In 2015, she led the New Democrats to power for the first time in Alberta's history, thanks in part to a fracturing of the conservative movement into two feuding parties.
The stunning win broke a string of conservative governments dating to the Great Depression. But her victory coincided with a collapse in oil prices that cratered the province's economy. Ms. Notley's approval ratings plunged and the United Conservatives took over in 2019.
Ms. Smith's support is largely based in the province's rural areas, surveys show, while Ms. Notley's path to victory on Tuesday will likely be through Alberta's urban centers, including its two largest cities, Edmonton and Calgary.
Edmonton, the provincial capital and a city with a large union presence, is likely to back the New Democrats.
That could make Calgary, which is generally more conservative leaning, a deciding factor. Calgary also has a growing ethnic population, particularly immigrants from South Asia, and Ms. Smith's is unpopular with many of those voters because of some of her extreme statements.
Why It Matters
If Ms. Smith's brand of conservatism fails to return her party to office in Canada's most conservative province, the federal Conservative Party of Canada may need to reconsider its strategy as it prepares to take on Prime Minister Justin Trudeau and his Liberal Party in the next national elections.
The federal conservatives also replaced the party's leader during the pandemic with a combative right-wing politician, Pierre Poilievre, who welcomed truck convoy protesters to Ottawa, the capital, with coffee and doughnuts. Mr. Poilievre shares Ms. Smith's penchant for promoting provocative positions.
Even a narrow victory for Ms. Smith could actually be a loss, if it means fewer conservative seats in the provincial legislature, said Duane Bratt, a political scientist at Mount Royal University in Calgary.
In that scenario, Ms. Smith could find her position as premier and party leader tenuous and many of the policies she promotes could be cast aside, he said.
"If she loses, she's gone," he said. "If she wins, I think she's still gone."
Alberta Election 2023: Live results, breaking news and analysis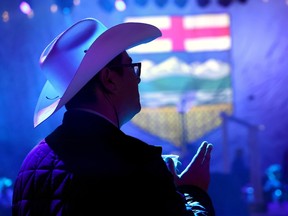 Alberta's United Conservative Party jumped out to a lead over the NDP in early returns Monday in what was forecast to be a tight race in the provincial election.
Danielle Smith's UCP was holding strong in its traditional rural strongholds while Rachel Notley's NDP was faring well in Edmonton, where it won all but one seat in 2019.
Early results were still mixed in the key battleground of Calgary, with about 10 per cent of polls reporting, according to Elections Alberta.
Here are the incoming results by riding:
---
9 p.m.
Braid: Despite the wild and angry campaign, Alberta will settle down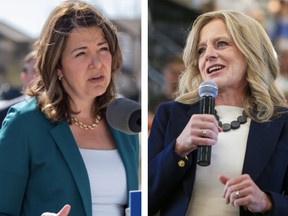 Albertans haven't gone crazy, OK? We're still just regular Canadians who want decent, competent government and a team that can win a Stanley Cup.
But the election campaign gave the province a terrible image across Canada. Here we are with wild-eyed right-wing fascists on one side, insane job-eating communists on the other.

Despite all appearances, this campaign was never about which side was more dangerous. It was about capturing the reasonable middle where most Albertans park their politics. Both parties tried to do that by demonizing the other, while offering policies and solutions well within the bounds of reason.
---
5:36 p.m.
Memorable quotes from the campaign trail
Candidates for both the United Conservative Party and New Democrats have been campaigning over the last four weeks for their party to form the next Alberta government.
Here are some memorable quotes from the campaign:
"(The NDP) devastated the Alberta economy. They created policies that drove investment out, drove jobs out, and we had to reverse all of that," UCP Leader Danielle Smith said on May 1, the day the writ was dropped. "The choice in this election couldn't be clearer. It's a choice between a UCP government that will cut your taxes and make life more affordable or an NDP government that will make you pay more across the board."
—
"Over the past four years, our health care has been thrown into chaos by the UCP," NDP Leader Rachel Notley said during the first week of the campaign. "They'll tell you they fixed it, but Albertans aren't feeling it and they're not buying it . . . our (emergency rooms) are still full, our ambulances are still delayed and many (patients) are waiting months and months for critical tests and surgeries."

—

"I am satisfied Mr. Pawlowski intended to incite the audience to continue the blockade — intended to incite protesters to commit mischief," Justice Gordon Krinke said in Lethbridge on May 2, when he found Calgary pastor Artur Pawlowski guilty of charges related to his role in protests against COVID-19 public health measures. In a leaked phone call between Smith and Pawlowski, before his trial, Smith told Pawlowski the charges against him were politically motivated and she would make inquiries on his behalf and report back.
"(Smith) has a policy of not speaking publicly on matters before the courts, except when she's talking to the person who's before the courts about how she's going to interfere with the matter before the courts," Notley said when asked to comment on Smith's no comment on the Pawlowski case. "That is the most ridiculous thing I've ever heard from her. OK, maybe it's not the most ridiculous, because there's a lot of ridiculous."
—
"(Judicial independence) is a fundamental pillar of our democracy. The premier breached this principle by discussing the accused's case," ethics commissioner Marguerite Trussler said in her report released May 18 into Smith's actions as premier when she called her justice minister about Pawlowski's case.
—
"I've asked the ethics commissioner to give advice," Smith said May 19. "I am a non-lawyer. As premier, I do need to be able to get advice from my top official, my top legal adviser. If she has recommendations on how to do that better next time, I will absolutely accept them."
— The Canadian Press
---
5:30 p.m.
Special measures in place to enable voting for electors affected by wildfires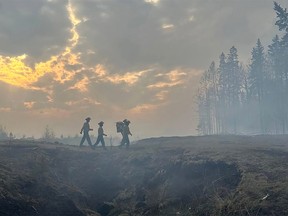 Alberta's 2023 election campaign has taken place alongside a record-breaking spring for wildfires in Alberta. Ten communities were under evacuation orders Monday.
Elections Alberta has set up alternate voting locations for those displaced. Evacuation has been added as an eligible reason to vote by special ballot and mobile voting stations have been placed in evacuation centres.
Incident Command Centres are working to have special ballots delivered to firefighters and emergency crews.

— The Canadian Press
---
10:55 a.m.
Calgary region had 7 of the top 10 busiest advance polling stations in Alberta last week

Electors in Calgary and area were among the most eager to get to the polls.
Of the 10 busiest polling stations in the province during the advance polling period last week, seven were in Calgary, Elections Alberta said on Monday.
And of those seven, four were in the southern half of Calgary and another was located south of the city.
Generally speaking, more Alberta voters chose to cast their ballot during the advance voting period than ever before.
"For the second election in a row we have seen record-breaking voter turnout during advance voting days," said Chief Electoral Officer Glen Resler in a statement issued Monday morning. "In 2019, we saw 700,476 ballots cast during the five days of advance voting, this year we have welcomed 758,550 to the polls so far."
Here were the 10 busiest polling stations during the advance voting period, May 23-27, according to Elections Alberta:
ED 83 (St. Albert): St. Albert Centre
ED 81 (Sherwood Park): Sherwood Park Mall
ED 01 (Calgary-Acadia): Southcentre Mall
ED 14 (Calgary-Hays): McKenzie Towne Church
ED 08 (Calgary-Edgemont): Foothills Alliance Church
ED 65 (Highwood): Okotoks Centennial Hall
ED 02 (Calgary-Beddington): Huntington Hills Community Hall and Sportsplex
ED 33 (Edmonton-Gold Bar): Bonnie Doon Centre
ED 47 (Airdrie-Cochrane): Frank Wills Memorial Hall
ED 23 (Calgary-Shaw): Cardel Rec South
---
10:35 a.m.
Alberta votes in the strangest — and closest — election in its political history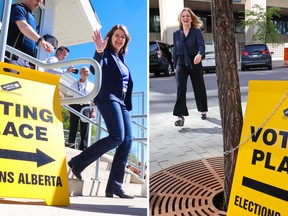 Whoever wins the Alberta election on Monday, it will be one of the strangest campaigns ever fought in the province, with plenty of drama but few policy issues, and the real possibility of the closest outcome in Alberta political history.
In 2015, when the NDP won, it was the reversal of 40 years of conservative rule, aided by vote-splitting and a voting public whose patience was at an end. In 2019, when the United Conservatives won, it was a massive victory, featuring a re-energized right-wing movement looking to revitalize the province's economy.
But this time, with the two parties neck-and-neck as voting day approaches, the election is not about jobs or pipelines or even party platforms.

It's about Rachel Notley, leader of the NDP, and Danielle Smith, leader of the United Conservative Party, writes Tyler Dawson.
---
5 a.m.
Alberta arrives at election day following bitter campaign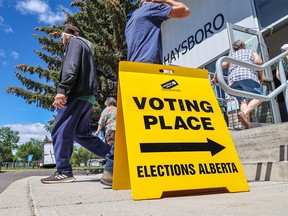 Albertans head to the polls Monday to elect their next government, wrapping up a divisive four-week campaign that's seen each leading party pitch their vision for the province while taking aim at the opposing leader's record.
Voters are set to decide whether they'll re-elect Danielle Smith's United Conservatives, or return to an NDP government headed by Rachel Notley, in a battle between premiers past and present.
---
Alberta election: Everything you need to know before you vote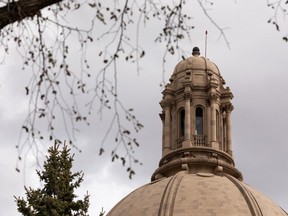 Albertans go to the polls on May 29 — today.
While there are plenty of promises and policies from the parties to wade through, it's also important to brush up on voting information.
Before you cast your ballot, here's what you need to know.
---
Promises made: Where the NDP and UCP stand on top issues in Alberta election campaign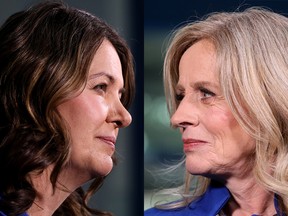 With Alberta's election hitting the home stretch, what have the leading political parties in the province done or promised to do if elected today?
Both the UCP and the NDP have been making promises for weeks on major issues leading up to the official campaign, which began in May.
Here are some highlights, which don't reflect the entirety of the platforms.
---
Profiles of main party leaders Danielle Smith and Rachel Notley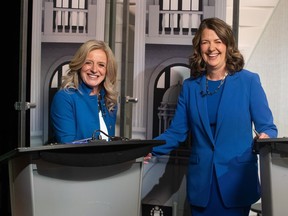 UCP Leader Danielle Smith
Succeeding Jason Kenney, Smith comes from roots in the socially conservative Wildrose Party. She has been premier since October 2022 after she won the UCP's leadership race.
Smith, 52, who holds a bachelor's degree from the University of Calgary with a major in English and a minor in economics, started her career in media. First as an extra in the Vancouver film and television industry and then as a journalist on radio, television and in print. While working as a radio broadcaster in March 2020, Smith tweeted and later deleted claims that the antimalarial drug hydroxychloroquine is a cure for COVID-19.
As premier, Smith fired Alberta Health Services' governing board for what she called "freedom-busting health restrictions" implemented during the COVID-19 pandemic. She later walked back her plans to pursue pardons for violations of COVID-19 health and safety restrictions.

Smith was a lobbyist for the Alberta Enterprise Group, encouraging capital investment and big business in Alberta. She introduced the Alberta Sovereignty Act to prevent the enforcement of "federal rules deemed harmful to Alberta's interests." The act passed but only with significant changes to remove the legislation-rewriting powers the original measure would have given Smith and her cabinet.

Since 2017, Smith and her husband, David Moretta, have owned and operated the Dining Car at High River station, a converted rail car in High River.
NDP Leader Rachel Notley
Notley, 59, became premier of Alberta in 2015, ending 44 years of Progressive Conservative Party rule in the Western Canadian province. She lost re-election in 2019 to Kenney.
The daughter of former Alberta New Democratic Party leader Grant Notley, Rachel Notley was a labour advocate and lawyer before entering politics. She specialised in workers' rights and health and safety. She advocated for the rights of special-needs children with the organisation Moms on the Move.
Notley credits her mother, an anti-war activist, for getting her involved in activism, taking Notley to an anti-

The campaign has taken place alongside a record-breaking spring for wildfires in Alberta. Ten communities were under evacuation orders Monday.

Elections Alberta has set up alternate voting locations for those displaced. Evacuation has been added as an eligible reason to vote by special ballot and mobile voting stations have been placed in evacuation centres.

Incident Command Centres are working to have special ballots delivered to fire fighters and emergency crews.

war demonstration before she was ten years old.

While premier, Notley gave Canada its first $15 minimum wage, stabilised funding for healthcare, restricted money in elections and increased taxes on corporations and the wealthy. Her government introduced harm-reduction measures targeting the opioid and fentanyl epidemic.

Her husband, Lou Arab, is a communications representative for the Canadian Union of Public Employees and a campaign strategist for the NDP. Notley and Arab live with their two children in the historic Old Strathcona district in Edmonton.
Letters to the editor: 'Danielle Smith's rejection of conventional thinking.' Populism and politics, plus other letters to the By The Globe and Mail
What next?
Re "The essence of Johnston's report: Trust me, there's no story here" (May 24): Columnist Andrew Coyne describes well what many Canadians were expecting from David Johnston and what he failed to deliver.
No. 1 is to know what the government knew, who specifically knew, when they knew it and what, if any, action they took. I find Mr. Johnston failed to deliver on a grand scale.
The result? Many Canadians have even less trust in government than they have ever had.
Not a good position for the country, nor the current incumbents in Ottawa.
Roger Emsley Delta, B.C.
---
Re "My work to protect Canada's democracy from foreign interference is not done" (May 27): Most troubling to me is David Johnston's scathing criticism of the whistle-blower who risked their own freedom to alert Canadians to the danger to democracy of China.
Without their courage and loyalty to the public interest at the highest level, none of this would have come to light. The messenger he would shoot deserves our deepest gratitude, as do the Globe reporters who similarly put their reputations on the line.
Alexandra Phillips Vancouver
---
David Johnston reminds us that he was appointed governor-general by Stephen Harper, that he has served in a number of public roles and never once was his integrity questioned. Except now.
Politicians, reporters and columnists wanted a public inquiry into foreign interference, not public hearings. They want the Prime Minister and his ministers on the "stand," so to speak. Unconscionable attacks on the pristine reputation of Mr. Johnston have ensued.
Can we fuel criticism not with anger and personal attacks, but with clarity and respect for informed opinion? Not too high a standard, surely, when the central figure is a man of such stature and decency as Mr. Johnston.
Bill Wilkerson Port Hope, Ont.
---
Re "Targets of Chinese regime reject Johnston findings, call for public inquiry" (May 26): What would a public inquiry tell us that we don't already know?
David Johnston confirmed The Globe and Mail's reporting. He also shed light on the bungling way intelligence is, and is not, passed on to government officials. How could anyone do their job effectively when this is the case?
Most disturbing, in my view, is Pierre Poilievre's rejection of Mr. Johnson's invitation to take an oath of secrecy and read the full report. It points me to a profound cultural shift within our parliamentary democracy that now embraces members, and those who elect them, who would rather dismantle democratic procedures from the inside than be properly informed.
The Globe has done its job by alerting government and the public. We should now have action on Mr. Johnston's findings. There's lots of work to be done.
This should be the urgent path to maintaining our democracy, not a public inquiry.
Janet Tulloch Ottawa
Print money
Re "Stop the presses on the King Charles $20 bill" (May 24): "An antiquated, deeply diminished institution that belongs to a long-ago era." I agree: Our constitutional monarchy is the worst possible system of government for Canada – except for all the others.
We live next door to a republic that recently demonstrated the dangers of a head of state who is the product of "democratic" choice. And look at Brazil, Argentina, Pakistan and countless other democracies with elected heads of state. They provide a stark contrast to modern and progressive constitutional monarchies such as Norway, Denmark, Sweden and the Netherlands.
I believe constitutional monarchies are a superbly modern way of balancing traditional safeguards and democratic progress, allowing bitter political disagreements to work themselves out without tearing the fabric of nations apart. And because our monarch lives hours away by plane, Canadians are spared the costs of upkeep and maintenance.
A good deal for Canada, eh? Saves a lot of $20 bills.
Larry Muller Trent Lakes, Ont.
---
Contributor Peter Donolo writes of the need for Canada to reduce its fixation on the monarchy, in favour of placing mug shots of prime ministers on our money. No offense to Lester Pearson, but why replace one entitled elite with another?
For the duration of my day job, I've invited Canadians and academia to think about how they are placed in relation to Indigenous nations, politics, communities and histories. And as a citizen of the Ktunaxa Nation, a Canadian and a scholar, I'm still wondering why Canadians can have such limited imaginations that prevent them from seeing Indigenous displacement and oppression that is not merely historic, but still in play.
In this not-so-reconciliatory moment, consider putting Indigenous leaders, who were persecuted by Canada, on our bills, an invitation to remember where our money comes from and at whose expense.
Many Canadians still don't have a clue about these things.
Joyce Green Professor emerita, politics and international studies University of Regina
God bless
Re "America's long embrace of stupidity" (May 22): While intelligence can sometimes present challenges, the acceptance of ignorance is a losing proposition.
Donald Trump, who appeals to the uneducated, provides evidence that stupidity is not a superpower. His ignorance did not yield solutions to problems plaguing the world. His reign of errors did not resolve issues such as domestic inequality, global warming and international conflicts.
The current countercultural movement by Canadian populists poses a dangerous threat to our democracy. The vocal criticism of gatekeeper expertise by Pierre Poilievre, along with Danielle Smith's rejection of conventional thinking regarding public health and governance, are prime examples of this hazard.
Leonard Cohen and St. Augustine's words –"behold the ignorant arise and snatch heaven beneath our eyes" – suggest that salvation may be achieved through ignorance. However, this notion relies on faith in matters beyond our world.
A discerning individual should question the intelligence of such a perception of reality.
Tony D'Andrea Toronto
---
As contributor Michael Enright so eloquently points out, this situation is nothing new to our southern neighbours.
It is a manifestation of America's great divide, the socioeconomic distance between the haves and have-nots. Exacerbated by an inadequate social safety net and exploited by predatory politicians and media outlets, it has led to a toxic stew of conspiracy theories, misinformation and outright lies.
Add in racial tensions, gun-ownership disputes, abortion rights and illegal immigration at the southern border, and one fears that it's only a matter of time before the fuse is lit on this powder keg, with catastrophic consequences.
Dave Hurley Belleville, Ont.
---
Letters to the Editor should be exclusive to The Globe and Mail. Include your name, address and daytime phone number. Keep letters to 150 words or fewer. Letters may be edited for length and clarity. To submit a letter by e-mail, click here: letters@globeandmail.com