Gas prices will depend on Delta variant's effect on economy: analyst – Alaska Highway News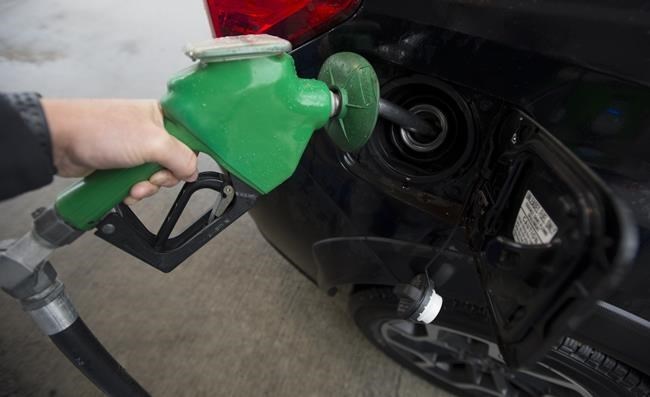 A gas price analyst says prices at the pump will largely depend on how the Delta variant of COVID-19 plays out in the North American economy.
Dan McTeague, president of Canadians for Affordable Energy, says the variant has caused concern around demand as it slows down the economic reopening.
The price of crude oil peaked this year in early July, when it went above US$75 per barrel and sent gas prices in cities like Vancouver to highs of $1.74 per litre.
The price of crude oil was US$68.63 per barrel as of Tuesday afternoon, but the price Canadians pay at the pump has consistently risen in recent weeks.
McTeague says that's because the value of the Canadian dollar also dropped when the price of crude dropped.
Looking ahead, McTeague says Canadians can base their expectations on fuel costs around whether COVID-19 cases plateau or not.
The average price of gas in Canada currently sits around the $1.39 per litre mark, according to data from Gasbuddy.com.
If cases continue to rise, McTeague said people can expect prices to hover at that current level. But when cases drop, he expects more sharp increases.
"There continues to be this reality that the world is playing catch up when it comes to demand, and supply is just not adequately meeting demand," said McTeague.
"It'll obviously be a very real problem once we get past this particular COVID variant."
This report by The Canadian Press was first published Aug 10, 2021.
The Canadian Press
China Economy Braces for Further Slump as Covid, Protests Spread – Bloomberg
Mexican president says economy should grow by at least 3.5% until 2024 – SaltWire NS
MEXICO CITY (Reuters) -Mexico's economy should grow 3.5% over 2022, 2023 and 2024, President Andres Manuel Lopez Obrador said on Sunday in a speech to a massive crowd gathered in the country's capital to mark his fourth year in office.
An economic slowdown, largely in the industrial sector, weighed on to Mexico's Gross Domestic Product (GDP) growth, keeping it slightly below estimates in the third quarter this year.
Analysts have predicted GDP will grow by 2.7% this year, while the International Monetary Fund expects growth to slow to 1.2% next year.
"The economy will increase by 3.5% this year and, I estimate, by that same percentage at least for 2023 and 2024," he said.
Lopez Obrador has recently said we would like to see the central bank balance fighting inflation with the need to protect economic growth.
(Reporting by Diego Ore Oviedo; Editing by Daniel Wallis and David Gregorio)
India's economy likely slowed to annual 6.2% in July-Sept – Financial Post
Article content
BENGALURU — The Indian economy likely returned to a more normal 6.2% annual growth rate in July-September after double-digit expansion in the previous quarter, but weaker exports and investment will curb future activity, a Reuters poll showed.
In April-June, Asia's third-largest economy showed explosive growth of 13.5% from a year earlier thanks mainly to the corresponding period in 2021 having been depressed by pandemic-control restrictions.
Article content
But with the Reserve Bank of India (RBI) now raising interest rates to tamp inflation running above its target range of 2% to 6% target, the economy is set to slow further.
Article content
The 6.2% annual growth forecast for latest quarter in a Nov. 22-28 Reuters poll of 43 economists was a tad lower than the RBI's 6.3% view. Forecasts ranged between 3.7% and 6.5%.
"The exceptionally favorable base of the April-June '22 quarter is behind us, which will result in a normalization of the year-on-year real GDP growth rate from July-Sept '22 onward and also make it easier to gauge the true underlying economic momentum," said Kaushik Das, India and South Asia chief economist at Deutsche Bank.
Although business surveys indicated weakening economic activity in most major economies, where central banks are responding to soaring inflation with higher interest rates, business sentiment has remained relatively strong in India.
Article content
Still, industrial production increased at an annual pace of only 1.5% on average last quarter, its weakest in two years, pointing towards a significant slowdown in manufacturing activity, a key driver of growth.
"GDP is expected to increase sequentially, led by continued recovery in services. Mining and manufacturing are expected to be a drag. On the demand side, lower global growth hit exports in Q2 (July-September)," said Sakshi Gupta, principal India economist at HDFC Bank, adding there were signs that consumption was uneven.
The finance ministry said on Nov. 24 a global slowdown might dampen the country's export businesses outlook. Meanwhile, the RBI raised its key policy interest rate to 5.9% from 4.0% in May and is widely expected to add another 60 basis points by the end of March.
"Between December and February, the headwinds to growth may become more evident," said Deutsche Bank's Das. (Reporting by Indradip Ghosh; Polling by Vijayalakshmi Srinivasan, Veronica Khongwir and Maneesh Kumar; Editing by Hari Kishan, Ross Finley)