Gender diversity in science media still has a long way to go. Here's a 5-step plan to move it along – The Conversation AU
Public representation of science in the media still struggles to reflect the true diversity of those who work in science, technology, engineering or mathematics (STEM). According to a 2019 report from the Women's Leadership Institute Australia, women are quoted as sources in just 33% of science news stories.
However, this figure is based on 19 articles collected within a much broader study, of which science news was not a focus. To really understand the diversity of STEM representation in the media, we need a bigger sample.
Some masters students and I collected a representative sample of 655 articles published in Australia's mainstream and science news media during 2018. In the case of international media companies with an Australian presence, we looked at articles posted on their Australian edition, some of which were produced locally and some republished from overseas.
---


Read more:
Where are the women scientists, tech gurus and engineers in our films?


---
We tallied the genders of the journalist, sources quoted directly or indirectly, photographer and photo subject in these articles. If any gender was not explicitly stated using a readily gender-identifiable name (like Jane or Abdul) or an explicit personal pronoun, we categorised the gender as "unidentified".
Our preliminary results show that in the 468 STEM-related news articles that used direct gender-identifiable quotes, both women and men were quoted as sources in 28% (133). Articles exclusively quoting men comprised 52% (241) of the articles we examined. Only 20% (94) of articles exclusively quoted women.
Of course, the devil is in the detail, and when you start to look at the number of individuals quoted in stories the difference is stark.
One egregious example was a "holiday reading list" from science magazine Cosmos, which featured nine books written or introduced by men, reviewed by five men.
If we look just at the top five STEM news providers in our sample, results are mixed. Our sampled suggested that The Conversation, the ABC and the Daily Mail have equal or greater numbers of women writing about STEM topics, compared with men. But although some of these outlets are also close to having gender parity in expert sources, the dominant voices are still generally male.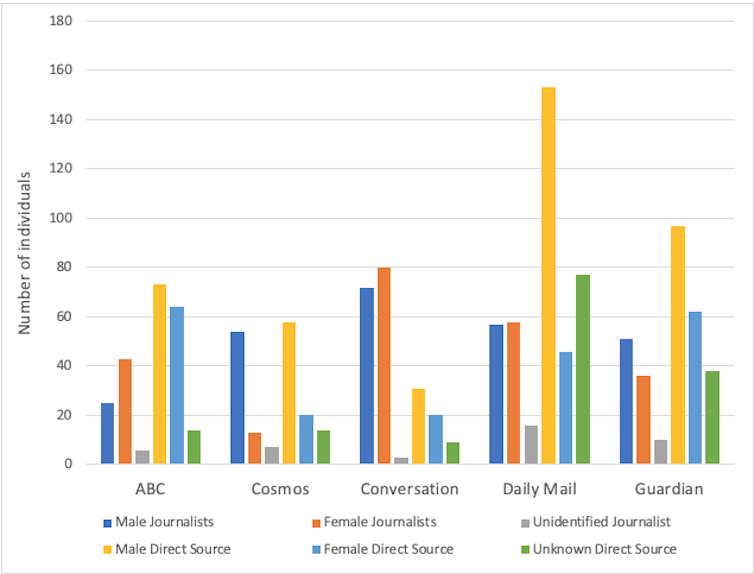 A man's world?
If "we can't be what we can't see", then it is vital that female scientists and science writers are prominent in the media landscape. But unfortunately, our results reveal that this landscape is still dominated by men.
There are many reasons for this. But let's be clear: confronting this problem is not a job just for women, or just for the media. This is a systemic, structural and societal problem and everyone has a part to play in formulating the solution.
This was one of many discussions held at this month's Catalysing Gender Equity conference, held in Adelaide by the Australian Academy of Science and Science in Australia Gender Equity (SAGE), and featuring delegates from higher education, research, government, media and the private sector.
Building on the release last year of the Decadal Plan for Women in STEM, the conference aimed to develop tangible ways to work towards gender equity.
Of course, gender equity is just one part of the overall problem. There are many groups throughout society that similarly need equitable representation and inclusion. Nobody should be marginalised or disadvantaged because of their age, race, culture, religion, disability, sexual orientation or socio-economic status.
---


Read more:
'Death by a thousand cuts': women of colour in science face a subtly hostile work environment


---
So how do we improve STEM media diversity?
Based on many conversations with STEM professionals during communication workshops I have run over the years, I have developed a simple five-step process, with the mnemonic "START". It is aimed at anyone in a STEM, or arguably any, organisation wishing to increase the diversity of their public representation.
Here's how you START:
Support. Speaking publicly about your work should be seen as vital and valued from all levels in an organisation. Listen to concerns from those who may be intimidated by the prospect of talking to the media, and help alleviate those concerns. If you're an experienced media contributor, invite a less experienced colleague to shadow you at an interview or studio. Online trolling can be intimidating, so be proactive in alerting outlets to inappropriate comments on articles or social media feeds. The standard you walk past is the standard you accept. Keep it classy.

Train. Few people are born with the ability to turn their complex, nuanced research findings into a pithy seven-second soundbite. But solid media training can give researchers the skills and understanding necessary to communicate effectively with the media. This includes learning how the media works, and realising that deadlines tend to be much shorter in a newsroom than a science lab!

Advocate. Most research disciplines have a handful of high-flyers who are usually tapped on the shoulder to do media interviews or public talks. But as long as the same shoulders are tapped, how do we discover new talent? One way is for those who already have a profile to use it elevate others too. Nominate a less experienced colleague – especially one from an under-represented group – to do the talk or interview instead, and then support them through it.

Reinforce. Media and public outreach can take time away from the "real job" of teaching, research and grant applications. But the resulting coverage benefits the organisation. Organisations should therefore see public engagement as an integral task, not a distraction, and include it in assessments of job performance and career development.

Track. Organisations should monitor their media coverage to understand who their "public faces" are. They should ask how diverse these faces are, and where resources might best be deployed to improve the picture.
---


Read more:
Women in STEM need your support – and Australia needs women in STEM


---
In contrast to Mary Poppins' advice, there is no need to START from the very beginning. Perhaps tracking or reinforcement is a sensible first step for your organisation. Or if you're a researcher who already enjoys a significant media profile, you might start by thinking of some colleagues for whom you can advocate.
Irrespective of where we begin, equity – in all its forms – needs everyone to start somewhere.
Social media model charged with killing boyfriend in Florida – The Globe and Mail
Prosecutors in South Florida announced a second-degree murder charge Thursday against social media model Courtney Clenney in connection with the fatal stabbing of her live-in boyfriend.
Miami-Dade State Attorney Katherine Fernandez Rundle announced the charge against the 26-year-old model during a news conference. Clenney was arrested Wednesday in Hawaii. Fernandez Rundle said Clenney, who goes by the name Courtney Tailor on such platforms as Instagram and OnlyFans, remained jailed in Hawaii while authorities seek her extradition to Florida.
She appeared in a courtroom on Hawaii's Big Island Thursday, where she waived her right to an extradition hearing and agreed to return to Florida.
Judge Henry Nakamoto ordered her held without bail pending extradition.
Fernandez Rundle characterized Christian Obumseli's April 3 death at the couple's Miami apartment as the culmination of a "tempestuous and combative relationship" that began in November 2020. The county medical examiner said in an autopsy report that Obumseli, who worked in cryptocurrency, died from a forceful downward thrust from a blade that went 3 inches (7.6 centimeters) into his chest, piercing a major artery.
According to an arrest report, Clenney acknowledged killing Obumseli but said she acted in self defense. She said Obumseli had pushed her and thrown her to the floor, which prompted her to grab a knife and throw it at Obumseli from about 10 feet (3 meters) away. The medical examiner said Obumseli's wound could not have been caused by a knife thrown from that distance.
Clenney's Miami defense lawyer, Frank Prieto, said the medical examiner's opinions won't stand up to scientific scrutiny when they argue self-defense at trial. He acknowledged that Clenney and Obumseli had a tumultuous relationship but said Obumseli was the primary aggressor.
"Obumseli was the abuser, the worst kind of abuser," Prieto said in a statement. "He would manipulate and abuse Courtney in private when he thought nobody was around."
Our Morning Update and Evening Update newsletters are written by Globe editors, giving you a concise summary of the day's most important headlines. Sign up today.
The Barn Find Hunter Finds a Home on REV TV!
Burlington, ON (August 10, 2022) — REV TV, YOUR MOTORSPORTS & AUTOMOTIVE DESTINATION 24/7, is excited to join the hunt for buried automotive treasure with the addition of Barn Find Hunter to its programming lineup.
Barn Find Hunter, which is produced by Hagerty Media, follows host Tom Cotter—who literally wrote the book(s) on barn finds—as he searches through dusty barns, cluttered garages and rusty scrap yards for automotive gold.
"REV TV viewers are the type of folks to pass a barn on a backroad and wonder if a Hemi is gathering dust inside," said Mike Garrow, CEO of REV TV. "Barn Find Hunter, therefore, is the perfect fit for our channel and a great extension and expansion of our relationship with our wonderful partner Hagerty."
"There's nothing like the Barn Find Hunter audience so it's a thrill to welcome the REV TV audience," said Barn Find Hunter host Tom Cotter. "I've been doing this most my life and I love how the show demonstrates to viewers that these great cars are still out there – you just need to look in the right place!"
Barn Find Hunter will make its debut on Saturday, August 13th at 10AM ET.
About Hagerty, Inc. (NYSE: HGTY)
Based in Traverse City, Michigan, Hagerty's purpose is to save driving and car culture for future generations and its mission is to build a global business to fund that purpose. Hagerty is an automotive enthusiast brand offering integrated membership products and programs as well as a specialty insurance provider focused on the global automotive enthusiast market. Hagerty is home to Hagerty Drivers Club, Hagerty DriveShare, Hagerty Valuation Tools, Hagerty Media, Hagerty Drivers Club magazine, MotorsportReg, Hagerty Garage + Social, The Amelia, Detroit Concours d'Elegance, Greenwich Concours d'Elegance, California Mille, Motorlux, Hagerty Drivers Foundation and more.
For more information on Hagerty, please visit https://www.hagerty.com/, or connect with us on Facebook, Instagram and Twitter. More information can be found at newsroom.hagerty.com.
About REV TV
YOUR MOTORSPORTS & AUTOMOTIVE DESTINATION is available to over 6 million households across Canada and features over 200 races from around the world and right here at home. From two-wheels to four and so much more. REV TV showcases all forms of high-octane racing, such as MotoGP, Monster Jam, AMA Supercross, World Rally Championship, IMSA WeatherTech SportsCar Championship, Indy Lights, World Endurance Championship, World RX Championship, IndyCar Classics, SPEED SPORT TV, along with news coverage such as The Inside Line (F1), Winged Nation (winged sprint cars) and Tuning 365 Performance Auto & Sound Magazine. We also have a slate of original programming with REV Culture with Todd Lewis that features interviews with motorsports luminaries, All North Racing which focuses on grassroots racing, a slew of how-to and behind-the-scenes programs, and so much more. REV TV is your MOTORSPORTS & AUTOMOTIVE DESTINATION 24/7.
Singer Songwriter DIA Heats Up Summer With 'LIMONATA"
Toronto, ON – Canadian-Italian singer/ songwriter DIA, released her new single, "Limonata" on all music platforms.  The pop artist draws you in with a powerful and dynamic sound.  DIA's voice is filled with nuances that embrace diverse cultures.  With a master's degree in ethnomusicology and the ability to sing in 32 languages, the multi-talented artist has no boundaries and takes fans outside theirs.  "Limonata" produced by KC Bondar, is a fun and sexy single for the summer about loving and living life to the fullest.  With an upbeat Latin and Mediterranean vibe, "Limonata" will have you up dancing all summer long.
DIA
 has headlined festivals throughout
Canada
, the US, Europe, Central and South America, that included a performance at the closing ceremonies of the Parapan Am games – an honor for the artist.   A voice of multiculturalism and a product of her Canadian environment makes DIA's connection with audiences undeniable.  The singer draws you into her music with enthusiastic performances and the belief that music has no barriers.  
"Limonata"
 is that song….   Listen. Repeat. Listen. Repeat
"Each culture I experience, leaves a thumbprint on my voice… and with this song, I've got Italy on my mind"
                                                                                             DIA
Listen to "LIMONATA"
Watch The Video:
Follow DIA:
INSTAGRAM @diadiadia
FACEBOOK: @diamusiconline
YOUTUBE: @diamusicofficial
TIKTOK: @worldofdia
WEBSITE: https://www.diamusiconline.com/
Media Inquiries:
Sasha Stoltz Publicity:
Sasha Stoltz | Sasha@sashastoltzpublicity.com | 416.579.4804