Goldman Sachs gets even gloomier on the US economy – CNN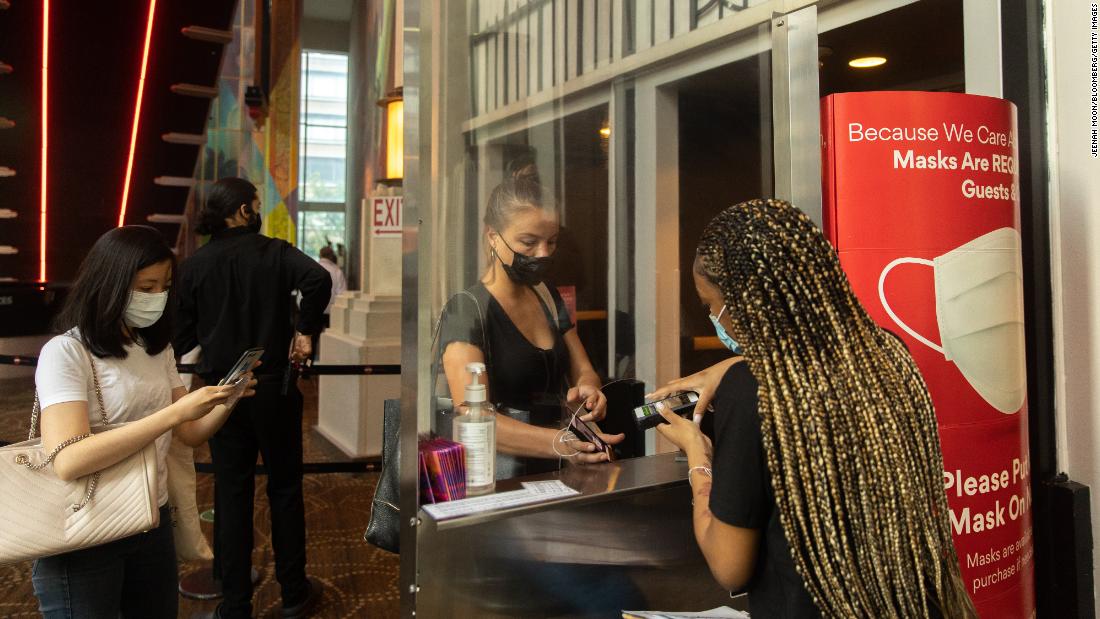 A version of this story first appeared in CNN Business' Before the Bell newsletter. Not a subscriber? You can sign up
right here
.
London (CNN Business)Goldman Sachs (GS) is becoming increasingly pessimistic about the US economy as coronavirus support from the government phases out and consumer spending remains on an uncertain path.
What's happening: Over the weekend, the Wall Street bank downgraded its forecast for America's economic growth, which is closely monitored by the investment community. Goldman Sachs now expects the economy to expand by 5.6% this year, compared to a previous estimate of 5.7%. In 2022, growth is projected to expand by 4%, down from 4.4%.
It's the second time Goldman Sachs has revised its 2021 forecast lower in two months.
Breaking it down: The bank's team of economists said two main factors drove the change in its outlook. One is that Covid-19 relief programs are set to wind down "significantly" through the end of the year, eliminating a source of income for some households.
The other concern is that consumers are not doling out enough money on services to compensate for a drop in spending on goods.
"Consumers' service spending will need to recover quickly to offset a decline in goods spending as the latter normalizes from its current elevated level," Goldman Sachs told clients. "This will likely prove challenging while Covid cases remain elevated, since many people still feel at least somewhat uncomfortable engaging in many activities that were routine prior to the pandemic."
It pointed to movie theater attendance as one sticking point. (James Bond film "No Time to Die" brought in $56 million at the North American box office over the weekend. That was a
muted performance
for the Bond brand, my CNN Business colleague Frank Pallotta reports.)
Goldman Sachs also thinks spending could decline as people continue to work from home, encouraging them to prepare their own lunches instead of popping into local restaurants.
Another view: Bank of America, for its part, has been encouraged by spending trends gleaned from US credit and debit card data. "We think the recent drop in cases has helped ease Covid concerns," said Candace Browning, head of BofA Global Research.
The bank found that spending at daycare centers in September was 52% above last year's levels and only 13% below the same period in 2019, which it called "an encouraging sign." It also observed that spending on travel and entertainment is "improving," though gains haven't been felt evenly across the country. People have been significantly more willing to splurge on entertainment in Florida than in states like New York and Pennsylvania.
Bottom line: The big picture for Covid-19 in the United States is looking a little brighter as new infections and hospitalizations decline.
"Hopefully it's going to continue to go in that trajectory downward," Dr. Anthony Fauci, the nation's top infectious disease expert, said Sunday.
But the country is still reporting about 95,000 new infections daily, which Fauci said is "way too high." That's making it difficult for economists to map out the way forward for America's economy.
Watch this space: US banks have strong insight on the health of US shoppers since they track money flows. Investors will closely monitor their commentary on the subject when they report earnings later this week.
Netflix supercharges its retail push with Walmart deal
Netflix
(NFLX)
doesn't just want you to binge its movies and shows anymore.
It also wants you to buy shirts, dolls and other novelty items inspired by its original programs — generating a new source of income for the company as it
sheds subscribers
in North America.
The latest:
Walmart
(WMT)
announced Monday that it struck a deal with Netflix to sell merchandise from popular shows on its website, including a "CoComelon" bed set, "Squid Game" t-shirts and baking kits inspired by the reality show "Nailed It!"
"Walmart is now the official one-stop shop to bring your favorite Netflix stories home," Walmart executive Jeff Evans said in a blog post.
The backstory: Netflix launched an online shop in June — a sign it was interested in adopting the model perfected by competitor Disney, which makes tons of money off its intellectual property with theme parks and clothing sales.
The Walmart agreement indicates it's doubling down on its efforts. That makes sense.
While Netflix is quickly growing its international subscriber base, especially in Asia, it lost 433,000 subscribers in the United States and Canada between April and June. Partnering with Walmart opens up a new way to generate revenue — and could spur greater interest in its shows among shoppers.
Investor insight: Netflix shares had been struggling to break out this year. But they've recently staged a comeback, hitting an all-time high last week as investors got excited about the success of Korean thriller "Squid Game" (which I devoured, though I'm here to tell you about markets, not TV).
"Squid Game can help further open up the [Asia-Pacific] region," JPMorgan analyst Doug Anmuth said in a recent note to clients. "[And] it is another example of local content traveling well globally."
Does Russia stand to benefit from the energy crunch?
A global scramble for natural gas has put Russia in a position of power. At least, that's what investors believe.
See here: President Vladimir Putin's indication last week that Russia could step in to alleviate pressure on European energy markets eased the
massive run-up in natural gas prices
. Meanwhile, the Russian ruble hit a four-month high against the US dollar Monday, and the country's main stock index reached a record.
Rising energy prices could be a boon for Russia's economy.
"As the world's largest pipeline gas exporter and an emerging significant [liquefied natural gas] exporter, Russia seems to be a winning beneficiary of the market tightening," Vitaly Yermakov, a researcher at the Oxford Institute for Energy Studies, said in a report published last month.
But there are questions about how much the country can realistically boost output. In a recent note to clients, Bank of America said Russian gas giant Gazprom may have "limited" ability to supply additional volumes since it's still working to meet domestic needs. Plus, it's "already producing close to a 10-year high."
Up next
Bond markets are closed in the United States for Columbus Day. Stocks will trade as usual.
Coming tomorrow: The latest data on US job openings as employers in industries like hospitality struggle to fill vacant spots.
Oil prices climb to highest in years as COVID recovery, power generators stoke demand
 Oil prices hit their highest in years on Monday as demand continues its recovery from the COVID-19 pandemic, boosted by more custom from power generators turning away from expensive gas and coal to fuel oil and diesel.
Brent crude oil futures rose 87 cents, or 1%, to $85.73 a barrel by 0111 GMT, the highest price since October 2018.
US West Texas Intermediate (WTI) crude futures climbed $1.12, or 1.4%, to $83.40 a barrel, highest since October 2014.
Both contracts rose by at least 3% last week.
"Easing restrictions around the world are likely to help the recovery in fuel consumption," analysts from ANZ bank said in a note on Monday.
"The jet fuel market was buoyed by news that the U.S. will open its borders to vaccinated foreign travellers next month. Similar moves in Australia and across Asia followed."
They added that gas-to-oil switching for power generation alone could boost demand by as much as 450,000 barrels per day in the fourth quarter.
Still, supply could also increase from the United States, where energy firms last week added oil and natural gas rigs for a sixth week in a row as soaring crude prices prompted drillers to return to the wellpad.
The U.S. oil and gas rig count, an early indicator of future output, rose 10 to 543 in the week to Oct. 15, its highest since April 2020, energy services firm Baker Hughes Co said last week.
China's economy, meanwhile, likely grew at the slowest pace in a year in the third quarter, hurt by power shortages, supply bottlenecks and sporadic COVID-19 outbreaks.
The world's second-largest oil consumer issued a new batch of oil import quotas for independent refiners for 2021 that show total annual allowances were lower than last year, a first reduction of import permits since these firms were allowed into the market in 2015.
(Reporting by Jessica Jaganathan; Editing by Kenneth Maxwell)
Stop handing out free money (and other ideas for getting the economy back on track) | TheHill – The Hill
Supply chain shortages and inflation are hurting consumers and Democratic election prospects in 2022 and 2024. The Biden administration, no doubt aware of this possibility, is taking action to address the ill-effects of scarcity and higher prices. Recently, the administration mandated that the Port of Los Angeles remain open 24 hours a day so merchandise idling in shipping containers can be delivered faster to fill empty supermarket shelves and consumer shopping carts.
But this response may be coming too late, because shortages and inflation have created uncertainty in the minds of consumers that cannot be easily reduced.
While the administration has handled the COVID-19 pandemic well, it has been much less successful in dealing with the negative effects of the ensuing adjustments, including shortages, inflation, supply chain disruptions, high demand and uncertainty.
The widespread shortages were caused by sudden and rapid increases in consumer demand and by manufacturers and suppliers that were too slow or unable to respond swiftly.
Once supply chain disruptions are straightened out as manufacturers increase their production and distributers move their products faster, shortages are bound to ease, though some could linger.
The U.S. economy is also experiencing a modest annual inflation rate of 5.4 percent, caused by the trillions of dollars that the Treasury gave Americans in 2020 to spend to avert a pandemic-induced depression. Flush with this cash and what they had saved while sheltering in their homes during the pandemic, consumers quickly increased demand for most products and services. They became less price sensitive and pushed inflation higher. Still, though worrisome, an annual inflation rate of 5.4 percent is hardly runaway or stagflationary.
But the excess cash is tapering off. Without it, consumers will be forced to reduce their demand and thereby push most prices downward. As a result, future inflation won't be as drastic or widespread, especially since the Federal Reserve Board is planning to reduce the money supply, which will dampen inflation.
But the uncertainty produced by the pandemic is likely to prevent people from getting back to normal and might foster some continued shortages and inflation.
Americans have been feeling confused and unsure about their future. Before the pandemic, they took stable prices and product availability for granted, knew the content and location of their jobs, woke up in the mornings to feed their kids and send them to school and were fairly content with their lives. Not anymore. Their world had changed, and the new one seems unfamiliar and scary to many. As a result, 4.3 millions have left the labor force since the onset of the pandemic.
What can the White House and Congress do to alleviate shortages, inflation and uncertainty? Here are four ideas.
1. Take measures to ease shortages. Mandating that the Port of Los Angeles work nonstop will increase some supplies, but it's not enough. It should be followed by similar action in other ports. Likewise, factories should be instructed to increase production. Such measures are easy to take in the case of consumer staples but more difficult in the case of computer chips, as chips are part of a global industry, and increasing their production requires building large factories and investing billions of dollars.
2. Stop handing out free money to consumers. With less money to spend, demand and inflation will ease. Though Americans are no longer receiving government manna, many still have cash to spend, which will continue to exert some upward inflationary pressures.
3. Think again about the size, timing and spending schedule of infrastructure and Build Back Better initiatives. Pumping trillions of dollars into the economy could create a new round of inflation inflammation.
4. Reduce uncertainty. Unfortunately, policymakers lack the knowledge, skills and tools to address this effectively. What is desperately needed is trusted and steady leadership to assure Americans that their lives as consumers, employees, parents and human beings will be more certain again. Unless they can be made to feel more content with their lives, the economy may continue to sputter and keep a fuller economic recovery at bay.
Can these challenges be successfully addressed in the coming year or two? Maybe. The U.S. discovered and produced a life-saving vaccine against COVID-19 in record time and enacted policies that averted depression. Likewise, I expect shortages and inflation to subside and a sense of normalcy to rise. This, plus efforts to make consumers feel more confident, would put the country on a more prosperous path.
Avraham Shama is the former dean of the College of Business at the University of Texas – Pan American. He is a professor emeritus at the Anderson School of Management at the University of New Mexico. His book, "The Impact of Stagflation on Consumer Psychology," was published by Praeger publishing.
Shekel surplus weighs down Palestinian economy – FRANCE 24
Issued on: 17/10/2021 – 05:06Modified: 17/10/2021 – 05:04
Ramallah (Palestinian Territories) (AFP)
Palestinian businesses flush with too much Israeli cash: it may not be the most talked about aspect of the occupation, but experts warn it is a growing concern for the Palestinian economy.
Palestinians in the West Bank use the Israeli shekel but, beyond that commonality, the two financial systems are dramatically different.
In Israel, as in many advanced economies, digital payments are rapidly growing, taking the place of transactions once done with bills and coins.
But in the West Bank, a territory under Israeli military occupation since 1967, cash is still king.
Tasir Freij, who owns a hardware store in Ramallah, told AFP he now has to pay a two percent commission to deposit paper money because his bank is reluctant to receive it.
"This is a crisis… and we are feeling its effects," Freij told AFP.
Much of the paper money is brought in by the tens of thousands of Palestinians who work inside Israel or Jewish settlements in the West Bank, and who get their wages in cash.
Experts and business people say the buildup of hard currency risks stifling the Palestinian financial system.
Freij fretted that buying goods from abroad typically requires converting shekels into foreign currencies, especially dollars or euros, but the abundance of shekels in the market has forced him to accept painfully unfavourable rates.
– 'Dumping ground' –
The Palestinian Monetary Authority, which functions as the central bank in the West Bank, has warned that paper shekels are building up because it has no way to return the hard currency to Israel.
PMA governor Firas Melhem told AFP that the cash buildup was "a very worrying problem," causing headaches for banks and businesses.
"If the problem is not resolved quickly, the Palestinian market will turn into a dumping ground for the shekel," he added.
The shekel was established as the official currency in the Palestinian territories as a result of economic protocols known as the Paris agreements that followed the Oslo Accords between Israel and the Palestinian Territories.
Much has changed since those 1994 agreements.
As they lean more on digital transactions, Israel's banks no longer want to reabsorb paper cash that accumulates in the West Bank but does not circulate rapidly through the Israeli economy.
The Bank of Israel cited security as another reason.
"We stress that uncontrolled cash transfers could be misused, especially for money laundering and terror funding, and would not be in compliance with international standards on the prohibition of money laundering and terror funding," the bank told AFP in a statement.
– Solutions? –
Palestinian banks have tried to encourage customers to moderate their cash deposits, but that risks limiting the capital available to banks, which would lower their ability to offer loans.
The cash surplus predicament has fuelled renewed calls from some Palestinian experts in favour of ditching the shekel, either in favour of a unique Palestinian currency or that of another nation, including the Jordanian dinar, which also circulates in the West Bank.
The Palestinian Monetary Authority is also pushing the Bank of Israel to take back more hard currency.
But Melhem stressed that Palestinians also needed to "keep up with developments in financial technologies," and move towards more cashless payments.
© 2021 AFP