Good morning, Starshine! Scroll through the universe with the most iconic images of space – Hindustan Times
Good morning, Starshine! Scroll through the universe with the most iconic images of space
As telescopes gets smarter and space voyages more adventurous, take a look at the best recent views of worlds beyond our own, and what it takes to create them.
UPDATED ON JAN 30, 2021 04:40 PM IST
It's a big year for astrophysicists. In October, NASA will launch the world's largest, most powerful observatory into space. The James Webb Space Telescope, much delayed, much redesigned, has already cost $9 billion. But when it's been installed just beyond the Moon's orbit, its infrared sensors will peer through interstellar gas and dust, to see deeper into space than mankind has ever been able to.
The Moon, at the speed of light, is just over a second away. The Sun is eight minutes away. As you look further into space, you're essentially looking further back in time, seeing objects not as they are, but as they were when the light that you're seeing first left them.
Just as, theoretically, you could be looking at stars in the sky that have long since died, NASA says the new telescope can look far enough to see what stars, galaxies and solar systems looked like in the first billion years after the Big Bang (which occurred over 13 billion years ago). Crucially, a specially developed on-board camera will beam images back in high resolution. Pics or it didn't happen, right?
If you've been paying attention to the heavens, or at least astronomy news, you'll have noticed how much clearer our views of space have become in the last few years. Until the 1990s, images of the cosmos looked like the inside of a discotheque — random pinpoints of bright light, bright blurry patches, mists of pinks, blues and purples.
Since then, space agencies and observatories have zoomed in on multicolour nebulas, starbursts, black holes, the Sun in close-up and the moons on Mars. The Hubble Telescope, launched into low-Earth orbit in 1990, has revealed the depths of the universe with better and better clarity. The New Horizons spacecraft flying by Pluto, 3 billion miles away, revealed in 2015 that the dwarf planet has a heart-shaped feature on its side.
Varun Bhalerao, assistant professor with the department of physics at IIT-Bombay and a scientist who worked on India's first robotic telescope in 2018, says visuals are integral to the field. "Astronomy, because of its nature and scale, has no control over its experiments – we can't fast-forward to see how the Sun might evolve. So observation is everything."
No one's looking through telescopes to make those observations, anymore. Complex machines, often working in tandem with dozens of others, do the peering, measuring and data-collecting instead. And as they've improved, so has the view. "The visualised data bridges the gap between academic knowledge and what one would see in space. It's not unlike discovering a work of art like the Mona Lisa, and seeing a whole new world," Bhalerao says.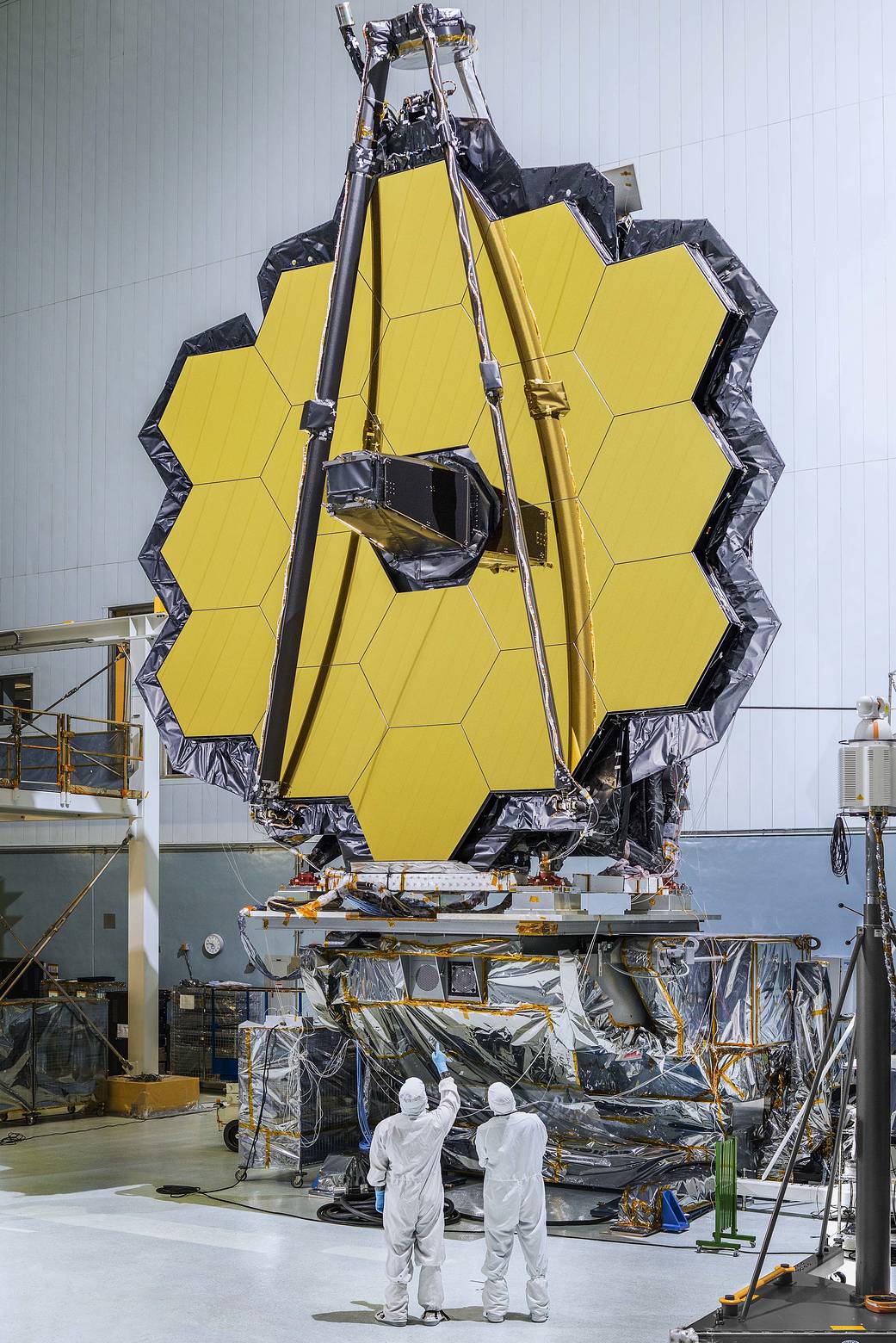 Those pictures have a history of changing life on Earth. Copernicus's sketches indicating that it was the Sun, not the Earth, at the centre of the universe, shook the foundations of 16th-century Europe and brought about a scientific revolution. Russian cosmonaut Yuri Gagarin, the first human in space, didn't pack a camera in his Vostok capsule in 1961. But the Apollo 8 crew, headed to the Moon in 1968, did. Their photo, Earthrise, depicting Earth peeking over the desolate lunar surface, showed us for the first time just how fragile this planet is, reminded us that it is all we have, and helped popularise the environmental movement.
SPECKS AND SPECIFICATIONS
Taking a photo in space isn't quite a point-and-shoot affair. Even on the International Space Station, orbiting only 408 km above Earth's surface, the Sun's too bright, shadows too stark, and everything goes by too fast — there's a sunrise and sunset every 90 minutes. But visiting astronauts now get mandatory training on how to operate the dozens of on-board, always-on cameras to take the best shots of a changing Earth. As a result, they've captured erupting volcanoes, Australia's wildfires, snow melting off the Himalayas and coastlines as they've changed over time.
For objects far, far away, such as the nearest black hole — a dark something in a sea of dark nothing — it's a waiting game. Eight telescopes across Earth collaborated to create the 2019 image of the supermassive black hole and its shadow (the dark space in the centre, the point of no return) in the centre of the galaxy, M87. And even after the pictures were taken, it took two years to collect and process them — the data was too large to transfer online.
Because everything is moving in space — rotating, revolving, exploding, expanding or collapsing — even familiar objects take time to capture. To shoot the icy, gritty rings on Saturn, our solar system's most photogenic inhabitant, the spacecraft Cassini spent at least a decade examining them more closely. It needed to find an angle that looked straight through the rings, and take enough shots to piece together the composite of translucent arcs that we finally saw in 2018.
For scientists like Bhalerao, the images are a way to see the world outside the numbers and calibrations that typically fill an astronomer's day. "For us, usually, seeing the data is enough to fill us with wonder — kind of like a composer who can hear the aria in their mind using only the sheet music," he says. "But it's quite something to see how vast the Andromeda galaxy is, or how brightly the young stars shine in the Pillars of Creation nebula. It's a breath-taking side-effect. And it makes you wonder who we are and our relationship with the cosmos."
SEEING HEAVEN IN YOUR VIEWFINDER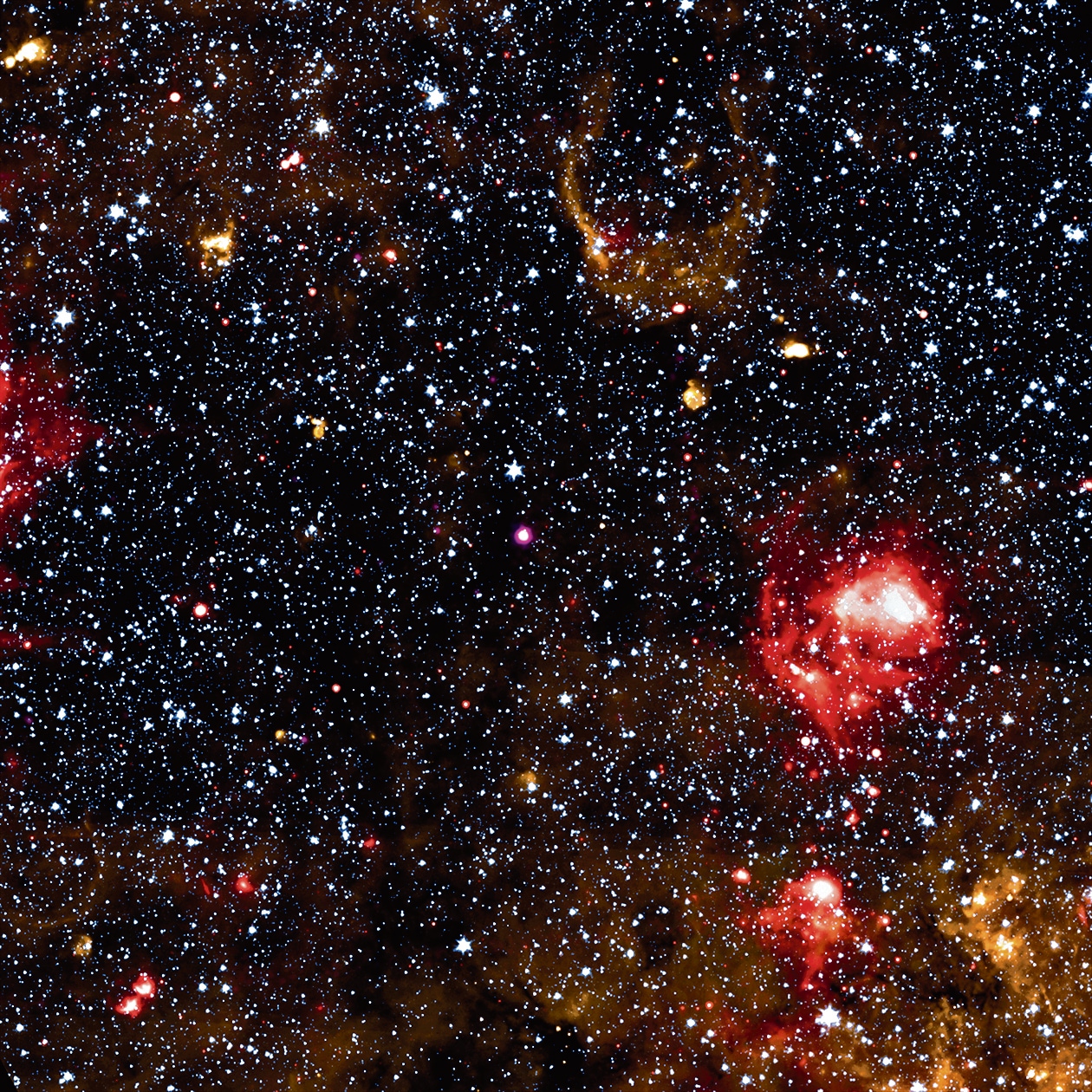 1. What on Earth is a Magnetar? It's not on Earth; it's in space. The little purple dot right in the centre is a dense star with the most powerful magnetic field in the universe. How magnetic? About 100 million times stronger than the most powerful magnets made by humans. We only know of 31 of these, and discovered this Magnetar, known as J1818.0-1607, last year. It's 500 years old, so probably among the youngest out there. It pulses bright and spins furiously, about 21,000 light years away. Scientists combined X-rays from the Chandra satellite telescope and infrared data from other observatories to create this composite, the first high-resolution image of J18, released on January 8, 2021.
.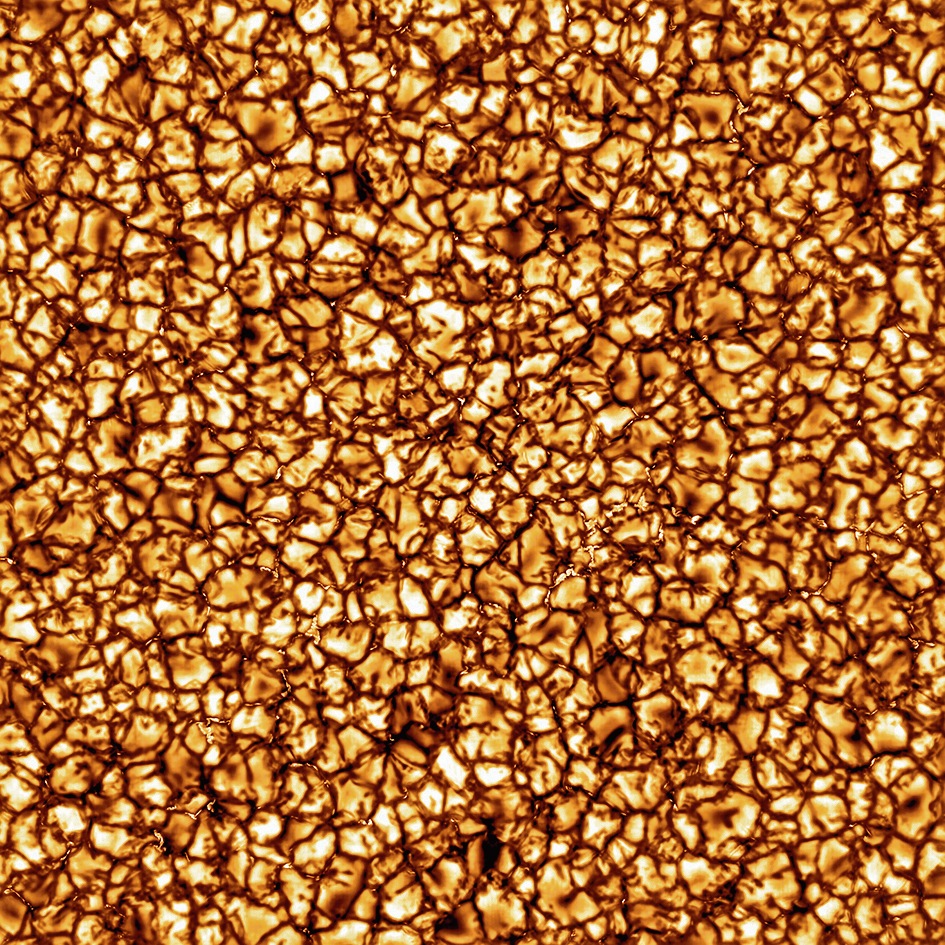 2. Who knew that our sun was a glowing mosaic up close? The Daniel K Inouye Solar Telescope in Hawaii, the world's most powerful tool for observing the sun, started sending out test images only in January 2020. This is its best work, the highest-resolution image ever taken of the Sun from Earth. Those yellow bits (each as vast as the Indo-Gangetic plain), are hot plasma cells turbulently rising from inside the star. The dark borders indicate where plasma is cooling and sinking. The original image, if you printed it, would cover an area of 36,500 sq km – you could literally look at it for days.
.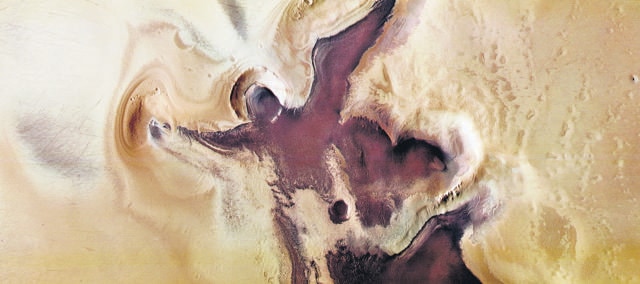 3. A swirly side to Mars: This image was acquired a week before Christmas 2020. It looked like the red planet was getting into the festive mood too. The European Space Agency's Mars Express probe used a high-resolution stereo camera to capture what looks like a haloed angel sinking into cappuccino foam at Mars's watery south pole. Notice the heart on her side? It's a dark mineral field. Mars Express has been orbiting our neighbour since 2003. This image, along with thousands of others, has helped us understand its geography better.
.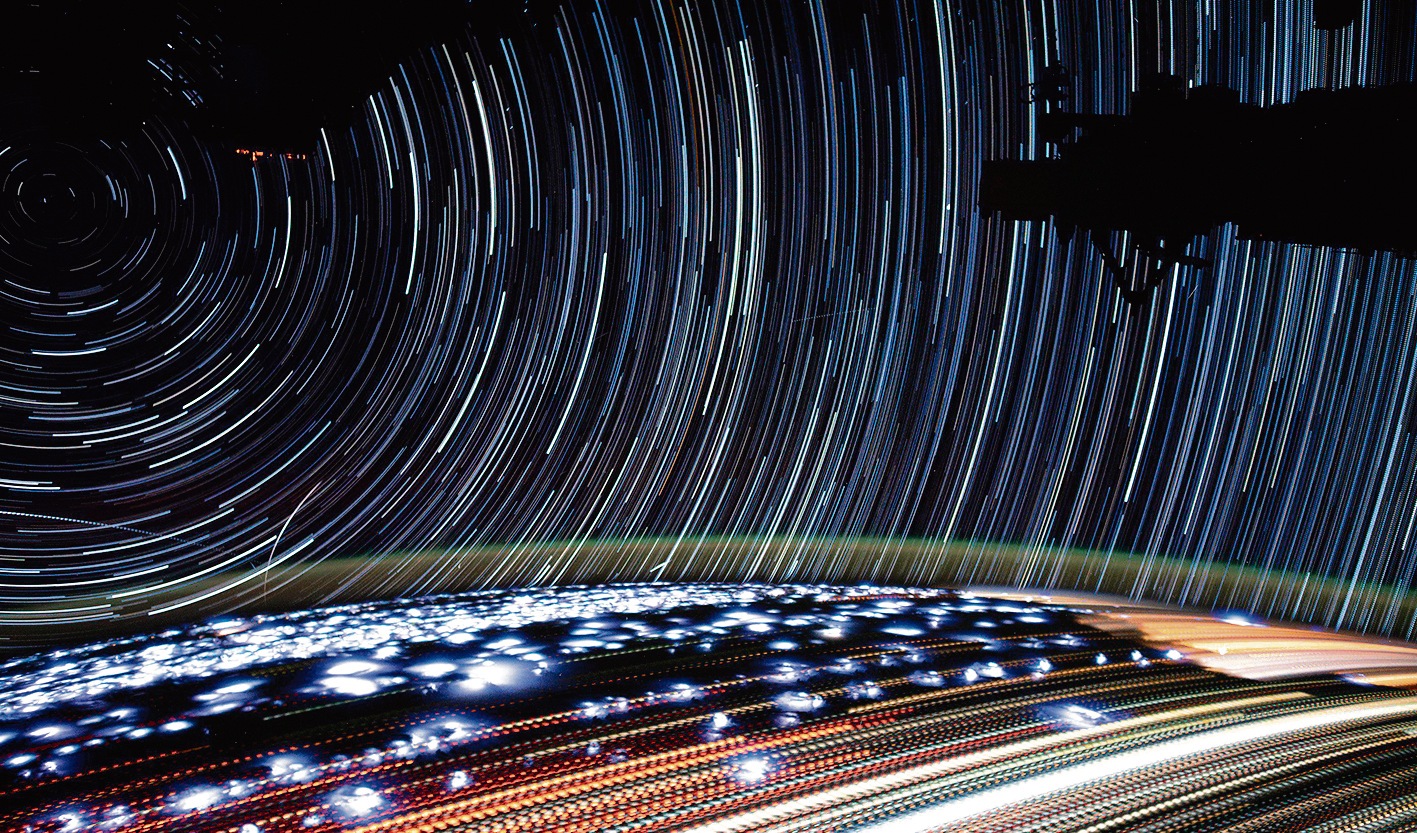 4. Star trails of a local kind: What are we looking at? Earth, in fast forward. NASA astronaut Christina Koch, on board the International Space Station, took over 200 photos in a span of six minutes in October 2019, as the ISS travelled over Namibia towards the Red Sea. This resulting time-lapse composite features both natural and artificial lights. See the thin tread marks? The yellow-and-white dotted streaks are city lights. The dark orange strips are from fires in Angola and the Democratic Republic of the Congo. White splotches are lightning storms. And the arcs are from stars in space, with a few travelling satellites thrown in.
.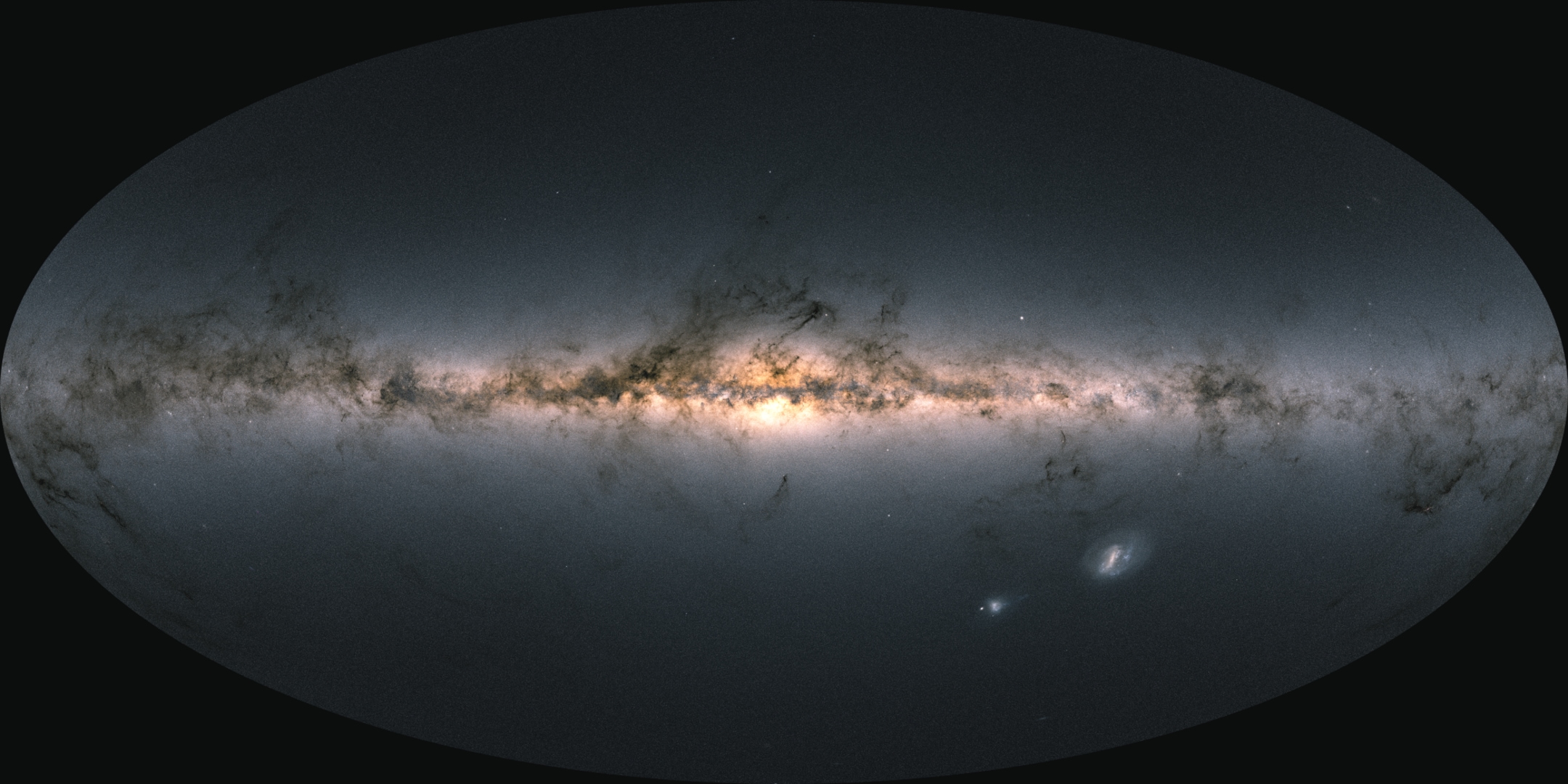 5. A smorgasbord of sky: With the human eye, you'll see, at best, only half the sky, a hemisphere oriented to where you're standing. But in December 2020, scientists compiled data from more than 1.8 billion stars to plot a 360-degree-view map of the sky. The European Space Agency's Gaia satellite drew on the colour and brightness of stars it has observed since 2013. It's a lot to take in at once. Bright areas indicate dense star clusters, dark patches occur where the stars are fewer and fainter. The bright strip is our Milky Way. We're somewhere in there.
.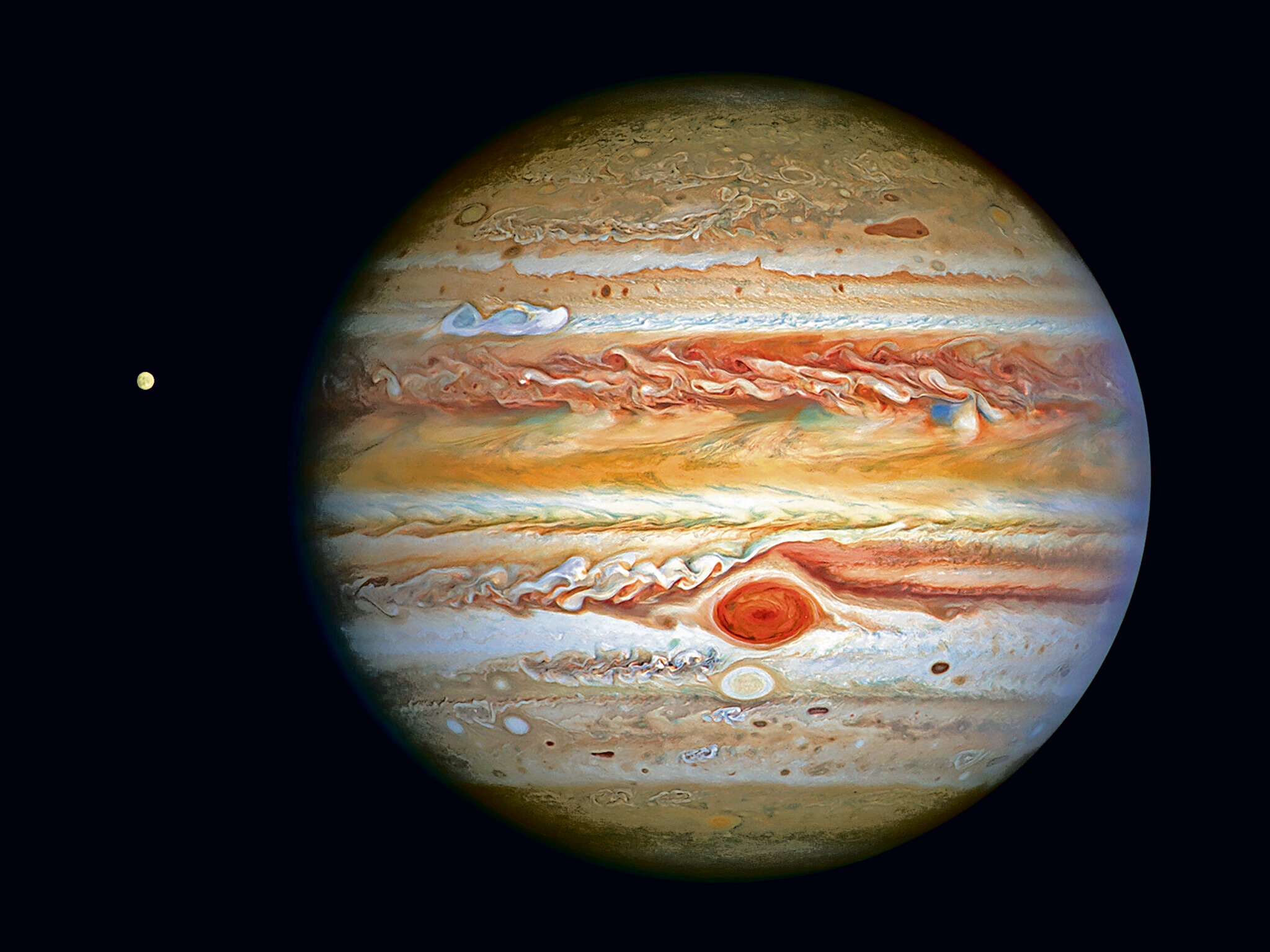 6. By Jove, he's stormy! We've been looking at Jupiter, the largest planet in our solar system, since at least the 7th century BCE. By 1610 CE, Galileo had used a telescope to discover four of its largest moons; we've since counted 79. Then sharper telescopes spotted the storm larger than Earth that forms its Great Red Spot. We've been flying past and sneaking peeks since 1973, but it's only in August 2020 that the Hubble Space Telescope offered this detailed look at its atmosphere. The weather report: A new storm brewing under the Great Red Spot. Researchers are calling it Red Spot Jr. The new image also features the Jupiter moon Europa. There'll be even better views soon. The European Space Agency's Jupiter Icy Moon Explorer is due to launch in 2022, and NASA's Europa Clipper mission will follow two years later.
.

7. All the space you need: In many ways, this is the image that started it all. In January 2015, NASA released to the public its highest-quality picture, an image of our neighbouring spiral galaxy, Andromeda, 2.5 million light years away. It is massive, made up of 1.5 billion pixels. To view it without zooming out, you'd need 600 HD TV screens. The composite draws on photographs taken by the Hubble Telescope over three years, from more than 411 points, and has been helping scientists make precision studies of large spiral galaxies. There are 100 million stars in the image, any one of which could harbour planets that support life.
.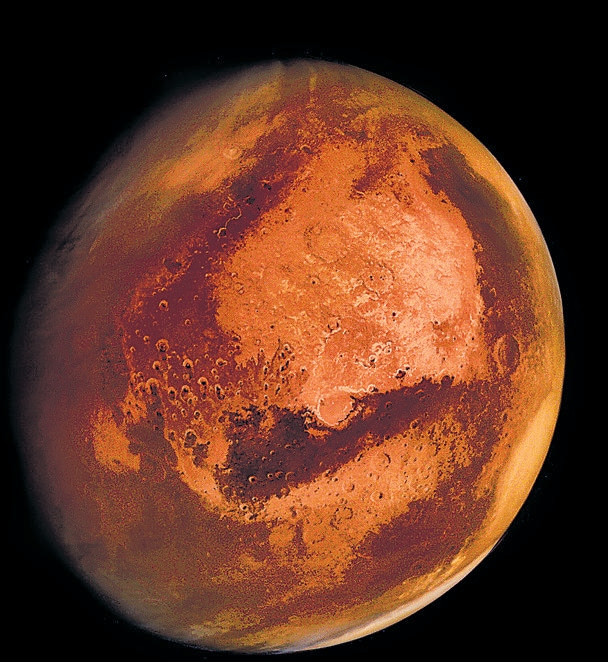 8. One of our own: Finally, beautiful images of space from an Indian programme. When ISRO launched its Mars Orbiter Mission in 2013, there was trepidation. Only the Soviet Union, the United States and the European Space Agency had sent voyagers to Mars – none had succeeded on their first attempt. But in 2014, our spacecraft entered the Red Planet's orbit, making us blush with pride. On board was the Mars Colour Camera, designed to closely study the planet's morphological features and atmospheric phenomena. It went to work immediately, beaming back these gorgeous shots in its first year. Over the years, the orbiter has set back some 1,000 images, enough for ISRO to fill an atlas. We've had rare glimpses of Mars's clouds and dust; the dark side of its moon, Deimos; and as recently as July 2020, its other moon Phobos. Not bad for a mission that was expected to last only six months.
.
VIEW A SLIDESHOW OF MORE IMAGES HERE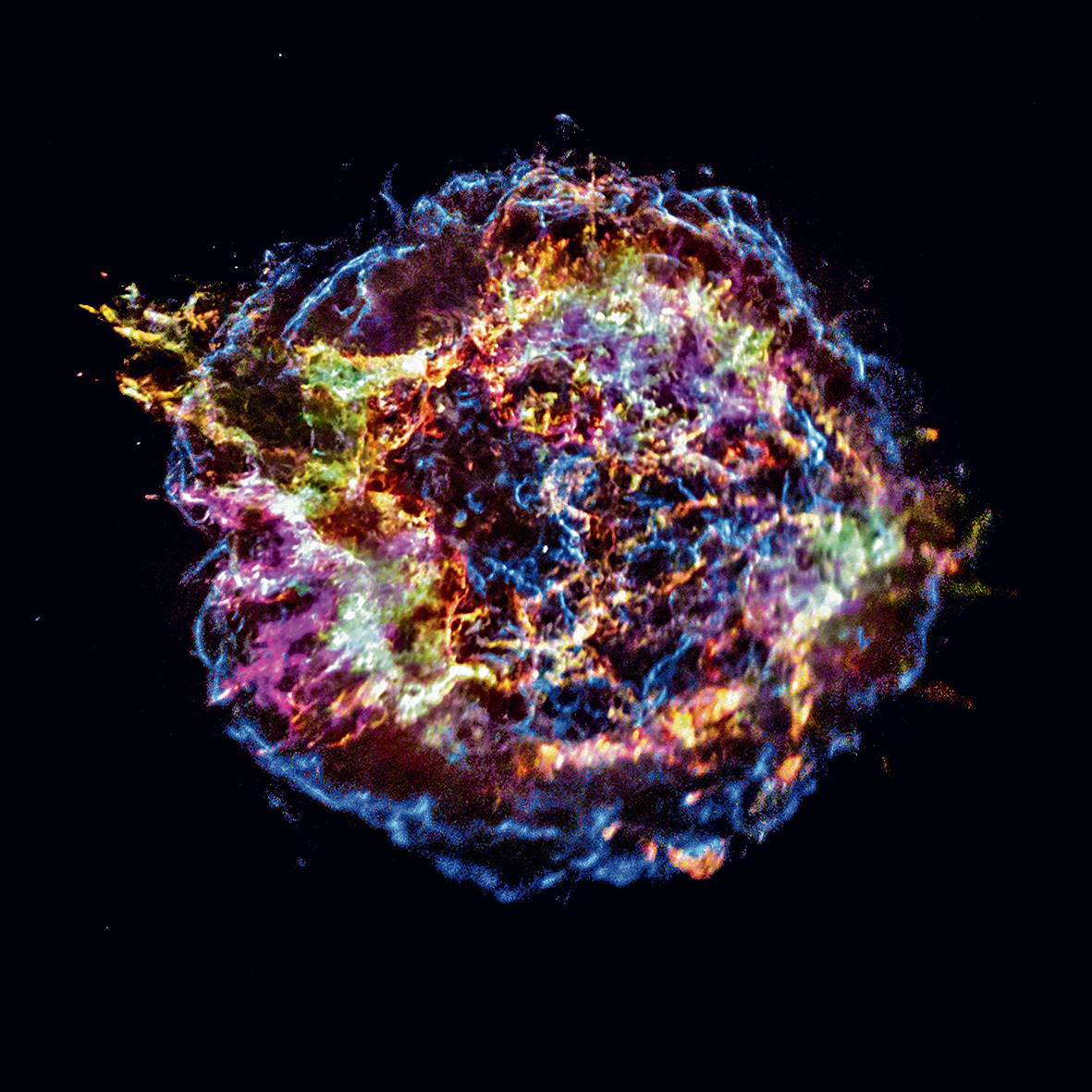 9. How a star explodes and dies: The elements that make up life on Earth come from inside the furnaces of stars and the explosions that mark their deaths. Which is why researchers are fascinated by supernovas and their remnants, and are so interested in Cassiopeia A, the debris of a starburst 11,000 light years away, which possibly exploded in 1680. Because a supernova is millions of degrees hot, their glow needs X-ray vision that Earth-based telescopes can't manage. Thankfully, NASA's Chandra X-ray Observatory has been orbiting Earth since 1999. Its mirrors pick up X-rays 100 times better. Chandra made 16 pointings at Cas A between 2000 and 2010. In 2017 it released this image capturing the volume and locations of silicon (red), sulphur (yellow), calcium (green) and iron (purple). The blue veins show high-energy X-ray emission. That blue outer ring is an expanding blast wave. How's that for spectacle?
.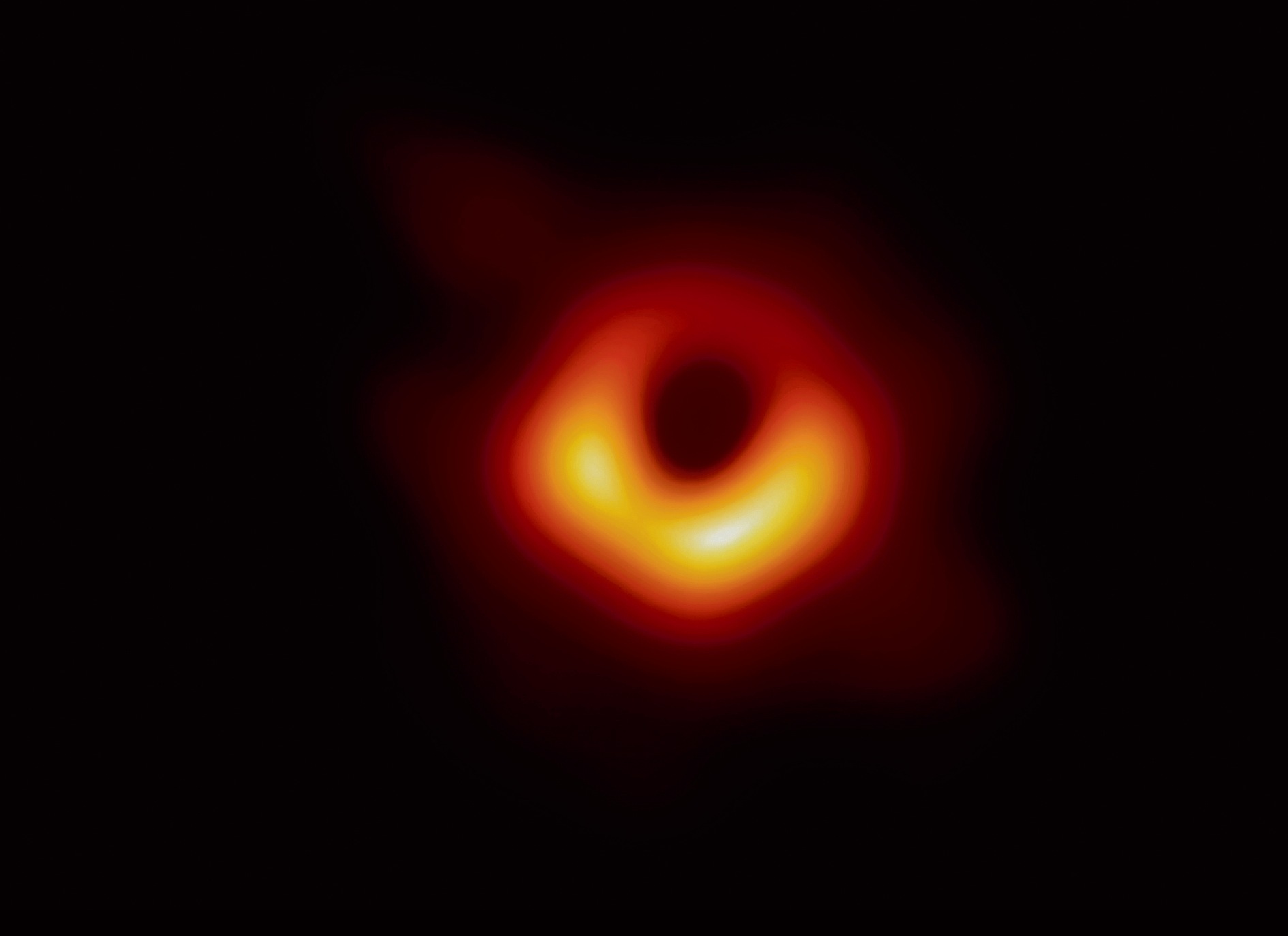 10. Black holes are really donuts: Black holes are not things, but places; collapsed stars or star groups with such strong gravity that they suck in everything around them, including light. Albert Einstein theorised on their existence in 1916, but astronomers only identified one in 1971. Then, in 2017, came visuals. The Event Horizon Telescope, eight radio telescopes working across international borders, observed something unusual in the centre of the galaxy Messier87, which is 55 million light years away. It looked like a bright ring, a shape that could only be formed when light itself was being bent. A black hole. It turned out to be huge – about 6.5 billion times bigger than our sun. The telescope's next planned target is the centre of our own galaxy, a suspiciously dark corner long said to hold a black hole too. Who knows what we'll see.
Blood moon, big city: Skywatcher captures total lunar eclipse over New York – Galaxy Reporters
The moon during eclipse burns red high above the yellow lights of New York City in beautiful photos caught by novice astronomer Alexander Krivenyshev.
Alexander Krivenyshev is the president of WorldTimeZone.com, who snapped images of the total lunar eclipse on Sunday night (May 15) from Guttenberg, New Jersey, outside the Hudson River from the Big Apple.
Krivenyshev told Space.com through the email that he maintained through cloudy conditions to get shots of the blood-red moon glowing like a beacon in a light-polluted sky.
The eclipse started at 9:32 p.m EDT on Sunday (0132 GMT on May 16) when the moon nosed into the dark part of Earth's shadow, recognized as the penumbra, and stopped five hours later. The total eclipse phase, in which Earth's huger umbral shadow blackened the moon, survived 85 minutes longer than any lunar eclipse in 33 years.
Earth's closest neighbor temporarily turns coppery red during entire lunar eclipses. This "blood moon" impact is caused by Earth's atmosphere, which bends some red light throughout the lunar surface while scattering away shorter-wavelength light.
Blood moon, big city: Skywatcher captures total lunar eclipse over New York (photos) https://t.co/XLW7GTUaox pic.twitter.com/RnqquN9UMY

— SPACE.com (@SPACEdotcom) May 18, 2022
Last weekend's sky show was nicely observed from America and fractions of Western Europe and West Africa. It was the first total lunar eclipse of the year; however, it won't be the last. One more eclipse will occur on Nov. 8. The Nov. 8 lunar eclipse will be observed from Australia, eastern Asia, and the western United States.
Searching for the Milky Way's Black Hole – Skywatching – Castanet.net
Photo: Contributed
One of the first images of the Black Hole at the centre of the Milky Way.
When we look into the southern sky close to the horizon on summer evenings, we are looking towards the centre of our galaxy, the Milky Way.
It is lurking around 30,000 light years behind the stars making up the constellation of Sagittarius, "The Archer". However, thanks to our location in the disc of our galaxy, our view is blocked by huge clouds of stars, gas and dust.
Our first images of the centre of the Milky Way were obtained by means of radio telescopes, which show us what the universe would look like if we could see radio waves rather than light. They revealed a strange, bright and unusually small radio source.
Measurements of the speeds stars orbit the centre of our galaxy indicate that at the same position as the bright radio source lies something very massive, very small and active. The best candidate to explain this is a black hole.
Radio waves have power to penetrate clouds and dust, which is why radar is so useful for navigation, detecting threats and avoiding hazards at night or in bad weather. However, radio waves have this greater penetration power because they are much longer than light waves. This means that to see detail when observing at radio wavelengths we need to use huge antennas.
To have the same ability to discern detail as the human eye, a radio telescope tuned to the wavelength of emissions from cosmic hydrogen (21cm) the antenna would need to be about a kilometre in diameter. Moreover, black holes are small by cosmic standards and at great distances, so to discern any details the radio telescope would need an antenna the size of the Earth.
This sounds impossible, but there is a solution, a technique called "Very Long Baseline Interferometry".
In the 1960s, Canada was the first country to succeed in combining radio telescopes thousands of kilometres apart so that they would have the detail discerning ability of a radio telescope thousands of kilometres in diameter.
This procedure has made possible a powerful, new astronomical instrument, the Event Horizon Telescope (EHT).
Several radio telescopes, thousands of kilometres apart operate in collaboration to observe the centre of the Milky Way at the same time. One of them is the Atacama Large Millimetre Array, located in Chile, in which Canada is a partner. In addition, scientists at several Canadian universities are involved.
The collaboration is named after the boundary that forms around black holes, called the event horizon. This is a one-way boundary in space-time—stuff can fall in but nothing, not even light, gets out. This is why they are called black holes.
However, even if we cannot see the black holes directly, we can certainly see the disc of material swirling around the black holes as it gets sucked in. This stuff gets very hot, and has intense magnetic fields trapped in it, so the black hole announces itself with radio emissions and X-rays from that disc.
The first target for the Event Horizon Telescope was the galaxy M87, located some 55 million light years away. It had long been suspected that a very energetic black hole lies at its centre, a big one, around 5 billion times the mass of the Sun. The EHT gave us our first image of that black hole.
Then the EHT radio telescopes were turned on the centre of our galaxy, and got our first image of our black hole. Luckily for us, it is much less massive and active than the one at the centre of M87. At four million times the mass of the Sun, it is relatively tiny.
We believe most spiral galaxies have big black holes in their cores. It is not clear whether galaxies get them when they form or they appear later. However, learning about their roles in galaxies should tell us more about how galaxies form and evolve to the point where they develop stars and planets, and because we live in one, it would be nice to know.
•••
• Venus, Jupiter, Mars and Saturn are still lined up in the dawn glow, in order of decreasing brightness.
• The Moon will be new on May 30.
This article is written by or on behalf of an outsourced columnist and does not necessarily reflect the views of Castanet.
Boeing's Starliner approaching ISS in high-stakes test mission – Phys.org
Boeing's Starliner capsule was preparing to dock with the International Space Station Friday, in a high-stakes uncrewed test flight key to reviving the US aerospace giant's reputation after a series of failures.
The spaceship blasted off from the Kennedy Space Center in Florida on Thursday evening, and is now set to rendezvous with the ISS at 7:10 pm Eastern Time (2310 GMT), as part of a mission to prove it is capable of providing safe rides for NASA astronauts.
Starliner encountered some propulsion problems early in its journey, with two thrusters responsible for placing it in a stable orbit failing for unclear reasons—though officials insisted everything remained on track.
"Overall, the spacecraft is doing really well," Steve Sitch, program manager for NASA's Commercial Crew Program told reporters at a post-launch press conference, in which he nonetheless flagged anomalies that engineers are working to understand.
One of 12 orbital maneuvering and attitude control (OMAC) thrusters located on Starliner's aft side failed after one second, at which point a second thruster kicked in and took over, but also cut out after 25 seconds.
The ship's software then engaged a third thruster that completed the necessary burn.
The OMAC thrusters are set to be used to bring Starliner closer to the ISS, and to help de-orbit the spacecraft near the end of the mission.
"We'll go look at the data and try to understand what happened. And then from a redundancy perspective, can we recover those thrusters?" said Sitch.
Starliner's success is key to repairing Boeing's frayed reputation after its first launch, back in 2019, failed to dock with the ISS due to software bugs—one that led to it burning too much fuel to reach its destination, and another that could have destroyed the vehicle during re-entry.
A second try was scheduled in August 2021, but the capsule was rolled back from the launchpad to address sticky valves that weren't opening as they should, and the vessel was eventually sent back to the factory for fixes.
NASA is looking to certify Starliner as a second "taxi" service for its astronauts to the space station—a role that Elon Musk's SpaceX has provided since succeeding in a test mission for its Dragon capsule in 2020.
Seeking redemption
Both companies were awarded fixed-price contracts—$4.2 billion to Boeing, and $2.6 billion to SpaceX—in 2014, shortly after the end of the Space Shuttle program, during a time when the United States was left reliant on Russian Soyuz rockets for rides to the orbital outpost.
Boeing, with its hundred-year history, was considered by many as the sure shot, while then-upstart SpaceX was less proven.
In reality, it was SpaceX that rocketed ahead, and recently sent its fourth routine crew to the research platform—while Boeing's development delays have cost the company hundreds of millions of dollars.
Starliner should dock with the ISS about 24 hours after launch, and deliver more than 800 pounds of cargo.
Its sole passenger is a mannequin named Rosie the Rocketeer—a play on the World War II campaign icon Rosie the Riveter—whose job is to collect flight data with her sensors in order to learn what human astronauts would experience.
"We are a little jealous of Rosie," NASA astronaut Mike Fincke, who is expected to be among the first crew selected for a manned demonstration mission should OFT-2 succeed, said at a press conference this week.
The gumdrop-shaped capsule will spend about five days in space, then undock and return to Earth on May 25, using giant parachutes to land in the desert of the western United States.
NASA sees a second provider to low Earth orbit as a vital backup, should SpaceX encounter problems.
---
---
© 2022 AFP
Citation:
Boeing's Starliner approaching ISS in high-stakes test mission (2022, May 20)
retrieved 20 May 2022
from https://phys.org/news/2022-05-boeing-starliner-approaching-iss-high-stakes.html
This document is subject to copyright. Apart from any fair dealing for the purpose of private study or research, no
part may be reproduced without the written permission. The content is provided for information purposes only.