Google announces crackdown on in-app billing, aimed at Netflix and Spotify
With a lot of focus lately on how smartphone app developers are treated on Apple's and Google's app stores, Google has decided right now is a great time to announce more stringent app store billing rules. A new post from the official Android Developer Blog promises a crackdown on in-app billing that sounds like it's targeted at big streaming services like Netflix and Spotify.
Google's post really beats around the bush trying to sugar-coat this announcement, but it starts off by saying, "We've always required developers who distribute their apps on Play to use Google Play's billing system if they offer in-app purchases of digital goods, and pay a service fee from a percentage of the purchase." This rule has not been enforced, though, and a lot of big developers have just ignored Google's billing requirements. Today, Netflix and Spotify don't use Google's in-app billing and instead kick new accounts out to a Web browser, where the companies can use PayPal or direct credit card processing to dodge Google's 30-percent fees.
"We have clarified the language in our Payments Policy to be more explicit that all developers selling digital goods in their apps are required to use Google Play's billing system," Google continues. "For those who already have an app on Google Play that requires technical work to integrate our billing system, we do not want to unduly disrupt their roadmaps and are giving a year (until September 30, 2021) to complete any needed updates."
That's basically the meat of the blog post: everybody needs to use Google billing by this time next year. A look at the "Payments Policy" shows examples like "subscription services" that offer things like "music" and "video." It also warns readers at the top that "changes are coming to this policy!" and that "any existing app that is currently using an alternative billing system will need to remove it to comply with this update."
Google draws a clear distinction between Android and iOS by pointing out that on Android, developers have a "choice of stores" and that most Android devices ship with multiple app stores. Google mentions twice that "each store is able to decide its own business model and consumer features" with the implication being that if developers want to be on Google Play, which has 2 billion active users, they're going to have to start following the rules or look elsewhere.
Better third-party app store support in Android 12?
One other tidbit in this post is news of an Android 12 feature: "We will be making changes in Android 12 (next year's Android release) to make it even easier for people to use other app stores on their devices while being careful not to compromise the safety measures Android has in place. We are designing all this now and look forward to sharing more in the future!"
Currently, installing a second app store requires a few extra checkboxes, but given that stepping outside of Google's walled garden really does expose users to more threats, the two warning messages don't seem excessive. Google regularly publishes stats comparing the malware rate of Google Play-only devices versus devices that have installed apps from outside the Play Store. While Google Play is by no means perfect, Google is one of the few app store operators big enough to put every app through some kind of vetting process, and as a result, users have been anywhere from 5 to 10 times more likely to get malware outside the Play Store than inside it for the past two years.
The current app store install process is not that arduous. If you're downloading something like F-Droid (an open source app store), first Chrome will give you a warning that this type of file (an APK) can harm your device, which you can click through. If you've never installed an app from the browser before, you'll be forwarded to the device settings so you can flip the "allow installs from source" checkbox for Chrome. Then you can install the app store. Android requires any app that installs apps to be given the "install unknown apps" checkbox, so you'll also need to flip this setting to allow the new app store to install apps.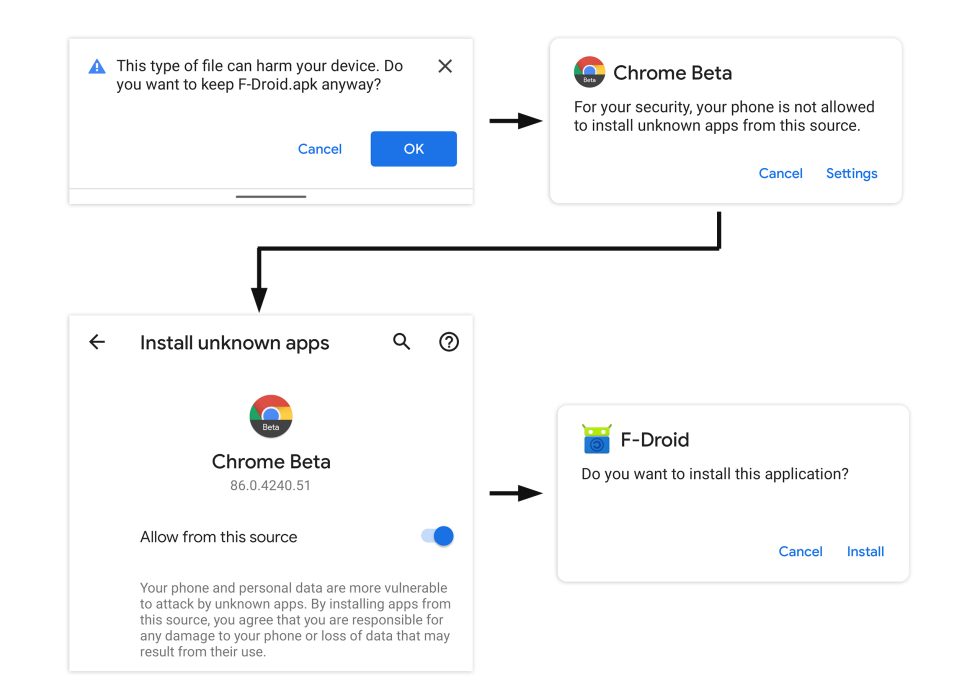 This move to make third-party app stores easier to use makes a bit more sense as a response to Fortnite's developer, Epic, which is currently suing Google over its alternative app store policies. "Directly downloading Fortnite on an Android device can involve a dozen steps, requiring the user to change default settings and bravely click through multiple dire warnings," Epic's antitrust lawsuit reads. "And even if a persistent user manages to install a competing app store, Google prevents such stores from competing on equal footing with the Google Play Store by blocking them from offering basic functions, such as automatic updating of apps in the background."
Like any lawsuit, Epic's filing is a bit blustery. By my count, installing a third-party app store takes five taps, not "a dozen steps." While any pre-installed app store (in the locked-down system partition) can install app updates, Epic is right that user-downloaded app stores can't automatically update apps. Letting downloaded apps install new code in the background without user consent sounds just a little scary, but maybe Google could add a highly privileged "app store" permission for downloaded apps to make companies like Epic happy. Epic also says it doesn't like "dire warnings" attached to these permissions either, though, and correctly informing users of how powerful an app store permission would be would require a pretty scary-sounding warning. Epic was already caught irresponsibly using these powers once, when the Fortnight Installer opened up Samsung devices to a security vulnerability.
Source:- Ars Technica
Apple One subscription bundle now available in Canada – MobileSyrup
Apple's new 'Apple One' subscription services bundle is now available in Canada.
The services package, which was first revealed at Apple's fall hardware event back in September, is available in several tiers that range in price. The tech giant surprise revealed that the service was launching on October 30th during its recent Q4 2020 earnings call.
Below are all of the Apple One bundles available in Canada:
Individual — includes Apple Music, Apple TV+, Apple Arcade and 50GB of iCloud storage for $15.95 CAD per month
Family — includes Apple Music, Apple TV+, Apple Arcade and 200GB of iCloud storage for up to six users for $20.95
Premier — includes Apple Music, Apple TV+, Apple Arcade, Apple News+, 2TB of iCloud storage and the recently announced Apple Fitness+ service for $33.95 per month (bundle can be shared with up to six family members)
According to Apple, the company's 'Individual' plan offers roughly $7 in savings, the 'Family' plan features $10 in savings and the 'Premiere' tier boasts $32 in savings.
It's also worth noting that Apple One includes a 30-day free trial. The subscription platform is available across iPhone, iPad and Mac.
While the Family plan offers the best value, most people will likely end up sticking with the Individual tier option.
Posthaste: Black Friday deals, deliveries and demand — what you can expect on the biggest shopping day of the year – Cochrane Times Post
Online shoppers will find sales earlier and longer
Good Morning!
Black Friday and Cyber Monday, that four-day bargain binge that shoppers around the world wait for every year, is fast approaching, but this Nov. 27 is going to be a very different shopping experience.
No more door busters, mobbed aisles and frenzied shoppers. The Centers for Disease Control and Prevention in the United States has classified "shopping at crowded stores just before, on or after Thanksgiving" on a list of higher-risk activities to avoid, reports USA Today.
Walmart has already announced it will close on Thanksgiving Day, a first since the late 1980s. Target, Best Buy and other big brands are doing the same.
Nor will Canadians be flocking over the border to swarm the stores down south.
The pandemic, however, has not dulled shopper's interest in Black Friday and Cyber Monday, a new survey by Shopify reveals. Two thirds (67%) of U.S. consumers surveyed say they plan to shop during the four-day marathon this year. In Canada it's 50%, France, 67%, and Germany 61%, which is comparable to or even higher than last year.
They also plan to spend more. Americans see themselves laying out US$686, Canadians, $481. In Britain, shoppers expect to spend £376, France, €466 and Germany €389.
But most of that shopping will not be in actual stores. The survey found more than half of Canadian shoppers (52%) plan to shop online only during the Black Friday, Cyber Monday weekend. In the U.S. it's 49%, the U.K. 62%, Germany (53%), Australia (53%).
Another hefty share, 48% in the U.S., plan to shop online and in stores, but only 3% plan to shop in stores only.
And for bargain hunters, here's the best part. Because of limits to how many people can be in a store and concerns about the timing of deliveries, sales are starting earlier this year and lasting longer.
"The concentrated four-day period traditionally marked by deep discounts and promotions has now evolved into a broader holiday shopping season," said Shopify.
More than half of Shopify's merchants surveyed said they believed consumers would start their holiday shopping before Black Friday this year, and they started preparing in September. About 20% of shoppers in Canada and the United States said they have started looking for Black Friday deals online and many big brands have already announced best-price sales to be staggered through November.
Shopify said the extended Black Friday, Cyber Monday season gives retailers more time to prepare for the hike in online orders and fluctuating inventory.
Curbside pickup and local delivery have substantially increased during the pandemic as more retailers moved online and it is having a "significant business impact."
On average shoppers who chose these options spent 23% more.
_____________________________________________
Was this newsletter forwarded to you? Sign up here to get it delivered to your inbox.
_____________________________________________________________
DON'T QUIT YOUR DAY JOB — YET Toronto millennial Nelson has a dream — a career in comedy. Before the pandemic put a stop to it, he was performing at amateur nights in Toronto clubs, while keeping his day job in communications. Nelson wants to move to Los Angeles to take things up a notch, but there's a punch line to that plan. Find out what this twenty-something has to give up to chase his dream in this week's Spent by Victor Ferreira.Brice Hall/National Post Illustration
Deputy Prime Minister Chrystia Freeland will deliver a virtual keynote speech on Canada's plan for a strong economic recovery from COVID-19 to the Chamber of Commerce of Metropolitan Montreal.
Conservative Leader Erin O'Toole will deliver remarks at a Canadian Club Toronto event, followed by a fireside chat
Lisa MacLeod, minister of heritage, sport, tourism and culture industries, will deliver a speech on sectoral resiliency and renewal to the Empire Club of Canada
Today's data: Canadian GDP (August), U.S. personal income and spending
Earnings: Imperial Oil, Fortis, SNC-Lavalin, Shaw Communications, Exxon Mobil, Chevron, Under Armour
___________________________________________________

_______________________________________________________

International tourist arrivals throughout the world are down 70% in the first eight months of 2020, the World Tourism Organization revealed this week. That decline represents 700 million fewer international tourists compared with the same period in 2019, and a loss of US$ 730 billion in export revenues from international tourism, more than 8 times the loss in 2009 under the impact of the global economic crisis. Most UNWTO experts expect a rebound in international tourism by the third quarter of 2021 but it is not expected to return to pre-pandemic 2019 levels before 2023.
____________________________________________________
The Bank of Canada is keeping its foot to the floor to drive economic growth, as the resurgence of COVID-19 this fall threatens to slow the pace of recovery.
The central bank announced Oct. 28 that it will maintain its 0.25% target for the overnight rate, which means consumers can expect interest rates on mortgages and other loans to remain ultra-low for the foreseeable future.
It's a tough road ahead, but in the meantime both homeowners and homebuyers can take great advantage of the bank's plan to fight through the fallout. Our content partner MoneyWise has some helpful advice.
____________________________________________________
Today's Posthaste was written by Pamela Heaven (@pamheaven), with files from The Canadian Press, Thomson Reuters and Bloomberg.
Have a story idea, pitch, embargoed report, or a suggestion for this newsletter? Email us at posthaste@postmedia.com, or hit reply to send us a note.
Costco Black Friday 2020 — Costco Black Friday Ads And Deals – Delish.com
If you have a Costco membership, it's probably your go-to place for groceries—and free samples (which are back, yay!). However, if you only get your groceries from Costco, you're missing out on some pretty incredible perks that come with your membership card. In addition to food and produce, Costco sells incredible kitchen appliances, home essentials and tech must-haves, like laptops and computers. And during Black Friday and the holiday season, they also offer insane deals on already low prices. Ready to shop?
What are Costco's Black Friday Sales This Year?
Starting November 5th, Costco is dropping weekly deals (both in store and online!) for all of your holiday deals. You can expect the really killer sales to start the day after Thanksgiving. Here's a little sale breakdown so you plan your shopping trip.
October 28th through November 22nd: The warehouse is having a "Member-Only Savings" event with sales on everything from groceries to tech—with free shipping. However, there's a limit on three sale items per purchase, so choose wisely.
November 26 through November 30: Costco's official Black Friday Sale starts online on Thanksgiving and continues into Cyber Monday. One caveat: Costco's stores will close their doors on Thanksgiving Day, November 26—though their discounts and deals will still be raging online. However, as of now, Costco stores will be open IRL the following day for Black Friday.
Shop Costco's Black Friday Sales
So, here's the thing: Costco hasn't announced their Black Friday deals yet. But as soon we know, we'll let you know. Bookmark this page and come back closer to the date to find the best sales.
This content is created and maintained by a third party, and imported onto this page to help users provide their email addresses. You may be able to find more information about this and similar content at piano.io