Google Answers Advertisers' Burning Questions About FLoC – Search Engine Journal
We now know Google will not build out alternative identifiers to track individuals as they browse the web.
While Google's March 3 announcement may not have come as a huge surprise, it did raise a lot of questions with advertisers as to what features they would lose and what future targeting options might look like.
Ginny Marvin, Google's Ads Product Liaison, was gracious enough to answer some of those burning questions for us.
It seems like there's a lot of confusion around the Privacy Sandbox. Could you explain the privacy sandbox in layman's terms?
Ginny Marvin (GM): The Privacy Sandbox was announced by Chrome in August 2019 (a 'Sandbox' is a testing environment). It is an effort to develop a set of standards in collaboration with the open web community to support a new approach to digital advertising that is privacy-centered. This approach doesn't rely on third-party cookies.
As part of the Privacy Sandbox, there are currently a set of proposed APIs to support various monetization use cases such as interest-based advertising, ads measurement, reporting and other scenarios.
Advertisement
Continue Reading Below
The API you've likely heard about most is called FLoC (Federated Learning of Cohorts). It is designed to enable interest group advertising without needing individual user profiles.
Users can be added to interest groups (cohorts) based on their browsing history, but the big difference is that cohorts are built within the browser using on-device processing to keep a person's web history private on the browser. Recent results from tests of FLoC to reach in-market and affinity Google Audiences, for example, have proven comparable to third-party cookie signals.
You can see the work that's happening collaboratively with the industry on the various API proposals in forums like the W3C.
How will advertisers be impacted by Google' recent announcement that it won't be building alternate identifiers to replace third-party cookies in 2022?
GM: The impact is that Google Ads buying tools are not planning to build or use new identifiers including PII that track individuals as they browse across the web once support for 3rd party cookies is phased out.
Advertisement
Continue Reading Below
Instead our web offerings will be powered by the Privacy Sandbox. Where there is not a first-party relationship, Google Ads buying tools will use APIs from the Privacy Sandbox to enable relevant ads and measure effectiveness. There is still work and testing to be done, but the aim is to continue to deliver advertiser outcomes and publisher monetization while prioritizing user privacy.
For audience targeting options that will be impacted, can you share insights into how they are being impacted and what they might look like in the future?
GM: Marketers will be able to use their own technology to identify high value FLoC IDs (each FLoC cohort will have an ID associated with it), and we expect ad tech platforms (including Google Display & Video 360) will accept such ID lists as seed lists for targeting and audience expansion.
The product design for these functions is in early stages, and we'll be working with industry partners and clients to gather feedback as designs progress in Q1 and Q2 this year.
Q: Will website remarketing still be available for advertisers in 2022?
GM: One of the more lively discussions in the W3C regarding the Privacy Sandbox is how to enable the remarketing use case without the use of third-party cookies.
Last year, Chrome first introduced the TURTLEDOVE proposal to allow an advertiser, publisher or ad tech company to leverage their own first-party data, such as consumers who visited their website, to inform ads a consumer might see.
Chrome's new FLEDGE proposal (First "Locally-Executed Decision over Groups" Experiment) expands on TURTLEDOVE by including a way for on-device bidding algorithms to use additional information from a new trusted server designed for this sole purpose.
User data, including browsing history, remains shielded (within the device) from buyers and sellers. This first experiment is expected to ship during 2021.
Will advertisers ability to report on in-market audiences, affinity audiences or placements be impacted?
GM: Our intention is to still allow marketers to get the relevant reporting they need in order to make critical business decisions. More to come on this in the future.
Advertisement
Continue Reading Below
Can you explain how advertisers will be able to create interest groups and what some of those criteria might look like?
GM: The central idea for the current FLoC is that the browser creates cohorts of users to ensure they cannot be identified individually. It looks for clusters of similar recent browsing activity to group people into cohorts of similar interests.
Advertisers can also use their own machine learning algorithms and predictive analytics capabilities to make decisions on what audiences or interests or cohort IDs might represent.
FLoC is aimed at giving advertisers the same capabilities that they had with third-party cookies, but the big difference is the privacy focus on doing this based on cohorts rather than individuals.
Can you share any detail on how granular will cohorts be?
GM: FLoC cohorts are still being tested, but they are based on general web interests indicated by recent browsing behaviors.
We expect to begin testing FLoC-based cohorts with advertisers in Google Ads next quarter.
Advertisement
Continue Reading Below
How frequently will those cohorts be updated?
GM: Cohorts are dynamic and will update every seven days during the initial trial.
As a person's browsing behavior changes, their browser will assign them to a different FLoC cohort that reflects those interests.
For example, at one point they might be in a FLoC cohort with thousands of other people who have also recently visited websites about gardening and travel overseas, and then at another point in time they could be in a group of people who have recently visited sites about art supplies and cooking.
Do you see Google offering a third-party audience exchange in the future? In some of the documentation it references publishers abilities to sell audiences to advertisers – would Google Ads broker this functionality?
GM: We plan to deepen our support for solutions that build on direct relationships between consumers and the brands and publishers they engage with.
How will this impact reporting in Google Analytics? (In particular, the audiences report as well as demographics such as in-market and affinity audiences.)
GM: Google Analytics will continue to allow customers to bring in their first-party data, which they can use on their own or join with Google data.
Advertisement
Continue Reading Below
The primary change is that Google Analytics will not enable customers to do view-through conversion (VTC) measurement on third-party network inventory
Is there anything else that advertisers should know?
GM: The aim is to develop a sustainable, long-term solution that protects user privacy by keeping data on-device and gives advertisers and publishers solutions to succeed in a privacy-first world. There are still details to address and testing to do as we work with the industry.
Cookies aren't going away just yet, and we know there are questions we can't answer yet because Privacy Sandbox is still in development. We will continue to share more as work progresses.
For Google Ads, the next step is to begin testing FLoC-based cohorts with advertisers next quarter.
Betsson Secures a 50% Stake in JDP Tech – Looking to Boost Growth in Latin America
Swedish iGaming giant Betsson has recently invested heavily into expanding into new markets as it seeks to continue to grow its business. The online sports betting and casino operator acquired a 50% stake in JDP Tech, a company offering payment processing focused on the South American market.
Through Betsson Perch Investments, a subsidiary of Betsson, the iGaming operator paid a total of €8.8 million in shares to JDP tech in order to obtain a 50% stake. JD Tech is a software development company focusing on payment processing solutions, a vital part of any iGaming company.
According to Pontus Lindwall, CEO of Betsson, the deal is an integral part of Betsson's long term strategy. He said: "This is a strategically important region for Betsson, and we see great potential for the company in the long term. With this major investment, Betsson is well-positioned to further expand our business in the Latin American online gaming market."
Why Payment processing is Important for the Latin American Market
Payment processing is important in any market, with consumers preferring to use sites that offer fast and secure payments without complicated requirements or rules. In Latin America, the iGaming market is expanding rapidly, and there's a need for sites offering convenient payments.
Latin American users expect to be able to deposit funds to their account quickly using their preferred method, and withdrawals should be fast and simple too. It's important that iGaming sites listen to the needs of the consumers and ensure that a wide range of popular payment methods are supported. For this, good payment processing software is an integral part of a site.
Latin American consumers have a growing number of options to choose from when it comes to iGaming, so they're likely to join a competitor if the site they're using doesn't offer the kind of service they expect.
How Betsson Aims to Expand in Latin America
Betsson has been targeted the Latin American market for some time now, and this recent acquisition represents part of the company's long-term strategy in this area of the world. In 2019, Betsson purchased a 75% stake in Suaposta, a Brazillian sports betting operator. This move came shortly after Brazil passed new sports betting regulations and aimed to put Betsson in the best position for the deregulation of the sports betting market.
Last year, Betsson also entered the Colombian market, buying a 70% stake in Colbet as it looked to expand its South American operations. In addition to this, Betsson is aiming to obtain an operating licence in Buenos Ares, Argentina.
In Mexico, the Swedish betting giant entered into a partnership with Big Bola Casinos, aiming to launch a sports betting service in later 2021. Big Bola Casinos is one of the few gambling operators licenced by the government of Mexico, giving Betsson an excellent opportunity to establish itself in a relatively undeveloped market.
These moves show that Betsson is serious about entering the Latin American market and is looking to become one of the biggest sports betting operators in the area. Through continued investments and partnerships, Betsson has taken steps to grow its business and bringing safe and convenient sports betting to a wider market.
After an initial slow start, Victorian over 50s are turning out to get their COVID jabs – ABC News
Brenda Holt would have been at the front of the line to get her COVID vaccination this morning, except there was no line.
Key points:
All Australians over 50 are eligible for the AstraZeneca shot today
Victoria's mass vaccination hubs were all reporting wait times of under 15 minutes this morning
People are being told to wait 14 days between the flu vaccination and the COVID vaccination
Brenda walked right on in to Melbourne's Royal Exhibition Building vaccination hub, got her jab and left with a tear in her eye as she moved a tiny step closer to being able to visit her family in Texas.
Anyone over the age of 50 can now get the AstraZeneca vaccine at a mass vaccination clinic but, in Melbourne at least, it was a seemingly slow start.
Wait times of under 15 minutes were being reported for people who arrived without an appointment at all of the high-volume vaccination centres in Melbourne, Geelong and Ballarat this morning.
By midday, wait times had stretched to more than an hour at the Exhibition Building, the Melbourne Convention and Exhibition Centre, and the Heidelberg Repatriation Hospital.
The state health department said the Royal Exhibition Building was booked out for appointments, and it was experiencing very high call volumes through its vaccine phone booking service.
Loading
Brenda expected more people to be waiting in line early to get the jab when the centres opened.
"I just am shocked and really disappointed," Brenda said.
"I think that we're in a bit of a bubble here in Australia, we don't understand how devastating it's been, and it's not real to us.
"We've been so lucky and we've handled this so well until the vaccination rollout, I have no idea why it's taken so long."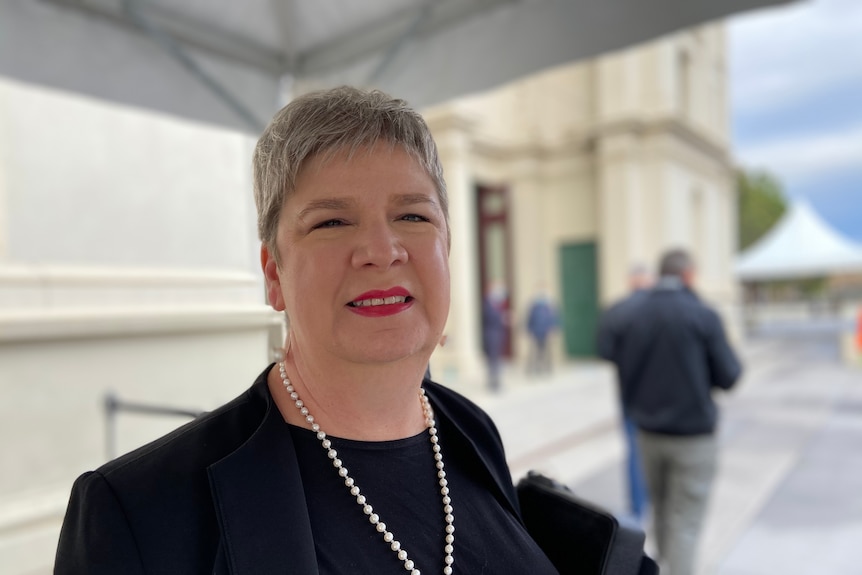 Everyone who booked will be vaccinated
Jeroen Weimar, Victoria's COVID-19 Response Commander, said by lunchtime, 8,500 people had called the COVID-19 hotline to make a booking.
"At the moment, what we're seeing is a really healthy demand for people coming out who want to get vaccinated," he said.
"Everybody who's got an appointment today will be vaccinated today. Everyone in line will get a vaccination today."
If the queues were too long at the end of the day, Mr Weimar said people would be asked to come back the next day.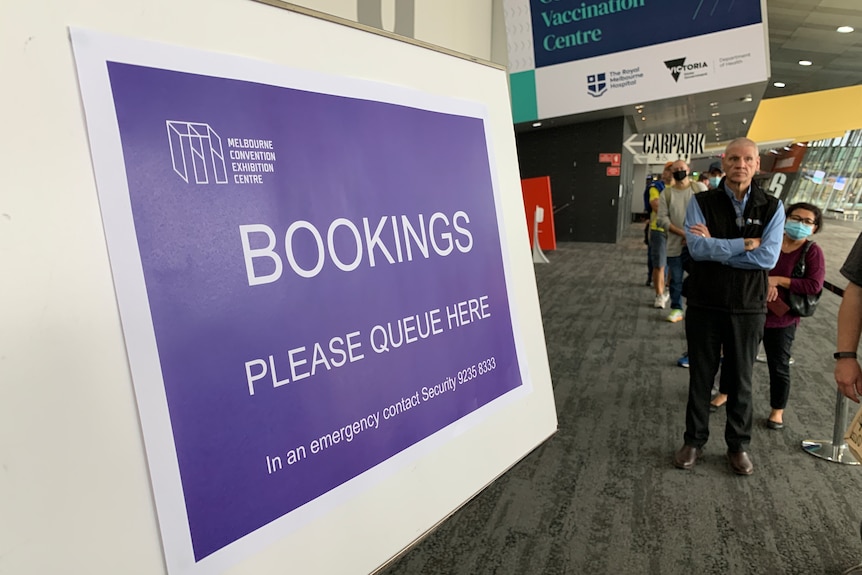 The Box Hill Hospital vaccination centre, in Melbourne's east, was very busy in the morning and some people were asked to go to a nearby clinic at Ringwood East, Mr Weimar said.
He said there were wait times of up to 90 minutes for some people who had not booked appointments at the large vaccination centres.
With a staff of 700 people handling the calls, he said the operation would be scaled up as appropriate.
"We will quite happily put hundreds more people into the phone lines if the demand is there to book vaccinations," Mr Weimar said.
"My request for Victorians would be, if you're eligible, come forward now so we can get you vaccinated.
"Let's have a really busy few weeks and months and then we can get on and get the rest of the community done."
So far, 520,000 Victorians have received their first dose of a vaccine.
There are now six high-volume vaccination hubs operating in Victoria, at the Royal Exhibition Building, Melbourne Convention and Exhibition Centre, the former Ford Factory in Geelong, the Heidelberg Repatriation Hospital, Sunshine Hospital and Mercure Ballarat.
Another 15 vaccination centres have opened today at these locations:
Bendigo Hospital
Latrobe Regional Hospital – Traralgon Racecourse
Albury Wodonga Health – Wodonga Community vaccination clinic
GV Health – Shepparton Showgrounds, McIntosh Centre
Eastern Health – Box Hill
Eastern Health – Ringwood East Community Clinic*
Northern Health – Epping
Monash Health – Monash Medical Centre*
Monash Health – Dandenong*
Monash Health – Kingston*
Monash Health – Moorabbin*
St John of God Hospital – Berwick*
Peninsula Health – Rosebud Hospital*
Peninsula Health – Frankston*
Austin Health – Olivia Newton-John Centre*
(* Phone bookings only initially, no walk-ins)
Another mass vaccination hub will open tomorrow at the Cranbourne Turf Club.
There are about two million Victorians now eligible to get the COVID vaccination.
The majority being vaccinated now are receiving the AstraZeneca vaccine, with a limited number of people under 50 in the 1a and 1b priority groups getting the Pfizer vaccine.
Epidemiologist Catherine Bennett said there may be some hesitancy to get the AstraZeneca vaccine, given reports of blood clots in a small number of people.
"As more people take up the vaccine, I think other people will then think yeah, there's a lot of benefits of this, and my friends are fine, and I'm OK with this," she said.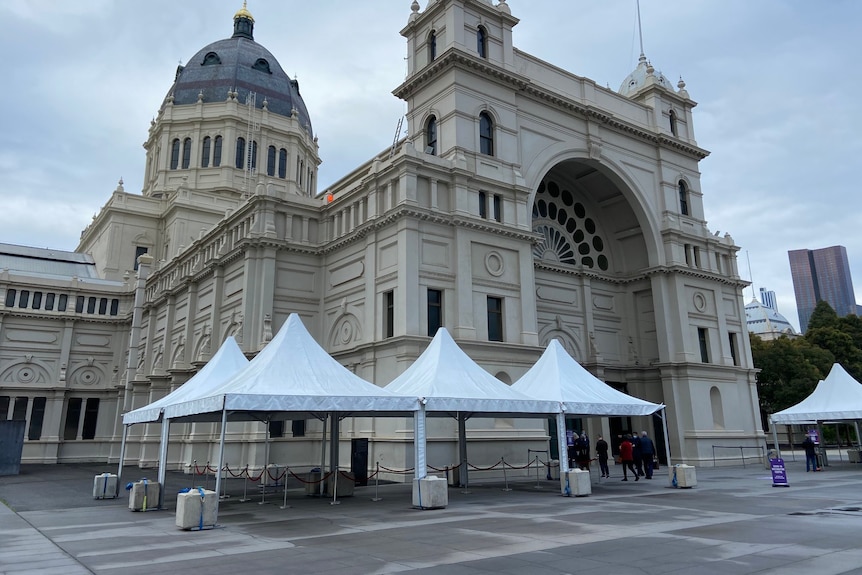 Professor Bennett said the vaccination scheme was starting to gather speed after a slow start.
"We've actually had four times as many jabs go out in the last four weeks, as did in the previous first six weeks of the rollout," she said.
"And in another two weeks, it steps up again, because that's when they can also access the vaccine through their GP."
Brenda said she understood the hesitancy some people might feel about the COVID vaccine, but the risk was small.
"Any of us who've taken any drugs at any time, I mean you take a risk and I think the risk of what this vaccine can do compared to what COVID could do to you are pretty stark," she said.
Dianne McKenzie was also among those getting vaccinated at the Royal Exhibition Building, and said she felt a sense of relief.
"Gotta say I'm really grateful, because I've been trying to keep safe, trying to keep my elderly mum safe by staying away from people, and this feels like a little bit of extra protection so I can stop worrying about myself and worrying about her and relax a little bit after a hard year," she said.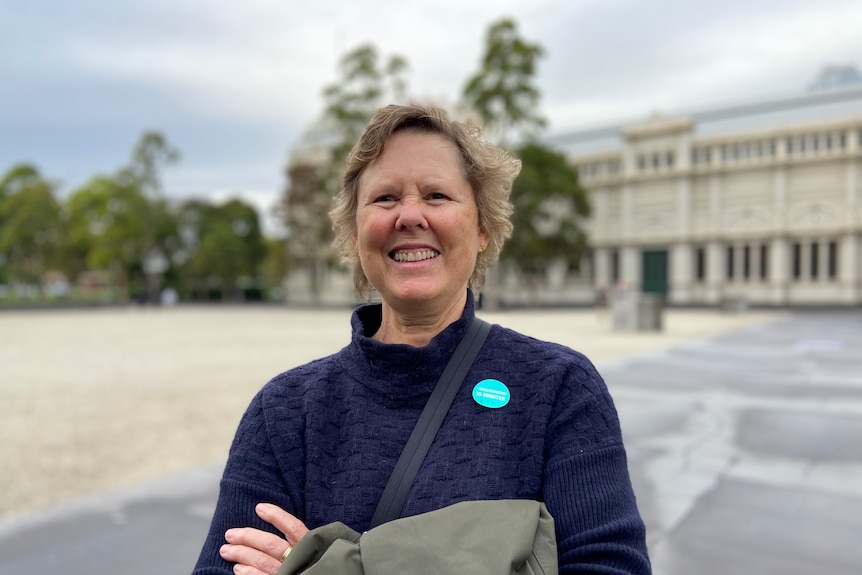 Melbourne Lord Mayor Sally Capp urged people to follow the advice of doctors after receiving her vaccine dose at the Convention and Exhibition Centre.
"The scariest part is actually admitting publicly that you are 50," she said.
"If that's the scariest bit then we're going to be OK. We know that all of the health experts have said that AstraZeneca is effective and I think it's really important that we keep listening to that health advice."
The Victorian health department is also recommending people who have had the flu vaccine wait for two weeks before receiving the COVID vaccine.
The department said there was no evidence the two vaccinations interact with each other, but if a person does have a reaction, the 14-day time frame would make it clear which vaccine they have reacted to.
Woodbine Racetrack will host a number of Pop-Up COVID-19 vaccine clinics this week – Vancouver Is Awesome
TORONTO — Woodbine Racetrack will be the site for a pop-up COVID-19 vaccine clinic this week.
Woodbine Entertainment announced Monday the clinic at the racetrack will begin Wednesday for the Rexdale community. The clinic will operate for at least three days and will be open to those 18 years and older living in 'hot spot' communities in M9V and M9W postal codes.
"We are very proud and grateful to be able to host this much needed pop-up clinic at Woodbine Racetrack for the Rexdale community," Woodbine CEO Jim Lawson said in a statement. "We look forward to working with our community partners over the coming days to deliver a positive experience that will benefit people throughout Rexdale."
The clinic will also be open to frontline essential workers who provide daily care to horses stabled at Woodbine Racetrack.
"These workers are critical to the wellbeing of more than 1,000 horses and obviously cannot work from home. Many of them live in dormitories on our property and in the surrounding areas," said Lawson.
This report by The Canadian Press was first published May 3, 2021.
The Canadian Press