Grading the Toronto Raptors' 2020 NBA offseason – ClutchPoints
After being eliminated by the Boston Celtics in the 2020 Eastern Conference Semifinals, one sentiment was echoed by both Toronto Raptors head coach Nick Nurse and star guard Kyle Lowry: it's highly unlikely that we bring everyone back next year.
It was true, nevertheless. The statements may have been stated to save face and instill a glimpse of silver lining into retaining all of their upcoming free agents, but the overall notion had already settled in. The Raptors would be a slightly different looking team, one way or another. It's no one's fault to blame given the insane amount of production from the underdog squad. They were thought to be an aftermath meltdown after the departure of Kawhi Leonard.
Fred VanVleet turned in an insane year from all aspects of his game. It was well known that he wouldn't retain the measly two-year, $18 million contract of which he'd just come off. The same could be said for Serge Ibaka, who'd had a career year himself and was looking for a huge bump in his salary.
How well the Raptors front office landed on their feet remains to be seen as the season gets underway.
Free Agency
The Raptors had three free agents that they felt the ultimate need to retain in VanVleet, Ibaka, and Marc Gasol. The end result was only being able to keep one, with VanVleet inking a four-year, $85 million deal as free agency commenced. Given both Ibaka and VanVleet's career years, it was unlikely that Toronto could keep both players.
VanVleet's scoring averages had jumped from his 2018-19 season in which he averaged only 11 points per game while dishing out 4.8 assists. He was given nearly a 10-minute bump in playing time during the 2019-20 season, which saw his averages increase to 17.6 points and 6.6 assists. He's one of the more integral pieces of Nurse's offense, which could suggest that he was a priority ahead of Ibaka.
The speculation was that Toronto brass would keep at least one of their two bigs in Gasol and Ibaka, with Gasol being the likely option. Given Gasol's age, his asking price would be significantly less than it's been in prior years. He's still a formidable big that can stretch the floor and open lanes, but the 35-year-old isn't getting any younger.
Still, the Raptors weren't able to re-sign Gasol either, losing him to the new defending champions in the Los Angeles Lakers. Both Gasol and Ibaka were a major reason for the Raptors' success through most of the season. With two undersized guards in VanVleet and Lowry, having the pair of bigs in sync was critical.
The Raptors were able to sign Aron Baynes, though, who was thought to be a top target for most teams coming into free agency. He secured the bag after the successful season he had with the Phoenix Suns, averaging 11.5 points and 5.6 rebounds per game. While he doesn't possess necessarily the same skillset as Ibaka, he also comes with a mental toughness that may prove to be better for the Raptors.
Baynes is arguably the better defender in the case of both Ibaka and Gasol, and he can step back and drill the occasional 3-pointer if need be. The 6-foot-10 Australian shot 35.1 percent from deep last season, his highest mark of his career. One area that'll likely see his production increase is his playing time. With the Raptors being short on legitimate, proven bigs, Baynes will surely see starter minutes this season, which could benefit both the Raptors and him.
Draft
The Raptors weren't heavily rumored to make many moves heading into the draft. They only had two picks slotted at Nos. 29 and 59 in a weak draft class.
They were able to grab Malachi Flynn with the 29th overall pick from San Diego State University. While he still has a bit of development to achieve, the 6-foot-1 guard is coming off an impressive season with SDSU. He averaged 17.6 points, 5.1 assists, and 4.5 rebounds per game while shooting 44 percent from the field. He'll likely receive some decent minutes behind Lowry and VanVleet if he can prove himself early on.
They also selected Jalen Harris with the second-to-last pick of the draft. It's unlikely that he sees an insane amount of playing time in an already-crowded backcourt.
Outlook
The overall goal for the Raptors wasn't to go after big free agents or draft high in this year's draft; it was to continue the player development of their young standouts. Pascal Siakam, who they signed to a max deal nearly a year ago, will look to improve all aspects of his game after a lackluster showing in the playoffs. Still, he's primed for a bright future compared to the small sample size of slumps he's had.
OG Anunoby is another young talent that's becoming more treasurable to the Raptors front office. He's continuously showed his potential in recent years, while having another breakout year during the 2019-20 season.
Offseason Grade: B+
Toronto is more concerned with building its core for the future, and that didn't require much work this offseason.
Blue Jays likely not done adding after trading for Steven Matz from Mets – Sportsnet.ca
TORONTO – Before the acquisition of lefty Steven Matz from the New York Mets for minor-league right-handers Sean Reid-Foley, Yennsy Diaz and Josh Winckowski, a quick look at FanGraphs' projections for the Toronto Blue Jays in 2021 may have been somewhat surprising.
At a collective 15.8 WAR, their pitching staff ranked seventh in the majors, ahead of well-regarded clubs like the Nationals, Rays, Atlanta and Cleveland, among others.
Projections, of course, guarantee nothing, but as an objective measure of how teams stack up, that certainly isn't a standing that matches perception.
Promising as that sounds, the current list also demonstrates the gap between them and the pitching staffs of the New York Yankees (23.3) and Chicago White Sox (17.5), and the narrow margin between them and the Twins (15.7), Red Sox (15.3), Rays (15.0), Angels (14.7), Cleveland (14.6) and Athletics (14.3).
Matz alone isn't going to address that, which is why you can expect more to come from the Blue Jays on the pitching front.
Still, with mid-90s stuff and a strike-throwing track record, Matz is an intriguing upside play, picked up for two down-roster relievers clinging to their 40-man roster spots plus a farmhand passed over in the Rule 5 draft, at a reasonable salary of $5.2 million.
He comes with some volatility, to be sure, especially after shoulder soreness landed him on the injured list during a dreadful 2020, when he posted a 9.68 ERA in 30 innings over nine games, six starts, and allowed an alarming 14 home runs.
There's opportunity, too, as he's been mostly sinker/changeup in recent years, and one school of thought is for him to resume using the four-seamer he dropped two years ago and throw his curveball – a pitch he's said to have been emphasizing and made gains with this winter – more often.
That's yet another project for pitching coach Pete Walker, who has a strong track record of helping pitchers rebound. His work with Robbie Ray after his acquisition from Arizona at the trade deadline helped convince the lefty to return on an $8-million, one-year deal, and the Blue Jays will be looking for Matz to enjoy a similar resurgence.
As things stand, the 29-year-old selected in the second round of the 2009 draft is set to join a prospective rotation fronted by Hyun-Jin Ryu, Ray, Nate Pearson and Tanner Roark. Ross Stripling and Tyler Chatwood can both start or deliver bulk from the bullpen. Thomas Hatch, Trent Thornton (returning from Tommy John), Anthony Kay, Julian Merryweather, T.J. Zeuch and Patrick Murphy supply depth at triple-A that will be needed to cope with the inevitable attrition caused by the transition from 60 to 162 games Major League Baseball plans this summer.
Speaking to reporters before the Matz trade, GM Ross Atkins said the Blue Jays will add more depth through minor-league deals, but added that, "we're at the point now where if we were to acquire two major pieces, it would require likely subtracting from our roster."
"Not for financial reasons, but just because of opportunity reasons," he continued, "wanting guys like Julian Merryweather to have a really good shot at being a big part of this team. Jordan Romano obviously proved himself to be a part of that, and Ryan Borucki as well. At some point, you start to run out of the opportunity for growth and for development for guys that we really do believe in."
Matz makes it one major piece and, speculatively, the Blue Jays could move Roark to free up both the opportunity Atkins mentioned, and perhaps some money, as well.
As things stand, they have about $130 million in commitments in place for 2021, with another roughly $10 million due for pre-arbitration players. A No. 2-3 type starter would be ideal to further stabilize the starting staff.
Roark is due $12 million and reallocating his rotation spot and salary is one path to more rotation impact. Moving one of the team's four everyday outfielders is another.
Either way, the Blue Jays aren't done, even after a frenetic 10 days of roster reshaping that has not only spiked their projections on the position player side, but also intriguingly raised the objective outlook on their pitching staff, too.
Canucks dominate Senators to extend Ottawa's losing skid – TSN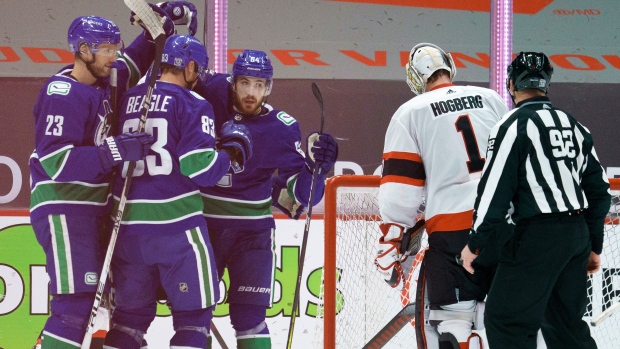 VANCOUVER — The Vancouver Canucks' so-called "lotto line" is starting to cash in.
The top trio of Brock Boeser, Elias Pettersson and J.T. Miller — dubbed the lotto line for their jersey numbers 6, 40 and 9 — combined for three goals and five points Wednesday as the Canucks downed the Ottawa Senators 5-1.
Miller had two goals and an assist in the victory, but feels he and his linemates have more to give.
"I think we need to push ourselves," he said. "I know it looks pretty for you guys because I got some points today but at the same time there's not much difference in the game."
The line did appear to find its latent chemistry on Wednesday, however.
Early in the second frame, Pettersson looked as if he were about to wind up for a big shot on a breakaway, then dropped a pass to defenceman Quinn Hughes instead. Hughes slipped the puck to Miller and the winger buried it from in tight.
It was Miller's first goal of the year. Last season he led the Canucks in scoring with 72 points (27 goals, 45 assists) in 69 regular-season games.
The NHL's COVID-19 protocols kept him out of the lineup for Vancouver's first three outings this year.
Miller admitted that he initially struggled after returning to the lineup.
"Sure at the beginning, probably the first three games. My legs were seizing up like halfway through the games and it was hard. I definitely had couch legs," he said.
"But last three or so I felt pretty good. Obviously, I would like to be better on a personal standpoint but my legs weren't the issue. I was skating well, just wasn't making the plays I wanted to with the puck in the hard areas."
Miller also assisted on Pettersson's goal Wednesday night, a blast from the point on a second-period power play.
The Swedish centre has been limited to two goals so far this year, and said he's felt the crunch to perform.
"There's always pressure and I'm the guy that puts the most pressure on me," Pettersson said. "I always want to play good and I'll be honest, my first couple of games haven't been the way I want to play. Today was definitely a step in the right direction, but me and our line, definitely have a lot more to give."
Tyler Motte also scored twice for Vancouver (4-5-0) on Wednesday, helping the Canucks string together back-to-back wins for the first time this season.
Despite the final score, the Senators (1-5-1) tested Canucks goalie Thatcher Demko early and often on Wednesday, outshooting Vancouver 24-7 in the first period alone.
"We were playing fast, we were playing off the forecheck, we were driving the net," said Sens coach D.J. Smith. "And in the second period, we fell into a rush game. We turned pucks over and we fed their game and when they had opportunities, they put it in the back of the net."
Demko had 42 saves on the night, and Marcus Hogberg stopped 30-of-35 shots for the Senators.
The goaltender's play wasn't Ottawa's issue on Wednesday, Smith said.
"The goals he gave up were blatant mistakes by us," the coach said.
The entire Sens team needs to be better in front of its netminder, said centre Josh Norris, who scored Ottawa's lone goal on power play in the first period Wednesday.
"We've let up 10-plus goals in two games. You're not going to win games like that," he said. "We've scored two goals in the last three games, too, so both those areas, obviously, are not good enough. And it has to improve."
The Senators have now lost six games in a row. Ottawa has not had a victory since topping Toronto 5-3 to open the season back on Jan. 15.
"We've put together a period at a time, two periods at a time, but it seems like, for some reason, we just find one period to fall apart and mess everything up," Norris said. "We're young but that's not an excuse. Just a lot of mistakes that are very preventable, I think."
The extended losing skid has been difficult to weather, said Sens left-winger Brady Tkachuk.
"Losing sucks. I hate losing, everyone in the room hates losing," he said. "So we've just got to bear down a little bit extra. We're going to get out of this eventually. We've just got to stick together, which we have been, and stay positive. But the focus is on a win tomorrow."
Ottawa won't have to wait long for a chance to avenge Wednesday's loss. The two sides will battle again on Thursday, closing out a three-game series.
NOTES: Ottawa defenceman Christian Woalanin left the game with a lower-body injury in the second period and did not return. … Earlier on Wednesday, the Sens dealt defenceman Christian Jaros to the San Jose Sharks for forward Jack Kopacka and a seventh-round pick in the 2022 entry draft.
This report by The Canadian Press was first published Jan. 27, 2021.
Mets trade Steven Matz to Blue Jays for 3 pitchers – theScore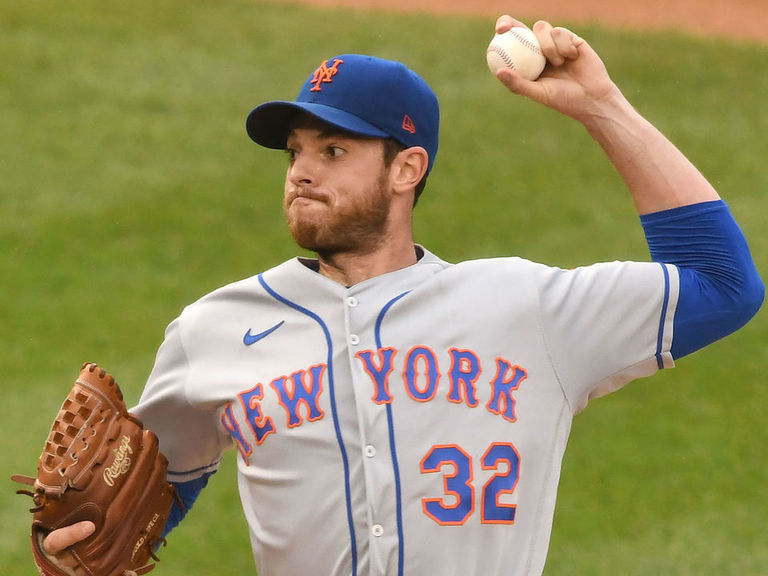 The New York Mets have traded left-handed pitcher Steven Matz to the Toronto Blue Jays for a trio of right-handed pitchers in Sean Reid-Foley, Yennsy Diaz, and Josh Winckowski, the teams announced Wednesday.
Matz, 29, has struggled in recent years while acting primarily as a starter. The lefty has posted a 5.09 ERA and 5.11 FIP over 191 innings since the beginning of 2019 while making 36 starts and five relief appearances.
The former second-round pick is owed $5.2 million in 2021 before becoming eligible for free agency next winter. Matz joins a rotation led by fellow lefties Hyun Jin Ryu and Robbie Ray, as well as right-handers Nate Pearson and Tanner Roark.
Reid-Foley has played parts of three seasons with the Blue Jays after ranking as one of the best pitchers in their farm system. The 25-year-old owns a 4.40 ERA and 5.20 FIP in 71 2/3 career innings, making 13 starts and eight relief appearances.
Diaz, 24, made his major-league debut during the pandemic-shortened 2020 campaign. The right-hander allowed two runs on one hit and four walks over 2/3 of an inning. Diaz authored a 3.74 ERA and 3.93 FIP through 144 1/3 innings in Triple-A in 2019.
Winckowski, 22, spent the 2019 season between Single-A Lansing and High-A Dunedin, posting a 3.11 ERA over 127 1/3 innings.