Grizzly bears in the dark as they try to share living space with humans
EDMONTON — Grizzly bears are doing their best to get along with people, but it still isn't enough.
Newly published research concludes that without large wilderness areas to replenish their numbers, grizzlies would disappear from landscapes they share with humans.
"The persistence of bears near people, when we see them along highways or near towns, they're really propped up by the fact they exist near some sort of secure wilderness," said Clayton Lamb, a University of Alberta biologist and lead author of a paper published in the Proceedings of the National Academy of Sciences.
Researchers found bears in populated areas in Alberta and British Columbia have even changed how they hunt in an attempt to share living space with humans.
"The bears are doing what they can," Lamb said. "The difference might have to be made up by us."
The study set out to examine an emerging phenomenon in wildlife conservation — large carnivores re-establishing themselves on mixed landscapes including cities, highways, rural communities and patchworks of natural habitat.
It digested 41 years worth of mortality, movement and demography among 2,669 grizzlies over nearly 400,000 square kilometres of British Columbia.
It found mortality has increased steeply with the amount of human impact measured through an index that includes human population, land use, infrastructure, coastlines, roads, railroads and navigable rivers.
Deaths have outnumbered births and the difference is being made up through emigration of young grizzlies from nearby wilderness. For every point the index increases, a local bear population must increase the number of individuals it draws by about two per cent.
"Grizzly bear range is quite tied to the distance from some secure piece of wilderness," said Lamb.
That's despite the grizzlies' efforts to adapt to humans. The study found young, newly arrived bears gradually learned ways to avoid contact, such as hunting and gathering at night.
Adolescent bears in areas dominated by humans have increased their nocturnal time by up to three per cent annually, which has led to corresponding increases in survival. The cost, however, is steep.
The scientists found it takes 14 years for a grizzly to learn how to co-exist with humans. For every bear that makes it, 29 don't.
"A lot of those bears would have been born on a mountaintop 10 kilometres away and lived with mom in an avalanche chute and lived a normal bear life," Lamb said.
"Then they find a home near town and get lured in by an apple tree. The gauntlet they have to run is very difficult."
The study shows that high mortality has impacts far from where the deaths take place. Bears dying in mixed-used areas draws more grizzlies from the wilderness to take their place.
"Conflicts with people have rippling effects on (bear) populations far removed," Lamb said.
Highway overpasses are one good way to reduce deaths, he suggests. But humans living with bears have to get better at removing attractants such as roadkill or fruit trees to end the bears' constant, often fatal, migration from the wilderness.
"We're not quite there," said Lamb. "The system relies quite heavily on adjacent wilderness."
This report by The Canadian Press was first published July 7, 2020
— Follow @row1960 on Twitter
Bob Weber, The Canadian Press
Source: – BayToday
Many of Mars' stream valleys might have formed under an ice sheet – Ars Technica
The further back into Earth's history your mind wanders, the more work your imagination has to put in. That's even more true for Mars. None of us have physically stepped foot on the present-day version of the planet, and its past was clearly very different from its present, with evidence pointing to flowing and standing water.
Among the relics of the watery past are networks of valleys incised into Mars' surface. The Red Planet's southern hemisphere highlands host many valleys, which have largely been interpreted as formed by rivers and groundwater springs. The source of water in rivers—whether rainfall in a warm climate or just melt from glacial ice—has been a question mark.
It's thought that Mars' past was generally quite cold, so a connection between the valleys and glacial ice is quite plausible. But how direct is that connection? We can identify the drainages in which water flows beneath ice sheets based on physical characteristics of the valleys left behind. So a team led by Anna Grau Galofre at Arizona State set out to analyze the valleys on Mars to see if any would better match a sub-glacial origin.
They worked with topographic data for over 10,000 valleys in almost 70 connected valley networks, characterizing each by a number of metrics. That includes some simple things, like valley width, the number of tributaries upstream, and the angle between connected channels. Another metric that turned out to be important is whether the valley undulates up and down a bit, or instead drops smoothly down-slope without interruption.
Combining all the metrics, the valleys fall into several clusters. There's an indistinct area of overlap, meaning some valleys couldn't be identified as one thing or another, but the others fell in line. Valley width, for example, is good at picking out valleys that are carved by glacial ice here on Earth. Simple channels with few tributaries indicate groundwater springs that trickle downhill. And sub-glacial drainage valleys tend to meet at angles closer to 90 degrees and undulate up and down—driven by high water pressure under a glacier.
Of the 66 networks of valleys, 18 couldn't be identified and three looked like the result of groundwater springs. Only 14 were identifiable as formed by rivers. But nine valley networks had the characteristics of glacial erosion, and 22 fell under the sub-glacial drainage category.
To see if that made sense, the researchers compared the locations of the sub-glacial drainage valleys against a previously published ice sheet model. Glaciers and ice sheets have an upper, colder zone where snowfall accumulation dominates, and a lower, warmer zone where losses from melt or sublimation dominate. Sub-glacial drainages should exist in that lower zone, where meltwater is being produced. Laid out on a map, those 22 valley networks do generally sit in the region where the ice sheet model predicts they should—between the edge of the ice sheet and the "equilibrium line" that divides the melt zone from the accumulation zone.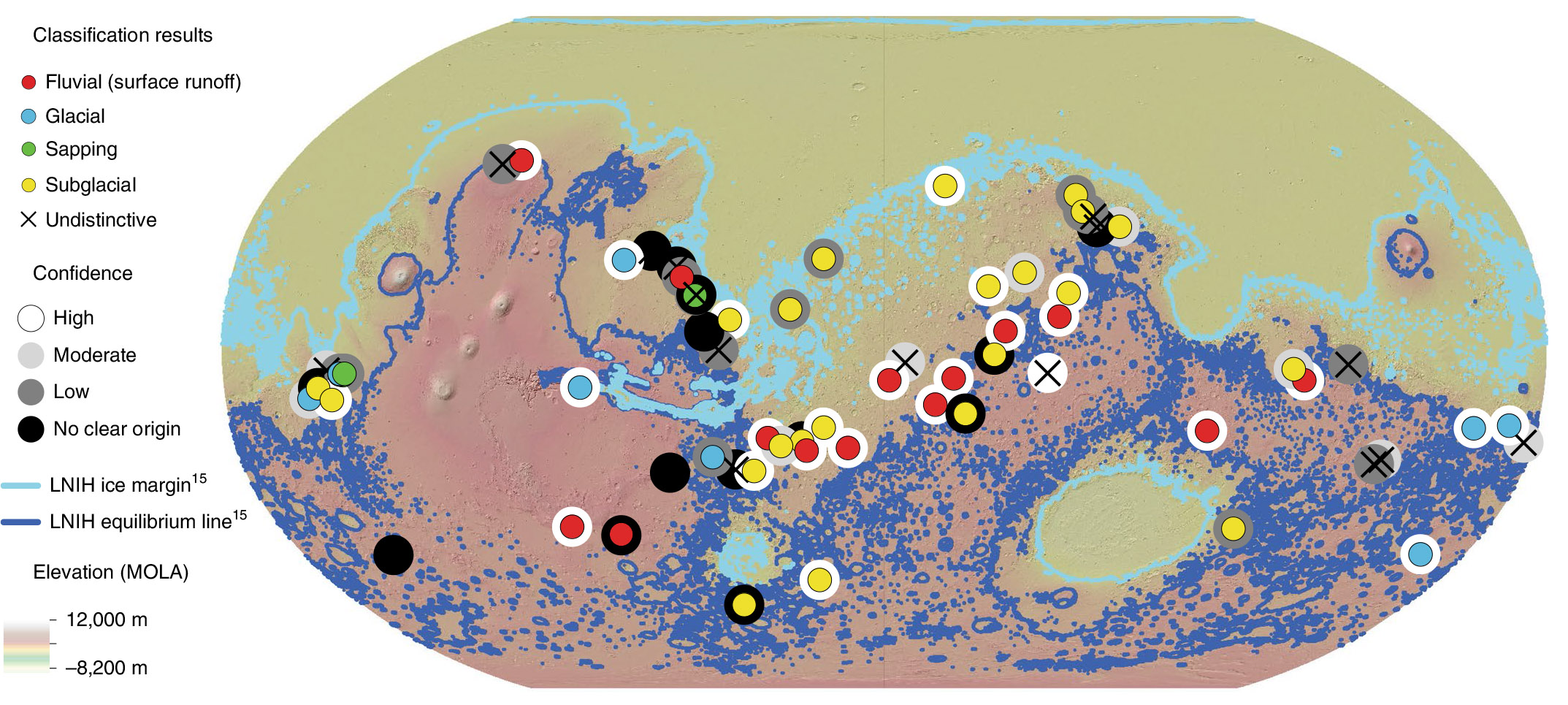 The researchers think this ice sheet could have mostly been frozen to the ground, but with localized areas where friction or geothermal heat from below melted ice at the base. That would actually be a simple explanation for consistent sources of flowing water on a cold Mars, although it might paint an icier picture than the one you've had in your head.
"This picture alters the current understanding that all Martian valley networks originated by surface runoff and provides geomorphological support for the presence of ice sheets on early Mars," the researchers write, "which reconciles climate predictions with observations from the geological record."
Nature Geoscience, 2020. DOI: 10.1038/s41561-020-0618-x (About DOIs).
NASA Curiosity rover marks 8 years on Mars with 'Spaghetti Western' view – CNET
Cue an Ennio Morricone sound track. NASA released a fresh view of Mars, and it looks like Clint Eastwood is about to stroll across the red planet.
NASA's Curiosity rover arrived on Mars on Aug. 5, 2012 (or Aug. 6 depending on your location). To celebrate, the space agency released eight eye-catching images of Mars this week that tie into the rover's past and present experiences on the planet.
One of the newly released looks shows what NASA describes as a "Spaghetti Western landscape." Curiosity snapped the 130 images used for the panorama in December 2019. It shows a spot called Western Butte in the foreground.
You can check out the full, massive panorama on NASA's Mars Exploration Program site.
Another newly released image shows a striking portrait of Mount Sharp, the massive central mountain inside the Gale Crater, in October 2019.
NASA shared a total of eight Martian "postcards" to mark each year for Curiosity. One image traces to back to 2014 and even shows a far-off view of the rover's current location.
"I can't help but also think about the corresponding distance we've traveled in our understanding of Mars' habitable past since the time we took this picture," said Curiosity deputy project scientist Abigail Fraeman.
It's been an epic eight years for the rover. Curiosity has traveled more than 14 miles (23 kilometers) over rough and rocky terrain. It just drilled its 27th hole on the red planet.
The rover may be leaving some physical marks on Mars, but it's also building out its impressive science legacy. The vehicle is healthy and looking forward to its continuing mission of peering into Mars' past, looking for evidence that it may have once been habitable for life.
Curiosity will soon be welcoming a friend to Mars. NASA's Perseverance rover is scheduled to arrive in February 2021 after a successful July launch. China is also sending along a rover with its Tianwen-1 mission.
The rovers will all be exploring different regions of Mars, so there won't be any firsthand hellos exchanged. When it comes to Mars, the more the merrier.
Science News Roundup: NASA astronauts cap historic aboard SpaceX Crew Dragon; 'Gnarly' tumor shows dinosaurs got cancer and more – Devdiscourse
Following is a summary of current science news briefs.
NASA astronauts cap historic 'odyssey' aboard SpaceX Crew Dragon capsule
U.S. astronauts Bob Behnken and Doug Hurley, who flew to the International Space Station in SpaceX's new Crew Dragon, splashed down in the Gulf of Mexico on Sunday after a two-month voyage that was NASA's first crewed mission from home soil in nine years. Behnken and Hurley, tallying 64 days in space, undocked from the station on Saturday and returned home to land their capsule in calm waters off Florida's Pensacola coast on schedule at 2:48 p.m. ET following a 21-hour overnight journey aboard Crew Dragon "Endeavor."
'Gnarly' tumor shows dinosaurs got cancer, too
When scientists first unearthed fossils of a horned dinosaur called Centrosaurus in the badlands of Dinosaur Provincial Park in Canada's Alberta province in 1989, they spotted a badly malformed leg bone they figured was a healed fracture. A fresh examination, researchers said on Monday, shows something different. The malformation was a manifestation of osteosarcoma, an aggressive bone cancer, making this Centrosaurus, which lived 76 million years ago, the first known example of a dinosaur afflicted by malignant cancer.
Virgin Galactic's Branson to fly into space in early 2021
Billionaire Richard Branson will fly into space on a Virgin Galactic rocket ship early next year, the space tourism company he founded said on Monday, adding that it would raise new funds with a share offering. Branson's trip to space hinges on the success of two upcoming test flight programs, Virgin Galactic Holdings Inc said, with the first powered spaceflight scheduled for this fall from Spaceport America.
Scientists inspired by 'Star Wars' create artificial skin able to feel
Singapore researchers have developed "electronic skin" capable of recreating a sense of touch, an innovation they hope will allow people with prosthetic limbs to detect objects, as well as feel texture, or even temperature and pain. The device, dubbed ACES, or Asynchronous Coded Electronic Skin, is made up of 100 small sensors and is about 1 sq cm (0.16 square inch) in size.