Group of Seven artist Franklin Carmichael exhibition at Art Gallery of Sudbury – BayToday.ca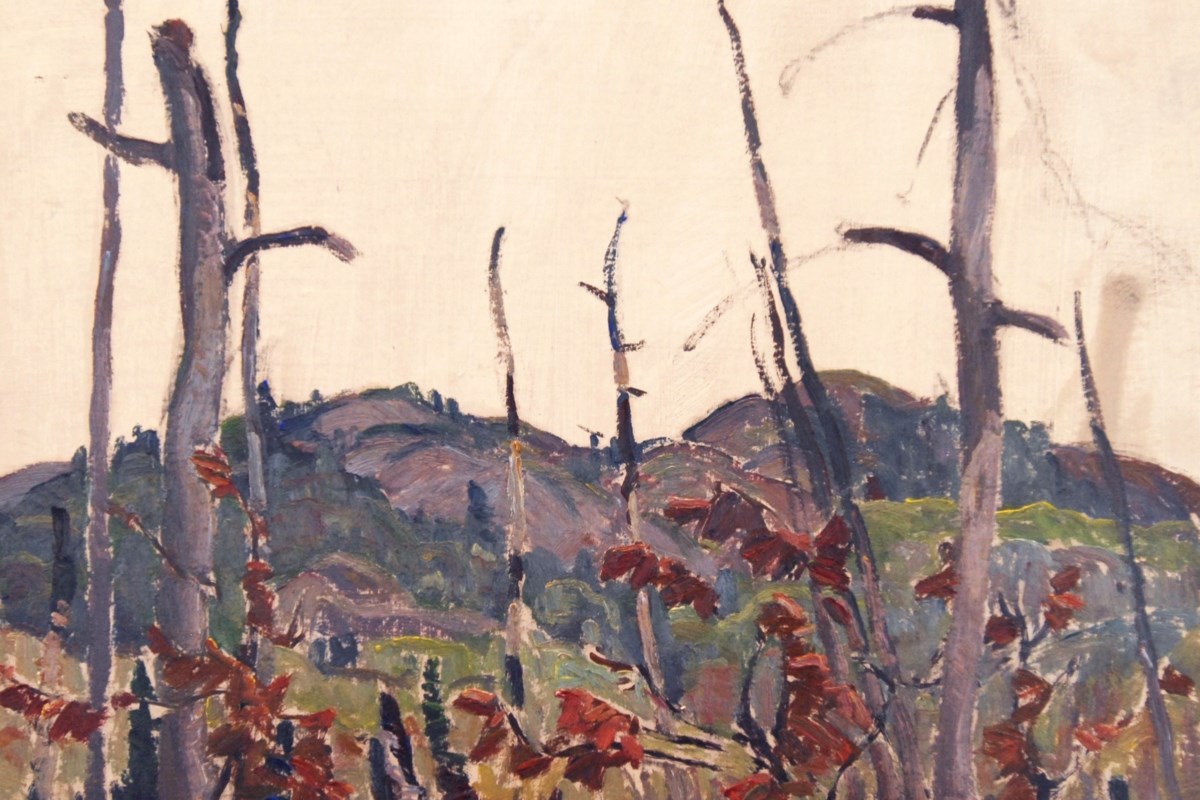 The Art Gallery of Sudbury is holding a major new exhibition on Group of Seven artist Franklin Carmichael (1890-1945) titled An artist's process.
The exhibition was produced by the Gallery with generous access by members of Franklin Carmichael's family, the Estate of Franklin Carmichael, and funding from the Government of Canada through Canadian Heritage.
"The works of art in the exhibition are of outstanding significance by their close association with a person, Canadian artist Franklin Carmichael (1890-1945), and a group of artists, the Group of Seven (1920-1932), who were emblematic of a critically significant early 20th-century national modernist art movement," says a gallery news release.
Franklin Carmichael, the youngest original member of Canada's most storied group of artists, the Group of Seven, first visited the region in 1924. From then on, until he passed away in 1945, his paintings, drawings, and prints captured the beautiful light and rugged landscape of La Cloche region in the District of Sudbury.
Showcasing 37 original drawings and paintings from the artist's estate, most never before exhibited, this exhibition provides visitors with an exclusive preview of the foundational gift of the future Franklin Carmichael Art Gallery of Sudbury.
"The exhibition provides a wonderfully intimate look at the artist's approach to painting landscape. There is a tremendous resonance in Franklin Carmichael's practice of painting outdoors, en plein air, on site (in his case, usually from a height) with a great view of La Cloche or Lake Superior or a smaller northern town like Cobalt before him, with that of very many of our regional artists today, both professional and amateur. Artists, residents and visitors to our beautiful region alike find the experience of being in nature, in the great outdoors, whether hiking, canoeing, photographing or painting, to be essential to health and quality of life.
"When Franklin Carmichael died suddenly, all of his art works, including many that he was still working on, fell into the care of his family. These works reveal the materials he used, his palette of colours, how he prepared a panel or painting surface, his preliminary sketch, his form of composition, and his process of painting, whether in oils or in watercolour. We consider it a tremendous responsibility and privilege to bring works like these in the public sphere, works that the artist himself may never have intended to be exhibited. We have approached this special exhibition with the utmost respect and care.
Franklin Carmichael (1890-1945) was the youngest founding member of the Group of Seven.
In addition to his association with the Group of Seven, Franklin Carmichael held memberships in numerous art societies, including the Canadian Society of Painters in Water Colour (founding member, 1925; president, 1932-1934), Canadian Group of Painters (founding member, 1933), and Ontario Society of Artists (president, 1937-1940). In 1932, he became head of the Graphic Design and Commercial Art Department at the Ontario College of Art, Toronto, where he was a distinguished teacher until his death in 1945. He was elected to the Royal Canadian Academy in 1935 and became a full academician in 1938.
Franklin Carmichael was born in Orillia, Ontario. By 1911 he was working in Toronto, for the commercial art firm, Grip Limited, which served as a catalyst for his introduction to artists such as J.E.H. MacDonald (1873-1932), Arthur Lismer (1885-1969), Tom Thomson (1877-1917) and Lawren Harris (1885-1970). Carmichael studied in evening courses at the Ontario College of Art with G.A. Reid (1860-1947) and William Cruikshank (1849-1922), and at the Toronto Technical School with Gustav Hahn (1866-1962). From 1913 to 1914, Carmichael continued his education in Europe, attending the Royal Academy of Fine Arts in Antwerp, Belgium, where Arthur Lismer and Fred Varley (1881-1969) had studied. In 1915 he married Ada Lillian Went. Following his marriage, he worked in Toronto for the commercial art firm, Rous and Mann, where he met A.J. Casson (1898-1992).[1]
The original members of the Group of Seven were Franklin Carmichael, Lawren Harris, A.Y. Jackson, Franz Johnston, Arthur Lismer, J.E.H. MacDonald and F.H. Varley. Tom Thomson was a peer and a leading influence but died before the Group was formed. All except Lawren Harris made their living as commercial artists.
How to visit during Covid-19:
Pre-book your visit online at artsudbury.org or call (705) 675-4871 to make your booking. There are five different time spots available each day. You and your group will have exclusive access to the Gallery and gift shop for one hour. We can accommodate small groups of one to eight persons from the same family or social bubble. Visitors and staff conform to Covid-19 precautions as outlined by Health Unit Sudbury and District: masks and gloves are provided as necessary, social distancing, with hand sanitizing stations. Gallery touch points including washrooms are sanitized between tours.
The exhibition continues until December 24. Admission is by donation.
The Art Gallery of Sudbury is located at 251 John Street.
This weekend is a perfect time to Hop into the Arts District – OrilliaMatters
Well folks we are moving into December and the holiday season and Christmas events are coming up fast here in O-town! Lots of opportunities to support local artisans, creatives, and businesses in your Christmas shopping and events.
First off, Mariposa Arts Theatre's production of The Christmas Tree is still playing at the Orillia Opera House, Thursday to Sunday until Dec. 6. There are both matinee and evening shows, and audience members are limited to 50 and seated socially distanced in the large Gordon Lightfoot auditorium.
This is a lighthearted yet poignant Norm Foster show that will be sure to put you in the holiday mood. Members of the Orillia Silver Band will also be playing holiday music for your enjoyment. For tickets, click here.
The Orillia Arts District is hosting a Holiday Art Hop this Friday night from 5 to 8 p.m. and this Saturday from 11 a.m. to 4 p.m. All the galleries along Peter St. S. will be open with special guest artists and beautiful one-of-a kind art and gifts for you to buy.
Hibernation Arts has a special arts draw going on for this event. Anyone who spends $50 on art there is entered into a draw for a special arts goodie bag…so get in and get spending! Many of the galleries have great ideas for gift giving, including soaps, coasters, cards, mini works of art, purses, pillows and more. Come and see what Orillia's arts district has in store for you this Friday and Saturday.
This Saturday and every Saturday until Christmas, both the Orillia Farmers' Market and the Orillia Fairgrounds Farmers' Market have special Christmas markets happening.
Full of Christmas tasty treats and cheer and excellent locally-made Christmas presents to be bought and enjoyed. The Orillia Farmers' Market downtown also has two special Christmas markets on Wed. Dec. 16 and 23 from 9 a.m. to 2 p.m. for your last-minute Christmas shopping.
Of course, this Friday is Black Friday and many stores downtown and about town have Black Friday sales and events happening. As well, many stores in downtown Orillia are open until 7 p.m. Friday nights, until Christmas, to help you with your Christmas shopping. And parking is free in the downtown lots!
Please please support our locally-owned and operated, independent stores and restaurants here in town, on Black Friday, this holiday season, and throughout the year.
They are hanging on by the skin of their teeth, and we all want them to still be here at the end of this terrible pandemic. Winter season, after Christmas, is a hard time for them every year, so let's make sure they all have good Christmas sales to tide them through. Please help if you can.
Hip Chick Design is having a Pop Up Shop from Dec. 1 to 13 at Creative Nomad Studios. Beth McKean will be having lots of her talented maker friends join her in this one-stop-shop for Christmas, open from 9 a.m. to 5 p.m., Monday to Saturday.
Rustica Pizza Vino is having an outdoor Christmas market, featuring some of your favourite independent makers and creatives, Friday, Dec. 4 and 11, from 4:30 to 9 p.m. Shop safely outside in a beautiful setting and enjoy some mulled wine and dessert pizza too.
Does creating put you in the holiday spirit? Then there are some upcoming workshops that you will enjoy! Craig Mainprize is hosting a landscape painting workshop on Nov. 27 at 7 p.m. at Creative Nomad Studios. You will be safely seated with your household bubble, or socially distanced, so come check out this awesome workshop and learn from this accomplished landscape painter. For tickets click here.
Creative Nomad Studios is also the home of a wreath making workshop on Nov. 28 at 2 p.m. with Elegance of Nature Floral Design. This is your chance to tap into your creative side and come home with a beautiful decoration for your front door. This will put you in the holiday spirit for sure. For tickets, click here.
And, on Dec. 1 at 7 p.m., also at Creative Nomad Studios, come enjoy a Paint Night with local artist Dale Duncan. The painting is entitled A Frosty Eve, and the workshop is designed for painters and non-painters alike, so come with your enthusiasm and holiday spirit and take part. Tickets are available here.
Storytelling Orillia is hosting a Legendary Kitchen Party, online on Nov. 29, with great stories and music, to celebrate Canadian Storytelling Day. For more information and for the link to participate, email visitors@orilliamuseum.org.
If you are looking to have a festive family photo taken this year, Streets Alive Productions is again hosting a Merry Streets Alive Christmas, where you can have your photo taken by local photog Deb Halbot and collect a beautiful hand painted Christmas ornament as well. There are two dates for this fun opportunity. Dec. 5 from 1 to 2:30 p.m. the event will be outside The Eclectic Café and Dec. 12 from 1 to 2:30 p.m. it will be in the Peter Street Arts District.
Of course, all of these fun lead up to the holiday events can only happen if Simcoe Muskoka stays in the orange zone for Ontario, regarding Covid-19. It is up to all of us to wear our masks, wash our hands, social distance and do NOT hang out with multiple people, unmasked, in private homes. That is a prime way this virus is spreading. Please, for the sake of our business owners, creatives, makers, and our friends and neighbours, stay safe and follow the guidelines. Let's make sure we stay in the orange zone for the holidays. Take care.
And last minute, the award recipients for the Orillia Regional Arts and Heritage Awards are announced Wed. Nov. 25 at 7 p.m. on the Orillia Museum of Art and History YouTube channel, here. It starts at 7 p.m. and will be available after that time. Enjoy!
Please send your arts news to annaproctor111@gmail.com by Tuesday at noon to be included.
Upside-down Kelowna public art piece a metaphor for health-care system, says art studio – Global News
A new piece of public art, one that shines a metaphorical spotlight on health-care professionals, has been installed in downtown Kelowna.
Titled 'Flower,' the 13-foot-tall, 600-pound piece is located at the intersection of Doyle and Ellis streets, in front of the Interior Health building.
With its roots at the top and the bloom at the bottom, 'Flower' is a representation of a Mariposa Lily, an Indigenous flower of the Okanagan.
In a YouTube video, the co-founder of Toronto-based Studio F Minus, which created the art piece, also said 'Flower' is also a metaphor for a holistic approach to health care, "and also a representation and celebration of people who provide that care."
"The flower came about because it's a fairly universal symbol of good health," Mitchell F. Chan said of the piece created from aluminum. "We're used to sending someone flowers to wish them to get well soon.
"But when we start to think about the flower, we wanted to acknowledge that it's actually the root structure underground that makes that bloom possible.
"And for us, this was a metaphor for how the health-care system works. All this is possible because of this complicated network that often remains unseen."
Chan said by placing the roots at the top, instead of the bottom, "this is how we celebrate the doctors, the nurses and the health-care professionals who make all of this possible, by giving them their moment in the sun, so to speak, through this sculpture."

1:49


Mount Boucherie Secondary Students reimagine work of Group of Seven in mural



An associated artist with Studio F Minus, Michael M. Simon, said creating 'Flower' required hundreds of pieces.
"The last six months have been a very intensive metal-working project of piecing the hundreds of components that went into making this thing," said Simon.
"Everything, from building the interior skeleton to cladding it to manually bending the edging that goes around the entire stem and bloom, to finishing the over 100 layers that go on top to give it that very paint-by-numbers look."

3:43


Saskatoon illustrator's art on delivery packages this holiday season



According to the city, the upside-down artwork was a collaboration between the City of Kelowna, Interior Health and a funding partner, Bentall Green Oak.
It's unknown how much the art piece cost.
In a press release, Kelowna Mayor Colin Basran called Flower a great piece to the city's public art collection.
"Flower is a piece for our time," said Basran. "Animating our public spaces has never felt more important.
"Not only does it add vibrancy and character to the downtown, it serves as a symbol for both our healthcare workers and anyone accessing services at Interior Health during these challenging times."
© 2020 Global News, a division of Corus Entertainment Inc.
Well known sports figure, teacher Art Gabor passes – BayToday.ca
A man well-known for his love of basketball and teaching has died.
Arthur John Gabor passed on Wednesday Nov 18, at the age of 92.
"Art always expressed that he wanted to make a difference and contribute in a way that made the world a better place and he did just that," reads his obituary. "Art was an outstanding athlete in his own rite, a dedicated coach and a contributor at every level of sport."
As a teacher, he spent most of his career at Chippewa Secondary School.
Art spent countless hours organizing tournaments, coaching kids, mentoring coaches, officiating basketball, and supporting the North Bay Legion Track Club. The Chippewa boys basketball tournament, aptly named the Art Gabor Classic Basketball Tournament, one of the largest in Ontario, was one of his sources of pride and he stayed involved until his failing health did not allow him to do so.
Art's contribution to sport was recognized by the North Bay Sports Hall of Fame in 1986 and he was very excited to receive this honour because as he indicated, it was recognition from his peers, which was very important to him.
"Art Gabor was a multi-sport man as an athlete," according to the Hall of Fame writeup. "He played hockey, basketball, and football and took part in track. In hockey he won a pair of university scoring titles and went on to star in intermediate and senior ranks.
As a teacher, he started in Kirkland Lake, then came to NBCI&VS and joined Chippewa in 1958 where he remained until June 1985. He was the school's Boys Athletic Director there for 27 years. He was a multi-sport man there too, and an innovator supreme – starting the Tomahawk Basketball Tournament, starting junior football in the NDA and NOSSA and bantam football at the NDA level.
He coached teams to some 17 football championships over the years. He also coached all levels of basketball for 27 years. A Martyn Memorial Trophy winner for basketball, he served on the Ontario Basketball Association Executive for some time, was a fully ranked basketball official and refereed games into his eighties.
He worked closely with Bill Colcock in both track and cross country and helped bring both sports to the fore. Active for a number of years with the North Bay Legion Track Club, he emphasized learning and taking part. He was a convenor, coach, official and advisor in both high school and North Bay sports for better than thirty years, working enthusiastically and humbly; many an athlete called him not only coach -but a friend"
In addition, he loved music, playing his guitar and drums and "jamming" with friends whenever he got the chance.
"Art's life was well-lived and he was well-loved – we have lost a generous and compassionate man but he has left us with abundant memories and set an admirable example for all of us to always be kind to each other and smile, even in the most difficult and challenging times."
Read Art's complete obituary here.