Group of Seven artist Franklin Carmichael exhibition at Art Gallery of Sudbury – BayToday.ca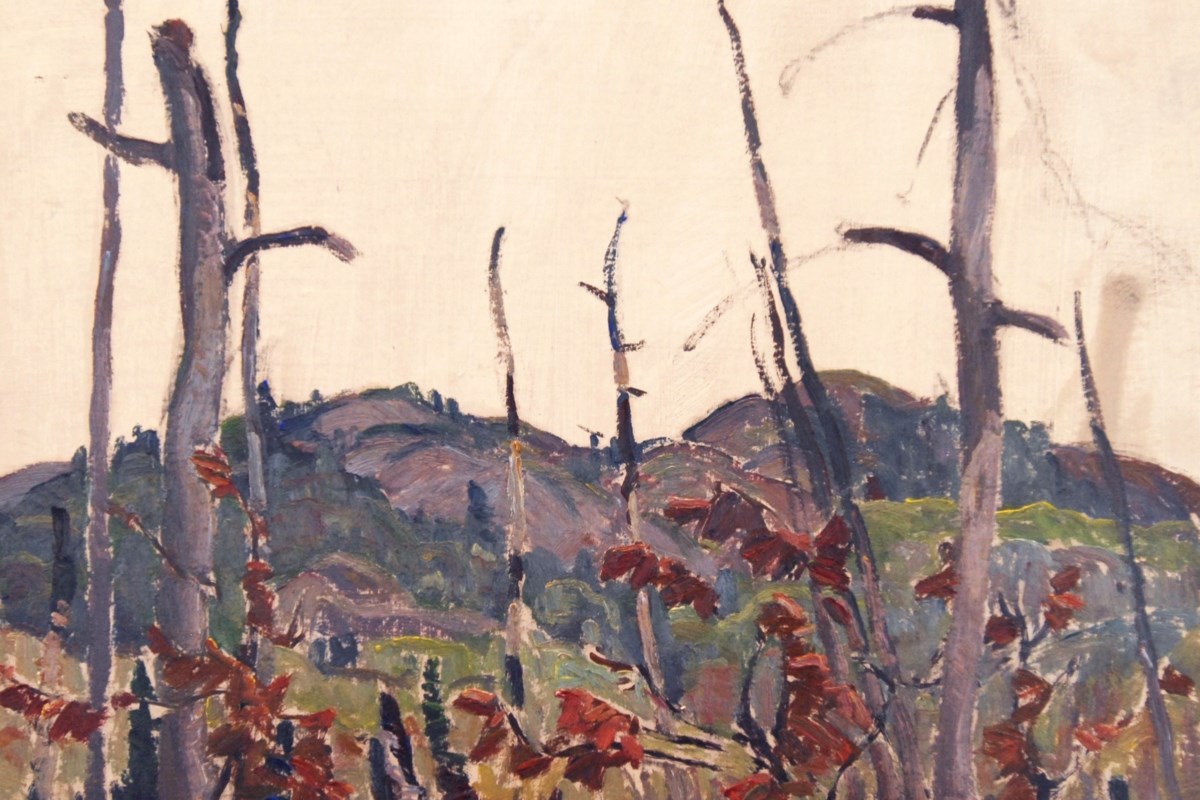 The Art Gallery of Sudbury is holding a major new exhibition on Group of Seven artist Franklin Carmichael (1890-1945) titled An artist's process.
The exhibition was produced by the Gallery with generous access by members of Franklin Carmichael's family, the Estate of Franklin Carmichael, and funding from the Government of Canada through Canadian Heritage.
"The works of art in the exhibition are of outstanding significance by their close association with a person, Canadian artist Franklin Carmichael (1890-1945), and a group of artists, the Group of Seven (1920-1932), who were emblematic of a critically significant early 20th-century national modernist art movement," says a gallery news release.
Franklin Carmichael, the youngest original member of Canada's most storied group of artists, the Group of Seven, first visited the region in 1924. From then on, until he passed away in 1945, his paintings, drawings, and prints captured the beautiful light and rugged landscape of La Cloche region in the District of Sudbury.
Showcasing 37 original drawings and paintings from the artist's estate, most never before exhibited, this exhibition provides visitors with an exclusive preview of the foundational gift of the future Franklin Carmichael Art Gallery of Sudbury.
"The exhibition provides a wonderfully intimate look at the artist's approach to painting landscape. There is a tremendous resonance in Franklin Carmichael's practice of painting outdoors, en plein air, on site (in his case, usually from a height) with a great view of La Cloche or Lake Superior or a smaller northern town like Cobalt before him, with that of very many of our regional artists today, both professional and amateur. Artists, residents and visitors to our beautiful region alike find the experience of being in nature, in the great outdoors, whether hiking, canoeing, photographing or painting, to be essential to health and quality of life.
"When Franklin Carmichael died suddenly, all of his art works, including many that he was still working on, fell into the care of his family. These works reveal the materials he used, his palette of colours, how he prepared a panel or painting surface, his preliminary sketch, his form of composition, and his process of painting, whether in oils or in watercolour. We consider it a tremendous responsibility and privilege to bring works like these in the public sphere, works that the artist himself may never have intended to be exhibited. We have approached this special exhibition with the utmost respect and care.
Franklin Carmichael (1890-1945) was the youngest founding member of the Group of Seven.
In addition to his association with the Group of Seven, Franklin Carmichael held memberships in numerous art societies, including the Canadian Society of Painters in Water Colour (founding member, 1925; president, 1932-1934), Canadian Group of Painters (founding member, 1933), and Ontario Society of Artists (president, 1937-1940). In 1932, he became head of the Graphic Design and Commercial Art Department at the Ontario College of Art, Toronto, where he was a distinguished teacher until his death in 1945. He was elected to the Royal Canadian Academy in 1935 and became a full academician in 1938.
Franklin Carmichael was born in Orillia, Ontario. By 1911 he was working in Toronto, for the commercial art firm, Grip Limited, which served as a catalyst for his introduction to artists such as J.E.H. MacDonald (1873-1932), Arthur Lismer (1885-1969), Tom Thomson (1877-1917) and Lawren Harris (1885-1970). Carmichael studied in evening courses at the Ontario College of Art with G.A. Reid (1860-1947) and William Cruikshank (1849-1922), and at the Toronto Technical School with Gustav Hahn (1866-1962). From 1913 to 1914, Carmichael continued his education in Europe, attending the Royal Academy of Fine Arts in Antwerp, Belgium, where Arthur Lismer and Fred Varley (1881-1969) had studied. In 1915 he married Ada Lillian Went. Following his marriage, he worked in Toronto for the commercial art firm, Rous and Mann, where he met A.J. Casson (1898-1992).[1]
The original members of the Group of Seven were Franklin Carmichael, Lawren Harris, A.Y. Jackson, Franz Johnston, Arthur Lismer, J.E.H. MacDonald and F.H. Varley. Tom Thomson was a peer and a leading influence but died before the Group was formed. All except Lawren Harris made their living as commercial artists.
How to visit during Covid-19:
Pre-book your visit online at artsudbury.org or call (705) 675-4871 to make your booking. There are five different time spots available each day. You and your group will have exclusive access to the Gallery and gift shop for one hour. We can accommodate small groups of one to eight persons from the same family or social bubble. Visitors and staff conform to Covid-19 precautions as outlined by Health Unit Sudbury and District: masks and gloves are provided as necessary, social distancing, with hand sanitizing stations. Gallery touch points including washrooms are sanitized between tours.
The exhibition continues until December 24. Admission is by donation.
The Art Gallery of Sudbury is located at 251 John Street.
Visit the city's tiniest art gallery: Five things to do in Saskatoon this weekend – Saskatoon StarPhoenix
In an effort to help Saskatoon residents share art with one another, Suzy Schwanke has created the Free Little Art Gallery YXE outside her home at 332 Hilliard St. E.
Article content
Whether you're interested in art, a virtual party, some outdoor activities or cleaning up around the house, there's a little bit of something for everyone this weekend in Saskatoon.
1. Visit the Free Little Art Gallery
In an effort to help Saskatoon residents share art with one another, Suzy Schwanke has created the Free Little Art Gallery YXE outside her home at 332 Hilliard St. E. Designed in the style of community libraries and kitchen boxes, visitors to the gallery can take a piece of art, leave a piece of art, or do both. You can check out some of the artwork on Instagram @Freelittleartgalleryyxe.
2. Hit up The Bassment's virtual party
Featuring the music and talents of eight Saskatoon bands, The Bassment presents InTune 2021 — a free online party playing from 2 to 9 p.m. on Saturday and Sunday. The shows will be streamed live through the Bassment's Facebook and YouTube pages.
3. Check out local performers
Article content
Watch as some of Saskatoon's performing artists share their work in Episode 1 of Persephone Theatre's Open Stage, which was published earlier this month. The episode is available to watch whenever you want at persephonetheatre.org and features Peace Akintade, Kathie Cram, Amanda Trapp, Sketchy Bandits, Carla Orosz and Ellen Froese.
4. Have some family fun
The Fuddruckers Family Fun Centre (2910 8th St. E) is open from 10 a.m. to 11 p.m. Monday through Sunday, weather permitting. Families can practice their skills on the 18-hole Putt N' Bounce miniature golf course, reach new heights on The Rock climbing wall or take a swing at the Grand Slam batting cages. More information is available at fudds.ca or by calling 306-477-0808.
5. Drop off your hazardous waste
The City of Saskatoon is holding its first Hazardous Household Waste Drop Off of the year on Sunday from 9 a.m. to 3:30 p.m. at the Civic Operations Centre (57 Valley Rd.). The drop off is open to Saskatoon residents from residential properties only. Products eligible for drop off include aerosols, automotive fluids, batteries, cleaners, light bulbs, yard chemicals and more. Learn more at saskatoon.ca/hazardouswaste.
The news seems to be flying at us faster all the time. From COVID-19 updates to politics and crime and everything in between, it can be hard to keep up. With that in mind, the Saskatoon StarPhoenix has created an Afternoon Headlines newsletter that can be delivered daily to your inbox to help make sure you are up to date with the most vital news of the day. Click here to subscribe.
YK ARCC celebrates 10 years by pushing for NWT art gallery – Cabin Radio
Its trailer doubles as one of the NWT's only art galleries. Now, the Yellowknife Artist-Run Community Centre is turning 10 years old.
The group, YK ARCC for short, formed in 2011 in a downtown Yellowknife church scheduled for demolition. "There was always something going on," recalled Métis artist Rosalind Mercredi, owner of the city's Down to Earth Gallery, who was YK ARCC's first president.
"I think it was so good to be able to have a space where people wanted to work on stuff and, if they had bigger projects they wanted to do, there was a space to do it. It was pretty vibrant times, I would say, for art."
Though the organization stayed in the church for less than a year, it has brought art and shows to Yellowknife since. Temporary homes have included an apartment above a Vietnamese restaurant and empty spaces in the Centre Square Mall.
Casey Koyczan, a Tłı̨chǫ artist from Yellowknife pursuing a Master of Fine Arts degree at the University of Manitoba, held some of his first shows with YK ARCC's help.
"It really helped to be able to show work within an environment that was conducive to more of a fine arts aesthetic as opposed to … a coffee shop, or a pub, or something like that," said Koyczan, who was on YK ARCC's board.
"YK ARCC felt like it was getting to more of a formal-exhibit kind of feel."
'We need a territorial gallery'
The group made headlines shortly after opening a mobile art gallery in a trailer. At the beginning of the pandemic, the team took art to residents by accepting reservations through Facebook then driving the gallery to make house calls in different neighbourhoods.
"Because it's so small, we might be the only gallery in Canada that didn't have to close," said longtime board member Sarah Swan. "It has a limited capacity. We knew we could still operate it safely."
Yet the trailer's success simultaneously illuminated what YK ARCC's members believe is a glaring deficiency in the NWT: the absence of a territorial gallery.
The cost of rent makes it difficult for the non-profit to hold on to one space for any length of time. Many of the spaces that are available in Yellowknife don't work well for art shows.
"We need a territorial gallery," former board member Dan Korver said.
That doesn't mean a commercial gallery geared toward profit, he clarified. Instead, Korver wants a space where artists can show their work and engage with an audience "for art's sake."
The Prince of Wales Northern Heritage Centre is the only large-scale, non-commercial, gallery fitting that bill in the NWT. It hosts two fine art exhibits a year.
"It's just simply not enough," said Swan. "There are so many more artists and so much more work out there to show, so many more ideas."
"We created the mobile gallery in the first place to feel that exhibition gap, but also, we created it to be a piece of agitation in itself. That's why we called it the Art Gallery of the Northwest Territories.
"It's really pathetic that our territorial gallery is a trailer. We all joke that if there ever is a real gallery of the Northwest Territories that's not in a trailer, we'll happily give the name back."
Koyczan described obstacles in establishing his career that stemmed directly from the lack of a territorial art gallery.
"Back when I was showing at YK ARCC, it wasn't recognized by the Canada Arts Council," he said. "Therefore, when you go to apply for grants and funding … and you provide your CV saying that you showed work at YK ARCC, they check their records and say the show basically didn't exist because they don't recognize it as a legitimate gallery.
"I've had to work really hard on exporting myself and making artwork that is impactful so that, regardless of where I was located, it would be recognized by people in the south, or around North America, or internationally.
"The NWT needs a contemporary gallery. It's just holding us back, not having that space."
'No GNWT mandate' for a gallery
In a written statement to Cabin Radio, the territorial Department of Education, Culture, and Employment said it has no plan to create a territorial gallery.
The department said it "does not have a mandate to create physical infrastructure for the arts."
"However," the response continued, "the GNWT would be happy to work with regional organizations to see how the GNWT can support their plans."
Korver believes government involvement in creating an artist-run centre or non-commercial gallery should be limited to provision of funding, so any gallery can remain community-driven and independent.
"We need that physical space, but how do you run it?" he wondered. "Is it better to just provide a grassroots organization – or organizations, maybe there shouldn't just be one – with stable funding so they can provide those spaces and run those spaces?"
More spaces that can host art are on the way.
Makerspace YK moved into the old After 8 pub this January and is planning workshops and exhibits. The City of Yellowknife expects to open a visitor centre in the Centre Square Mall that would include art displays.
Meanwhile, the territorial government is set to release its updated NWT Arts Strategy this June. The previous territorial arts strategy, released in 2004, had identified a need for more arts spaces.
As a gallery owner, Mercredi said she is curious to see how the strategy is implemented.
"You can make a strategy but if the plan doesn't have an implementation idea behind it, then really just sits," she said. "How do you implement it when most of the arts organizations don't have enough infrastructure or people to put those things together?"
Swan said YK ARCC will continue to run its mobile gallery while celebrating its 10th anniversary this year. Members have applied for funding to run a series of "emerging curator workshops."
"Art is our passion," Swan said. "I think there's just this drive to share.
"Because we know how good art can be, or how amazing and fully developed it can be, we want to fight for that. We want to try to grow the art community in Yellowknife."
Related
Imaginations, creativity of Mountview students on display at Cariboo Art Beat
Creative, imaginative artwork of students from Mountview Elementary School will be on public display at the gallery of Cariboo Art Beat until April 9.
"The students of Mountview elementary were all invited to participate in an art contest," Tiffany Jorgensen said, an artist at Cariboo Art Beat.
Each class was separately judged by three professional artists at Cariboo Art Beat, Jorgensen said, based on the students' creativity, techniques, use of space and originality.
"It was extremely difficult to select pieces from the abundance of beautiful art presented," she said. "There is so much talent and fantastic imaginations."
The artist of each selected piece was given formal invitations to their art show to distribute to whomever they choose, and Jorgensen said anyone is free to view the beautiful artwork throughout until April 9.
Honoured at the show were works from local artists Ryker Hagen, Annika Nilsson, Rylie Trampleasure, Angus Shoults, Izabella Telford, Isabella Buchner, Kai Pare and more.
"Come view their wonderful pieces to get a glimpse into the minds of our creative youth," Jorgensen said.
"It's been so fun. The kids have come in and seen their work on display with their grandparents, parents, and they're all so excited."
Following up on the success of the Mountview art show, Jorgensen said more elementary schools have been invited to participate.
April will feature the works of Nesika and Big Lake, followed by Marie Sharpe and Chilcotin Road next month.
Cariboo Art Beat is located at 19 First Ave., under Caribou Ski Source for Sports' entrance on Oliver Street.
---
Source:– Williams Lake Tribune – Williams Lake Tribune