Growth patterns in ART children found different from those in naturally conceived – ESHRE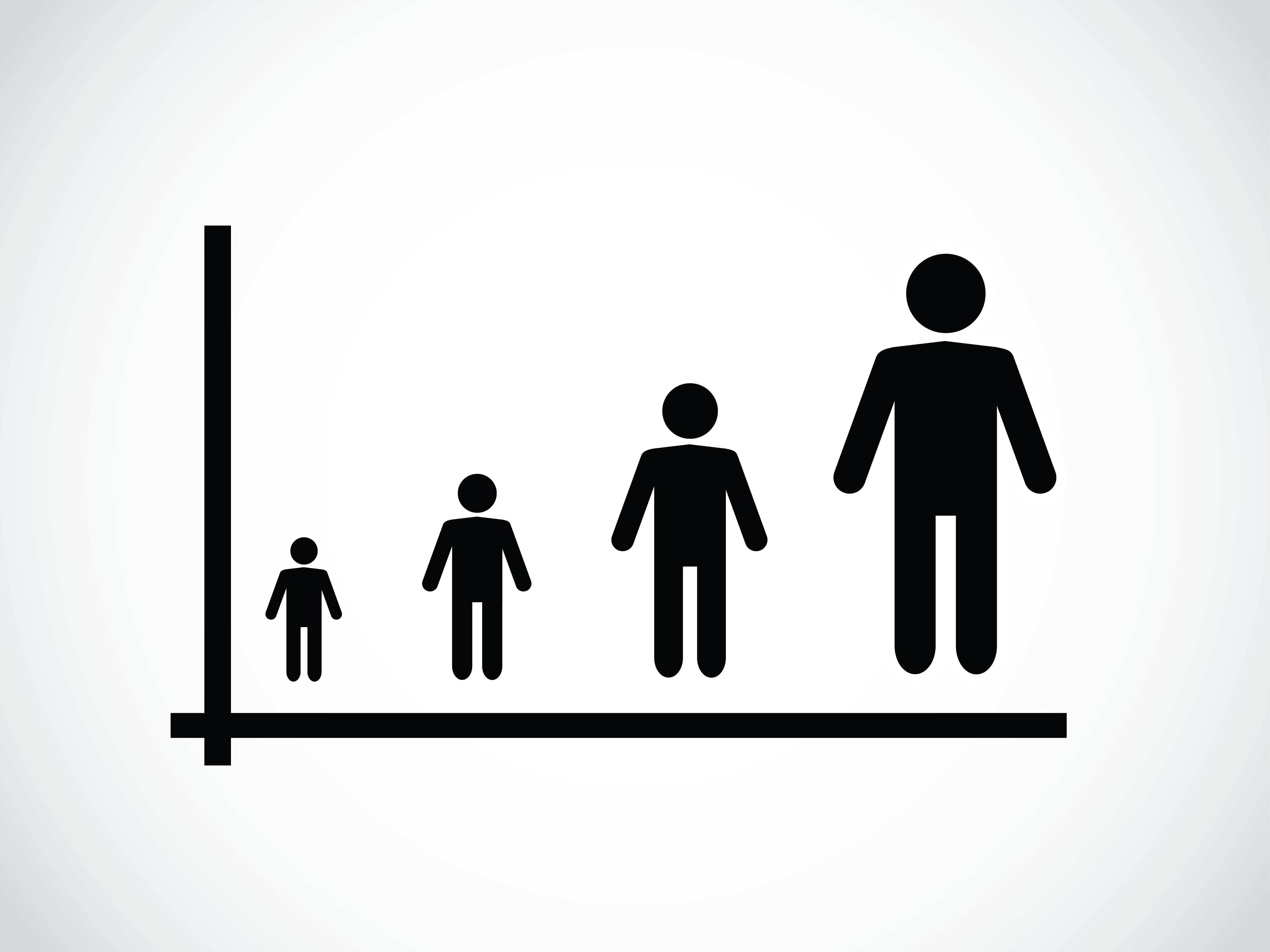 A large cohort study has shown that children conceived by ART are smaller at the time of delivery, experience a rapid catch-up growth, but are largely similar in height and weight to naturally conceived children at school age.
The influence of ART on healthy child development – physical, intellectual and mental – has been an ongoing concern which goes back to before the first IVF birth. Since then, an association between fertility treatment and adverse pregnancy outcomes has been well documented. A meta-analysis by researchers in China found a significantly increased risk of pre-term birth, low birth weight and small for gestational age; and a multicentre cohort study concluded that ICSI and IVF children need health care resources more than those naturally conceived.(1,2)
Less is known about how ART children continue to progress in terms of height, weight and body mass index when compared with those born without the help of fertility treatment. Now, a large ongoing long-term prospective cohort study has offered some clues by suggesting that fertility treatment may contribute to differences in growth patterns – at least in infancy – and that underlying parental subfertility may have an impact too.
However, the authors report that the 'reassuring' message for parents and clinics is that this effect does not persist beyond adolescence. Indeed, the growth patterns shown by ART children at the age of 17 are similar to those of their naturally conceived counterparts.
The findings are based on data from the Norwegian Mother, Father and Child Cohort Study (MoBa) on 81,461 singleton children (n = 79,740 naturally conceived; n = 1721 ART), and 544,113 teenagers screened for military service and entered in the Armed Forces Health Registry (which includes information on mode of conception).
For the MoBa children, researchers at the Norwegian Institute of Public Health in Oslo compared medical birth registry data according to mode of conception with maternally reported information from 18 weeks gestation to age seven. The ART children included those from fresh and frozen embryo transfer, while a small proportion (n = 5279) of the naturally conceived children were born to subfertile parents (<12 months to conception).(3)
The results showed that ART babies weighed less on average at delivery than those who were naturally conceived (3.495 kg vs 3.608 kg), and were shorter in length (50.2cm vs 50.5cm). However, those in all ART groups (ICSI, FET, etc) then experienced 'rapid catch-up growth', achieving greater height/weight by age three and a greater height by age seven. These growth patterns were similar among naturally conceived children born to the subfertile parents, although they were not as small as ART children at birth.
The study is also described as the first to show a difference in growth pattern in ART children up to school age. Compared with those naturally conceived, FET children were similar whereas those from fresh transfer ART were smaller; and FET children were longer/heavier for the first two years of life, and remained heavier up to age six. However, results for reported height, weight and BMI at age 17 from the Armed Forces Health Registry data were similar to those of all ART children.
So why do ART children grow differently in early life? While one likely explanation may lie in the ART procedures themselves (hormone treatments, culture media), the authors suggest the answer may also lie in 'underlying factors influencing parental fertility problems' given that the offspring from subfertile parents were also shown to have different growth patterns.
While the findings appear to allay concerns around growth rates overall, the need for follow-up research is clear according to the authors. Indeed, the authors in summarising their results report that 'children conceived by ART are smaller at the time of delivery, experience a rapid catch-up growth, but are largely similar in length/height and weight to naturally conceived children at school age', but go on to describe the term 'catch-up growth' as possibly misleading. They note that rapid weight gain in IVF children has been associated with raised blood pressure in teenage years and a greater risk of type 1 diabetes.(4,5) Thus, the potential cardiometabolic implications of accelerated growth rates among ART children in their first years of life should be investigated.
1. Qin J, Liu X, Sheng X, et al. Assisted reproductive technology and the risk of pregnancy-related complications and adverse pregnancy outcomes in singleton pregnancies: a meta-analysis of cohort studies. Fert Steril 2016; 105; 73-85. doi.org/10.1016/j.fertnstert.2015.09.007
2. Bonduelle M, Wennerholm U-B, Loft A, et al. A multi-centre cohort study of the physical health of 5-year-old children conceived after intracytoplasmic sperm injection, in vitro fertilization and natural conception. Human Reprod 2005; 20; 413–419; doi.org/10.1093/humrep/deh592
3. Magnus MC, Wilcox AJ, Elin FA, et al. Human Reprod 2021; 36; deab007. doi.org/10.1093/humrep/deab007
4. Ceelen M, van Weissenbruch MM, Vermeiden JP, et al. Pubertal development in children and adolescents born after IVF and spontaneous conception. Hum Reprod 2008; 23: 2791-2798. doi: 10.1093/humrep/den309
5. Norman E, Petzold M, Clausen TD, et al. Type 1 diabetes in children born after assisted reproductive technology: a register-based national cohort study. Human Reprod 2020; 35; 221-231. doi.org/10.1093/humrep/dez227
Inaugural art festival to showcase the work of artists in southwest Saskatchewan – moosejawtoday.com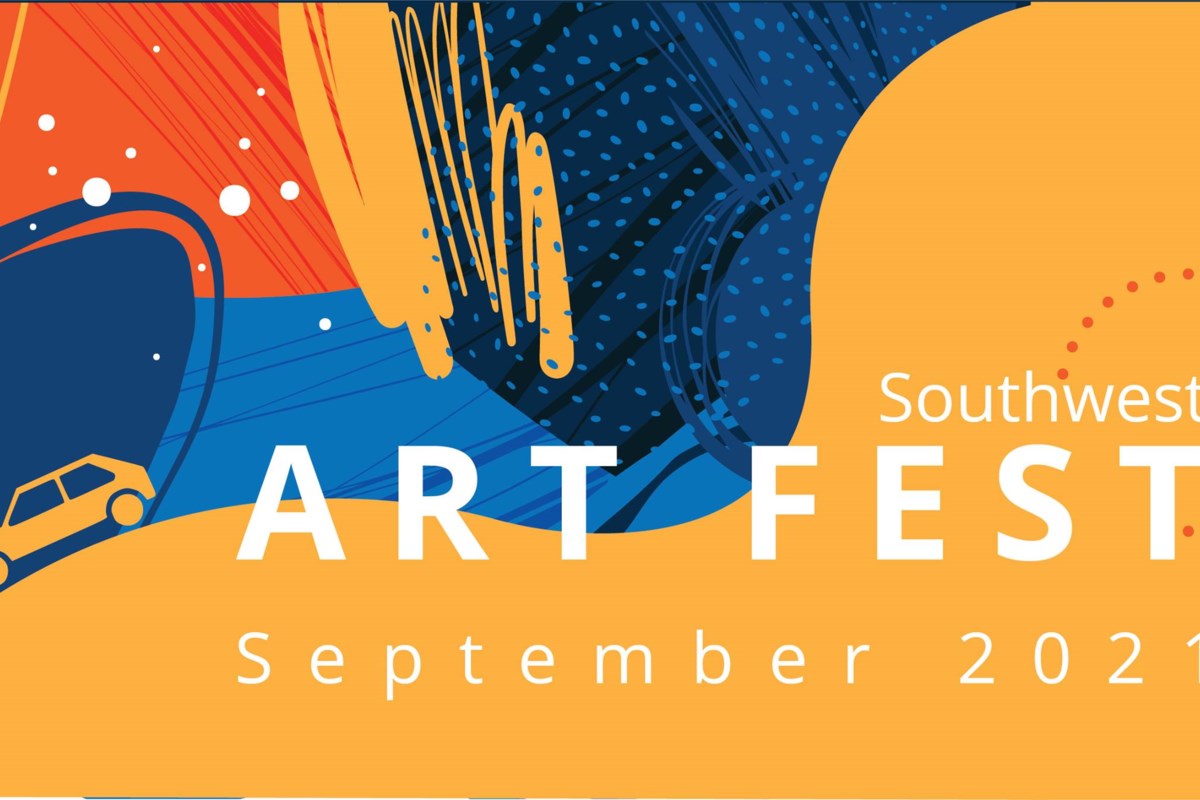 Since some tourists like to travel in September when crowds are smaller, an organization in southwest Saskatchewan wants to attract those people for an inaugural arts festival occurring in several area communities.
The Cypress Hills Grasslands Destination Area (CHGDA) organization has organized the first Southwest Art Fest, which encompasses multiple art genres such as painting, drawing, pottery, quilting, photography, film, music and other visual arts.
The event runs from Sept. 1 to 30 and gives artists throughout that area the chance to showcase their artwork. Artists are encouraged to find a venue in which to feature their material and vice versa.
The CHGDA has 36 partners in dozens of communities throughout the province's southwest corner and southeast Alberta.
Blaine Filthaut, owner and artist with the Broken Spoke Fine Art Gallery and Gift Store in Maple Creek, explained that September is the best month for his business since "a different type of tourist travels at that time." Furthermore, since there are few scheduled activities across the area, the CHGDA wanted to fill that month in an organized way.
"The concept comes from almost like a city art walk, where you go on a third Thursday of the month are walks at this location, and you go," he said. "And on those concepts, usually what happens is an artist finds a venue or a venue finds an artist that wants to participate."
However, an art walk is impossible for small towns, especially when they are scattered across more than 42,000 square kilometres of southwest Saskatchewan, Filthaut continued. This is unfortunate since there are "a huge amount of great artists" in the area.
"Like the whole area, I'm saying there are many artists not well known, and art as a culture in Saskatchewan isn't the highest thing on the list, either, so this is also a nice way to be promoting the arts," he added.
This festival also helps address the issue of towns holding activities and their neighbours not knowing about them. This event ensures all municipalities are aware of what's happening.
The CHGDA has a map on its website listing all 36 partners and the communities where they're located. This is important, said Filthaut, since some tourists like to engage in "map quests" where they use Google maps to find lodgings and restaurants in communities and then visit those places.
The organization's area stretches from Leader in the northwest to Val Marie in the southeast. Although Swift Current is not included as a partner but is on Highway 1, the CHGDA approached art galleries in that community and convinced a few to participate in the festival.
The festival provides a safe venue to tour, meet and discover art in southwest Saskatchewan in a COVID-19-safe environment, said Filthaut. That area of the province is also vast and diverse and features many kilometres of highway that pass through the sandhills, the grasslands, Cypress Hills and communities with great sights to discover.
The Cypress Hills Grasslands Destination Area spoke with Tourism Saskatchewan about this event, he continued, and while the government-run organization loved the idea, it was too late to support it due to uncertainty surrounding the pandemic. Yet, Tourism Saskatchewan said it might jump on board in 2022.
Even though the CHGDA could not obtain a provincial endorsement, the organization is still excited to host the month-long festival.
"We're looking forward to it. Everybody I've talked with, including from the artistic side, they think it could be here for a long time. It'll just grow … ," added Filthaut. "Once you get on the map and do a show, it just builds. But somebody's got to start it, and this is the start."
For more information, visit https://visitcypresshills.ca or the CHGDA Facebook page.
SENIORS' SCENE: Sidewalk Art Spectacular starts July 31 – Peace Arch News – Peace Arch News
The White Rock Community Centre is now open Monday to Friday, 8:30 a.m. to 4:30 p.m. for customer service.
Remember that the cardio gym in the centre continues to be open through the summer. Come and workout in a cool, air-conditioned, friendly setting. Pre-register to book your one-hour daytime workout Monday to Friday. Call 604-541-2199 for more information.
• You still have time to sign up for a free Zoom Zumba Gold class today, Thursday (July 29), 1-2:30 p.m. Join Zumba instructor Mary Lou Rust for an enjoyable, fun afternoon from the comfort of your own home. Mary Lou will be introducing some new features to her workshop, including how to move your hips for Latin dancing, the basic steps of the Merengue and how to shimmy, Zumba-style. The Semiahmoo Seniors Planning Table and the City of White Rock are continuing to host free Zoom Zumba Gold workshops over the next couple of months. This is a perfect, safe and fun exercise class for older adults. Register now for this popular event by calling 604-531-9400, ext.219, or email semi.seniors@gmail.com
• Don't forget that Mary Lou continues to offer Zumba Gold classes in the parking lot of the Centennial Park ball diamond every Wednesday/Friday morning at 9 a.m. Call 604-541-2199 to register.
• Looking for a fun activity to do outside? Drop down to the outdoor table tennis table at the Kent Street Activity Centre for an active game or two on the centre's new outdoor table. Don't forget to bring a paddle and ball!
• This summer, be sure to visit Generations Playground in Centennial Park (14600 North Bluff Rd.). Check out this all-inclusive kaleidoscope of outdoor fun and fitness for people of all ages and abilities. While you are at Centennial Park, take a stroll through Eva Bene Butterfly Garden or challenge yourself with a walk through Duprez ravine. The City of White Rock offers more than 80 acres of parks and trails to enjoy and explore. Visit www.whiterockcity.ca/parks for more ideas.
• Sidewalking Arts Spectacular will be held on July 31, and Aug. 7, 14, 21 and 28, from 11 a.m. to 3 p.m.
Enjoy street art and performances while walking White Rock's Uptown and Five Corners. This event is presented by White Rock BIA. Check out www.whiterockcity.ca/calendar for more information.
The Kent Street Activity Centre located at 1475 Kent St. is open to persons 55 years of age or better. The Centre is currently open to participants in registered programs only. Customer service is by phone, Monday-Friday, 8:30 a.m.-4:30 p.m. 604-541-2199. For the latest COVID-19 City of White Rock updates visit www.whiterockcity.ca/COVID19
Art Beat: Commotion on the Ocean makes waves for a second year – Coast Reporter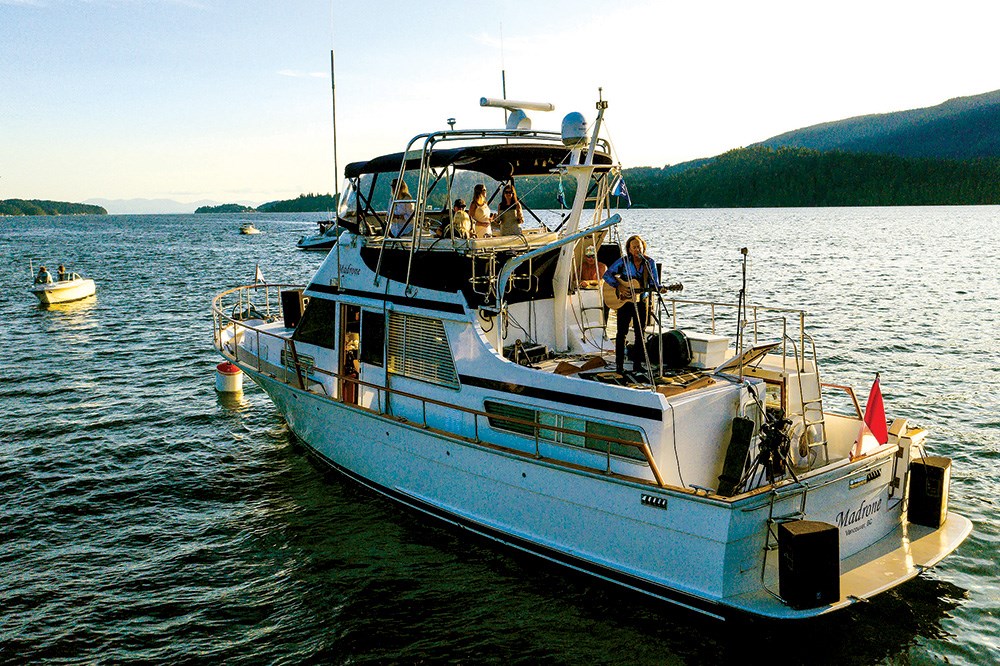 Singer Bobby Bruce is taking to the water as he did in 2020 with a set of floating concerts at three locations on Gambier Island, his home base. Bruce, renowned for his Neil Diamond tribute shows as Nearly Neil, will be on the deck of Andy Harper's big cabin cruiser, Madrone, on Saturday, July 31, singing to audiences ashore and in the small armada of boats that follow. "We're taking Yacht Rock to another level," said Bruce. The music starts in West Bay at 5 p.m., followed by Gambier Harbour at 6 p.m., and New Brighton at 7 p.m. The event is a fundraiser for the Gambier Community Centre. All audience members are asked to purchase $20 tickets at gambierisland.org. Youths 15 and under are free.
Concerts on the pier
For some special music by the ocean – as opposed to on it – guitarist Jamie Bowers launches a series of free Sunday evening shows on Aug. 1, at the end of Roberts Creek pier. Bowers, who has toured with the bands Chilliwack and Prism, will play his sunset serenades in surround sound. "From the hauntingly beautiful, to world and pop originals, and covers," said Bowers. "Magic music in a magic place." Start time is about two hours before sunset (which is getting earlier each week). Every Sunday with nice weather, until Sept. 12.
Art at The Garden
The Landing Artists group has a show and sale throughout the long weekend at the Sunshine Coast Botanical Garden on Mason Road in Sechelt. "Lots of new work. Featuring original paintings, prints, photography, sculpted characters, fibre art, jewellery, lamps and more." 1 p.m. to 6 p.m. on Saturday, 1 p.m. to 5 p.m. on Sunday and Monday.
Venue change
Music in The Landing will now be staging both its Saturday afternoon and evening concerts at Winegarden Park for the rest of the summer. (The afternoon sets had originally been scheduled for Pioneer Square, by the George Gibson statue.) On July 31 at 1 p.m., singer-songwriter Jim Foster performs, then at 7 p.m. hear the bohemian funk/jazz fusion of Tongue N Groove.
More live music
At the Clubhouse at the Pender Harbour golf course, the Soleil Duo of Nancy Pincombe and Kenneth Johnson performs Friday, July 30 at 5 p.m. On Sunday from 2 to 5 p.m., the Peter Van Trio plays and from 2 to 5 p.m. on holiday Monday, Aug. 2, it's the Steve Hinton Band.
At the Sechelt Summer Music Series on Saturday, July 31, David Jones plays at noon and the Gruny Four come on at 1 p.m.
At Tapworks in Gibsons on Saturday, July 31, hear The Organics, starting at 2:30 p.m.
On Saturday, July 31 at the Roberts Creek Legion, the Grateful Dead tribute band GDBC will prompt a few flashbacks, starting at 4 p.m., with sets until 8 p.m. $25.
There's an impressively packed lineup for Aug. 1 at Slow Sundays in the Creek, at the gazebo behind the library in Roberts Creek. At noon, singer-songwriters Charlotte Wrinch and Michael Friedman perform together. At 1 p.m. it's the "evolved ukulele enthusiasts," Wildflowers. Roberts Creek writer John Van Arsdell is on at 1:45, then the Lowry Olafson Trio at 2 p.m., followed by show closers, Tube Radio Quintet at 2:45.
Let us know about your arts event at arts@coastreporter.net.