Guardians of Global Economy Gather to Assess Damage: Eco Week – Bloomberg

The guardians of the global economy will gather this week, one year into the pandemic, to assess the damage and chart a path forward.
The International Monetary Fund and World Bank spring meetings will take place virtually for a second year starting on Monday. The IMF will release its updated World Economic Outlook on Tuesday, with Managing Director Kristalina Georgieva already indicating that it will include an upgrade to January's forecast for 5.5% global economic growth for 2021.
What Bloomberg Economics Says:

"A shrinking virus threat, expanding U.S. stimulus boost, and trillions of dollars in pent-up savings ready to be spent mean the world economy is poised for the fastest expansion on record back to the 1960s."

–Tom Orlik, chief economist. For full analysis, click here
Beyond the much-watched economic report, attention will focus on a Group of 20 finance ministers' meeting on Wednesday, where officials may decide to extend the Debt Service Suspension Initiative, set to expire in June, through the end of this year. The program has provided $5 billion in debt relief for low-income nations since it began last May, according to World Bank data.
Another focus of conversation will be the IMF's proposed $650 billion issuance of reserve assets known as special drawing rights. While the official proposal won't come until June, Georgieva last month touted broad support for the idea among IMF members.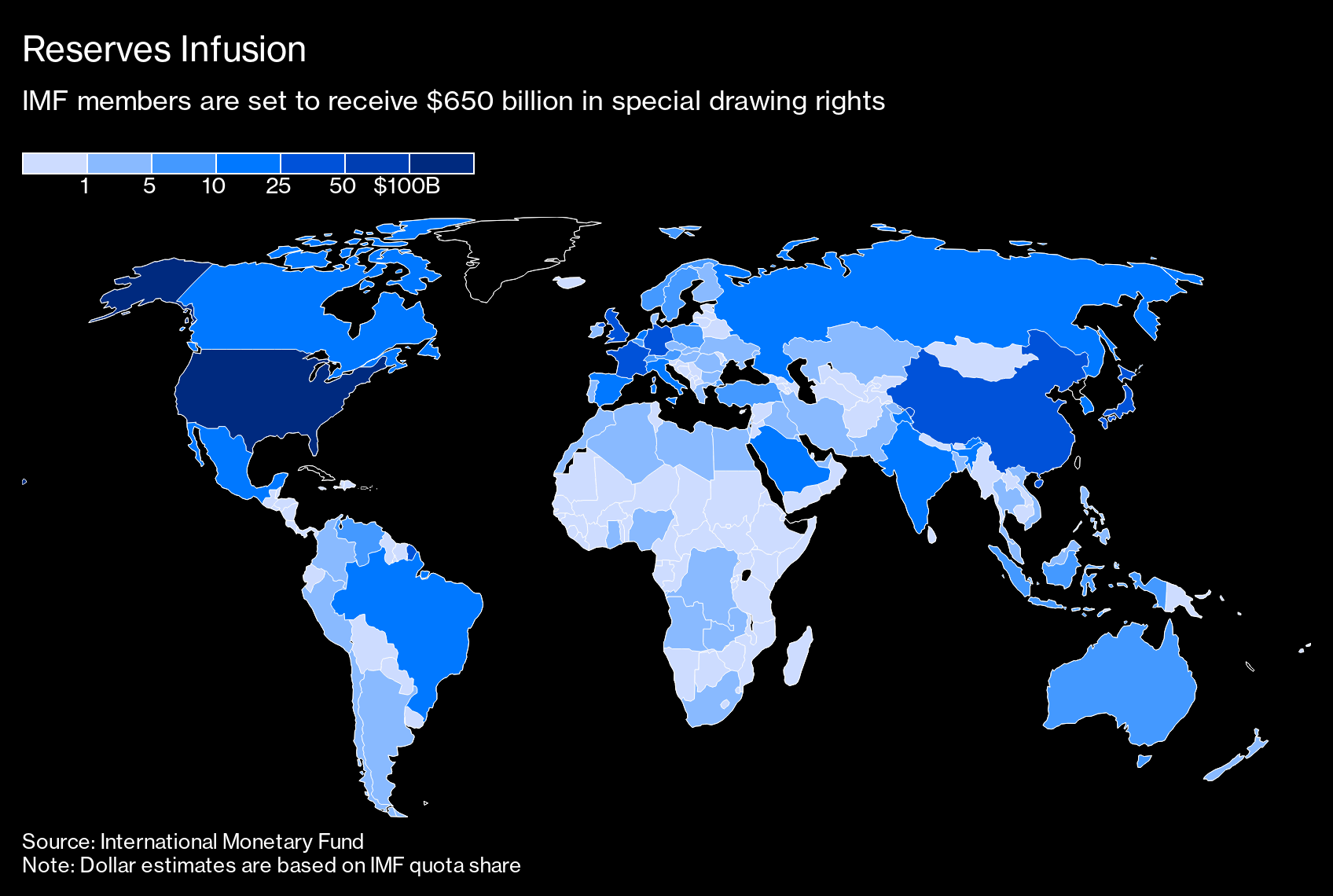 The plan would help send more than $20 billion to poor countries. U.S. Treasury Secretary Janet Yellen last week told U.S. Congress that President Joe Biden's administration intends to support the idea, starting a countdown of at least 90 days before a formal vote in favor at the IMF.
Elsewhere, minutes of the latest Federal Reserve and European Central Bank meetings will shed insight on policy makers' thinking and central banks in India, Australia and Poland are predicted to keep policy unchanged.
Click here for what happened last week and below is our wrap of what is coming up in the global economy.
U.S. and Canada
Investors will be watching out for the latest data on services activity, job openings and producer prices for signs of the economy's progress and developing inflationary pressures.

On Wednesday, Fed watchers will also have minutes of the central bank's last meeting to pour through and Fed Chair Jerome Powell is scheduled to speak at an event Thursday in time with the IMF's meeting.
Asia
Japan releases household and wage data on Tuesday that will offer more insight into the hit to the economy from a second state of emergency amid signs it was less brutal than first feared.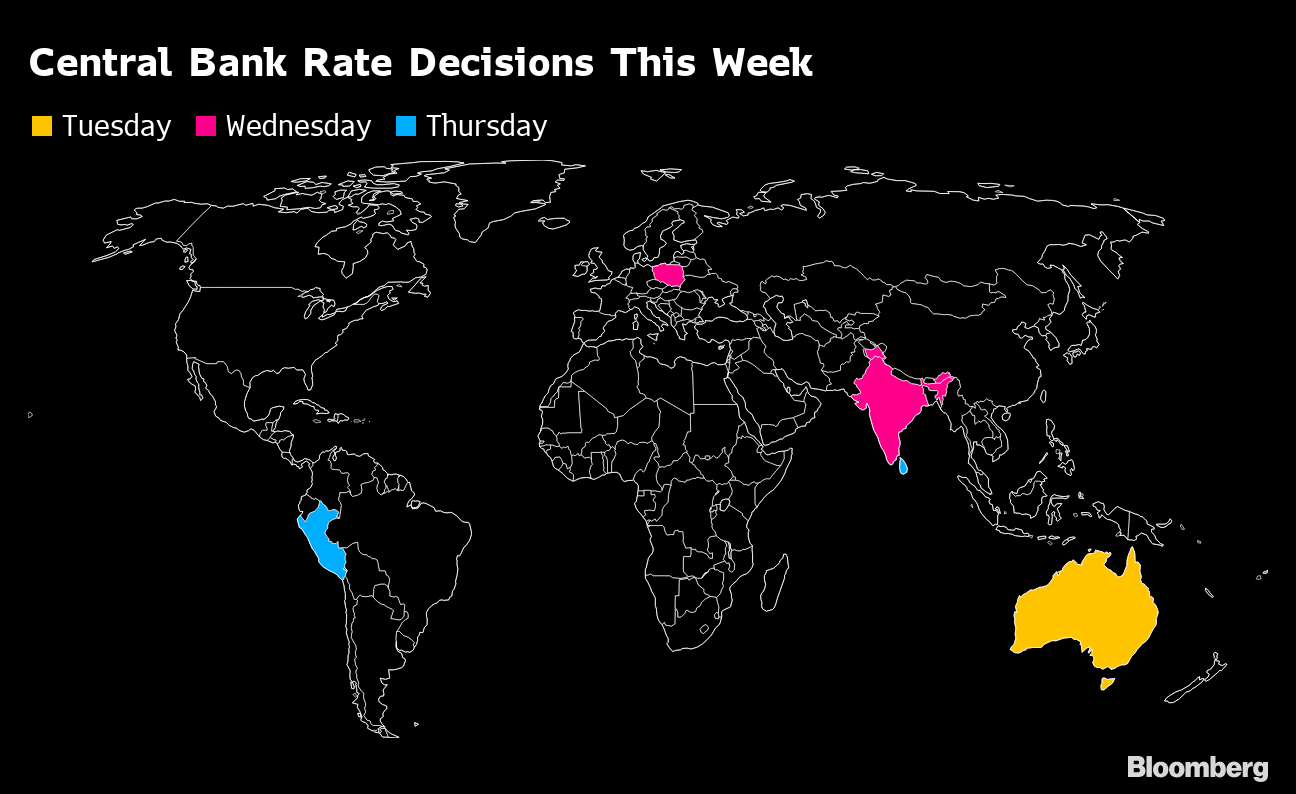 Australia has an interest rate meeting on Tuesday and India on Wednesday. With neither central bank expected to move their main policy tools, the focus will be on their outlooks.
China releases data on Friday that's likely to show consumer price inflation climbed back into positive territory while factory costs are starting to swell.
Europe, Middle East, Africa
The health of Europe's manufacturing base as it weathers the coronavirus crisis will focus economists' attention in the coming week as they gauge the underlying strength of growth drivers during the quarter that just finished.
German factory orders and industrial production data for February are among the more significant reports, and both are anticipated to show output increases during the month.

A shorter week than usual in much of the region because of the Easter holiday on Monday features fewer scheduled remarks by ECB officials to guide investors on the state of policy.
But the institution's account of its decision on March 11 will pique interest, perhaps signaling a spectrum of opinion among governors on the risks to economic growth at a meeting when they ratified new quarterly forecasts.
Poland may announce a new fiscal stimulus program, largely paid for by EU funds. Meanwhile, the country's central bank is set to keep policy unchanged.
Turkey may report that inflation rose to above 16% in March, when the firing of Naci Agbal and appointment of Sahap Kavcioglu as central bank governor sent the lira plunging by more than 10% as foreign investors sold Turkish assets at the fastest pace in 15 years.
Russia is expected to report that inflation accelerated to the highest since 2016 at 5.8% in March, when the central bank raised interest rates to try and combat the effects of ruble weakness and rising food prices.
Latin America
Reports on Mexico's industrial output and manufacturing this week should point to the negative output gap of early 2021. On Thursday, the consumer price reports and the central bank minutes may boil down to this: Inflation's above target, but the data-dependent Banxico is ready to wait, expecting it to slow in line with their forecasts. Bear in mind that the most recent GDP forecasts from Banxico and the Finance Ministry are quite upbeat too.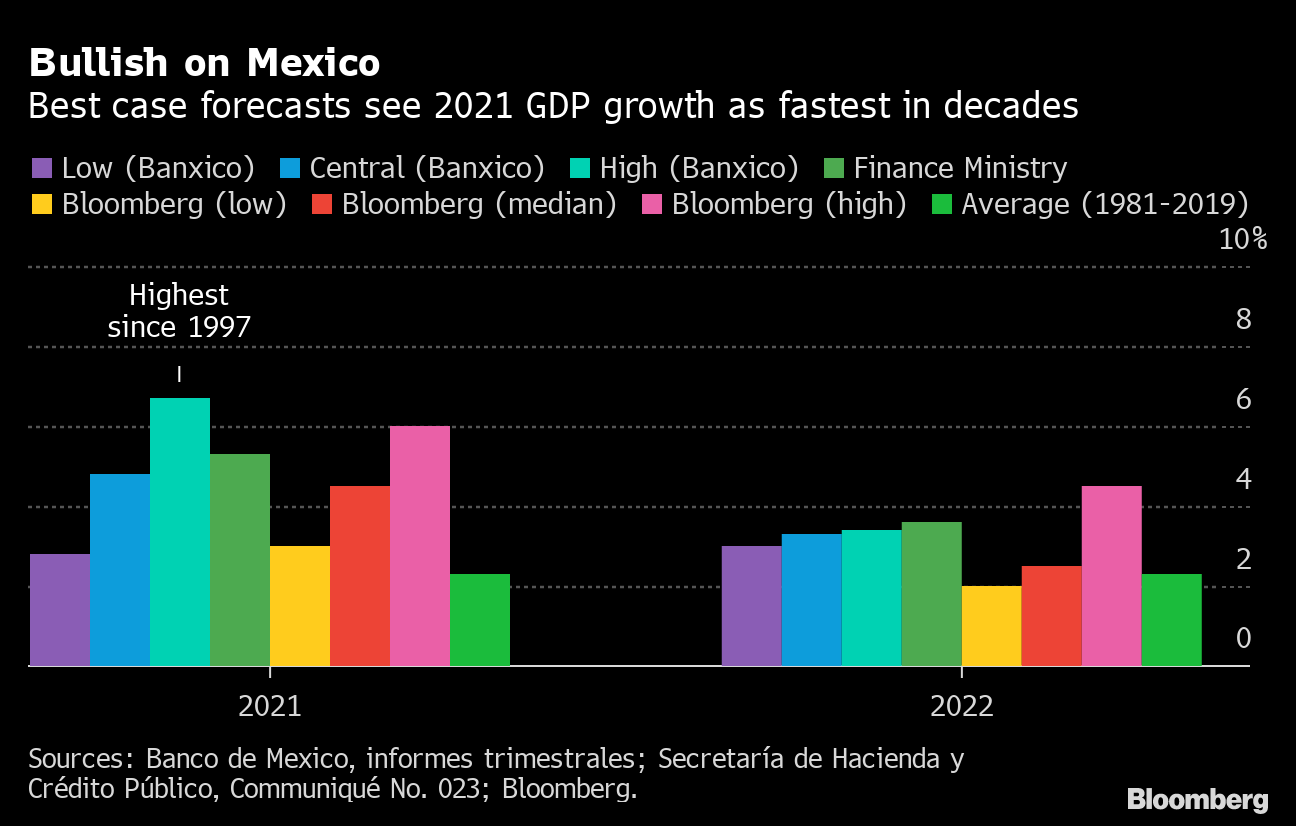 In contrast, gloom pervades the region's biggest economy. One of the country's largest hedge fund managers says Brazil may be nearing a "perfect inflationary storm." Data out Friday may show consumer prices are well over the 5.25% target range ceiling and consistent with the more dire central bank scenarios.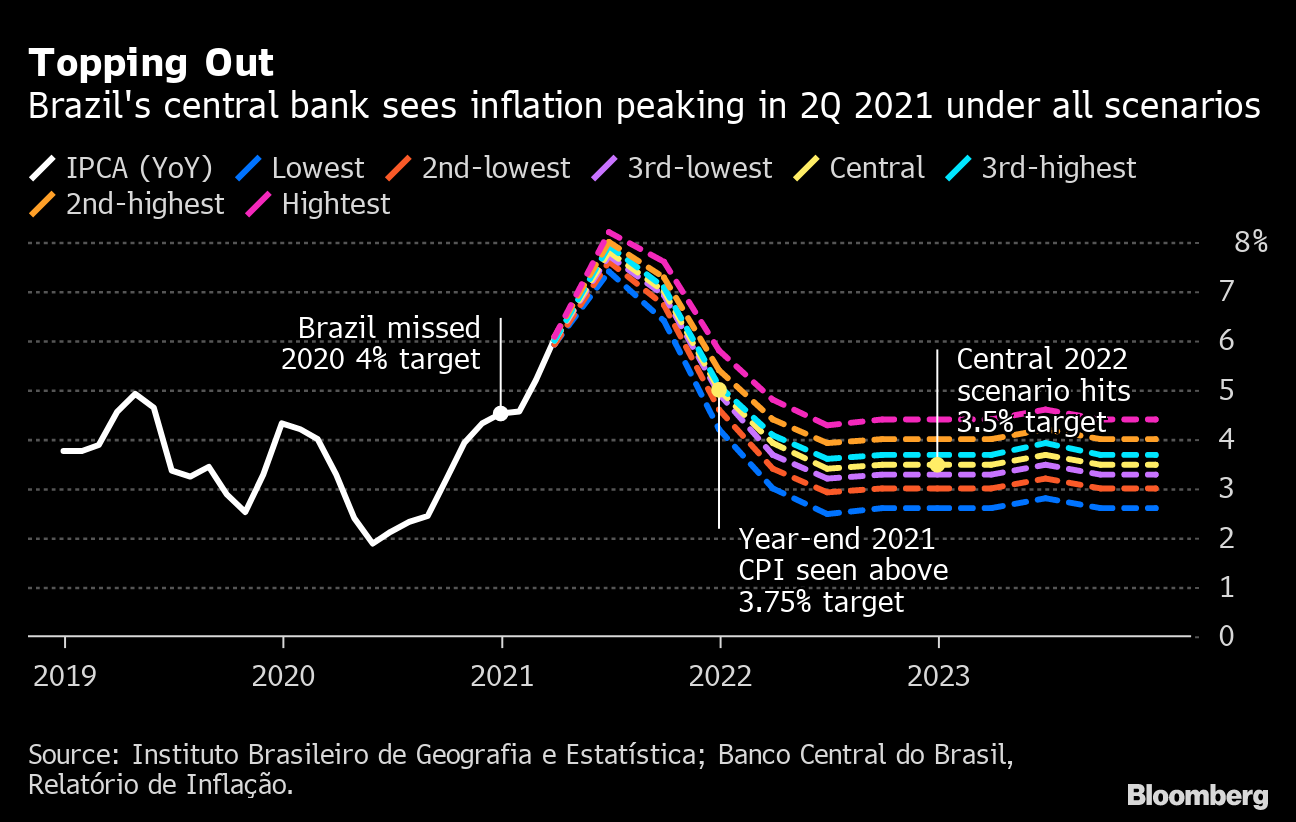 Among the Andean nations, inflation in Chile should come in right around 3% whereas analysts see Colombia's setting a record-low of 1.45%. Rounding out the week, look for Peru's central bank to keep the key rate at a record-low 0.25% for a 12th straight meeting.
— With assistance by Peggy Collins, Benjamin Harvey, Robert Jameson, Malcolm Scott, and Michael Winfrey
Canada to go big on budget spending as pandemic lingers, election looms
By Julie Gordon
OTTAWA (Reuters) – Canada's Liberal government will deliver on its promise to spend big when it presents its first budget in two years next week amid a fast-rising third wave of COVID-19 infections and ahead of an election expected in coming months.
Finance Minister Chrystia Freeland has pledged to do "whatever it takes" to support Canadians, and in November promised up to C$100 billion ($79.8 billion) in stimulus over three years to "jump-start" an economic recovery in what is likely to be a crucial year for her party.
Prime Minister Justin Trudeau's Liberals depend on the support of at least one opposition group to pass laws, and senior party members have said an election is likely within months as it seeks a clear majority and a free hand to legislate.
Furthermore, by September, all Canadians who want to be vaccinated will be, Trudeau has said.
Freeland has said the pandemic created a "window" of opportunity for a national childcare plan, and that will be reflected in next Monday's budget along with spending to accelerate Canada's shift toward a more sustainable economy.
"It will be a green and innovative recovery plan aimed at creating jobs," said a government source who declined to comment on specific measures. The budget will aim to help those "who have suffered most" the effects of the pandemic, the source said.
Critics say the government would be better to hold off on blockbuster spending because the economy has shown it is poised to bounce back, and to prevent the country from racking up too much debt.
"Clearly a garden-variety stimulus package is the last thing we need. This is pile-on debt," said Don Drummond, an economist at Ontario's Queen's University.
"The risk is that at some point interest rates are going to go up and we're going to be in trouble," he said, pointing to the mid-1990s when Canada's debt-to-GDP ratio skyrocketed, leading to rating agency downgrades and years of austerity.
The Bank of Canada cut its benchmark interest rate to 0.25% to counter the economic fallout of the COVID-19 crisis and has said rates will not rise until labor market slack is absorbed, currently forecast for into 2023. That may change when it releases new projections on April 21.
EXPANDING ECONOMY
More than 3 million Canadians lost their jobs to the pandemic. As of March, before a third wave forced new lockdowns, only 296,000 remained unemployed because of COVID.
Despite still-high unemployment levels in hard-hit service sectors, the economy has expanded for nine straight months even as provinces have adjusted health restrictions to counter waves of infections.
"Once we see sustained reopening, we do think that the recovery will have quite a bit of momentum on its own," said Josh Nye, a senior economist at RBC Economics.
"We think Canada's economy will be operating pretty close to full capacity by this time next year," he said.
Economists surveyed by Reuters expect Freeland to project a deficit in the range of C$133 billion to C$175 billion for fiscal 2021/22, up from the C$121.2 billion ($96.7 billion)
deficit forecast in November. https://tmsnrt.rs/3wSJPcm
The deficit for fiscal 2020/21 ended in March is forecast by the government to top a historic C$381.6 billion ($304.5 billion).
Canada announced on Monday a C$5.9 billion ($4.7 billion) aid package for the country's largest airline carrier, Air Canada, and said talks were ongoing with No. 2 carrier WestJet Airlines Ltd and others.
(Reporting by Julie Gordon in Ottawa; Additional reporting by Fergal Smith in Toronto; Editing by Steve Scherer and Peter Cooney)
CANADA STOCKS – TSX ends flat at 19,228.03
* The Toronto Stock Exchange's TSX falls 0.00 percent to 19,228.03
* Leading the index were Corus Entertainment Inc <CJRb.TO​>, up 7.0%, Methanex Corp​, up 6.4%, and Canaccord Genuity Group Inc​, higher by 5.5%.
* Lagging shares were Denison Mines Corp​​, down 7.0%, Trillium Therapeutics Inc​, down 7.0%, and Nexgen Energy Ltd​, lower by 5.7%.
* On the TSX 93 issues rose and 128 fell as a 0.7-to-1 ratio favored decliners. There were 26 new highs and no new lows, with total volume of 183.7 million shares.
* The most heavily traded shares by volume were Toronto-dominion Bank, Nutrien Ltd and Organigram Holdings Inc.
* The TSX's energy group fell 1.61 points, or 1.4%, while the financials sector climbed 0.67 points, or 0.2%.
* West Texas Intermediate crude futures fell 0.44%, or $0.26, to $59.34 a barrel. Brent crude  fell 0.24%, or $0.15, to $63.05 [O/R]
* The TSX is up 10.3% for the year.
Canadian dollar outshines G10 peers, boosted by jobs surge
By Fergal Smith
TORONTO (Reuters) – The Canadian dollar advanced against its broadly stronger U.S. counterpart on Friday as data showing the economy added far more jobs than expected in March offset lower oil prices, with the loonie also gaining for the week.
Canada added 303,100 jobs in March, triple analyst expectations, driven by the recovery across sectors hit by shutdowns in December and January to curb the new coronavirus.
"The Canadian economy keeps beating expectations," said Michael Goshko, corporate risk manager at Western Union Business Solutions. "It seems like the economy is adapting to these closures and restrictions."
Stronger-than-expected economic growth could pull forward the timing of the first interest rate hike by the Bank of Canada, Goshko said.
The central bank has signaled that its benchmark rate will stay at a record low of 0.25% until 2023. It is due to update its economic forecasts on April 21, when some analysts expect it to cut bond purchases.
The Canadian dollar was trading 0.3% higher at 1.2530 to the greenback, or 79.81 U.S. cents, the biggest gain among G10 currencies. For the week, it was also up 0.3%.
Still, speculators have cut their bullish bets on the Canadian dollar to the lowest since December, data from the U.S. Commodity Futures Trading Commission showed. As of April 6, net long positions had fallen to 2,690 contracts from 6,518 in the prior week.
The price of oil, one of Canada's major exports, was pressured by rising supplies from major producers. U.S. crude prices settled 0.5% lower at $59.32 a barrel, while the U.S. dollar gained ground against a basket of major currencies, supported by higher U.S. Treasury yields.
Canadian government bond yields also climbed and the curve steepened, with the 10-year up 4.1 basis points at 1.502%.
(Reporting by Fergal Smith; Editing by Andrea Ricci)