Guelph Arts Council now accepting applications for Art on the Street – GuelphToday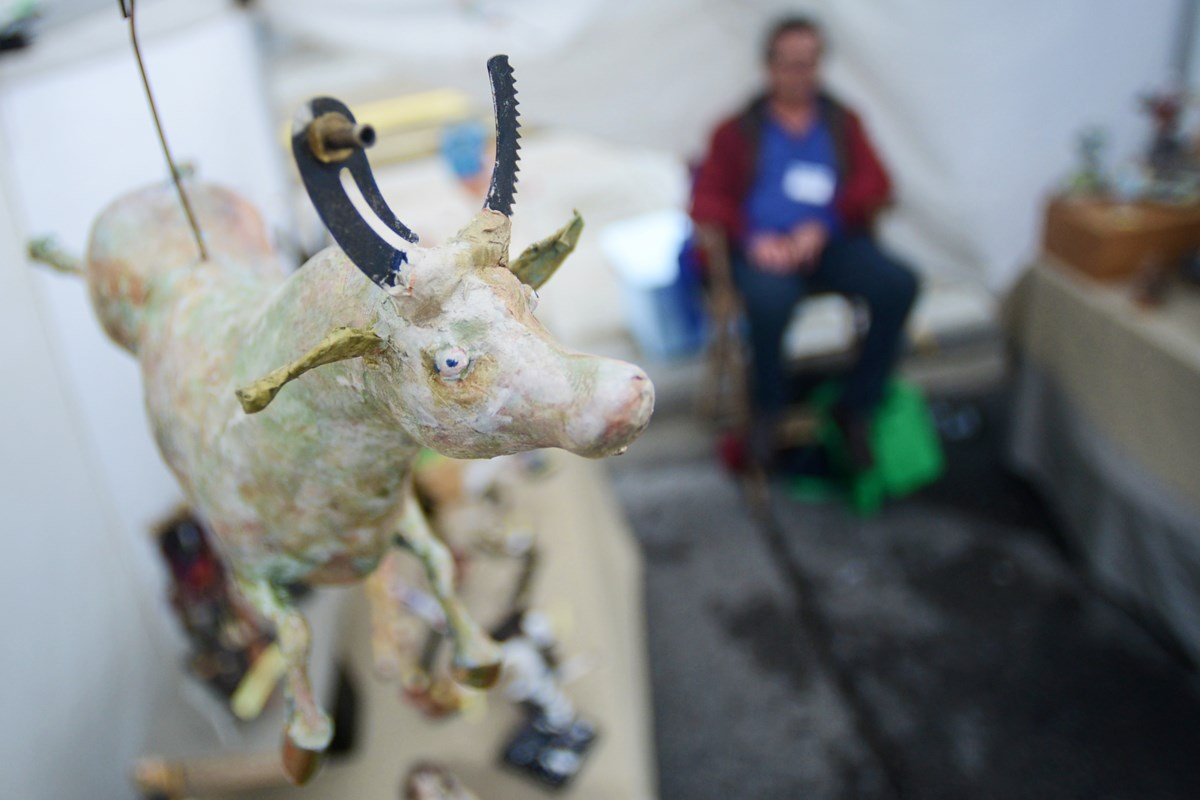 Interested artists are invited to review the application guidelines and to contact Guelph Arts Council with inquiries at programs@guelpharts.ca or 519-836-3280.
Art on the Street is co-presented by Downtown Guelph Business Association and Guelph Arts Council and features contemporary fine art and craft.
The event has grown both in scale and calibre of artist since its inception in 2003 to become Guelph's largest outdoor exhibition and sale. Art on the Street spotlights multi-disciplinary talent within the regional arts community and offers a fresh-air art experience for Guelph's residents and visitors.
Each year, over 80 established and emerging artists showcase their works in temporary, open-air studios. Art on the Street is an opportunity to meet painters, potters, blacksmiths, jewellers, glass blowers, woodcarvers, textile artists, photographers, and more, and to take home a piece of Guelph's creative culture. Art on the Street is a free event that welcomes art lovers of all ages.
Visit guelpharts.ca or connect with us on Facebook, Twitter or Instagram for event updates.
*************************
About Guelph Arts Council:
For over forty years, Guelph Arts Council has been dedicated to supporting, stimulating and promoting arts and culture in Guelph. Guelph Arts Council is funded in part by The Guelph Community Foundation and City of Guelph. We also acknowledge the support of the Ontario Arts Council, an agency of the Government of Ontario.
Morinville muralist paints fence art – St. Albert Today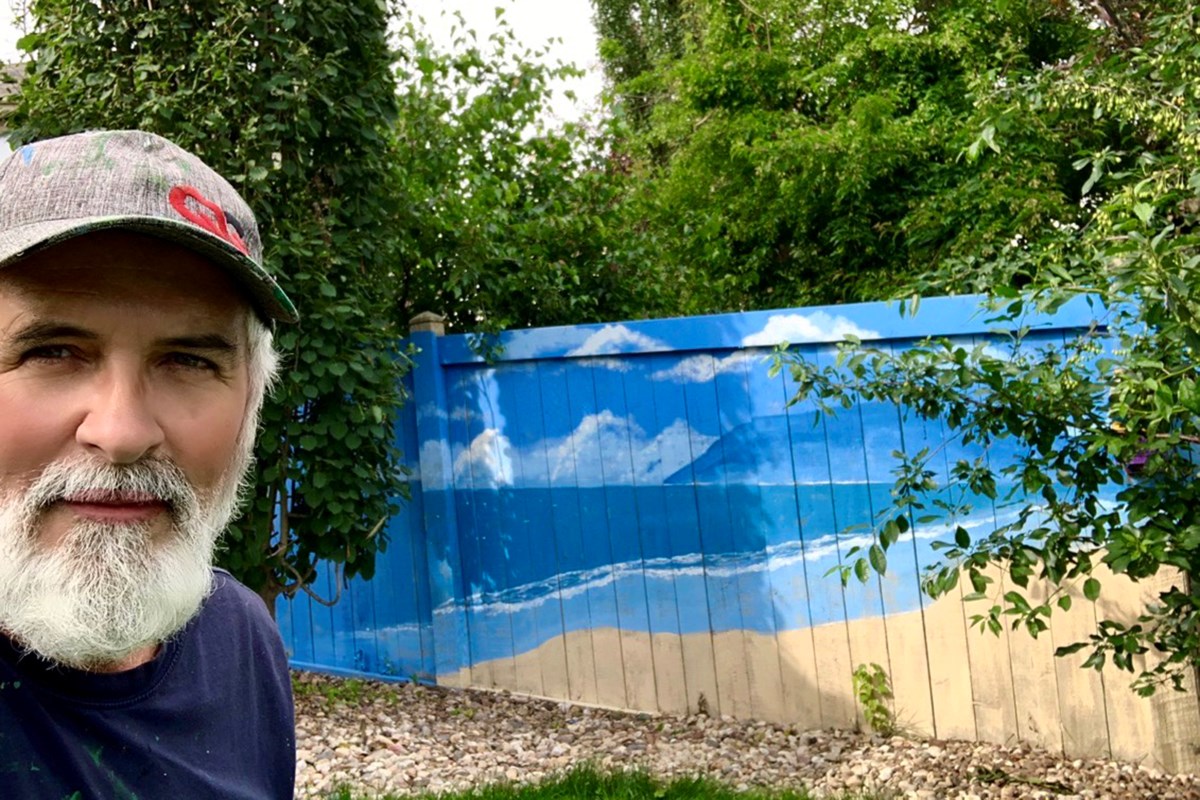 From 50,000-year-old cave dwellers to 21st-century graffiti artists, murals have given humans a way to express their world for centuries.
Closer to home, this popular art form has found its way on all sorts of exterior walls including garages, sheds and fences.
Morinville visual artist Robert Murray is one the latest to dive into this populist art form. His fence landscapes, mountainscapes and seascapes may not decorate great halls, however, they create a serene, relaxing environment for the homeowner.
Murray turns an ordinary wall into an extraordinary scene. His nature-based garden art runs the gamut, from a tree grove surrounding a cool pond or a ship sailing on orange waters during a setting sun, to water mills turning alongside rushing rivers or a lighthouse on a cliff waiting for the tide to rise.
"When I first posted my fence work on St. Albert Chat, my Facebook page lit up with inquiries. With people staying home because of COVID, I've already completed 65 since April," said Murray.
Originally from Nova Scotia, he showed an aptitude for drawing at an early age. After high school, Murray travelled to Red Deer College where he graduated from a two-year art and design program.
"It covered a broad spectrum of art. My first intention was to be an art teacher to young children."
However, as a member of the Church of Jesus Christ of Latter-day Saints, Murray was called to serve as a missionary in England. Across the pond, he discovered the French impressionists. In particular, Édouard Manet and Claude Monet art had a profound influence on the young Canadian.
"The impressionists immediately struck a chord, and I was trying to use their technique. I admired their skill, the loose compositions and the romance in the paintings."
Upon returning to Alberta, he met his wife Judy. They were married shortly after and had five children, all gifted with artistic talent.
Raising a family required different commitments. Murray pivoted to sales for 42 years, selling life insurance first and then industrial materials to oil and gas companies.
In the 1990s, his creative juices started flowing once more as he published three books, and for a time, sketched a weekly cartoon strip. He also designed a series of t-shirts as well as painted detailed landscapes on rocks and stones later sold at the St. Albert Farmers' Market.
"I really honed my palette of colour and light and shadow in painting rocks."
Through a series of circumstances, Murray inadvertently began mural painting after his mother was admitted to a seniors centre.
"I went to visit her and one day I was staring at a bare wall. I asked permission if I could paint a mural. It was an organic fantasy in the Kincaid style with flowers, trees and leaves."
The administration loved his concept and commissioned two more works. To date, the prolific muralist has completed 500 pieces.
From painting three-pound rocks to finding himself on a hydraulic lift painting images more than three stories high, Murray has developed a style that incorporates impressionism's romantic vibe.
"When I get a brush in my hand, I'm lost in my world and I love it. It's a wonderful thrill. For me, it's therapeutic."
Murray works with speed and agility completing as many as two fence art pieces a day. In between painting garden art, he's also been commissioned to create 13 indoor murals for Alberta hospitals.
"My plan is to make the murals a place of tranquility and peace that helps them (patients) reflect on the things that bring them happiness."
As for the backyard fence art, he said, "With COVID-19 going the way it is, I want to leave people with a piece of heaven."
David Lee Roth Is Letting His Art (Mostly) Do the Talking – The New York Times
Typically, David Lee Roth spends his days, or at least his nights, "in tactical spandex, moving at 134 beats per minute," he said. But now the 65-year-old Van Halen singer is just like the rest of us: stuck at home and obsessing about pandemics.
However, the past few months in quarantine have led Roth to an old pursuit, with new focus. Since April, he has filled his days creating Covid-themed drawings — he calls them comics — and then sharing the finished works, one each week, on his social media channels. The art, like Roth's music and disposition, is vibrant, whimsical and somewhat unconventional. In moments, it is confrontational. Several drawings feature his own face. Many are filled with images of frogs.
What sparked this surge of artistic expression?
"Well, I lost my job!" Roth cracked over the phone from his home in Los Angeles on an afternoon in late June. As recently as March, Roth was on tour as a solo act, supporting Kiss in arenas across the United States. Earlier in that run, Roth, who has also worked as an E.M.T. in New York, had battled an unspecified illness. "I'm not so unconvinced I didn't have the corona," he said. "Man, they gave me enough prednisone to put boots on the moon! We left a trail of groupies, rubble and incandescent reviews. But I don't want to go back through it."
Even by rock frontman standards, Roth's ability to command full attention from his audience is renowned, whether he's launching himself off drum risers for midair splits or schooling fans on how Van Halen is "the rock 'n' roll band who sold Ricky Ricardo rumba to the heavy metal nation." But now his art is doing the talking. "Social commentary is what I do," he said. "It's what I've always done."
In his recent artwork, that social commentary has elicited a strong response. In one piece, he declares a name change. "Diamond Dave following Lady Antebellum's (now 'Lady A') example, will be dropping the 'Lee,'" he wrote below a drawing of, naturally, a frog. "From now on he wants us all to call him 'David L. Roth' or simply 'El Roth.'" To many, it diminished the steps white artists are taking to correct racism.
"Humor — not jokes — humor, the best stuff, isn't funny at all," Roth said, defending his work. "My version is the truth dipped in sugar. And maybe it's a little sugar and spice. But the good stuff compels discussions."
Art, he continued, "has been a constant in my life. My hand has always been in wardrobe, background sets, stage sets, album covers, video direction. This is part of it. And there's craft involved, so there's a little bit more heft to some of the statements."
Roth laughed. "This is the adult table; as a fellow artist, I sense you understand that."
Another laugh.
"Next question!" These are edited excerpts from the conversation.
Why frogs?
I saw a story about Mark Twain — it was not his biography, it was a fictional piece with actors. And at the end of it ol' Sam passes on, but he doesn't go to heaven. He's in the backyard where he grew up in Hannibal, Mo. And a little girl walks up and he goes, "Who are you?" She says, "I'm Becky Thatcher, and I've got some friends who are waiting to meet you." And all the characters that he created come on up to greet him. So, I started my guest list. And probably the only one of that retinue that I could even spell, much less draw, was the frog from Calaveras County [from the short story "The Celebrated Jumping Frog of Calaveras County"].
Many of your drawings include a reference to the "Soggy Bottom." I took this, at least in this context, to be a play on the phrase "draining the swamp."
If I explain it, it's a bumper sticker. If I let you explain it, it's art. But you're very close to exactly accurate.
Can you describe your artistic process?
My approach is the best of both worlds: vintage and hyper-atomic digital. Sort of like watching "Dragnet" on your iPad. You know, I moved to Japan for two-plus years to study Sumi-e and calligraphy, and four nights a week I trained and then I did homework. Jesus, I've spent thousands of hours learning to operate a horsehair brush with a block of ink that I grind myself. Hasn't changed its recipe in 700 years.
So everything in the comics is hand-drawn — all the typeface, all the colors, the line work, the lighting. And once I'm done, I work with Colin Smith, the Led Zeppelin of Adobe Photoshop. Together we scan everything, and then I'm able to move into areas that otherwise weren't graphically available without decades of effort.
How does using digital manipulation transform the original work?
Many of these colors can't be found outside the cyberverse. It's a world unto itself. Serves a well purpose, because almost all of our fine arts and graphic consumption these days is interactive with a screen, whether it's on your PC or your wristwatch. We're actually back to Maxwell Smart and his shoe phone. "Somebody is on my Nike!"
What appeals to you about using brush and ink as a means of artistic expression?
Hold on. This isn't expressing myself. This is performance therapy. I'm venting. I'm angry. And I am not asking for forgiveness. And this is how I do it.
People don't usually think of David Lee Roth as angry.
That's because I have transcended it. It is that secret magic when you take something that is essentially sad and find humor, eloquence and sometimes illumination in it.
What is your view of this country's response to the Covid-19 pandemic?
I sure wish our country had taken a Marine Corps approach to Covid. Instead of [creating] a divide, good or bad, right or reasonable, wrong or otherwise.
One of your pieces features the phrase "No politics during happy hour," which feels to me like it could be an encapsulation of the Van Halen ethos.
Well, visually and graphically, the frogs underneath that caption are fighting — identical to what happened in my brief and colorful tenure with the Van Halens. [Laughs] But when you see Technicolor frogs doing it, it's a bit more digestible. But what I'm reflecting on in that comic is the unstated. That which we don't talk about. What does happen when we drink at happy hour and talk politics? What does it mean when we say, "Alcohol sales skyrocket again"? It's all a bit of a diversion.
Can you say more about the piece that seems to be a response to Lady Antebellum's name change?
It had connotations of personal politic. I sought to have a little fun at the expense of others, whose vision I will respect. And in lieu of the inevitable false-footed copycats I pretended to be one. But the supposed name change really drew some ire in terms of some folks posting from an arch right-wing stance: "Another left-winger takes a fall." Hey, I'm a combat hippie — peace, love and enough guys and gears to defend the [expletive] out of it. You need one to support the other.
Would it be correct to identify David Lee Roth as left-leaning?
I love civil rights. Equal rights. Women's rights. Kids' rights. The rights of the rights. OK? The entire list. But conversely, I'm prepared to shave my head, join the Marines and go defend those rights. That in itself isn't really a left-wing statement. Or it didn't used to be when I was growing up. But I grew up in a really great time and a really great space during integrational busing in the '60s. I went to schools that were 90 percent Black and Spanish, and I was in the color guard with a crew cut. Every morning at seven we'd march to put up the flag. And then at night we'd go to Kenny Brower's brother's house, smoke pot and listen to that new Doors record. Combat hippie!
You were on tour when the lockdown began. As a lifelong performer, was it difficult being forced to leave the road so hastily?
Every Jiu-Jitsu magazine has a 28-year-old who's going to tell you about the two years that got taken away by his elbow. Every kickboxing magazine has a 32-year-old instructor who goes, "Well, I lost those three years to my left knee." So I've just been isolating away. Because I myself am high risk.
Why do you consider yourself high risk?
The road will deteriorate you from the beginning or it will keep you alive forever. When we go out, we wear ourselves to a nubbin. I just had a lower back surgery. It was a spinal fusion where they take a chip from somebody else. I'm actually taller now. Do I seem taller? I mean, over the phone?
You last toured with Van Halen in 2015. Do you think it'll ever happen again?
I don't know that Eddie [Van Halen] is ever really going to rally for the rigors of the road again. [The guitarist first announced he had cancer in 2001, and it has recurred since.] I don't even want to say I've waited — I've supported for five years. Because what I do is physical as well as musical and spiritual — you can't take five years off from the ring. But I did. And I do not regret a second of it. He's a band mate. We had a colleague down. And he's down now for enough time that I don't know that he's going to be coming back out on the road. You want to hear the classics? You're talking to him.
For how long will we continue to see new artwork from David Lee Roth?
Like the tattoo artist said, 'til I don't have any friends left! Until my Instagram's empty! I can do this endlessly. I hadn't considered this as something other than after dinner at the campfire. But lo and behold, people have taken a real fascination.
Given that fascination, will these drawings eventually be offered for sale?
In terms of what I really do for a living, as soon as the B-list — that's Beyoncé, Bono and Bruce [Springsteen] — say it's OK, I'll be back singing and dancing and selling you T-shirts. But in the interim, I am drawing and painting every night. And the fact that there's an audience for it is quite a tickle. So of course I'll make it available. You bet. I just didn't see it coming. [Laughs] But like my sister says, I seem to miss the big stuff.
Preserving The Future: Art And Artistry Of Sergey Konstantinov – Forbes
What is essential? The coronavirus-related lockdowns forced everyone to reconsider priorities and look within. Amid the uncertainty, the primary role of culture has proved to be the maintenance of social cohesion and individual well-being. While some critics lamented loss of access to cultural institutions and public events, others focused on renewed appreciation for the arts online. What would quarantine be like without television, literature, music, or other art forms? The options are too dire to consider! Creative communities in Germany demanded emergency relief funding and the artists in Spain went on digital strike. Yet, a survey in Singapore found that 71% of respondents considered "artist" the most non-essential occupation during the pandemic. Meanwhile, the Getty Museum Challenge went viral with people recreating famous artworks in fun ways. This highlighted new opportunities for engagement with cultural heritage. Recently another Baroque masterpiece got destroyed during a botched restoration effort and people have called for renewal of our collective vows to protect the art for future generations. This is a moment to reflect on the push and pull between tech-driven art consumption and interest in art preservation. How do we balance our evolutionary desire for the new with the need for the security of the familiar? I sat down with Sergey Konstantinov, a Ukrainian-American artist based in San Francisco. He is an expert in restoration and conservation of paintings, murals and decorative arts; and a painter and sculptor with many original exhibited works. A unique perspective for the unprecedented times in the arts.
How do you see the art world changing during and after the pandemic?
That is quite a philosophical question. Why?! Do you think it would change the human being? I consider this an interesting time to be alive. The difference between now and then is actually about having more time to look deeper. A wall or canvas are both just surfaces. What is important is your message and energy, the purpose of a coming piece. For artists, I believe you are ahead as long as you are honing your skills. Once you've decided to move no further, only then you lose.
What do you make of the recent tidal wave of art appreciation online?
These viral campaigns are a successful way to elevate art education. It is no easy task to connect with the work of art, to capture its essence, to express it in your own way. The Dutch museums did their "challenge", the Russians too. All countries have unique cultural heritage worth preserving. The process of the creative search itself is meaningful. In this case it does not matter if it is on canvas or on TikTok.
How has your creative path prepared you for these turbulent times?
I lived through the end of the Soviet Union. That was turbulent, too. I am from Ukraine, a small warm-memories town called Zhmerinka. It made my cultural DNA: friends, school, sports, the very beginning of my interest in art. Exploring Ukrainian folk art helped me to understand the true wealth of a nation. After studies, I moved to Baku but in the 1990's there was armed conflict between Armenia and Azerbaijan. I had to ask for refugee status in America. Now, for almost 30 years, my family, studio, and the work of my life is here. My life is a creative process itself. It is where I get my inspiration, awareness of good or bad, too much or too little, alive or dead. When you go through such moments in history, you learn to never take anything for granted.
What's your first art memory and how did it impact you?
Well, there was not one thing. Maybe the beautiful icons at my grandmother's house. They were illegal back then. The art class in my hometown where I tried to copy some famous artists. The first time I heard Swan Lake by Peter Tchaikovsky. I also cannot deny the impact of nature we are surrounded by. It has inimitable shades, color contrasts, mysteries of the universe. We breathe it all in deeply trying to find answers. I have always been confident of my own path.
What is the difference between conservation and restoration?
"First, do no harm" is a great principle in medicine and restoration of cultural heritage. I have been restoring art for a long time. I studied art history and art technologies from different eras. When it comes to restoration you need to fully understand the creators, their state of mind and intentions. The collectors like to say art is forever, we are just art's temporary guardians. Conservation is also a technical challenge with its own long difficult history. Certain chemical solutions that were used in the past are banned now.
What inspired you to pursue original works?
You cannot force yourself into art, it begins within you. I leave a piece of myself on the canvas which is the only way to work. In life we are searching for explanations, finding nuances, changing our perspectives. That is the source of creation. There are no failures in the artistic path. Even an unsatisfactory result is your experience. I could not help the overwhelming desire in such moments. It was a painting giving me the reason to create and not vice versa.
Any advice for emerging artists trying to succeed within or outside the gallery system?
In my last year at the Lviv Academy of Art a professor told me: "Move to your own purpose, the money comes anyway." If you want to be someone, just start now. Otherwise, you will have no time to make it right.