Gulf Feud Upends Oil and Regional Politics – Bloomberg
In a region where rulers refer to each other as "brothers," it's perhaps not surprising that disagreements can tip into acrimonious disputes.
But when the standoff rattles world oil markets, like the one now between the United Arab Emirates and Saudi Arabia at OPEC+, it takes on a whole new dimension.
The heart of the problem is the UAE's opposition to a Saudi-led production deal that would extend quota limits. Abu Dhabi wants to re-negotiate the level from which its output is calculated so it can pump more crude. It has spent heavily on boosting capacity and strengthening ties with energy-hungry Asian markets.
How the issue plays out at OPEC+ is significant for energy supplies as major economies emerge from Covid-19 lockdowns. But the effects of the UAE-Saudi divergence also has political repercussions from Yemen to Israel, Iran to Qatar and even Turkey. Global firms too may be pushed into taking sides.
The dynamic between Abu Dhabi's crown prince, Sheikh Mohammed bin Zayed, and his Saudi counterpart, Crown Prince Mohammed bin Salman, has been central to Middle East events in recent years.
Together they intervened in Yemen, the scene of the world's worst humanitarian disaster, but the UAE's withdrawal in 2019 left a Saudi-led coalition to battle it out with Iran-backed fighters that have targeted the kingdom.
Abu Dhabi increasingly has asserted an independent foreign policy and focused on forging ties with old foes like Israel and on economic recovery at home. Saudi Arabia took aim at Dubai as the Middle East's business and tourism capital with an ultimatum for international companies to move their regional headquarters to Riyadh.
As they brace for a post-oil economy, their competition is only expected to grow. — Sylvia Westall
Click here to follow Bloomberg Politics on Twitter and tell us how we're doing or what we're missing at balancepower@bloomberg.net.
Global Headlines
Growing danger | Japan and the U.S. would have to defend Taiwan together in the event of a major problem, Deputy Prime Minister Taro Aso said in some of the highest-level remarks from Tokyo on the subject. Aso said a Chinese invasion of Taiwan could be seen as an existential threat, allowing Japan to exercise the right to collective self-defense.
Jail time | A Hong Kong court sentenced a U.S. lawyer to prison for a scuffle with a plainclothes police officer at the height of pro-democracy protests in 2019. Samuel Bickett, a former executive at Bank of America Merrill Lynch, was given a term of four months and two weeks. Bickett said the cop was attacking people with a baton in a subway station when he stepped in.
Fresh concerns | Businesses have pushed the government to finally reopen the U.K. economy but, now that social distancing will be all but dropped, they have a new set of worries. As Alex Morales and Emily Ashton report, while industry groups largely welcomed Prime Minister Boris Johnson's plan to ease Covid restrictions on July 19, it also raises questions around liability over infections in the workplace.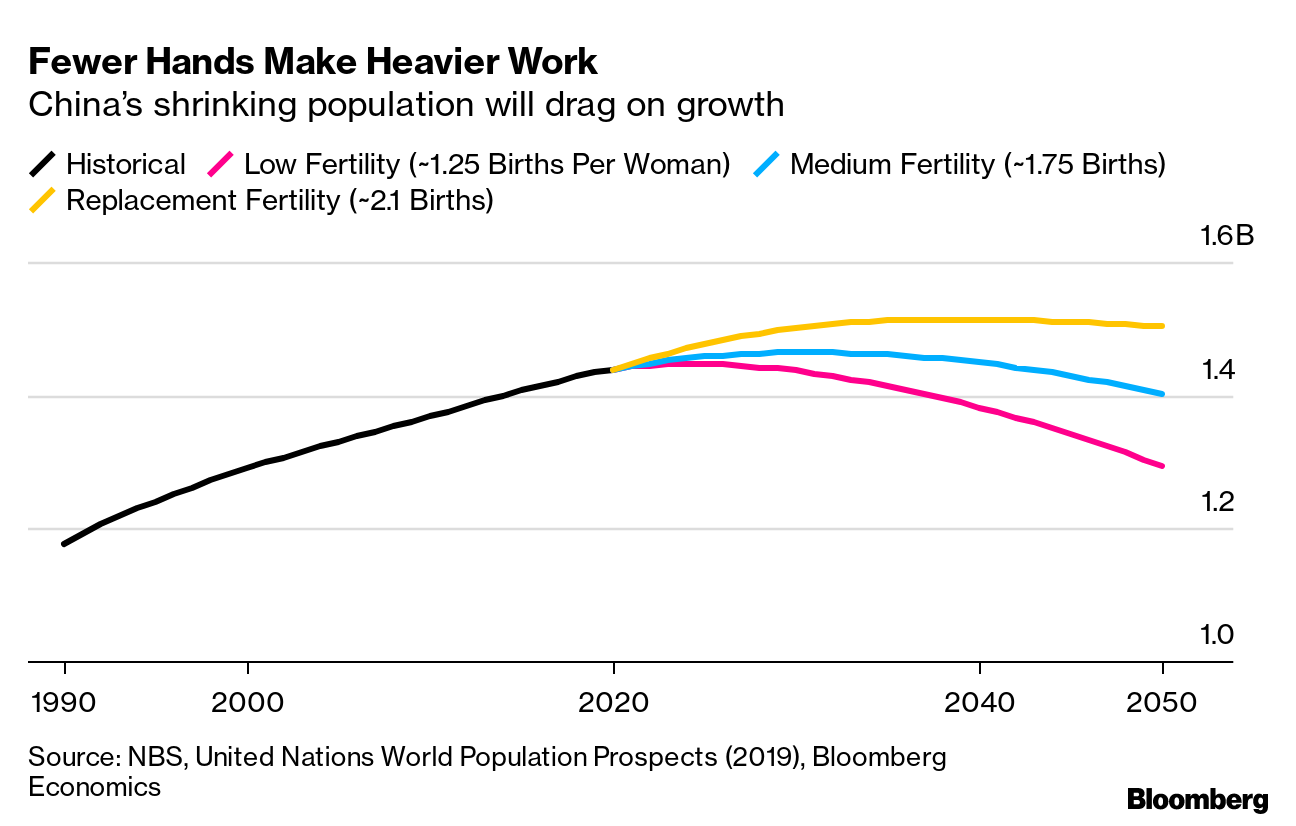 If China delivers on growth-boosting reforms and U.S. President Joe Biden is unable to push through his proposals for renewing infrastructure and expanding the workforce, Bloomberg Economics forecasts suggest China could become the world's biggest economy as soon as 2031. But that outcome is far from guaranteed, with demographics a key factor.
Question marks | Kuvimba Mining House, which the Zimbabwean government says it controls, said it bought its assets from a company linked to a tycoon sanctioned by the U.S., giving the first details on how the state firm was formed. Kuvimba's origins and financial structure have been shrouded in controversy, with the government saying its revenue would play a key role in revitalizing the economy.
Fertile flashpoint | A disputed border region in the Horn of Africa has the potential to kindle an agricultural boom and an economic revival for Sudan — or spark the continent's next war. As Simon Marks and Mohammed Alamin report, al-Fashqa's fertile plains risk becoming a powder keg in a feud between two countries already at odds over Ethiopia's decision to resume filling its giant Nile dam.
What to Watch
And finally … As drug companies ride a wave of support for their Covid-19 vaccinations following years of criticism over high prices, they face a tricky question: How much should they charge governments desperate to protect their populations from a disease that has killed about 4 million people, crippled economies, and created turmoil across the globe? The answer, in many cases, is plenty. Covid vaccines are emerging as a $100 billion-plus business in 2021, James Paton and John Lauerman explain.

— With assistance by Ruth Pollard, and Gordon Bell
Malaysia's Political Woes Worsen as Key Party Leaves Ruling Bloc – BNN
(Bloomberg) — Malaysia's largest political party said it is retracting support for the ruling coalition shortly after one of its lawmakers resigned as a minister, putting the administration of embattled Prime Minister Muhyiddin Yassin in a limbo.
Shamsul Anuar Nasarah, a member of the United Malays National Organisation, resigned as the nation's energy minister Tuesday, shortly before a briefing by UMNO President Ahmad Zahid Hamidi urging Muhyiddin yet again to step down.
Muhyiddin has faced calls to resign in recent days after the status of emergency laws led to a rare rebuke from the monarch. The ruler clarified on Thursday that the ordinances remained in force — contrary to what a government minister told parliament earlier — and that he wished for them to be debated and annulled in the legislative assembly.
UMNO has presented enough letters to the king from its lawmakers declaring withdrawal of support for Muhyiddin, Ahmad Zahid added, without revealing their names. The current administration has lost its majority and Muhyiddin "must take responsibility for the failure under his leadership," he said.
Ahmad Zahid was flanked by former Prime Minister Najib Razak, UMNO deputy president Mohamad Hasan, former Trade Minister Tengku Razaleigh Hamzah and former Deputy Finance Minister Ahmad Maslan.
Parliament Debate
UMNO's support has been key to Muhyiddin maintaining the razor-thin majority he cobbled together to emerge as prime minister last year. Malaysia's deputy minister, health minister, and vaccine coordinating minister are among the party's members.
"Up until last week the government had only 114 seats, and now with the withdrawal of nine more MPs, Muhyiddin has at most 105," said Wong Chin Huat, a professor of political science at the Jeffrey Sachs Center on Sustainable Development at Sunway University in Malaysia. "If he cannot reverse the loss of majority, his number is going to shrink to two digits in days, if not hours, to come. More UMNO parliamentarians may follow."
READ: How the Pandemic Is Keeping Malaysia's Politics Messy: QuickTake
The ruling coalition has the support of more than 110 MPs, Deputy Prime Minister Ismail Sabri Yaakob said in a statement last week. There are 220 members in the lower house of parliament.
The announcement came hours after Muhyiddin said the government plans to debate and annul the emergency laws in parliament next month, as he sought to end the rift between the government and the nation's king over the matter.
The motion, to be taken up at a Cabinet meeting on Wednesday, may help resolve disputes related to the repeal of the emergency ordinance in a "harmonious and constitutional manner," he said in a statement.
Record Infections
Muhyiddin has struggled to shore up support for his government since taking power in March last year, facing constant demands from coalition partners and threats of defections. In January he cited the pandemic to impose a state of emergency. Yet, infections have since more than tripled, while confirmed cases breached the one million mark late July.
READ: Malaysian Opposition MPs March to Parliament, Demand PM Quit
On July 8, UMNO withdrew support for Muhyiddin over his administration's handling of the pandemic and the economy, and called for a new leader to take over until fresh elections can be held.
"Will an alternative majority emerge? If there is, the new PM should immediately convene the Parliament to table a motion of confidence in itself, to confirm his power and stabilise politics," Wong said. "If an alternative majority fails to emerge, the power struggle may drag on. Muhyiddin may stay on or strive to stay on as the minority PM."
(Adds analyst comment in seventh, final paragraphs)
©2021 Bloomberg L.P.
Politics Briefing: Pallister apologizes for remarks on Canadian history, reconciliation – The Globe and Mail
Hello,
This is the daily Politics Briefing newsletter, written by Ian Bailey. It is available exclusively to our digital subscribers. If you're reading this on the web, subscribers can sign up for the Politics newsletter and more than 20 others on our newsletter signup page. Have any feedback? Let us know what you think.
BREAKING – Manitoba Premier Brian Pallister is apologizing for remarks on reconciliation that have caused a cabinet resignation and other turmoil in his province.
"I feel awful about the reaction and the misunderstanding I created with my comments," the Progressive Conservative Premier told a news conference in Winnipeg on Tuesday.
"I am going to issue a statement later today, ask for forgiveness and understanding and ask that we unite," he said.
In July, Mr. Pallister criticized protesters who had toppled statues of Queen Elizabeth and Queen Victoria on the grounds of the legislature, then made remarks that have been widely criticized,
"The people who came here to this country before it was a country, and since, didn't come here to destroy anything," Mr. Pallister said. "They came here to build."
With his earlier statement, Mr. Pallister said he was trying to unite people to build "as our Indigenous people have done for millennia, as our Metis population has done, as our more recent immigrants have done."
On reflection, Mr. Pallister said he understood he was misunderstood. "I apologize for that. I should have been clearer in my comments, but my heart was in the right place and so that's why I am offering this statement of apology today, and asking for people's understanding. Let's move forward."
The Premier's comments were criticized by Indigenous leaders for downplaying the impact of colonialism. Indigenous and Northern Relations Minister Eileen Clarke quit her cabinet post, saying she and other cabinet ministers had not been listened to. Some caucus members have distanced themselves from Mr. Pallister's remarks. Winnipeg Mayor Brian Bowman urged Mr. Pallister to apologize.
Also, Alan Lagimodiere, named as a replacement for Ms. Clarke, defended some intentions behind residential schools, and was called out on the spot by Opposition NDP Leader Wab Kinew. Mr. Lagimodiere later apologized.
"Alan is a fine man," Mr. Pallister said Tuesday, noting he immediately apologized. "I stand by him."
Asked directly if he was thinking of resigning, Mr. Pallister said, to the journalist who asked, "You'll be among the first to know if that's the decision."
TODAY'S HEADLINES
MUSICAL CALL FOR MICHAEL'S RELEASE – The former bandmates of the Hungarian punk band that Michael Kovrig founded in 1996 have put out a song calling on all governments involved to work toward the release of Mr. Kovrig and Michael Spavor, both arrested in China in December, 2018. The two men were taken into custody soon after the detention in Vancouver of Huawei executive Meng Wanzhou on a U.S. Justice Department extradition request.
SCORES IN REFUGEE CAMP DESPITE CANADIAN PLEDGES – Three years after Canada promised to find permanent homes for hundreds of rescue workers and their family members who were evacuated from Syria during its civil war, dozens of adults and children remain stuck in a Middle East refugee camp where their mental and physical health is deteriorating, according to federal officials.
CONCERNS RAISED ABOUT RACIAL PROFILING – Two organizations representing academics of Chinese origin in Canada are warning that new mandatory national security assessments for federal funding of university research could lead to "racial profiling Chinese researchers as foreign agents."
DEFENCE CHIEF NOTES CHRONICLE FORTIN TURMOIL – An extraordinary set of handwritten notes by Canada's acting defence chief appear to reveal a behind-the-scenes struggle between due process, political optics and support for the complainant after a sexual misconduct allegation emerged against Maj.-Gen. Dany Fortin.
VOICES FROM MICHIGAN ON LINE 5 – The Globe and Mail's U.S. Correspondent Adrian Morrow visits the Straits of Mackinac in Michigan to talk to residents about discontent relating to Enbridge's Line 5 pipeline, which has the United States and Canada at odds. Story here.
WERNICK HAS WRITTEN GOVERNING GUIDE – Former top federal civil servant Michael Wernick says he has written a non-fiction book drawn from his more than three decades of experience in Ottawa, including time spent in cabinet rooms with ministers and prime ministers. Governing Canada: A Guide to the Tradecraft of Politics, is a "modest contribution" to Canada's political literature, intended give people who are studying Canadian government, or those generally interested in it, another resource, says Mr. Wernick.
MCLACHLIN REUPS WITH HONG-KONG COURT – Despite Beijing's tightening grip on Hong Kong, Beverley McLachlin, the former chief justice of the Supreme Court of Canada, has agreed to serve another three-year term as a foreign judge on Hong Kong's highest court. Story here. From The Montreal Gazette.
THE LOOMING ELECTION
-The Hill Times suggests here that Liberal candidates, and campaign managers are preparing for an election campaign to get started on Aug. 8 or Aug. 15, with the election date set to be Sept. 13 or Sept. 20.
-Federal political parties say they hope to hold lively in-person campaign rallies if an election is called – but, with pandemic restrictions still in place, they acknowledge that the events won't look the same as they have in the past. Story here.
Writing in Maclean's, Philippe J. Fourner says the Liberals are intent on an election despite data suggesting the likely outcome would be a Liberal-led minority government – and not a majority -"Because [they] could potentially secure a majority and may not have another window to do so in the foreseeable future." Story here.
PRIME MINISTER'S DAY
"Personal" according to the advisory issued by the Prime Minister's Office.
LEADERS
Bloc Québécois Leader Yves-François Blanchet visits the riding of Salaberry—Suroîtand Châteauguay—Lacolle
Conservative Party Leader Erin O'Toole – No schedule provided by Mr. O'Toole's office.
Green Party Leader Annamie Paul – No schedule provided by Ms. Paul's office.
NDP Leader Jagmeet Singh celebrates the 60th anniversary of the NDP, and holds a media availability.
OPINION
André Picard (The Globe and Mail) on whether you need to worry about breakthrough COVID-19 infections after getting vaccinated?: "Don't be duped by the "news" that infections and hospitalizations are up among the vaccinated. Of course they are. A lot of people are getting vaccinated. But, relatively, way fewer vaccinated people are ending up sick or in hospital and, here, relativity matters. The pandemic has become a pandemic of the unvaccinated."
Kluane Adamek (Contributor to The Globe and Mail) on why Canada should Indigenize the Senate: "Transforming the Senate to truly reflect and include a majority Indigenous representation would be a significant gesture toward reconciliation. It would have natural legitimacy as a custodial body safeguarding the land and all peoples. In using his discretion to establish this new convention, Mr. Trudeau would set Canada on a new and more equitable constitutional path. "Indigenizing" the Senate could be among the Prime Minister's most consequential legacies."
Andrew MacDougall (The Ottawa Citizen) on how little (or how much) Justin Trudeau talks about Erin O'Toole during the pending election campaign will be a sign of the Liberal leader's confidence: "The Opposition Leader will rail about how much Trudeau has burdened the country with debt. He'll moan about how Trudeau has loaded families up with extra costs. And he'll no doubt remind Canadians of how Trudeau has let the country down with his various ethical lapses, whether that be WE, SNC, or blackface (times three). And what can Mr. O'Toole expect to hear back from Justin Trudeau? Well, if the Prime Minister is confident about his prospects, very little. Very little at all. If the Liberals are liking their chances they'll go back to "sunny ways" and once again promote the power of positivity."
Send along your political questions and we will look at getting answers to run in this newsletter. It's not possible to answer each one personally. Questions and answers will be edited for length and clarity.
Got a news tip that you'd like us to look into? E-mail us at tips@globeandmail.com. Need to share documents securely? Reach out via SecureDrop
35 words that almost certainly will end Andrew Cuomo's political career – CNN
That pronouncement came after a months-long investigation that included interviews with 179 people and the reviewing of more than 74,000 documents. And ended with the stunning finding that Cuomo sexually harassed 11 women, including state employees and a New York state trooper. He also retaliated against one woman who had gone public with her allegations against him, according to the AG report.
"Our investigation revealed that these were not isolated incidents,"
said Joon Kim
, one of the lawyers who led the investigation. "They were part of a pattern."
Cuomo was defiant in an appearance following the release of the James report. He posted a point-by-point response to the allegations laid out by the state's attorney general and insisted that the "facts are much different" than portrayed in that report. The governor also doubled down on his total innocence; "I never touched anyone inappropriately or made any inappropriate sexual advances," he said.
While Cuomo allies have been trying in recent months to paint the James investigation as a political endeavor driven by a politician who would like his job, the details and length of the report make it very hard to sell that case in the court of public opinion. (Which, of course, doesn't mean Cuomo won't try!)
So, what now?
Cuomo will have to decide if he will resign his office or announce that he will forgo his planned bid for a fourth term next fall. While the report may alter that personal calculus, he was defiant in the face of calls to resign in the spring. (Much of the New York congressional delegation as well as Sens. Chuck Schumer and Kirsten Gillibrand called on him to resign at that point.)
It's possible, of course, that the Democratic-led legislature in the Empire State will take the decision out of Cuomo's hands entirely.
Knowing where the voting public comes down on all of this is simply impossible at the moment given the recency of the report and its findings. And the results were mixed even before Tuesday's bombshell.
Presumably the number of women listed in the James report and the credibility that investigators found in their allegations will change some minds about what Cuomo should do next.
The last six years in politics have taught me — and should teach all of us — not to make any definitive predictions about how the public will react to allegations of this sort against a politician.
But it's extremely hard to see any sort of path — today at least — for Cuomo to stay in office beyond 2022. If he even makes it that long.