Guyanese scientist in Pfizer COVID vaccine team says it's safe for use – Stabroek News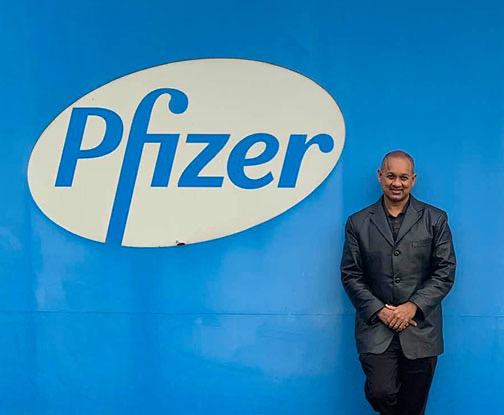 The rapid development of COVID-19 vaccines has caused much wariness and concern, but Guyanese-born scientist Vidia Roopchand, who is employed with Pfizer Inc is assuring that all safety standards were observed during the development of the Pfizer-BioNTech vaccine.
Roopchand is one of several scientists who were involved in the development of the Pfizer-BioNTech vaccine called BNT162b2.
The announcement of effective COVID-19 vaccines was a glimmer of hope to many but persons are unsure about the safety of the vaccination given its rapid development.
During an interview with Stabroek News earlier this month, Roopchand stated that the COVID-19 pandemic represents an unparalleled crisis in recent history and has been a challenge to science, but safety has always been the number one priority for Pfizer.
"Safety was, is, and will always be our number one priority in vaccine research and development. Even though we moved with extraordinary speed, high quality and safety standards were preserved throughout development. And as in all our work to advance investigational vaccines, we worked closely with clinical trial sites and experienced investigators and regulatory agencies worldwide. We took all of the regulatory and operational steps that we would normally take for all of our vaccine trials to maintain the highest standards in our development process and did not cut any corners. In addition, an independent safety data monitoring committee is in place to evaluate the safety of our vaccine candidate," Roopchand assured.
Roopchand noted that Pfizer and BioNTech began collaborating in 2018 to develop a vaccine for influenza and extended the collaboration in March 2020 with the launch of "Project Lightspeed" to develop a vaccine for COVID-19.
He disclosed that the Phase 1 clinical trials began in the US and Germany in April and were designed to evaluate the safety, tolerability, and potential efficacy of up to four mRNA vaccine candidates and to select which vaccine candidate and dose should be taken forward for future clinical study.
One vaccine candidate – BNT162b2, was selected for the phase 3 clinical trial, which began in July with more 44,000 participants. He added that the final efficacy analysis in the ongoing Phase 3 study demonstrated a vaccine efficacy rate of 95% in participants without prior COVID-19 infection and also in participants with prior COVID-19 infection. He noted that the effectiveness of the vaccine was consistent across age, gender, race and ethnicity demographics. "The observed efficacy in adults over 65 years of age was over 94%," he said. He added that BNT162b2 was selected based on an extensive review of preclinical and clinical data from Phase 1 and 2 clinical trials.
In addition, he said, the Pfizer-BioNTech team accelerated the development process by doing some operational steps in parallel rather than sequentially as would normally be done. He explained that the investigator site selection process began earlier than normal and more persons were employed to give operations the support and flexibility needed. He added that they also invested upfront in certain areas, such as manufacturing, in order to be ready to execute as decisions were made.
Further, he noted that in the usual drug development journey, the process of preparing regulatory data packages to submit to the FDA and waiting for its response often takes months but due to the fact that COVID-19 is a global pandemic, regulators have responded to the data very quickly to help keep trials running as quickly as possible.
"When COVID-19 emerged, it was a logical step for BioNTech and Pfizer to collaborate in this effort. The BioNTech and Pfizer scientists worked in close collaboration to design BNT162b2 which eventually became the vaccine.
I led the cell culture group to provide the cells which were used to confirm that the m-RNA was expressing the correct protein. I also assisted with some of the immunological assays to evaluate the response in the preclinical studies," he added.
Meanwhile, it was revealed that data from this study, including longer term safety, comprehensive information on duration of protection, efficacy against asymptomatic SARS-CoV-2 infection, and safety and immunogenicity in adolescents 12 to 17 years of age, will be gathered in the upcoming months.
Additional studies are planned to evaluate BNT162b2 in pregnant women, children younger than 12 years, and those in special risk groups, such as the immunocompromised.
Roopchand added that persons who receive the Pfizer-BioNTech COVID-19 vaccine are encouraged to continue to take all COVID-19 safety precautions.
It is yet to be determined the duration of immunity after immunization with an effective COVID-19 vaccine.
Based on evidence from clinical trials, Pfizer-BioNTech said that the vaccine they have developed is 95% effective at preventing laboratory-confirmed COVID-19 illness in people without evidence of previous infection. Several countries including the United Kingdom and the United States have since approved the Pfizer vaccine for emergency use.
According to Health Minister Dr Frank Anthony, Guyana will be accessing a COVID-19 vaccine for three per cent of its population through COVAX.
However, as of now it is uncertain when or which COVID-19 vaccine will be accessed by Guyana although it was suggested that the vaccine will be made available to Guyana in the second quarter of the New Year. Nevertheless, Anthony said that preparatory steps are underway to ensure that the country is ready for a vaccine when it becomes available.
Ford to make an announcement in Ottawa Monday afternoon – CP24 Toronto's Breaking News
Premier Doug Ford will be making an announcement in Ottawa Monday afternoon.
Ford will be joined by Ottawa Mayor Jim Watson, MPP for Ottawa West-Nepean Jeremy Roberts and President and CEO of The Ottawa Hospital Cameron Love.
The announcement comes nearly two weeks after the province entered Step 3 of the COVID-19 reopening framework on July 16.
Step 3 allowed for indoor dining to resume and for gyms and theatres to reopen with capacity limits.
The provincial government said Ontario will remain in Step 3 for at least 21 days and until 80 per cent of eligible residents 12 years and older have received at least one dose of a COVID-19 vaccine and 75 per cent have received their second dose.
In addition, at least 70 per cent of eligible residents in all public health units must be fully vaccinated in order for the province to move to the final stage of the framework.
If all of these requirements are met, Ontario could enter so-called Step 4 at the end of next week which would lift the majority of public health and workplace safety measures.
However, last week Ontario's top doctor recommended that 90 per cent of eligible residents be fully vaccinated before entering the final step, due to the risk of the Delta variant.
"If we remain at around 20 per cent of the population unvaccinated we won't build a community immunity and you'll get breakthrough infections in those individuals that are vaccinated because not all individuals, especially those that are elderly or vulnerable or immune suppressed, will get full protection from the vaccine," Chief Medical Officer of Health Dr. Kieran Moore said to reporters.
Currently, about 80 per cent of those 18-plus in Ontario have had at least one dose and 67 per cent have had two doses. Meanwhile, 64 per cent of youth between the ages of 12 and 17 have had one dose and 40 per cent are fully vaccinated.
The provincial government has not said if it will raise the threshold for fully vaccinated Ontarians before entering the final step of the plan.
Ford is expected to speak at 1:15 p.m. and CP24.com will stream the announcement live.
Officials say 90% of population needs vaccine to reach herd immunity – CBC.ca
Like the last leg of a marathon, public health officials say reaching the final segment of the unvaccinated population will be a grind as Ottawa tries to attain herd immunity — when enough of the population is protected against COVID-19.
The city of Ottawa has set a daunting target to fully vaccinate 90 per cent of its population, including those still not eligible to be vaccinated, which has eluded most regions around the world.
As of July 23, 73 per cent of the city's entire population had received at least one dose of vaccine, slightly higher than the Ontario rate of 69 per cent, and one of the highest vaccination rates for first doses among cities around the world.
Ontario's first-shot vaccination rate has dropped from a high of six per cent per week in May to below one per cent in July, and it continues to trend downward. That means it will take longer to inoculate the remaining portion of the unvaccinated population — likely a venture that continues into 2022.
"I think I can't understate how important it is to get very high levels of vaccination," said Dr. Trevor Arnason of Ottawa Public Health.
"If we head into the fall with vaccination where it is now, we're definitely going to see outbreaks."
Vaccination targets need to change
Ontario, which has now been in Stage 3 of the reopening plan for 10 days, must reach 80 per cent of its eligible population with at least one dose, and 75 per cent with both doses, to consider removing all public health restrictions.
Some public health experts believe that target is not high enough due to the growing number of cases of the delta variant and the potential for breakthrough cases.
"We need to establish herd immunity, and we would need to be at a higher level: 85, 90 per cent vaccination rates," explained Dr. Paul Roumeliotis, the medical officer of health for the Eastern Ontario Health Unit, who also heads a group of public health units across Ontario.
Roumeliotis and Arnason say restrictions could return in the fall if delta spreads, even if they're not as strict as those we've seen throughout the pandemic. Ontario public health officials hope to avoid a spike in cases seen during the reopening in the U.K., Israel, and the United States.
A comparable situation exists in the Netherlands, which has a population only slightly larger than Ontario, and similar vaccination rates. There, cases jumped to 10,000 per day only a few weeks after reopening due to the delta variant, which is now responsible for more than 80 per cent of new infections in Ontario.
WATCH: Getting people 'through the doors' biggest part of vaccinating holdouts, doctor says:
Dr. Lorne Wiesenfeld says on the last day of the Lansdowne vaccination clinic's operation, a team of health-care workers ventured into restaurants, grocery stores and businesses to encourage residents to get vaccinated if they hadn't already. 0:55
'Get them through the doors'
Officials estimate anywhere from five to 10 per cent of the population will never get the COVID-19 vaccine, but they need to target those who will roll up their sleeves to help avoid a "pandemic of the unvaccinated."
Health-care workers at community clinics, including one at Lansdowne in Ottawa, have used lulls in the day to approach people nearby about getting the vaccine.
"The first thing is to get them through the doors, that's the hardest part," said Dr. Lorne Wiesenfeld, an emergency physician at The Ottawa Hospital who has also spent time administering the vaccine.
"You want to make it easy. Just remove one barrier that may hinder them, encouraging them in a non-judgmental way."
Half of Ottawa's community clinics closed last week as Ottawa Public Health refocused its outreach by offering mobile vaccine clinics at workplaces, community organizations and places of worship, as well as pop-up clinics throughout the city to target young adults.
in Ottawa, only 72 per cent of the population aged 18-29 have the first dose, which is the lowest of any age demographic. That is followed closely by 73 per cent of those aged 30-39 with at least one dose.
Public health messaging difficult with low case numbers
The "receptivity" of public health messaging about the risk of a delta resurgence is non-existent when the number of active cases of COVID-19 remains low and pandemic fatigue persists, according to Doug Manuel, senior scientist at the Ottawa Hospital Research Institute, and a member of Ontario's COVID-19 Science Advisory Table.
People may only begin to become more sensitive to messaging if cases begin to rise, as they have in the U.K. and Israel, Manuel said.
Public health officials believe the 90 per cent goal is attainable partly because Ottawa has traditionally reached higher rates of vaccination for the flu and child immunization programs.
Arnason says once children younger than 12 become eligible, which could happen in the fall, the city could see a bump of about 10 per cent with at least one dose.
"I think Ottawa is one of those places where there's no reason why we can't be a world leader," he said.
Inter Pipeline walks away from friendly Pembina merger, will pay $350-million break fee – The Globe and Mail
Inter Pipeline Ltd. is abandoning its friendly merger with Pembina Pipeline Corp., opening the door to a deal with rival bidder Brookfield Infrastructure Partners LP.
To walk away, Inter Pipeline will pay Pembina a $350-million termination fee, also known as a break fee. The payment was negotiated when Pembina emerged as a white knight in late May to help block Brookfield's hostile takeover bid.
Brookfield has since raised its takeover price twice and also given Inter Pipeline shareholders the option to take their payout in cash if they favour Brookfield's bid. Pembina's friendly deal was to be paid solely in Pembina shares, and Pembina would not budge on the offer price it had agreed to in May.
Brookfield's latest offer comes in two forms: Inter Pipeline shareholders can elect for $20 a share in cash, up from its previous bid of $19.50 a share, or they can take some shares of Brookfield Infrastructure Corp. at an elevated price instead of cash.
BIPC was created in 2020 to broaden the company's investor base and shareholders who are limited in the types of securities they can own; its shares are effectively the same as the Brookfield Infrastructure's limited partnership units.
When the most recent offer was made, Brookfield's stock portion was worth $23.85 for every Inter Pipeline share. However, Brookfield is only willing to pay a maximum of 32 per cent of its total purchase price in shares, and BIPC's shares have also dropped eight per cent since the offer was made.
Two leading proxy advisers, Institutional Shareholder Services and Glass Lewis, both recommended Inter Pipeline investors vote against the Pembina bid.
While Inter Pipeline's board has scrapped its support for Pembina's deal, its directors have yet to fully embrace Brookfield's offer. In a statement Monday, Inter Pipeline said it is "open to engaging with Brookfield in an effort to reach a mutually agreeable transaction in the best interests of shareholders."
Brookfield's shareholder vote is set for August 6.
The battle for Inter Pipeline has been heated from the very beginning. Brookfield started building a position in Inter Pipeline in 2020 and privately approached the target's board about a deal last fall, but was repeatedly rebuffed. Brookfield then went hostile with a bid worth $16.50 in February.
Many analysts believed Brookfield was likely to face little competition in its pursuit of Inter Pipeline, but Pembina emerged as a white knight in May, agreeing to an all-share deal worth $8.3-billion. Brookfield's original hostile bid was worth $7.1-billion.
Brookfield and Pembina ended up taking each other to court, with both sides filing arguments with the Alberta Securities Commission.
The arguments were heard in early July and the ASC ultimately ruled against Brookfield by raising the percentage of shares that must be tendered to Brookfield's hostile takeover bid. Pembina had alleged Brookfield was using "coercive tactics" to win the takeover battle.
Before the ruling, Brookfield needed the support of a simple majority of Inter Pipeline's independent shareholders, but it will now need the support of 55 per cent under a modified tender condition.
The ASC also shot down Brookfield's request to have the potential $350-million break fee to Pembina scrapped.
Your time is valuable. Have the Top Business Headlines newsletter conveniently delivered to your inbox in the morning or evening. Sign up today.