Halifax art hub Sparkles n' Sawdust transitions
HALIFAX, N.S. —
When Jacquelyn Miccolis opened her "small shop with a big heart" Sparkles n' Sawdust on Argyle Street in April, she had high hopes for helping local artists sell their creations.
But the familiar first rule of retail — location, location, location — decreed that by the end of the year, she'd be making other plans.
The shop was filled with a varied and brightly coloured array of unique artwork, crafts and clothes, much of it made by artisans with physical or mental health issues that prevented them from keeping up with the demands of regular retail outlets. But being one storey above street level, over the downtown block's bars and bistros, limited the number of curious browsers and casual shoppers necessary to keep the register ringing. The immediate area's ongoing construction and parking issues didn't help either.
Miccolis knew she had to make a change, and after discussing possibilities with her community of artists and customers, she took note of the relative shortage of accessible and affordable art classes in Halifax.
At one end of the spectrum there are courses at NSCAD that require a dedicated financial and time commitment, and at the other, there are art classes for kids. But she found there's not a lot in between.
"There's nowhere you can go and take a recreational art class that's affordable, inclusive to everybody and just for fun," says an animated, enthusiastic Miccolis over cup of custom brew at the nearby World Tea House. "The demand is there, we started asking around among friends and family, and everybody said yeah, that was something they'd be into."
Through the store, now dubbed the Sparkles n' Sawdust Art Centre, she'd established a network of artists who were eager to share their skills. She'd also amassed a social media network of followers from which she could gauge interest in different kinds of classes and workshops.
Plus, she could still maintain a boutique that's open when classes are taking place, covering a variety of forms and techniques at a rate of one to three per day.
"Right now, life drawing is full every single time we have it, so we have at least one of those per week," says Miccolis.
"Macrame usually sells out within a couple of hours; macrame is a thing right now, it's come back strong and we have a great instructor. … She left her job because of issues with anxiety and depression, but macrame brought her happiness, and she found her way to our little shop, and she's doing classes at least once a week."
Switching from daily retail to a service-based outlet also frees Miccolis up to work on other things during the day, including work at the Halifax Seaport Market, freelance web design as well as marketing and hosting networking events, rather than trying to fit those activities into a weekly daytime schedule.
"Now I have a better balance of life, and I'm going to keep going with it and see what happens. We had some holiday classes and holiday markets that were a big hit with decent attendance and everyone making sales," she says.
"The boutique sold for a lot of the artists who have stuff there, like a woman from Cape Breton who couldn't find anywhere local to sell her jewelry. She has some physical disabilities and needed a source of income, and I offered to put it in the boutique, and she said it was just sitting in a box under her bed, and sent it down with her sister."
The latest steps for Sparkles n' Sawdust include hosting yoga classes dubbed The Art of Movement starting on Saturday, Jan. 4 — combining movement and drawing while on the mat — and blacklight life drawing with models in neon body paint.
Some classes have proved more popular than others (a crochet class didn't generate the kind of interest that Miccolis had hoped for) and the downtown location still has issues in terms of noise from the street and music from the businesses below, which aren't ideal when you want to hold nighttime yoga or meditation sessions.
She's already looking around for a new space that better serves the new model of Sparkles n' Sawdust when the lease is up this spring, and hopes to make an easy transition that suits participants who've found a welcoming, inclusive space to express themselves and stretch their creative muscles.
"Some people have told me that this provides something they can look forward to, or it's a rare chance to get out of the house," says Miccolis, who's glad the business can still help others, like a yoga instructor who had recently moved to Halifax from Toronto and was having a hard time getting settled.
"She came to my record painting class, and we just connected instantly. She saw the course online, she wanted to meet people and doesn't really know anyone here.
"Every single class, someone tells me they just moved here, and it's heartwarming to me just to think that Sparkles n' Sawdust was where they wanted to be because it seemed welcoming and like a place they could meet people
"That's just what I wanted to create, a space where anyone could feel welcome, from all walks of life."
ARTS AROUND: Last chance to view children's exhibit at Rollin Art Centre – Alberni Valley News
This week is your last chance to view an art exhibit featuring local Port Alberni children.
"Moments in Time" is the current art exhibit at the Rollin Art Centre. It is a collaboration of children's art organized by the Early Childhood Educators of B.C. Port Alberni branch, which looks at the world through children's eyes.
The exhibit runs until May 20. The Rollin Art Centre is open Tuesday to Saturday, 11 a.m. to 4 p.m., and is located at the corner of Eighth Avenue and Argyle Street.
NEXT EXHIBIT
"SPRING – Seasonal Imagery" is the title of the next art exhibit at the Rollin Art Centre. This exhibit will reflect the gentle changes of the season and create a unique mood and feeling associated with this season based on your interpersonal reflection.
Join us in the gallery on Saturday, May 28 for refreshments and an opportunity to meet with some of the featured artists: Janice Sheehan, Mae LaBlanc, Joan Akerman, Jayant Chaudhary, Cathy Stewart, Cynthia Bonesky, Mary Ann McGrath, Cheryl Frehlich, Dodie Manifold, Patrick Larose and Karen Poirier. The exhibit open May 25.
PAINTING WORKSHOPS
Two-Day Watercolour Workshop at Rollin Art Centre — June 1 and 2 from 10 a.m. to 4 p.m. — Ionne McCauley is an accomplished artist, quilter, and author, currently living in Qualicum Beach, who has taught colour workshops for more than 25 years. Next month, she will teach the basics of colour theory and pigments during a watercolour workshop in Port Alberni. In this workshop, you will learn about value, hue, tone, shade and saturation. Explore the learnable magic of watercolour paints, how to achieve glowing colours and how to choose (and use) pigments for exciting colour combinations.
Workshop Fee is $150 and supply fee (paid to the instructor) is $20. Register at the Rollin Art Centre: 250-724-3412. Numbers are limited.
One-Day Acrylic Workshop at Rollin Art Centre — Saturday July 16 from 10 a.m. to 3 p.m. — When you think of landscapes, you might think "Oh that's too complicated." Not so! If you break it down into simple shapes, it becomes easy and fun. In this workshop, Susan Schaefer will guide you through landscapes, discussing what makes a good composition while simplifying your landscape. Schaefer has been a professional artist for the past 20 years and has taken workshops from some of Canada's finest artists. She has a fun and relaxed way of teaching, working with students at their individual level and ensuring a good learning experience for all.
Workshop Fee is $115 +GST and a supply list is available. Register at the Rollin Art Centre: 250-724-3412. Numbers are limited.
LOOKING FOR ARTISTS
The annual Solstice Arts Festival is back after a two-year hiatus due to COVID-19. Join us Saturday, June 18 from 11 a.m. to 4 p.m. at the Rollin Art Centre.
Spaces are available for artists and artisans on our terrace or in our two gardens. There is lots of room to spread out and it is a picture-perfect spot to set up an easel or demos of the artwork you create.
If you are interested in displaying at this year's free family event, call the Rollin Art Centre at 250-724-3412 for more info. Spaces are $25 for the day.
SUMMER TEAS
Teas on the Terrace events are back at the Rollin Art Centre. Tickets are now on sale at a cost of $20 for our strawberry teas and $25 for a "High Tea."
The first tea will take place July 7, with musical guest to be announced.
WHAT'S HAPPENING
June 1 and 2 – Workshop – "Watercolour – The Basics of Colour Theory and Pigments"
June 18 – Solstice Arts Festival – Spaces available for artisans
June 22 – July 22 – "Women's Work" – group exhibit – Sue Thomas, Jillian Mayne, Colleen Clancy, and Ann McIvor
July and August – Teas on the Terrace – Tickets available now
Melissa Martin is the Arts Administrator for the Community Arts Council, at the Rollin Art Centre and writes for the Alberni Valley News. Call 250-724-3412. Email: communityarts@shawcable.com.
Let's Get Digital! art exhibition at Palazzo Strozzi – The Florentine
Fort McKay artist's council art reflects reconciliation and healing hopes, but demands injustices be confronted – Fort McMurray Today
Article content
The artwork in the new council chambers at the Jubilee Centre reflects the hopes and beliefs that local First Nation and Métis peoples have for reconciliation.
Article content
But Frederick McDonald, an artist from the Fort McKay First Nation commissioned for the paintings, made sure people at an April 25 unveiling ceremony didn't forget why the artwork was made in the first place.
In a nine-minute poem, McDonald made people at the ceremony confront the legacies of the residential school system, 60s scoop and colonialism have on Indigenous peoples.
He talked about the high rates of homelessness, drug and alcohol addictions, unemployment, food insecurity and suicide found today in Indigenous communities across Canada.
His poem discussed the racism and discrimination inflicted upon Indigenous peoples by some leaders in politics, policing, health care, education, religion and business. He blasted the RCMP's role in enforcing these policies throughout the years.
Politicians from all levels and parties were skewered. Even racist depictions of Indigenous people in movies and TV shows weren't spared in his poem. If people listening to his poetry felt uncomfortable, that was his point.
"Have you heard enough? Have you had enough? Do you want to do something? Really, you still want to talk about truth and reconciliation?" he said.
"If you do, let's talk about healing. Let's talk about all our pains: there's, your's and mine. Let's talk about the drum's. Let's talk about the dance. Let's talk about celebrations and ceremony, about differences of culture, about understanding and working together. So much to do. So much to do. So let's begin."
Article content
McDonald's poem captured the rage felt by so many First Nation, Métis and Inuit people, but his three paintings in the council chambers reflects his optimism in the future. He wanted his art to acknowledge the past but not dwell on pain or anger. This was also insisted upon by an elders council.
"As Aboriginal people, we want to be able to tell our own stories, so that's what these paintings are all about," said McDonald. "It's about us sharing our stories, sharing them in a positive manner, working towards the future together—not side-by-side, not separate—but together going forward."
A fourth piece is a talking stick, which was created by Elder Shurley Arthurs of the Fort McMurray First Nation 468. It sits at the desk where guest speakers address council. All the pieces were bound by teachings of honesty, love, truth, humility, wisdom, courage and respect.
"We hope relations between all people will continue to flourish. That is my big wish. I pray for that everyday. Because with the world as it is, who knows how much short time we have?" said Arthurs. "Love the people around you. It's very important."
Council decided in 2019 that the artwork for the new chambers would be completed by Indigenous artists, following a motion made by Councillor Keith McGrath. A committee was formed that included elders, knowledge keepers and creatives from Indigenous communities in the region.
Mayor Sandy Bowman said the art will remind council of the Indigenous history of this region, which serves "as a constant reminder to unite, and foster change and understanding."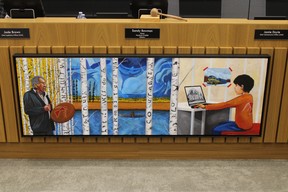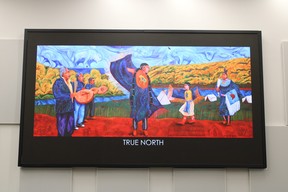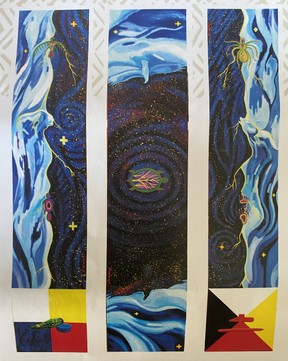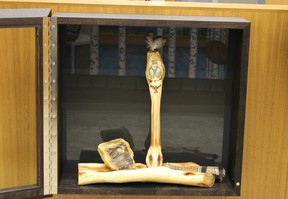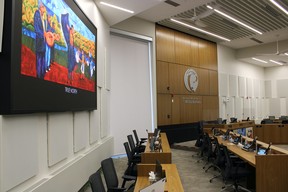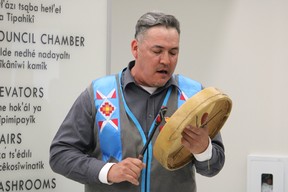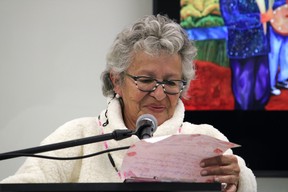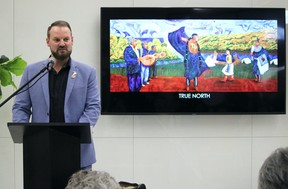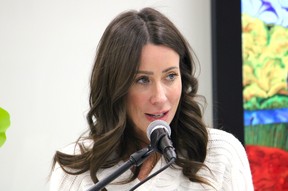 vmcdermott@postmedia.com