Hands-on art installation takes shape at college campus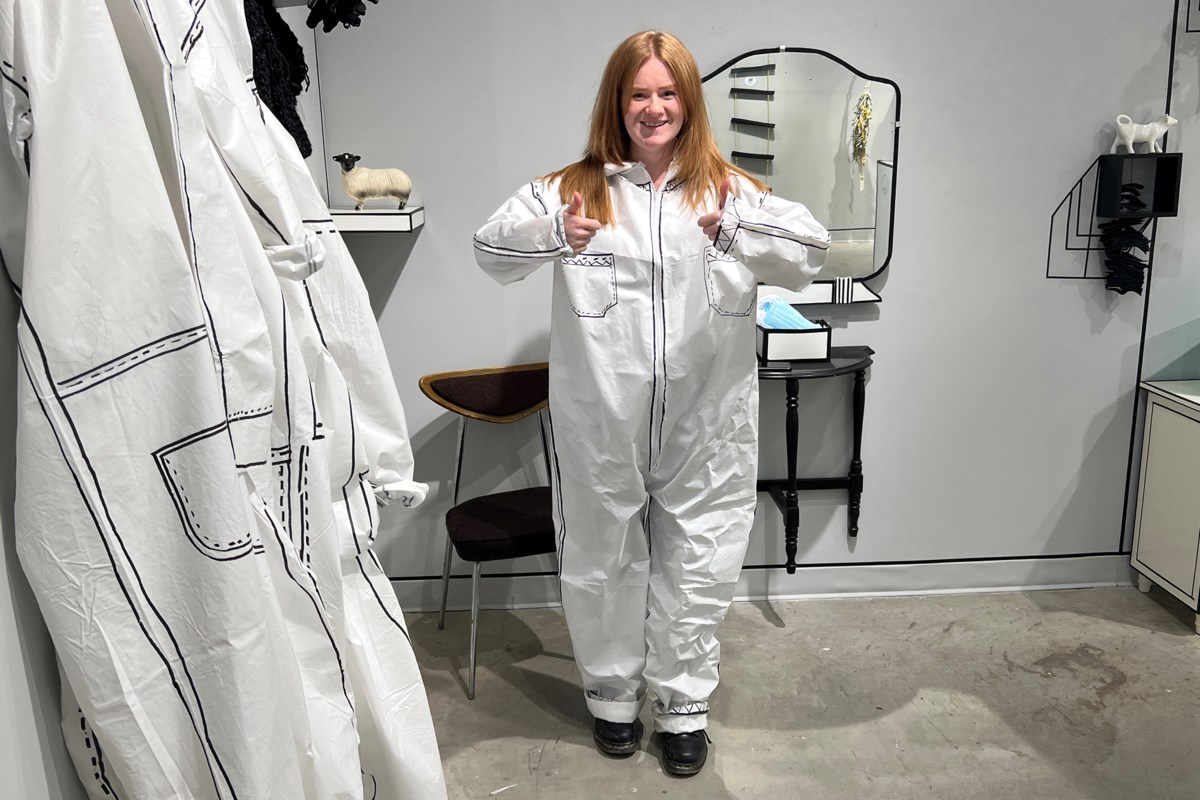 Artist Jill Price is showcasing some of her new art, called UN/making the Frame, at The Campus Gallery at Georgian College in Barrie.
Visitors will find in the printed handout that they are invited to "put on a suit, smell, water, zest, taste, move, touch, and rearrange elements in the space," which helps illustrate "everyday performances that help to visualize how still-life paintings are neither two-dimensional nor still, and that the actions of humans matter."
Price, a past instructor in Georgian College's fundamental art and fine art programs, is an interdisciplinary artist and the recipient of several Queen's University awards.
Her artwork has been shown may times overs the years going back to 2000 — in solo shows, as well as juried, group and invitational exhibitions across Ontario.
This particular exhibit "presents multiple assemblages that point to how a plastic garbage can or a 'mere bowl of fruit' whether painted or in the flesh, are all part of our animate and interconnected ecologies."
"Embracing the ready-made for its potential to delineate space as well as bring attention to the accumulation and 'liveliness' of everyday objects."
The arranging, placement and use of the objects is solely up to the viewer as they walk through the gallery.
There is also a stop-motion video screen that draws the visitor in to witness Price as she plays out the process of creating the pieces and documents the time, labour and the materials that were used in the artworks.
This whimsical and hands-on experience can be viewed at The Campus Gallery until Dec. 4.
Rich Russians' Art Buying Is Target of US Crackdown on Trade-Sanction Cheats – BNN Bloomberg
(Bloomberg) — The US crackdown on trade-sanction violators is turning to the art world as authorities track down works bought or sold by ultra-rich Russian tycoons.
Through a series of subpoenas, federal prosecutors in New York are demanding high-end auction houses in the US turn over years of records as they seek to determine if art was smuggled offshore or if proceeds from sales were transferred illegally, according to a person familiar with the investigation.
Among those named in the subpoenas are sanctioned Russian tycoons Andrey Melnichenko, Viktor Vekselberg and Roman Abramovich, along with Ukrainian billionaire Ihor Kolomoisky, said the person, who asked not to be identified because the information isn't yet public. The records requested of auction houses include any previous dealings with the men, according to the person, who didn't disclose all the companies that were served subpoenas.
Of the major auction houses contacted by Bloomberg, Christie's International Plc said it "cooperates and complies fully with law enforcement as and when we are required to do so." Phillips Auction House said it has measures in place "to ensure that no individual or institution targeted by sanctions are able to do business directly or indirectly through our salerooms." Sotheby's and Bonhams & Butterfields Auctioneers Corp. didn't immediately respond to requests for comment.
Since Russia's invasion of Ukraine, the US has expanded sanctions targeting Russian businessmen and companies with ties to Vladamir Putin. That's led to seizures of luxury assets, from a yacht in the South Pacific to art work in a French gallery. The US Justice Department also plans to seize a Greenwich Village townhouse linked to Russian billionaire Oleg Deripaska.
Read more: Art Seized at US Homes Part of Crackdown on Wealthy Russians
With its search of auction houses, the department is looking to track down "professional sanctions evaders" — people who help the wealthy avoid restrictions and launder money. This month, prosecutors charged two men, including a former FBI special agent, with aiding Deripaska and violating sanctions.
According to Georges Lederman, an attorney who specializes art crime and asset forfeiture cases, the crackdown has been the result of greater coordination between the Treasury Department's Office of Foreign Assets Control, which oversees the sanctions list, and prosecutors trying to stop money laundering.
"In the past if you violated a sanction, you got a big fine and then you had to implement a more sophisticated anti-money laundering program," Lederman said. "But now, because of Russia sanctions and heightened awareness, there is a greater referral of money laundering prosecutions."
In recent months, prosecutors in Manhattan have narrowed the focus of their inquiries, asking about specific artworks bought years ago, as well as some real estate, according to the person familiar with the matter. The probe is being led by the US Attorney's Office in the Southern District of New York and the federal KleptoCapture task force, which was set up to police Russian sanctions. A spokesman for KleptoCapture declined to comment.
$50 Million Monet
Fertilizer tycoon Melnichenko, with a net worth estimated at $12.7 billion by the Bloomberg Billionaires Index, is said to have purchased Monet's "Le Bassin aux Nympheas" for 40.9 million pounds ($49.6 million) in 2009. Abramovich is Russia's second-largest steelmaker and previously owned London's Chelsea Football Club. His ex wife, Daria Zhukova, was a Russian art collector.
KleptoCapture's lead prosecutor Andrew Adams told the NYC Bar Association in November that his team was focused on taking "assets off the table" before they could be moved to other jurisdictions.
One such alleged facilitator was UK businessman Graham Bonham-Carter, who was indicted in October and accused of trying to transfer artwork owned by Deripaska, who is under US sanctions. Using a shell company, Deripaska purchased 18 pieces of art at a New York auction in 2008, a decade before he was sanctioned, according to an indictment. The art works were kept in a New York storage facility until Bonham-Carter allegedly try to ship them out of the country in 2021.
Bonham-Carter is fighting extradition from the UK to the US to face charges.
In the wake of a 2020 Senate report on sanctions evasion in the art world, major auction houses and private sellers started including as a standard condition in contracts that the buyer or seller not be sanctioned or engaged in criminal activity, said Thomas C. Danziger, a New York-based attorney specializing in art law.
The leading auction houses have implemented voluntary anti-money laundering programs, but that may not be enough to prevent the true owners of art works from shielding themselves themselves behind webs of corporate structures or relatives.
"Putin's banker is unlikely to walk into a gallery on Madison Avenue and buy a Picasso," Danziger said.
©2023 Bloomberg L.P.
St. John's International Airport Unveils New Art Installation – VOCM
St. John's International Airport has unveiled a brand new art installation to welcome arriving passengers.
The piece, Art Upon Arrival, includes 24 illustrations on eight structural columns in the arrivals area are adorned with brightly colored, graphic images that harken to all things St John's such as food, plants, nature and music.
Artist Molly Margaret says after an extended period working on the project it's fun to see public reaction to the piece.
A glimpse of some of the Art Upon Arrival @stjohnsairport created by Artist, Molly Margaret. @VOCMNEWS pic.twitter.com/ZxxHiPPvYg

— Gerri Lynn Mackey (@GerriLynnMackey) January 31, 2023
How Brexit Is Still Impacting the British Art Market
At first, it was frustration, then it was confusion, and now… well, no one really knows. It's been more than five years since the U.K. voted to leave the European Union (EU) and the U.K. art market, like the country as a whole, is still wondering what Brexit actually means.
Dealers are tired of talking about Brexit, but they also can't ignore it as the British art market enters an uncertain 2023. That's because, for collectors, gallerists, and dealers in the U.K., a combination of legislative, bureaucratic, and economic factors brought about by leaving the EU are making it more costly and less efficient to buy and sell art. The impact of Brexit, it turns out, is ongoing.
Not only does the U.K. begin the year facing the "worst and longest" recession of any country in the G7, but two staples of London's art fair circuit, Masterpiece London and the Art & Antiques Fair Olympia, recently announced that they were canceling their summer editions. Both fairs cited escalating costs and a decline in the number of dealers, and both organizers mentioned the impact of Brexit as a contributing factor.
Installation view of Masterpiece London, 2022. Courtesy of Marc Straus.
The cancellation of Masterpiece, which is owned by Art Basel's parent company MCH Group, felt particularly significant.
"It's very sad for the London art world—and London more generally," said William Summerfield, head of sales and a specialist in modern British and 20th-century art at the auction house Roseberys. "The fair had a very particular style that was entirely 'Chelsea' and I think a lot of non-'artworld' buyers and visitors were more comfortable with [it] than some of the other, larger fairs."
It's unclear what the spillover of the fair's cancellation will be for the British art market more broadly. Yet, as Summerfield cautioned, "losing a major yearly event always has a knock-on."
But there's also the question of what this says about the British art market today. There were already signs that the European presence at Masterpiece was wilting, with stands from the continent falling by almost 60% between 2018 and 2022, according to the Financial Times. The cancellation may have been a shock, but it wasn't a huge surprise.
"The organizers were rather circumspect, talking about less international attendance, but what that translates into is that the Europeans aren't coming anymore," said Gregor Kleinknecht, a partner at Keystone Law and specialist in art law and dispute resolution for clients that include collectors, galleries, institutions, and dealers. "That's both the exhibitors and the trade who would normally take up stands at the fair, but also the collectors. There is less incentive to come to London with all the complications after Brexit."
Masterpiece is the latest art world example of how Brexit is crystallizing and exacerbating difficulties for an already febrile British economy, which can no longer blame COVID-19 lockdowns for its woes.
"Effectively, the U.K. has pulled out of the world's largest and most effective trade agreement and, predictably, that has consequently made trade more difficult," said James Ryan, CEO of Grove Gallery, which has spaces in London, Switzerland, New York, and Australia. "Quite aside from the unpleasantness of directly rebuffing those nations we do the most trade with, it has served to reduce that trade, including the trade in art and antiques—which has been negative for all those involved."
Brexit legislation is impacting the art trade in a number of ways, touching on everything from taxation to employment all the way through to data protection, dispute resolution, and copyright. It's led to heaps of red tape, all amounting to the basic fact that the free movement of people and goods between the U.K. and EU no longer exists in the fluid way that it once did. Art—and artists—have become more difficult and more expensive to move across the continent.
The British art market is still adjusting to this new normal, but the impact has already been drastic. In the two years since the U.K. formally left the EU's single market and customs union, its share of the global art market has plummeted to its lowest level in a decade. Dealers complain about extra VAT (value-added tax) and shipping costs, which can mean spending more than four times than before on logistics. Smaller galleries are overburdened with extra paperwork. Christie's has noted a "drop-off" in EU consignments in London, and collectors are being disrupted, too.
Fiorenzo Manganiello, an Italian-based private collector and patron of the Lian Foundation, told Artsy that the administrative aspect of importing works from London has become "cumbersome" since Brexit: "I have experienced logistical issues and work being blocked sometimes for months at a time," he said.
EU countries such as France, meanwhile, are seizing on the fallout. Last year was a banner year for the French market: The country hosted a shiny new international art fair, enjoyed record-breaking results at its auction houses, and enacted policies that, ominously, aim to "take up the challenge of the French reconquest of the art market," according to the Art Law Review.
So far, so bleak for the U.K. art market. But is it all disaster ahead? While everyone that Artsy spoke to for this piece acknowledged the difficulties caused by Brexit, many were quick to find optimism in the reputation and heritage of the British market, as well as its enviable ability to produce top artistic talent. Galleries continue to open, museums continue to host world-class shows, work continues to sell, and London remains a leading light of the international art market, they say.
"For me, London is the place where innovations in art still take place, surrounded by top-tier art schools and universities," said Manganiello. Britain still remains a "top-tier destination" to acquire artworks, meet artists, and discover emerging galleries, he added, noting that he's increasing the number of works from London galleries.
For those in the trade, meanwhile, a typically British attitude characterizes the current mood: Yes, Brexit is a pain, but things aren't going to change anytime soon. We may as well get on with it.
"Frustrated? Yes. Pessimistic? Yes!," said Katie Terres, COO of Artiq, a London-based art agency that curates collections around the world. While Brexit has added an extra layer of "frustration" and cost, the company, like many others, has had to adapt. "We've found ways of working with it and working within the regulations for our clients. We're trying to make it as easy a process as possible."
The cancellation of Masterpiece isn't the first post-Brexit hurdle that the British art market has faced—others include EU funding cuts and unclear government guidance, to name a few—and it's unlikely to be the last. But as long as the collectors keep coming, the auctions keep hammering, and the galleries keep selling, there's no reason to write off Britain's integral place in the art world just yet.