Hard-Hit Social-Media Stocks Could Be a Buy – Morningstar.ca
Meta Platform's (FB) mixed earnings results and stock slide is pulling down other social media shares, and in the process pushing them further into undervalued territory. Twitter (TWTR) , Snap (SNAP), and Pinterest (PINS) have each taken a hit Thursday along with a more than 25% dive in Meta, Facebook's parent company.
However, these social media stocks are also deeply undervalued by Morningstar's valuation metrics. Even before Thursdays sell off, Snap and Pinterest were in 5-star territory, the level considered the most under valued in our Star Rating system for stocks.
The revenue headwinds facing social media stocks are most likely short term, says Morningstar senior equity analyst Ali Mogharabi. "With that, their top-line growth will still be impressive (mainly PINS and SNAP)."
"FB is of course maturing and with already billions of users, a much higher rev growth deceleration is expected," he says. "Even with margin pressure as it invests in new products (metaverse, etc.), 30-35% operating margin is impressive. And I think those margins can expand in 2023 when higher demand for ads in Reels drive up ad prices (as mentioned in the note), either stopping or maybe even reversing the slowdown in ad rev growth, which will also help margins."
Michael Hodel, director of equity research, media & telecom at Morningstar, notes that one of the unknowns hamstringing these stocks is whether online time will increase at anything close to the same rate it has over the past couple years, especially in developed markets. "That at leaves FB and its peers looking to steadily increase ad effectiveness to help push ad prices higher. To me, this is the million dollar question: will data privacy policy changes at Apple, etc. or increased regulation offset any effort to improve ad formats and targeting mechanisms over time?"
Here are some highlights from Mogharabi's recent commentary on Twitter, Snap and Pinterest. Mogharabi's note take on Meta can be found here.
Twitter
"Twitter has captured the attention of nearly 200 million daily active users, including prominent celebrities and public figures worldwide. Its access to, and interactions around, real-time information and content create value for its users and for advertisers. While Twitter user growth has accelerated since 2018, a potential slowdown remains a concern. Slower user growth could make higher user monetization more difficult as advertisers may allocate a bit more toward other platforms such as Snap, which has a faster-growing user base. We do not believe that Twitter has carved out an economic moat.
Our fair value estimate is $58 per share, equivalent to 2021 enterprise value/adjusted EBITDA and enterprise value/sales ratios of 27 and 8, respectively. The ad market appears to have rebounded from the pandemic faster than we had expected, though we expect Twitter will continue to lag its peers in attracting direct response ad dollars. Top-of-the-funnel ad campaigns should continue to help, though, especially as live events such as sports return. We project modest growth in Twitter's user base, due to the established presence of larger social networks such as Meta and Instagram and faster-growing ones such as Snapchat and Pinterest. As engagement improves, we think Twitter will be able to attract its fair share of ad dollars."
Snap
"Snapchat, which has captured 265 million users to date, most of whom are between the ages of 18 and 24. We believe that Snap and its users benefit from a network effect among its customer base and is starting to attract the attention (and dollars) of advertisers with a growth trajectory toward nearly $3.8 billion in revenue. However, there is no guarantee that Snap will effectively monetize these users consistently. In turn, we are not yet convinced about the firm's ability to generate excess returns on capital over the next decade. Ultimately, Snap's competition, which includes wide-moat Facebook with 2.8 billion users, is overwhelming, in our view. In particular, Instagram, owned by Facebook, may emerge as a substitute for Snapchat. The larger ecosystems of Snap's competitors may have also created somewhat of an exit barrier for their users, which we think could further limit the growth acceleration of Snapchat users. In addition, growth in new users, user engagement, and time spent on Snapchat may face a natural limit in the long run as customers only have so much time to give to various mobile app interactions each day. TikTok, a video-sharing firm with China's ByteDance as its parent company, is another formidable competitor of Snap.
Our fair value estimate for Snap is $70 per share, which represents an enterprise value/sales multiple of 20 in 2022. We project tremendous revenue growth for Snap at a 10-year average rate of 30%. Within our discounted cash flow model's initial 10-year projection, we have assumed that Snap will become profitable in 2023 and will improve its current operating loss to an operating margin of 40% by 2030. Snap's revenue growth will be driven primarily by growth in the firm's daily active users, or DAUs, user engagement, overall online advertising spending, more adoption of the augmented reality ad format, and an increasing allocation of online ad dollars toward mobile and social network ads, in addition to the firm's more aggressive monetization of Snap Map, Communication (chat, minis, and games), and camera. We expect recovery from COVID-19 to further boost top-line growth."
Pinterest
"Pinterest, an online product and idea discovery company, is focused on carving out a piece of the global digital advertising space. While we don't expect Pinterest to displace online advertising behemoths Google and Meta or up-and-coming Amazon, we do expect it to attract a small pinch of digital ad spending, which we estimate is an addressable market of more than $600 billion.
Pinterest has a narrow economic moat and stable moat trend based on network effects and intangible assets (data), which we think can eventually drive the company to profitability and excess returns on invested capital. With more than 475 million average monthly users who access Pinterest with the intention of not only discovering ideas or products but also purchasing them immediately or in the future, we think the firm can attract more online ad dollars. In our view, Pinterest can attract various types of ad campaigns through the marketing funnel–from broad exposure or awareness to targeting and actual conversion. We think opportunities exist for the firm to gradually increase its share of the U.S. digital advertising market, as well as grow internationally (mainly in Europe) in terms of both users and ad dollars collected from this audience
We expect higher user growth in 2022 and beyond as the impact of the pandemic, which pulled user growth forward, will be lapped. We also expect the firm's latest offerings that attract content creators and improve users' shopping and purchasing experiences on the platform to drive user growth. In addition, we think some advertisers will come back after macro issues related to supply chain and labor shortage are resolved. Plus, as expected, Apple's policies appear to have hit Pinterest less than some of its peers. Until then, however, we now assume a further decline in U.S. users and a deceleration in overall user growth for Pinterest during the remainder of (2021). In our view, narrow-moat Pinterest remains attractive. We also think after the return of consistent and stable user growth to the platform the firm may become an acquisition target again."
Company buying Trump's social media app faces subpoenas – ABC News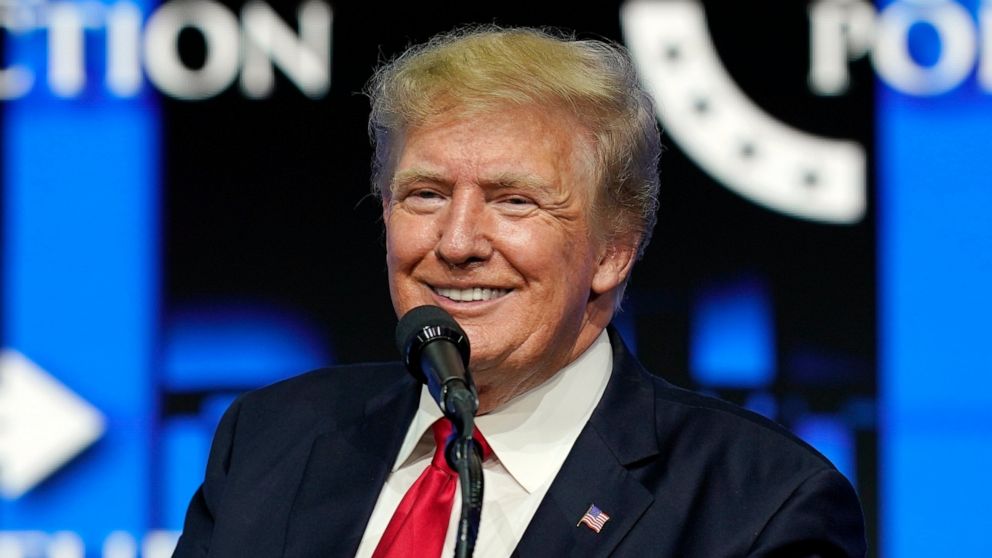 NEW YORK — Shares of Digital World Acquisition Corp. dropped 10% in morning trading Monday as the company reported that the subpoenas and a related investigation by the Department of Justice and the Securities and Exchange Commission could delay or even prevent its acquisition of the maker of Trump's Truth Social app.
The Justice Department subpoenas follow an ongoing probe by the SEC into whether Digital World broke rules by having substantial talks about buying Trump's company starting early last year before Digital World sold stock to the public for the first time in September, just weeks before its announcement that it would be buying Trump's company.
Trump's social media venture launched in February as he seeks a new digital stage to rally his supporters and fight Big Tech limits on speech, a year after he was banned from Twitter, Facebook and YouTube.
The Trump Media & Technology Group — which operates the app and was in the process of being acquired by "blank-check" firm Digital World — said in a statement that it will cooperate with "oversight that supports the SEC's important mission of protecting retail investors."
The new probe could make it more difficult for Trump to finance his social media company. The company last year got promises from dozens of investors to pump $1 billion into the company, but it can't get the cash until the Digital World acquisition is completed.
Stock in Digital World rocketed to more than $100 in October after its deal to buy Trump's company was announced. The stock traded at just around $25 in morning trading Monday.
Digital World is a special-purpose acquisition company, or SPAC, part of an investing phenomenon that exploded in popularity over the past two years.
Such blank check companies are empty corporate entities with no operations, only offering investors the promise they will buy a business in the future. As such they are allowed to sell stock to the public quickly without the usual regulatory disclosures and delays, but only if they haven't already lined up possible acquisition targets.
Digital World said in a regulatory filing Monday that each member of its board of directors has been subpoenaed by a grand jury in the Southern District of New York. Both the grand jury and the SEC are also seeking a number of documents tied to the company and others including a sponsor, ARC Global Investments, and Miami-based venture capital firm Rocket One Capital.
Some of the sought documents involve "due diligence" regarding Trump Media and other potential acquisition targets, as well as communications with Digital World's underwriter and financial adviser in its initial public offering, according to the SEC disclosure.
Digital World also Monday announced the resignation of one of its board members, Bruce Garelick, a chief strategy officer at Rocket One.
AJ Contrast wins One World Media Award – Al Jazeera English
Al Jazeera Digital's innovation studio site highlights challenges women with disabilities face in navigating megacities.
Al Jazeera's immersive storytelling and media innovation studio, AJ Contrast, has won a top prize at the One World Media Awards in London.
One World jurors conferred the win in the Digital Media category for AJ Contrast's interactive site, Inaccessible Cities.
The project brings audiences into the experiences of three women with disabilities as they struggle to navigate their cities – Mumbai, Lagos and New York.
Winners were announced across 15 categories during a ceremony in London on June 16.
The One World Media Awards recognise excellence in unreported stories from the Global South that "break stereotypes, change the narrative and connect people across cultures".
Inaccessible Cities added the award to numerous other wins so far this year in the Drum Online, Gracie, New York Festivals and Telly Awards.
More than one billion people – 15 percent of the global population – experience some form of disability. Many live in urban areas.
[embedded content]
The Inaccessible Cities site begins with a simple question: "How would you get around a megacity if you couldn't walk, see signs or hear cars passing by?"
"It's a great honour to be recognised by the One World Media Awards," said Zahra Rasool, head of AJ Contrast.
"Our aim has always been to highlight unreported stories about the people most impacted by inequality, often in the Global South.
"With Inaccessible Cities, we wanted to show how a lack of accessible public transport and infrastructure impacts people with disabilities – especially women – from fully and independently participating in society.
"Our aim is to continue inspiring a new standard for digital news content that's fully inclusive of people with disabilities and to bring awareness to their challenges."
In keeping with AJ Contrast's emphasis on collaboration, the team worked closely with journalists with disabilities, local talent and the women who are the subject of the interactive experience.
"We are very proud of our AJ Contrast team," said Carlos van Meek, Al Jazeera's director of Digital Innovation and Programming. "Despite the production challenges brought on by COVID-19, this driven, talented team has continued to innovate and set the benchmark for immersive storytelling."
Other Al Jazeera Digital teams made the One World long list, including the AJLabs series Visualising the Afghan War and two films by short documentary unit AJ Close Up – Russia's Banned Youth and Norway's Afghan Sons.
The Al Jazeera English broadcast channel also was long listed in the News category for the 101 East documentary India's COVID Warriors. Jurors evaluated a record number of entries from 96 countries.
The complete list of One World winners can be found in the One World Media winners' gallery.
[embedded content]
Toronto politician accused of homophobic social media posts resigns from city council – blogTO
Rosemarie Bryan, a newly appointed city councillor for Toronto's Etobicoke North district, resigned from her position just hours after several homophobic tweets were surfaced from her social media account.
Tonight, Rosemarie Bryan has resigned the City Council seat she was appointed to today.

— John Tory (@TorontosMayor) June 25, 2022
Bryan was meant to fill the seat of departing City Councillor Michael Ford who resigned his position after his recent victory in the provincial election.
Rather than have an election to fill the open seat, the convention is for the departing city councillor to recommend his or her replacement and as we learned this week, the current city councillors basically agree to the recommendation without any proper vetting or due diligence.
All was fine and well until a number of anti-2SLGBTQ+, Islamophobic and anti-Asian social media posts were surfaced by local journalist Jonathan Goldsbie.
At the start of Pride weekend, City Council appoints as its newest member a person who's repeatedly shared anti-LGBTQ content on Facebook: https://t.co/x6RbBbkuyC pic.twitter.com/edoOd8jC9D

— Jonathan Goldsbie (@goldsbie) June 24, 2022
Councillors quickly realized they might have been a tad too hasty to back the appointment which was done through a simple vote. Only two councillors voted against confirming Bryan.
"I want to state unequivocally that had I seen these posts before the vote, I would have never supported Rosemary," wrote councillor Buxton Potts in a tweet.
Many of the councillors who voted for Bryan now admit the process needs to change and that the confirmation of replacement councillors has relied too heavily on the recommendation of the departing one.
It's customary for council to support the choice of the councillor who resigned their seat since they won the election. This dates back a long way and certainly needs to be re-examined.

— Mike Layton (@m_layton) June 24, 2022
In this case, no councillors appeared to do any due diligence that could have possibly surfaced the social media posts before Bryan's appointment was confirmed.
This process certainly demands a rethink of the way the appointment process works.

— Mike Layton (@m_layton) June 25, 2022
Some of Bryan's old posts include shared content from Tucker Carlson and statements from preachers that claim "homosexuality is wrong" and that "divine order is needed in [] churches," along with comments of approval from Bryan that had, at one point, clearly supported these messages.
These posts are not acceptable for a Toronto City Councillor.

I totally disagree with any homophobic or transphobic views. I absolutely support our 2SLGBTQ+ residents. City Councillors are expected to set an example when it comes to consistency with our shared values.

— John Tory (@TorontosMayor) June 25, 2022
Bryan's social media posts were first uncovered by Goldsbie on Friday night when he tweeted that City Council's newest member is a person who has "repeatedly shared anti-LGBTQ content on Facebook" which, the discovery shocking enough on its own, was found at the start of Pride weekend.
Councillors began to weigh-in just moments after Goldsbie's revelation, regretting not digging enough earlier to uncover what would later make a huge difference.
I want to state unequivocally if I had I seen these social media posts prior to City Council I would never have voted for Rosemarie Bryan. I am glad she resigned. The system for Cllr vacancies needs to be changed. #Ward24 #TOPoli https://t.co/b28hbZ1YjK

— Paul Ainslie (@cllrainslie) June 25, 2022
Bryan issued a statement late Friday stating she was "so devastated" that past social media posts she made "are now being thrown against" her decades of commitment to the community.
Breaking – The interim Ward 1 city councillor appointed by Toronto city council this afternoon has resigned after @goldsbie flagged Facebook posts that appear to be homophobic pic.twitter.com/LZtYsq12zR

— David Rider (@dmrider) June 25, 2022
Bryan claims she will "remain committed to helping [her] community in every way that [she] can."
Many people are still upset at the fact that Bryan was ever appointed in the first place.
People are also critiquing her "apology" or lack thereof, saying that the only apology issued was an apology about the fact that she was discovered.
Mayor John Tory tweeted that he has now "asked City officials to review the overall appointment process ahead of future Council appointments."