Harvard professor says that weird asteroid in 2017 was alien tech – BGR – BGR
The mysterious, cigar-shaped asteroid that zipped through our solar system back in 2017 may have been a piece of alien space junk.
Harvard professor Avi Loeb suggests that the object could have been a discarded piece of trash from an alien civilization residing nearby.
The asteroid's shape and bizarre behavior are what led Loeb to this theory, though he's hardly the only one that has suggested it.
---
Back in 2017, something very strange passed through our solar system. It was the first interstellar object ever to be spotted by mankind, and it was unlike anything astronomers had ever seen. It was a long, cigar-shaped object that was spinning rapidly and was dark red in color. Initially, scientists believed it was an asteroid, but then the consensus seemed to shift to it being a comet before the scientific community largely agreed it had to be an asteroid.
Among all that confusion and rapid data-gathering as the object cruised back out into interstellar space, some began to wonder if the object could have been evidence of an alien civilization. Was it a probe sent to monitor Earth? Was it a spacecraft with an alien crew inside? Or perhaps a piece of junk flung toward our planet after being discarded by a space-going alien race? Harvard professor Avi Loeb published a paper shortly after the discovery suggesting the possibility that the object, named Oumuamua, had alien origins, and he's' not backed down since.
Today's Top Deal You've got a rare opportunity to save on Purell hand sanitizer List Price:$70.00 Price:$50.63 ($0.37 / Fl Oz) You Save:$19.37 (28%)
Available from Amazon, BGR may receive a commission Buy Now Available from Amazon BGR may receive a commission
At the time, Loeb's paper was considered highly controversial. Many in the astronomy community criticized it openly, suggesting that Loeb had written it simply for attention and that it had little to no scientific merit. However, there are a number of things about Oumuamua that have yet to be totally explained.
For starters, the object's shape was highly unusual. Researchers have proposed theories that potentially explain how an asteroid could take on a cigar-like shape over time, but the fact that we've never seen anything even remotely like it is worth noting. On top of that, the object actually sped up as it exited the solar system. After an object rounds the Sun, it should slow down as it speeds away from the star due to the pull of gravity. That didn't happen with Oumuamua.
Some scientists have proposed that the object was "outgassing," or propelling itself and gaining speed due to heated gasses escaping it after its close encounter with the Sun. That's possible, but Loeb suggests another explanation.
As SlashGear reports, Loeb is about to release a new book in which he argues that, based on new calculations, the object might not have been long and cylindrical, but actually thin and disk-shaped. Loeb argues that it may have been a remnant of a solar sail, which is a still largely theoretical component of a propulsion system that would use the particles speeding away from a star to actually carry an object along and eventually reach high speeds.
Now that the object is long gone, and the scant data we have on it has been studied over and over, it's unlikely that we'll ever be able to definitively say what Oumuamua actually was. Still, Loeb's theory is tantalizing, as it would mean that there is an alien civilization possibly residing nearby, and if we are seeing its trash, we might eventually be able to see who made it.
How to watch SpaceX launch over 100 satellites on a Falcon 9 rocket tomorrow – CNET
SpaceX will transform one of its Falcon 9 rockets into the space equivalent of a crowded Uber when it launches its Transporter-1 ride-share mission from Cape Canaveral in Florida as soon as Saturday.
The payload for this mission includes a cornucopia of small satellites from government and commercial entities, along with 10 of SpaceX's own Starlink broadband satellites.
We learned Thursday that the cargo will include 48 SuperDove satellites for Planet Labs, reportedly bringing the total to a record-breaking 133 satellites in a single launch.
SpaceX itself has not yet confirmed the official number of satellites in the ride-share payload. There's been some last-minute shifting around after two DARPA satellites were accidentally damaged earlier this month at a processing facility. The Starlink satellites were also a last-minute addition. The payload includes several small spacecraft from Nanoracks and more from the German Aerospace Center (DLR), the US Department of Defense and many others.
The launch was originally scheduled for December, but has been postponed a handful of times.
The Falcon 9 booster will be making its fifth flight and is expected to land on a droneship stationed in the Atlantic not long after flight. SpaceX is also likely to attempt to recover the fairing, or nose cone, a move that's becoming a more routine part of each mission.
The launch is set for as early as 6:40 a.m. PT (9:40 a.m. ET). The entire mission will be livestreamed as usual by SpaceX. You can follow along below starting about ten minutes before launch.
Follow CNET's 2021 Space Calendar to stay up to date with all the latest space news this year. You can even add it to your own Google Calendar.
Coronavirus outbreak declared over at northern BC Coastal GasLink sites – PrinceGeorgeMatters.com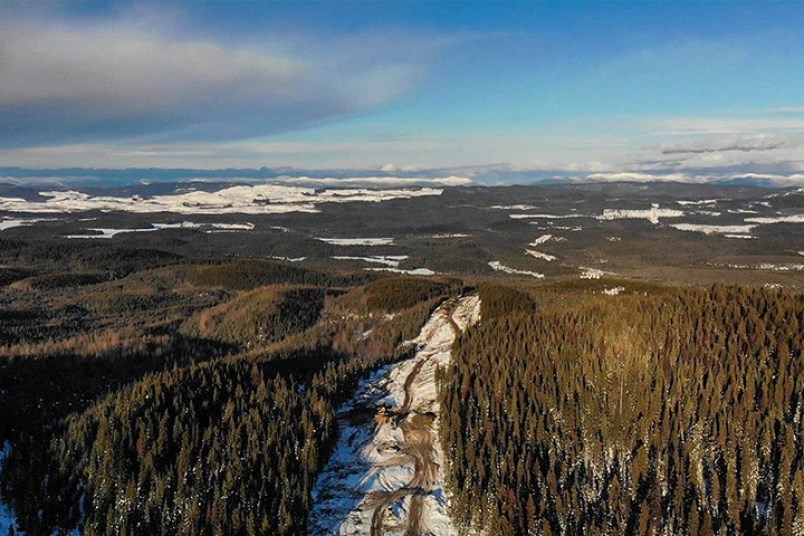 Northern Health now has one less outbreak in the region.
The authority announced this morning (Jan. 22) the COVID-19 outbreak at a pair of Coastal GasLink work sites is now over.
The two sites involved, 7 Mile Lodge and Little Rock Lake Lodge, saw a recorded total of 56 cases after the outbreak was declared on Dec. 19, 2020.
"Northern Health is pleased to announce that Medical Health Officers have declared an end to the COVID-19 outbreak at two workforce accommodation sites on the Coastal Gas Link (CGL) project," a statement reads.
The previous update on Jan. 8 said there had been an increase of three cases involving the outbreak after its Dec. 31, 2020 outbreak, but none were active.
Northern Health is pleased to announce that Medical Health Officers have declared an end to the COVID-19 outbreak at two workforce accommodation sites on the Coastal Gas Link (CGL) project. https://t.co/tqD87uugJv pic.twitter.com/gkBsB5qY7F

— Northern Health (@Northern_Health) January 22, 2021
As of publication, there has been a recorded total of 3,054 COVID-19 cases in northern B.C. with 508 currently active.
There are 45 people hospitalized with 18 of those currently in critical care, along with 2,472 recoveries since the first infection was detected in March last year.
The region also has seen 54 deaths since the virus hit the area in March.
Only 31 Magnetars Have Ever Been Discovered. This one is Extra Strange. It's Also a Pulsar – Universe Today
Some of the most stunningly powerful objects in the sky aren't necessarily the prettiest to look at. But their secrets can allow humanity to glimpse some of the more intricate details of the universe that are exposed in their extreme environs. Any time we find one of these unique objects it's a cause for celebration, and recently astronomers have found an extremely unique object that is both a magnetar and a pulsar, making it one of only 5 ever found.
The object, called J1818.0-1607, was first detected in March by NASA's Neil Gehreis Swift Telescope. It was first classified simply as a magnetar – one of only 31 ever found. Magnetars are a type of neutron star that has the strongest magnetic field ever detected – millions of billions of times stronger than that of Earth. But J1818.0-1607 wasn't the same as other magnetars found so far.
It appeared to be the youngest, with an estimated age of 500 years. Correspondingly, it also spins faster than any other observed magnetar. Younger magnetars will spin more quickly than older ones, which have had a chance to slow down some. J1818.0-1607 takes the cake with a blistering rotational speed of 1.4 seconds.
Finding a unique magnetar such as this will always attract other astronomers, and some brought other kinds of telescopes to bear. One of those telescopes was the Chandra X-ray Observatory, which a team led by researchers from the University of West Virginia and the University of Manitoba commanded to look at the newly found magnetar less than a month after its original discovery.
Chandra is able to see in the X-ray spectrum, so it was able to calculate the efficiency with which the object was translating its decreasing spin energy into X-rays. That efficiency was in line with another type of object, known as a rotation-powered pulsar.
Pulsars are a type of neutron star that repeatedly pulses out radiation as it spins. Observations from other telescopes, including the Very Large Array, provided supporting data for the magnetar to also be a pulsar. That puts it on a very short list of only 5 objects ever discovered that combined the characteristics of both types of object.
All of the mysteries of the newly discovered object are not yet solved, however. One is where all the debris has gone. All neutron stars are formed as a result of a supernova, and J1818.0-1607 is no exception. However, at such a young age, astronomers would expect to see the debris field from the explosion. There was some that Chandra picked up, however, it is much farther away than expected, implying that J1818.0-1607 is either much older than previously thought, or that it exploded with such force that it blew the debris field out much faster than other known neutron stars.
Either hypothesis is viable, and of course more data will need to be collected in order to truly solve that mystery. But the discovery of J1818.0-1607 and its subsequent observation are an excellent example of the kind of science that is possible when multiple instruments operating in multiple spectra are brought to bear on a single object of interest. With luck that coordination will lead to more discoveries of these ultra rare combinations of magnetically powerful lighthouses.
Learn More:
NASA: Chandra Studies Extraordinary Magnetar
NASA: A Cosmic Baby is Discovered and Its Brilliant
Sci-News: Astronomers Discover Youngest Magnetar Ever
UT: A brand new magnetar found, it's only 240 years old
Lead Image: Composite image of J1818.0-1607 in Xray and infrared.
Credit: NASA / CXC / U West Virginia / H. Blumer / JPL-CalTech / Spitzer