Health Canada approves Pfizer anti-viral pill for treatment of COVID-19 – National Post
Provinces will receive shipments on a per-capita basis and will decide who gets priority for the pills while in short supply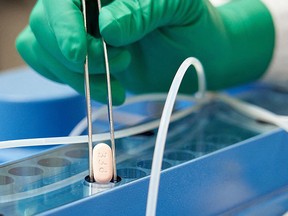 Article content
OTTAWA – Health Canada has approved Pfizer's drug Paxlovid as the first take-home treatment for COVID-19.
Article content
The drug, which is a treatment involving a total of six pills taken daily for five days, has been shown to reduce the risk of hospitalization by almost 90 per cent. The course of treatment includes two pills of nirmatrelvir taken twice a day and one pill of ​​ritonavir taken twice a day.
The drug prevents the virus from replicating, which helps people recover faster. It can't be taken by people under 18 years of age. There are also several drugs that can't be taken alongside Paxlovid, including drugs for cancer, high blood pressure and some anti-anxiety and depression medications.
To be effective, the drug requires people to start treatment within five days of having symptoms and while they can take it at home, it must be prescribed to them and they must have a positive COVID-19 test to begin treatment.
Article content
As the Omicron wave has driven cases skyrocketing, testing centres have been overwhelmed and most provinces now limit who can get a PCR test. Even people who can receive tests are often waiting several days for results.
Dr. Theresa Tam, Canada's chief public health officer, said in the interim, physicians can use rapid antigen tests to prescribe the pills.
She admitted in the short term it will have a limited benefit, but said it will help some people and could be an important tool in the future.
"For the Omicron wave itself, it may contribute, but it won't be a key contributor to the current wave," she said. "We think everybody really just needs to give it a good try because it will be, I think, an important tool going forward."
Article content
Provinces will receive shipments on a per-capita basis and will be the ultimate arbitrators of who gets the medication while it is in short supply.
The public health agency is recommending immunocompromised people are the top priority for the medication, followed by unvaccinated or partially vaccinated people over 80 years old, people in their 60s and people in rural and remote communities where access to hospital care could be difficult.
Tam said the unvaccinated are high on the priority list, because they are more likely to end up in hospital with severe illness.
"As health-care providers, you don't pick and choose which patients you have coming into the hospital and getting treated. And so I think this approach ensures that we are prioritizing treatments to those most in need," she said.
Article content
She stressed however the treatments are no substitute for vaccination.
"This is another tool in the toolkit to fight the pandemic. It is important that everyone gets fully vaccinated and receive a booster, as soon as they are eligible."
Alexandra Hilkene, a spokesperson for Ontario Health Minister Christine Elliott, said the province is expecting it will get 10,000 courses of the drugs in January and has worked out plans to distribute them.
"We have worked with our hospital partners and are prepared for distribution of antivirals at 15 sites across the province as soon we receive them. Courses will initially be prioritized for adults with the highest risk of severe outcomes including immunocompromised patients, and could help keep thousands of people out of our hospitals," she said in an email.
Article content
Hilkene said the pills could help the province return to normal and ease restrictions.
"The arrival of these pills gives us increased confidence as we continue to review key indicators and data to determine when we can begin safely and gradually lifting public health measures."
A first shipment of the pills arrived in Canada over the weekend, with just over 30,000 courses of treatment arriving.
Procurement Minister Filomena Tassi, said Canada expects another 120,000 courses to arrive before the end of February as part of the initial order for a million treatments, with more to come after that.
The government also has an option for 500,000 more courses of treatment after that. The U.S. government bought 10 million courses for US$5.29 billion, a cost of roughly US$529 per course of treatment.
Article content
Tassi would not say what Canada paid for the pills, but said the government was committed to doing whatever is necessary to help Canadians dealing with the virus.
"In order to protect the commercially sensitive pricing information, we can't disclose those details," she said. "The health and safety of Canadians has been our top priority from a procurement perspective whether it's vaccines, PPE, medical supplies. We've done everything that we can possibly do with the priority of keeping Canadians safe."
The government has also refused to disclose on a per dose basis what it paid for COVID-19 vaccines.
Twitter:
Email: rtumilty@postmedia.com
Bankers buck gloomy trend by forecasting growth amid concerns about economic slowdown – The Globe and Mail
Top executives at two major Canadian banks predict they can keep adding new loans and increasing profits in the coming quarters, offering an optimistic outlook for the financial sector that is at odds with economists' increasingly gloomy forecasts of a downturn ahead.
Bank of Nova Scotia BNS-T and Bank of Montreal BMO-T both reported higher second-quarter profits on Wednesday, underpinned by robust demand for personal and commercial loans as well as lower loan loss reserves than analysts anticipated. Profits increased 12 per cent compared with those in the same quarter a year earlier at Scotiabank, and 4 per cent after adjustments at BMO, as rising interest rates helped increase margins on loans.
Growth slowdown fears temper bullishness on commodity currencies
Canada considers new measures to protect economy from national security threats
That marked a strong start to the major banks' earnings season, but analysts cautioned those results, which cover the three months ended April 30, already look distant in the rear-view mirror. They pressed senior executives about how the banks are bracing for a deteriorating economic environment marked by war in Ukraine, high inflation, rapid central bank rate hikes and the increasing prospect of a recession that could curb customers' appetite to borrow.
Bank chief executives and finance chiefs stressed they still expect economies to grow as COVID-19-related headwinds ease. They noted that most households are in good financial health, as many stashed away extra savings during the pandemic, while unemployment remains low in a tight labour market. Businesses are borrowing to bulk up inventories as demand for products outstrips supply, and some sectors, such as commodities, are booming.
"The macroeconomic backdrop for our key geographies remains positive," said Scotiabank chief executive Brian Porter, on a conference call with analysts on Wednesday. "Despite the macroeconomic and geopolitical uncertainties in recent months, we are encouraged by the resilience of our businesses."
The mood among economists is much more downbeat as the threat of a global recession mounts, even though few are predicting that is highly likely. The tone has also been sombre as business leaders and policy makers rub elbows at the World Economic Forum's gathering in Davos. And the former governor of Canada's central bank, Stephen Poloz, recently predicted the country is heading for a period of stagflation – a mix of slow growth and high inflation.
Yet increases in banks' loan balances have been broad-based, and BMO chief financial officer Tayfun Tuzun said in an interview that he still expects "high-single-digit loan growth" year over year – the same guidance he gave three months ago.
"All in all our clients are telling us that they're still interested in investing in their businesses," said Mr. Tuzun. He added that there are "a lot of good indicators for what's to come" for the bank.
A particular bright spot is commercial lending in Canada, where loan balances rose 13 per cent at BMO and 19 per cent at Scotiabank in the second quarter. Scotiabank's chief financial officer, Raj Viswanthan, said corporate clients and consumers have "very strong" balance sheets at the moment, "so we see a lot of pent up demand."
The disruptions caused by COVID-19 and war in Ukraine have also increased demand in key areas, Mr. Viswanathan said. "It's supply chain issues, it's the rise of e-commerce, it's the demand for food."
Bankers aren't blind to the gathering economic storm clouds. BMO chief risk officer Pat Cronin said his bank is giving greater weight to a hypothetical scenario that predicts the impact of a severe downturn, and has lowered expectations for parts of its forecast it considers the base case.
When U.S. banking giant JPMorgan Chase & Co. hosted an investor day this week, chief executive Jamie Dimon summed up the outlook as, "strong economy, big storm clouds," saying those clouds "may dissipate. If it was a hurricane, I would tell you that." But he acknowledged "they may not dissipate, so we're not wishful thinkers."
The Bank of Canada published a paper this month that suggests the country's banks are strong enough and well capitalized to withstand even a severe, prolonged downturn in which unemployment peaks at 13.5 per cent and house prices fall 29 per cent.
Gabriel Dechaine, an analyst at National Bank Financial Inc., wrote to clients that, "in a normal environment, such optimism would be met with positive expectations for stock price appreciation," but he remains "more cautious … as long as the disruptive forces of inflation that heighten recession expectations persist."
In the fiscal second quarter, Scotiabank earned $2.75-billion, or $2.16 per share, compared with $2.46-billion, or $1.88 per share, in the same quarter last year. Adjusted to exclude certain items, Scotiabank said it earned $2.18 per share, well above the consensus estimate of $1.98 per share among analysts, according to Refinitiv.
In the same quarter, BMO earned $4.76-billion, or $7.13 per share, compared with $1.3-billion, or $1.91 per share, a year earlier. After adjusting to exclude one-time items that include a $2.6-billion gain on a financial instrument tied to BMO's US$16.3-billion acquisition of California-based Bank of the West, profit was $2.187-billion, or $3.23 per share. On average, analysts expected $3.24 per share on an adjusted basis.
Both banks raised their quarterly dividends, by 3 cents per share to $1.03 at Scotiabank, and by 6 cents per share to $1.39 at BMO.
Two key factors that have supported banks' rising profits through much of the pandemic – rapidly rising mortgage balances and unusually low losses from defaulting loans – appear to have reached peaks, and are set to return to more normal levels.
Mortgage balances rose 16 per cent year over year at Scotiabank and 8 per cent at BMO, benefitting from the tail end of a red-hot streak for housing markets. But that yearly growth rate is "slowly slowing," said Dan Rees, Scotiabank's head of Canadian banking, and is likely to revert to a pace in the range of 6 to 9 per cent in the coming quarters even as some economists are predicting housing prices will fall.
Provisions for credit losses – the funds banks set aside to cover losses in case loans default – "reached the floor this quarter," said Phil Thomas, Scotiabank's chief risk officer. He and his BMO counterpart, Mr. Cronin, expect loan loss reserves will gradually drift higher. But with write-offs and delinquencies still very low, neither risk officer is predicting a spike in loan losses, even though it will rapidly get more expensive for consumers to service their debts.
Your time is valuable. Have the Top Business Headlines newsletter conveniently delivered to your inbox in the morning or evening. Sign up today.
World's fastest passenger jet goes supersonic in tests – CNN
YYJ delays: RCMP called to Victoria International Airport | CTV News – CTV News VI
Travellers who have a flight planned at Victoria International Airport (YYJ) on Tuesday are being warned of travel disruptions due to police activity.
Sidney/North Saanich RCMP say the airport was closed after a suspicious package was discovered around 1:30 p.m.
Cpl. Andres Sanchez of the Sidney/North Saanich RCMP says that the airport was closed to all incoming and outgoing flights "out of an abundance of caution."
He said the airport will remain closed until police "can be sure it is safe for the public to travel."
'INCENDIARY DEVICE'
"The package was located at the departures/check-in [area], so it was brought in by a passenger," said Sanchez Tuesday afternoon.
The package was flagged by Canadian Air Transport Security Authority (CATSA) staff who spotted what appeared to be an "incendiary device" within a bag, he said.
"CATSA employees performed the checks that you normally do at a departure situation at the airport," he said.
"They scanned the bag and found there were items inside that could be of a dangerous nature and at that point police were called to the scene to investigate further," he said.
Mounties say a specialized RCMP team has been called in from the mainland to remove the bag from the premises and to "ensure the package is dealt with in a safe manner."
PASSENGER UNDER INVESTIGATION
Sanchez says the individual who brought the bag is under investigation, but it's unclear if any criminal charges will be recommended yet.
"Again, because we don't know what's in that bag we can't speak further on that," he said.
In the meantime, people are asked to avoid the airport for the next few hours, according to RCMP spokesperson Sgt. Chris Manseau.
Around 4:20 p.m., the airport said all scheduled commercial flights for the next two hours were cancelled.
The airport is working with airlines to keep them updated on the status of flights.
Police say they hope the airport will be able to reopen Tuesday night, but it's uncertain how long the investigation at the property will take.
Travellers should check the YYJ website for the latest updates on their flights, according to the airport.