Health Canada approves updated Moderna vaccine for Omicron variant – CBC News
Health Canada has formally approved Moderna's updated COVID-19 vaccine targeting the Omicron variant.
The vaccine, which has been approved for use in adults 18 and older, will become the first COVID-19 vaccine available in Canada that targets Omicron in addition to the original strain of the coronavirus.
In a decision summary made public Thursday, Health Canada said the new vaccine shows "significantly higher responses" to the Omicron BA.1 virus in comparison to Moderna's original coronavirus vaccine, officially branded as Spikevax.
While the updated vaccine was developed to target the Omicron BA.1 variant, Health Canada says clinical trials suggest the new vaccine still elicits a "stronger immune response" against the more recent mutations of Omicron — BA.4 and BA.5 — which are now dominant.
"Results of exploratory analyses suggest that a second booster with Spikevax Bivalent would provide a superior neutralizing antibody response against BA.4/5 compared to a second booster with Spikevax Original," reads a portion of the decision.
Health Canada also reports that "no new safety concerns have been identified in studies when compared to the currently approved Spikevax mRNA vaccine."
The National Advisory Committee on Immunization recommends that the updated vaccine be offered to adults who are recommended to receive a fall booster dose.
NACI says adolescents between 12 and 17 with "moderately to severely immunocompromising conditions" and those who have elevated social risk factors could also be offered the vaccine.
WATCH: Health Canada's Chief Medical Adviser Dr. Supriya Sharma says the updated vaccine will be effective against Omicron
Health Canada's Chief Medical Adviser Dr. Supriya Sharma says Moderna's new bivalent vaccine will target both the old variant of COVID-19 as well as Omicron, the more recent one. It has been approved for use in Canadians 18 years and older.
The updated vaccine is a combination of two strains, also known as "bivalent" shots. It contains both the original vaccine formulation and protection against the original Omicron variant BA.1.
The new Moderna shot will be delivered in 50 microgram doses. Half of its contents target the original coronavirus strain while the other half target Omicron.
An initial shipment of 780,000 doses of the updated vaccine is set to arrive in Canada on Friday, Health Minister Jean-Yves Duclos said. An additional 10.5 million doses will be delivered by the end of September.
Deliveries to the provinces and territories, which oversee the administration of vaccines, are set to begin next week.
Duclos urged Canadians to sign up for booster shots quickly as summer comes to an end.
"This fall will be challenging, with the return of the flu and other respiratory diseases and people moving indoors," Duclos told a news conference on Thursday afternoon.
Vaccines for newer Omicron strains may be coming
Both Moderna and Pfizer have developed even newer bivalent vaccines targeting the Omicron BA.4 and BA.5 strains, but the companies have not yet submitted those products for approval by Health Canada.
Njoo said that in choosing to approve Moderna's BA.1-focused vaccine, the government considered the tools it has now "versus what might potentially happen in the future."
"At the end of the day, we're very comfortable with the fact that we have a good bivalent vaccine," Njoo added.
The U.S. Food and Drug Administration announced Wednesday its approval of bivalent vaccines by Pfizer and Moderna that specifically target the more recent Omicron BA.4 and BA.5 strains.
Dr. Supriya Sharma, the chief medical adviser with Health Canada, said the agency expects to receive a submission from Pfizer as soon as next week for a bivalent vaccine targeting BA.4 and BA.5.
A new submission by Moderna for BA.4 and BA.5 is also expected within the next two weeks, Sharma said.
A spokesperson for Pfizer Canada told CBC News Wednesday that its submission to Health Canada for a BA.1-targeted bivalent vaccine is still under review and approval has not yet been granted.
WATCH: Infectious diseases physician says Canadians shouldn't wait for updated boosters
Infectious diseases physician Dr. Lisa Barrett is encouraged by approval of the new bivalent vaccine targeting Omicron BA.1. She says holding out for the next, more updated vaccine would be risky.
Angela Rasmussen, a virologist with the University of Saskatchewan's Vaccine and Infectious Disease Organization, said the vaccine's approval is an important development in Canada's fight against COVID-19 — even though the shot was developed for a strain that is no longer circulating widely.
"I do think it's really important now for people to know that the BA.1 vaccine is still going to really improve immunity against the variants that are circulating," Rasmussen told CBC News.
Another expert said Canadians should not wait for the perfect and most up-to-date vaccine, since they'll likely need repeated COVID-19 immunizations in the future.
"That protection will not last. This will not be the last vaccine you get. So prepare, until we have vaccines that are better, to be vaccinated probably every six months," said Dawn Bowdish, an immunologist at McMaster University.
To rent or buy? What's in store for the clothing rental industry in Canada – CP24
A few weeks ago, Carly Soares needed a dress for a wedding and fast.
"I tried going shopping at the mall, but noticed there was a scarce collection of formal dresses," the 30-year-old said. "It was actually very surprising. It's still the pandemic-loungewear kind of vibe throughout a lot of retail stores."
The dresses she did come across were either too casual or too expensive, so she decided to rent one from a dress rental boutique, something she had never tried before.
And after a positive first experience, Soares said she would definitely do it again.
Clothing rental has become more mainstream over the last decade with the rise of the sharing economy, but the COVID-19 pandemic wasn't kind to these types of retailers.
As pandemic restrictions lifted, however, some Canadian rental businesses saw a boost in traffic.
While experts believe there is still more opportunity in the space, they are warning that growth might be subdued as Canadians change their shopping habits and priorities in an environment of hot inflation and rising interest rates.
There are other challenges as well, including getting more people on board with the idea of essentially sharing clothes, people's mindset around the type of clothing suitable for rewear, environmentally-conscious consumers questioning how environmentally-friendly fashion rental truly is, and the logistics of inventory.
"We've been conditioned to purchase something, wear it, throw it out. Changing that to appreciate that rental opportunity is something that does take quite a lot of time," said Daniel Drak, assistant professor at the Parsons School of Design.
One of the most prominent clothing rental businesses, if not the most, is U.S.-based Rent the Runway, founded in 2009, which quickly became a hit with women who wanted access to designer clothing but didn't want to spend tons of money on outfits they might wear once or twice.
In Canada, a rush of new clothing rental businesses began popping up in the years leading up to the pandemic, offering everything from special occasion wear to workwear to maternity wear to everyday wear, but like many companies in the small business retail sector, getting through the last two years was a challenge.
Canadian companies like Rent Frock Repeat, workwear rental business Dresst and Montreal's Station Service have all ended their run over the last couple of years.
It's a "very challenging" market to be in, said Julie Kalinowski CEO of Toronto-based The Fitzroy, which offers special occasion dress rentals at a more affordable price.
According to Drak, Gen Z will be the generation that really moves the industry forward because of their excitement around shopping resale, whether it's for economic reasons, aiming to reduce clothing waste or to find one-of-a-kind pieces.
He said now is the time for existing and emerging Canadian clothing rental businesses to lean into that popularity and make resale a part of their business model, which some have started to do.
The global resale apparel market was valued at US$14 billion last year, according to Statista, and is projected to grow to US$51 billion by 2026.
Toronto Metropolitan University (TMU) assistant professor Anika Kozlowski said making genuine efforts to reduce clothing waste and reduce emissions stemming from clothing production, and operating as a local business in order to do so, might also be a good strategy, especially considering Canada's smaller population.
This would involve a strong understanding of the community the business operates in, the use of high-quality Canada-made items from ethical brands, finding ways to clean and repair clothes in a way that isn't harmful to the environment, and avoiding long-distance shipping.
That's something Blyth Gill is working on with Vancouver-based Tradle, an e-commerce baby clothing subscription business that allows parents to rent and exchange clothes for each growth spurt.
"Because babies outgrow clothes quickly, the need to have and exchange clothes has a really short cycle," he said.
Tradle works with local, high-quality brands, avoiding fast fashion brands. And when the clothes can no longer be reused, they won't be thrown away, but instead recycled or broken down.
The company launched right before the pandemic, which Gill said was definitely a learning experience.
"Naturally, when we didn't know as much about COVID-19, people were probably thinking, 'sharing clothes? I don't know,'" he said.
But Gill said he's happy that phase is now behind them and is excited for the next stage of the business' growth.
The Fitzroy's Kalinowski is quite optimistic as well.
"Since the last reopening, it's been crazy, it's been a boom, it's been probably our best sales yet. It's been a big year for weddings, all the events are back on, all the galas are back on. We just had the Toronto International Film Festival, one of our busiest weeks. So it's been crazy busy."
Gabriella Iamundo, 31, uses fashion rental for special occasion wear, but doesn't really see herself using it for everyday clothing, athleisure wear or workwear, or subscribing to a service, a sentiment TMU's Kozlowski said is likely pretty common across the board.
"I rented (special occasion wear) for the first time probably four or five years ago, maybe a little bit longer than that, and it just became something I thought was good for events," Iamundo said.
"To be honest, it's pretty common in my circle of friends to check (rental services) out to at least see what the options are, especially before having to go buy something."
When looking further ahead, Parsons' Drak sees bigger, traditional brands starting their own rental segments – which U.S.-founded Urban Outfitters has done – or acquiring existing businesses in the space, which would shake up the market.
This report by The Canadian Press was first published Sept. 25, 2022.
What is the Fed Doing? – A Wealth of Common Sense
Don't fight the Fed used to be a positive slogan.
That's not the case anymore.
If anything, it feels like the Fed wants to fight us, all of us, including the stock market and the economy.
The Fed is actively trying to crash the stock market, break the housing market and push the economy into a recession.
How do I know this?
Because Fed officials are literally telling us this every time they speak.
In fact, this week Fed chair Jerome Powell basically said people need to lose their job to slow inflation:
We're never going to say that are too many people working, but the real point is this, inflation, what we hear from people when we meet with them is that they really are suffering from inflation. And if we want to set ourselves up really light the way to another period of a very strong labor market, we have got to get inflation behind us. I wish there were a painless way to do that, there isn't.
We're not saying there are too many people working but we're also not not saying that.
When asked how long Americans should be prepared to experience economic pain, Powell said he wants wages to fall:
How long? I mean it really depends on how long it takes for wages and more than that, prices, to come down for inflation to come down. And so what you see in our projections today is that inflation moves down significantly over the course of next year and then more the next year after that. And I think once you're on that path, that's a good thing, and things will start to feel better to people, they'll feel lower inflation, they'll feel the economy is improving, and also, if our projections are close to right, you'll see that the costs in unemployment are, they're meaningful, and they're certainly very meaningful to the people who lose their jobs, and we talk about that in our meetings quite a lot.
And will this pain lead to a recession? Powell says he doesn't know:
We have always understood that restoring price stability while achieving a relatively modest decline, or rather increase, in unemployment and a soft landing would be very challenging and we don't know, no one knows whether this process will lead to a recession or if so, how significant that recession would be.
Please allow me to translate each of these statements:
The Fed wants the unemployment rate to rise to slow inflation.
They want wages to fall to slow inflation.
They are willing to throw us into a recession to slow inflation.
In some ways, I understand why the Fed is so hell-bent on slowing rising prices. People REALLY don't like sky-high inflation.
But in other ways, I think what the Fed is doing is INSANE.
What are they doing?!
The pandemic seriously messed up the economy and markets in a multitude of ways. The Fed was responsible for some of those problems but there were also extenuating circumstances.
They don't dictate how the different waves of Covid will impact the global economy. They don't control government spending. The Fed can't produce more cars. They can't fix supply chains. They cannot control the actions of a madman in Russia who continues to fight a cruel war against an innocent nation.
I appreciate how the Fed must feel somewhat responsible for the highest inflation reading in 40 some odd years because they kept rates at 0% for a long time and gobbled up bonds like people at Costco eating free samples.
I get it.
The Fed was behind the eightball in terms of seeing this inflation coming. It was supposed to be transitory and it wasn't.
But the Fed has already moved ridiculously fast with their tightening.
Kathy Jones from Charles Schwab looked at the change in Fed Funds Rate during the last 40 years or so of tightening cycles: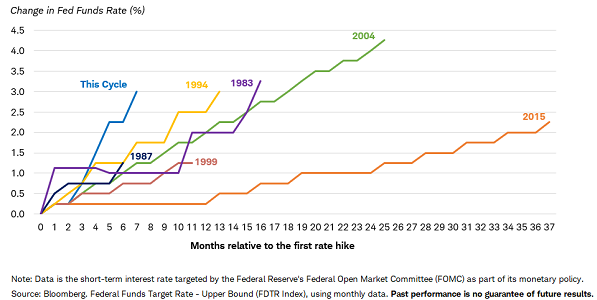 It took them a while to get going but once they realized inflation was an actual problem they've now overcorrected and raised rates at a faster clip than just about every Federal Reserve in history.
They want the stock market to go down. They want people to lose their jobs and make less money. They will take the economy down if they have to so prices will stop rising.
The Fed is more or less telling us they are willing to raise interest rates high enough to crush the economy.
Should we believe them?
For now I guess.
I think Fed officials are so embarrassed they missed inflation getting this high that they're willing to overcorrect to the other side and force us into a recession to prove a point.
On the other hand, the Fed's forecasting ability leaves a lot to be desired.
In September 2020 the Fed predicted it would take until 2023 for the unemployment rate to get to 4%. That seemed reasonable at the time considering how long it's taken for jobs to come back during previous recoveries.

Instead, the unemployment rate was already under 4% by December 2021, years ahead of schedule: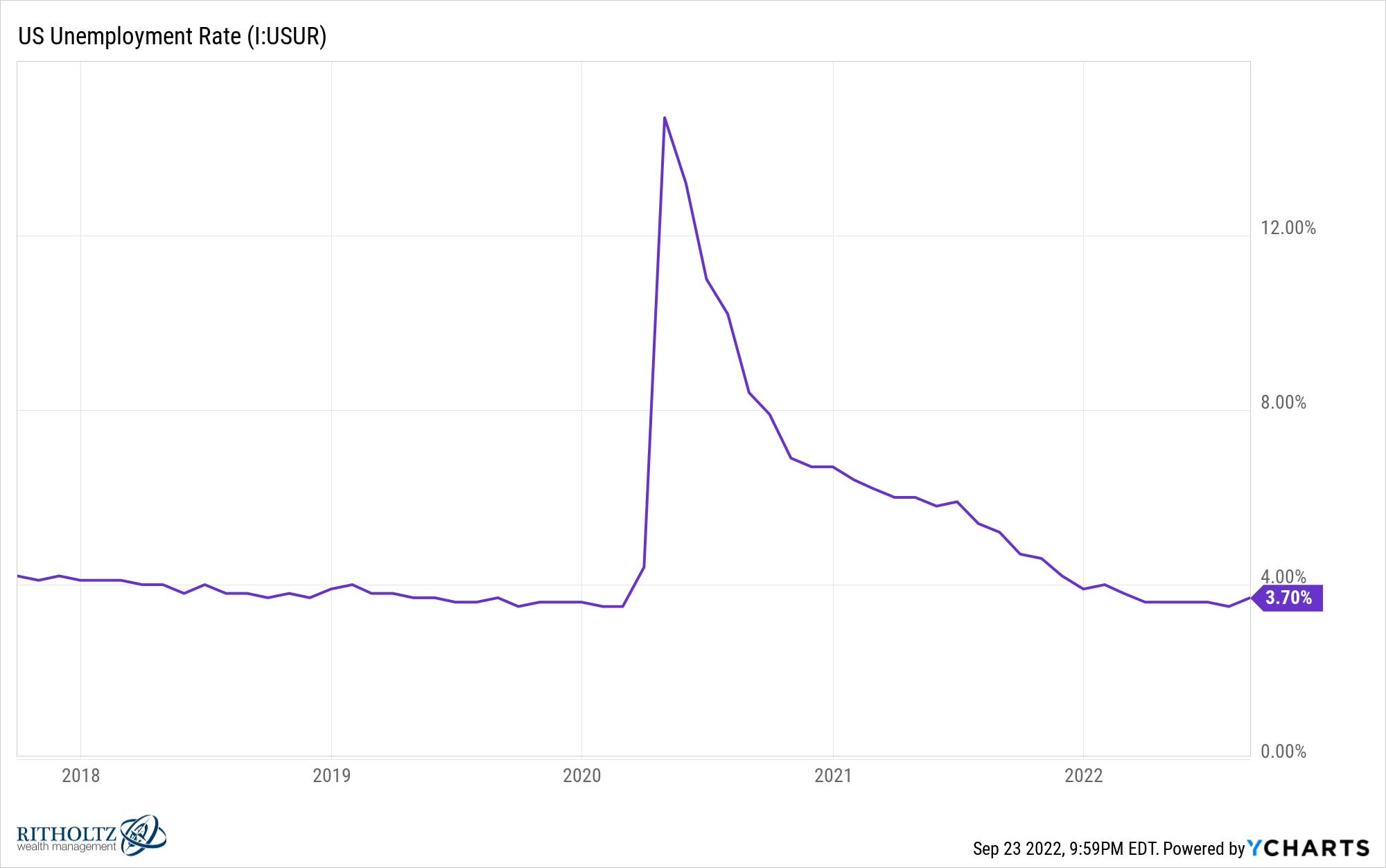 Ok fine, we had the fastest jobs recovery in history from a double-digit unemployment rate. Let's give them a mulligan for that one. It was easy to be pessimistic in 2020 before the vaccine was here.
But how did the Fed do with their predictions once it became apparent the economic recovery was already underway?
Well…
The Fed provided a similar forecast in June of 2021 when it was clear markets and the economy were already recovering:

I've highlighted here the Fed's forecast for short-term interest rates here. They were figuring 0% through the end of 2022 with a 50 basis point hike in 2023.
Obviously, the Fed did not assume we would see inflation rise to 9% this year (neither did I).
But the Fed Funds Rate is now at 3.25%. They have raised rates 75 basis points at the last two meetings. Those two rate hikes are higher than the forecast for rates to rise for the entirety of 2023!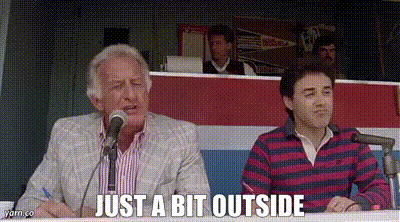 I'm not going to fault anyone for being just a bit outside on their forecast of the economy since the start of the pandemic.
This is clearly one of the most difficult economic environments we've ever experienced. There are no historical precedents for what we've lived through.
It feels like we've been through 7 economic cycles in the past 3 years.
My problem with the Fed is they don't seem to have the humility to admit how difficult of an environment we find ourselves in.
They've already tightened considerably.
The stock market is crashing. The housing market is screeching to a halt. Gas prices are down. Commodity prices are down. Mortgage rates have more than doubled.
Why not give it some time to see how things shake out from here?
Why don't we let the economy breath for a hot minute before trying to get people fired from their job?
I'm not worried about the stock market or the bond market. It's no fun to deal with losses but losses are part of the deal with risk assets.
They'll recover eventually.
It's much easier to recover from a bear market than a job loss. Just think of the millions of people who lost their jobs in 2020 from the pandemic. We really want to put people through that again so soon?
I realize recessions are a feature of this system in which we operate. Downturns are impossible to avoid.
But why would we choose to create one if we can help it?
Why not allow people to see their wages rise for a little longer and have a little patience to see if the pandemic-related inflation stuff will subside on its own?
There are two types of risks when it comes to financial markets — (1) avoidable and (2) unavoidable.
If the Fed sends us into a recession that seems like an avoidable risk to me.
I don't understand what Jerome Powell and company are doing right now.
The good news is the Fed is constantly changing its mind because they're just as bad at predicting the future as everyone else.
Hopefully they come to their senses before they break something.
Further Reading:
How to Prepare For a Recession
Atlanta Fed President Bostic expects job losses but says there's a really good chance to get to 2% inflation without killing the economy – CNBC
President and Chief Executive Officer of the Federal Reserve Bank of Atlanta Raphael W. Bostic speaks at a European Financial Forum event in Dublin, Ireland February 13, 2019.
Clodagh Kilcoyne | Reuters
Raphael Bostic, the president of the Federal Reserve Bank of Atlanta, appeared on CBS' "Face The Nation" Sunday morning with a continued commitment to the 2% inflation target and a cautiously optimistic outlook on the path to get there.
The nation's central bank hiked the targeted federal funds rate by 75 basis points to between 3 and 3 1/4 Wednesday. Bostic believes that the Federal Reserve can achieve its goal of 2% inflation without severely damaging the economy.
"I do think that we're going to do all that we can at the Federal Reserve to avoid deep, deep pain." Bostic told "Face the Nation."
The most recent report clocked inflation at 8.3% through the past year. The Fed is aiming to temper demand in the economy so prices can stabilize, but some fear that the strict policies might initiate further economic turmoil.
Bostic recognized that there will likely be job losses as a result of the Fed's actions. However, compared to prior Fed tightening, Bostic believes that "there is a really good chance that if we have job losses it will be smaller than what we've seen in other situations," he said on "Face the Nation."
Bostic sees "positive momentum" in the economy despite two consecutive quarters of negative GDP growth, a signifier used by some to identify a recession.
"We're still creating lots of jobs on a monthly basis. And so I actually think that there is some ability for the economy to absorb our actions," Bostic said, noting "considerable job growth" in his bank's hometown of Atlanta. "My expectation is that as we move along and we start to get inflation more under control."