Health Canada asks Oxford-AstraZeneca for more vaccine info: In The News for March 30 – The Record (New Westminster)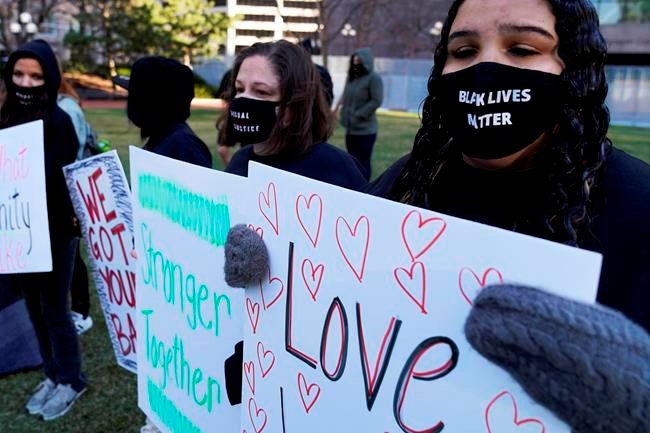 In The News is a roundup of stories from The Canadian Press designed to kickstart your day. Here is what's on the radar of our editors for the morning of Tuesday, March 30…
What we are watching in Canada …
Canadian provinces suspended use of the Oxford-AstraZeneca COVID-19 vaccine in people under age 55 on Monday as Health Canada demanded the company do a detailed study on the risks and benefits of its vaccine across multiple age groups
Use of the vaccine was suspended as the provinces acted on an advisory committee's concerns about a possible link between the shot and rare blood clots.
Dr. Shelley Deeks, the vice-chair of Canada's National Advisory Committee on Immunization, said its recommendations was updated amid new data from Europe that suggests the risk of blood clots is now potentially up to one in 100,000 — much higher than the one in one million risk believed before.
"As a precautionary measure, while Health Canada carries out an updated benefit-risk analysis based on emerging data, NACI recommends that the vaccine not be used in adults under the age of 55 years," Deeks said.
She said most of the patients in Europe who developed a rare blood clot after vaccination with AstraZeneca were women under the age of 55, and the fatality rate among those who developed clots is as high as 40 per cent.
The blood clot condition is known as Vaccine-Induced Prothrombotic Immune Thrombocytopenia. Deeks said it is treatable, and the fatality rate could go down now that it has been identified and symptoms are communicated.
The federal government is expecting around 1.5 million doses of the AstraZeneca vaccine from the United States on Tuesday, which will arrive by truck and represent the first to come from south of the border.
—
Also this …
Global shipping prices will be pushed up by the ship blocking the Suez Canal but it will have a marginal effect on Canadian consumers, aside from potential delays for certain shipments, experts say.
The global supply chain was already under strain because of the COVID-19 pandemic, exacerbating a shortage in container space that has seen shipping prices soar over the last year.
"I think the bigger issue will be delay," said Mary Brooks, a professor emerita at Dalhousie University's Rowe School of Business. "If you're the Home Depot store in Toronto, and you're waiting for a product for your shelf, and it was coming from Singapore through Suez, it might be a week or a week and a half later and your shelf could be empty."
Salvage teams on Monday freed the Ever Given, a massive container ship that became wedged in the side wall of the canal for nearly a week, blocking off traffic in one of the world's most vital waterways.
More than 10 per cent of global trade flows through the Suez Canal, including shipments from India, the Middle East and Southeast Asia to Canada, experts said. The six-day incident at the canal held up almost $60 billion of global trade, according to data from TD Economics.
"The long-term trade impact of these disruptions is likely to be small given that the global trade in goods amounts to $18 trillion a year," said Sohaib Shahid, senior economist at TD Economics. "However, the delays will have a domino effect, which will reverberate across global supply chains for weeks or months to come."
—
What we are watching in the U.S. …
The video of George Floyd gasping for breath was essentially Exhibit A as the former Minneapolis police officer who pressed his knee on the Black man's neck went on trial Monday on charges of murder and manslaughter.
Prosecutor Jerry Blackwell showed the jurors the footage at the earliest opportunity, during opening statements, after telling them that the number to remember was nine minutes, 29 seconds — the amount of time officer Derek Chauvin had Floyd pinned to the pavement last May.
The white officer "didn't let up" even after a handcuffed Floyd said 27 times that he couldn't breathe and went limp, Blackwell said in the case that triggered worldwide protests, scattered violence and national soul-searching over racial justice.
Chauvin attorney Eric Nelson countered by arguing: "Derek Chauvin did exactly what he had been trained to do over his 19-year career."
Floyd, 46, was fighting efforts to put him in a squad car as the crowd of onlookers around Chauvin and his fellow officers grew and became increasingly hostile, Nelson said.
The defence attorney also disputed that Chauvin was to blame for Floyd's death, saying he had none of the telltale signs of asphyxiation and had fentanyl and methamphetamine in his system. He said Floyd's drug use, combined with his heart disease, high blood pressure and the adrenaline flowing through his body, caused a heart rhythm disturbance that killed him.
The downtown Minneapolis courthouse has been fortified with concrete barriers, fences and barbed and razor wire. City and state leaders are determined to prevent a repeat of the riots that followed Floyd's death, with National Guard troops already mobilized.
—
What we are watching in the rest of the world …
Fierce fighting for control of Mozambique's strategic northern town of Palma left beheaded bodies strewn in the streets Monday, with heavily armed rebels battling army, police and a private military outfit in several locations.
Thousands were estimated to be missing from the town, which held about 70,000 people before the attack began last Wednesday.
The Islamic State group claimed responsibility Monday for the attack, saying it was carried out by the Islamic State Central Africa Province, according to the SITE extremist monitoring group.
The rebel claim said the insurgents now control Palma's banks, government offices, factories and army barracks, and that more than 55 people, including Mozambican army troops, Christians and foreigners were killed. It did not provide further detail on the dead.
Earlier this month the United States declared Mozambique's rebels to be a terrorist organization and announced it had sent military specialists to help train the Mozambican military to combat them.
Palma is the centre of a multi-billion dollar investment by Total, the France-based oil and gas company, to extract liquified natural gas from offshore sites in the Indian Ocean. The battle for Palma forced Total to evacuate its large, fortified site a few kilometres outside of the city.
—
On this day 1972 …
Canadian sailors got a daily rum ration for the last time, ending a navy tradition dating back to 1667.
—
In entertainment …
A graphic novel for children that was a spin-off of the wildly popular "Captain Underpants" series is being pulled from library and book store shelves after its publisher said it "perpetuates passive racism."
The book under scrutiny is 2010's "The Adventures of Ook and Gluk" by Dav Pilkey, who has apologized, saying it "contains harmful racial stereotypes" and is "wrong and harmful to my Asian readers."
The book follows about a pair of friends who travel from 500,001 B.C. to 2222, where they meet a martial arts instructor who teaches them kung fu and they learn principles found in Chinese philosophy.
Scholastic said it had removed the book from its websites, stopped processing orders for it and sought a return of all inventory. "We will take steps to inform schools and libraries who may still have this title in circulation of our decision to withdraw it from publication," the publisher said in a statement.
Pilkey in a YouTube statement said he planned to donate his advance and all royalties from the book's sales to groups dedicated to stopping violence against Asians and to promoting diversity in children's books and publishing.
"I hope that you, my readers, will forgive me, and learn from my mistake that even unintentional and passive stereotypes and racism are harmful to everyone," he wrote. "I apologize, and I pledge to do better."
—
ICYMI …
Laurie Metcalf smiles and laughs when she thinks of her character Jackie and her assorted misadventures on the "Roseanne" spinoff, "The Conners."
Dating back to her introduction in Roseanne Barr's 1988's sitcom, Jackie has reinvented herself many times over. She's been a cop, a truck driver, a factory worker, co-owner of The Lanford Lunch Box (which was reopened on "The Conners"), and was for a time, as the character describes it, "Lanford's leading life coach."
The role earned Metcalf three Emmy Awards while "Roseanne" was on the air, but she's content with Jackie being a supporting role.
"A little bit of Jackie goes a long way, so I'm always the weirdo B storyline. Too much of Jackie would be just overdose."
While the character's overall persona has remained unchanged through both series, it's provided a chance to grow as an actor. When "Roseanne" started, Metcalf was a theatre actor with no experience in television.
"Everything was new to me. I had a big learning curve to jump into a multi-camera sitcom," Metcalf recalled.
—
This report by The Canadian Press was first published March 30, 2021
The Canadian Press
Permanent residents in limbo waiting to immigrate to Canada – CBC.ca
Aashray Kovi refreshes his email several times a day hoping for good news from Canadian immigration officials.
The 28-year-old computer programmer from Bangalore, India is one of about 23,000 aspiring immigrants with expired or soon-to-be expired documents waiting to enter Canada during the pandemic.
"It's really depressing for all of us," said Kovi, who plans to settle in Ottawa but can't travel because his confirmation of permanent residency (COPR) document expired in early June.
Late last month, the federal government lifted COVID-19 restrictions allowing anyone with a valid COPR to land in Canada, which comes after a significant drop in immigration in 2020.
The country permitted 184,000 immigrants last year — the fewest since 1998 — compared to 341,000 in 2019. Canada aims to jump-start immigration with 400,000 new residents per year for the next three years.
Quicker process to reapply
There is a silver lining for those like Kovi who, instead of having to reapply for a new document, waits for Canada to reissue the documents.
That will be a quicker process as Immigration, Refugees and Citizenship Canada is making exceptions.
The pandemic has significantly impacted processing times, and the government is contacting individuals with expired papers in the "weeks and months to come," according to a spokesperson for Immigration Minister Marco Mendicino.
Immigration lawyer Kyle Hyndman estimates more than half of those holding expired COPR documents are skilled workers who were chosen "to contribute to the Canadian labour market."
Hyndman said the communication from the federal government has been messy, though.
"These people are kind of in a holding pattern … you do a bunch of things to get ready to move that are kind of hard to undo," he said.
Barely holding on
Sophie Ballesteros from Barcelona, Spain had a job lined up in Halifax and her husband Carlos quit his job months ago to ready himself for a move to Canada.
Then the family's COPR documents expired in June and there's been no word yet on when they'll be renewed.
"This is the first time in my life that I am unemployed," said Carlos Ballesteros. "I don't sleep at night."
Sophie said she is struggling to immerse into her new digital marketing job in Canada while staying physically in Barcelona, while also trying to find a preschool for her four-year-old daughter.
"I have to work within the time zone of Canada and sometimes there are some clients that are from Vancouver," she said. "It's hard for my family."
Sophie and Carlos Ballesteros got ready to make a move to Canada months ago, lining up jobs and bank accounts in Halifax. But border closures prevented the couple from moving and their confirmation documents expired in June. 1:14
After receiving their initial approval documents, Sameer Masih and his wife began selling their belongings, including their furniture and car in New Delhi, India.
Seven months later, the couple and their son live in a mostly empty apartment waiting and hoping to find a better life in Canada.
"I am actually surviving on a bare minimum set up," said Masih, who said the wait cost him a job at his employer's Toronto office.
The lack of clarity has Masih wondering when his Canadian dream will come true.
"The word 'soon' is turning out to be a very negative and dangerous word in this context," he said.
Canada offers 'path to protection' for Afghan interpreters amid 'critical' situation – Global News
HIGHLIGHTS
The Taliban is advancing rapidly across Afghanistan as U.S. forces withdraw.
Afghans who aided Canadian troops during the war there are now facing torture and death from the Taliban, prompting urgent calls for the government to help them.
The program announced Friday will see them and their families welcomed to Canada as refugees, though details on specifics of the plan are scarce.
Canadian officials are on the ground in Afghanistan and working to identify those eligible for a new "path to protection" for Afghans who supported Canadian troops during the war in that country.
The update from the government comes amid what Immigration Minister Marco Mendicino called a "critical" time for those who have helped Canadian soldiers and now face the risk of death and torture by a rapid Taliban advance across the country.
Details on the program are scarce so far but Mendicino said the program will welcome the Afghans and their families as refugees for resettlement. He said while the numbers are in flux, the estimate is that Afghans eligible under the program will be in the "thousands."
READ MORE: Canada has 'moral obligation' to protect Afghan interpreters from Taliban resurgence, say experts
Mendicino said the plan will focus on special immigration measures for Afghan interpreters, Afghans who have worked or are currently working to support the Canadian embassy, as well as their families.
It is also being kept deliberately broad in scope, and will also apply to those who worked in roles such as security guards, cooks, cleaners, drivers, and other roles in support of the embassy.
"We know that time is of the essence," said Mendicino.
"We expect the first arrivals will be in Canada very shortly."
Work continues to try to identify the Afghans who will be eligible, he said, but did not provide details when asked on how many individuals will be able to come to Canada or what the timeline is for the effort.
Defence Minister Harjit Sajjan said they could not provide further details because of "operational security," and said planning with coalition allies on logistics is underway.
"The plan itself has to be guarded for the safety of the people we're trying to bring to Canada," he said.

2:33


Mendicino talks logistics of resettlement plan for Afghan interpreters, advisors



Canada withdrew troops from Afghanistan in 2011 but after roughly 20 years, U.S. forces are now also in the process of withdrawing from the country after waging a war to remove the Taliban from power.
The Taliban are Islamist extremists who enforce sharia law and held power in Afghanistan from roughly 1996 to 2001 when coalition forces overthrew them.
Now, the Taliban insurgency has been making rapid gains and now holds roughly half of the 421 districts as U.S. forces retreat, raising concerns that the militant extremists will be in a position to support other regional terrorist groups like ISIS and also target those who helped Canadian forces during the war.
Thousands of people have fled the Taliban advance.
As the fighters retake broad swaths of territory, former military leaders and veterans of Canada's fight in Afghanistan have been urging the government to act quickly to honour the "moral obligation" this country owes to the Afghans who supported the coalition mission.
Mendicino echoed those sentiments on Friday.
"Not only does Canada owe them a debt of gratitude, we have a moral obligation to do right by them," he said, and described the risk they will face retaliation from the Taliban as "grave."

2:13


Afghan interpreters face death threats from Taliban after U.S. troops leave



In recent days, a group of Canadian veterans have been working to virtually try to coordinate a way for some of the Afghans who worked with soldiers to get to a safer place, pending evacuation, by using their existing network of contacts in the country.
"We managed to get a guy who was surrounded by gunfire, active airstrikes coming in to try and clear the Taliban from the area. He was trapped. And we got him to safety," said Robin Rickards, a Canadian veteran of the war.
"Well, to relative safety."
Global News was able to speak with that man — a former Afghan interpreter who was stuck in Lashkar Gah, the capital of Helmand province currently under siege by the Taliban. Out of concern for his safety, Global News is not identifying the man or where he is currently located.
"They already have information about the people who work with the coalition forces," said the interpreter of the Taliban fighters entering the city.
He described witnessing fighting just 500 metres from his home, and said Taliban fighters are dumping bodies of those who helped coalition forces on highways and roads to send a signal as they continue to retake territory across the country.
"They wanted to show the people … we're going to kill all of them," he said.
"We want the government to start evacuation as soon as possible."

2:22


Canadian veterans mobilize to help, as Taliban targets Afghan translators



The U.S. State Department said on Monday it plans to evacuate around 2,500 Afghans who assisted American troops during the conflict, and fly them to a military base in Virginia within days.
The U.S. also has what's known as the Special Immigrant Visa program which allows those who worked with U.S. troops in Afghanistan or Iraq to apply to immigrate. NBC News has cited U.S. officials as saying thousands of Afghans in the process of applying to that program will be flown to either military bases or a third country in order to be able to complete their application in safety.
It's not yet clear to what extent Canada could coordinate with the U.S. on the evacuations or on moving the Afghans to a safer third country or area while their paperwork is processed.
Sajjan said while Canada is in discussions, he could not provide specific details.
Both the Conservatives and NDP, though, said the government could and should have acted sooner.
Tory Leader Erin O'Toole said the advance of the Taliban was predictable and that there should have been action before now to get the Afghans and their families to safety.
"The Liberal government should have made this announcement weeks ago. The Americans made it clear that they would be leaving Afghanistan months ago, and the rise of the Taliban was an expected result," he said in a statement.
"Instead of putting forward a plan to help the heroic Afghan interpreters, support staff, and their families, the Trudeau Liberals sat on their hands and did nothing. It's quite disappointing that these Afghans who saved the lives of our men and women in uniform were an afterthought to this Liberal government."
NDP defence critic Randall Garrison accused the government of treating the Afghans as an "afterthought" and criticized the lack of details about the plan from the government.
"The US government has committed to providing airlift services for Afghans while their applications are processing, but details of the program are lacking from the Canadian government, including how quickly they will be able to bring them to safety," he said.
"These collaborators, who played a vital role, have been abandoned for a decade without the support they desperately needed to find safety in Canada and deserve better. Countless interpreters and vital staff along with their families have been living in danger while the Liberals dragged their feet."
© 2021 Global News, a division of Corus Entertainment Inc.
Heat waves are increasing across Canada — and hotter nights are also dangerous – CBC.ca
When it comes to climate change, there is one fairly well-understood extreme that will affect humans in the decades to come: heat.
Scientists know that climate change will see events like hurricanes, droughts, floods and heat waves increase in frequency or intensity. But when it comes to heat waves in particular, it's already being seen across the world with deadly consequences. According to a recent study published in the journal The Lancet, more than five million deaths annually between 2000 and 2019 were associated with "non-optimal temperatures," with roughly 500,000 of these deaths related to heat.
While many of these deaths occur in tropical countries, heat waves are beginning to affect more northerly climes.
During the heat wave that suffocated British Columbia at the end of June into the first week of July, more than 800 people (as of this writing) died in the province. For comparison, in the same period last year, there were 232 deaths, according to B.C. Coroners Service's chief medical officer, Dr. Jatinder Baidwan. The coroner's office is continuing to investigate all of the deaths in order to nail down exactly how many were heat-related.
While we know that daytime temperatures are rising, in some regions — specifically in parts of Ontario and Quebec — nighttime temperatures are warming faster.
Those warmer nights mean our bodies don't have any time to cool off. For people with health issues like heart disease or asthma, for example, this can be extremely problematic and potentially deadly.
"Our bodies were not designed to put up with environmental heats that exceed the high 30s," Baidwan said. "If you think about it, what happens to an air conditioning unit? When you stress it, it builds up with lots of ice on the outside and then it stops working. And in some ways that's a great analogy for what happens to our bodies. With extreme heat, we just find it really hard to do the usual homeostatic sort of mechanisms and protocols that happen in our body."
WATCH | How can we better prepare our homes and buildings for rising temperatures?
After a record-breaking heat wave in B.C., experts weigh in on long-term and efficient infrastructure solutions. 5:59
The heat wave that affected the Pacific Northwest was highly unusual — a one in 1,000-year occurrence, according to a recent analysis by the group World Weather Attribution, a collection of scientists who analyze severe weather events. However, parts of eastern Canada, including Ontario and Quebec, are seeing more frequent heat waves and tropical nights, defined as nighttime temperatures 20 C or higher.
For example, according to the Climate Atlas of Canada, the number of tropical nights in Toronto averaged roughly 6.9 annually from 1976 to 2005. With climate change, under a scenario where carbon emissions decline substantially, that is expected to climb to 17.6 annually from 2021 to 2050.
If current rates of carbon emissions continue, the average number of tropical nights in Toronto is expected to hit 20.6 annually from 2021 to 2050. From 2051 to 2080, under the two different scenarios for emissions, the average number would rise to 26.4 and 42.8 respectively.
In 2018, a heat wave blanketed Montreal from June 29 to July 5; temperatures averaged roughly 34 C during the day. Nighttime temperatures didn't fall below 20 C. In all, 66 people died.
"We're seeing an increase in hot extremes in Canada that's larger than the global mean warming," said Nathan Gillet, a research scientist with Environment and Climate Change Canada. "The average warming in Canada is about twice the global mean warming. And the heat extremes are also increasing at a similar rate. And it's not just the hottest, maximum temperatures, but the minimum temperatures, the nighttime minimums that are also increasing."
Widespread effects on nature
Average temperatures in Canada have already warmed by 1.7 C and the country is warming at more than twice the rate of the planet.
Increasing heat waves with higher-than-average temperatures during days and nights are also taking a toll on animals and delicate ecosystems, as well as crops.
A study published in the journal Global Change Biology last October found that nighttime temperatures are rising across most of the world. In those areas that saw more nighttime temperature warming than daytime, there was more cloud cover, higher precipitation and more humidity. This can affect nocturnal animals, but also animals that are active during the day who use the cooler nighttime temperatures to recover from heat stress.
"[The changes] increase the boundaries at which nocturnal species can operate. So you may get shifts in ranges, which then messes up ecosystems from changing competition and changing predation/prey relationships, and things like that," said Daniel Cox, lead author of the study and a research associate in the U.K. at the University of Exeter's Environment and Sustainability Institute.
A new set of metrics
With the changing climate, governments are finding they need a new set of metrics for severe heat events.
In 2013, Australia added new colours to their heat maps, as temperatures soared beyond anything they'd experienced in the past.
More recently, on Tuesday, the U.K. Met Office issued its first Amber Extreme Heat Warning as temperatures were forecast to rise to the 30s in parts of the country. Daytime temperatures in the 30s may not seem high compared to some parts of Canada but it's all about what people are accustomed to.
This is how all the Junes since 1880 stack up.<br><br>This is Northern Hemisphere temperature anomaly compared to the long term average 1951-1980. <a href="https://t.co/97Bn0SnuGn">pic.twitter.com/97Bn0SnuGn</a>

&mdash;@ScottDuncanWX
In another example of how governments are attempting to adapt to a warming climate, a team from the Institut national de la recherche scientifique (INRS) in Quebec, together with the Institut national de santé publique du Québec (INSPQ) announced on Wednesday that a new heat wave warning threshold for the province should be introduced. Quebec's warm seasons, researchers said, are starting earlier and ending later.
As Earth continues to warm, air conditioning may seem like a possible solution. The problem is that energy is needed to operate them, and this also produces heat. And cities create "heat islands" where heating is further amplified by concrete structures, adding more stress to people who are living in a hotter climate. Some cities like Toronto and Montreal are trying to introduce greener building codes and designs to address this.
"[Heat waves aren't] something we think about as a big hazard in Canada, but as the climate warms, we're going to see this more and more," said Environment and Climate Change Canada's Gillet. "Heat waves cause deaths and and are dangerous. And yeah, it is something … that we're going to see more and more here in Canada."