Health minister Elliott says Ontario not ready to release more detailed vaccine plan – 680 News
Ontario's health minister says the province is not ready to release a more detailed COVID-19 vaccine rollout plan because of continued supply shortages.
Christine Elliott says the province knows which age groups it wants to prioritize as it distributes its vaccines, but it does not yet have a reliable supply chain.
Elliott says until the vaccine stock becomes more dependable, the province does not want to release timelines it may not be able to achieve.
She says the impending federal approval of a third vaccine – the shot manufactured by AstraZeneca – could also change the province's targets.
This comes after some fireworks during the first Question Period at Queen's Park in two months.
Liberal MPP John Fraser and other opposition members went right after Premier Doug Ford regarding the vaccine rollout in long-term care.
---
RELATED: Ontario regrets 'miscommunication' error that led to false claim of COVID-19 vaccinations in LTC homes
---
Meanwhile, the vast majority of Canadians said they blame the feds rather than provincial governments for delays in COVID-19 vaccine delivery, a new poll suggests.
Sixty-nine percent of respondents believe Canada is behind on deliveries due to federal challenges obtaining doses on the global market, according to an online survey by Léger and the Association for Canadian Studies.
The province says it is creating an online booking system to help expand its vaccine rollout in the coming weeks.
On Sunday, the province updated its priority list to identify adults aged 80 and older, seniors in congregate care, and Indigenous adults as those next in line for a shot.
Coronavirus: What's happening in Canada and around the world on Saturday – CBC.ca
The latest:
Some provinces are speeding up plans to get people inoculated against COVID-19, following the approval of a fourth vaccine and increased supplies.
Those adjusting their timetables for vaccine rollouts include Ontario. The head of the province's COVID-19 task force, retired general Rick Hillier, said on Friday he hopes everyone who wants a vaccine will get one by the start of summer.
He said all adults in Ontario could receive the first dose of a COVID-19 vaccine by June 20 now that extra doses are on their way to Canada.
On Friday, federal officials announced expedited shipments of 3.5 million doses of the COVID-19 shot from Pfizer-BioNTech, the same day Health Canada approved Johnson & Johnson's vaccine candidate, which is not expected to ship before April.
Prime Minister Justin Trudeau said Pfizer doses originally set to arrive in the summer would instead be delivered over the spring. He said Canada should have eight million doses available of several vaccine types by the end of March.
WATCH | Ontario to accelerate inoculations as vaccine supply ramps up:
Retired general Rick Hillier, head of Ontario's Vaccine Distribution Task Force, says the addition of two newly approved COVID-19 vaccines will allow the province to 'crush those timelines' and get one dose of vaccine into every willing Ontarian who is eligible by June 20. 1:17
Meanwhile, Manitoba announced that all eligible adults in the province could have at least one dose of a COVID-19 vaccine by mid-May or the end of June at the latest.
In New Brunswick, chief medical officer of health Dr. Jennifer Russell said Friday that with the expected arrival of the province's first shipment of the two-dose AstraZeneca-Oxford vaccine later this month, New Brunswick is pledging to provide one dose of COVID-19 vaccine to every New Brunswicker before the end of June.
Alberta has also revised its estimates around vaccines, with Health Minister Tyler Shandro saying on Thursday that the province expects "to have offered every single adult in the province at least one dose of COVID-19 vaccine" by June 30.
What's happening in Canada
As of 11 a.m. ET on Saturday, Canada had reported 883,505 cases of COVID-19, with 29,902 cases considered active. A CBC News tally of deaths stood at 22,208.
Nova Scotia Premier Iain Rankin called the federal go-ahead for the Johnson & Johnson vaccine a "positive step forward" on Friday, as health officials geared up for the opening of the first of 10 community inoculation clinics across the province next week.
Rankin confirmed that the province would be adopting a 16-week interval between the first and second doses, so all Nova Scotians who want to be vaccinated will get one shot by the end of June.
The province reported six new cases of COVID-19 on Saturday.
WATCH | Canadian researchers looking for ways to cut down PPE waste:
Across Canada, research engineers and physicians are developing recycling systems and pushing for more sustainable options to reduce hospital waste. That's because the COVID-19 pandemic has caused a surge in use of personal protective equipment, which has meant more plastics ending up in landfills. The federal government estimates 63,000 tonnes of COVID-19 related PPE ended up as waste last year. 2:01
New Brunswick reported four new cases on Friday, while Prince Edward Island reported one new COVID-19 case.
Health officials in Newfoundland and Labrador reported one new case of COVID-19 on Friday and announced that four testing centres will be accepting appointments for asymptomatic people to get tested.
Ontario, which reported 990 new cases of COVID-19 on Saturday and six additional deaths, is planning to loosen restrictions next week in Toronto and Peel Region, lifting a strict stay-at-home order imposed earlier this year.
WATCH | Three trans women of colour on dealing with pandemic isolation:
Three Toronto transgender women of colour share how they're enduring the pain and isolation of pandemic social restrictions and how they're looking forward to better days. 4:05
The two regions, along with North Bay-Parry Sound, were the last ones still under the order, while most of the province transitioned back to the government's colour-coded pandemic response framework last month.
Toronto and Peel will be placed in the strictest "grey lockdown" category of the framework starting Monday, as was recommended by public health officials in the two areas. North Bay, meanwhile, will be placed in the red zone, the second-most restrictive level of pandemic measures.
Quebec reported 749 new cases on Saturday and 10 additional deaths. There are 601 people in hospital, a decrease of 16 from the previous day, with 109 patients in intensive care, a decrease of two.
​​​​​​Manitoba reported 54 new cases of COVID-19 on Friday, along with one related death.
Saskatchewan reported 207 new cases of COVID-19 on Friday, along with two related deaths.
Alberta reported 411 new cases of COVID-19 and two related deaths on Friday.
British Columbia reported 634 new cases of COVID-19 and four related deaths on Friday.
Across the North, Nunavut reported four new cases of COVID-19 on Friday, all of them in the hamlet of Arviat.
---
What's happening around the world
As of Saturday morning, more than 116.1 million cases of COVID-19 had been reported around the world, with more than 65.6 million of the cases listed on the Johns Hopkins University tracking site as resolved. The global death toll stood at more than 2.5 million.
Saudi Arabia will end most coronavirus-related restrictions on Sunday, including resuming indoor dining, reopening cinemas and resuming entertainment activities and events, the state news agency SPA said on Saturday.
Some activities will remain banned, including weddings and corporate meetings. Social gatherings will continue to be limited to a maximum of 20 people, SPA said, citing an Interior Ministry source.
In Japan, about 70 anti-Olympics protesters gathered and marched in central Tokyo on Saturday to call for the cancellation of the Olympic Games this summer.
The protest march started from National Stadium where the opening ceremony for the Games is planned, and went through the busy shopping street of Omote Sando.
Protesters held banners and shouted slogans denouncing the Olympics and Paralympics.
"We think it is too reckless to hold Olympics in this situation," said one protester, Yoko Kataoka, citing the country's not-contained COVID-19 situation.
The Olympics are scheduled for July 23 to Aug. 8 and the Paralympics from Aug. 24 to Sept. 5.
WATCH | WHO says patents should be waived to get more vaccine made in more countries:
There isn't enough COVID-19 vaccine getting to countries through the COVAX system, says the World Health Organization, so it's recommending an emergency waiver of medical patents to ramp up vaccine production in developing countries. 0:53
In Germany, supermarket chain Aldi began selling coronavirus home testing kits on Saturday. They are only available directly at the supermarket checkout and are limited to one pack per customer. Each contains five rapid tests and costs about 25 euros ($37 Cdn.)
In some cases, long queues formed in front of many supermarket stores and supplies quickly sold out. Other German supermarket chains, such as Lidl, Rewe and Edeka, also plan to offer rapid tests soon.
So far, seven brands of home testing kits have been granted the special permission.
990 new coronavirus cases and 6 more deaths reported in Ontario – CP24 Toronto's Breaking News
Ontario is reporting fewer than 1,000 new COVID-19 cases and six additional deaths on Saturday, a drop in the daily case count compared to a day ago.
Provincial health officials reported 990 new cases, a notable dip from 1,250 on Friday.
Ontario logged 994 infections on Thursday, 958 on Wednesday and 966 on Tuesday.
The seven-day rolling average is now 1,035.
Yesterday, Ontario labs processed more than 57,800 tests, a drop from 64,748 tests the previous day.
According to the Ministry of Health, the province's positivity rate is now 2.3 per cent, unchanged from a day ago.
The latest numbers come after the provincial government announced yesterday that the stay-at-home order would be lifted for Toronto and Peel Region and that they will enter the grey lockdown level of the province's tiered response framework on Monday. This means that all non-essential retail stores are allowed to reopen with 25 per cent capacity but in-person dining is still not permitted, and gyms, hair salons, and other personal care services must remain closed.
More to come.
The numbers used in this story are found in the Ontario Ministry of Health's COVID-19 Daily Epidemiologic Summary. The number of cases for any city or region may differ slightly from what is reported by the province, because local units report figures at different times.
Here's what you need to know about Phase Two of the vaccine rollout – BayToday.ca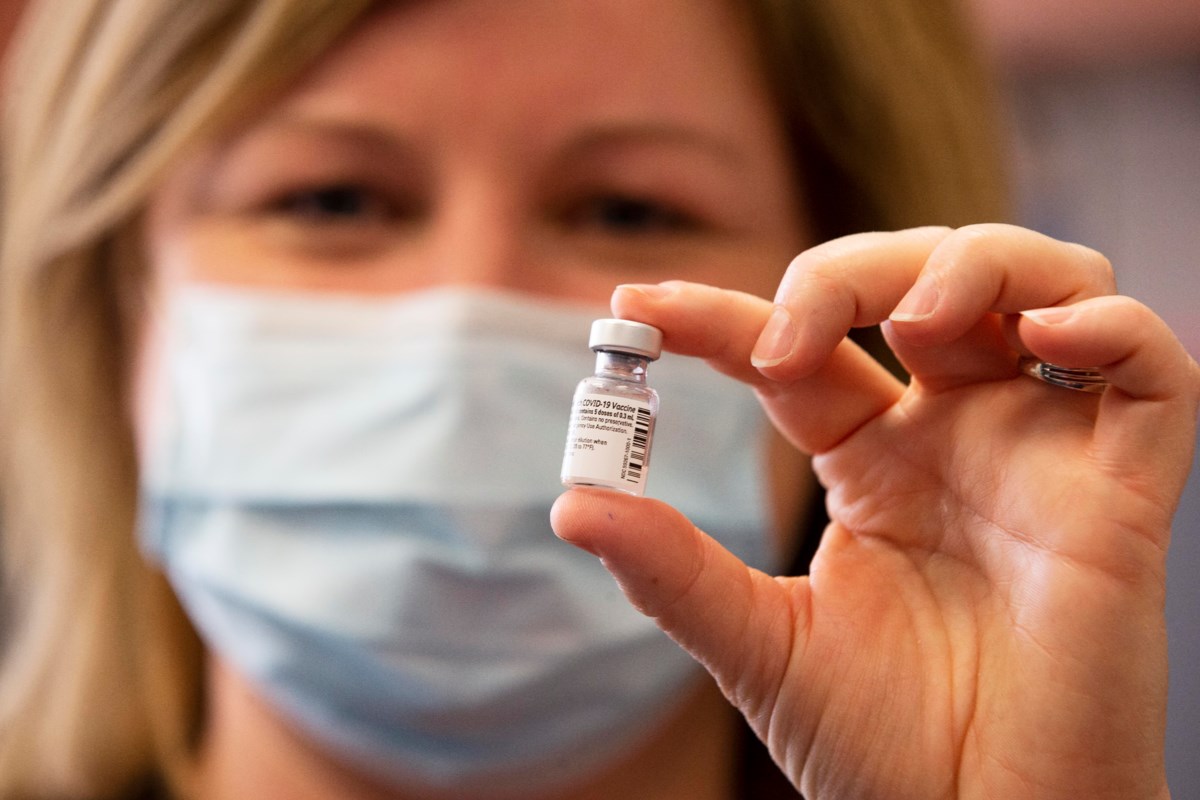 The Ontario government is preparing to move into Phase Two of its COVID-19 vaccine distribution plan next month, with a focus on vaccinating populations based on age and risk.
Here's what you need to know.
Vaccines will be administered in hospital clinics, primary care settings, mass vaccination sites, mobile clinics and pharmacies across the province by frontline health care heroes."
With vaccine supply stabilizing and over two million doses of the COVID-19 vaccine expected before the end of March, the province will enter Phase Two of its vaccine rollout.
Between April 2021 and July 2021, up to nine million Ontarians will be vaccinated.
During Phase Two, groups that will receive the vaccine include:
Older adults between 60-79 years of age;
Individuals with specific health conditions and some primary caregivers;
People who live and work in congregate settings and some primary caregivers;
People who live in hot spots with high rates of death, hospitalizations and transmission; and,
Certain workers who cannot work from home.
Starting March 15, the province will launch an online booking system and a provincial customer service desk to answer questions and support appointment bookings at mass immunization clinics.
This will initially support individuals over the age of 80 as part of Phase One, eventually extending to more groups during Phase Two.
The fight against COVID-19 continues to be our government's top priority," said Solicitor General Sylvia Jones. "With the approval of the AstraZeneca vaccine, and now the Johnson & Johnson vaccine, and with increased supplies coming into the province, this gives us renewed focus to get even more Ontarians vaccinated sooner. We've made tremendous progress and ask that Ontarians continue to stay the course to protect themselves and keep their families, friends and communities safe.
As supply increases, Ontarians will be able to get vaccinated with the three Health Canada approved vaccines in several new settings. In addition to hospitals, mobile clinics and mass vaccination clinics, the province is working with the pharmacy sector and with primary care professionals to offer vaccinations in primary care settings and community locations in collaboration with public health units. A pilot for pharmacy vaccine administration is planned for mid-March in select regions, including Toronto, Windsor and the Kingston, Frontenac and Lennox & Addington region, followed by specific primary care pilots in collaboration with public health units.
Ontario will enter Phase Three when vaccines are available for every Ontarian who wishes to be immunized. While vaccines will not be mandated, during Phase Three, people will be strongly encouraged to get vaccinated.
For the month of March, Ontario is expecting to receive 870,480 doses of the Pfizer-BioNTech vaccine and 483,700 doses of the Moderna vaccine. Ontario is also expecting to receive 194,500 doses of the AstraZeneca vaccine the week of March 8, timing pending confirmation from the federal government.
If you're aged 80 or older and you don't live in a congregate care setting, you may be able to book a vaccine appointment through your public health unit. Find your public health unit and contact them for information.