Tyson, Jones Jr. exhibition ends in 8-round draw
Mike Tyson showed glimpses of his destructive prime Saturday night during the 54-year-old boxing icon's return to the ring for a lively exhibition bout with 51-year-old Roy Jones Jr.
Both fighters had impressive moments during a fight that was unofficially ruled a draw by the WBC judges at ringside. Tyson and Jones fought eight two-minute rounds, and both emerged smiling and apparently healthy from a highly unusual event at Staples Center.
"This is better than fighting for championships," Tyson said of the heavyweight exhibition, which raised money for various charities. "We're humanitarians now. We can do something good for the world. We've got to do this again."
The former heavyweight champion of the world's return to the ring after a 15-year absence attracted international attention, and Iron Mike did his best to show the form that made him a legend to a generation of boxing fans. Tyson tagged Jones with body shots and a handful of head punches during a bout that was required to be a fairly safe glorious sparring session by the California State Athletic Commission.
"The body shots definitely took a toll," said Jones, the former four-division world champion widely considered the most skilled boxer of his generation. "It's something to take the punches that Mike throws. I'm cool with a draw. Maybe we can do it again."
[embedded content]
---
Jones walked to the ring with gloves and trunks honouring Lakers legend Kobe Bryant, while Tyson wore his signature all-black trunks. After the traditional pre-fight pomp and an introduction by Michael Buffer, the 50-something champions both came out throwing punches that evoked echoes of their glorious primes.
They also tied up frequently on the inside, and their occasionally laboured breathing could be heard on the microphones in the empty arena.
Hip hop performances also featured in empty arena
Hip hop star Snoop Dogg's witty television commentary was among the loudest noises inside Staples, and he had a handful of zingers. "This is like two of my uncles fighting at the barbecue," he exclaimed.
Tyson and Jones were the headliners in the most improbable pay-per-view boxing event in years, engineered by social networking app Triller and featuring fights interspersed with hip hop performances in an empty arena.
The event was derided as an anti-sporting spectacle by some critics, yet both Tyson and Jones appeared to handle themselves capably and safely. Fans were clearly enamoured, with the show getting enormous traction on social media.
"I hit you with some good shots, and you took it," Tyson said. "I respect that."
In the co-main event, YouTube star Jake Paul knocked out former NBA player Nate Robinson, stopped in the second round of Robinson's pro boxing debut. Paul, in his second pro fight, recorded three knockdowns against Robinson, the three-time NBA Slam Dunk contest champion, before an overhand right put Robinson flat on his face and apparently unconscious.
Two legends of the game 👏 <a href="https://twitter.com/hashtag/TysonJones?src=hash&amp;ref_src=twsrc%5Etfw">#TysonJones</a> <a href="https://t.co/4HnO61bzKe">pic.twitter.com/4HnO61bzKe</a>

&mdash;@BTSportBoxing
---
Tyson who posted a 50-6 career record with two no-contests, won his first heavyweight championship belt in 1986, and he was the undisputed world champion from 1987-90. He spent three years in prison after he was convicted of rape in 1992; upon his release, he regained pieces of the heavyweight crown in 1996.
Tyson retired from boxing in 2005, saying he longer had "the fighting guts or the heart" after he quit in a dismal loss to journeyman Peter McBride. Finally free of his sport's relentless pressure, Tyson gradually straightened out his life, kicking a self-described drug addiction and eventually succeeding in acting, stage performance, charity work and even marijuana cultivation while settling into comfortable family life in Las Vegas with his third wife and their children.
The idea of a boxing comeback seemed preposterous, but Tyson started toward this unlikely fight when he started doing 15 daily minutes on a treadmill a few years ago at his wife's urging in a bid to lose 100 pounds. The workouts soon became multi-hour affairs encompassing biking, running and finally punching as he regained a measure of his athletic prime through discipline and a vegan diet.
Tyson posted a video of himself hitting pads on social media early in the coronavirus pandemic, and the overwhelming public response led to several lucrative offers for a ring comeback. With the chance to make money for himself and for charity, Tyson eventually agreed — but he had to find an opponent.
Jones first entered the spotlight when he won a silver medal as a light middleweight in the 1988 Sumnmer Olympics in Seoul. He went on to hold the world middleweight, super middleweight, light heavyweight and heavyweight championships during a career that saw him start 49-1 before he ended up at 66-9.
Jones fought steadily into his late 40s, but thought he was done with the sport after winning his last bout in 2018. He couldn't resist the chance to take on Tyson after the greats never met during their first professional careers because Tyson was a heavyweight and Jones mostly was a light heavyweight (178 pounds).
Tyson and Jones negotiated with the California commission over the limitations of their bout, eventually arriving at eight two-minute rounds of hard sparring with only ceremonial judging and no official winner. The WBC still stepped in to award a ceremonial "Frontline Battle Belt" to both fighters.
Source: – CBC.ca
Canucks' Elias Pettersson appears to rediscover confidence after slow start – Sportsnet.ca
VANCOUVER – Since eight games weren't enough to judge and write off Elias Pettersson's season, one game is a preposterously small sample in which to conclude that the worst is over and the Vancouver Canucks' best forward is back.
But Wednesday, for the first time in 2021, Pettersson looked like the confident, driven offensive star who burst upon the National Hockey League two-and-a-half years ago.
It wasn't just that the 22-year-old had a goal and assist, matching his output from the previous eight games, in the Canucks' 5-1 win against the Ottawa Senators. It was that Pettersson had nine shot attempts, hitting a post and a crossbar as well as scoring. It was that he made one goal possible with a strong defensive play in the neutral zone, and on another play bowled over Evgenii Dadonov when the Senators winger came to deliver a hit.
It was this 200-foot game, this so-what-are-you-going-to-do-about-it swagger, that Pettersson was missing as well as the points during the Canucks' false start to the 56-game season.
"I think when Petey is on top of his game, you actually see a high compete level," Canucks coach Travis Green said after his team inched back towards .500 — a minimal threshold it can attain if it completes a three-game sweep against last-place Ottawa on Thursday at Rogers Arena. "We didn't have exhibition (games); sometimes it takes a little time to get your engine running as hot as it needs to.
"I think we saw glimpses of it tonight out of that line. But you're right, when he's engaged and on top of his game, you do see good things come out of other areas of his game that maybe don't have anything to do with offence. And really, that's part of winning hockey. All your players have to have that in them if you're going to win."
Pettersson and linemates J.T. Miller and Brock Boeser generated three second-period goals after the Canucks barely survived the first when they needed 22 saves from goalie Thatcher Demko to maintain an early 1-1 tie.
The only forward who has struggled as much to meet expectations as Pettersson, Miller scored his first two goals of the season six minutes apart in the middle period as the Canucks blew the game open.
Miller said he thought the third period was his line's best this season although remarkable grinder, Tyler Motte, scored the only Vancouver goal — his fifth in nine games.
"We're relied upon to put points up and produce for our team," Miller said. "We're relied on to work hard and create momentum for our team. Typically, when we work hard, the ice opens up like it did in the third period. We need to be better at the start of the game. I mean, I guess it's nice to produce a little bit but at the same time, our standards are higher than a couple of open nets (goals)."
Miller has said it took him years in the NHL to figure how to be the player he has become. Pettersson is starting only his third season.
What wisdom would Miller offer his linemate?
"Just worry about his game," he said. "There's a lot of outside noise comes in here all the time and he has to answer about how he's not good enough or whatever it is. He is our best player. I'm not worried about him at all. We know what makes him a good player and we have complete faith that he's going to play well for us coming up."
Miller's definition of "all the time" probably differs from reporters' as Pettersson is available to the media only for a few minutes on Zoom two or three times a week.
He didn't go more than two games without a point of all last season, but has already endured a five-game scoring famine this season. He looked tentative in some games, hesitant to shoot. At times, he looked at war with the puck, struggling to control it. And he wasn't engaged physically and defensively like he was Wednesday.
"I think frustration comes when we're not winning games," Pettersson said. "I think everybody in the locker room wants to win, win badly. Our confidence is good, both for me, and the team. (We) are believing each other, so just build on these two games.
"There's always pressure. And I'm the guy to put the most pressure on me. I always want to play good. I'll be honest, my first couple of games haven't been the way I wanted to play. I think today was definitely a step in the right direction, but me and our line definitely have a lot more to give."
The Canucks top players will have to give more because the team can't ask for any more than what its bottom-six forwards have given. And through two wins against the Senators, by an aggregate score of 12-2, they can't ask anything more of Demko.
His 42-save performance Wednesday was even more impressive than Monday's 7-1 romp, not only because the Canucks were so poor in front of him in the first period, but because he backed up one excellent performance with a great one.
Two games are not a fluke. Demko has elevated his play and looks suddenly like the goalie whose spectacular playoff cameo last summer made starter Jacob Markstrom a little more expendable.
"The way things are kind of going, one game at a time isn't going to be good enough," Demko said. "We've got to start stringing something together."
Blue Jays likely not done adding after trading for Steven Matz from Mets – Sportsnet.ca
TORONTO – Before the acquisition of lefty Steven Matz from the New York Mets for minor-league right-handers Sean Reid-Foley, Yennsy Diaz and Josh Winckowski, a quick look at FanGraphs' projections for the Toronto Blue Jays in 2021 may have been somewhat surprising.
At a collective 15.8 WAR, their pitching staff ranked seventh in the majors, ahead of well-regarded clubs like the Nationals, Rays, Atlanta and Cleveland, among others.
Projections, of course, guarantee nothing, but as an objective measure of how teams stack up, that certainly isn't a standing that matches perception.
Promising as that sounds, the current list also demonstrates the gap between them and the pitching staffs of the New York Yankees (23.3) and Chicago White Sox (17.5), and the narrow margin between them and the Twins (15.7), Red Sox (15.3), Rays (15.0), Angels (14.7), Cleveland (14.6) and Athletics (14.3).
Matz alone isn't going to address that, which is why you can expect more to come from the Blue Jays on the pitching front.
Still, with mid-90s stuff and a strike-throwing track record, Matz is an intriguing upside play, picked up for two down-roster relievers clinging to their 40-man roster spots plus a farmhand passed over in the Rule 5 draft, at a reasonable salary of $5.2 million.
He comes with some volatility, to be sure, especially after shoulder soreness landed him on the injured list during a dreadful 2020, when he posted a 9.68 ERA in 30 innings over nine games, six starts, and allowed an alarming 14 home runs.
There's opportunity, too, as he's been mostly sinker/changeup in recent years, and one school of thought is for him to resume using the four-seamer he dropped two years ago and throw his curveball – a pitch he's said to have been emphasizing and made gains with this winter – more often.
That's yet another project for pitching coach Pete Walker, who has a strong track record of helping pitchers rebound. His work with Robbie Ray after his acquisition from Arizona at the trade deadline helped convince the lefty to return on an $8-million, one-year deal, and the Blue Jays will be looking for Matz to enjoy a similar resurgence.
As things stand, the 29-year-old selected in the second round of the 2009 draft is set to join a prospective rotation fronted by Hyun-Jin Ryu, Ray, Nate Pearson and Tanner Roark. Ross Stripling and Tyler Chatwood can both start or deliver bulk from the bullpen. Thomas Hatch, Trent Thornton (returning from Tommy John), Anthony Kay, Julian Merryweather, T.J. Zeuch and Patrick Murphy supply depth at triple-A that will be needed to cope with the inevitable attrition caused by the transition from 60 to 162 games Major League Baseball plans this summer.
Speaking to reporters before the Matz trade, GM Ross Atkins said the Blue Jays will add more depth through minor-league deals, but added that, "we're at the point now where if we were to acquire two major pieces, it would require likely subtracting from our roster."
"Not for financial reasons, but just because of opportunity reasons," he continued, "wanting guys like Julian Merryweather to have a really good shot at being a big part of this team. Jordan Romano obviously proved himself to be a part of that, and Ryan Borucki as well. At some point, you start to run out of the opportunity for growth and for development for guys that we really do believe in."
Matz makes it one major piece and, speculatively, the Blue Jays could move Roark to free up both the opportunity Atkins mentioned, and perhaps some money, as well.
As things stand, they have about $130 million in commitments in place for 2021, with another roughly $10 million due for pre-arbitration players. A No. 2-3 type starter would be ideal to further stabilize the starting staff.
Roark is due $12 million and reallocating his rotation spot and salary is one path to more rotation impact. Moving one of the team's four everyday outfielders is another.
Either way, the Blue Jays aren't done, even after a frenetic 10 days of roster reshaping that has not only spiked their projections on the position player side, but also intriguingly raised the objective outlook on their pitching staff, too.
Canucks dominate Senators to extend Ottawa's losing skid – TSN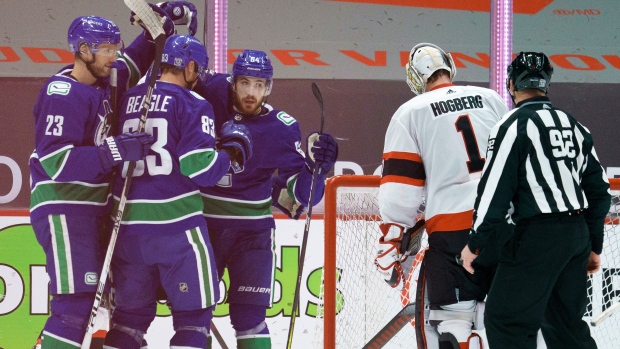 VANCOUVER — The Vancouver Canucks' so-called "lotto line" is starting to cash in.
The top trio of Brock Boeser, Elias Pettersson and J.T. Miller — dubbed the lotto line for their jersey numbers 6, 40 and 9 — combined for three goals and five points Wednesday as the Canucks downed the Ottawa Senators 5-1.
Miller had two goals and an assist in the victory, but feels he and his linemates have more to give.
"I think we need to push ourselves," he said. "I know it looks pretty for you guys because I got some points today but at the same time there's not much difference in the game."
The line did appear to find its latent chemistry on Wednesday, however.
Early in the second frame, Pettersson looked as if he were about to wind up for a big shot on a breakaway, then dropped a pass to defenceman Quinn Hughes instead. Hughes slipped the puck to Miller and the winger buried it from in tight.
It was Miller's first goal of the year. Last season he led the Canucks in scoring with 72 points (27 goals, 45 assists) in 69 regular-season games.
The NHL's COVID-19 protocols kept him out of the lineup for Vancouver's first three outings this year.
Miller admitted that he initially struggled after returning to the lineup.
"Sure at the beginning, probably the first three games. My legs were seizing up like halfway through the games and it was hard. I definitely had couch legs," he said.
"But last three or so I felt pretty good. Obviously, I would like to be better on a personal standpoint but my legs weren't the issue. I was skating well, just wasn't making the plays I wanted to with the puck in the hard areas."
Miller also assisted on Pettersson's goal Wednesday night, a blast from the point on a second-period power play.
The Swedish centre has been limited to two goals so far this year, and said he's felt the crunch to perform.
"There's always pressure and I'm the guy that puts the most pressure on me," Pettersson said. "I always want to play good and I'll be honest, my first couple of games haven't been the way I want to play. Today was definitely a step in the right direction, but me and our line, definitely have a lot more to give."
Tyler Motte also scored twice for Vancouver (4-5-0) on Wednesday, helping the Canucks string together back-to-back wins for the first time this season.
Despite the final score, the Senators (1-5-1) tested Canucks goalie Thatcher Demko early and often on Wednesday, outshooting Vancouver 24-7 in the first period alone.
"We were playing fast, we were playing off the forecheck, we were driving the net," said Sens coach D.J. Smith. "And in the second period, we fell into a rush game. We turned pucks over and we fed their game and when they had opportunities, they put it in the back of the net."
Demko had 42 saves on the night, and Marcus Hogberg stopped 30-of-35 shots for the Senators.
The goaltender's play wasn't Ottawa's issue on Wednesday, Smith said.
"The goals he gave up were blatant mistakes by us," the coach said.
The entire Sens team needs to be better in front of its netminder, said centre Josh Norris, who scored Ottawa's lone goal on power play in the first period Wednesday.
"We've let up 10-plus goals in two games. You're not going to win games like that," he said. "We've scored two goals in the last three games, too, so both those areas, obviously, are not good enough. And it has to improve."
The Senators have now lost six games in a row. Ottawa has not had a victory since topping Toronto 5-3 to open the season back on Jan. 15.
"We've put together a period at a time, two periods at a time, but it seems like, for some reason, we just find one period to fall apart and mess everything up," Norris said. "We're young but that's not an excuse. Just a lot of mistakes that are very preventable, I think."
The extended losing skid has been difficult to weather, said Sens left-winger Brady Tkachuk.
"Losing sucks. I hate losing, everyone in the room hates losing," he said. "So we've just got to bear down a little bit extra. We're going to get out of this eventually. We've just got to stick together, which we have been, and stay positive. But the focus is on a win tomorrow."
Ottawa won't have to wait long for a chance to avenge Wednesday's loss. The two sides will battle again on Thursday, closing out a three-game series.
NOTES: Ottawa defenceman Christian Woalanin left the game with a lower-body injury in the second period and did not return. … Earlier on Wednesday, the Sens dealt defenceman Christian Jaros to the San Jose Sharks for forward Jack Kopacka and a seventh-round pick in the 2022 entry draft.
This report by The Canadian Press was first published Jan. 27, 2021.